Our ultimate guide to 10 different ways to cook salmon fillets is inspired by cuisines from around the world. Learn how to choose salmon, prepare it, cook it and what to serve with this heart healthy fish.
Super easy Salmon recipes are our quick dinner idea any night of the week. Always less than 30 minutes and with just a handful of ingredients. Now that's our kind of dinner idea.
Low on Time – Big on Flavor!
Did you just buy a gorgeous salmon fillet but have no idea how to cook it? No problem! That's why we've made this ultimate guide.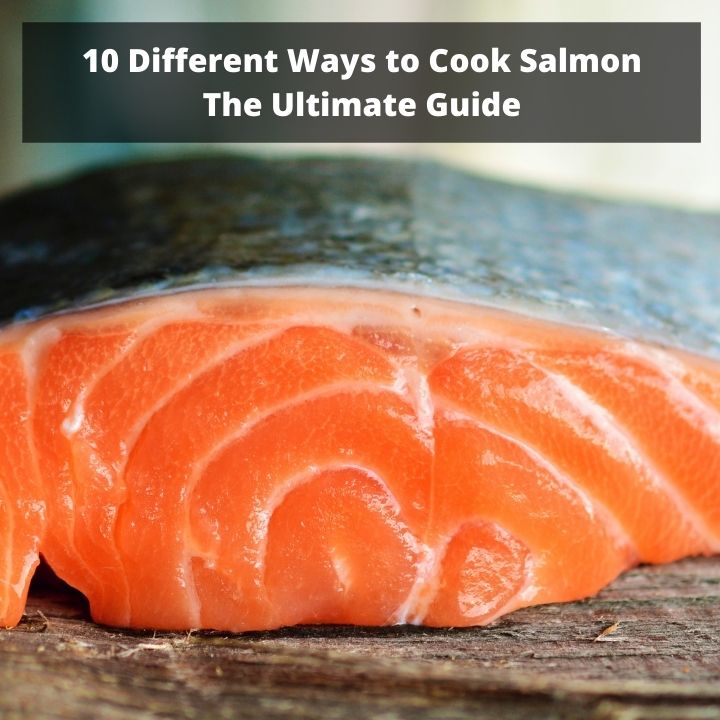 How to Choose a Fresh Fish Fillet?
Did you know that there are many different kinds of salmon? The Pacific Ocean is home to six types of salmon such as the King, Sockeye, Silver, Pink, and Chum. These selection methods work on them all.
Is your salmon still swimming? This is the freshest that this fish is ever going to get. If you were lucky enough to catch one or buy a live one at the wet fish market, you are good to go. For the rest of us who shop at the market, always start with your nose. A salmon fillet should smell fresh like the ocean and never have a fishy smell.
Next, give the fish a little poke with your finger. The flesh of the salmon should spring back and not leave a dent. Have you ever noticed that some salmon are pinker than others? This is not necessarily a good thing since sometimes coloring is added.
If you are buying your fish whole, the eyes should look bright and not sunken in. The skin and scales should look bright and shiny. Their gills should look clean and bright red. To learn more, read our post on Best Tasting Fish and Seafood Recipes for Picky Eaters.
Health Benefits of Salmon
Did you know that salmon is a "Fatty Fish"? That might sound contradictory that a fatty fish can help you get fit and slim. Right? However, salmon is a great way to add omega-3 fatty acids to your diet. The omega-3 fatty acids from fatty salmon have been shown to reduce inflammation, lower blood pressure and decrease risk factors for disease, according to Zivkovic et. al in their study published in the National Institute of Health.
Difference Between Farmed and Fresh Wild Caught Salmon?
Does your salmon give you sticker shock? Then most likely you are looking at fresh wild caught salmon. Wild caught is typically more expensive than 'farmed' salmon.
Color can also be used to determine the salmon's origin. Generally speaking, wild Pacific caught salmon are more red orange in hue because they eat shrimp and krill in the wild. They also have less fat streaked through as they are moving fast in their wild environment.
Farmed salmon are fed special fish food and their flesh is usually much paler in color. To address this, farmers sometimes add coloring to their fish food, so the flesh turns pink. You can also find a fatter marbling throughout, because farmed salmon are not moving as much as their wild counterparts.
Keep in mind sustainability but also your health too.
What is the Best Way to Make Salmon?
There is not one perfect cooking option for everyone. It really depends on what flavors you like best and what cooking options you have available to you. The best way to make salmon is to make it just the way you like it.
Raise your hand If you like a crispy skinned salmon. The pan seared method might be the best option for you. However, if you like a light flaky fish like our Asian Steamed Fish with fresh herbs, then steaming or poached salmon might be your best option. If time is an issue, a super easy 30 minute option [complete with vegetables], is the tried and true Baked Sheet Pan Salmon Dinner.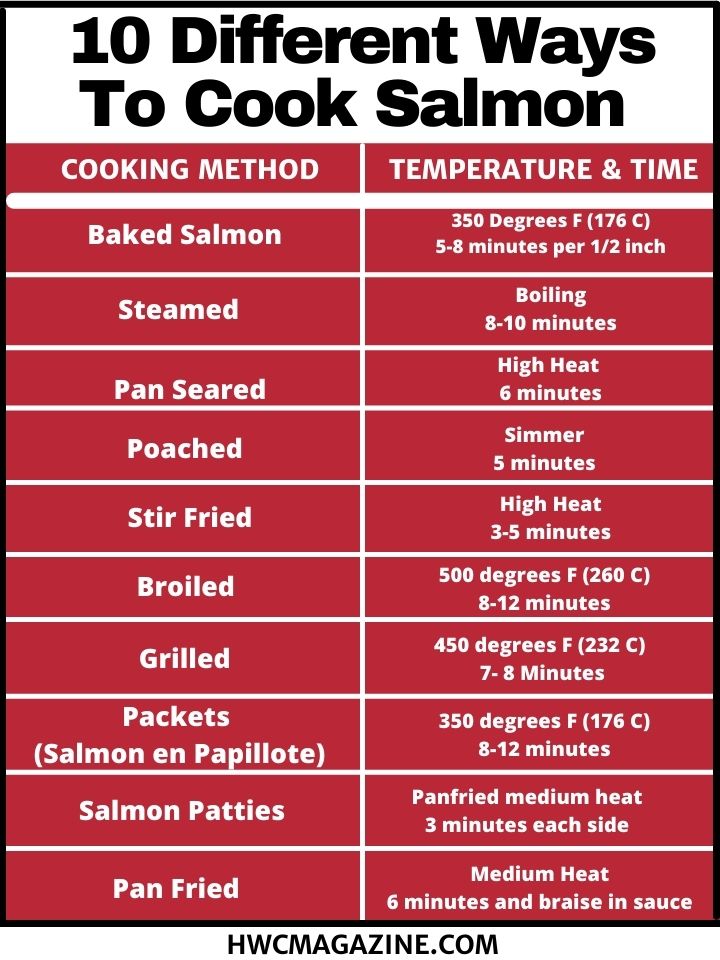 Different Ways to Cook Salmon
There are many different ways to prepare salmon. There is everything from wrapping up fish in a banana leaf and grilling like in our Philippine Banana Leaf Wrapped Coconut Fish recipe, to pan searing for a crispy skin salmon, and everything in between. Today, we are going to talk about 10 easy no fuss methods for cooking salmon from recipes around the globe.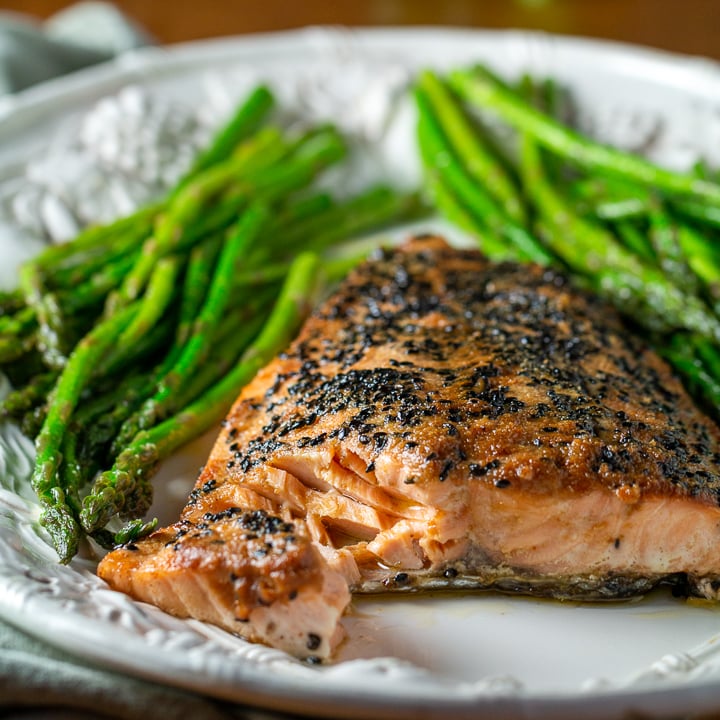 Baked Salmon
Baking is an easy, healthy, and foolproof way to cook salmon. Hands down this is the least messy option. Everything, including the salmon and vegetables, go right together on a lined sheet pan for easy cleanup. Some of our top rated salmon recipes are our Italian Balsamic Glazed Salmon and Roasted Vegetables, Japanese Baked Miso Salmon, Middle Eastern Baked Pomegranate Glazed Salmon, Baked Spicy Salmon and Sweet Potato Kale Hash and our Hawaiian Pineapple Glazed Salmon. These less-than-30 minute baked salmon dinner ideas are perfect when you have no idea what to make for dinner.
We like to bake our salmon in the oven at 350 degrees F (176 degrees C) for about 5-8 minutes per ½ inch thickness. Depending on the size of the fillets, it could take as little as 8 minutes or up to 15 minutes to cook. In addition, we have found if you cut your large salmon fillet into vertical pieces along the length of the fish. These smaller serving-sized pieces also take less time to bake.
The salmon is perfectly cooked when it flakes easily with a fork, flesh is opaque, or the internal temperature is 145 degrees F (63 degrees C). The FDA states the safe cooked salmon temp is 145 degrees F (63 degrees C). However, please note that your salmon will continue to cook even after you take it out of the oven. It is best to take your fish out before it hits the 145 degrees F (63 degrees C). Do not overcook the salmon!
Pan Seared
Do you enjoy restaurant-style crispy skinned salmon? Try this easy pan searing method. First, make sure your salmon fillet is descaled and dried really well. Then, heat your oil in a pan while you salt your fish generously. (Don't salt the fish until you are ready to cook it as this will pull moisture out of the fish and cause the skin to get soggy.)
Once your pan is hot, place your fish skin side down and cook for about 5 minutes or until the flesh of the salmon turns from bright pink to pale pink about ¾ of the way through. Turn salmon fillet over in pan and finish cooking for about 30 seconds to 1 minute and remove from pan. Serve your crispy skinned salmon, skin side up over a delicious bed of Creamy Parmesan Risotto with Saffron.
Steamed
Are you looking for a light and healthy salmon recipe for weight loss? Steaming is the perfect solution. It's light, low fat and bursting with fresh herbs like in our Asian Steamed Fish. It's quick, easy and does not require any special tools. All you need is a pan that is deep and wide enough to hold a plate with your salmon in it and a tight-fitting lid. A wok works nice or a deep frying pan.
After you place about 1 inch of water on the bottom of your pan, bring the water to a boil. Then, place your skinless salmon on a plate placed on top of a small upside-down ramekin, crossed chopsticks or even an apple corer. Then put on the lid to steam. Depending on the thickness of your fish, salmon will take approximately 8-10 minutes to cook. Steamed salmon is cooked when it flakes easily with a fork.
It is best to remove the skin off the salmon for the steaming cooking method. Check out Healthy World Cuisine's You Tube Video Salmon with Avocado Sauce at the 43 second mark to learn how to remove the skin from a salmon fillet- the EASY way.
Poached
Poaching salmon is another healthy cooking option. Fabulous over a Summer Salad with Strawberry Rose Dressing or with a creamy dill sauce. The poaching method is quite simple. Just add water, white wine, aromatics, lemons and herbs to a pan. Then, lower the salmon into the pot so it is just covered by the liquid. Poach the salmon for about 5 minutes or until it is no longer opaque. Carefully remove and enjoy.
Stir Fried
Of all the different ways to cook salmon, stir frying is one of our favorites. Have you ever tried stir frying salmon? First, you must remove the salmon skin and cut into bite sized pieces. Next, add oil and get your wok or pan hot. Add your salmon on one side to get a good sear and then flip over to the other side. It only takes about 3-5 minutes to cook. We remove from the salmon bites from pan. Then, we stir fry our aromatics, vegetables and sauce and then add the salmon back to the wok, just like in our Ginger Chili Fish Stir Fry.
Broiled
You need to give our Pineapple Glazed Salmon a try! Baked in the oven first and then finished off under the broiler to get those little crisp edges on the pineapple. MMMM so good!
Grilled
Pump up your barbeque game with grilled salmon. The chargrilled flavor gives a smokey flavor to these juicy flaky salmon fillets. It's best to use a fish basket or grate over the grill to prevent losing any of the delicious fish inside the grill. Been there! Done That!
We first like to clean and oil the grill and preheat our gas grill to 450 degrees F (232 degrees C). Then, dry your salmon well on both sides. Next, we add olive oil and salt and pepper on both the skin side and flesh side of the salmon. We put the skin side down first on the BBQ grill and make sure to close the lid too.
After the 5–6-minute mark, we gently turn our grilled salmon over and grill for another 1 minute or until the fish flakes easily with a fork. We usually remove the skin before eating. Try delicious topping on your salmon like an Easy Mango Salsa or Crab Salsa on Our Grilled Swordfish with Crab Salsa. To add additional flavor to your grilled salmon fillet recipe, try marinating them first like in our recipe for Tropical Thai Swordfish.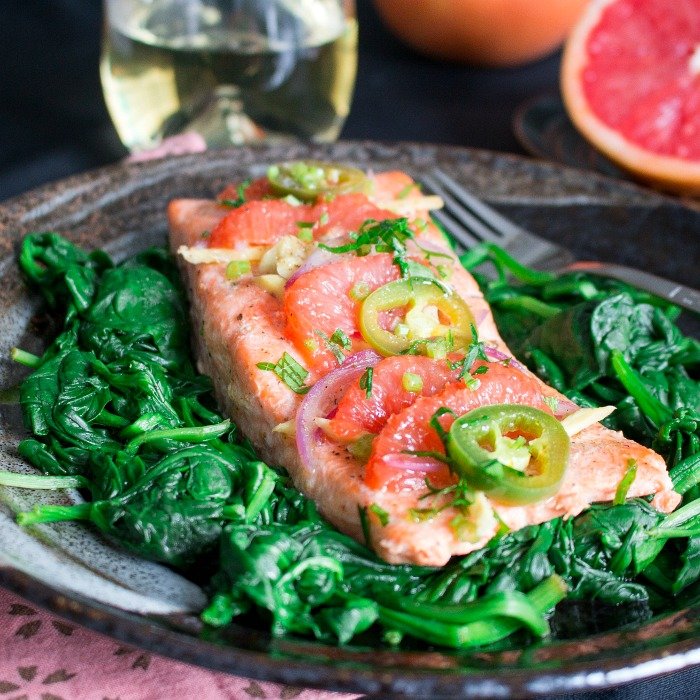 Salmon Packets (Salmon en Papillote)
Salmon en Papillote only sounds fancy but it is super easy to make. Of all the different ways to cook salmon, packets make cleanup a breeze. All you need to do is throw away the paper after you are done.
En papillote simply means "in paper" in French. It's the classic French method of cooking salmon in parchment paper. Cooking in paper allows your fish to be steamed in aromatics either in the oven or on top of the grill.
Salmon en Papillote is an impressive recipe to serve to a crowd as it comes out to the table in the puffed-up parchment paper. When you open up the packet, the aromatic steam awakens your senses. Our top rated salmon recipe, Spicy Citrus Baked Salmon Packets, is topped with sweet grapefruit, warming ginger, spicy jalapeno and served over a bed of spinach for healthy spa dinner idea. Salmon packets are usually cooked at 350 degrees F (176 C) and are cooked in about 8 to 12 minutes depending on thick your salmon is.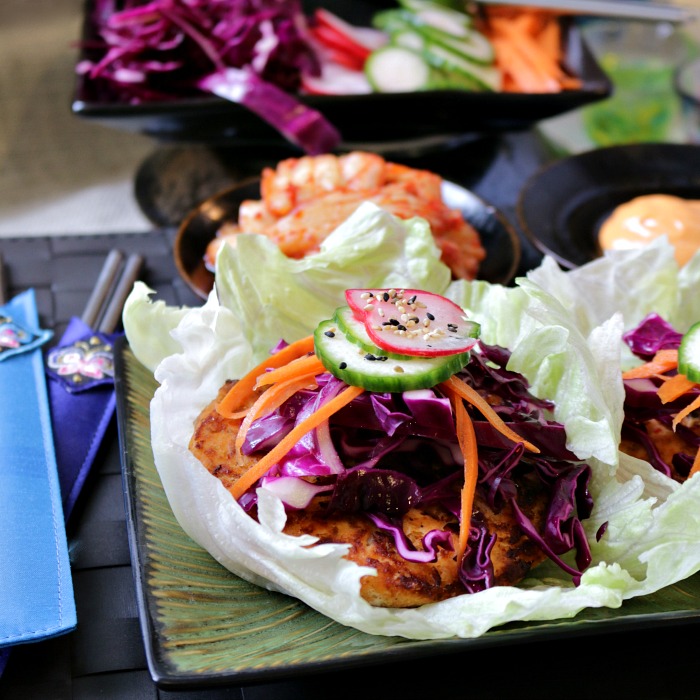 Healthy Salmon Patty Recipe
Do you have salmon haters in the group? The nerve, right? We have a way to trick salmon haters into salmon lovers with our Kimchi Salmon and Rainbow Pickles patties. Spicy kimchi salmon patties dipped in a gochujang mayo and topped with an Asian Slaw and quick pickles is a foolproof way to disguise fish.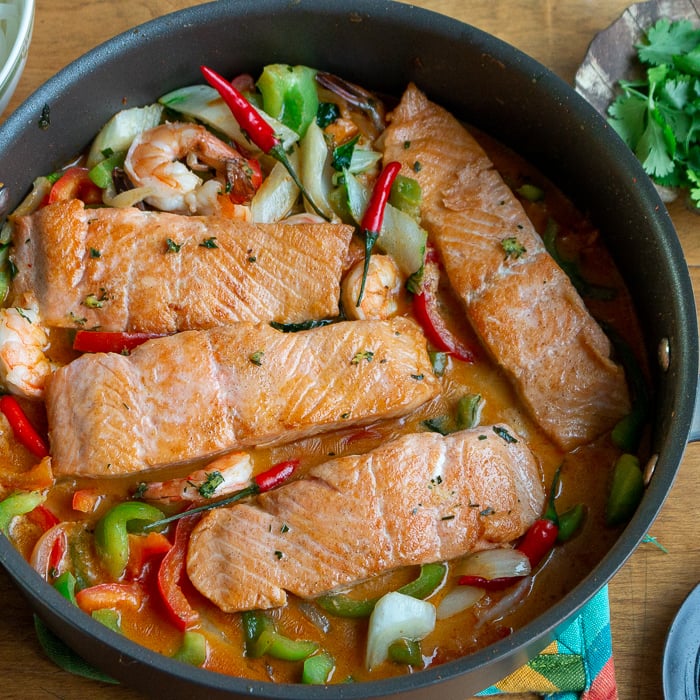 Pan Fried
Pan fried is different from pan seared as it is cooked on a lower heat and usually involves a sauce like in our California Inspired Sensational Summer Citrus Salmon or our Thai Red Curry Salmon. This cooking method in one of the more common ways to cook salmon.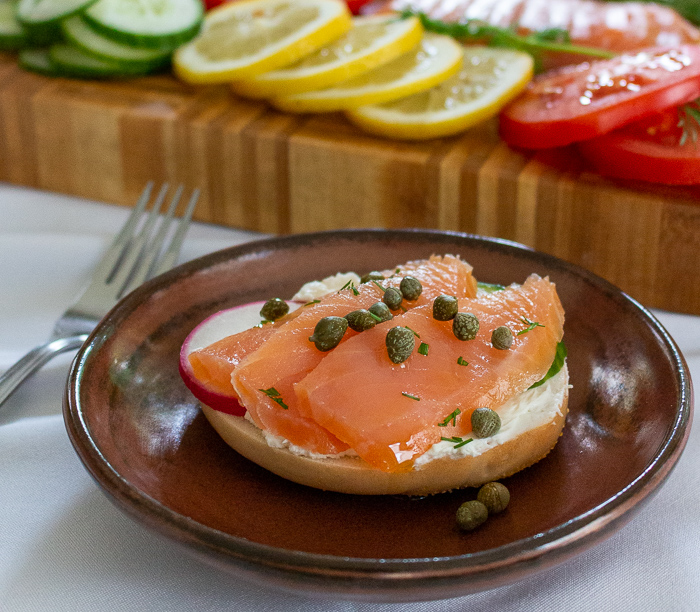 Salmon Lox, Ceviche or Sashimi Style
Number 11: The wild card. Sometimes you don't really need to cook your salmon at all. If you can get your hands on sushi grade salmon, try it raw in a sashimi salad or in our Tuna Mayo Rice Balls (Onigiri) instead of tuna.
Have you ever tried smoked salmon or salmon lox? Salmon is brined in salt, sugar, seasonings and this cures the salmon. A tasty way to enjoy salmon lox is our DIY Ultimate Bagel Bar Brunch .
Ceviche is another fancy word for marinating or cooking fish in citrus like lime or lemon juice.
What is a Good Side Dish to go Along with Salmon?
A good side dish for salmon depends on the which salmon recipe you are making, and what style cuisine you're shooting for. Additionally, a lot depends on the way you choose to prepare your salmon. For example, if we choose to bake salmon, we might also include quick cooking vegetables right on the baking sheet too. Check out some of suggestions below…
Frequent Asked Questions?
What temperature should salmon be cooked to?
The Food and Drug Administration (FDA) states the safe cooked salmon temp is 145 degrees F (63 degrees C) or the fish is opaque or flakes easily with a fork. However, please note that salmon will continue to cook even after you take it out of the oven.
What is the
white stuff that comes out of salmon when cooked?
The white stuff that oozes out of the salmon fillet whilst cooking is called albumin (type of protein). Once the fish hits about 140 degrees F (60 degrees C) you can see it start to seep from the salmon as the muscle fibers of the fish contract during the cooking process. Do not worry this albumin is totally harmless and it can be eaten. The best way to avoid this is not to overcook your salmon. The longer your salmon cooks, the more albumin that will seep out to the top of the fish
How to store salmon?
Uncooked salmon is best cooked and served asap for the freshest taste. However, it can be kept in a sealed container in the refrigerator for up to 2 days. Cooked salmon can be stored in the refrigerator in a sealed container for up to 3 days. Salmon lox should be refrigerated in a sealed container or baggie and once opened consumed within 3 days.
Can you freeze salmon?
Frozen uncooked or cooked salmon can be stored in a freezer safe baggie or container for up to 3 months. However, we do not recommend freezing salmon lox.
How to Defrost Fish?
The best method to defrost fish is to take out of the freezer and place in the refrigerator overnight to unthaw according to the Food and Drug Administration. However, if you forgot to do this the night before, you can put the salmon in cold water to help defrost in about 15-20 minutes.
Subscribe to HWC Magazine You Tube Channel
For Delicious Healthy Meal Ideas