Pineapple Glazed Salmon is an easy less than 30-minute baked tropical dinner with a teriyaki glaze and roasted pineapple chunks for a showstopper main dish.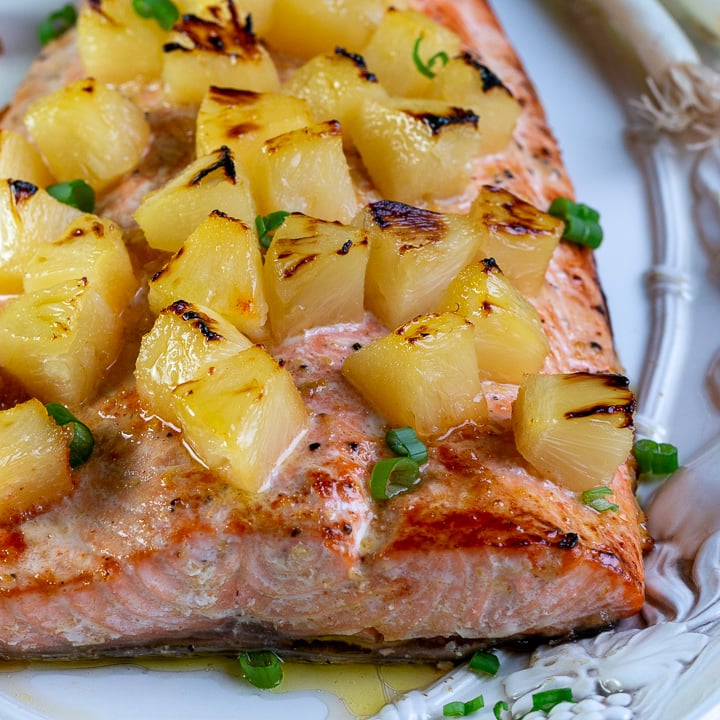 Pineapple Glazed Salmon for the Win!
Aloha friends! If you a looking for a one-pan no fuss super easy sheet pan dinner, this delicious baked teriyaki pineapple salmon is sure to be a hit. Everything is made and baked in one dish for easy clean up too. Pineapple Glazed Salmon is a dump, rest and bake type of recipe. If you can open up a can and turn on the oven, you have all the skills needed to make this super easy recipe. You are just going to love the slightly sweet, slightly savory and ginger flavor of this delicious fish dish.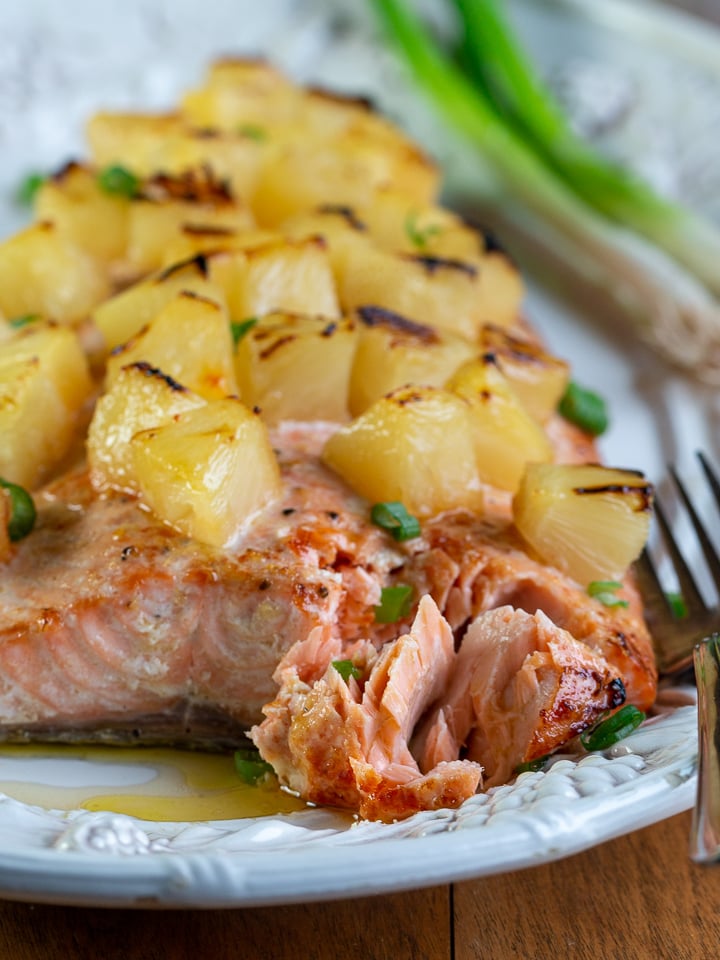 Salmon vs Other White Fish
Wild salmon can really stand up to some bold flavors like pineapple and teriyaki and it is bursting with omega fatty acids. However, you may also use a mild white fish like cod, mahi mahi or whatever is local to your region and easily assessable.
Prepping the Salmon
We did not bother doing any prep other than making sure all of the pin bones were removed from the salmon and lining our sheet pan with aluminum foil. Leave the skin on your salmon as it is just as easy to remove it after it is done baking because it just slides right off. We left our salmon in one large fillet, but you can also slice into individual portions, if desired.
Easy Sheet Pan Recipes: Prep and Cook
You can even do a quick 10-15-minute marinade right in the baking sheet before baking with the fleshy side of the salmon in the marinade and the skin side up. Then, we turned the salmon upright on the baking sheet and topped off with pineapple chunks. Then, just about the same time your oven is done pre-heating, you are ready for the oven.
PLEASE, line your baking sheet with aluminum foil or you will have a holy mess on your hands. The pineapple teriyaki glaze will stick to the bottom of the pan. (If you forget to line your pan, you will never forget again…smiling)
If you like salmon sheet pan dinners, be sure to try our Baked Miso Salmon which is another 4-ingredient little wonder. Our Baked Pomegranate Glazed Salmon is easy enough for a weeknight dinner and fancy enough for holiday guests. Our Salmon with Avocado Sauce is a delicious celebration of spring flavors complete with an avocado dill topping and asparagus.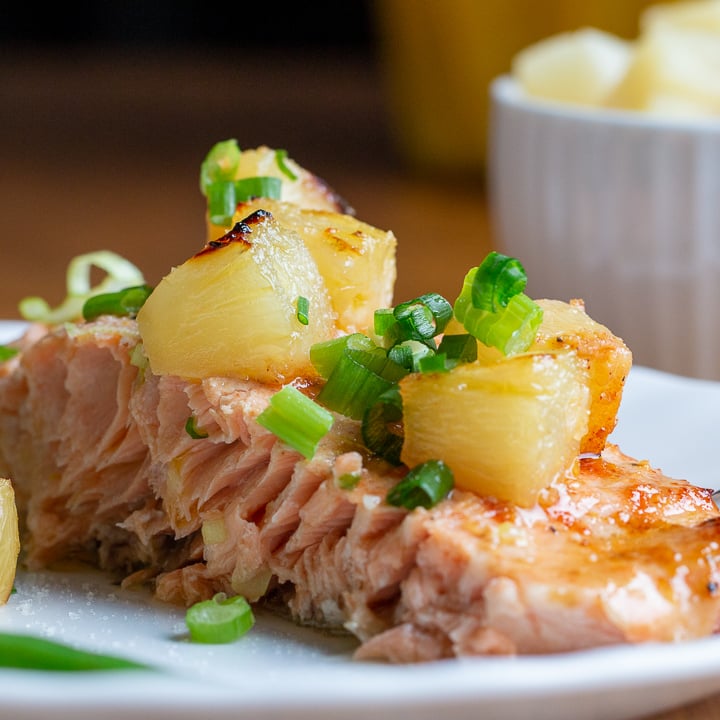 Fresh or Canned Pineapple?
We actually used canned pineapple for our pineapple glazed salmon because it comes complete with a delicious juice that we use as a part of the marinade. If you want a full fun meal, be sure to try our Hawaiian Luau Rice as a delicious side dish.
You may also use a fresh pineapple. Be sure to check out our post to learn How to Cut a Fresh Pineapple in under 5 minutes with little waste. If you decide to use a fresh pineapple, just exchange the pineapple juice from the can with the juice of one orange. Easy exchange and very delicious.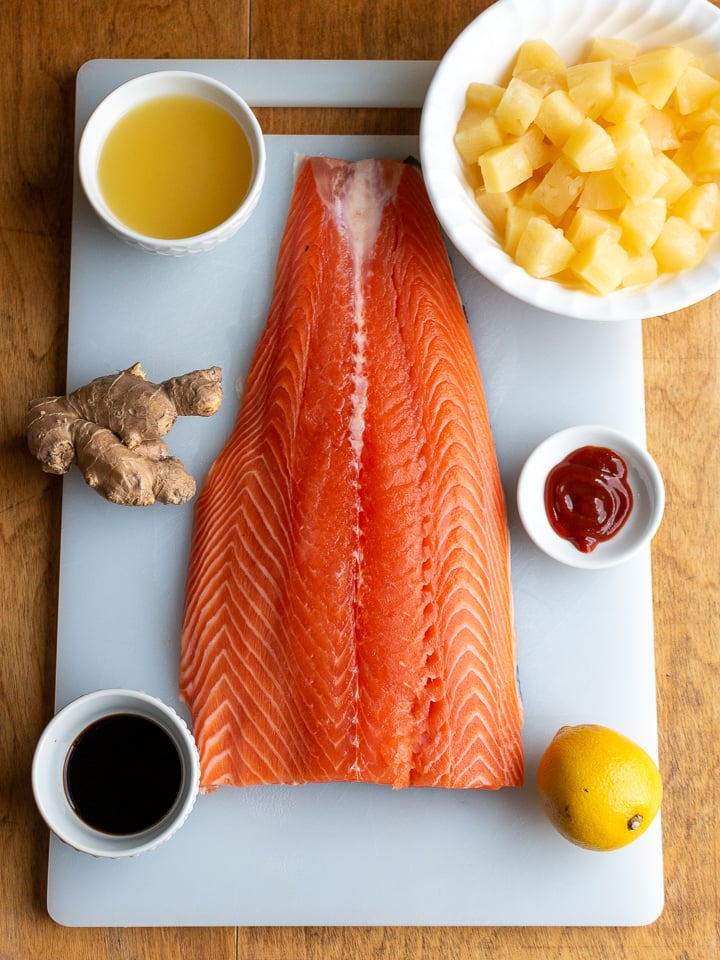 Ingredients Needed
Salmon (or other fish as desired)
Teriyaki sauce (or tamari sauce for gluten-free)
Ginger (fresh is best but can substitute with ½ the amount ground dried ginger as dried is twice as strong as fresh)
Canned Pineapple unsweetened and the juice or fresh pineapple and the juice of an orange
Sriracha sauce
Lemon zest
Salt and white pepper to taste
Green onions (optional garnish)
Olive oil, coconut oil or oil of choice
As you can see, many items on your list are staples and items in your pantry. Do not be putting any sugar or honey in the glaze. This practice of always needing things sweets is compounding the world's health problems. Once, you start clean eating, you will no longer need to add sweeteners and additives into your foods as you will enjoy the natural sweetness that ingredients put into your dish. This is a quick and easy idea for dinner. The leftovers make a fabulous salmon salad the next day.
Quick Marinade
As you may already know, pineapple or citrus can act as a tenderizer, so our marinade is just a quick 10 – 15 minutes while our oven was pre-heating. We actually marinated our salmon in the same baking sheet we baked our fish in. Just make sure you line your pan well.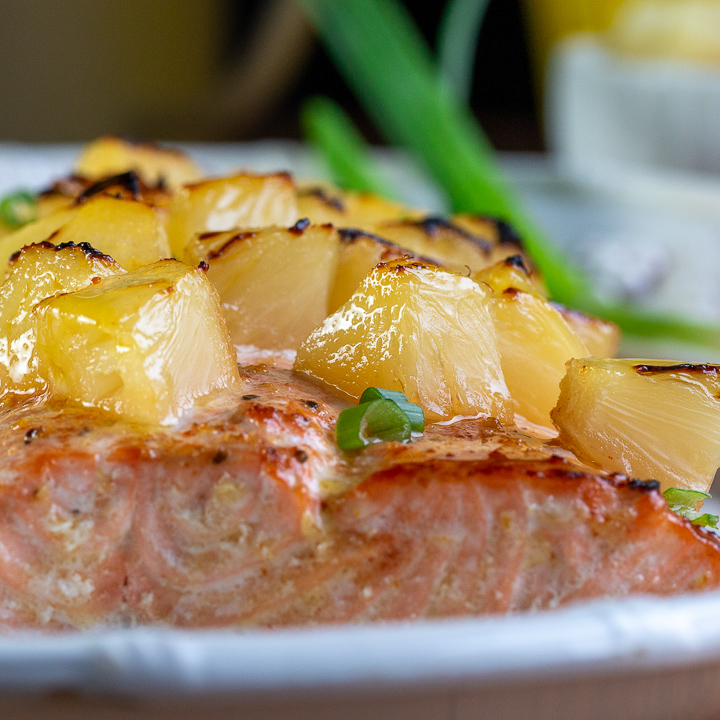 Broil to Bronze the Pineapple
One of our favorite parts of this recipe is the little bronzing of the pineapple edges on the top of the salmon. We broiled our pineapple glazed salmon for just about 3-4 minutes after drizzling on a little olive oil or coconut oil at the very end to help get it brown. The crispy little edges of the pineapple are super delicious.
How do you Know when Salmon is Done in the Oven?
Your salmon fillet should flake easily with your fork. FDA recommends that the internal temperature of the salmon should be 145 degrees F for safe practices.
However, if you are eating sushi grade salmon or fresh caught salmon, these criteria are not required. We know many people like their salmon medium to about 125 degrees F.
More Delicious Salmon Recipes
Sensational Summer Citrus Salmon
Balsamic Glazed Salmon and Roasted Vegetables
Baked Spicy Salmon and Sweet Potato Kale Hash
Spicy Citrus Baked Salmon Packets
Kimchi Salmon and Rainbow Pickles
Salmon Parcels with Sweet Red Pepper Pesto
Tried this recipe? Please leave a ⭐️⭐️⭐️⭐️⭐️ star rating in the recipe card below and/or a review in the comment section further down the page.
Hungry For More? Subscribe to our Newsletter and follow along on Facebook, You Tube, Instagram, and Pinterest for all the latest updates.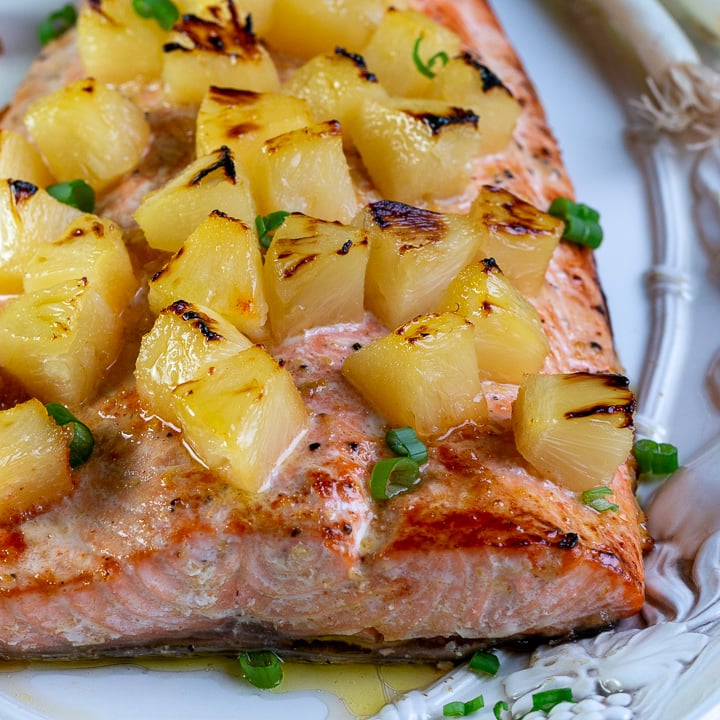 Pineapple Glazed Salmon
Pineapple Glazed Salmon is an easy less than 30-minute baked tropical dinner with a teriyaki glaze and roasted pineapple chunks for a show stopper main dish.
Print
Pin
Rate
Ingredients
1

tbsp

olive oil

or coconut oil or oil of choice to coat the bottom of the sheet pan and a little to drizzle on top of the pineapple before broiling.

1.5

pounds

salmon fillet

skin left on and whole, pin bones removed.

2

tbsp

teriyaki sauce

can use tamari if need to keep gluten free or soy as a substitution.

½

cup

pineapple juice

from the canned pineapple (if using fresh pineapple exchange the pineapple juice from the can with fresh orange juice from 2 oranges)

1

inch

ginger

knob peeled and grated or can use ½ teaspoon dried and ground ginger.

1

tsp

Sriracha sauce

or chili sauce to taste

2

tsp

lemon zest

salt and pepper to taste

we used white pepper

1

cup

pineapple chunks

unsweetened, save the juice from the can (or can use fresh pineapple chunks)

2

tbsp

green onions

chopped - optional garnish
Instructions
Preheat oven to 375 degrees F (190 degrees C)

Place aluminum foil sheets on your baking sheet to protect your pan (you can thank us later)

Drizzle a little olive oil, coconut oil or oil of choice on the aluminum protected baking sheet and spread evenly.

In a small bowl mix your marinade of pineapple juice reserved from the can of pineapple chunks (or orange juice from 2 oranges if using fresh pineapple), teriyaki sauce, ginger, sriracha sauce and lemon zest and mix well.Set aside.

Make sure all of the pin bones are removed from your salmon. You may leave the salmon whole and leave the skin on. If you choose you can cut your salmon into serving sizes. (We left ours whole) Place your prepared salmon on the lined and prepared baking sheet

Pour your marinade over the salmon and then turn your fish flesh side down to allow to marinate and the skin side up for 10-15 minutes or until your oven is preheated.

When your oven is preheated, turn your salmon flesh side up in the baking sheet with the marinade. Salt and pepper your salmon fish. Place your pineapple chunks evenly over the flesh side of salmon and drizzle a little more of the marinade from the pan over the salmon.

Bake salmon for about 12-15 minutes or until it flakes easily with a fork. About halfway through the baking process spoon a little of the marinade from the sheet pan on top of the salmon and continue cooking.

Drizzle the top of the pineapple on the salmon with a little olive oil, coconut oil or a little spray oil and broil for about 2-3 minutes ,or just until the tips of the coconut chunks are bronze.

Garnish with a little chopped green onions and enjoy.
Notes
Your salmon fillet should flake easily with your fork. FDA recommends that the internal temperature of the salmon should be 145 degrees F for safe practices.
If you want to use fresh pineapple, instead of no added sugar canned pineapple, feel free to do so. You will need to replace the juice from the canned pineapple with the juice of 2 fresh oranges or pineapple juice or another juice of choice. Be sure to check out our video on how to cut a fresh pineapple.
In order for the pineapple to get a delicious glaze on top and brown, you are going to need to add a little olive oil, coconut oil or even just a spritz of oil just before broiling for the best results.
You can grill your salmon in foil outdoors, if you like too. However, we still like to broil our salmon for just 2 to 3 minutes in the oven before serving to get those delicious little bronze tidbits on the edges of the pineapple, but not required.
Nutrition
Serving:
1
g
|
Calories:
335
kcal
|
Carbohydrates:
15
g
|
Protein:
35
g
|
Fat:
14
g
|
Saturated Fat:
2
g
|
Cholesterol:
94
mg
|
Sodium:
448
mg
|
Potassium:
965
mg
|
Fiber:
1
g
|
Sugar:
13
g
|
Vitamin A:
128
IU
|
Vitamin C:
11
mg
|
Calcium:
34
mg
|
Iron:
2
mg