Chewy Mandarin Orange Cookies are made with Italian love, mandarin orange zest and drizzled with a deliciously light and bright citrus glaze.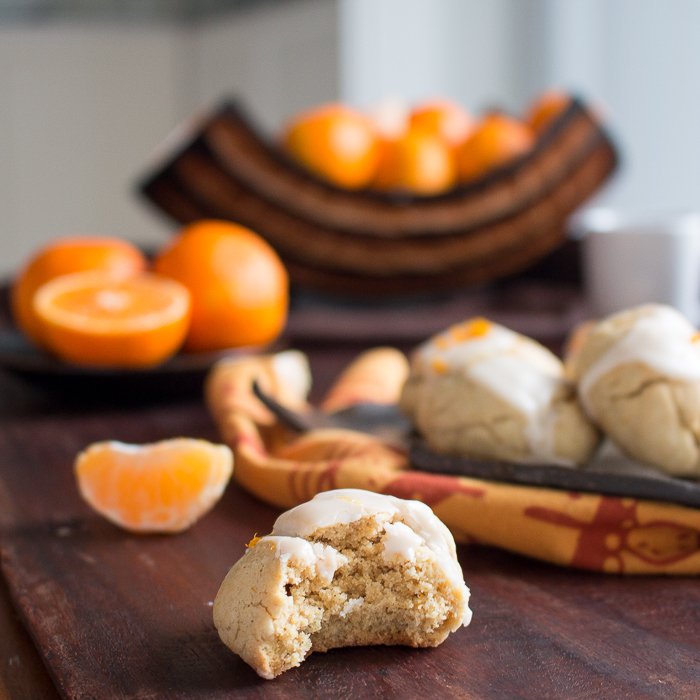 Let the baking season commence!!!!
A fond holiday memory was being in the kitchen with my little Italian mom. We always made a ricotta Italian knot cookies with sprinkles. These were my favorite.

Where to hide the cookies so no one can find them
Unfortunately over the years, dairy and gluten don't agree well with my mom. Instead, we made these little chewy mandarin orange cookies to share with her over the holidays. We absolutely love those chewy, sink your teeth in, types of cookies. Don't you? These cookies also freeze very well. That is a very good thing as they are evaporating into thin air with family in the vicinity. I had to hide them under the frozen broccoli, shhh…no one will ever look there.

Oranges, mandarin oranges, lemons, limes, kumquat, pomelos and grapefruits are in season and that is perfect timing as the cold and flu season is also in full season. There is nothing better than getting your daily vitamin C in cookie form!

Why you are going to love these Chewy Mandarin Orange Cookies
These chewy mandarin orange cookies are gluten-free, vegan, dairy-free and made with coconut sugar. Creating cookies with all of these requirements needs lots of Quality assurance testing. Therefore, we have eaten far more chewy mandarin orange cookies in the last few days than you will in a life time. We made this sacrifice for you. LOL….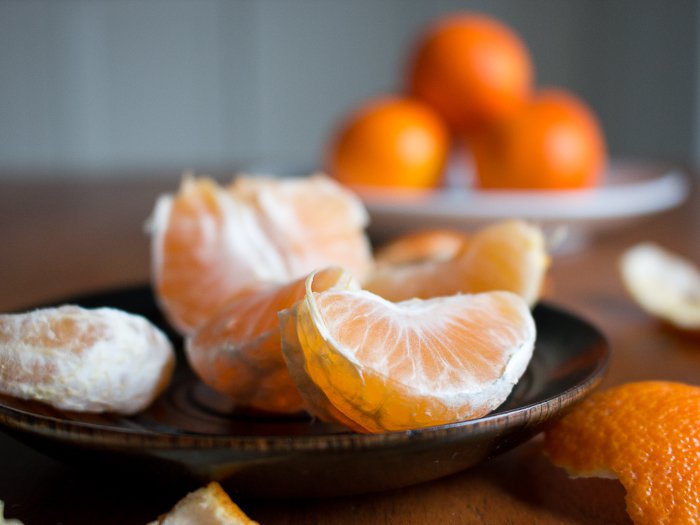 Have you tried green banana flour?
NuNatural has a really delicious green banana flour product that I have never used before. When you open the package, the green banana flour it is slightly light beige/gray in color and it smells just like bananas. However, once it is baked you cannot taste the green banana flour essence. We used the ratio of 1.5 cups of coconut flour, 3/4 cup green banana flour and 1/2 cup corn starch in our homemade gluten-free baking mix.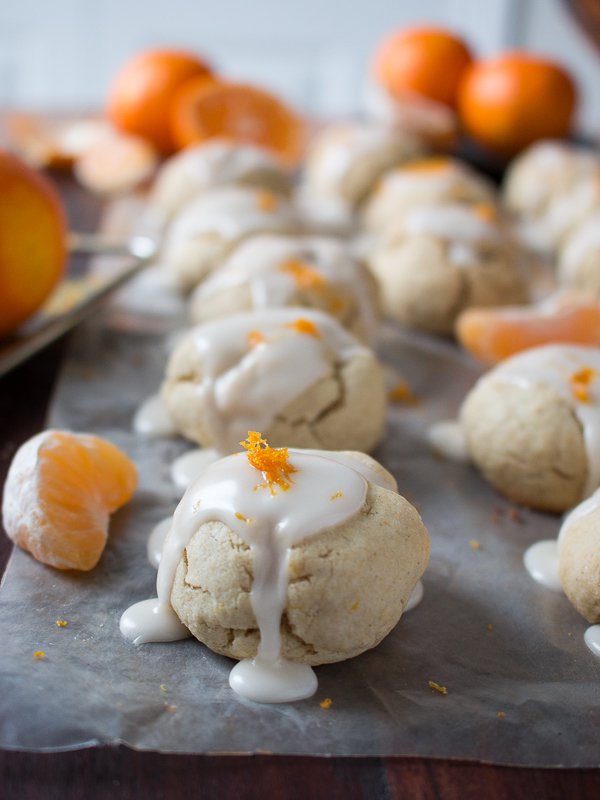 How to Make Chewy Mandarin Orange Cookies…
1) If you use real butter instead of dairy free margarine, the cookies will spread a little bit more.
2) replacing each egg with 1 tablespoon ground flax-seed and 3 tablespoon water and then leaving it sit for 5 minutes is easy to do and works well to bind the dough. If you are not vegan or do not have an egg sensitivity just use an egg.
3) replacing milk with lactose free milk, almond milk or milk alternative is a snap and if you are not dairy sensitive then just use milk.
4) If you are out of powdered sugar or prefer to use coconut sugar you can make a glaze with 1.5 cups coconut sugar, 1/4 cup cornstarch and mix well and then add 5-6 teaspoons of orange juice for a nice little glaze. If you have powdered sugar then there is no need to do this.
5) If you use a gluten-free baking mix it might have all the additions right in it such as xanthum gum, baking powder or baking soda, salt already in it. However, if you choose to make your own gluten-free baking mix like we did, you need to add all of these items in. We used a combination of green banana flour from NuNaturals, coconut flour and corn starch but you could use any combination that you prefer to obtain the cookie texture you like.
6) We don't like adding things into my cooking or baking that we can't pronounce, like xanthum gum…so instead we used a more natural product, ground flax seeds or you can use ground psysillium husk to give to the baking mix the binding power it needs. Essentially, we used a double dose of ground flax seeds and water combo to provide binding power and also to exchange for the egg.
7) We Used smart balance dairy free olive oil spread as a replacement for butter. If you are not vegan or are not dairy sensitive, then use real butter. Real butter works better.
8) The cookies will have a crackly top but don't let that concern you as underneath they are soft and chewy.
9) Do not over bake the cookie. At 8 minutes our cookies were slightly light brown around the edges. If you wait until the cookies feel firm, you will end up with hard hockey pucks and I don't think that is the kind of cookie you are looking for.
10) You do not need to glaze your cookies with the orange glaze but it certainly adds a festive touch.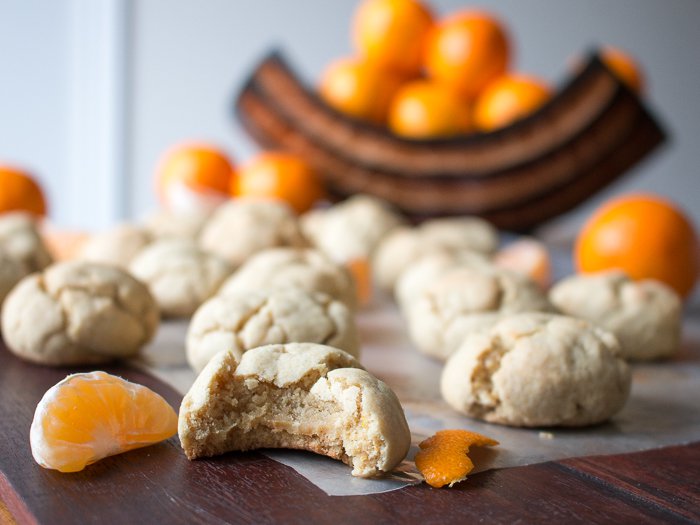 More Delicious Cookies Recipes
If you are looking for other interesting cookie recipes, have you ever tried our Sesame Spiral Cookies, Sakura Shortbread Cookies (The matcha green color makes great x-mas tree cutouts), Hugs and Peanut Butter Kisses for Santa Cookies, Chewy Black Sesame Cookies?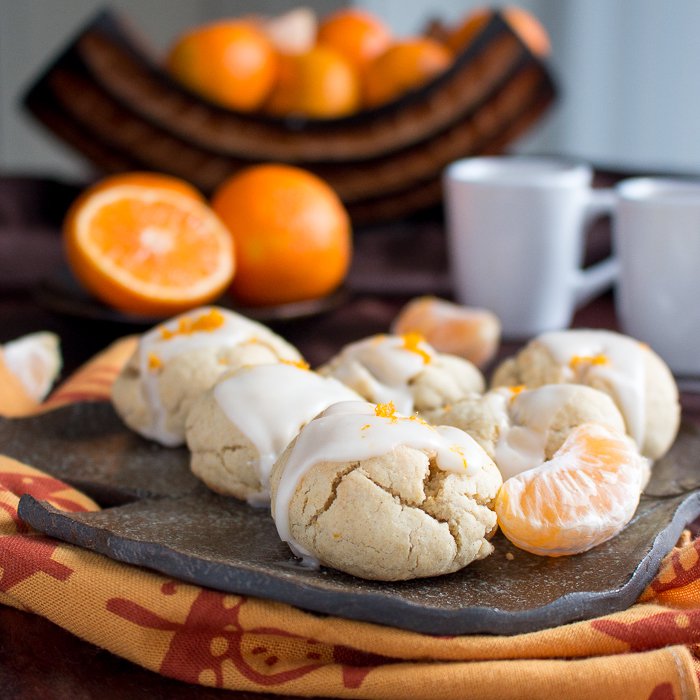 Hungry For More? Subscribe to our Newsletter and follow along on Facebook, You Tube, Instagram, and Pinterest for all the latest updates.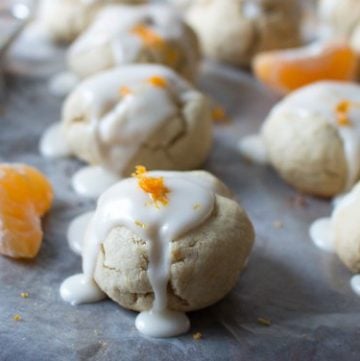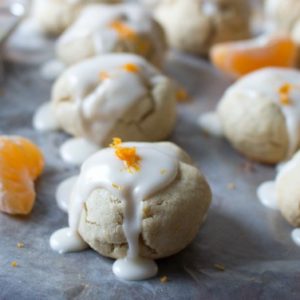 Chewy Mandarin Orange Cookies (Gluten-Free, Vegan)
Chewy Mandarin Orange Cookies are made with Italian love, mandarin orange zest and drizzled with a deliciously light and bright citrus glaze. (Makes 32 small cookies)
Print
Pin
Rate
Ingredients
Wet Ingredients
2

tbsp

ground flax seeds and water


2 tablespoons of ground flax seed mixed with 6 tablespoons of water (replacement for egg and also xanthum gum)

1/2

cup

butter/margarine


(We used smart balance dairy free)

1

cup

granulated coconut sugar


(We used coconut sugar)

1

tsp

pure vanilla extract


3

tsp

mandarin orange zest


1/3

cup

milk alternative


(We used Lactaid milk as that is my mom's favorite, feel free to use almond milk, soy or whatever you like)
Dry Ingredients
1.5

cups

coconut flour


3/4

cup

green banana flour


(We used NuNatural's NuNana Organic Green banana flour)

1/2

cup

corn starch


1

tsp

baking soda


1

tsp

salt

Mandarin Orange Drizzle
1

cup

powdered (icing) sugar


1/8

cup

mandarin orange juice


1

tsp

mandarin orange zest
Instructions
Preheat oven to 350 degree F or 176 degree C. In a medium bowl add your ground flax seeds and water and allow to thicken for at least 5 minutes.

In a large mixing bowl, add your room temperature diary free margarine or your butter (if not vegan or dairy sensitive) and coconut sugar and mix until light and fluffy.

Add your ground flax seed and water combo (that should be thick like applesauce), vanilla extract, mandarin orange zest and mix well.

In a separate large bowl mix together your dry ingredients, coconut flour, green banana flour, corn starch, baking soda and salt and mix well.

Slowly with the mixer on low add the dry ingredients into the wet ingredients and mix well. Your cookie dough mixture should pull together into a ball. (If too loose add a tablespoon of coconut flour, if too dry add a teaspoon at a time of milk alternative- your dough should not be tacky but easily forms into a ball)

Line your baking trays with waxed or parchment paper and spray with just a touch of oil spray to prevent sticking. Use a tablespoon to grab one rounded scoop and then roll the cookie dough in your hands to form a round ball and then place on your cookie sheet about 2 inches apart. They do not spread very much if you do not use real butter.

Bake cookies for about 7-10 minutes or until they just start to turn a little golden brown around the edges of the base. Do not wait until the tops of the cookie turn golden brown or they will be dry and not chewy. 8 minutes was the perfect time for our oven but each oven varies a little.

Allow the cookies to cool for about 5 minutes on the baking sheet and then carefully use a spatula and move them to a wire rack to cool.

In a medium bowl add powdered sugar, mandarin orange juice and zest. Mix well. Drizzle the mandarin orange drizzle over the cookies.

Allow the cookies to dry and enjoy. You can freeze these cookies so you can enjoy them through the holidays.
Notes
Store in a sealed container. Can be frozen up to 2 months.
Nutrition
Serving:
1
g
|
Calories:
101
kcal
|
Carbohydrates:
14
g
|
Protein:
1
g
|
Fat:
5
g
|
Saturated Fat:
1
g
|
Sodium:
155
mg
|
Potassium:
5
mg
|
Fiber:
2
g
|
Sugar:
8
g
|
Vitamin A:
137
IU
|
Vitamin C:
1
mg
|
Calcium:
10
mg
|
Iron:
1
mg