Soba Noodle Salad with Yuzu Dressing is a cooling Japanese salad with fresh spring snap peas, radishes and greens with a yuzu ginger soy dressing.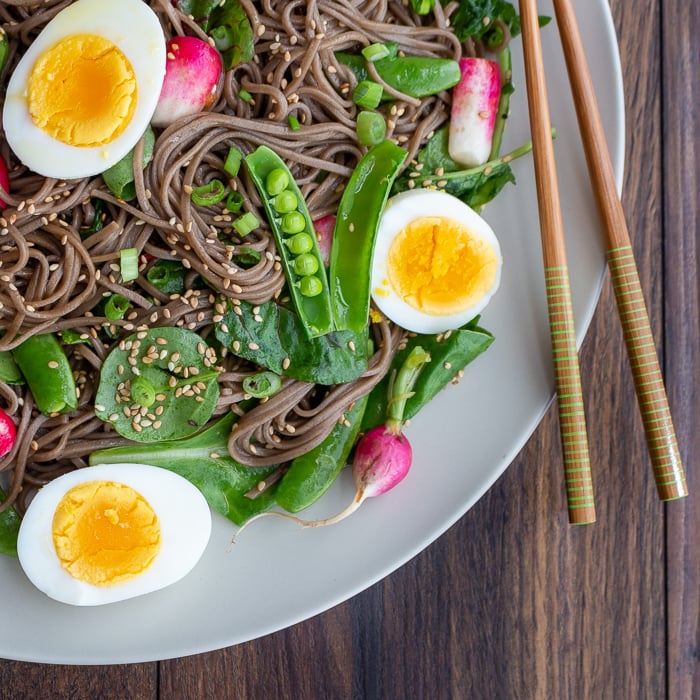 You are just going to love the delicious cold buckwheat (soba) noodles which are perfect slurping noodles combined with the crunch of the vegetables. Every bite, you get something a little different with the creaminess of the hard-boiled eggs, silky soba noodles and crunch of the spring radishes, greens and snap peas. However, the yuzu ginger dressing is going to make you smile. Seriously delicious. We could just do shots of this dressing. (Don't worry if you do not have yuzu as lemon zest in this dressing is delicious too)
As it is not a mayonnaise based dressing, Soba Noodle Salad with Yuzu Dressing is the perfect for a dish to pass to all of your spring- summer BBQ functions. Be sure to check out our Salad Recipe Categories for more summer salad dishes to pass.
Yuzu Ginger Soy Dressing
Yuzu Ginger Soy Dressing is an addictive salad dressing made with soy sauce (or tamari sauce), yuzu paste (or lemon zest), grated ginger, honey, rice wine vinegar and sesame oil. Absolutely lip smacking delicious. You may want to double your recipe for the dressing as it also makes a fabulous marinade for chicken, shrimp and fish. We are all about cook once and eat twice kind of meals. How about you?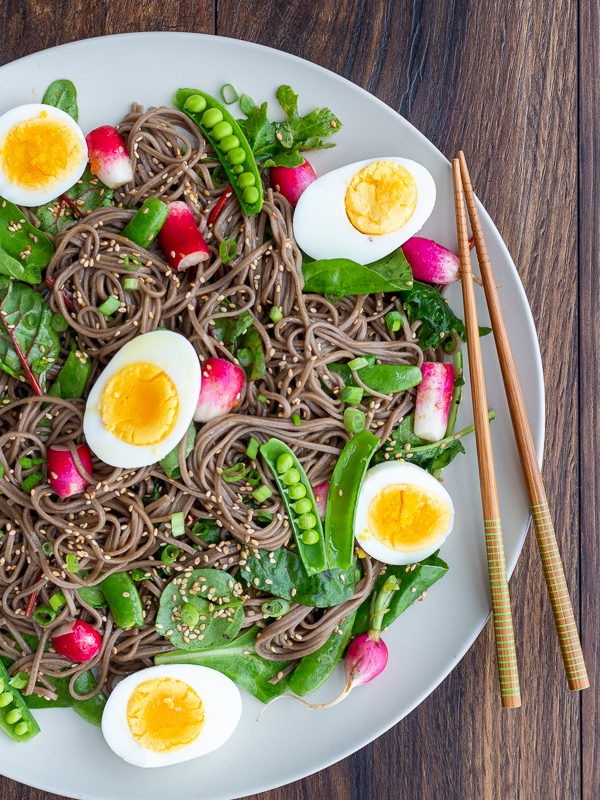 What the heck is a YUZU?
Have you ever tried yuzu? Do you know what yuzu is? Yuzu is a member of the citrus family and is a fruit. It can be generally found in Japan, Korea, China and other Asian Countries. Yuzu is an odd looking one as it has bumps, is yellow and has loads more seeds compared to a lemon. The closest relative to a yuzu is a lemon. However, it is also more sour, pungent and floral which makes it a fantastic as a dressing, marinade, in cocktails just to name a few.
We used Yuzu paste by S & B and it is 100% yuzu with salt to preserve. This type of paste can be difficult to find so want to let you know that this recipe is just as delicious with plain normal lemon zest replacement in a 1:1 ratio. Consequently, Yuzu paste is different than Yuzu Kosho which is a combination of yuzu citrus and chili peppers. We found our S & B yuzu paste at a Japanese grocery store. You can also find it online.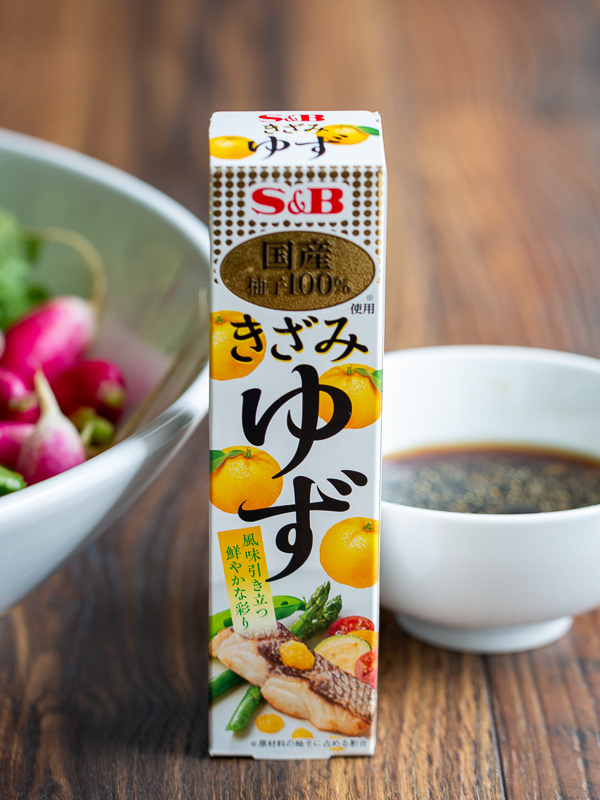 What can you substitute YUZU with?
You can use grated lemon zest in a 1:1 ratio exchange with 100% yuzu paste. In addition, you can swap out the soy sauce and yuzu paste in the recipe with just 6 tablespoons of ponzu sauce. Ponzu sauce is made by simmering mirin, rice vinegar, bonito flakes, and seaweed. Once this liquid is then cooled the juice of a yuzu or lemon is added to give it that fabulous punch of flavor. Of course, ponzu sauce is not gluten-free.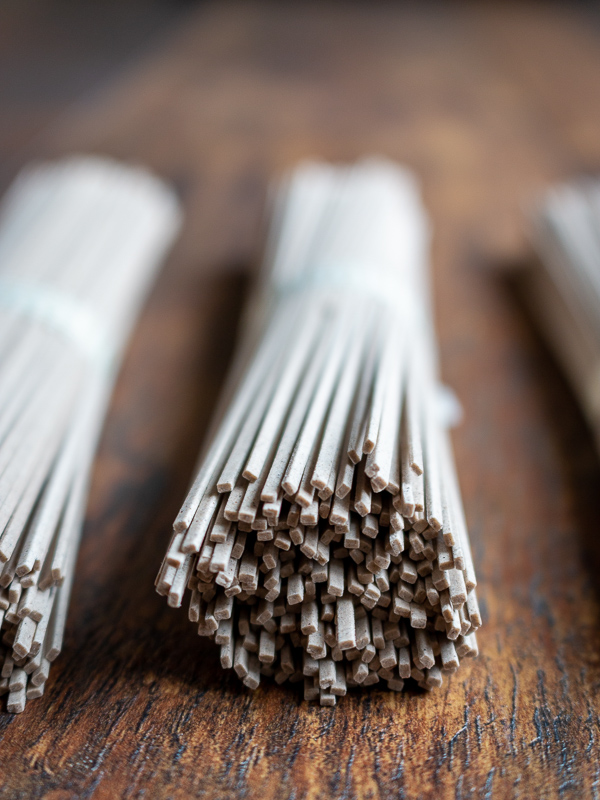 Soba Noodles
It can be very difficult to find traditional soba noodles made out of 100% buckwheat noodles, even in Japan. Sometimes, Soba noodles are made from buckwheat flour and wheat flour. If you have celiac disease, you need to really check it out to make sure they are 100% buckwheat. Even though buckwheat has the word wheat in the title, it is not actually a grain at all. Buckwheat noodles are completely addictive aldente, silky and have lots of vitamins, minerals and protein compared to some your noodle counterparts. If you like soba, be sure to try our Matcha Soba Salad with Norimaki Mochi.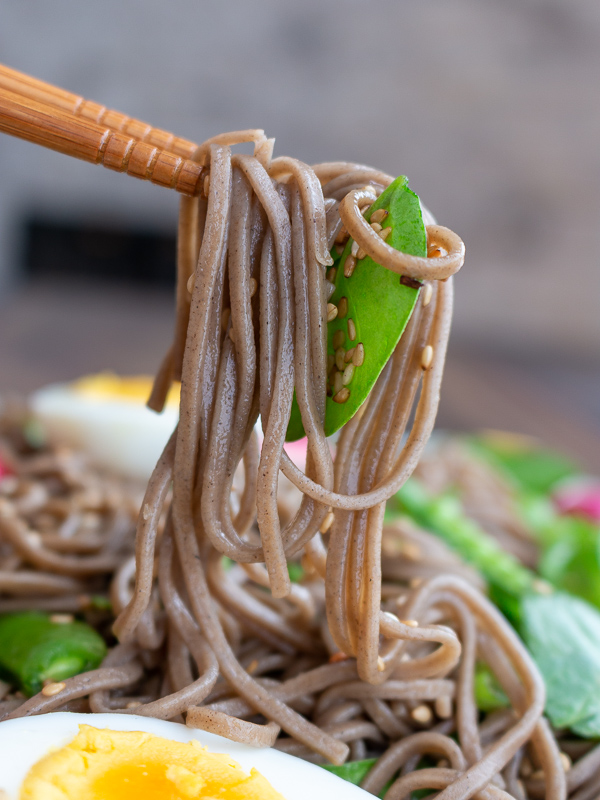 Join the fun! Noodles Without Borders
Every second Tuesday of every month at All That's Jas and Healthy World Cuisine bring to you a noodle dish from around the globe. Please come and Join in on the fun. If you make one of our noodle recipes or one of your own, be sure to use the hashtag #noodleswithoutborders on your photos in Instagram. Tag at All That's Jas and HWC Magazine for a chance to be featured on one of our stories. We love seeing what you are making in your kitchen. Be sure to check out some of our other Noodles Without Borders recipes. Today we are heading to Japan to enjoy our Soba Noodle Salad with Yuzu Dressing. You are going to love All That's Jas Stovetop Spanish Pasta Frittata for a fun and easy recipe.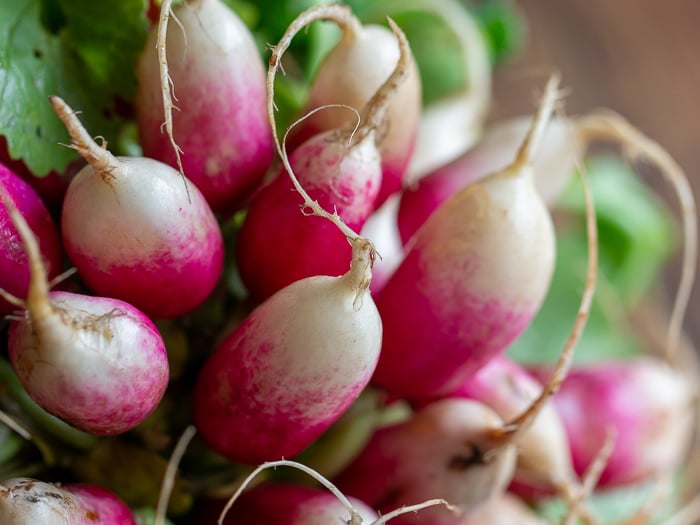 Vegetables to add to the mix
We love visiting the Farmer's Market and picking out the fresh vegetables. Radishes and snap peas and mixed fresh greens looked gorgeous we added this to add some crunch to the mix. However, edamame, thinly julienned carrots, or any veggies you have in your crisper would be a lovely addition. You might really like the balance of adding in as many mixed greens as you do soba noodles. A 50-50 addition works for us. In addition, we added a few sliced hard-boiled eggs to give the dish a completed feel. You could also add grill tofu, grilled chicken, salmon or whatever your little heart desires.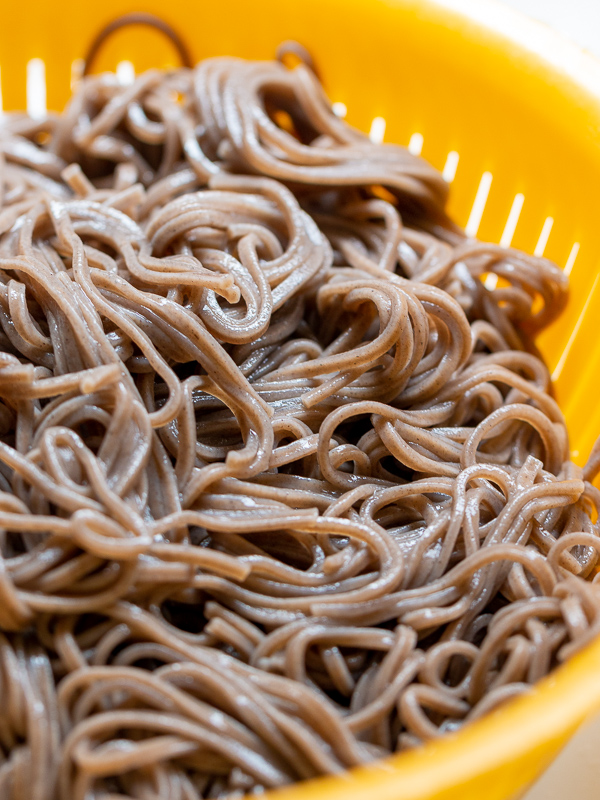 Step by Step process for making Soba Noodle Salad with Yuzu Dressing
1) Boil your soba in plenty of salted water.
2) You must rinse your soba noodles with cold water. Very important step.
3) Make your Yuzu ginger dressing and prepare your additions
4) Toss
5) Enjoy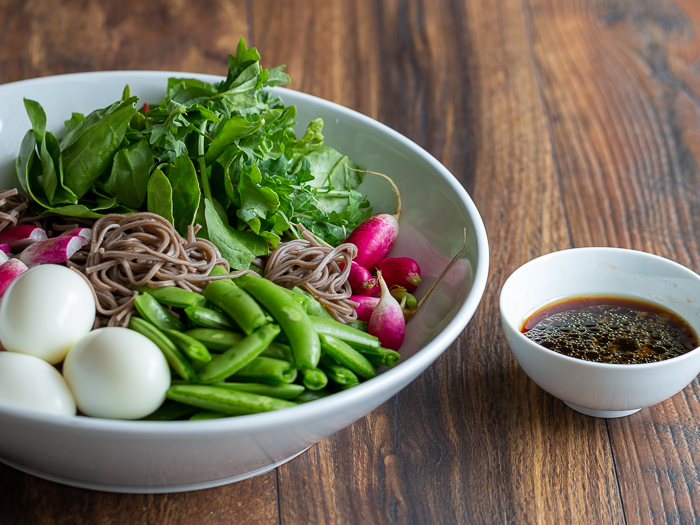 If you have a hankering for more delicious Japanese recipes, be sure to check out our Japanese Cuisine Recipes.
Some of our more popular Japanese recipes are …
Pepper Lunch Steak and Rice Sizzle
Hungry For More? Subscribe to our Newsletter and follow along on Facebook, You Tube, Instagram, and Pinterest for all the latest updates.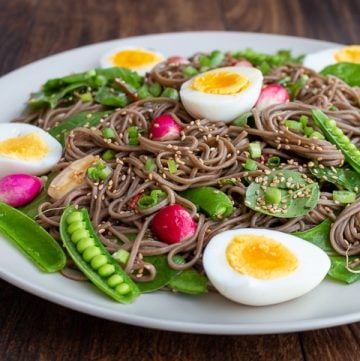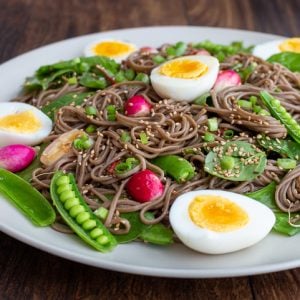 Soba Noodle Salad with Yuzu Dressing
Soba Noodle Salad with Yuzu Dressing is a cooling Japanese salad with fresh spring snap peas, radishes and greens with a yuzu ginger soy dressing.
Print
Pin
Rate
Ingredients
Yuzu ginger dressing
6

tablespoon

soy sauce


(or tamari)

2

tablespoon

sesame oil


2.5

tablespoon

honey


(or maple syrup for vegan option)

2

tablespoon

rice wine vinegar


2

teaspoon

yuzu paste


(or 2 teaspoons lemon zest)

1

teaspoon

ginger

freshly grated or ½ teaspoon dry dround ginger
Soba Noodle Salad
7.5

oz

soba noodles


or about 3 bundles of soba noodles

1

tablespoon

Salt


to boil soba noodles (1 tablespoon of salt for 16 cups/ 4 quarts water)

1

cup

snap peas


¾

cup

radishes


sliced

¼

cup

green onions


sliced

2

cups

leafy greens


(spinach. Kale chard, etc.)

2

tablespoon

white sesame seeds


toasted

2

eggs


optional

½

cup

Edamame

cooked and shelled - optional
Instructions
Boil soba noodles in salted water according to directions. Our directions are for about 6 minutes for aldente noodles. Do not overcook noodles. Immediately drain the soba noodles and rinse with cool water. Set aside.

Boil eggs in water for 6 minutes. Remove from pot. Rinse to cool and peel. Slice. Set aside.

Make Yuzu ginger dressing: In a small bowl mix together soy sauce, sesame oil, honey, rice wine vinegar, yuzu paste (or lemon zest) and freshly grated ginger and mix. Set aside.

Toss your salad together: In a very large salad bowl add your cooked, rinse and cooled soba noodles, snap peas, radishes, green onions, leafy greens, toasted sesame seeds and yuzu ginger salad dressing. Toss well.

Garnish with hard boiled eggs and edamame, if desired, and enjoy!
Notes
Make sure to salt your water well to boil your soba noodles.
Feel free to add any vegetables you desire to your Soba Noodle Salad with Yuzu Dressing. Ribbons of carrots and edamame all work very well in this recipe too.
You can make this recipe vegan by exchanging the honey to maple syrup.
You can substitute rice wine vinegar with apple cider vinegar, if needed.
Feel free to swap the Yuzu paste with 2 teaspoons of lemon zest. Or you can exchange both the 6 tablespoons of soy sauce and 2 teaspoons of yuzu paste with 6 tablespoons of ponzu sauce.
Please note that ponzu sauce is not gluten-free. If you are celiac, you will need to make sure your soba are 100% buckwheat and made gluten-free as many brands are part wheat and part buckwheat. You can feel free to exchange soy sauce with tamari sauce.
Nutrition
Serving:
1
g
|
Calories:
264
kcal
|
Carbohydrates:
39
g
|
Protein:
12
g
|
Fat:
8
g
|
Saturated Fat:
1
g
|
Cholesterol:
55
mg
|
Sodium:
2482
mg
|
Potassium:
317
mg
|
Fiber:
2
g
|
Sugar:
9
g
|
Vitamin A:
450
IU
|
Vitamin C:
17
mg
|
Calcium:
74
mg
|
Iron:
3
mg