Kimchi Salmon and Rainbow Pickles is made with succulent sweet salmon infused with spicy kimchi and gently pan seared and topped with an assortment of vibrant colorful delicious quick pickles.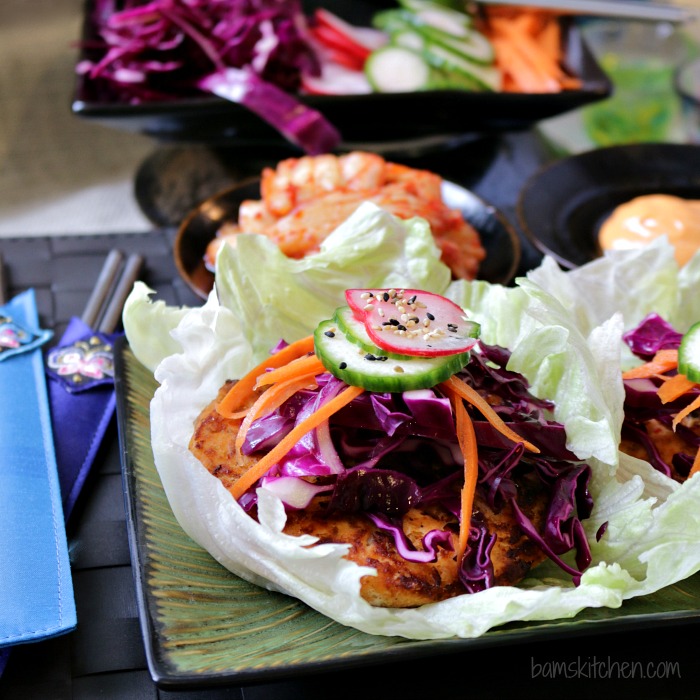 Jump to:
30 Minute Dinner
Kimchi salmon patties and quick pickles is so easy to make that I am almost embarrassed to have to call it an "actual recipe". This is a quick easy night menu and a super fun and delicious way to get dinner on your table in less than 30 minutes. Kimchi salmon and Rainbow Pickles is a delicious gluten-free, egg-free and low carb recipe.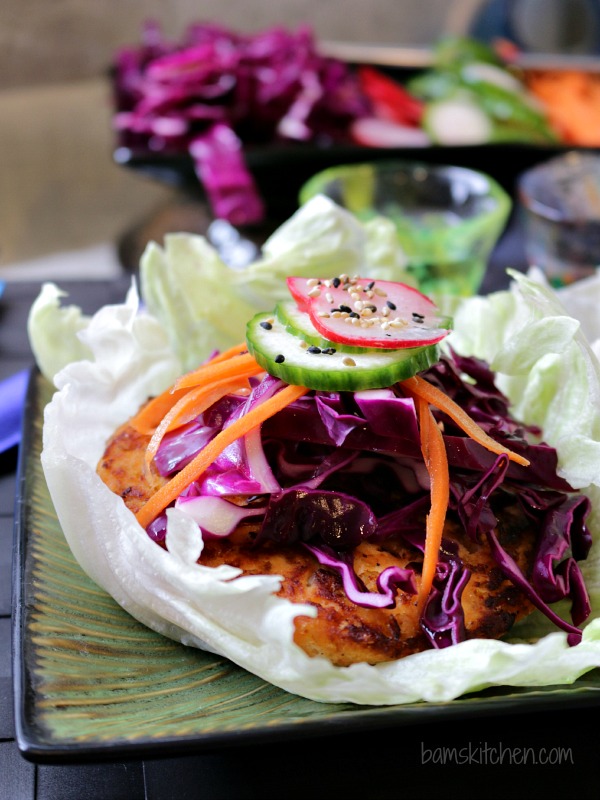 Korean Food Week
This week was a "Korean Food Week" at the local "Park n Shop" here in Hong Kong. There were great deals on delicious kimchi, Gochujang paste (savory and pungent fermented Korean condiment made from red chili, glutinous rice, fermented soybeans and salt) and lots of laver (nori seaweed snacks). Who can say no to all of that deliciousness!
Kimchi
Now the big question was what was I going to make with all that XL industrial sized (lifetime supply) of kimchi.
I headed over to the seafood section and the salmon was so pink, bright and beautiful, I just knew I had to make something with it. I stopped over to grab some vegetables to go on the side and just saw a beautiful rainbow of color. There was no gold at the end of the rainbow...I checked. However, I did come up with a brilliant idea for a super healthy, simple and easy low carb meal.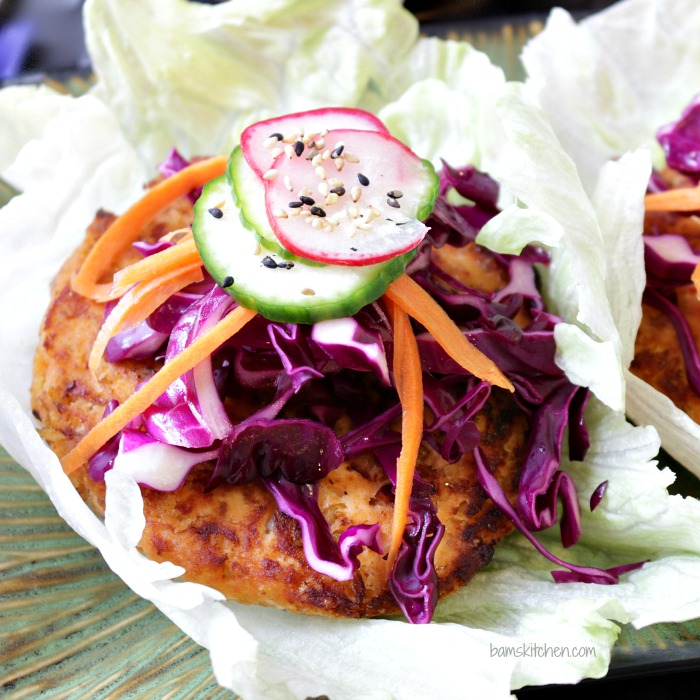 Life Time Supply
Kimchi has been around for decades and it a vital part of a Korean Diet. It is fermented cabbage but can also be fermented diakon and other vegetables. There are so many different versions but usually it is slightly sour and spicy.
The traditional way to make kimchi is to make it as a family and then let it ferment in special containers under the ground. However, you can just buy kimchi in your local super market or Asian market in the refrigerated food section.
I bought an extra large lifetime supply of kimchi so of course we will make Gochujang Fried Rice with Leftover Ham, Creamy Kimchi Pasta or a blast from the past with our BiBimBap 비빔밥.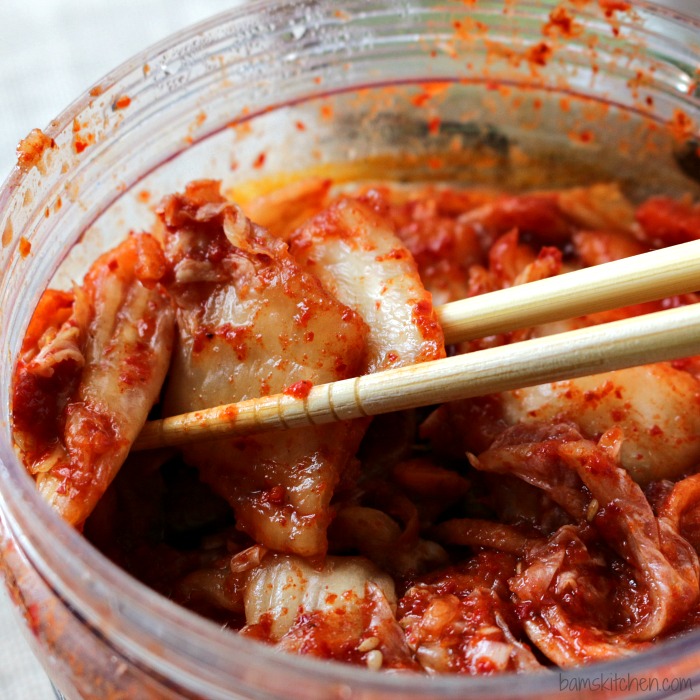 Natural Probiotic Food
Eating fermented foods, like kimchi, is good for your health as it has vitamins A, B, and C. However, the reason I love it is that it helps replace the healthy bacteria in your gut called lactobacilli. A daily dose of kimchi is like taking a probiotic as it helps with digestion but the main reason I love it as it tastes fantastic.
A brand of kimchi that is gluten free is King's Kimchi if you have a gluten intolerance/celiac disease. You will need to read the back of the container as some kimchi contains wheat to thicken, so please take note.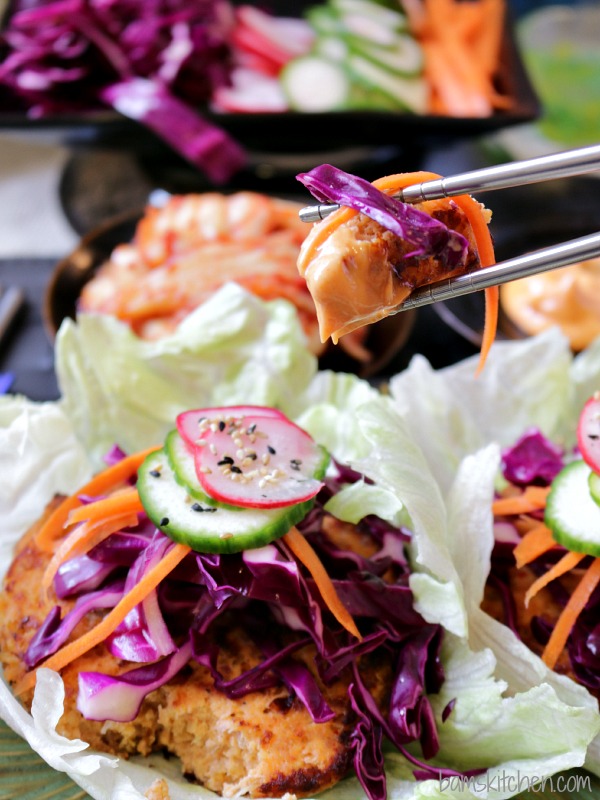 Turn Fish Haters into Fish Lovers
My hubby, bless his heart, is a salmon fish hater. Can you believe this? The nerve!!! Everyone else in our family adores salmon.
So you know what you do to disguise your salmon? We made it into a fancy lettuce wrapped Kimchi burger and camouflaged it with lots of delicious quick pickles and a gochujang mayo dip. I guess you could really do with any fish you like, so if you have salmon haters in your family, have no fear!!!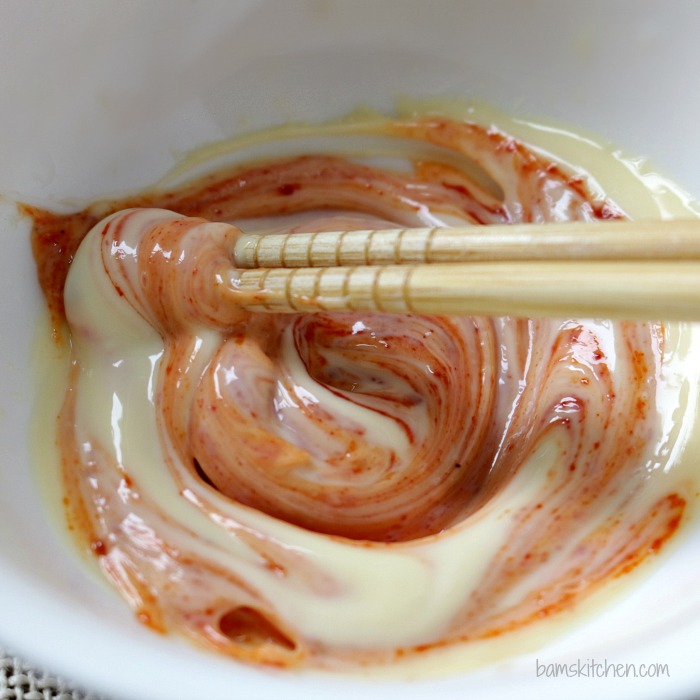 Recipe Substitutions
I wanted to keep the recipe as simple as possible and remove some of the items that cause our family dietary grief such as gluten and eggs. I made several batches experimenting with additions to the salmon patties in my food processor. The kimchi gives a delicious flavor to the salmon as it has everything in it you need; spice, savory, sour, garlic and seasonings.
The only issue remained the binding agent. As I cannot use eggs and bread crumbs due to dietary issues, I pulverized puffed rice crackers (sometimes you hear me referring to them as cardboard...LOL)
If you had gluten free bread crumbs at home by all means feel free to use that or even regular breadcrumbs/panko, if no gluten issues in your household. Just a little is all you need to get the salmon patties to form tender and delicious patties.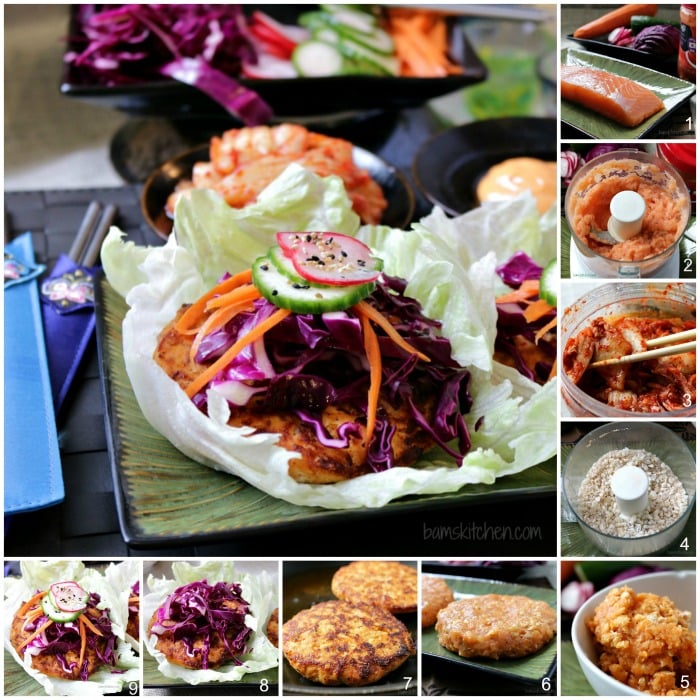 How to Serve?
In keeping with the idea to keep my dinner gluten free and low on carbs, I opted to nestle my kimchi salmon in a lettuce cup. However, these delicious kimchi patties and pickled veggies would just as delicious on a big kaiser roll, if you like.
Quick Pickles
Did you know that you can make quick pickles out of so many different types of vegetables? I did not have enough cucumber pickles to feed the whole family so I make a quick pickle with red cabbage, carrots, radish and a little cucumber and your could really use any vegetable you can slice thinly and have in your crisper. It is amazing what a few minutes and rice vinegar, salt, white pepper and sugar or sugar alternative can do for a vegetable.
Gochujang Mayo Sauce
My boys loved this quick and easy gochujang mayo dip for their kimchi salmon burgers. Even though I cannot eat eggs, I did not miss the gochujang sauce for one minute with all of those delicious pickled rainbow veggies nestled on top of my kimchi salmon burger.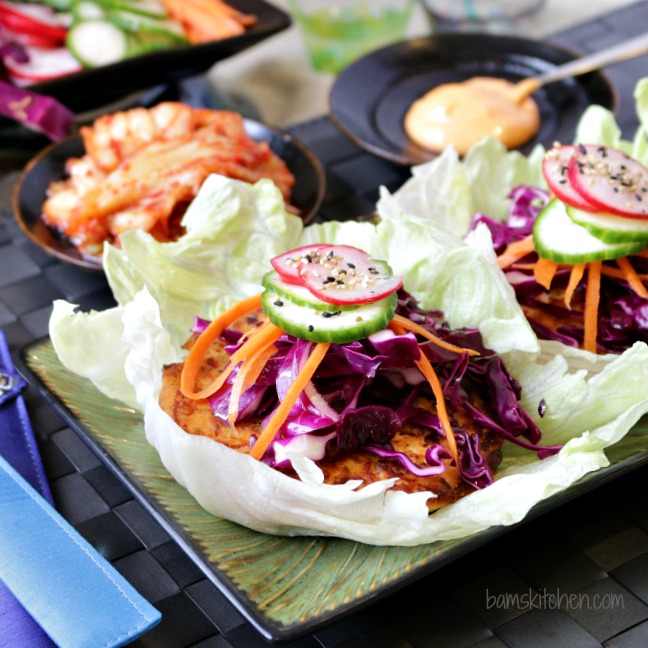 This would be a super fun idea to serve at a party gathering. You could let everyone assemble their own Kimchi salmon with rainbow pickles on top of their own lettuce cup. This meal is super easy to prepare in advance so that you the host or the hostess can spend some quality time with your guests. A great welcome for a long overdue spring gathering.
More Delicious Korean Recipes
Low Carb Spicy Bulgogi Beef Stir Fry
Yang Bae Chu Ssam 양배추쌈 and Go Chu Jeon 고추전
Did You Like Our Recipe? Leave a ⭐⭐⭐⭐⭐ rating and/or a review in the comments section below. Your feedback is always appreciated! Follow us for more delicious recipes on Pinterest, Instagram, Twitter and Facebook! Don't forget to sign up for our email list for more free recipes.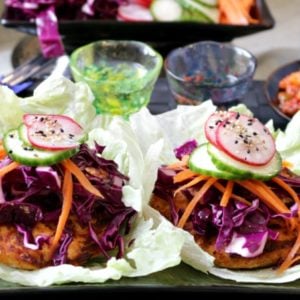 Kimchi Salmon and Rainbow Pickles
Succulent sweet salmon infused with spicy kimchi and gently pan seared and topped with an assortment of vibrant colourful delicious quick pickles.
Print
Pin
Rate
Ingredients
Quick Rainbow Pickles
¼

cup

carrot

small carrot sliced thinly Julienned - I used a mandolin

¼

cup

cucumber -


sliced

½

cup

cabbage

purple

10

radish


sliced thinly

1

teaspoon

salt


2

tablespoon

rice vinegar


1

tablespoon

sugar


or sugar alternative

white pepper


to taste

1

teaspoon

sesame oil

Kimchi Salmon Patties
6

oz

salmon


(skin and bones removed)

½

cup

kimchi


½

cup

rice crackers

pulverized in food processor or gluten free bread crumbs


1

tablespoon

olive oil
Gochujang Mayo
½

cup

mayonnaise


1

teaspoon

Korean red pepper paste


(gochujang)

2-3

lettuce leaves


(iceburg lettuce)

1

teaspoon

sesame seeds

toasted - garnish (optional)
Instructions
Place your thinly sliced vegetables (carrots, cucumber, cabbage and radish or whatever veggies you wish) in a bowl .(If you are using purple cabbage, keep the purple cabbage away from the rest of your vegetables or all of your vegetables will turn a purple color) Sprinkle your veggies with the salt and use your fingers to rub the salt into the vegetables. This helps bring the water out of the vegetable. Place veggies in refrigerator for about 15 minutes. Stir together rice vinegar, sugar or sugar alternative, pepper and sesame oil to make a quick pickle vinaigrette and set aside.


Put your boneless, skinless salmon fillets and kimchi into the food processor and process until smooth. Brush down the sides of the food processor with a spoon and add rice cracker crumbs (gluten-free breadcrumbs) just until well incorporated and your salmon mixture holds together well enough to make a patty. Make 2-3 patties out of your kimchi salmon mixture. First roll salmon mixture into a ball and then flatten the ball into a disk about ½ or so thick. (at this point, you could freeze them if you wish to make for later)


Remove your salted veggies from the refrigerator and gently squeeze to remove as much water as possible. Toss your vegetables with your rice vinegar, sugar, white pepper and sesame oil mixture. Taste and adjust seasoning. Set aside.


Place a little olive oil in a pan and fry for about 3 minutes on each side or until golden brown on both sides and flakes easily with a fork. Set aside and keep warm.


In a small bowl, combine mayonnaise and gochujang sauce together. set aside.


Assemble: On a plate, place your lettuce leaves, place one deliciously cooked kimchi salmon patty into each lettuce cup, top with pickled veggies, sprinkle with sesame seeds and serve with gochujang mayo and enjoy!

Notes
Feel free to use gluten free breadcrumbs as an exchange for rice crackers.
Nutrition
Serving:
1
g
|
Calories:
795
kcal
|
Carbohydrates:
42
g
|
Protein:
20
g
|
Fat:
60
g
|
Saturated Fat:
10
g
|
Cholesterol:
84
mg
|
Sodium:
1746
mg
|
Potassium:
613
mg
|
Fiber:
3
g
|
Sugar:
9
g
|
Vitamin A:
4520
IU
|
Vitamin C:
15
mg
|
Calcium:
41
mg
|
Iron:
1
mg