Baked Miso Salmon is a 4-ingredient easy 15-minute seafood dinner bursting with umami flavor and topped with crunchy black sesame seeds.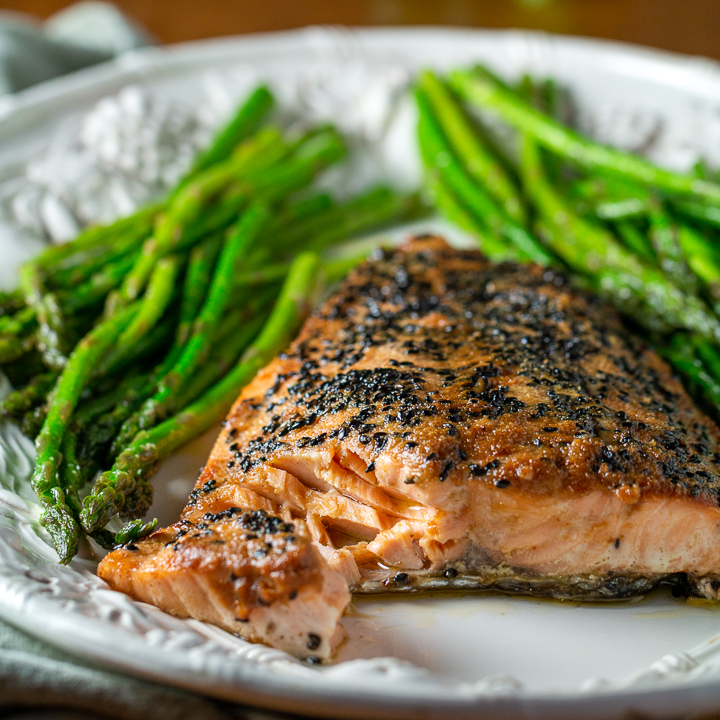 Super Easy
You are just going to love the succulent baked miso salmon as it is so moist, and the flavor is savory and deeply delicious from the fermented miso paste. Topped with crunchy black sesame seeds and a dash of white pepper for a little kick.
Do you have days that you don't feel like cooking? Yep, that has been about every day this week! We are burnt out cooking 3 hot meals and snack for a demanding grumpy crew. Who can relate? Washing so many dishes so often that the finish is coming off our everyday plates and our hands, even with gloves, are like 80 grit sandpaper.
This quick and easy fish recipe is just what you need to get dinner on the table in a flash. Cleanup is a snap. Especially, if you line your sheet pan with a little aluminum foil. If you desire, you can add quick cooking vegetables like asparagus, zucchini, peppers or whatever your little heart desires right on the pan with your salmon for a full low carb meal. For 75 more delicious recipes, try our Best Tasting Fish and Seafood Recipes for Picky Eaters.
Now we are talking. Only one pan to wash and only 4 ingredients! Woo hoo!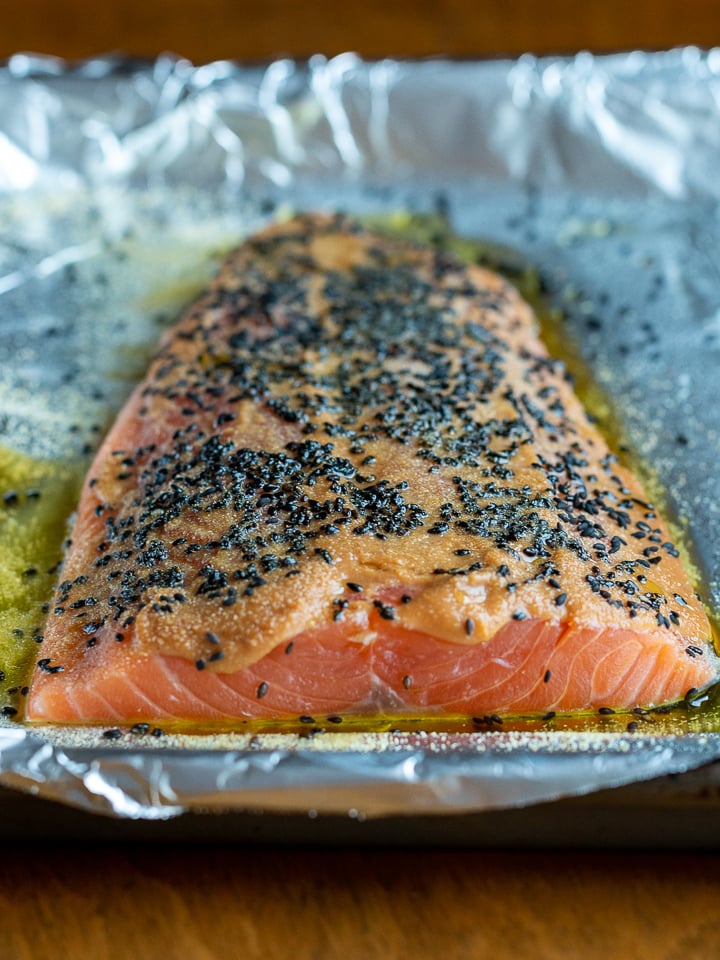 What is Miso Made Of?
Miso is a traditional Japanese staple made out of fermented soybeans, salt and koji rice. Koji rice is cooked rice that has had Aspergillus Oryzae (Japanese mold). When koji rice is added to cooked rice, it digests starches and proteins and breaks them down into sugars and amino acids. This "starter" is used for all kinds of delicious things you enjoy every day like soy sauce, sake, mirin and of course miso paste.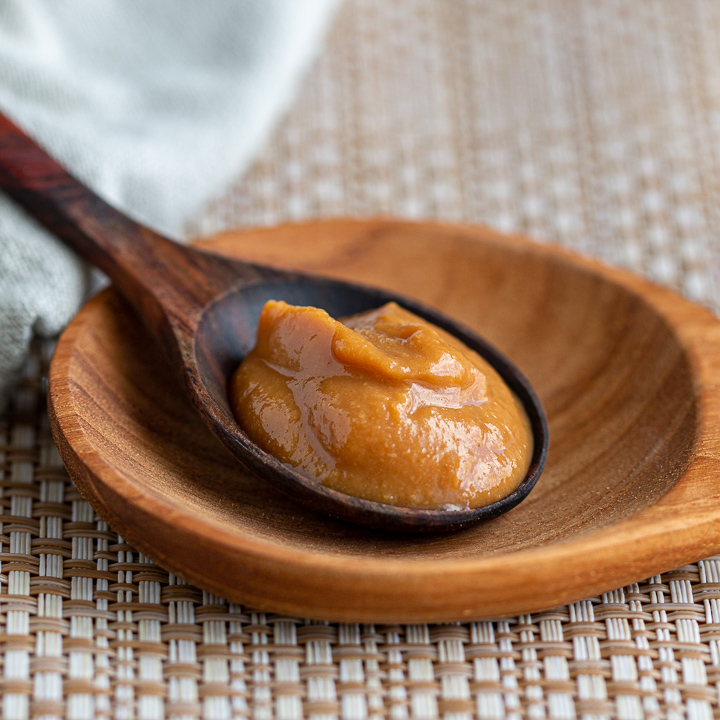 What Are The Different Kinds of Miso?
Sometimes they can be divided by color.
White miso – generally used in soups and has the least amount of fermentation time.
Yellow miso – good overall product and can be used in many different recipes. This is the kind we used for our Baked Miso Salmon.
Red miso – has had the longest fermentation time and has a bold flavor good for stews and hearty meals.
Mixed miso – is a combination of white and red miso and it is a delightful addition to many recipes.
There are many varieties of miso and how they are prepared. Depending on the type of rice, amount of koji rice and even the addition of soba, they all have a different flavor and characteristic.
However, in unprecedented times like these, you use whatever kind of miso paste you have on hand. We actually had run out of our usual brand of miso paste. Instead, we used 2 tablespoons of miso from our pre-made miso soup packets. Yep, we sure did, and it was fantastic!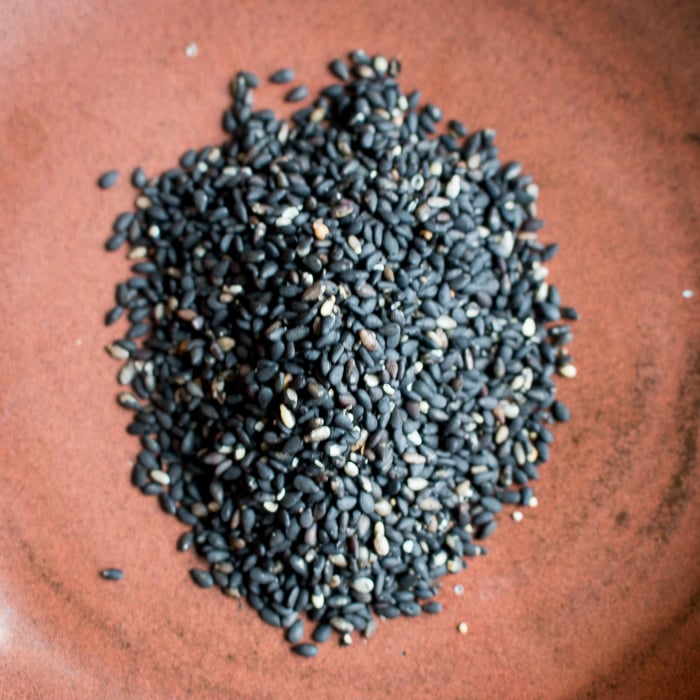 Black Sesame Seeds for a Crunchy Topping
We don't know about you, but we find toasted black sesame seeds and white sesame totally addicting. We love topping them on rice, over salads like our Sesame Burdock Root Salad and my word have you tried them in our Chewy Black Sesame Cookies or Hot Black Sesame Seed Cereal . So delicious! Black Sesame Seeds or you can use toasted white sesame seeds give this recipe that fun little crunchy topping that is so addictive.
Sensational Salmon
Do you love salmon? We sure do and especially when it is cooked to perfection, just like our orange glazed salmon bites. Salmon usually needs about 10 minutes per pound baked at 375-degree oven or (190 degrees C) or easily flakes with a fork. However, wild salmon is a little leaner and we have found that it will start to flake sooner than farmed salmon which is a little fattier. Be sure to check on your wild salmon at about the 7-minute mark. Our Fabulous Seafood and Fish Recipes are sure to have something that everyone will enjoy.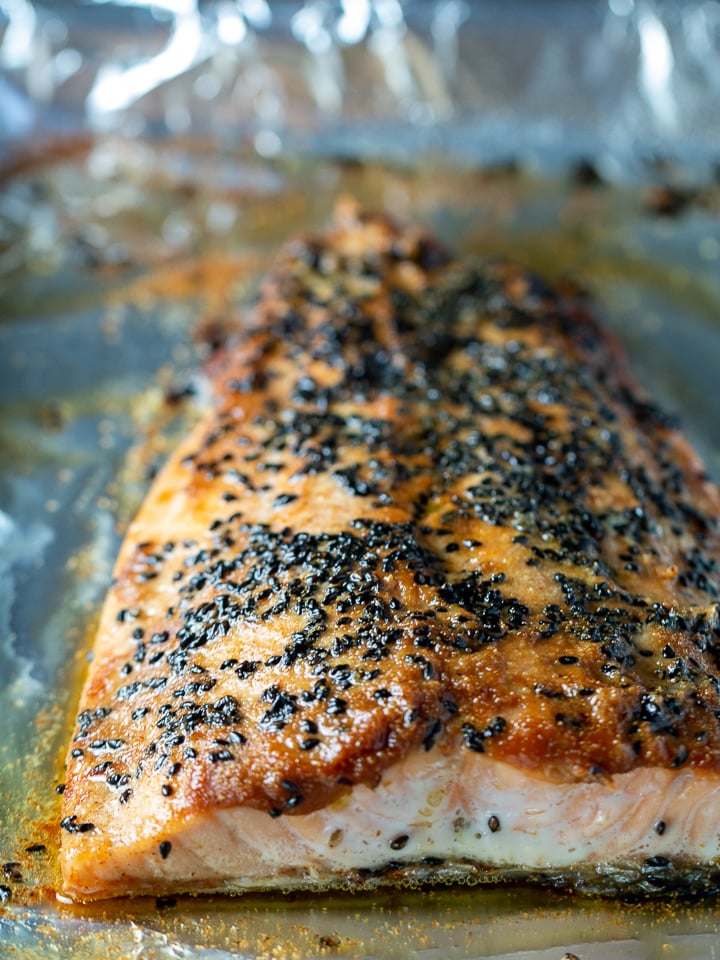 Frequent Asked Questions (FAQ's)
What Does Miso Taste Like?
It is a really unique flavor of salty, tangy, sometimes a little sweet and what we call a little funky. The funky part is what it makes it addictive and gives recipes that special umami flavor. All of your flavor sections of your tongue are activated. You are going to love the addition of miso in our Sesame Miso Chicken Meatballs.
Is Miso Good For You?
Miso paste is a fermented food. It can help to strengthen your digestion to provide more of the good gut flora. However, it is high in sodium. Therefore, everything in moderation.
How Long Can You Keep Miso Paste?
Miso paste, if covered properly with the paper and sealed in a container can last up to one year in the refrigerator. Miso can go bad. If you have mold growing on top or an off smell, it's time to pitch your miso paste.
If you love salmon, be sure to try these recipes
Balsamic Glazed Salmon and Roasted Vegetables
Baked Pomegranate Glazed Salmon
Baked Spicy Salmon Sweet Potato Hash
Spicy Citrus Baked Salmon Packets
Kimchi Salmon and Rainbow Pickles
Sensational Summer Citrus Salmon
Did You Like Our Recipe? Leave a ⭐⭐⭐⭐⭐ rating and/or a review in the comments section below. Your feedback is always appreciated! Follow us for more delicious recipes on Pinterest, Instagram, Twitter and Facebook! Don't forget to sign up for our email list for more free recipes.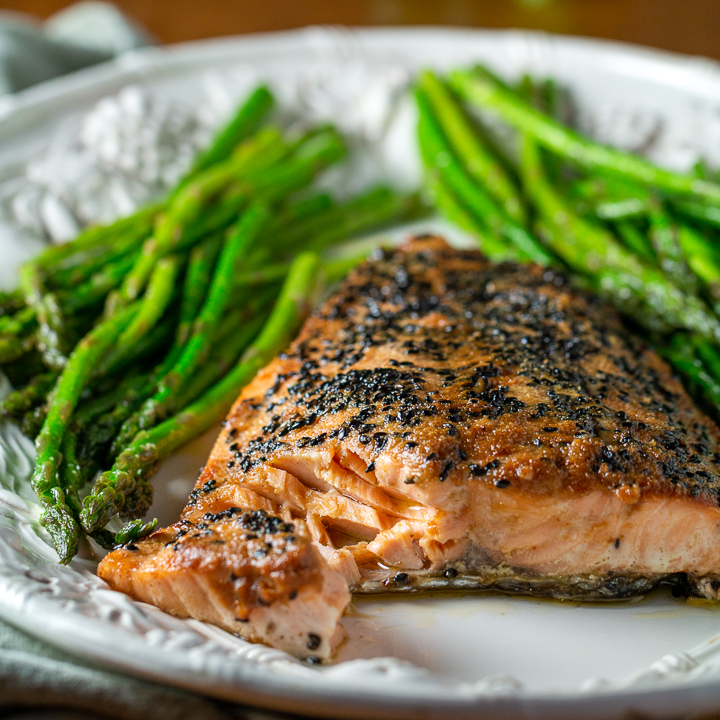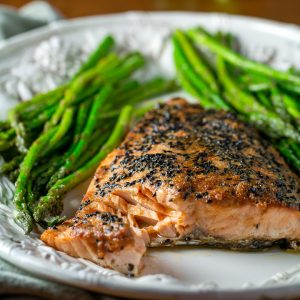 Baked Miso Salmon
Baked Miso Salmon is a 4-ingredient easy 15-minute seafood dinner bursting with umami flavor and topped with crunchy black sesame seeds.
Print
Pin
Rate
Ingredients
1

pound

salmon fillets

2

tablespoon

miso paste

yellow or miso paste of choice

1.5

tablespoon

black sesame seeds

toasted or white sesame seeds

¼

teaspoon

white pepper

or black pepper to taste

1

tablespoon

olive oil

optional to drizzle on top and/or to grease your pan
Instructions
Preheat oven to 375 degrees F (190 degrees C)

If you wish, you can either leave your salmon skin on or remove it. It you are feeling lazy, you can leave it on as after it bakes it easily separates it from the flesh upon serving. If you wish to remove the skin of the salmon before baking, get your sharpest knife and with the skin side down remove the skin and slide your knife downward. We left the skin on.

Line your baking sheet with aluminum foil and lightly spray the aluminum foil with a little cooking spray or a little olive oil to prevent sticking. Lay the salmon fillet on the baking sheet with the removed skin side down on the tray.

Slather your miso paste all over the top of salmon fillet.Sprinkle the toasted black sesame seeds (or white sesame seeds) on top of the miso salmon. Season with white pepper to taste. Drizzle with a little olive oil.

Optional: If you desire, you can add quick cooking vegetables like asparagus, zucchini, peppers or whatever your little heart desires right on the pan with your salmon for a full meal. Drizzle with a little olive oil and season with salt and pepper

Bake the salmon for about 10 minutes per pound or until it flakes easily with a fork. We have found that wild salmon is leaner and usually is cooked sooner. Please check on your wild salmon around the 7-minute mark.
Notes
Of course you can use any fish you enjoy but salmon can really hold up to the bold flavors of the miso paste.
Feel free to use the type of miso paste you have on hand. Yellow, red or mixed miso works the best.
Black or white toasted sesame seeds are equally delicious in this recipe. You can also use either white or black pepper and add it to your taste preference.
We added a little trimmed asparagus to the baking sheet and tossed with a little olive oil, salt and pepper to taste and it was done cooking about the same time as our salmon. One pan cooking is our favorite.
Highly recommended to line your sheet pan with aluminum foil to keep it easy for clean up.
Nutrition
Serving:
1
g
|
Calories:
226
kcal
|
Carbohydrates:
3
g
|
Protein:
24
g
|
Fat:
13
g
|
Saturated Fat:
2
g
|
Cholesterol:
62
mg
|
Sodium:
367
mg
|
Potassium:
588
mg
|
Fiber:
1
g
|
Sugar:
1
g
|
Vitamin A:
45
IU
|
Calcium:
48
mg
|
Iron:
2
mg