Thai Hot and Sour Prawn Soup also known as Tom Yum Goong is a fragrant, spicy and sour soup flavor explosion made with authentic Thai ingredients.
If you like spicy food, you have finally found your match. Thai Hot and sour Prawn Soup packs a big punch of heat. There is absolutely nothing mild about the heat or flavoring aromatics of this recipe. Those little Thai bird chilis might be little but they are quite mighty whether you enjoy them in a Healthy Chicken Lettuce Wrap or in a soup.
You are going to love Thai Hot and Sour Prawn Soup because its spicy, sour, savory and balanced with a little sweet. Like all Thai Cuisine recipes, the balance here is key to a delicious soup.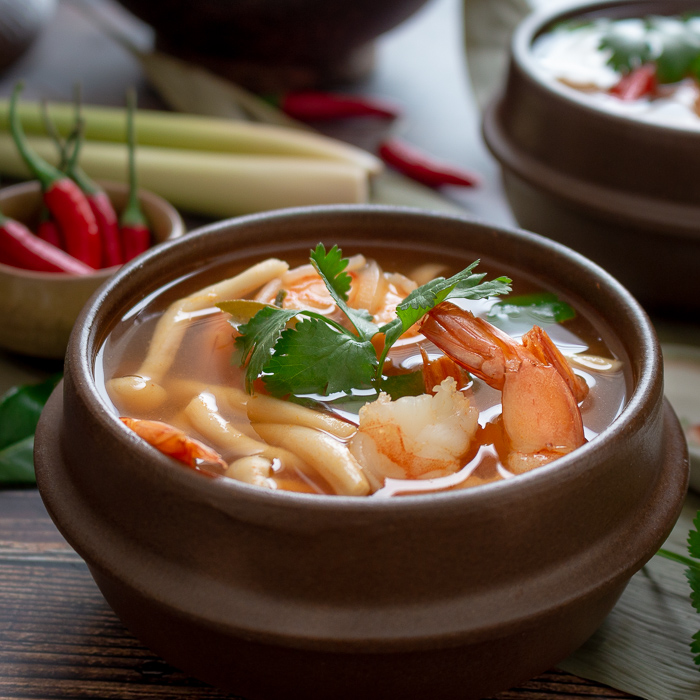 Jump to:
Do you know what Tom Yum Goong means?
In Thai "Tom" means to boil "Yum" is salad as it has some of the same aromatics as a salad. "Goong" means prawns. So loosely translated it is a boiled salad with prawns… LOL. There are a couple different versions of Tom Yum Soup. Sometimes, there will be the addition of coconut milk.
If one swaps the out the prawns with fish or chicken, they will have correlated names and the ingredients will differ slightly. Today, we are making a clear broth Tom Yum Goong without coconut milk.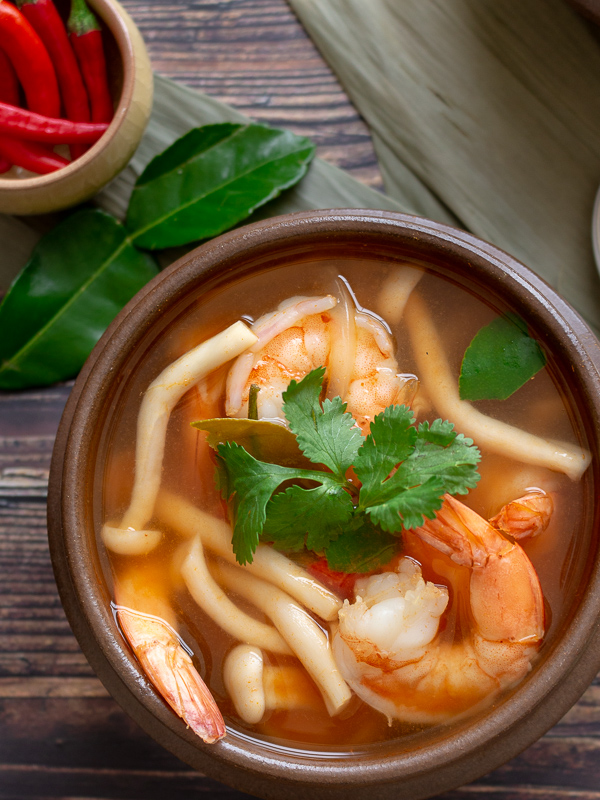 Different Flavor Sensors on Tongue
You taste salty on the tip of tongue and edges of the front of your tongue.
Sweet sensors are located in the front of your tongue.
Sour taste buds are located on the sides of the tongue.
The back of your tongue senses bitter.
If you take a sip of Thai Hot and Sour Prawn Soup you will initially taste the salty on the tip of your tongue, the lime on the sides and heat just everywhere… The sweet helps to balance to heat and the salty components of this soup. If you love Thai Flavors, be sure to try our Thai Firecracker Shrimp Party Appetizer, Prik Nam Pla and Thai Cuisine recipes.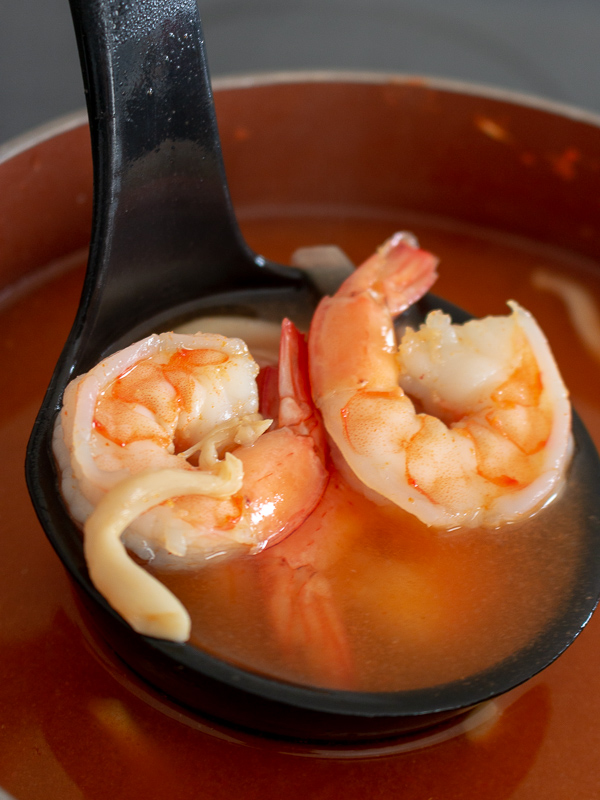 Traditional Thai Ingredients
There are a handful of ingredients that are essential to Thai cooking.
Kaffir Lime leaves – The crushed leaves emit an intense citrus aroma
Lemongrass – culinary and medicinal cooling herb that smells like fresh lemons
Galangal – cooling herb that is very firm and difficult to chop but is very zesty and aromatic – different than ginger
Thai chili peppers – SPICY FIRE
Shallots – aromatic
Fish sauce – adds a deep blend of savory notes to the recipe
Fresh limes – adds a delightful sour note to Hot and Sour Prawn Soup – only add after you turn the heat off.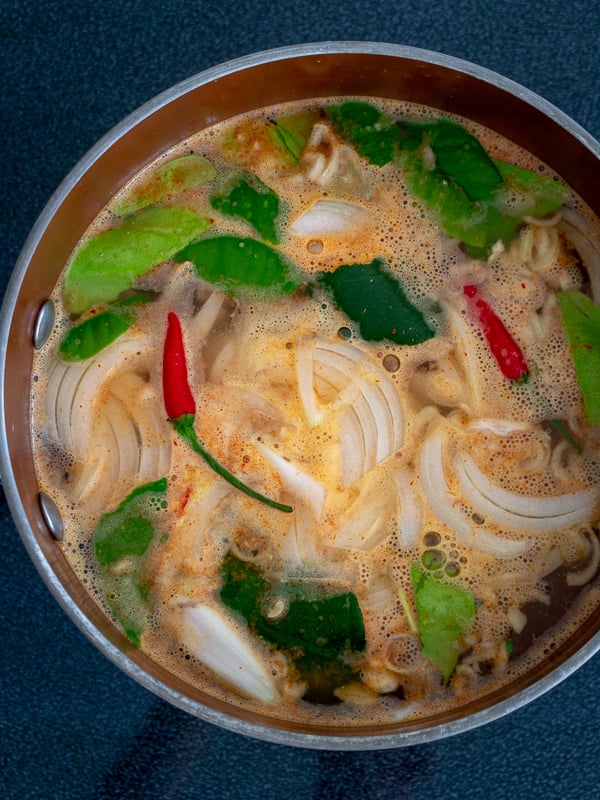 Exchanges and Substitutions
Fresh limes, fish sauce, shallots and lemongrass are pretty readily available in most places.
If you are struggling finding lemongrass, you can also use the squeeze version in the refrigerated section of your grocery store. Fresh is always preferred. However, in a pinch, this works well.
It is more difficult to locate kaffir lime leaves, galangal and Thai Chili peppers. Many whole foods stores and specialty stores sell kaffir lime leaves online. Some stores sell dried whole kaffir limes too. In a pinch, use the zest of a fresh lime but only add at the end of the cooking process so it does not become bitter.
Some people will add fresh grated ginger or ½ amount of dried ground ginger. However, please note that ginger is a warming spice and galangal is a cooling spice so they will create a different flavor profile in your recipe.
If you can find Thai Bird chilis, use the chilis you have access to. Enjoy and adjust amount for the Scoville heat index. If all else fails, skip all the additions and just add a huge dose of Thai Red Curry paste and call it a day!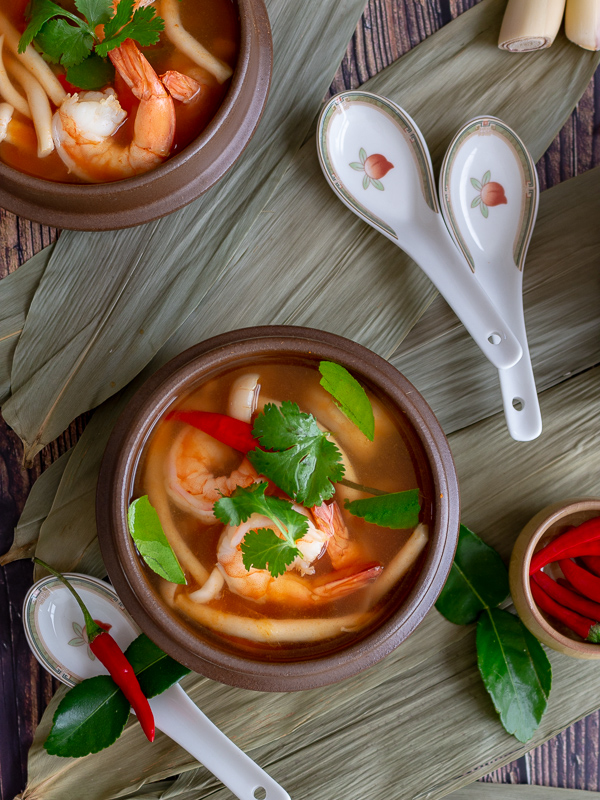 Freeze Fresh Thai Herbs and Spices
We absolutely love visiting the Asian Market and getting our fresh traditional supplies. As they always package up way more than you will use for one meal, we freeze the ingredients. Then, just take out of freezer to unthaw as needed.
This method works fabulous for kaffir lime leaves, chili, sliced galangal and lemongrass, just to name a few. Check out our post on Essential Thai Herbs and Spices to learn more.
How to prepare kaffir lime leaves?
If you just drop the whole kaffir lime leaves into your soup pot, they will not release any flavor. The best way we have found to get the fragrant oils out of the kaffir lime leaves is to fold in half along the stem and remove the stem. This works like a charm. You may also tear or crush the kaffir lime leaves, if you prefer.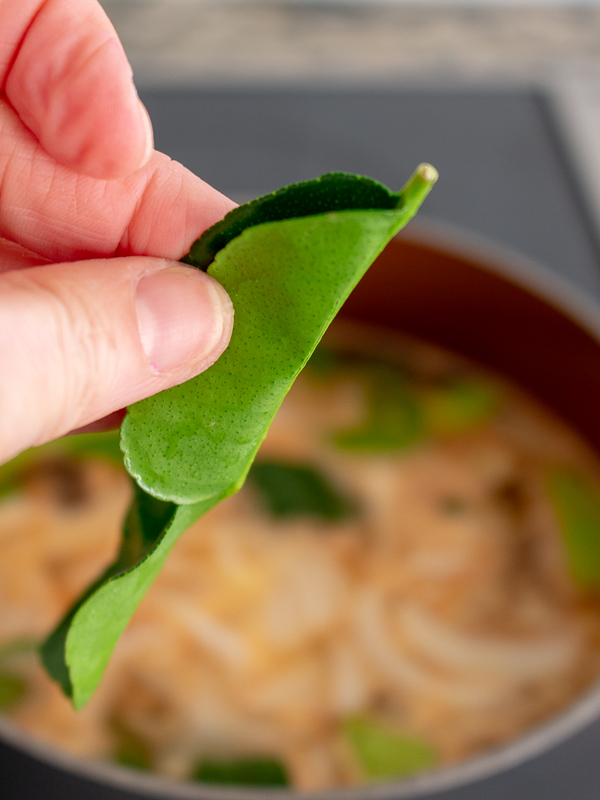 Smart Cook Thai Cookery School in Chiang Mai, Thailand
We originally posted this recipe in January 2012 after a trip to Chiang Mai. Since then, we have been to Thailand more times than we can count and have made this Thai Hot and Prawn Soup on numerous occasions.
If you ever visit Chiang Mai, we had a delightful time at the Smart Cook Thai Cookery School in Chiang Mai, Thailand. Their staff is very knowledgeable, and it is well coordinated. Unlike many cooking classes where you stand back and watch, this one you do everything and have your own wok station.
After all…you can only do so many temple tours.
More Thai Cuisine Recipes
Did You Like Our Recipe? Leave a ⭐⭐⭐⭐⭐ rating and/or a review in the comments section below. Your feedback is always appreciated! Follow us for more delicious recipes on Pinterest, Instagram, Twitter and Facebook! Don't forget to sign up for our email list for more free recipes.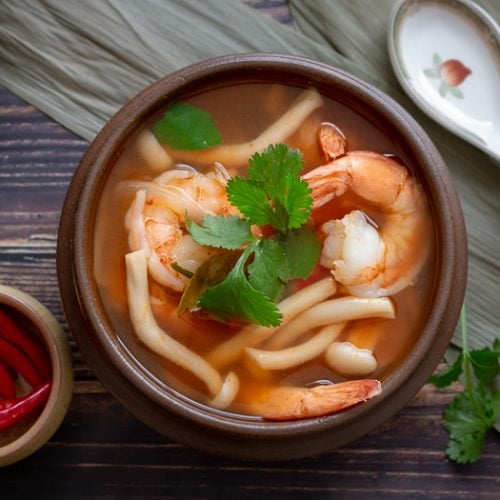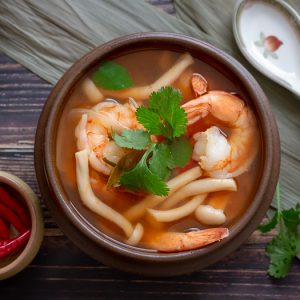 Thai Hot and Sour Prawn Soup
Thai Hot and Sour Prawn Soup also known as Tom Yum Goong is a fragrant, spicy and sour soup flavor explosion made with authentic Thai ingredients.
Print
Pin
Rate
Ingredients
3

cups

chicken stock


3

stalks

lemon grass


(crushed with the back of your knife)

6

slices

galangal


(Thai ginger)

4

kaffir limes leaves

torn in half – remove stem

1-3

chilies


fresh or dried (crushed if you want them hot)

2

tomatoes

cut into quarters

4

oz

mushrooms


shimeji (or mushrooms of choice)

1

shallot

shallot


cut into quarters

2

tablespoon

fish sauce


2

teaspoon

brown sugar


or sugar alternative of choice

8-10

prawns

peeled and deveined (can substitute large shrimp, seafood, tofu, or even chicken if you wish)


3

teaspoon

lime juice


2

tablespoon

cilantro

(coriander) for garnish - optional
Instructions
Boil the chicken stock in a pot, add lemon grass, galangal, kaffir lime leaves and chilies, cook until boiling.

Reduce heat to a simmer.

Add crushed tomatoes, mushrooms and shallot in the pot with a gentle stir. Wait for a few minutes until everything is cooked.

Season with fish sauce and sugar. Bring soup back up to a boil. Add prawns and lime juice. Turn off heat. Let sit for 10 minutes. The heat of the broth will cook the shrimp. (your shrimp should no longer be translucent, be bright pink and white and look like the letter C) Taste and adjust for your liking. If you want it sourer, add more lime juice. Saltier add more fish sauce. Sweet add more brown sugar or sugar alternative.

Sprinkle with cilantro (coriander) and its ready to serve. Enjoy!
Notes
You can make substitutions as needed.
Feel free to use seafood or vegetable stock instead of chicken stock.
If you can't find fresh lemongrass there is the squeeze bottle brand in the refrigerated section of many stores.
You can use dried whole galangal instead of fresh. In a pinch, you can swap out fresh galangal with fresh ginger but please note that it is a very different flavor profile. Ginger is a warming and galangal is a cooling. Remember, if you decide to add in dried ground ginger, it is very strong. Start out at only ½ teaspoon and increase as desired.
If you cannot find kaffir lime leaves, substitute with 1 heaping teaspoon of lime zest to be added only right before serving.
If you can't find Thai bird chilis feel free to use a chili of choice and adjust for your desired heat level.
Our family is "anti-tomato" so we crush upon addition to the soup. However, it is more traditional to add just quartered slices.
If you have a gluten allergy, there are many gluten free fish sauces on the market.
If you want to make this recipe LOW CARB, exchange brown sugar with a sugar alternative of choice.
Nutrition
Serving:
1
g
|
Calories:
150
kcal
|
Carbohydrates:
19
g
|
Protein:
16
g
|
Fat:
3
g
|
Saturated Fat:
1
g
|
Cholesterol:
60
mg
|
Sodium:
1718
mg
|
Potassium:
920
mg
|
Fiber:
2
g
|
Sugar:
11
g
|
Vitamin A:
1266
IU
|
Vitamin C:
54
mg
|
Calcium:
69
mg
|
Iron:
2
mg