Asian Fusion Cod is a succulent fish steamed with aromatic ginger and glazed with a delicate Japanese mirin, homemade dashi stock, tamari, dark sesame oil and gluten free miso paste.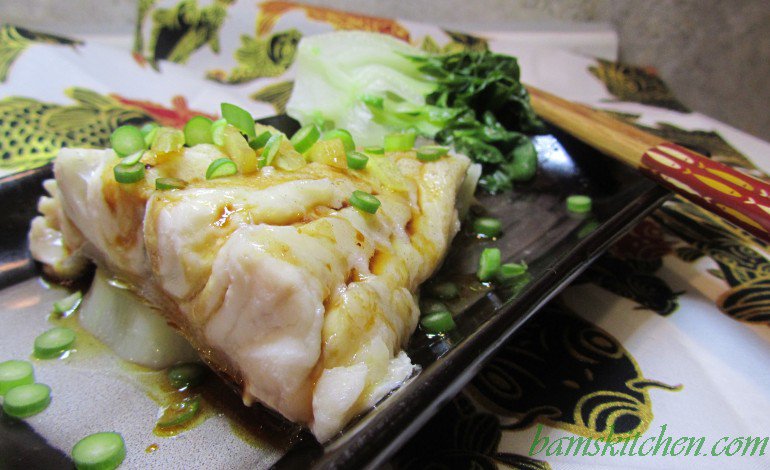 When you live in different countries, you learn how to adapt to your environment. You also bring a little of all the flavors, experiences and cultures along with you on your long journey.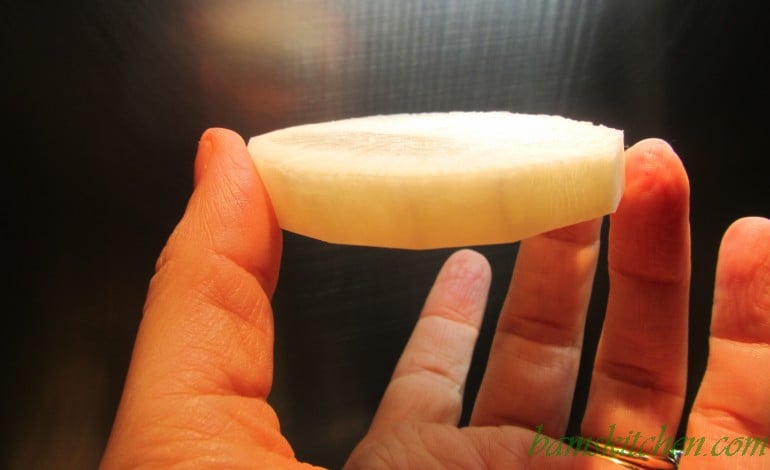 Living in the States, I learned how to adapt to the hustle and bustle of working full time with kids and a traveling husband. This taught me basic kitchen survival skills on keeping things simple and quick in the kitchen to minimize the evening chaos. Living in Japan, I learned the magic of the taking time to smell the flowers and enjoy how simple, pure ingredients really make the flavors of a dish stand alone.
In Hong Kong, China I have learned the love and importance of the bamboo steamer. Steaming is a very healthy way to prepare your food as the vitamins and minerals remain without the use of any additional fats. I have also embraced Traditional Chinese Medicine and have learned how certain foods, herbs and their preparation methods can affect our health.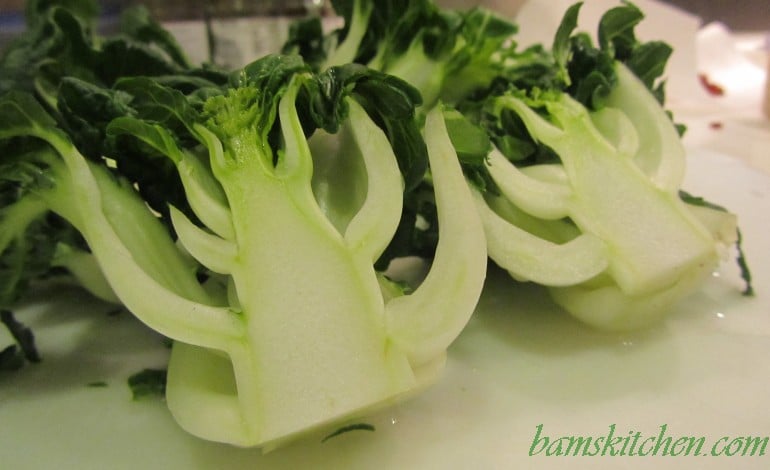 Today, I want to share with you the blend of all of these international experiences in a American-Japanese-Chinese fusion dish. From America, I wanted to make something quick and easy for those stressed out working parents that have to hurry home from work to get their kids to tutor lessons, soccer practice and dance lessons. From Japan, I wanted to make a dish that brings calm and simplicity to your evening. From China, I wanted to share with you the simple art of steaming and healthy cooking.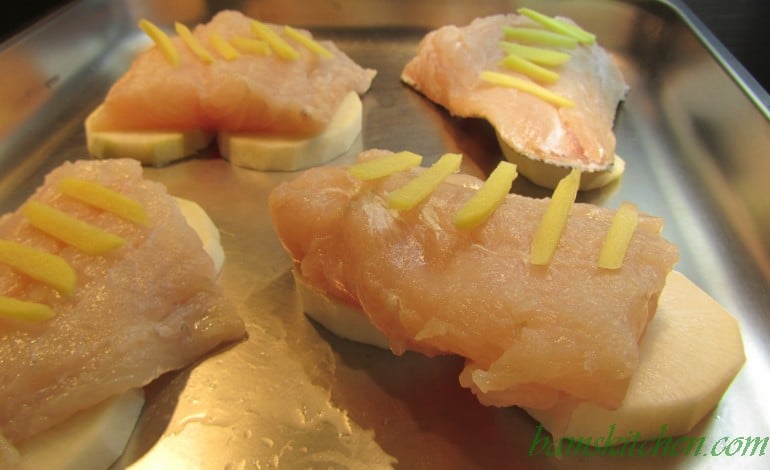 Why you are going to love Asian Fusion Cod
This succulent tender cod is steamed with aromatic ginger and glazed with a delicate Japanese mirin, homemade dashi stock, tamari, dark sesame oil and gluten free miso paste. In 15 minutes or less you can have a full complete meal with healthy steamed white fish of your choice, steamed bok choy and rice. This healthy dinner is cardiac friendly, diabetic friendly, gluten free and delicious.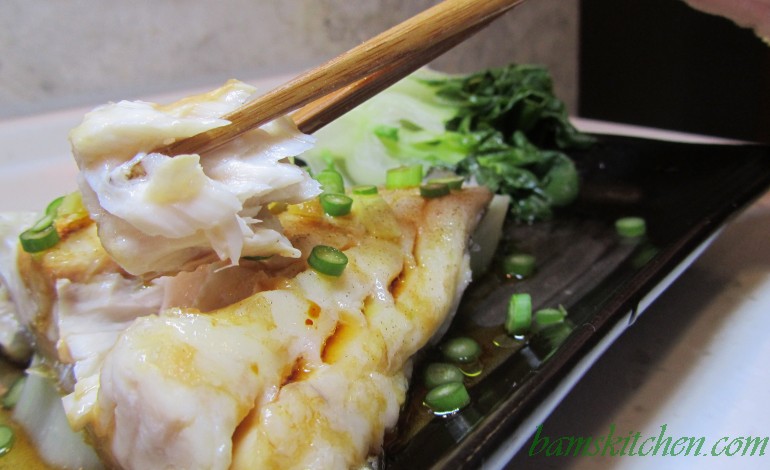 How to make a basic Dashi stock
Not only am I influenced by my environment and surrounding, but I am also influenced by all of my foodie friends and their wonderful recipes. My favorite Japanese website is Just one Cookbook. Nami-san is my dear friend who shares simple and carefree Japanese homestyle meals with awesome step by step instructions and photos. She brings you back to the basics and brings me fond memories if living in Yokohama. Japanese cooking is clean cooking with simple quality ingredients. Now that I have to deal with all of my families' dietary needs, Nami-san's site is a great reference for making basic dashi stock. Prepackaged dashi is full of gluten, MSG and all kids of things we are all avoiding. However, Nami-san's recipe, How to make Dashi, is gluten free and so easy to make with natural ingredients.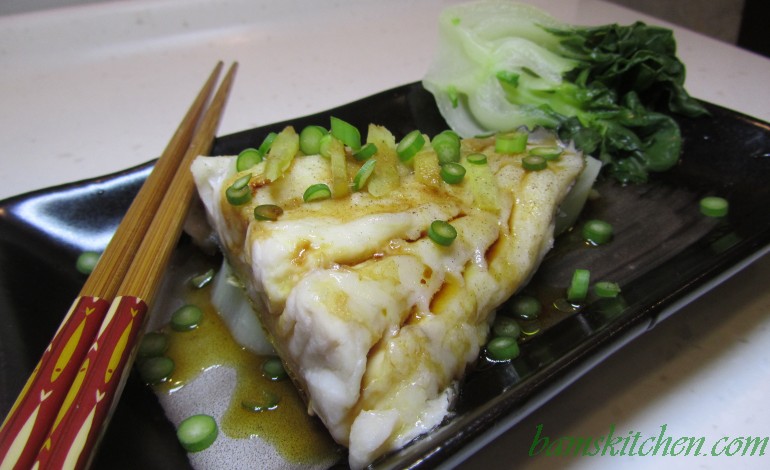 How to Steam Asian Fusion Cod
Another one of my dear foodie friends is Norma Chang from Garden to Wok. Norma is a fun loving food blogger that grows her own vegetables in her garden and creates healthy delicious meals with the fruits of her labor. Norma is my little star because she really simplifies and demystifies the whole topic of steaming, which is the process of cooking your your food with moist heat. You do not have to own one of those fancy bamboo steamers. You just need a little imagination, a pot with a lid and Norma will help you get that all sorted. Please check out her great little post on how to steam.
Easy Asian fusion cod is a healthy, delicious meal to make on a busy week night.
More Delicious Seafood Recipes
Lemon Herb Baked Rainbow Trout
Balsamic Glazed Salmon and Roasted Root Vegetables
Mediterranean Red Snapper Packets
Baked Spicy Salmon and Sweet Potato Kale Hash
Hungry For More? Subscribe to our Newsletter and follow along on Facebook, You Tube, Instagram, and Pinterest for all the latest updates.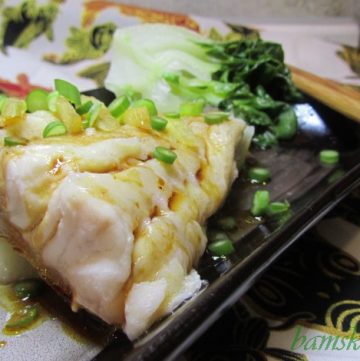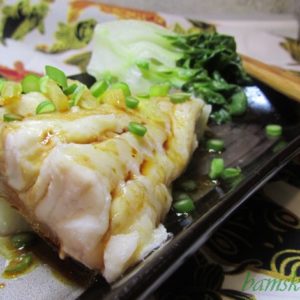 Asian Fusion Cod
This succulent tender cod is steamed with aromatic ginger and glazed with a delicate Japanese mirin, homemade dashi stock, tamari, dark sesame oil and gluten free miso paste.
Print
Pin
Rate
Ingredients
water - depending on the size of your steaming device enough water so that level of water is about 2 inches below

diakon radish - 8 (1/2 inch slices) -white long mild east Asian radish

white fish - 4 boneless and skinless fillets or whole fish (I used cod but any delicate white fish you fancy would work well: tilapia, halibut, etc)

ginger - 20 skinny matchstick julienne slices

dashi broth - 1/4 cup ( http://justonecookbook.com/blog/how-to/how-to-make-dashi-jiru/, alternatively if you are not gluten intolerant, add 1 teaspoon of store bought dash powder to 1/4 cup water)

mirin - 2 tablespoons (Japanese cooking rice wine)

sesame oil - 1 teaspoon

white pepper - 1/8 teaspoon or to taste

tamari (soy) sauce - 2 tablespoons

miso paste (gluten free) - 1 tablespoon (Mame miso, or soybean based dark red colored miso)

sugar or sugar alternative - 1 teaspoon

garlic chives - garnish thinly sliced or can substitute spring onions

bok choy - 4 pieces cut in half lengthwise or veggie of choice

rice - optional
Instructions
Set up your steamer. If you have a have a little metal steaming basket, bamboo steamer or built in steamer lucky you. However, if you don't have a steamer, don't worry as long as you have a deep pan with a lid then you can create a modified steamer. Before I moved to Hong Kong, I used a wok with a lid, and at the bottom of the wok I put a heat safe little Japanese pottery dipping dish upside down, then I placed my flat plate on top of that and lid on top of that. Place enough water at the bottom of your pan so that the water level is at least 2 inches away from the steamer basket, plate, etc. Turn on your burner and bring your steamer to a boil. (In HK, I am blessed as I have a build in Meile steamer but I don't want to give all of you kitchen appliance envy, so I won't show you a picture)

(If you are planning to serve rice with your meal, start cooking your rice now, if diabetic or watching your carbs replace the rice with more assorted veggies or mushrooms)

Place peeled and sliced diakon slices on your steaming plate (bamboo basket).

Place 4 cod fish fillets (or any mild white fish of preference like mahi mahi, tilapia, haddock ,etc whatever your little heart desires) on top on the diakon radishes on your steaming plate (bamboo basket). You can also use a whole fish, just be sure to first clean fish really good by rubbing with salt and water. If using a larger whole fish you will need to score the fish with a knife on its sides and may need to adjust cooking time.

Place about 4-5 julienne sliced ginger on top of fish fillets (if using whole fish stuff the cavity of the fish with ginger slices)

Arrange bok choy around fish. Once the steamer water comes to a boil, put your fish with bok choy plate into the steamer. Depending on the size of your fish, you will need to stream your fish between 8-12 minutes. Larger or thicker fish fillets or whole fish will take longer to cook then thinner fillets. Your fish should flake easily with a fork when perfectly cooked and the veggies should be aldente. Bok choy only take about 6-8 minutes to cook so you can wait until half way in the cooking process to add them. However my cod fish only took 8 minutes to steam so it worked out perfectly for me.

In the meantime, make your Japanese Miso Glaze. In a small pan, add dashi broth, mirin, sesame oil, tamari sauce, miso paste and sugar alternative. Heat up ingredients slowly until slightly reduced. Adjust seasoning to taste.

Remove fish and bok choy from steamer and drizzle Japanese miso glaze on top. Garnish with garlic chives or spring onions and serve with a side of rice. Enjoy.
Notes
We used cod for this recipe but you can use any white fish you desire. Time for steaming will depend on the size of fish. If you are steaming a whole fish, you will need to increase your steaming time.
Nutrition
Serving:
4
g
|
Calories:
143
kcal
|
Carbohydrates:
8.3
g
|
Protein:
22.6
g
|
Fat:
2.1
g
|
Cholesterol:
43
mg
|
Sodium:
1976
mg
|
Potassium:
793
mg
|
Fiber:
1.7
g
|
Sugar:
4.6
g