Picky Eaters? Try these 75 best tasting fish and seafood recipes and turn fish haters into fish and seafood lovers. These unique international seafood dishes are easy to prepare and disguise any fishy flavors to make dinner time – "civilized" family time.
We know all about how fish hating kids and adults respond when they get an inkling that fish might be served for dinner.
Teenagers are on their cell phones trying to get invited over to their friend's house.
Elementary school age children lock themselves in their rooms.
Toddlers have a meltdown.
Adults start looking into the pizza delivery options.
Sound familiar? Then, you are going to love these dinner ideas for the best tasting fish and seafood recipes for picky eaters.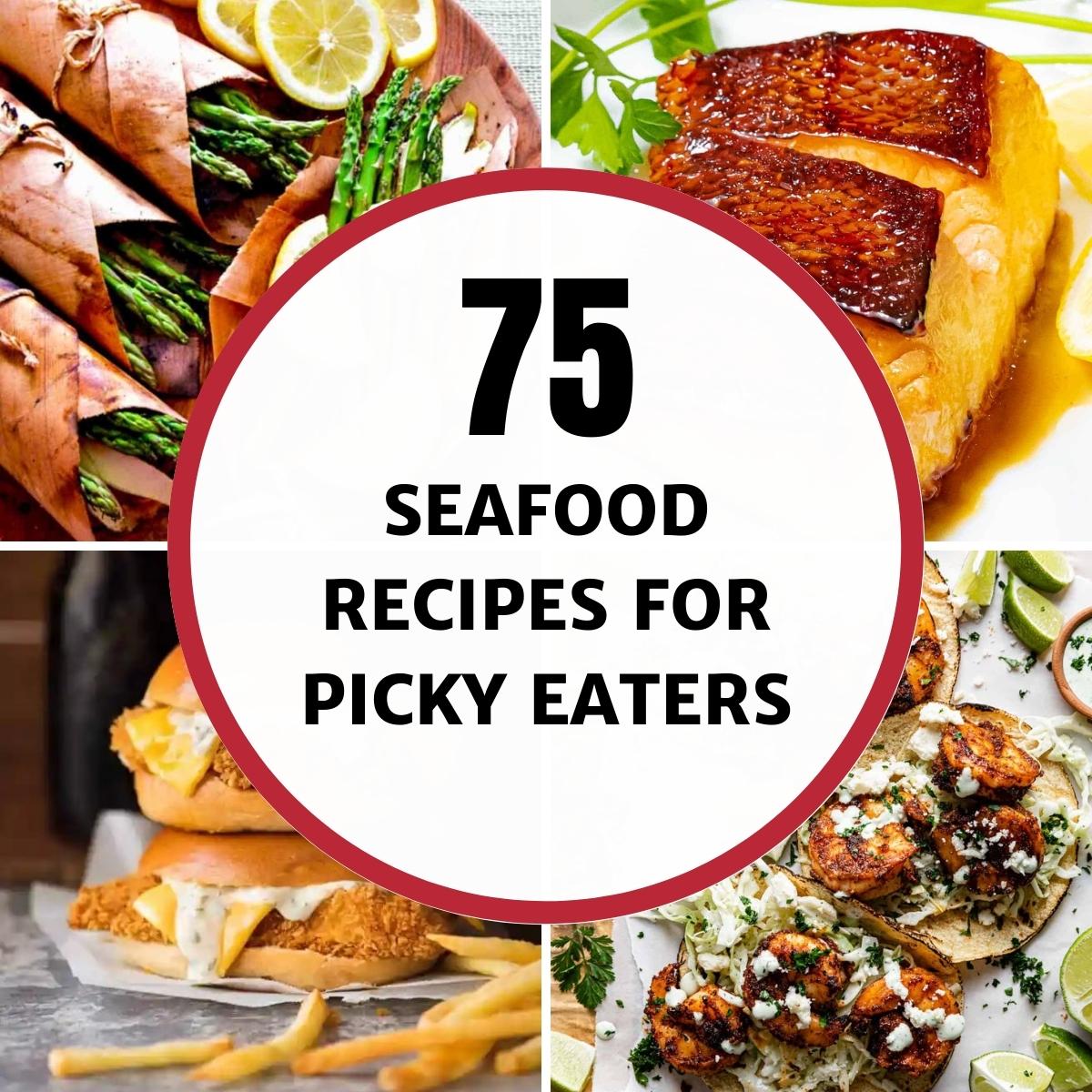 Jump to:
How to Pick Fresh Fish
First things first! You can't make the best fish recipe without fresh fish.
If it is fresh, they should smell like the ocean and not have a fishy odor.
If choosing a whole fresh catch of the day, be sure that the eyes are bright, clear and are not sunken in. The flesh should firm and gills are bright red and clean. If it is still swimming in a tank at the seafood market – BONUS!
On the other hand, if buying fillets, the flesh should not have any strange discoloration and no dried edges. If the fish still has skin, the scales should be shiny and intact. However, that is of course unless they have already been descaled by your fish monger.
Just because seafood is labeled "catch of the day", it does not mean it is fresh. It could have been previously frozen and then thawed. In addition, it could have traveled a long way and not stored properly.
Flash frozen fish that are caught and frozen straight away, actually have less risk of contamination.
Characteristics of Fresh Shellfish
There is nothing like enjoying a delicious appetizer of Asian Steamed Scallops with Garlic Vermicelli BUT the shellfish must be fresh. Some examples of shellfish are shrimp, mussels, scallops, oysters, lobster, clams, scallops and more. You can get really sick with food poisoning, if you don't follow these basic guidelines...
Shellfish should smell fresh like the ocean. They should not have a fishy or an ammonia like odor. If they do, they may have gone bad.
Fresh live shellfish need to be cleaned and cooked straight away or stored in the refrigerator for a maximum of 24 hours. If they die before cooking, they can secrete substances that can make you very sick when consumed.
Live lobsters and crabs should be lively, have actively moving legs and eyes. If not, they may be dead. Live lobsters or crabs, like in our Steamed Shanghai Hairy Crabs recipe, are best cooked asap or within 24 hours.
Live Clams, mussels and oysters' shells should be closed and if touched the shell should close. If not, toss them as they may be dead.
Frozen shellfish should NOT have physical signs of freezer burn, broken into pieces, odd changes in color, strange smell or slimy odd texture.
US Food and Drug Administration has a list of basic guidelines for Selecting and Serving Fresh and Frozen Seafood Safely
Which One is the BEST?
Believe it or not, there is no specific breed of fish or type of seafood that makes it the best tasting fish or seafood in the world. Of course, the mild flavored fish are best tolerated. However, at the end of the day, it is how the fish and seafood are "prepared" that makes all the difference.
Just like in our 10 Different Ways to Cook Salmon, some cooking methods are better for those refusing to try fish. The best tasting selections are ones are those that your family will actually eat. Right? I bet we can all agree on that!
How to Make Fish Taste Less Fishy + RECIPES
Try these easy game changing hacks are going to help fish Fridays and seafood dinners come off without a hitch. Each game changing hack features a general overview on how to do this and several delicious recipes to achieve it.
Choose a mild fish
Experiment with spices, herbs & seeds
Add another protein
Hide it in a curry or soup
Grill it
Stuff it
Stir fry it
Add a crunchy topping
Wrap it up
Blacken it
Hide it in noodles, rice or other carbohydrates
Make cakes and pancakes
Add a splash of citrus
Sauce it up
Soak in Milk
Make more tacos
Air fry it
Try it in a salad
1. Choose a Mild Fish
Mild Fish like cod, tilapia, halibut, grouper or sea bass are preferred because they are naturally sweet and tender. Depending on the country you live in and the sustainable options available, these seafood options will differ. Generally speaking, white fish like our air fryer frozen tilapia have a milder flavor than those with natural color such as tuna and salmon.
2. Experiment with Spices, Herbs & Seeds
Try delicious spices and herbs to accentuate the delicious flavors of the dish. International spices can literally transform fish from "There is absolutely no way I am eating that" to... "Okay, I will try it".
With just a few dashes of dried spices or fresh herbs, you can travel the world without ever leaving your kitchen. Not only do they add tons of flavor to your seafood recipes, but picky eaters can smell the aroma of the spices instead of the fish cooking.
3. Add Another Protein
A savory protein like sausage adds a much-needed fat in a seafood dish. When meat is stir-fried in the pan, it releases its fats and they are absorbed into the seafood. This changes the flavor profile of the dish. Our Chorizo and Shrimp Fried Rice is great example.
4. Hide it in a Curry or Soup
Moms and Dads are notorious for being able to hide all kinds of healthy things in soups, stews, and curries. If the broth is extra savory and delicious, you can hide vegetables and even small slices of fish and seafood and not one will ever be the wiser.
5. Grill it
Dinner is always more fun and delicious when it comes off the BBQ grill. First and foremost, it infuses a smoky flavor that you cannot achieve in the oven or stove top. In addition, adding a few grill marks on the fish and seafood adds more flavor.
6. Stuff it
Want to add MORE flavor? Stuff your seafood!
7. Stir Fry It!
Stir Frying is fish and seafood is fast and easy. Add in a special sauce and picky eaters won't even know there is fish in the dish.
8. Add a Crunchy Topping
You know what your family does it you serve a plain fish filet to them, right? Skip all the dinner time drama. Instead, dress up your fish. Top it with a crispy crunchy topping and watch the frowns turn to smiles.
9. Wrap it Up
Whether you put your fish in a banana leaf to infuse more flavor in Pilipino seafood dishes or put in little parcels to grill or bake, it is always fun opening up a package. Spark their curiosity so that they try what's inside.
10. Blacken it
Blackening is a cooking technique using flavorful spices to get a dark sear on the fish. This technique is one of the best methods to achieve the best tasting fish for picky eaters.
11. Hide it in Noodles, Rice or Other Carbohydrates
Bring on the carbohydrates! There is something comforting and cozy about rice and pasta. Right? It brings familiar foods to the table so the brain registers this as a safe place. Start out with just a little seafood and let the pasta win first place for success at the dinner table.
12. Make Cakes and Pancakes
Savory fish cakes and pancakes is a great way to make fish taste less fishy. In addition, it is not shaped in any way, shape or formed like a fish fillet. Aesthetics are everything as you first eat with your eyes.
13. Add a Splash of Citrus
You can add a splash of lemon to neutralize the flavors of strong seafood. In addition, sometimes lemon is used in a ceviche to break down the proteins just like cooking does without adding heat. Adding lemon is one of the best ways to make fish taste less fishy.
14. Sauce it Up!
Sauces can be creamy, spicy, zesty, sweet, and so good on top of fish. The best tasting seafood might be the one drizzled in a complementary sauce.
15. Soak Fish in Milk
You may have heard that soaking your fish in milk or coconut milk before cooking makes fish taste less fishy. According to eHow, learning Hot To Soak Fish Before Cooking the milk reverses the chemical reactions that cause the fish to be fishy.
16. Make More Tacos
Bring on Taco Tuesdays, Wednesdays, Thursdays, and Fridays! With all the delicious toppings and salsas, it's the best way to make fish taste good.
17) Air Fry It!
Once you start air frying, you will never stop. The convection process decreases the cooking time. In addition, it gives fish those little crispy edges while keeping the interior tender and delicious. The best part is it is so much healthier that pan frying or deep frying and LESS MESSY.
18. Try it in a Salad
Need a dish to pass or having a picnic? Salad dressings and rainbow vegetables are the perfect medium to camouflage fish and shellfish. Try these easy seafood salad recipes for people who don't like fish.
Serving up fish recipes for people who don't like fish is very difficult. We hope that these 75 delicious, best tasting fish recipes will inspire you in the kitchen.
Frequent Asked Questions (FAQ's)
More Recipe Round Ups
Did You Like Our Recipe? Leave a ⭐⭐⭐⭐⭐ rating and/or a review in the comments section below. Your feedback is always appreciated! Follow us for more delicious recipes on Pinterest, Instagram, Twitter and Facebook! Don't forget to sign up for our email list for more free recipes.