Easy Peasy Chicken Italiano is a delicious low carb less than 30 minute meal with a fresh tomatoes, basil and herbs.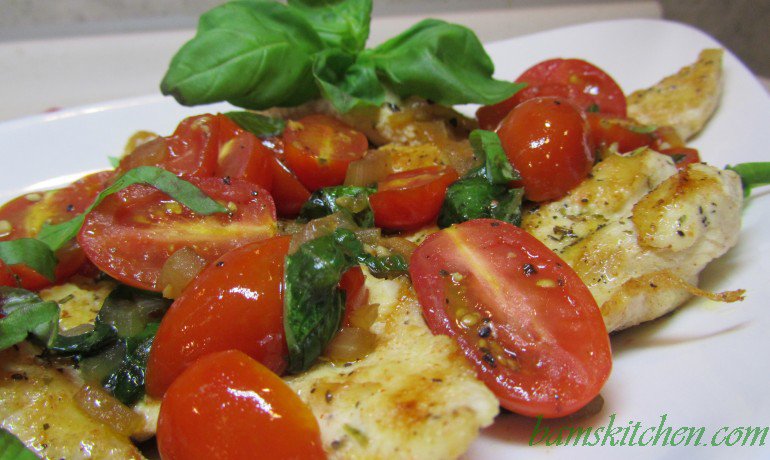 Getting back to the basics is such a difficult thing when you live in Asia.
Many Asian recipes have a spice list a mile long and has lots of ingredients. I love cooking Asian food, but it is time to get back on the easy track by eating a few fresh and simple ingredients. It is time to let the food talk for itself, so to speak.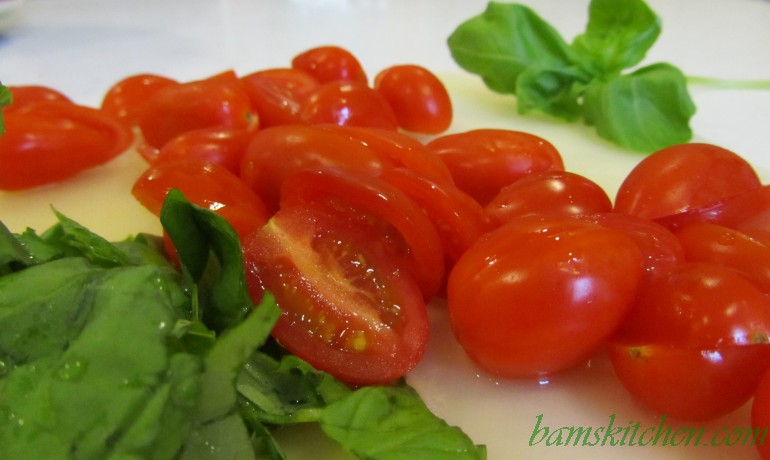 My mom always had a unique way of cooking with just a few quality ingredients. I think her Italian heritage and being forced to make do while living through the depression in the US, sparked her creative skills. She always had a special skill of making simple dishes taste wonderful. We always had extra unplanned guests. My mom would throw in some extra pasta or make an extra little side dish. It was like magic on how we always seem to have enough of everything to go around the table.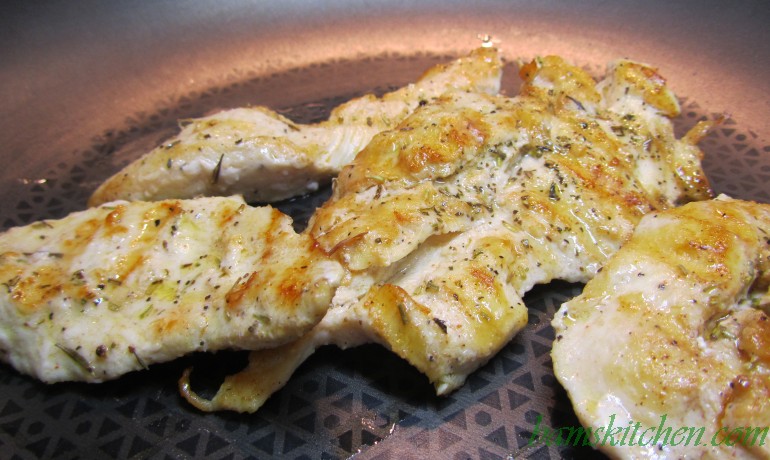 My mom turned 87 yesterday, bless her little heart! I thought of her all day in Hong Kong as it is so difficult being separated so far away from the people you love dearly. In celebration of Mom's birthday, I made one of her "go to easy meals" that she made often for us when I used to live at home.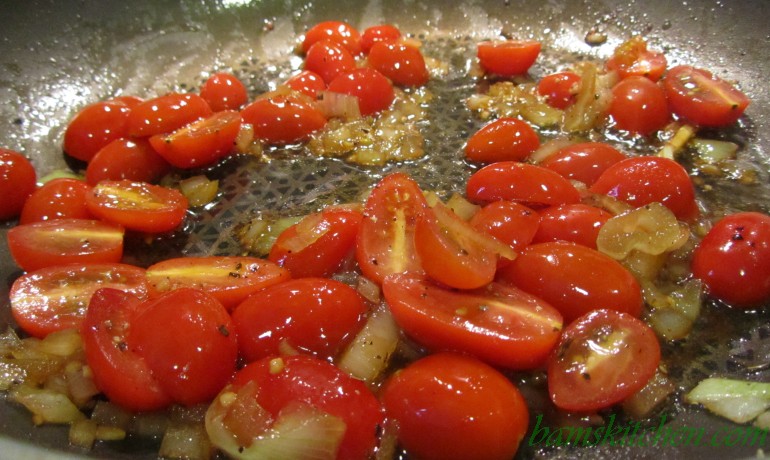 I had forgotten all about this recipe until I was standing in front of the refrigerator hungry. I was mindlessly eating, by the handfuls, some freshly washed super sweet mini tomatoes from Malaysia.
Then there it was, like a lightbulb on top of my head, or maybe more like a childhood memory. I had an idea. The sweetness of the fresh cherry tomatoes is simple and pure. It reminded me of a dish we used to eat when I was living at home.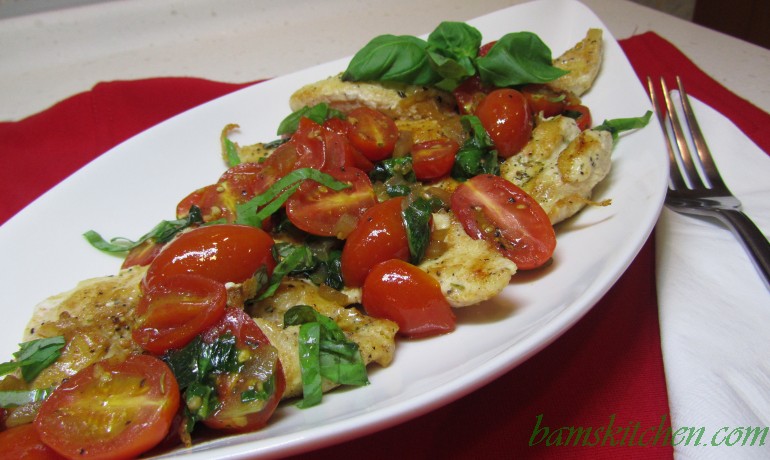 My mom used to make an easy peasy pan sautéed chicken with a fresh tomato, basil and wine sauce that would knock your socks off. Delicate sauce with fresh picked tomatoes (still warm from the sun) from Dad's garden and snipped basil she would grab from just outside the back door.
This is a vibrant dish that can be made in 15 minutes or less but tastes like it was made in a restaurant. Mom would serve this with a side of pasta, polenta or risotto and vegetables.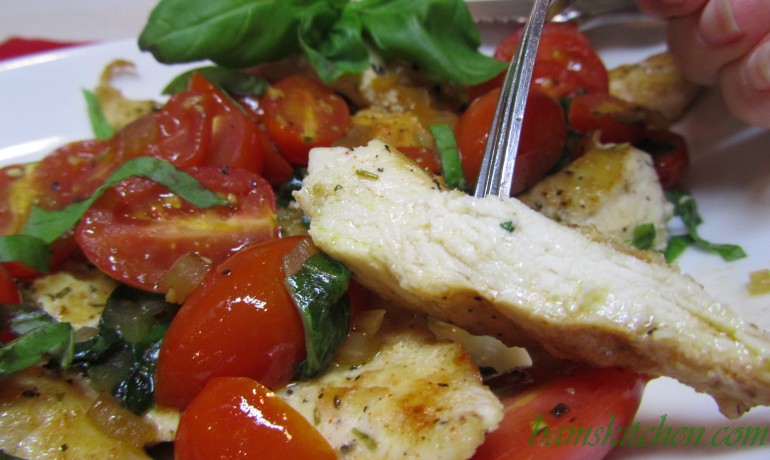 We also used to plant fresh garlic just outside the back door just outside our kitchen. A family of ducks also felt that this was the perfect location for her nest every year. Mama duck was quite defensive and would chase you away and cause all kinds of raucous if she thought you were going to hurt her little ducklings. You had to be quick and strategic, if it was your job to pick the garlic and basil.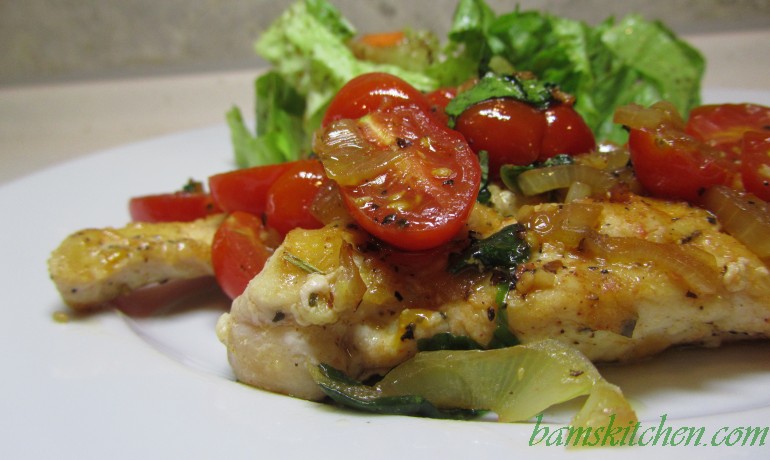 Why you are going to love Easy Peasy Chicken Italiano
I really love this dish because of its simplicity. It has only seven little ingredients and some seasonings. Many of these things you already have at home. This is one of those kinds of dishes that gets lots of "oohs" and "ahhs" with no time spent in the kitchen, so another great little dish for company. I also think this sauce would be fabulous on top of sautéed or grill fish or really anything your little heart desires.
More Easy Low Carb Chicken Recipes
Stove Top Chicken Bacon Casserole
Creamy Chipotle Chicken Skillet
Tomatillo Key Lime Chicken Sizzle
Hungry For More? Subscribe to our Newsletter and follow along on Facebook, You Tube, Instagram, and Pinterest for all the latest updates.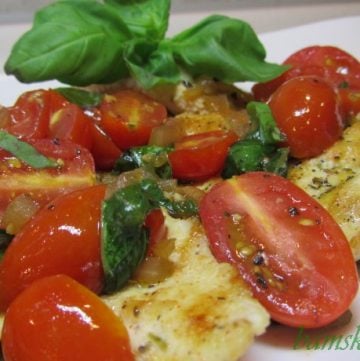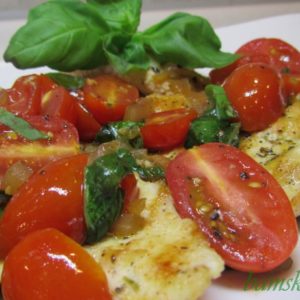 Easy Peasy Chicken Italiano
Easy peasy pan sauteed chicken with a fresh tomato, basil and wine sauce that you can make in 15 minutes or less.
Print
Pin
Rate
Ingredients
2

tablespoon

olive oil

12

oz

chicken breasts

boneless skinless that are cut in half lengthwise so it cooks faster

¼

cup

onion

peeled and chopped

2

cloves

garlic

minced

½

cup

white wine

(whatever your drinking and/or replace with some chicken broth or water to deglaze your pan)

1

cup

tomatoes

chopped

1

teaspoon

sugar

or sugar alternative

salt and pepper

to taste

⅓

cup

basil

roughly chopped
Instructions
Place olive oil in pan, season chicken with salt and pepper on each side, heat up pan and add chicken to the pan. Cook on medium heat gently on both sides for about 3 minutes on each side or until juices run clear or no longer pink. (My mom used to lightly salt and pepper and flour her chicken before adding it to the pan, but due to my gluten allergies I left this step out)

Take chicken out of the frying pan and set aside and keep warm. Add onions and garlic and fry until translucent.

Add wine (and/or chicken broth) to deglaze pan. Cook until ½ evaporated. Add tomatoes, sugar or sugar subsitute, salt and pepper to taste and stir. Add chicken back to pan. Turn off burner and add fresh basil.

Drizzle your easy peasy chicken Italiano with a little Extra Virgin Olive Oil to garnish and serve along side some delicious roasted vegetables, salad , risotto, polenta or pasta.
Notes
Easy Peasy Chicken Italiano is delicious with a fresh tossed salad. You can store this dish in a sealed container in the refrigerator for up to 3 days or frozen up to 2 months.
Nutrition
Serving:
1
g
|
Calories:
201
kcal
|
Carbohydrates:
5
g
|
Protein:
19
g
|
Fat:
9
g
|
Saturated Fat:
1
g
|
Cholesterol:
54
mg
|
Sodium:
103
mg
|
Potassium:
439
mg
|
Fiber:
1
g
|
Sugar:
3
g
|
Vitamin A:
441
IU
|
Vitamin C:
8
mg
|
Calcium:
17
mg
|
Iron:
1
mg