Kimchi Pantry Brown Fried rice is a 6 ingredient little wonder packed full of delicious spicy, sweet and savory flavors while using up your pantry ingredients.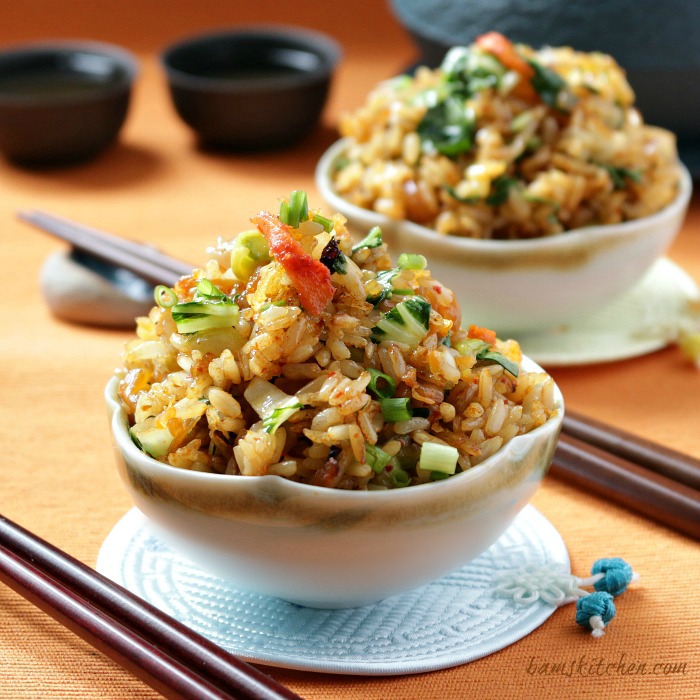 Have you met Kelly from A Side of Sweet? Kelly is a pediatrician and also hosts a lifestyle, food, fashion, travel and DIY blog in San Francisco. You are just going to love her site as it is packed with fantastic healthy recipes like her Grapefruit sorbet, Healthy Butternut and Squash Dip, and her delicious Edamame and Kimchi Rice Recipe which I am going to make for you today. Please stop by A Side of Sweet and say hello.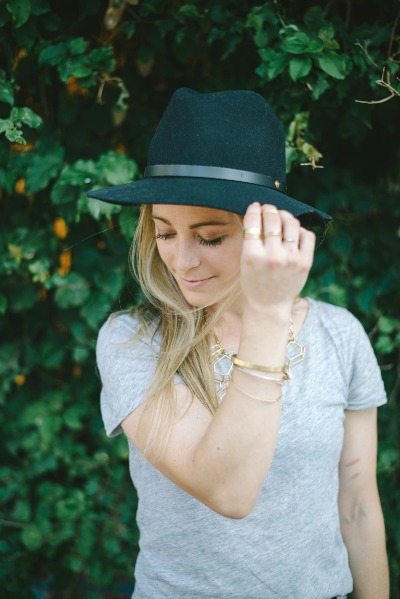 I have met a fantastic group of lovely bloggers on Facebook (Food Bloggers Central) and we have decided to do a blog hop to introduce you to some new faces and of course some delicious recipes.
You are going to just love Kimchi Pantry Fried Brown Rice
You are going to just going to love how quick and easy this recipe is to make. It is a great way to use up all of those bits and bobs of refrigerator veggies that are looking for a new home. Be sure to check out our recipe for Hong Kong Fried Rice.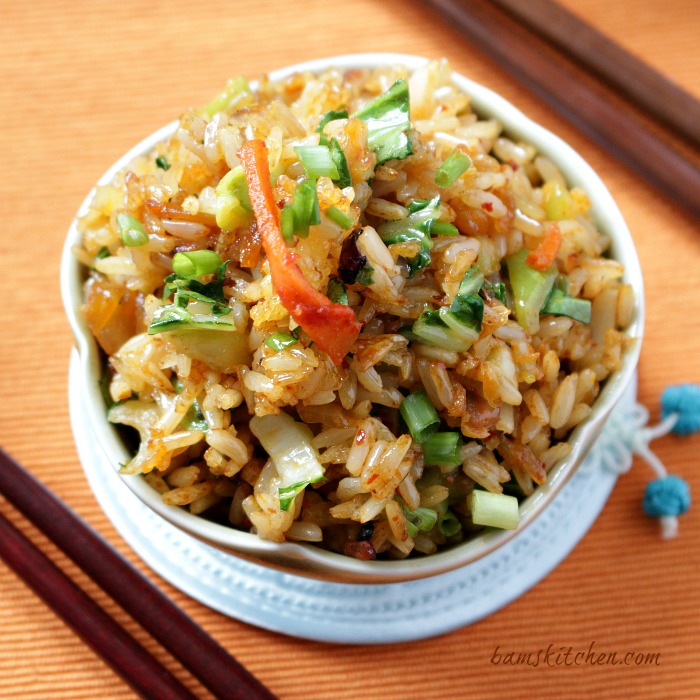 Kimchi
I had purchased a lifetime supply of kimchi in my refrigerator because of the big sale to celebrate "Korean Food Week" at the local "Park-n-Shop" here in Hong Kong. This was the perfect recipe to use up some of the inventory. I did not have many of the items that Kelly used in her recipe (edamame, onions, etc) here at home so had to make some exchanges and deletions but the results were amazing even with just 6 little ingredients. Yes just 6 little ingredients for an Asian inspired recipe!!!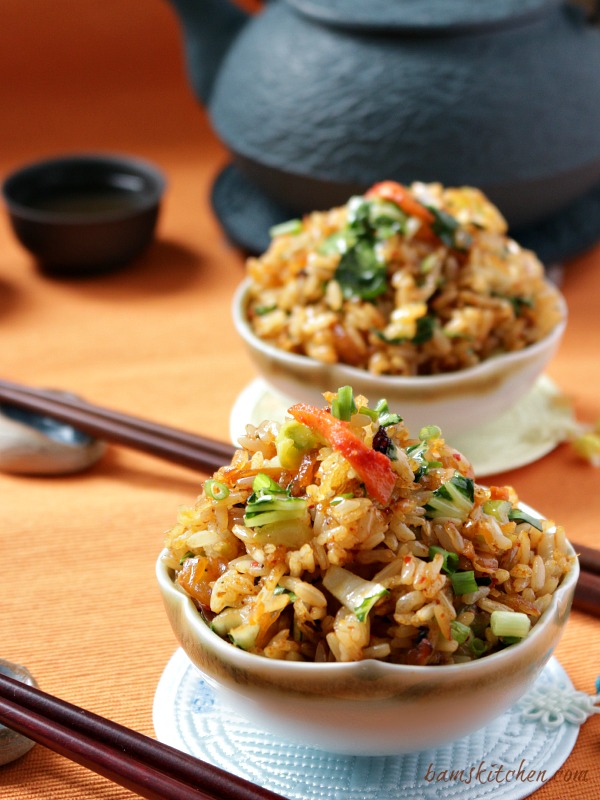 Dietary Needs
This recipe is happily gluten-free, vegan, dairy/lactose free and a super affordable way to fill up your hungry family and friends.
I know that you too can do wonders with this recipe just using what you have at home. Kimchi is what I call the perfect fermented food. Kimchi is great for your health as it has many nutrients, it also helps keep a normal flora in your gut to keep it happy and the best reason of all is that it tastes absolutely delicious. It also has everything in it that you might want to add in a stir fry like tons of garlic, carrot, onions, so you don't have add it again to the recipe, unless you want to.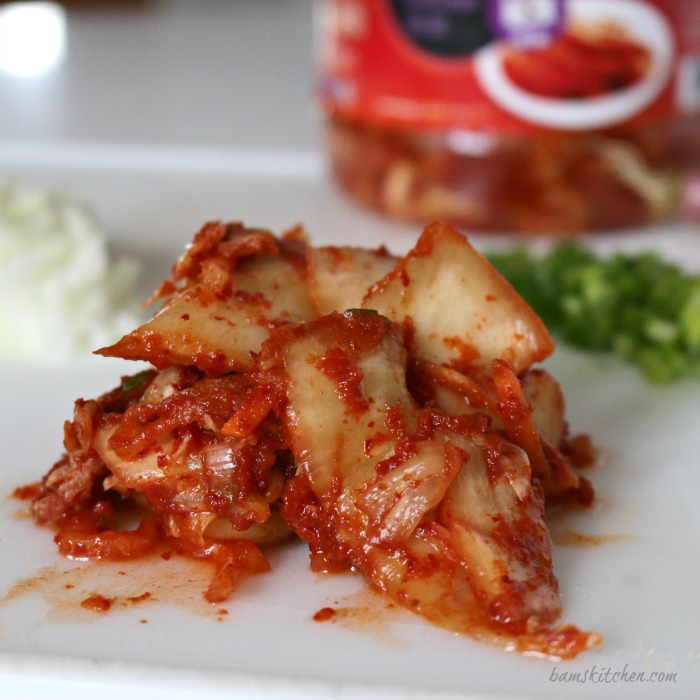 Naturally Sweet and Savory
Do not worry if you do not like spicy food but something amazing happens when you stir fry kimchi. It is magic as it goes from a spicy sour fermented cabbage to sweet and slightly spicy kimchi. The cabbage and veggies sweeten slightly when you stir fry them. I never knew this until I started experimenting with it here at home.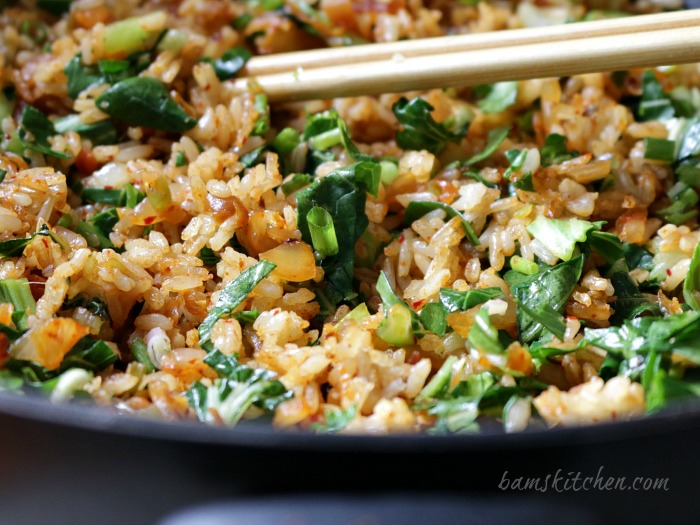 I live in Asia and it is no shock that I make fried rice almost every day. After all, I have to make something to fill up the team here on the home front. You can make perfect fried rice in your own home.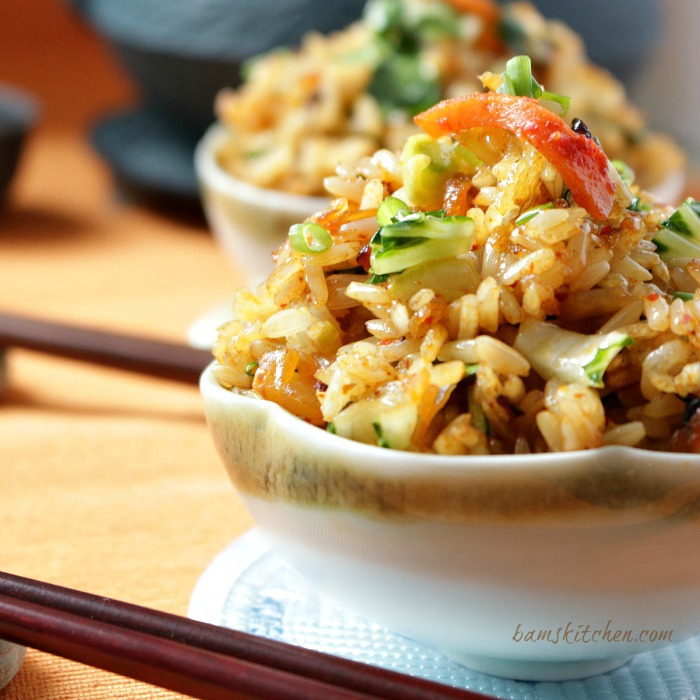 I changed up a couple of steps in Kelly's recipe as my boys like their fried rice very dry and almost crunchy. It is a texture thing and I think you will like it too. I stir fried my kimchi first to get it nice and dry and then I added the rice and other ingredients and this worked like a charm for me. Next time, I can't wait to try it with the addition of edamame beans.
Do you eat kimchi hot or cold?
You can eat kimchi cold right out of the jar. Kimchi is also delicious cooked in fried rice, creamy kimchi pasta and our kimchi salmon and rainbow pickles.
What can you make with leftover kimchi?
Kimchi is fabulous in ramen soup, in burgers, tostadas, grilled cheese, omelets and noodles just to name a few.
Can you use white rice to make kimchi fried rice?
Absolutely, leftover white rice or brown rice is delicious in kimchi fried rice.
More Delicious Rice Recipes
Curried Harvest Black Forbidden Rice
HUNGRY FOR MORE
Sign up for Healthy World Cuisine's newsletter or follow along on Facebook, Instagram, You Tube, Twitter and Pinterest for more delicious healthy recipes from around the world.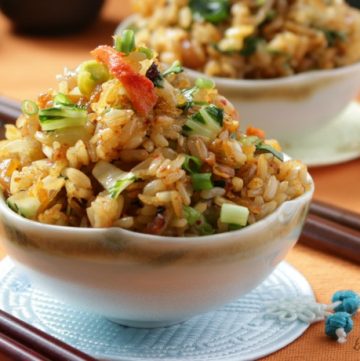 Kimchi Pantry Fried Brown Rice
Kimchi Pantry Brown Fried rice is a 6 ingredient wonder packed full of delicious spicy, sweet and savoury flavours while using up your pantry ingredients. Recipe adapted from
A Side of Sweet
Print
Pin
Rate
Ingredients
1

tablespoon

olive oil


½

cup

kimchi

roughly chopped (add more if you like it spicy add less if you like it mild)


1

cup

cooked brown rice

(day old is best) can use white rice if you prefer

salt and pepper


to taste (I use white pepper)

1

cup

bok choy


chopped (or use edamame beans, or other veggies that you need to use up in your refrigerator)

3

green onions

chopped
Instructions
Place oil in wok/pan and het on medium heat and add your kimchi to the pan and stir fry for 3 minutes or until all of the moisture is gone.

If you have soft leafy vegetables (like bok choy, cabbage, spinach, or edamame to add to your Kimchi pantry fried brown rice, please move on to step 2.

If you have

hard veggies (

like carrots, celery, green beans, etc) that you want to use up from your pantry, you will need to stir fry these first before adding to the rice. I usually add just a couple of teaspoons of water to pan with my veggies and a lid for just a minute to help steam those firmer vegetable and then remove the lid and stir fry until veggies are dry. Please consult my

Pantry Fried Rice recipe

for details.

Add your day old brown rice (or white rice if your prefer) to the wok/pan and cook until all the rice has been coated well with the oil, all the rice is separated and mixed in with the kimchi. Stir fry about 3 minutes. (OPTIONAL: Our family likes the rice a little crunchy. If you like your rice crunchy, you can accomplish this 2 ways... 1) Fry the rice a little longer in your wok 2) When cooking your rice on the stove top, actually cook it a longer longer until the rice actually starts to stick to he pan but do not burn it. You will have lots of crunchy rice that way. I know it seems kind of odd but my family just loves it that way.

Season your brown rice with salt and white pepper to taste. Add chopped baby bok choy, edamame, or any other little vegetables that you need to use from your refrigerator. Stir fry for another minute and then add chopped green onions and mix well. Remove the Kimchi Pantry Fried Brown Rice from the hot burner.

Serve your delicious Kimchi Pantry Fried Brown Rice in a bowl and if you want you can garnish with a fried egg on top and enjoy.
Notes
This makes 2 small servings or just enough for 1 really hungry adult and can be stored in the refrigerator for up to 3 days.
Nutrition
Serving:
1
g
|
Calories:
181
kcal
|
Carbohydrates:
25
g
|
Protein:
3
g
|
Fat:
8
g
|
Saturated Fat:
1
g
|
Sodium:
27
mg
|
Potassium:
215
mg
|
Fiber:
3
g
|
Sugar:
1
g
|
Vitamin A:
1743
IU
|
Vitamin C:
19
mg
|
Calcium:
59
mg
|
Iron:
1
mg