Rich and Creamy Tiramisu is a special Italian dessert with layered espresso lady fingers, cocoa and a mascarpone rich and creamy custard.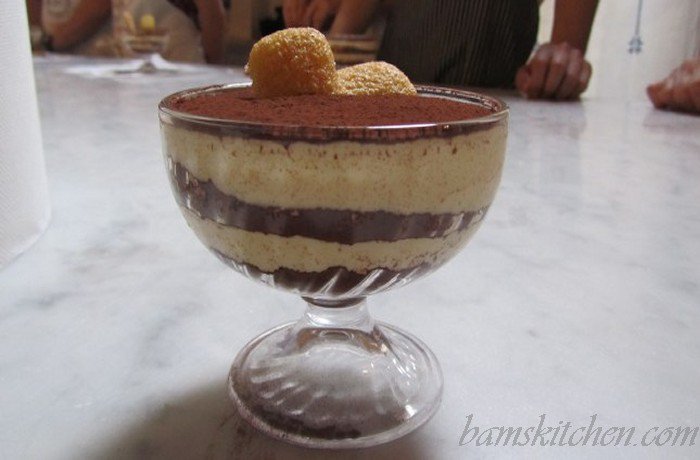 Rich and Creamy Tiramisu is a timeless Dolce
Just like that smart suit, your favorite leather briefcase, Rich and Creamy Tiramisu will never go out of style. This dessert is absolutely decadent, creamy and has a punch of caffeine kick. This recipe is usually served in a big 9 x 13 pan or larger. However, because it is so rich, we decided little personal perfectly portioned sized cup was a a good way to go.
What is Dolce?
An eating experience in Italy would not be complete without a little dolce at the end of a meal. Dolce means something sweet in Italian.
However, narrowing down your choices of your dolce options can be quite a difficult task. Come and take a walking tour with me to explore some of Italy's finest decadent desserts and sweets. Rich and Creamy Tiramisu is one of our favorite dolce.
Every street corner, opposite of course of the gelato shops, there are many Italian pastry and dolce shops. Inside you will find yummy decadent panforte.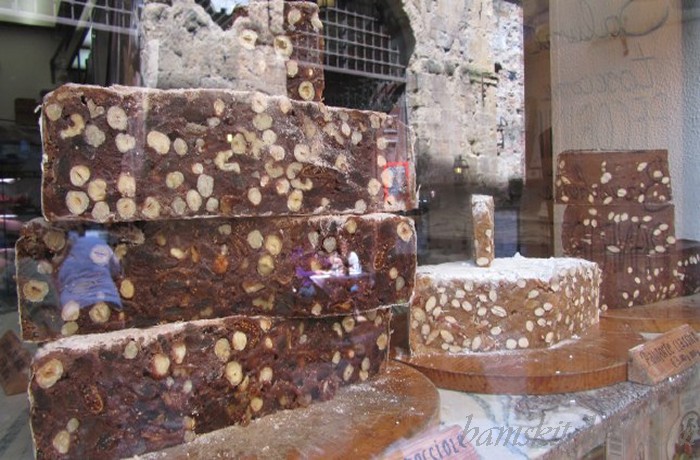 What is Panforte?
Panforte is kind of like an Italian fruitcake with nuts, honey, sugar, fruits and spices. They have many different kinds of panforte and some with even chocolate. These dessert like fruitcakes can be kept well wrapped for several months at room temperature. Of course I had to give it a try. I tried a traditional recipe with macadamia nuts and it was very sweet and delicious and only a very small slice was needed to make us a very happy camper.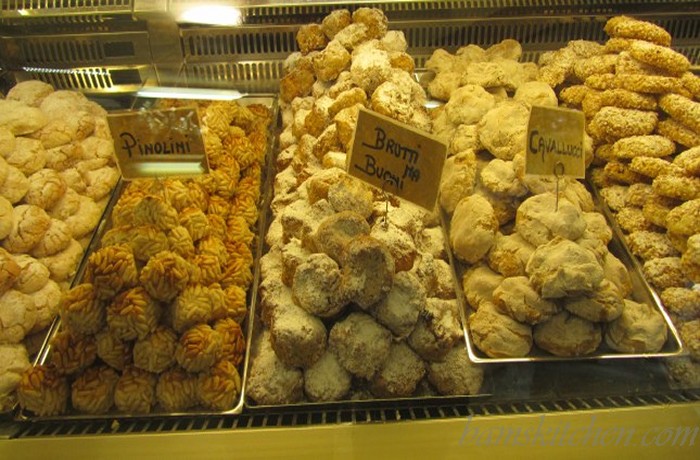 What is a Ricciarelli cookie made with?
A few blocks down, I walked into another pastry shop and tried 2 cookies. (I think I have mentioned before that this was not a spa diet trip by any means) The first cookie was called Ricciarelli and it was very light tasting. The biscuits are made using an almond base with sugar, honey and egg white.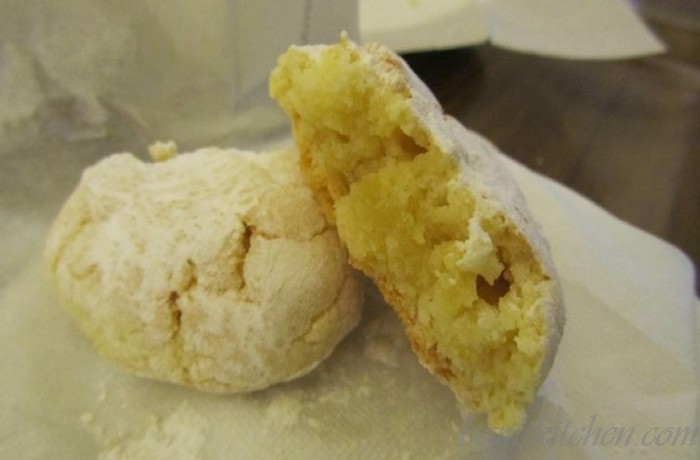 What is a cavallucci cookie?
Cavallucci is a rich anise biscuit made with almonds, candied fruits, coriander, flour and uses Tuscan millefiori honey, an essential element for the paste. One bite of this chewy Cavalucci biscuit and I was hooked. My mom and sister make an anise biscuit every Christmas and I fell in love. It is the whole texture thing for me. On the outside it is firm but when you take a bite your teeth sink into the dough and the essence of the anise flows through.
I would love to had a second cookie but there was just one more stop I had to make along the way. I had passed a dolce shop that had many little candies everywhere inside. They were each hand crafted to perfection, like a piece of art. Almost too pretty to eat.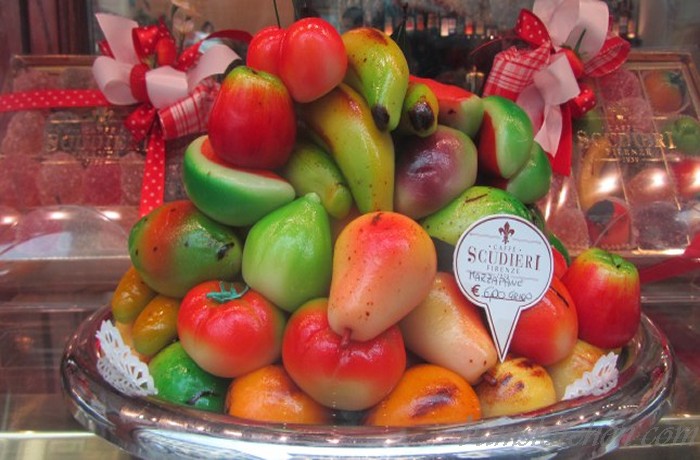 So instead I caught my eye on something that I could easy carry in my purse (just in case I needed a little snack along my walking tour ) Pastiglie Leone are little delightful confectionaries that are just perfect balance of herbs and flavors in an easy to carry box.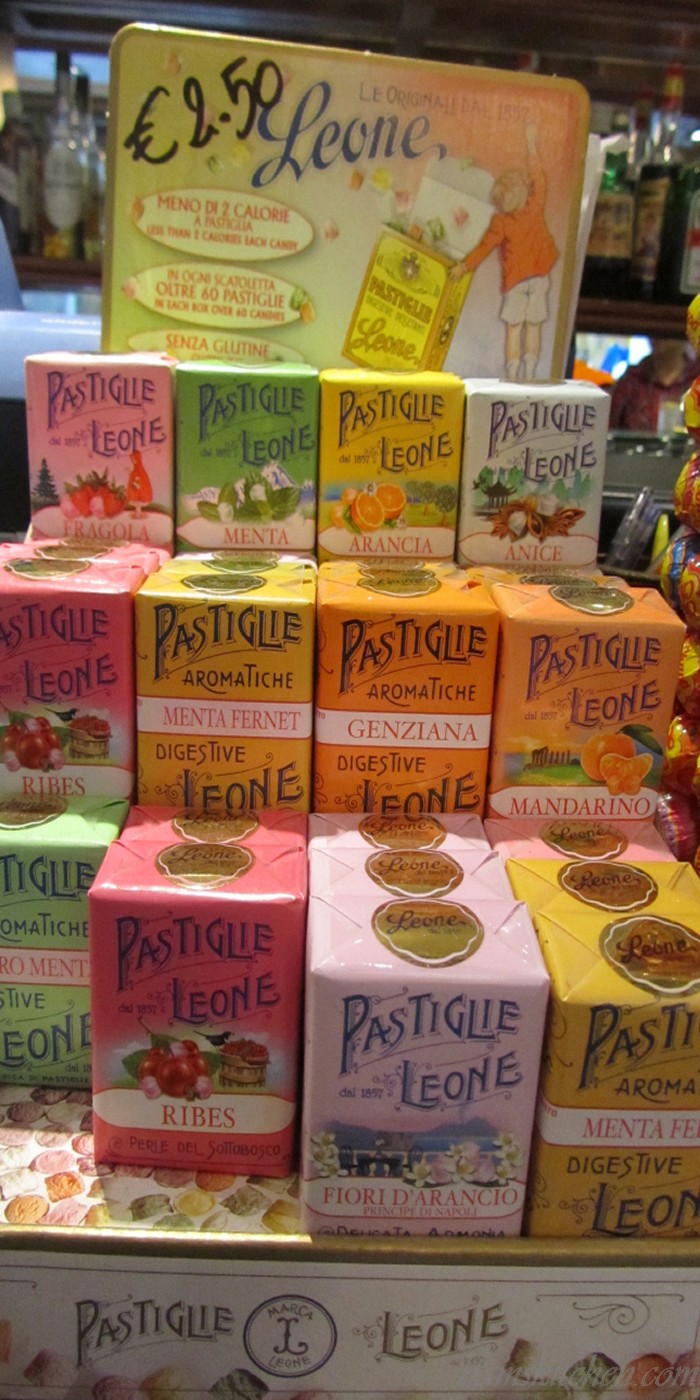 My favorite was Fragola (strawberry) but there were even cool and more intense flavors like Balsamiche (balsamic vinegar).
However, my most absolute favorite Italian dolce is a traditional Rich and Creamy Tiramisu!!! Tiramisu is has simple very fresh ingredients that make this Italian treat a blissful delight.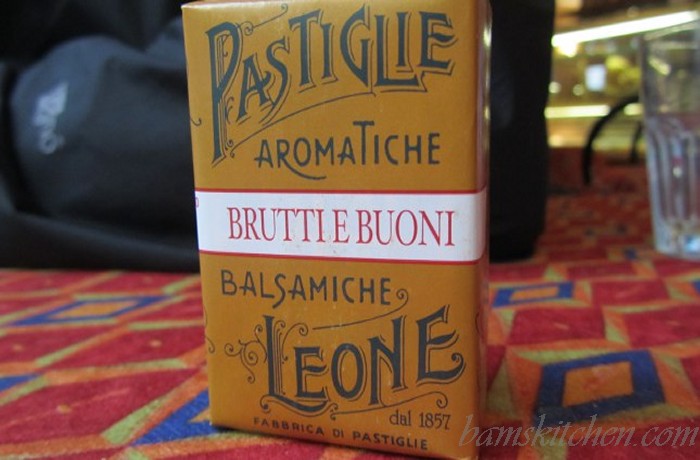 Why are the eggs in Italy so large?
One of the main ingredients in a Tiramisu are Italian eggs that are colossal in size.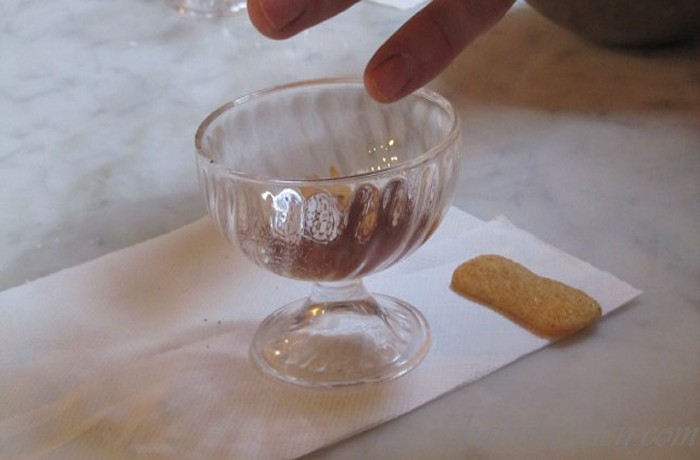 At first, I thought the eggs in Italy might be ostrich eggs or dinosaur eggs. However, I have been told they just feed the chickens very healthy organic feed and they are free range and happy chickens and they produce the biggest eggs I have ever seen. Essentially 1 colossal Italian egg is equivalent to about 1.5 large US eggs.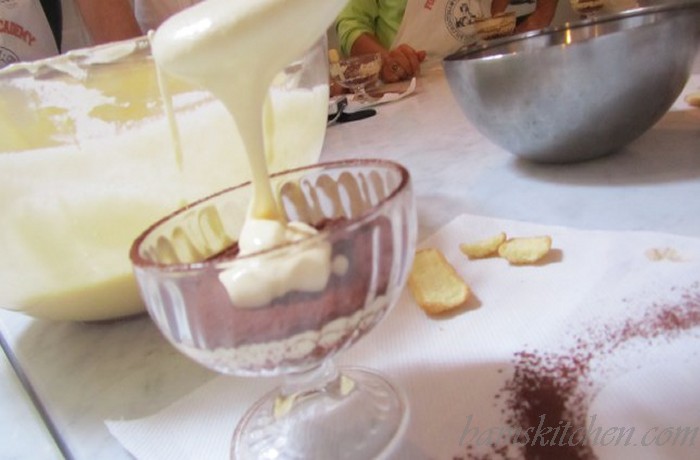 When I visited Florence, Italy we purchased our eggs through a trusted chicken farmer and bought and used raw eggs in our tiramisu. Actually, during the whole process had the "registered nurse" in me freaking out as the potential of Salmonella I may have just eaten. I was just fine as you can trust your eggs from the good chicken farmers in Italy.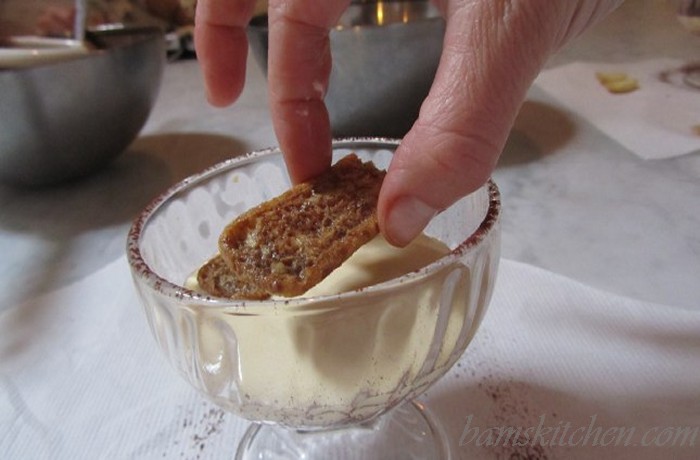 If you can purchase your eggs through a trusted farmer or have your own chickens or live in a country where you can confirm that the eggs are free from Salmonella, bravo to you. I do not. So I started thinking about how I could take this lovely recipe that I learned how to make at the Food and Wine Academy in Florence and make it safe for everyone around the world.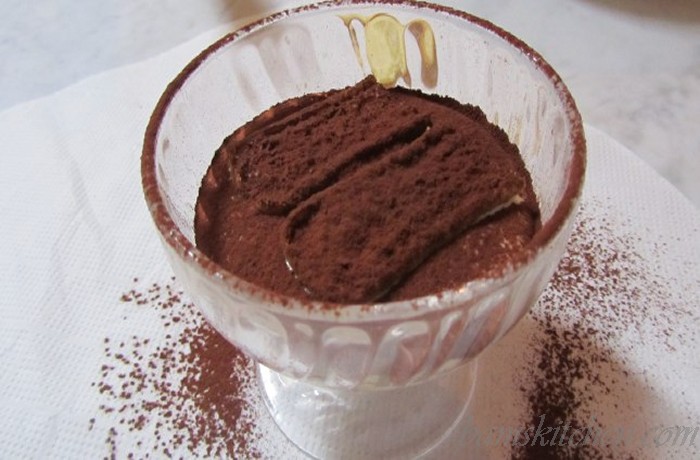 What is Salmonella?
As you may know, Salmonella is a type of food poisoning caused by the Salmonella Bacterium. I do not want to go into all the gory gastrointestinal details of the signs and symptoms of this type of food poisoning, but it is not pleasant, and people can and do get very sick from each and every year.
Salmonella bacterium can lay hidden in beef, poultry, milk, eggs and even some vegetables. Food may be contaminated during food processing or food handling. Contaminated foods usually look and smell normal and that is why it is difficult to know if it is infected or not. This is why if you cannot trust your source for your food the only way to confirm that the bacterium is killed is by cooking your foods to at least 160 degrees F.
Ok, the nurse will now step down from her soap box. The point to drive home is to "Temper your eggs or buy pasteurized eggs", if you live in the USA.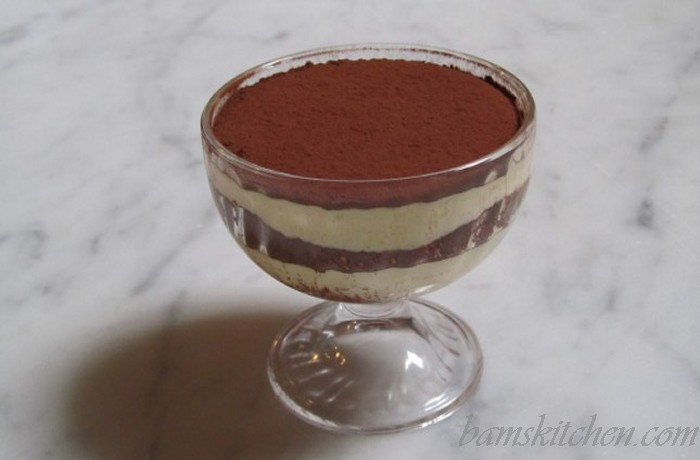 More Delicious Dessert Recipes served in Individual Cups
Easy Microwave Chocolate Pudding
Lemon Rose Cardamon Cheesecake Mousse
Coconut Rice Pudding with Cardamon Spiced Honey Pears
Hungry For More? Subscribe to our Newsletter and follow along on Facebook, You Tube, Instagram, and Pinterest for all the latest updates.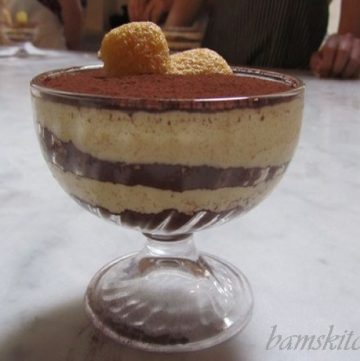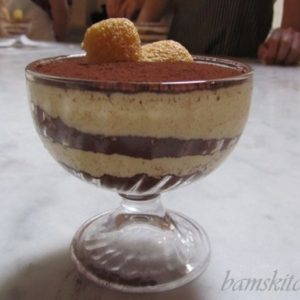 Rich and Creamy Tiramisu
Rich and Creamy Tiramisu is a special Italian dessert with layered espresso lady fingers, cocoa and a mascarpone rich and creamy custard.
Print
Pin
Rate
Ingredients
6

eggs


USA egg or 4 colossal Italian eggs

6

tablespoon

water

1

pound

mascarpone cheese


½

cup

sugar


or sugar alternative

⅛

teaspoon

salt

pinch

24

lady fingers


mini or 12 regular sized cut in half

1

cup

coffee


extra strong brewed or espresso

6

tablespoon

unsweetened cocoa powder
Instructions
Separate eggs yolks from egg whites very carefully using your fingers.

Combine egg yolks and water in heavy saucepan. Cook over very low heat, whisking constantly, about 15 minutes. (Use a cooking thermometer to confirm that it reaches 160 degrees). Then take the egg yolk mixture and put in freezer to help with the cooling process.

Stir mascarpone cheese into the cooled egg yolks.

Combine 4 egg whites, sugar and salt in top of double boiler over hot water. Cook, over very low heat, beating with hand-held mixer on medium speed. You can also whisk egg whites using your strong muscles for about 15- 20 minutes or until your arms feel like they are going to fall off or until your whites hold firm peaks and temperature reaches 160 degrees. (Your egg whites should be firm enough that you could safely hold the egg white bowl upside down over another persons head without them getting egg in their hair)

Fold in about ⅓ of the egg whites into egg yolk mixture carefully. Then carefully fold in remaining egg whites to keep them fluffy.

In a shallow bowl pour the strong brewed coffee and any liquor as desired. Dip the lady fingers for a quick coat on both sides into the strong coffee bath. (Don't leave lady fingers in the coffee mixture more than a couple of seconds or they will turn into a soggy mess.)

Assembly: In your beautiful little individual glass containers dust a little of your powdered cocoa with a sieve. Next add 1-2 pieces of the coffee soaked lady fingers at the bottom of the glass. Next place a few spoonfuls of the yummy mascarpone mixture on top of the lady fingers and then one more dusting of cocoa powder. Repeat this layering process one more time ending with a light dusting of cocoa powder on the top and garnish with some plain non-coffee soaked lady fingers. Refrigerate overnight or up to 2 days.

Serve rich and creamy tiramisu well chilled as a lovely ending to any meal.
Notes
optional : You can add cognac, frangelica, rum or any lovely ETOH addition your little heart desires to the coffee mixture before dipping in your lady fingers.
Nutrition
Serving:
1
g
|
Calories:
632
kcal
|
Carbohydrates:
46
g
|
Protein:
17
g
|
Fat:
43
g
|
Saturated Fat:
24
g
|
Cholesterol:
337
mg
|
Sodium:
220
mg
|
Potassium:
206
mg
|
Fiber:
2
g
|
Sugar:
14
g
|
Vitamin A:
1541
IU
|
Calcium:
158
mg
|
Iron:
3
mg