Need a chocolate fix? Try our secretly healthy Mexican Chocolate Cherry Smoothie for a creamy, decadent dessert smoothie made with sweet seasonal cherries, banana, cinnamon, Cacao powder, and almond milk.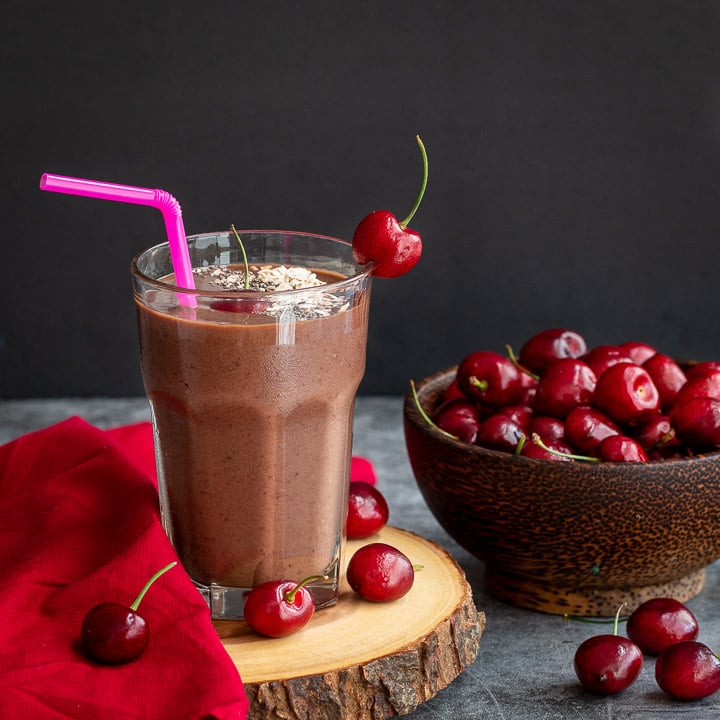 This Mexican smoothie is a rich like a black forest cake and an iced Mexican Hot Chocolate dessert treat combined into one, BUT without any of the guilt. Only 5 ingredients and less than 5 minutes to make this delicious vegan, gluten-free healthy snack, or breakfast on the go.
You can enjoy this delicious treat with frozen cherries all year around. This healthy smoothie is even more delicious with fresh sweet seasonal cherries like we used in our dairy free cherry cheesecake cups.
This post has been sponsored by the Mindful Health LLC Organization (Danette May, Earth ECHO and Fit Rise). Thank you for supporting the brands that help Healthy World Cuisine bring more delicious recipes your way.
Jump to: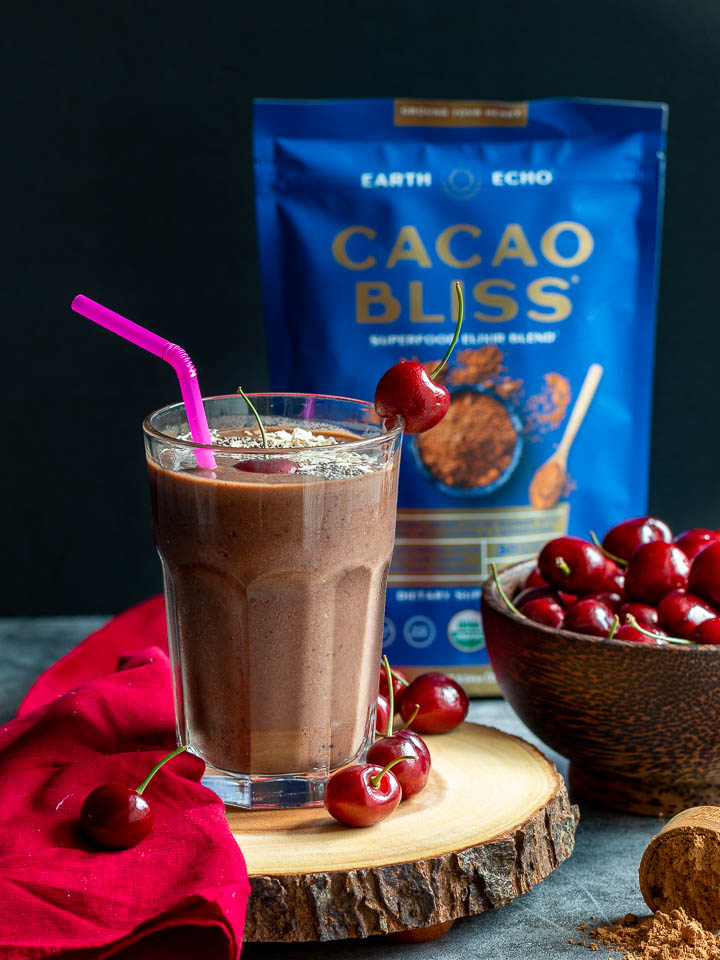 Chocolate Cherry Smoothie
Are you craving chocolate? We don't know about you but if we have an "unmet chocolate need" we can be quite grumpy! How about you?
If we buy that candy bar from the vending machine, it will give us the short chocolate buzz we want but will make us feel like crud after the sugar crash. This was our inspiration for our Mexican chocolate Cherry Smoothie. We wanted a sweet treat that tastes like a dessert but is healthy enough to eat for breakfast.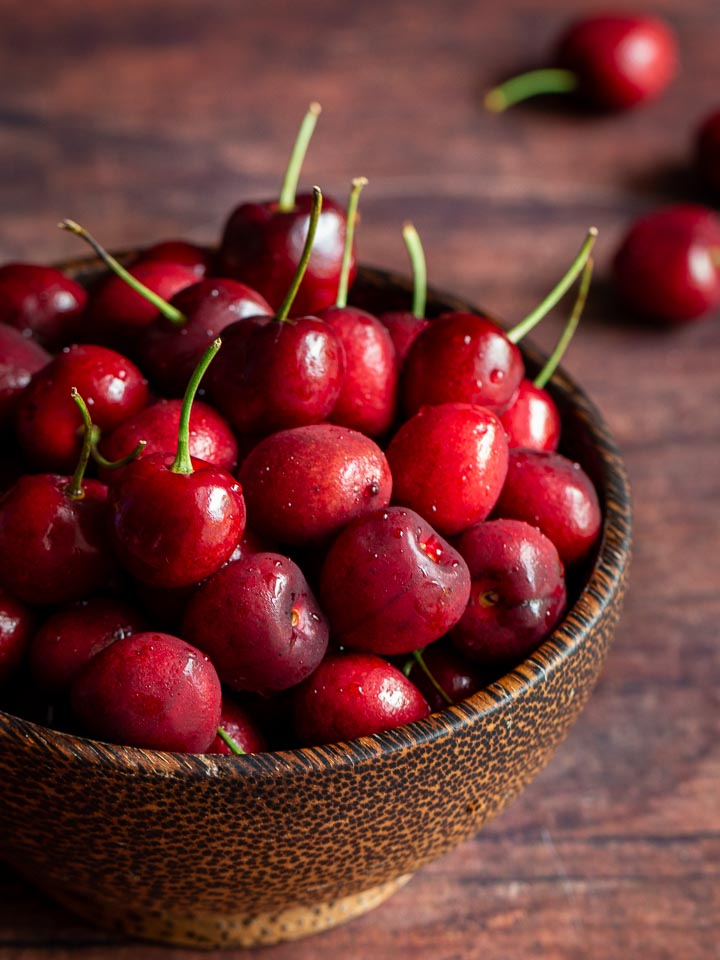 Dessert Smoothie
Chocolate and Cherries are a match made in heaven. Our Mexican smoothie is made with frozen sweet cherries, a good hefty dose of cinnamon, bananas, almond milk and powered up with a heaping scoop of Cacao Bliss. You're going to love this chocolate cherry smoothie because it is naturally sweet from the cherries and bananas. You get a little spice from the cinnamon, but the best part is the intense dark rich chocolate flavor from the Cacao Blend.
Your mouth and brain will think you have eaten a slice of black forest cake and washed it down with an iced Mexican Hot Chocolate. However, your body will thank you for filling it up with healthy fruits and raw cacao superfood elixir blend. If you a looking for more healthy dessert smoothie ideas, be sure to try our Berry Cherry Blast Smoothie, Chocolate Peanut Butter Banana Smoothie and Ginger Citrus Dragon Fruit Smoothie.
Cocoa vs Cacao
I saw you grabbing for your reader glasses. The names Cocoa and Cacao look so similar. Don't they? The vowels are playing tricks on your eyes. This is not a typo. Even though both cocoa and cacao come both from the same plant, the Theobroma cacao tree, they are processed differently and so is their nutritional value.
Cocoa is a term we bet you're familiar with. Maybe, you remember mom making you hot cocoa or maybe you've tried our Easy Microwave Chocolate Pudding or Tiramisu Cups. Cocoa powder is made from the cocoa solids after the cocoa butter has been removed and the beans have been roasted.
Have you ever noticed the dark color of cocoa powder? This darkening is a result of the roasting process. Dutch cocoa powder is treated with an alkalizing agent to reduce bitterness. The roasting process and addition of chemicals reduces the effectiveness of the natural occurring antioxidants, according to the Fabrice Tonfack Djikeng et al. .
Cacao (pronounced like Cah-Cow) on the other hand does not roast the beans but instead it uses a natural broma process whereby they hang bags of roasted cocoa beans in a very warm room. The cocoa butter drip off the beans and then all that is left is the raw unprocessed cacao nips that are ground into powder. There is no roasting of the beans and no addition of alkalizing agents. Cacao is raw and not processed and therefore has more antioxidants in the form of flavanols.
So, what does that mean for you? You can freely exchange any recipe asking for cocoa powder for Cacao powder to receive optimal health benefits and a delicious chocolate flavor.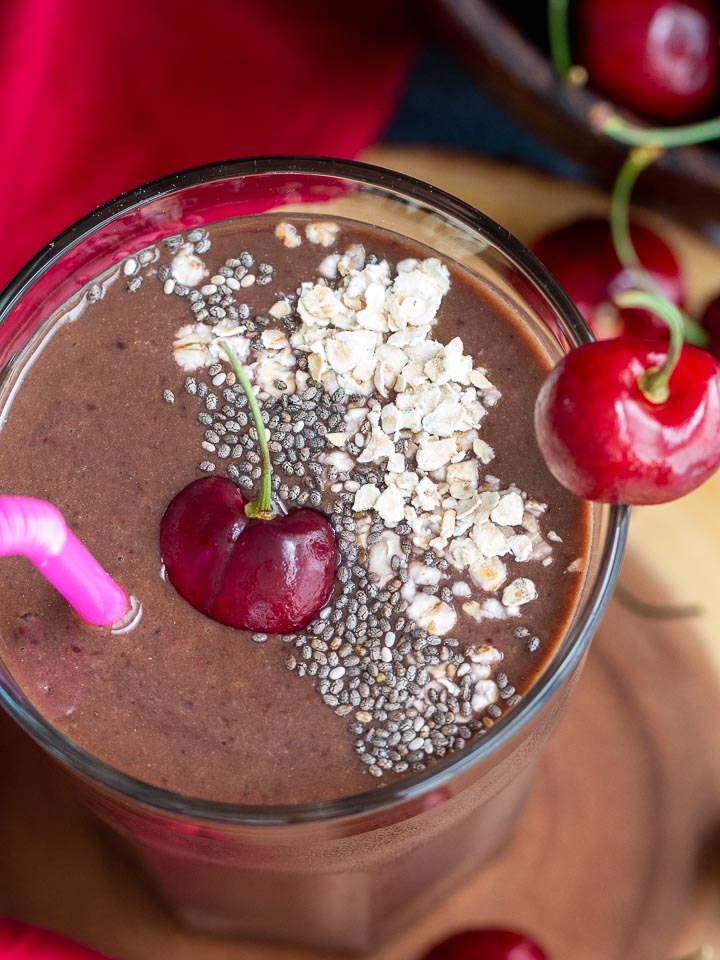 Chocolate Endorphins
Did you know that studies have shown that eating cacao/cocoa have been found to release endorphins which are "feel good" endorphins? According to Astrid Nehlig, in a study by the National Institute of Health, when these endorphins interact with the receptors in our brain, it sends a positive feeling or euphoria in the body (AKA your CHOCOLATE BUZZ). You may feel less grumpy, get an energy boost or even be able to tolerate another day of the kids driving you crazy. (Well, at least we hope so) Let's dive right in…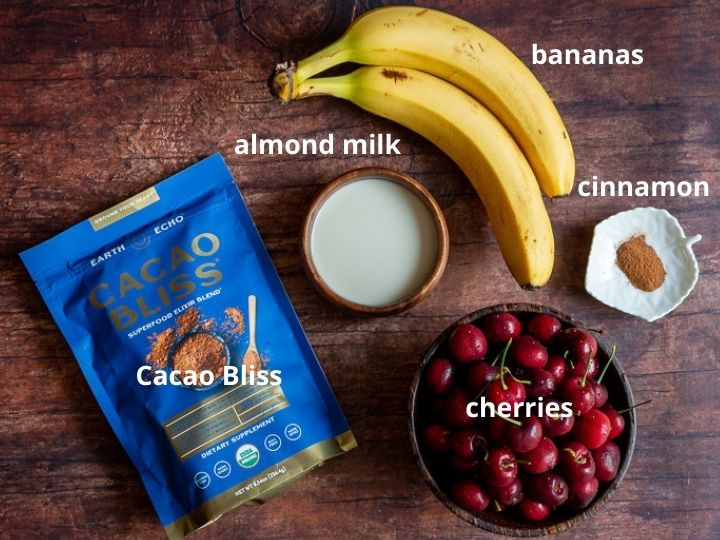 Ingredients
Cherries – seasonal fresh pitted cherries or frozen cherries both work great. If you like your smoothies a little thicker, opt for frozen cherries. However, if you want to Feed Your Spleen: Nourish Your Body, opt for unfrozen cherries.
Cacao Bliss is an organic superfood elixir blend made with ceremonial-grade unprocessed cacao with turmeric, MCT oil, Lucuma, coconut, Himalayan Sea salt, cinnamon bark powder, monk fruit extract, mesquite, and black pepper. This superfood elixir blend is gluten-free, non-dairy, vegan, keto, paleo, USDA organic, soy free, non-GMO and so delicious.
Although you could use regular unsweetened cocoa powder, we have been adding Cacao Bliss in our Chocolate Covered Frozen Fruit and our Iced Bumblebee Coffee for a healthy boost of energy in the middle of the day. If you would like to give Cacao Bliss a try, enter the promo code "CUISINE" on checkout to receive 15% off your online order.
Bananas – Use ripe bananas as they give this Mexican smoothie a delicious natural sweetness. If you want your smoothie thick, use frozen bananas.
Did you forget about that banana you had in your computer bag or purse? (By the way, that is one of the best methods of unintentionally browning bananas quickly) No worries! Whenever we have bananas that are ripening before we get a chance to make our Gluten-Free Cardamon Banana Pancakes, we slice them and freeze them. Then, at a drop of a hat, you can whip up a batch of our Matcha White Chocolate Brownies or a delicious chocolate peanut butter banana smoothie for the kids.
Cinnamon is a delightful warming spice that makes this smoothie taste like a delicious iced Mexican hot chocolate.
Almond Milk or dairy or non-dairy of choice.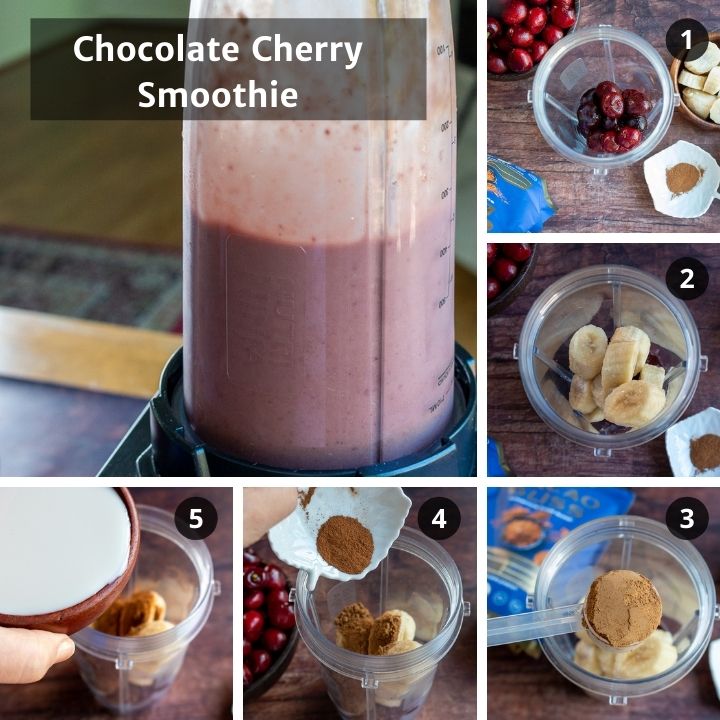 How to Make a Chocolate Smoothie at Home?
You got this! The only required equipment is a high-powered blender. The exact amounts of ingredients do not even need to be exact. All you need to do is put the cherries, bananas, cacao/cocoa powder, cinnamon and dairy or dairy alternative of choice in and whiz it up. It is that darn easy!
Delicious Healthy Add Ins
If you want to add a little protein to your chocolate cherry smoothie or make your smoothie a little thicker, try adding one of these healthy add ins.
Natural almond butter or nut butter of choice
Protein powder
Chia seeds
Ground flax seeds
Instant dry oats
Fresh spinach- shhhh… we won't tell a soul but. If you want to be sneaky, add in some healthy leafy greens and your kids will never know.
Frequent Asked Questions (FAQ's)
How to make a smoothie thicker?
First, use frozen fruit, use less liquid, and add a little instant oats or chia seeds to obtain a thicker textured smoothie.
How to make a smoothie popsicle?
Homemade smoothie popsicles are a healthy and budget friendly cool treat for the kids. All you need to do is take your chocolate cherry smoothie and pour it into your popsicle molds and then add your popsicle sticks. Freeze at least 6 hours or overnight. To make it easier to remove the smoothie popsicles from the mold, run the bottom of the popsicles mold under hot water for about 10 seconds at a time until they release easily. If using the old fashion dixie cups and wooden stick method, be sure to place a little sheet of aluminum foil over the dixie cup and then place the wooden stick in the aluminum foil to keep them upright.
How to make a smoothie without a blender?
It is quite possible to choose super ripe fruits that you can crush by hand or with a potato masher. Then, add your liquids and a little ice if you choose and cover with a tight lid and shake it up well until your smoothie is thick and creamy.
Easy Healthy Treats
Cranberry Oatmeal Breakfast Cookies
Matcha Banana Strawberry Ice Cream Cups
Rainbow Berry Rooibos Ice Pops
If you enjoyed this recipe, please leave a comment below and add some stars. We love hearing from you.
Did You Like Our Recipe? Leave a ⭐⭐⭐⭐⭐ rating and/or a review in the comments section below. Your feedback is always appreciated! Follow us for more delicious recipes on Pinterest, Instagram, Twitter and Facebook! Don't forget to sign up for our email list for more free recipes.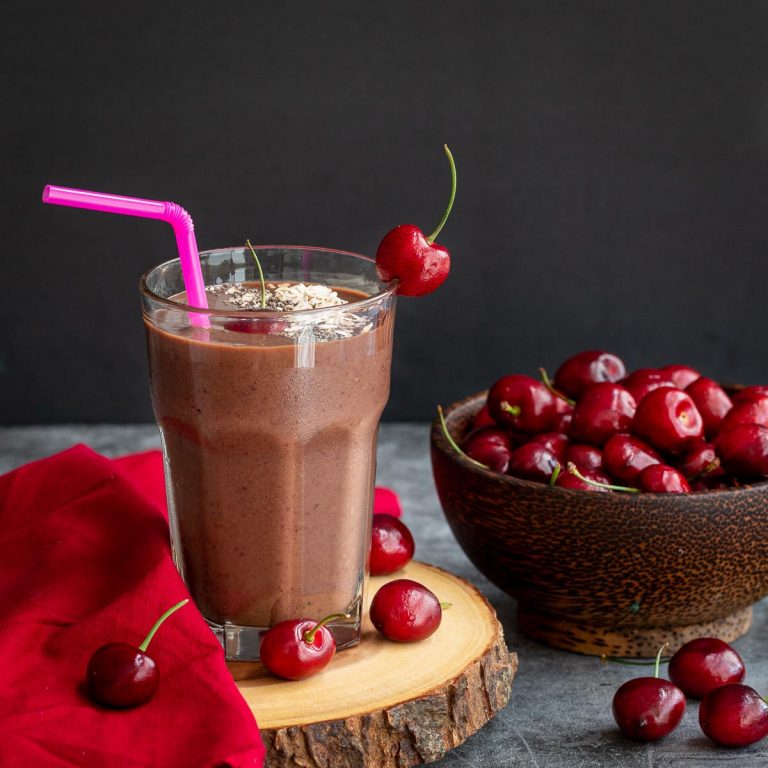 Mexican Chocolate Cherry Smoothie
Try our secretly healthy Mexican Chocolate Cherry Smoothie for a creamy, decadent dessert smoothie made with sweet seasonal cherries, banana, cinnamon, Cacao powder, and almond milk.
Print
Pin
Rate
Ingredients
1

whole

banana

frozen or unfrozen (peeled and sliced)

1

cup

cherries

sweet pitted (either frozen or fresh)

1

tablespoon

Cacao bliss

heaping (or unsweetened cocoa powder)

½

teaspoon

cinnamon

dried ground

8

ounces

almond milk

or dairy or non-dairy of choice

garnishes

optional - dried instant oats, chia seeds and cherries
Instructions
Place bananas, cherries, Cacao/Cocoa, cinnamon, and almond milk in a high-speed blender and mix on high for 1-2 minutes or until thick and creamy and well blended.

Pour into a glass and enjoy! Garnish with dried oatmeal, chia seeds, cherries, and a straw, if desired.
Notes
If you want a thicker smoothie use frozen bananas and frozen cherries. You can also add in a little chia seeds or oatmeal if you want your smoothie thicker but without it being too cold.
This smoothie is best enjoyed right away but can be stored in the refrigerator in a sealed container for up to 24 hours.
Feel free to exchange unsweetened cocoa powder for cacao powder in this recipe.
You can make your Mexican chocolate cherry smoothies into popsicles by pouring your prepared smoothies into the popsicle molds and freezing at least 6 hours or overnight for a refreshing healthy treat.
In addition, when the weather is cooler out, you can enjoy this as a warm smoothie. Yes, believe it or not, warm, or hot smoothies are a thing now! Prepare your smoothie recipe as described above and then place in a microwave safe bowl or large mug and microwave for about 1 to 1.5 minutes on high for a hot Mexican chocolate smoothie.
If you have a weakened spleen qi, we suggest that you do not use frozen bananas and cherries but instead add them in at room temperature. Your spleen will thank you. If you want a thicker smoothie, add in a little oatmeal or chia seeds.
Nutrition
Serving:
1
g
|
Calories:
163
kcal
|
Carbohydrates:
25
g
|
Protein:
4
g
|
Fat:
7
g
|
Saturated Fat:
2
g
|
Polyunsaturated Fat:
1
g
|
Monounsaturated Fat:
1
g
|
Sodium:
295
mg
|
Potassium:
314
mg
|
Fiber:
5
g
|
Sugar:
18
g
|
Vitamin A:
92
IU
|
Vitamin C:
10
mg
|
Calcium:
300
mg
|
Iron:
1
mg