Asian spiced pears are warm, cozy, delicately sweetened with the aromatics of lovely star anise, cinnamon and vanilla.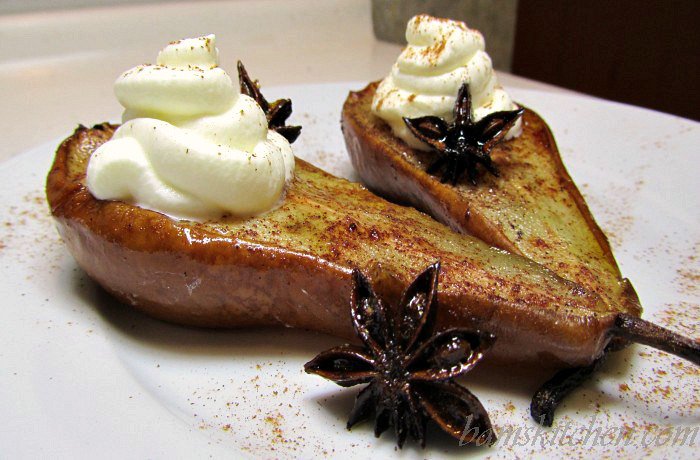 Life is short! Lets start with dessert...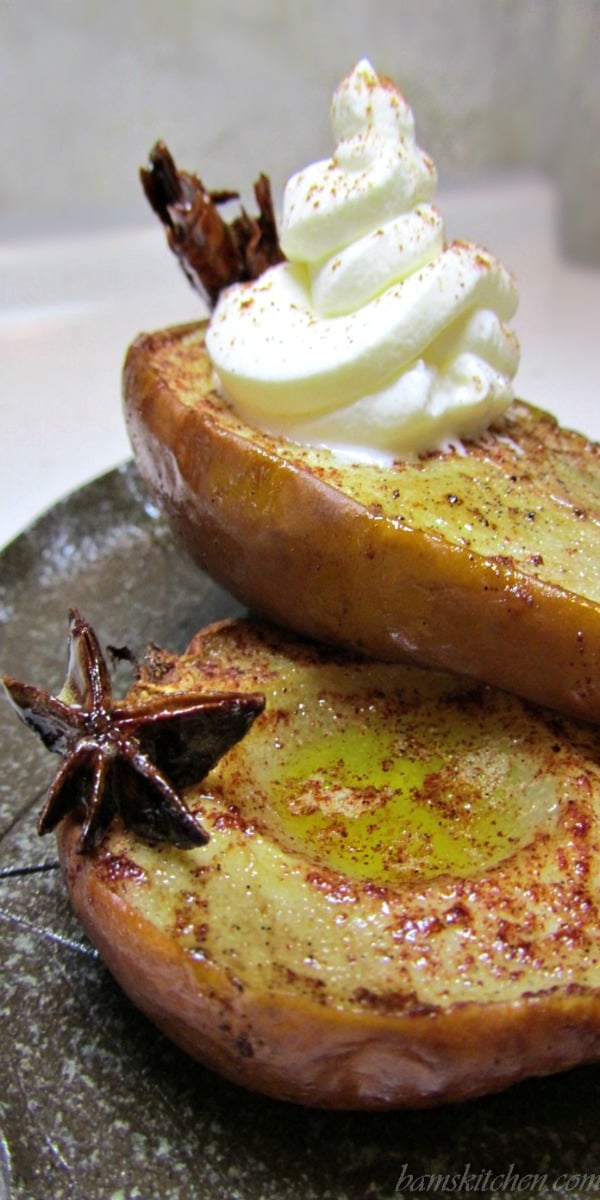 Why you are going to love Asian Spiced Pears
While these lovely Asian spiced pears bake in your oven your whole house smells like a gorgeous bouquet of sweet goodness. Unlike other desserts, this one is only delicately sweet and light.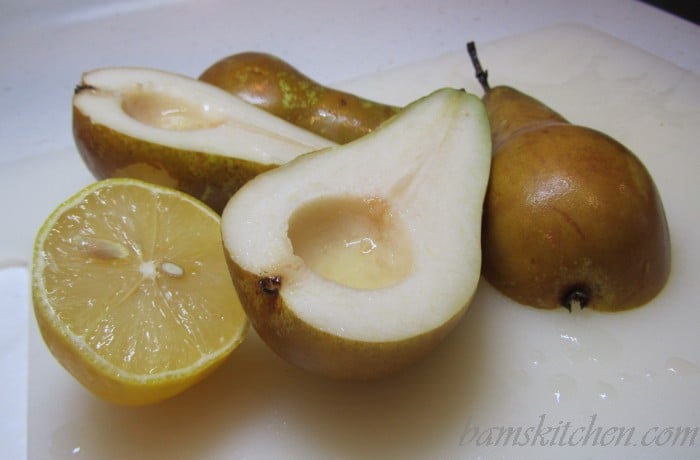 Chinese New Year is a beautiful time of the year in which family and friends gather. Of course when there is a family gathering that always means there needs to be food and lots of it.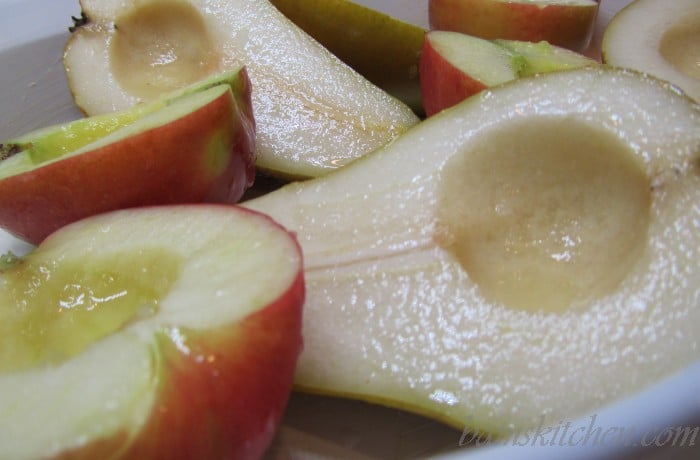 Most Chinese dishes are usually stir fried or steamed. Many Chinese dishes are prepared on top of the stove and usually all of the burners are occupied by woks and steamer baskets and such. It can be a little hectic in the kitchen, so that is why this make ahead and pop in the oven easy dessert recipe, is a winner for any gathering.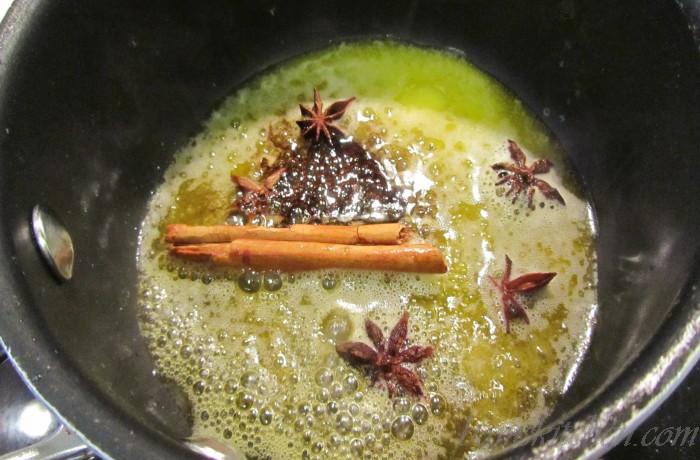 However, I like Asian spiced pears best because this dish is gluten-free, egg-free, (dairy-free , if you use coconut whipped topping) diabetic friendly, cardiac friendly and even teenagers love it. However, it tastes like you are eating something very sinful and it is not even chocolate.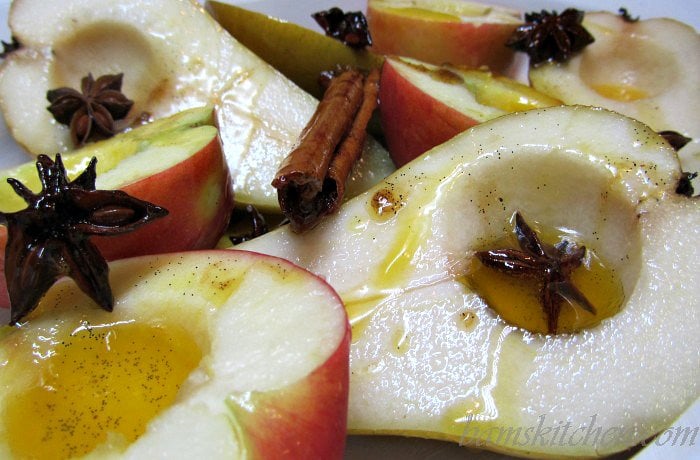 What is Star Anise and what does it taste like?
Star anise is a spice used in Chinese cooking and other Asian recipes. Star Anise is shaped like a star and has a very distinctive licorice flavoring. If you are going to the Asian markets to buy star anise it is called "Bat gok" in Cantonese and "Ba jiao" in Mandarin. However, if you cannot find whole star anise, don't fret, as you can substitute some 5 spiced Chinese powder in the recipe instead.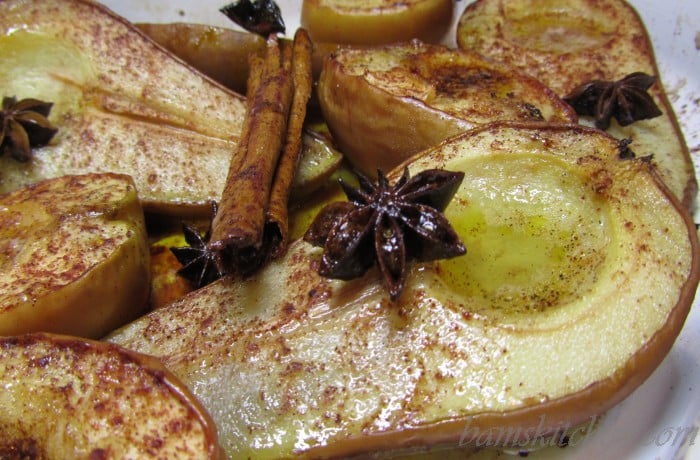 You can use any type of pears you like and can even use nashi (Asian pears) or your favorite apples as well. I actually used both pears and apples in my recipe as with my growing teenage boys I did not know if I was going to have enough pears to go around.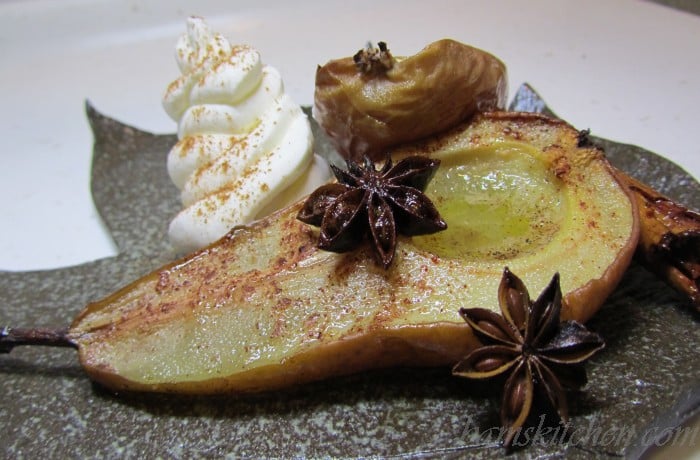 If you do not have an oven, you can also make these on top of the stove by first slightly steaming in your wok. Then place a tad of butter in your wok and fry gently on both sides to give a little caramelized glaze to the pears.
My dear friend Joyce commented on Healthy World Cuisine. Joyce mentioned that a dollop of fresh fat-free yogurt instead of whipping topping would be nice if you are watching your fat intake. This is a fantastic idea! I placed a little sugar alternative and a dash of five spiced powder in my fat-free natural yogurt and placed a dollop on top of my Asian spiced pear and it was heavenly. Thank you Joyce and this recipe is for you....

More Delicious Desserts with Fruit
Coconut Rice Pudding with Cardamon Pears
Grilled Nectarines with Coconut Whipped Cream
Easy Peasy Baked Apples
Hungry For More? Subscribe to our Newsletter and follow along on Facebook, You Tube, Instagram, and Pinterest for all the latest updates.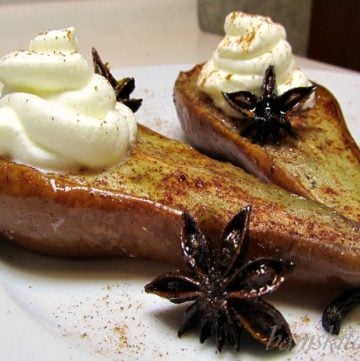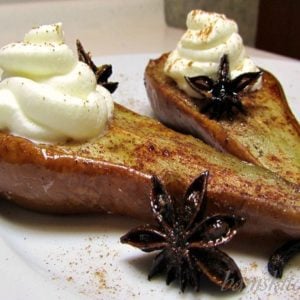 Asian Spiced Pears
Asian spiced pears are warm, cozy, delicately sweetened with the aromatics of lovely star anise, cinnamon and vanilla.
Print
Pin
Rate
Ingredients
pears - 1 whole pear per person (bosc, nashi, or whatever kind you like)

apples - 1 per person (optional)

star anise - 5 peices (may susbsitute with 1 teaspoon of 5 spice powder)

cinnamon - 2 sticks (or 1 teaspoon ground)


vanilla - 1 teaspoon

butter - 1 tablespoon (or use dairy free smart spread)

lemon juice - juice of 1 lemon

sugar or sugar alternative - 4 packets of sweet n low (agave, honey, brown sugar)
Instructions
Preheat oven to 190 degrees C (325 F)

Wash pears (apples) and dry. Cut in half. Core the pears by cutting out the step and using a spoon to scoop out the core and seeds.

Immediately squeeze the lemon juice over the pears (apples) to prevent oxidizing.

In a small sauce pan put in butter, sugar alternative, star anise, vanilla, and cinnamon, and a squeeze of fresh lemon juice and heat until aromatic and bubbly.

Spray a oven proof dish with a little spray oil. Place you pears (apples) with core side up in the pan. Pour the aromatic star anise, vanilla, cinnamon and vanilla sauce over the pears. Sprinkle a little ground cinnamon over the top if you wish.

Pop your pears in the oven uncovered for about 30- 40 minutes until fork tender and are slightly carmelized.

Step 7: Serve your Asian spiced pears on a decorative plate with a dollop of whipped coconut whipping cream or Asian spiced yogurt or plain and sprinkle with a little cinnamon. Enjoy warm from the oven or at room temperature.
Notes
You can use any type of pears you desire for this recipe or apples. We prefer crispy ones that stay a little aldente after the cooking process. Feel free to top with a little Homemade Coconut Whipped Topping for the ultimate treat.
Nutrition
Serving:
4
g
|
Calories:
108
kcal
|
Carbohydrates:
19.4
g
|
Protein:
0.8
g
|
Fat:
3.4
g
|
Sodium:
4
mg
|
Potassium:
164
mg
|
Fiber:
3.6
g
|
Sugar:
13.3
g