Skinny Spring is here and we have 10 + amazing salads from fellow bloggers and Healthy World Cuisine that are going to rock your world.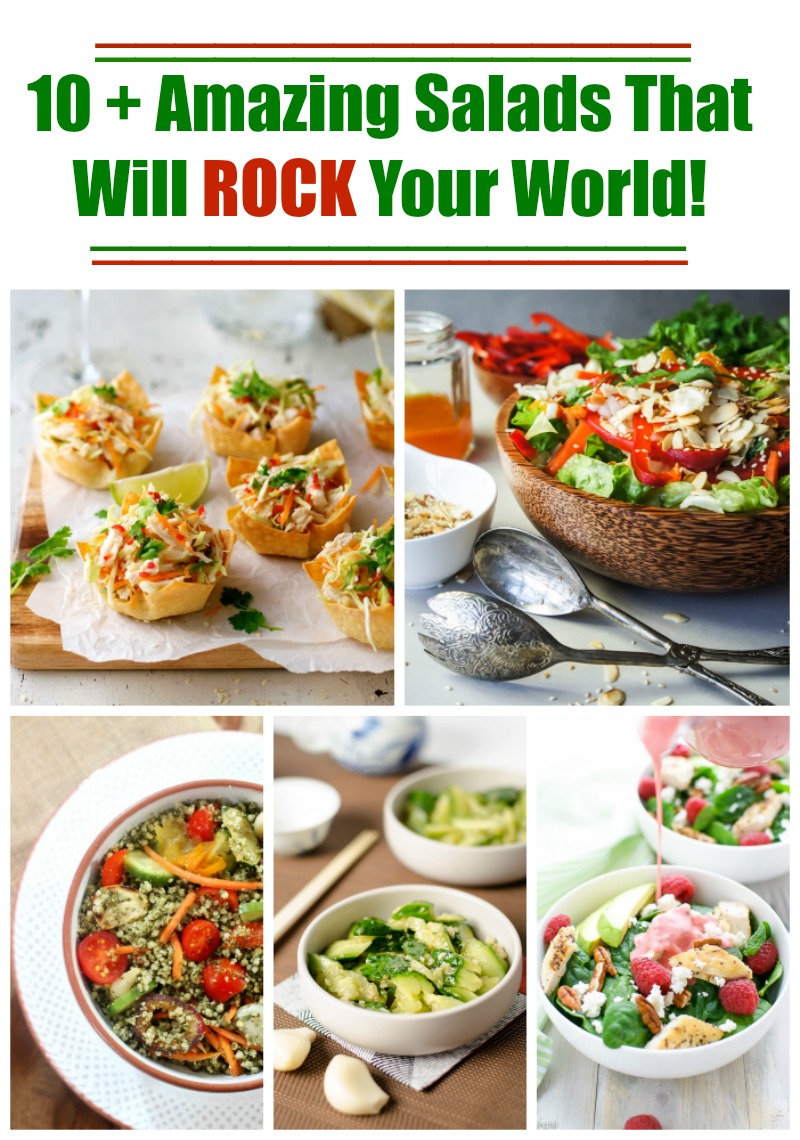 We have everything from appetizers, simple tossed salads with delicious and zesty dressings and hearty main course salads to help lighten and brighten your day. These 10 + Amazing Salads are recipes are going to be your new go to salad recipes.
How do you make a good salad?
Diverse Textures: crunchy nuts, crispy toppings, crunchy vegetables and silky avocados
Fresh Herbs like mint, cilantro, basil, etc.
Grains like farro, quinoa, rice, etc.
Proteins like shrimp, chicken, fish, seared steak, etc.
Balanced vinaigrettes and dressings
fresh fruits
anything your heart desires like edamame beans, frozen peas, chickpeas, avocados and even leftovers.
Why You Should Make Your Own Salad Dressing
Did you know that one of the most favorite salad dressing in the USA is ranch dressing? Generally speaking, we like to make our own salad dressings at home. Have you ever looked at the ingredient list on the back of a pre-made salad dressing? Sugar is usually one of the top ingredients. Can you believe it? If you are watching your figure and going through the steps to watch your figure, make your own salad dressing and sweeten your salad dressing naturally with fruit or a little date paste or good aged balsamic vinegar and you will not need to add sugar. Be sure to try our Lemon White Balsamic Vinaigrette .
10 + Amazing Salads that your family is going to love
#1 Check out this light and delicious appetizer salad from Nagi at Recipe Tin Eats. Loads of flavour, loads of texture and fun to eat for any party or gathering. Nagi's food photography and her lip smacking and drool worthy dishes will have you coming back for more.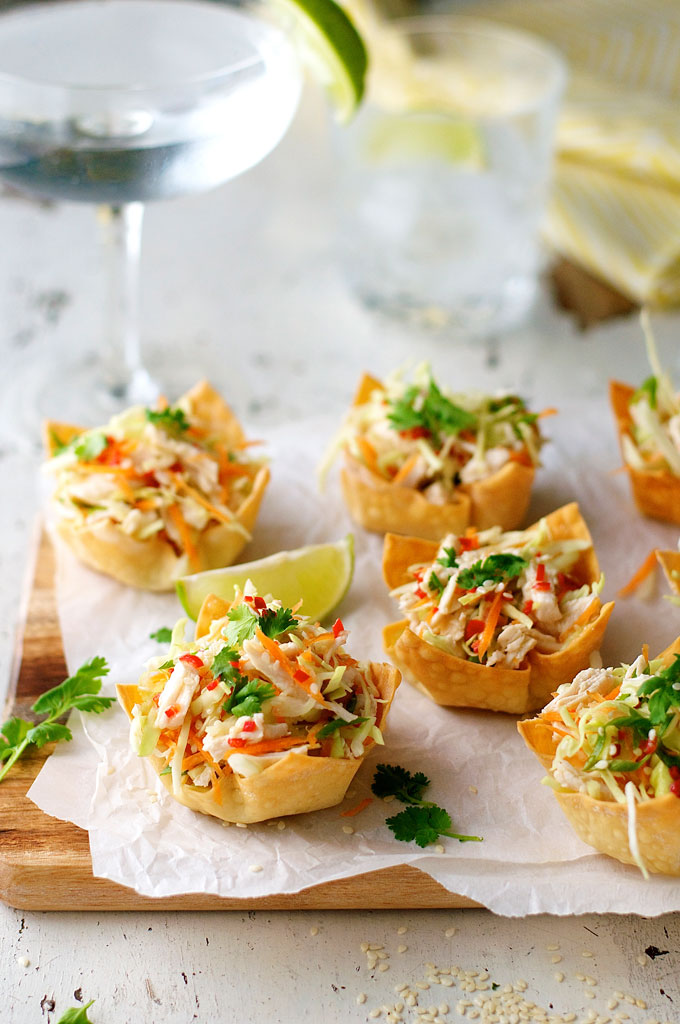 Recipe: Thai Chicken Salad Wonton Cups
#2 Vietnamese Shrimp Vermicelli Salad is one light and fresh bite of deliciousness filled with fresh Asian herbs, veggies and a Thai dressing you will want to drizzle on everything.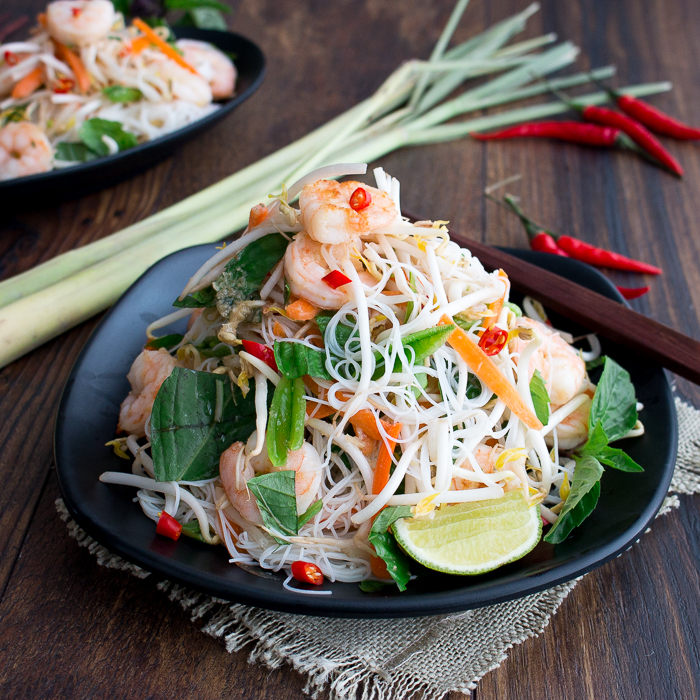 Recipe: Vietnamese Shrimp Vermicelli Salad
#3 I have an absolute addiction to Japanese pickles and just can't seem to get enough of them so absolutely delighted with Just One Cook Book's simple and easy Tsukemono (Pickled Cabbage) recipe. You are going to love all of Nami-san's delicious and easy Japanese dishes as each recipe has step by step instructions and a video. Stop on by and say hello.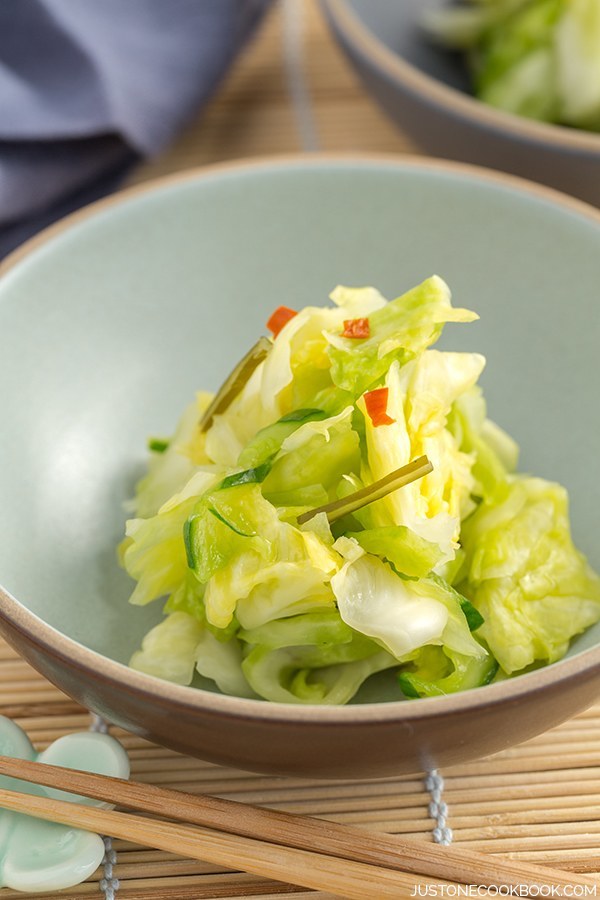 Recipe: Tsukemono (Pickled Cabbage)
#4 Creamy and delicious Fried Goat Cheese and Roasted Beets with extra crunch from the delicious pecans makes an ordinary salad into and extraordinary salad. Come and check out Savoring Todays delicious recipes as she has a little something for everyone. Judy is my go to girl if I am hosting a gathering. She has lots of great posts to entertain a crowd.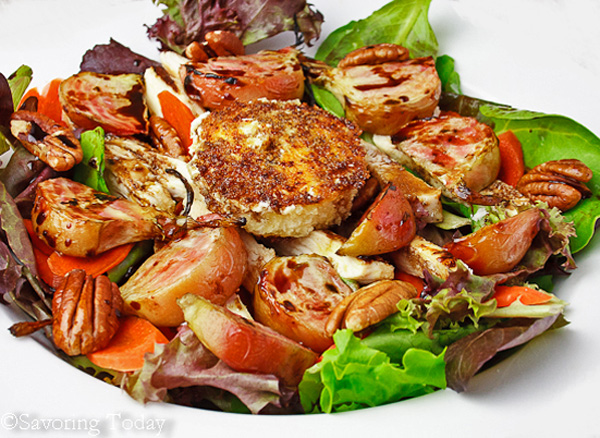 Recipe: Fried Goat Cheese & Grilled Beet Salad
#5 A delicious and simple recipe from our part of the world is Omnivores Cook Book's Easy Chinese Cucumber Salad (拍黄瓜). This is a tried and true recipe we make for my family all the time and add just a little bit of chili pepper and they love it. Maggie also has step by step processes and videos to help you make her delicious dishes, so be sure to drop on by and follow along.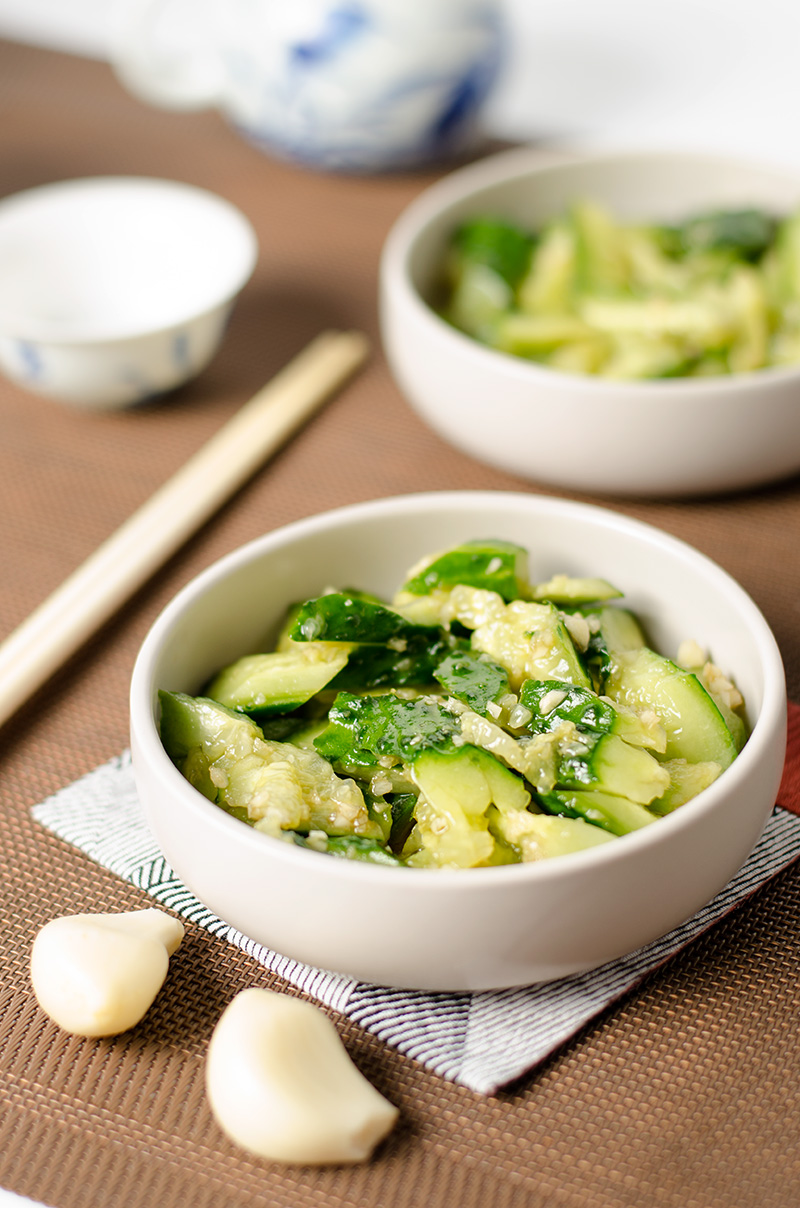 Recipe: Easy Chinese Cucumber Salad (拍黄瓜)
#6 Who can resist this rainbow vibrant and crunchy and Addictive Asian Slaw from Michelle at Vitamin Sunshine!! Michelle is also a healthy blogger. She lives in Kuala Lumpur and always finds delicious ways packs as much flavour and vitamins into her meals as possible. We could eat this whole bowl of Addictive Asian Cabbage Salad! Want to see more? Be sure to check our all of our other 10 + amazing salads.
Recipe: Addictive Asian Cabbage Slaw
#7 Gluten Free Italian Pasta is a great little recipe from Margaret Anne at Natural Chow. This recipe is great for potlucks or a picnic and is snap to throw together. Margaret Anne is also a healthy food blogger and you are going to love her writing style and energy she puts into each post.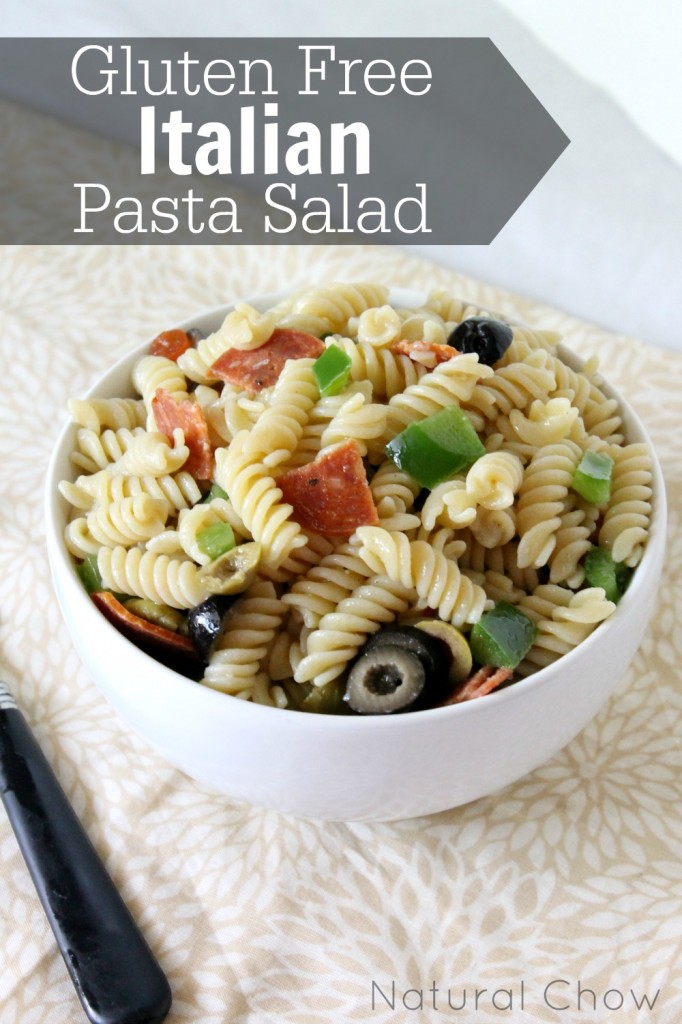 Recipe: Gluten Free Italian Pasta Salad
#8 No picnic is complete without a delicious Roasted Red Potato Salad with Parsley Vinaigrette. Thanks to Christine from No Gojis, No Glory you will be the culinary glamour star at the next picnic outing. Be sure to check out her recipe for baked honey marinated cod while you are visiting. My boys love this recipe!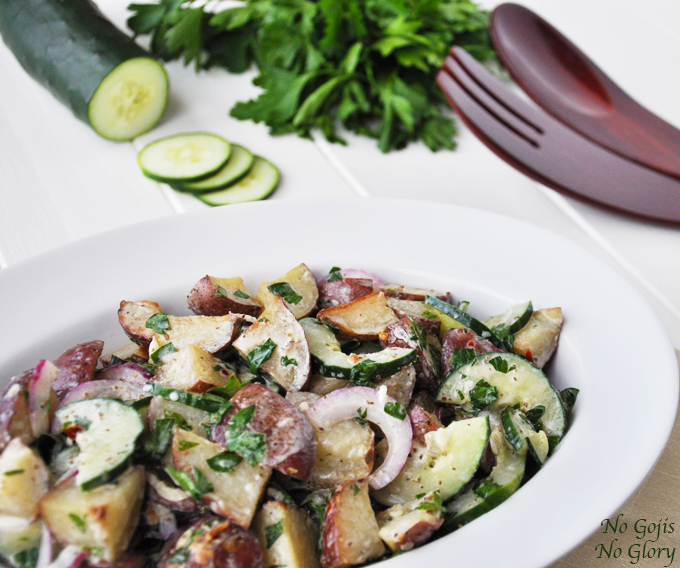 Recipe: Roasted Red Potato Salad with Parsley Vinaigrette
#9 We are just loving the berries in the market. They are so sweet and delicious and just perfect for Mira's refreshing Spinach Salad with Raspberry Vinaigrette. Mira makes so many bright and delicious dishes at Cooking LSL, you will not be able to choose just one so grab a quick cuppa and stay and visit for a while.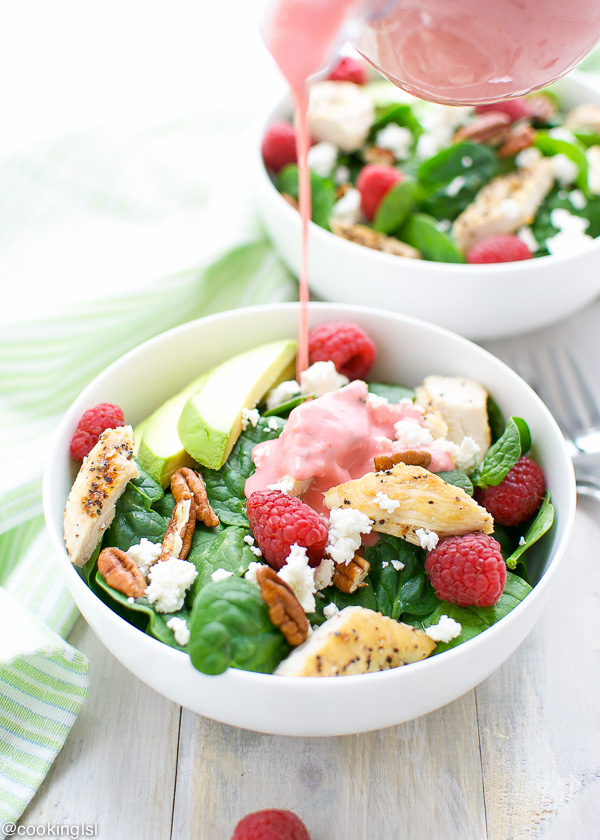 Recipe: Spinach Salad with Raspberry Vinaigrette
#10 If you want to feel like you are on the beaches of Greece or French or Italian Rivera there is no better salad to settle your craving than a delightfully fresh but hearty Mediterranean Bean Salad from Healthy World Cuisine. Salty from the feta, a little sweet from the little Malaysian cherries and aromatic from the rosemary; this dish could be a complete meal.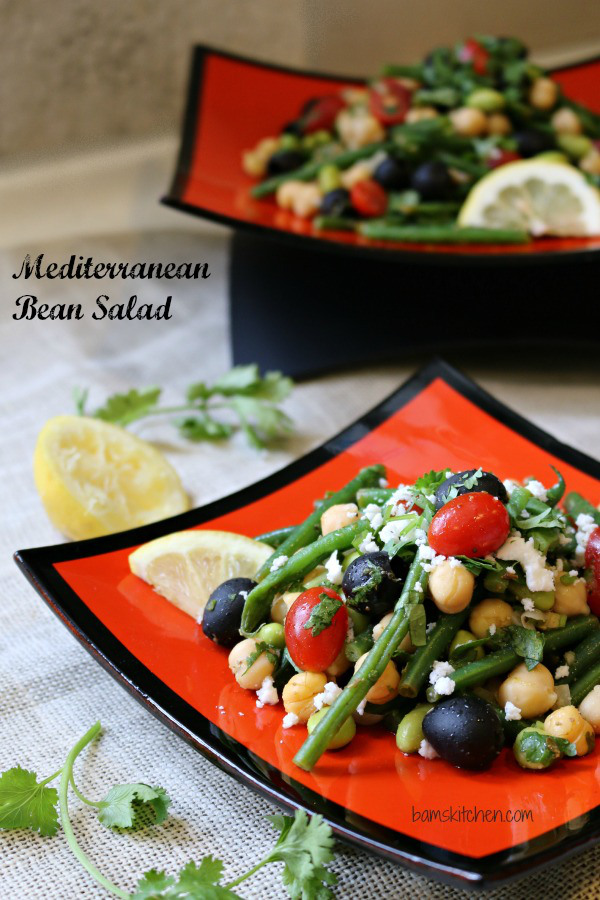 Recipe: Mediterranean Bean Salad
#11 I was looking for a hearty salad to keep my boys satisfied and John from Kitchen Riffs has loaded his salad with protein, carbs and a simple vinaigrette to keep you going all day long. Please make sure that you stop by and say hello before the weekend. John always makes the most stunning and interesting cocktails that will make your weekends rock!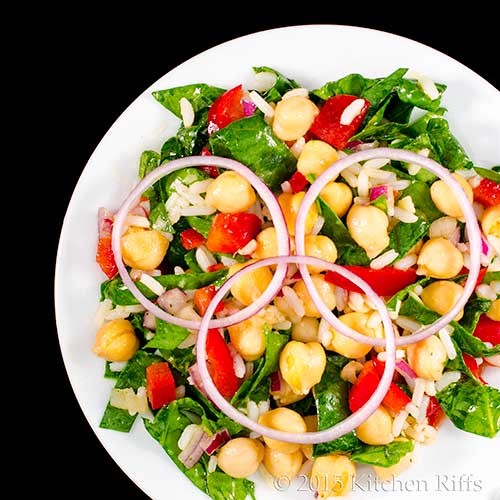 Recipe: Chickpea, Rice and Spinach Salad
#12 How about a warm salad? Sometimes your body just needs something nourishing and warm but we still crave the lettuces so the perfect solution is Stir Fried Romaine Lettuce from Healthy World Cuisine.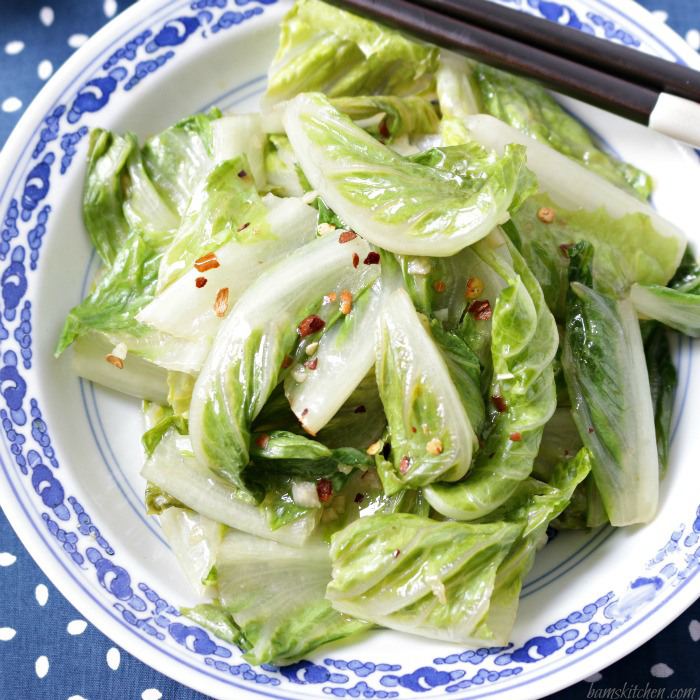 Recipe: Stir Fried Romaine Lettuce
#13 A cross between a fruit salad and a green salad is this fun Tutti Fruitti Kale Salad and Citrus Honey Dressing. Filled with zesty kale, plump strawberries, organic pineapples and drizzled with a citrus honey dressing.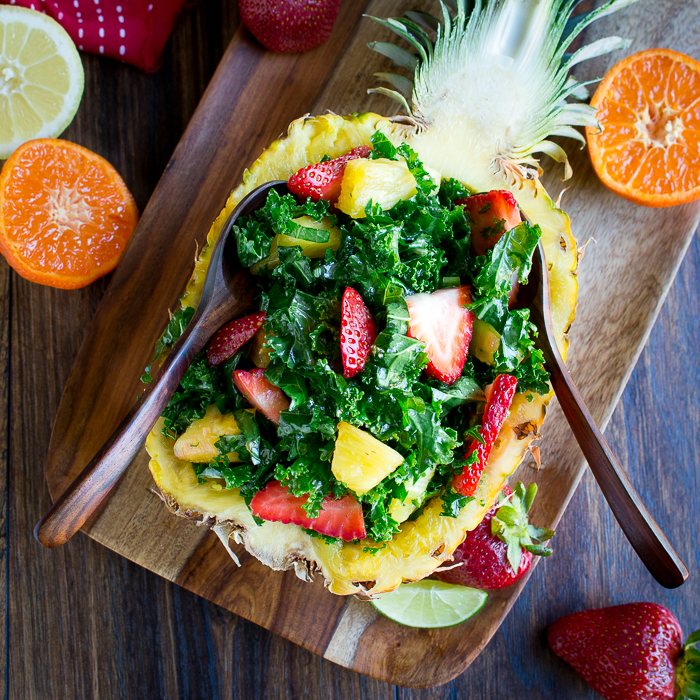 Recipe: Tutti Fruitti Kale Salad and Citrus Honey Dressing
More Delicious Salads
Soba Noodle Salad with Yuzu Dressing
Nutty Ginger Tamari Quinoa Salad
We hope you enjoyed these 10 + amazing salads and give them a try soon.
Hungry For More? Subscribe to our Newsletter and follow along on Facebook, You Tube, Instagram, and Pinterest for all the latest updates.