Looking for a refreshing and healthy way to cool off on a hot summer's day? Try these quick and easy Healthy Summer Salads with Fruit - Perfect idea for a picnic, BBQ, brunch, or shower. Serve these fruity salads alongside our Green Chicken Kababs, Bacon Wrapped Sausage Stuffed Pork Tenderloin or our many other Summer Grilling and Chilling Recipes for a perfect summer dinner plan.
Not only are these fruity salads packed with nutrients, but they are refined sugar free - delicious clean eats. We've included helpful hacks on how to keep fruit fresher longer, a "Fruit Flavor Pairing Chart" and numerous fresh fruit salads recipes for all your summer gatherings.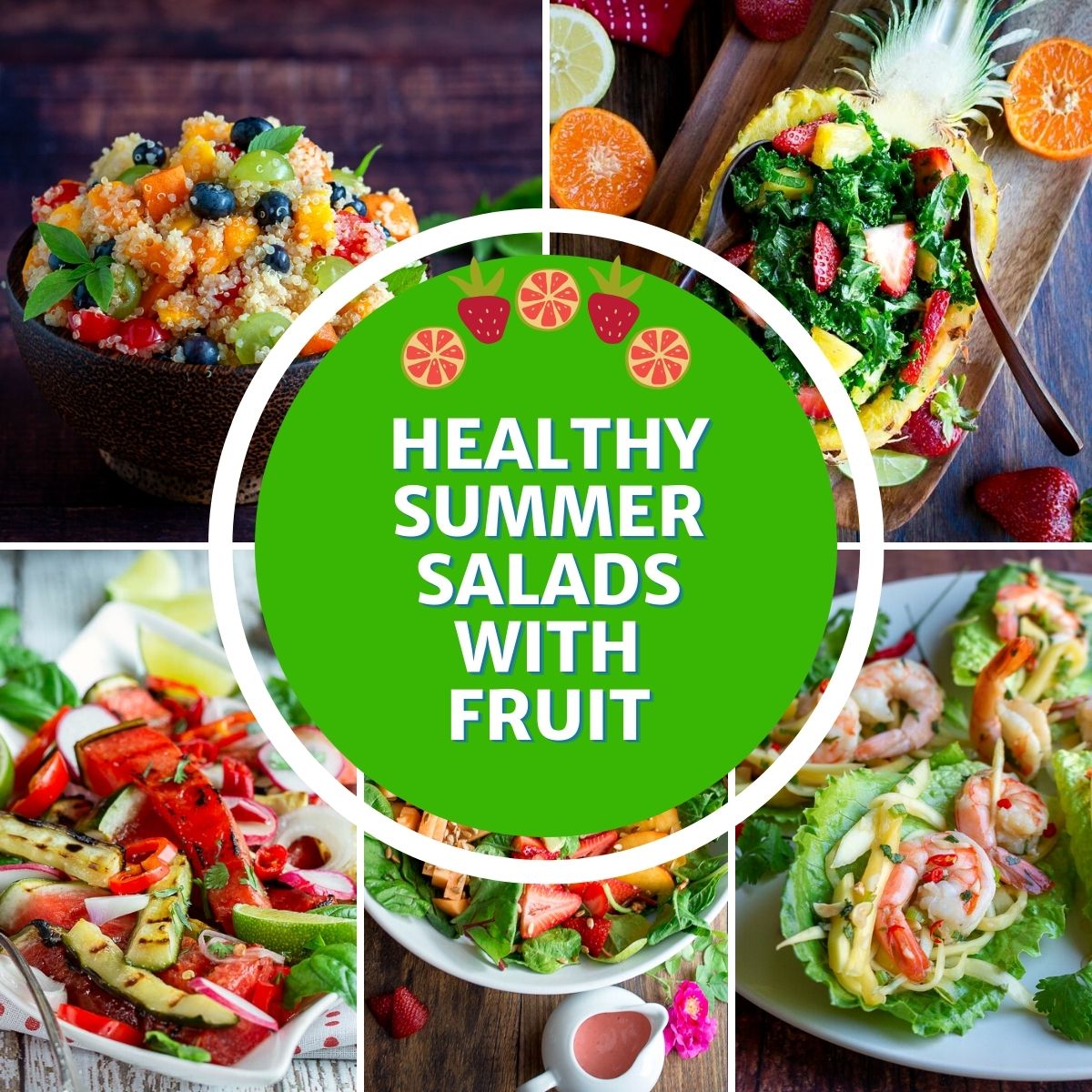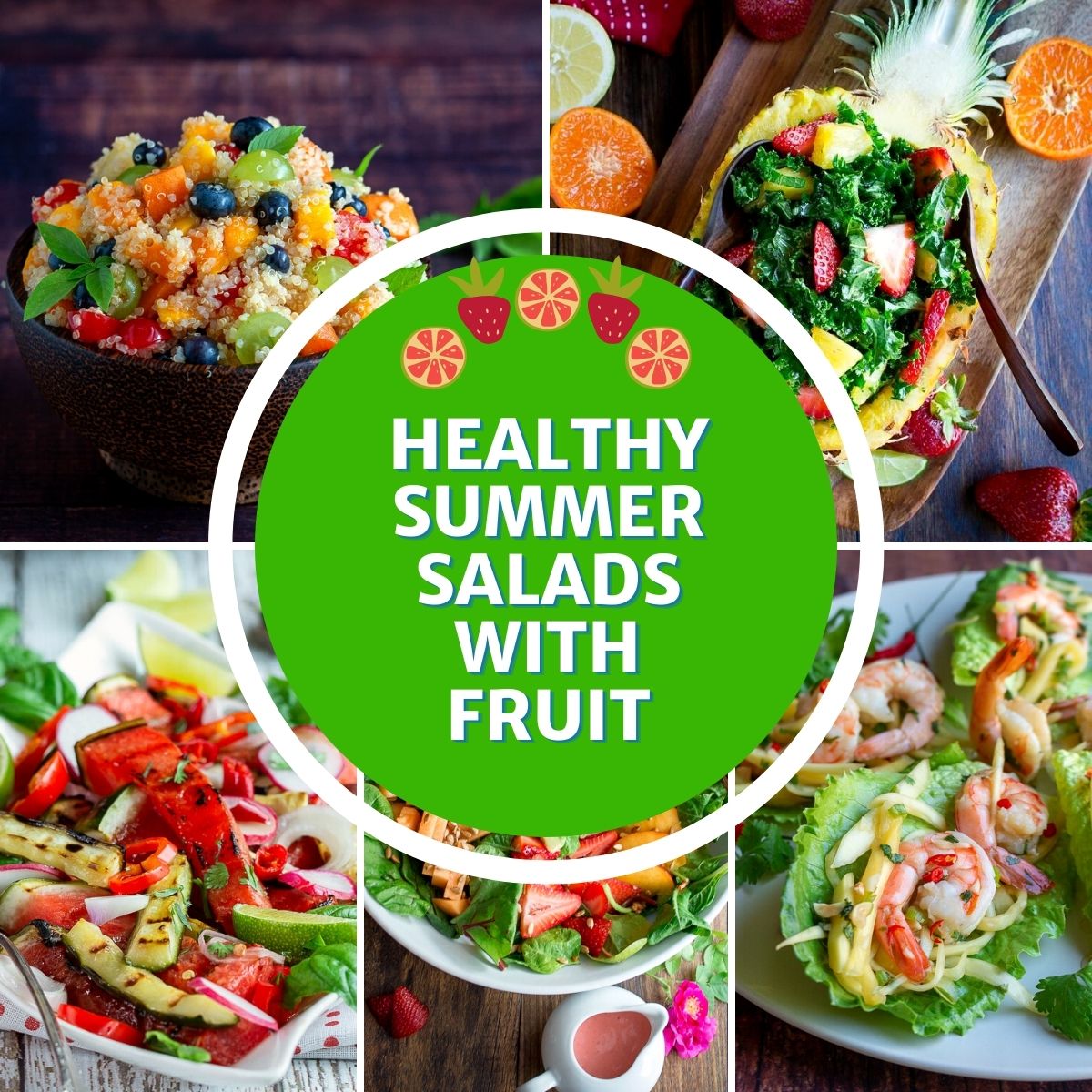 Jump to:
What's to Love
If you've been craving a bright and colorful fruit salad with a homemade zippy dressing, we have just what you've been looking for. Don't worry! Theses healthy salads do NOT contain mayonnaise, ambrosia marshmallows, or whipped topping, (or any of those weird creamy questionable things) so they are less likely to spoil at a picnic.
Many of these salads can be made in advance allowing you extra time to fire up the grill and entertain your guests. Elegant fruit cocktails are always a crowd pleaser at a potluck and add a splash of color to your dining table. Let's explore what fruit salad options might be best for your menu plan.
Grow Together – Stay Together
Did you know that things that grow together are delicious in a recipe together? It's nature's delicious and easy way of helping us with menu planning. That's convenient, right?
If you walked through a farmer's market right now, you'd find items that have been grown locally. These items may differ from state to state or country to country, but the concept remains the same.
What grows together – stays together!
Here is a very simple example… In mid-August, you might be able to find freshest tomatoes and basil in the Midwest. Caprese Salad on a Stick is extra delicious because the ingredients are in peak season and pair wonderfully together.
The Basics!
There are no set rules for what can or can't go in a fruit salad. However, paying attention to what grows together – stays together is an easy way to decide what to include.
Choose the base for your healthy summer salad (leafy greens, grains, main fruits, or other vegetables).
Add in your favorite seasonal fruits
Select fresh herbs and spices
Drizzle with your favorite light and bright sweet fruit salad dressing
Try adding in fun textures like nuts, seeds, crispy tortillas, etc.
Add in grilled protein of choice like grilled chicken, Marinated Grilled Flank Steaks, Grilled Halloumi Cheese, etc.
Refrigerate until ready to serve.
Why does Fruit Turn Brown?
Excuse us while we get a little food science nerdy for a moment…
Do you remember this from science class? All fruits have enzymes that are release when they are cut and exposed to air. These enzymes start to break down the fruit. This process is known as oxidation or enzymatic browning.
Polyphenol Oxidase (enzyme) +O2 (oxygen) = Melanin (brown color /pigment)
I bet you wondering if it is safe to eat that apple you just cut up because it is starting to brown? Right? Of course, you can but it is not very aesthetically pleasing. Is it?
How do you keep fruit from browning in a salad?
Try these easy hacks!
Chopped apples and pears will last longer if you place them in "salted water" overnight. This is a cheap method we learned whilst living in Japan making bento boxes. Just drain and rinse the apples or pears before putting them in a salad or a packed lunch box.
Toss your fruit in a citrus juice like lemon, lime, orange, grapefruit, or pomelo. The acid in citrus juice inactivates the enzyme, polyphenol oxidase, when it is exposed to air.
Along those same lines, tossing cut fruit with acidic fruits like oranges, grapefruits or pineapples can also help prevent browning.
Soak your fruit like apples and pear in a bath of 2 tablespoons of honey and 1 cup of water for just a minute or two before adding it to your summer salads.
What to Serve With?
Are you looking for some healthy dinner meal plan ideas? These healthy summer salads with fruits can be served as a main or as a side dish. Try these ideas!
Pork is always more delicious with something a little sweet on the side. Don't you think? Thai Pork Basil Skewers are delicious with our zesty Prik Nam Pla Dipping sauce and a side of our Thai Shrimp Mango Salad.
Chicken gets a whole new flavorful profile with our Peking Style Beer Butt Chicken and Layered high Sesame Asian Salad.
Fish that tastes like steak always gets a thumbs up with our family. Grilled Swordfish with Crab Salsa is delicious with a fresh garden salad with a Lemon White Balsamic Vinaigrette.
Beef - Grilled Flank Steak with Thai Style Chimichurri complements the naturally sweet, tangy, sour and spicy Grilled Watermelon Salad.
Vegan options include a Super Easy Grilled Asian Eggplant with a hearty Easy Summer Millet Salad because tomatoes are a fruit too.
Try these Recipes
Tomato = Vegetable or Fruit?
You are correct! Tomatoes are both a fruit and vegetable. I know, confusing, right?
From the botanical classification, tomatoes are fruits because it has seeds that grows from the ovary of a flowering plant.
On the other hand, from the culinary classification tomatoes are vegetables because of their flavor profile and the edible part of the plant is usually eaten as part of a meal.
Give these chopped fruit salads with tomatoes a try at your next barbeque.
Dressings and Vinaigrettes
What's a salad without a fruity salad dressing? Right? It's Just a boring fruit cocktail or cut up fruit. Make your summer salads with fruits come alive with these bright and zippy dressings.
Frequent Asked Questions (FAQ's)
More Delicious Salads
Did You Like Our Recipe? Leave a ⭐⭐⭐⭐⭐ rating and/or a review in the comments section below. Your feedback is always appreciated! Follow us for more delicious recipes on Pinterest, Instagram, Twitter and Facebook! Don't forget to sign up for our email list for more free recipes.