Thai Grilled Watermelon Salad is made with delicious Seared Watermelon and cucumbers on the grill drizzled with a simple Thai dressing.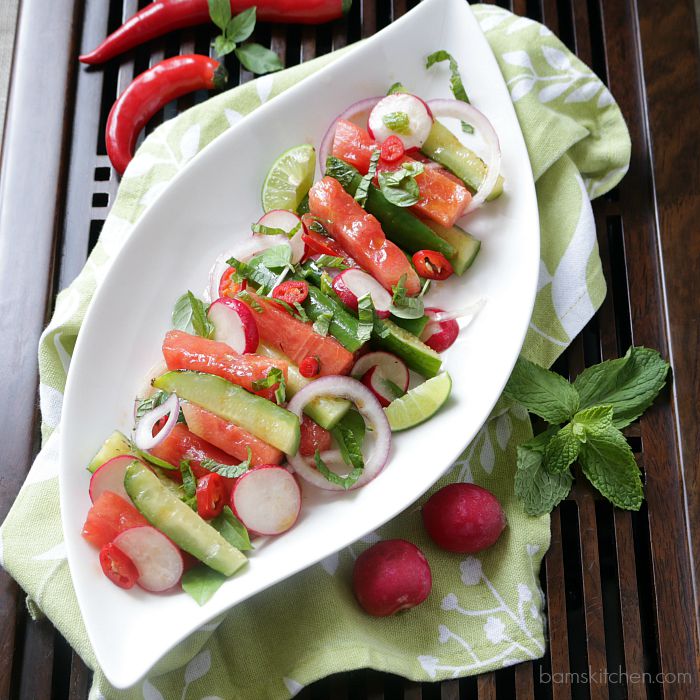 Grilling Watermelon?
Yes you heard that right, I grilled Watermelon and cucumbers on the BBQ. Hey don't knock it until you tried it. I promise you, I will make you a converter. The grilling process makes the watermelon and cucumbers like little crisp sponges ready to absorb all of the delicious flavors and the dressing.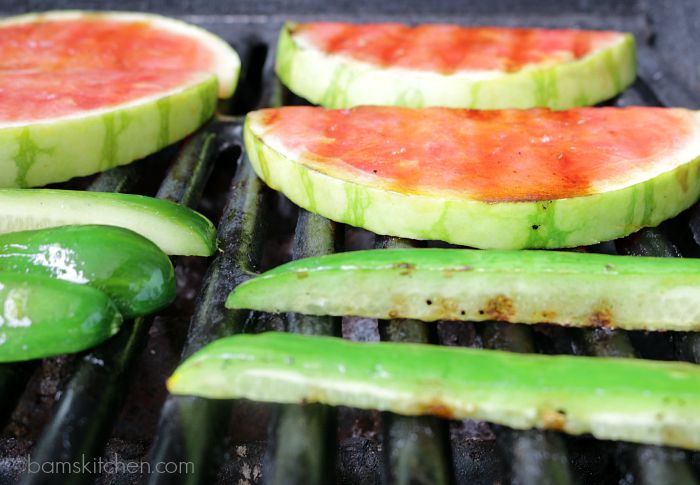 Why you are going to love our Thai Grilled Watermelon Salad
You are just going to love this recipe as it like explosion of flavors going on in your mouth. The sweetness of the watermelon is intensified by the grilling process. The cucumbers are crisp and chargrilled. The little extra crunch from the radishes and red onions make for a fun salad. The dressing is super simple just a little fish sauce, fresh lime juice, mint, Thai basil and of course some chilis.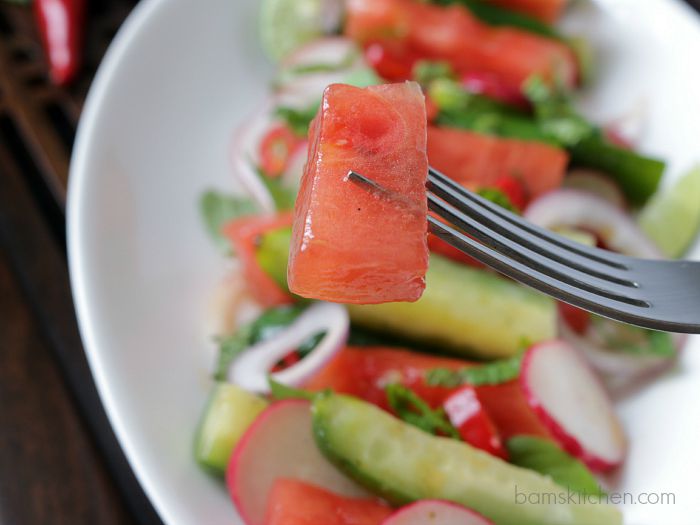 Thai Grilled Watermelon Salad is happily vegan, low fat, cardiac friendly, lactose free, gluten free (if you use gluten free fish sauce or just use salt instead) and diabetic friendly if you increase the amount of cucumbers to watermelon slices in your salad).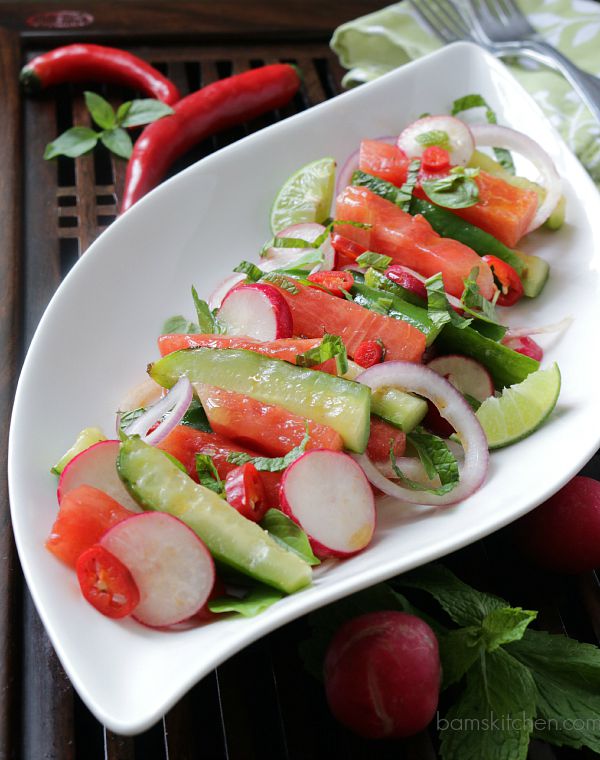 Thai Cuisine Flavors
Thai cuisine is all about balance in sweet, salty, sour and spicy. The sweet in the Thai Grilled Watermelon Salad comes naturally from the super sweet in season watermelon, The salty comes from the fish sauce, but if you do not have this ingredient or if you are going gluten free, just adjust your seasoning with salt and pepper. The sour comes from the fresh limes and the spicy and heat comes from the chilis.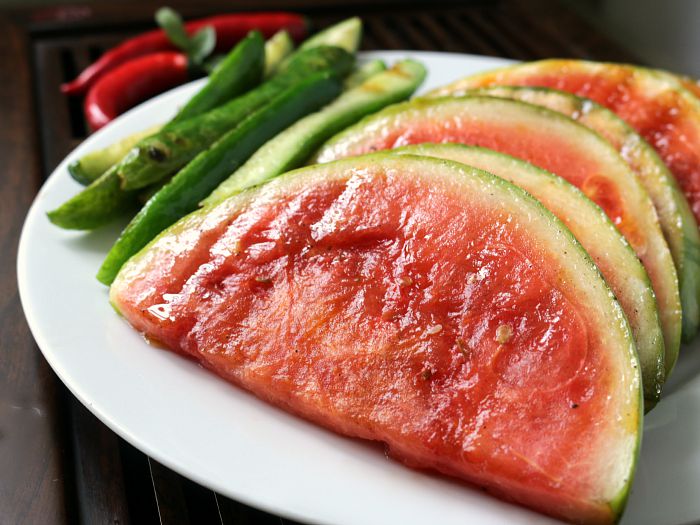 Why you should not eat cold foods
Do you remember my Spiced Yam and Vegetable Stir Fry? We talked about how eating really cold and icy foods and drinks is really hard on your body. You should try to eat foods that are closer to your body temperature to avoid health issues according to Traditional Chinese Medicine (TCM).
If your body is more of the cold constitution, your body has to exert loads of energy to bring the body temperature to the correct temperature so it can digest the foods. If of cold constitution, it is hard to digest foods; they sit it the gut a longer period of time so you have stomach issues, etc.
If your body is of a warm constitution your body can easily bring the temperature up to the correct temperature to digest the food but the problem is that it cannot bring the temperature back down and you have other issues like an overactive stomach, always hungry, dry mouth.
Feed Your Spleen: Nourish Your Body Post explains the reason why eating cold foods is a shock to your body. If your body has to work extra hard to heat up the foods to extract the nutrients from your body and you are already in a compromised state, this is why people do not feel well.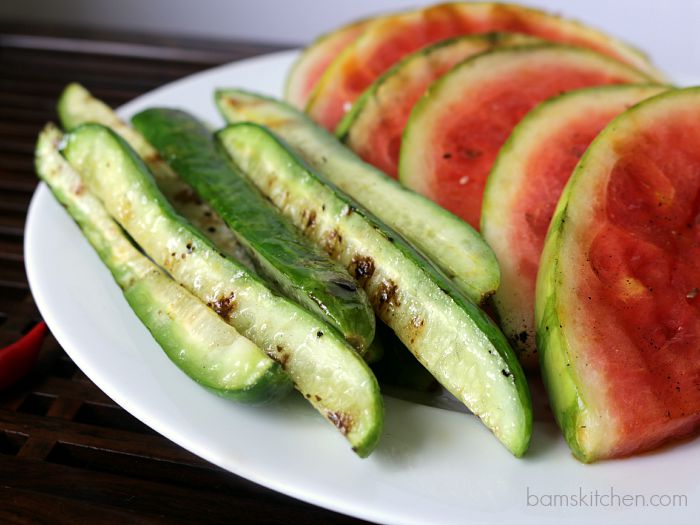 Traditional Chinese Medicine and Foods
Not to overwhelm you with TCM, however it is also believed that each food we consume has a cold (yin), warm (yang) or neutral attribute. The goal in TCM is to balance the body and you should not eat too many cold foods or too many warm attribute foods. If you do have cold foods then it is good to mix with a few warm foods or spices so that it creates balance. The Temperature of foods in not the only thing that is assessed. Be sure to read our post on Introducing the Five Energies of Food to learn what foods are cooler, warmer and neutral.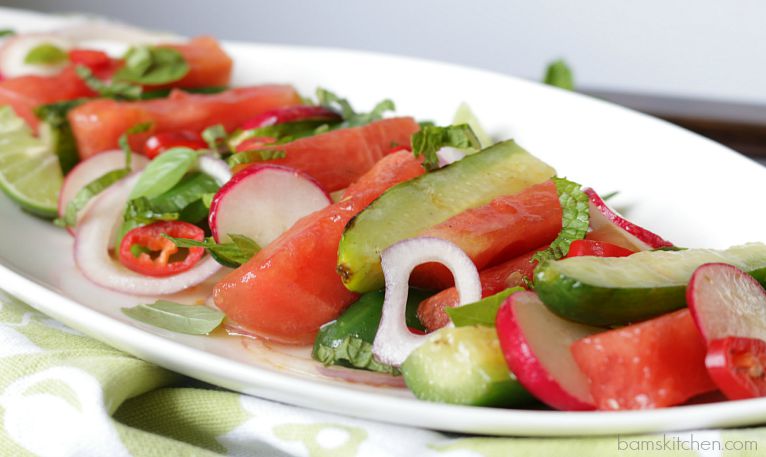 The grilling process brings this dish to a more comfortable room temperature dish which really brings out the flavors of the dish and really is better for your health. According to TCM both cucumbers, mint and watermelon fall into the cold food category but combining with a little red chili, sweet basil and red onion are warming, so this helps balance the dish. In our post, Love Your Liver; Self Care and Meal Plan, you can learn more about how watermelon and cucumbers are cooling for your liver and can help liver qi stagnation or liver fire, if you hold the Thai Chilis. In addition, this recipe grills the watermelon and cucumber and is served at room temperature, not cold. By all means however, you can serve this salad cold. Even if you do not want to grill the watermelon or cucumber this is still a beautiful salad just as it is.

More Delicious Salad Recipes
Layered High Sesame Asian Salad
Sautéed Greens Breakfast Salad
Best Warm Vegan Swiss Chard Lentil Salad
Join the HWC Magazine Foodie Community. Subscribe to our Newsletter and follow along on Facebook, You Tube, Instagram, and Pinterest for all the latest updates.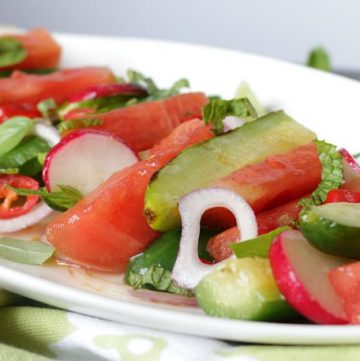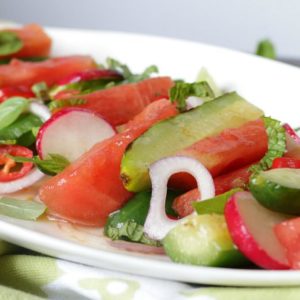 Thai Grilled Watermelon Salad
Thai Grilled Watermelon Salad is made with delicious Seared Watermelon and cucumbers on the grill drizzled with a simple Thai dressing.
Print
Pin
Rate
Ingredients
Thai Salad Dressing
2

tbsp

lime juice

1

tbsp

fish sauce

(if you do not have just add a little bit of salt to balance the dish)


1-2

chili peppers


chopped (as desired to you heat liking)
Salad Fixings
2.5

pounds

watermelon


or about 6 slices or 4 cups (horizontally slice watermelon and leave on the rind)

2

cucumber


small (deseeded, cut into lengthwise quarters -leave the skin on)

1

onion

small red onion sliced (or can use green onion chopped if you like)


5-6

radishes

sliced thinly


⅛

cup

mint leaves


chopped

⅛

cup

Thai basil

(chopped)- if you cannot find Thai Basil just exchange with regular sweet Italian basil and just as delicious
Instructions
Step 1: Make the Thai Dressing: Mix lime juice, fish sauce and chili peppers together and set aside.

Grill Watermelon and cucumber slices on the grill for just about 2-3 minutes on each side just to get a slight grill marks. Remove the rinds and white portion of the watermelon. slice in long lengthwise slices to match the length of the cucumbers. Cut the cucumbers in half to be about the same size as the watermelon slices. (I like my food symmetrical as it makes it easier to eat)

Combine the sliced watermelon, cucumbers, radishes and onions into a bowl. Drizzle on the Thai dressing and add mint and Thai basil and toss gently.

Serve your Thai Grilled Watermelon Salad at room temperature or cold to your liking.
Nutrition
Serving:
1
g
|
Calories:
120
kcal
|
Carbohydrates:
28
g
|
Protein:
3
g
|
Fat:
1
g
|
Saturated Fat:
1
g
|
Sodium:
363
mg
|
Potassium:
586
mg
|
Fiber:
3
g
|
Sugar:
21
g
|
Vitamin A:
1853
IU
|
Vitamin C:
33
mg
|
Calcium:
51
mg
|
Iron:
1
mg