Berry Cherry Smoothie Blast is a creamy frosty dairy free beverage with mixed berries, Michigan Cherries, Coconut cream and citrus zest. Perfect for breakfast or a snack on the go!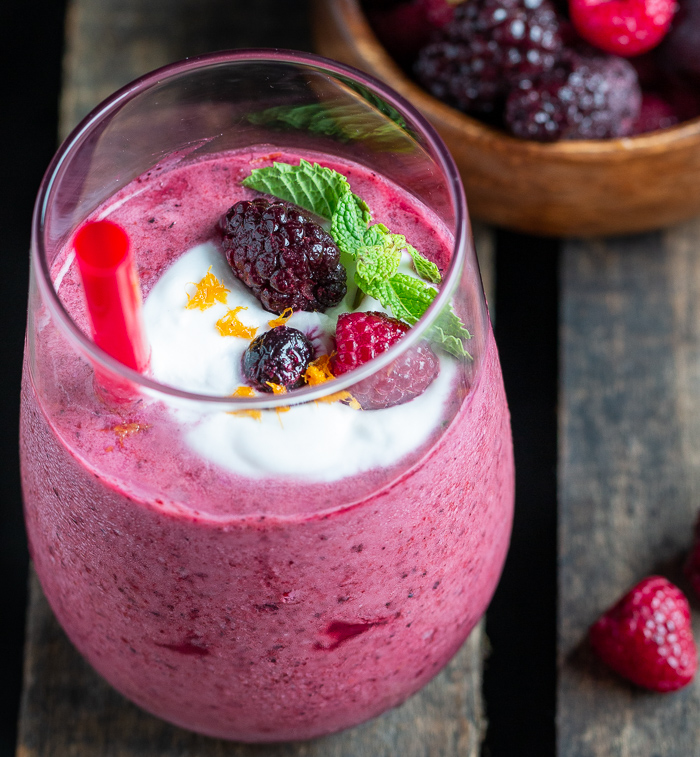 Why You are going to Love our Berry Cherry Smoothie Blast
You are going to love how thick, creamy and fun this Berry Cherry Smoothie Blast is. It almost feels like you are sipping on a shake or ice cream float without all the guilt. The natural sweetness of the berries and cherries with the creaminess of the dollop of Homemade Coconut Whipping Cream and the citrus punch makes for a delicious sip.
Do you ever stand with your refrigerator wide open wanting something to eat but want it to magically appear? If you want something healthy, fast but do not feel like cooking? You have come to the right place. We have a Healthy Berry Cherry Smoothie Blast that is vegan, dairy free, gluten-free and can be made a little bit lower carb than usual smoothies.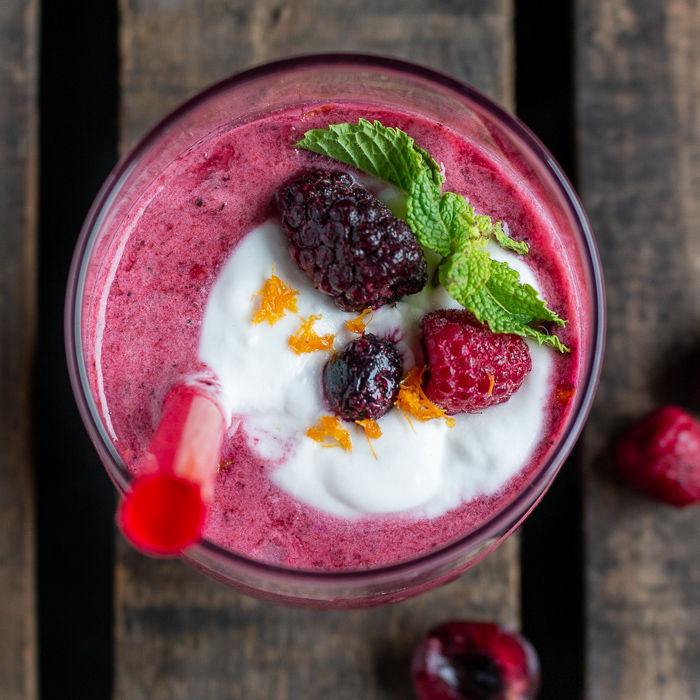 Back to School Prep
Are your kids home for the summertime holiday driving you crazy eating every 12 minutes? You are not alone. Get them in the habit of making a healthy snack or a quick breakfast with this Berry Cherry Smoothie Blast. Heck, this recipe is so easy, that the older ones should be able to do this completely independently. In addition, get them CLEANING UP without your assistance. (Well maybe that was pushing it but it could not hurt to try) Get them in practice now. Before you know it, it will be back to school time.
Our Berry Cherry Smoothie Blast makes a quick and easy breakfast on the go or a healthy snack any time of the day. If you like, you can even put all your ingredients in your food processor container and place in the refrigerator overnight. Then in the morning, you are ready to blitz your Berry Cherry Smoothie Blast. Be sure to try our Ginger Citrus Dragon Fruit Smoothie, Mexican Chocolate Cherry Smoothie and our Chocolate Peanut Butter Banana Smoothie for other delicious healthy breakfast/snack ideas.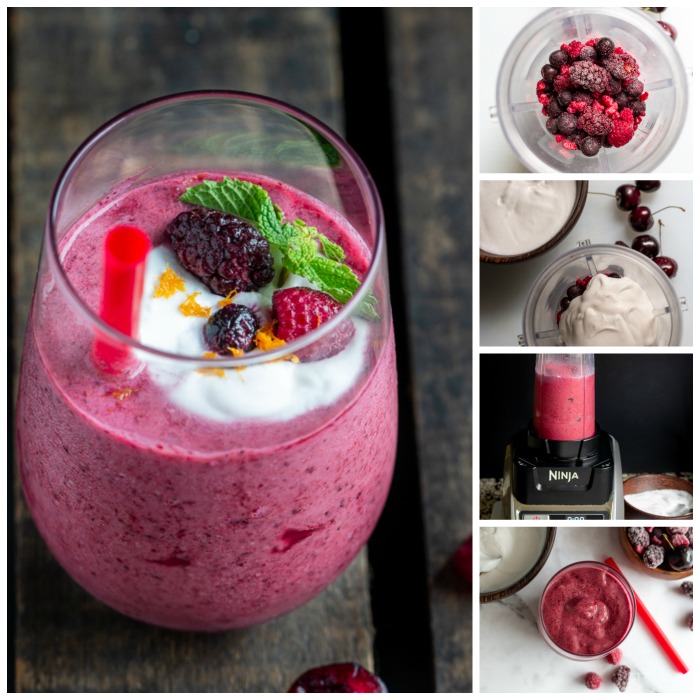 What can you add to your smoothie to thicken it?
You can thicken your smoothie with frozen fruit, frozen bananas, oats, chia seeds, silken tofu, yogurt and avocados. However, one of our favorite ways to thicken smoothies that is a lower in carbs than frozen bananas is frozen berries and a few dollops of Homemade coconut whipped cream. In addition, you can add a sugar alternative of choice like stevia if you need to make coconut whipped cream diabetic friendly. Using all frozen berries and skipping the frozen cherries is also lower in carbs.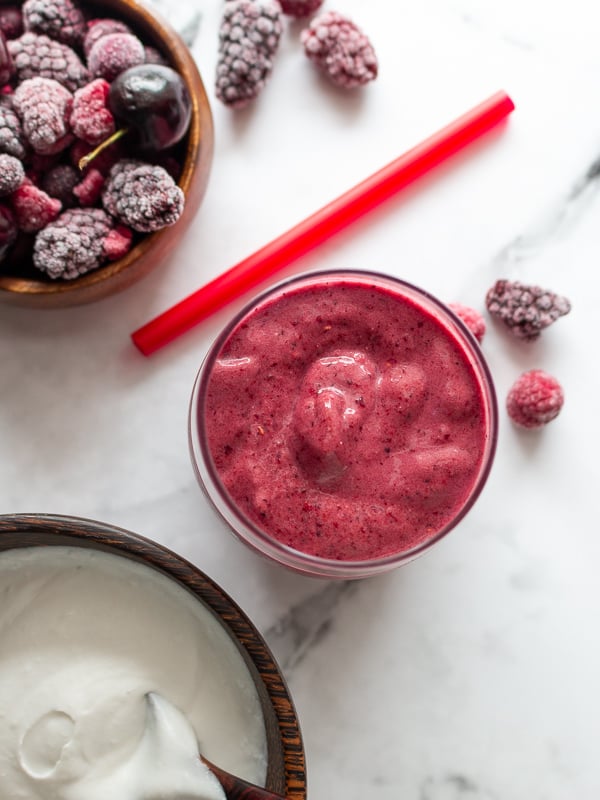 Berry Cherry Smoothie Blast Tips for Success
Don't add ice:
If you use frozen berries, you smoothie will be very thick. Ice just waters down your smoothie. In addition, don't use frozen berries or ice if you have a weak spleen. Be sure to review our Feed your Spleen: Nourish your body post to learn why eating cold iced drinks is not the best for your body. It is best to eat food and drinks at room temperature, so your body does not have to work so hard to heat up the nutrients to get them to your already pre-dispositioned body constitution. Fresh berries are in season, so enjoy the seasons bounty.
Make it with dairy or dairy free
Homemade Coconut Whipping cream and almond milk is a great alternative to make your smoothie rich and smooth without all tummy issues if you are lactose intolerant. If you are not lactose intolerant, feel free to use fresh dairy whipped topping, yogurt or milk. You can also use a frozen banana to thicken your smoothies.
Keep in Low in Sugar or Sugar Free
If you are making your own homemade coconut whipping cream, you can use stevia or sugar alternatives of choice to lightly sweeten. When you use a frozen ripened banana, there is no need to add any sugar as it is naturally sweet from the banana.
Frequent Asked Questions (FAQ's)
Are smoothies better with water or milk or juice?
It depends on your preference. If you like a more creamy smoothie, opt for a dairy or non-dairy. If you are watching calories, opt for water. However, if you want a little punch of flavor, try juice.
Is it better to use frozen fruit for a smoothie?
It depends, if your goal is to make your smoothie thicker then add frozen fruit to make a thick and delicious smoothie. However, if you suffer from a weak spleen qi, it is best not to use frozen fruit but fruit at room temperature. In addition, do not add ice to your smoothies. The reason being is that your body has to work very hard to heat up your food to digest it if you are already in a compromised state.
What is the best way to blend a smoothie?
Using a high powered blender is preferred for making a thick and rich smoothie. Start your blender on low and then increase up to high for about 2 minutes or until it is well blended.
More quick and easy breakfast ideas/snack ideas
Toasted Almond and Date Larabars
Grab and Go Breakfast Chai Biscuits
Blackberry Lemon Drop Biscuits
Ginger Citrus Dragon Fruit Smoothie
Lemony Lavender Chia Seed Pudding
Hungry For More? Subscribe to our Newsletter and follow along on Facebook, You Tube, Instagram, and Pinterest for all the latest updates.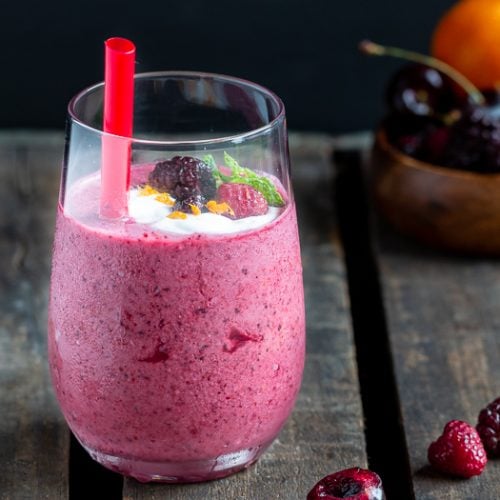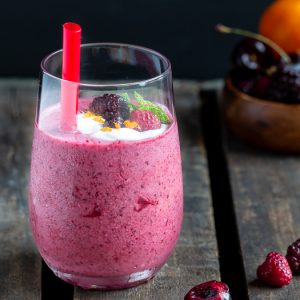 Berry Cherry Smoothie Blast
Berry Cherry Smoothie Blast is a creamy frosty dairy free breakfast on the go beverage with mixed berries, Michigan Cherries, Coconut cream and citrus zest.
Print
Pin
Rate
Ingredients
½

cup

frozen mixed berries


½

cup

frozen cherries


½

cup

homemade coconut whipped topping


or frozen banana slices

½

cup

almond milk


unsweetened or dairy of choice

1

teaspoon

orange zest
Instructions
Blend frozen berries, cherries, coconut whipped topping (or frozen banana), milk or dairy alternative of choice, and orange zest in food processor until smooth and creamy. Enjoy!
Notes
If you prefer, you can use one frozen banana as an exchange for the ½ cup homemade coconut whipped topping. However, if you are trying to stay low carb, then we suggest using the homemade coconut whipped topping lightly sweetened with a sugar alternative of choice, like stevia. In addition, to keep this smoothie lower carb, replace the frozen cherries with all mixed berries which are lower carb. We only like our smoothies lightly sweetened. If you need yours's sweeter, you can add a little sweetener of choice. (honey, frozen banana, stevia, date paste, organic coconut sugar, etc.)
Nutrition
Serving:
1
g
|
Calories:
249
kcal
|
Carbohydrates:
15
g
|
Protein:
3
g
|
Fat:
22
g
|
Saturated Fat:
18
g
|
Sodium:
84
mg
|
Potassium:
295
mg
|
Fiber:
3
g
|
Sugar:
8
g
|
Vitamin A:
44
IU
|
Vitamin C:
6
mg
|
Calcium:
91
mg
|
Iron:
2
mg