Chocolate Peanut Butter Banana Smoothie is a creamy, dreamy, decadent breakfast on the go or snack with no added sugars and is dairy free and vegan.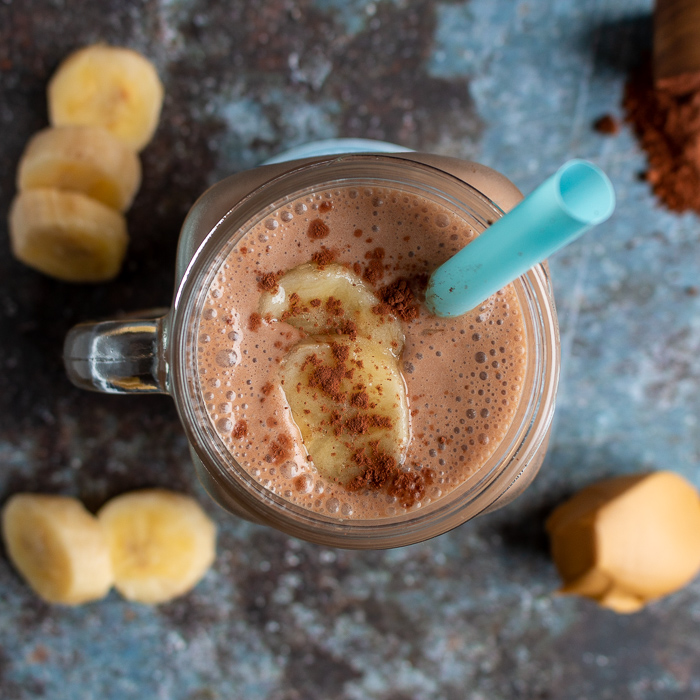 Summer is in full swing. You could literally fry an egg on the cement. The kids are all home driving us crazy eating every 12 minutes. The refrigerator cannot even stay cold as you have little ones and all of their friends peering inside trying to find something to cool them off --- every 12 minutes. It's like if they keep looking something new and magical will appear.
You can be that magician and whip up a healthy batch of Chocolate Peanut Butter Banana Smoothies with just 5 ingredients and 5 minutes. Tada! If you looking for another chocolate fix in 5 minutes, be sure to try our Easy Microwave Chocolate Pudding.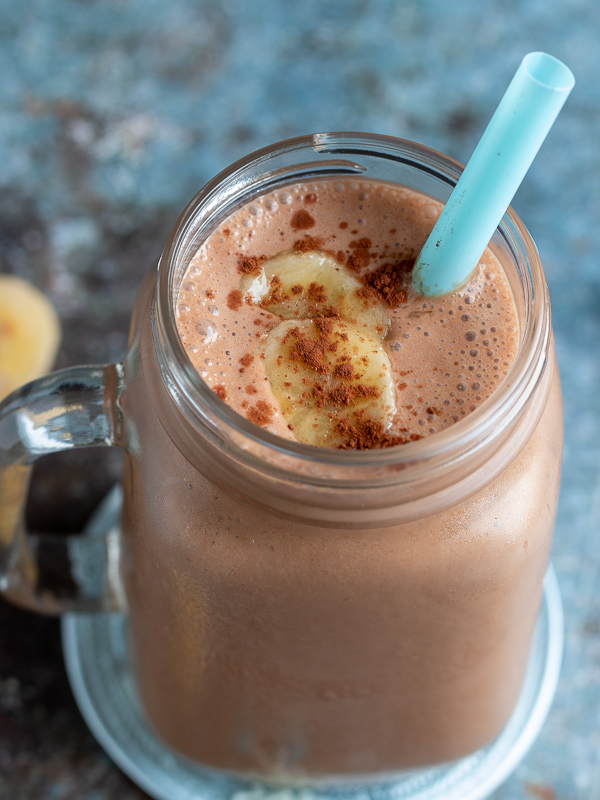 Why You are Going to Love our Chocolate Peanut Butter Banana Smoothie
The kids and adult are just going to love this delicious cooling summer treat as it is...
cooling and refreshing
healthy
dairy-free
gluten-free
vegan
chocolatey
thick and rich
dreamy
no added sugar
When it is hot and steamy and your low on time for breakfast, our Chocolate Peanut Butter Banana Smoothie comes to the rescue. Totally portable and whips up in a flash. Before you know it, school will be back in session and this a great way to fuel those "I'm too busy for breakfast" kids. Chocolate Peanut Butter Banana Smoothies are delicately sweet, smooth and has a rich chocolate ending without any of the guilt.. These shakes are thick, creamy and frozen but still perfect to be able to drink them with a regular straw. Perfect way to cool off when the heat index rises.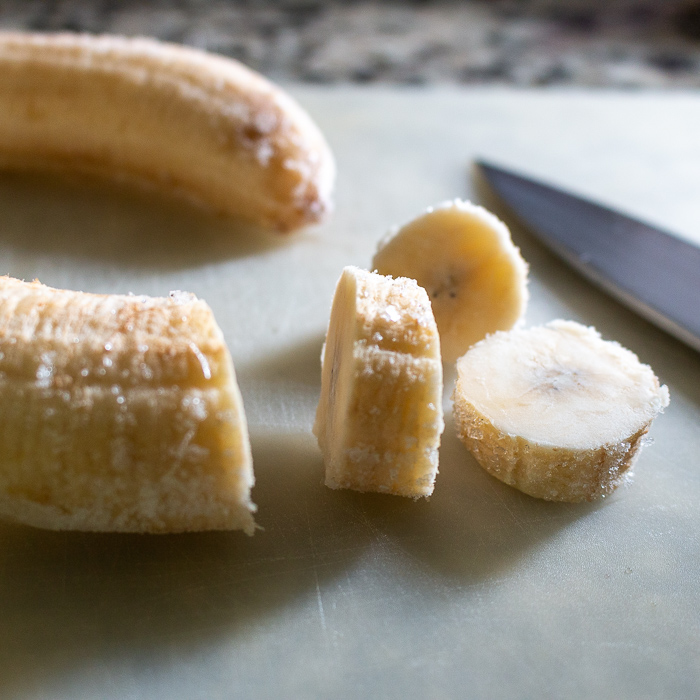 Do Not throw Away those Ripe or Over Ripe Bananas
There is more to life than banana bread. The secret to a thick and creamy smoothie is frozen bananas. All you need to do is to peel your bananas and place them in a freezer safe baggie or container. If you have more than one, you can freeze your whole or chopped bananas first on a cookie sheet and once they are frozen solid pop them into a freezer baggie. This step is so they don't stick together.
However, you can skip this step of freezing on a baking sheet it you don't mind whacking your frozen bananas on the counter a few times to separate them. When you want to use one just take out of the freezer, chop and pop into your smoothie. Frozen bananas keep up to 3-4 months.
You can use your frozen bananas in our Chocolate Peanut Butter Banana Smoothie, Berry Cherry Smoothie Blast or Citrus Ginger Dragon Fruit Smoothie.
Making smoothies takes less than 5 minutes
After you cut up your frozen bananas, add peanut butter (or nut butter of choice), cocoa powder, frozen banana in the blender.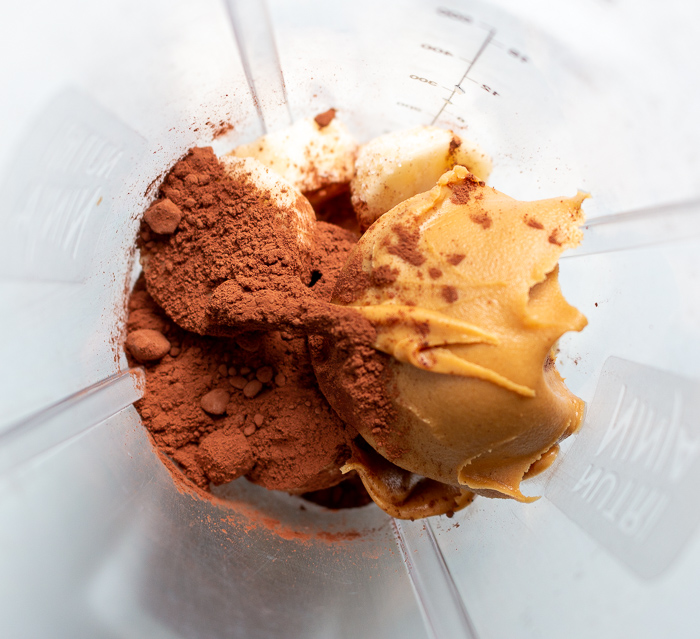 Add 1 cup of your dairy or non-dairy of choice. We love unsweetened Almond and Coconut milk blend from Silk. We have lactose intolerance issues that making ingesting dairy a real drag. If you find yourself feeling bloated, stomach issues and generally feeling uncomfortable after eating dairy products, give your little belly a rest and try a dairy free alternative.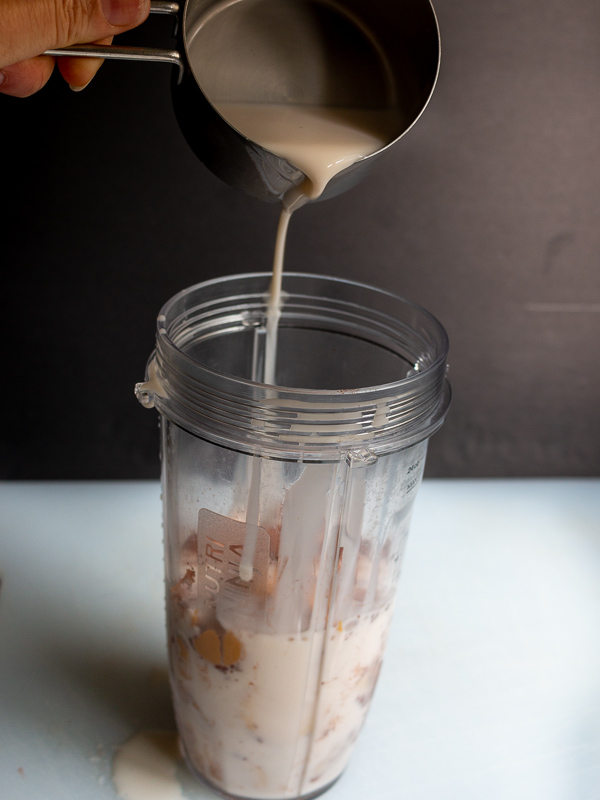 Add about 4-6 ice cubes, if desired and blend about 2 minutes.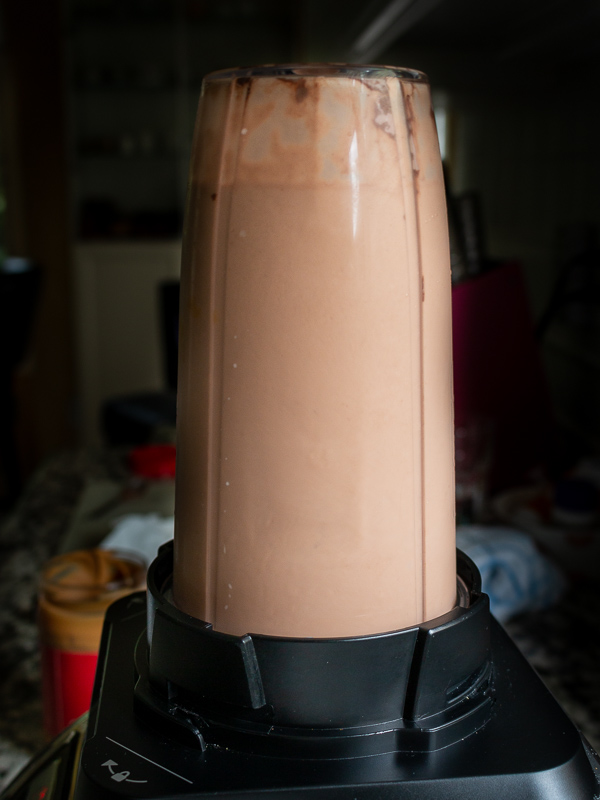 Pour into a large glass...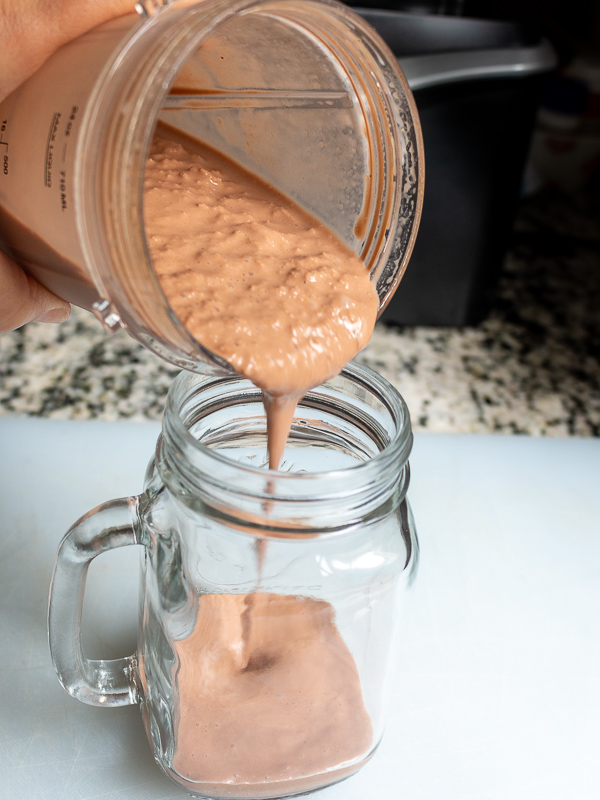 Look how rich and decadent this Chocolate Peanut Butter Banana Smoothie is!!!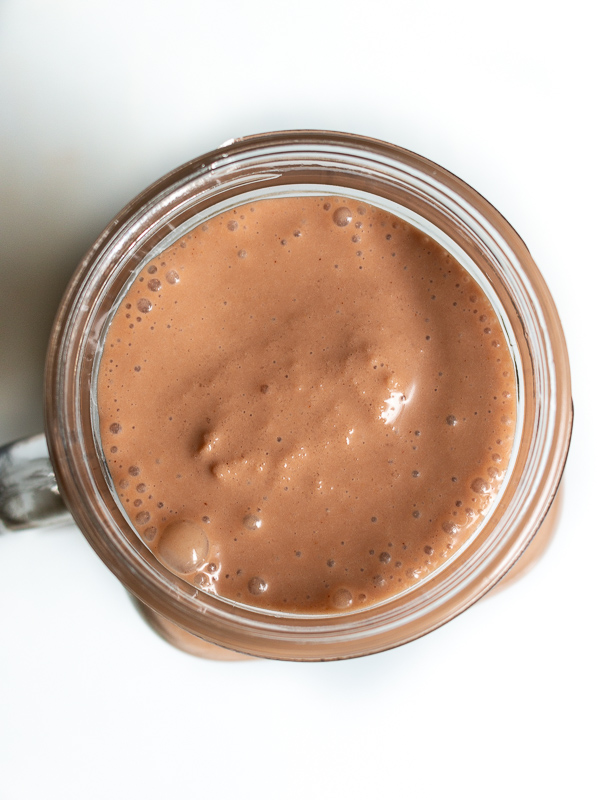 Do you like NICE CREAM?
There is nothing like a creamy frosty healthy dessert-treat to get you through these steamy hot days. Nice cream is made with a base of frozen bananas. Bananas are naturally sweet and we have found that you don't have to add much or very little sweetener to make it sweet. Be sure to try our Matcha Banana Strawberry Ice Cream Cups or our Mocha Banana Ice Cream
Did you know that you can use frozen bananas in baked desserts. You are going to love our Magic Matcha Bars, and Almost Diet Nutella Banana Bread
It is hot everywhere (well maybe except for Australia at the moment) and that is exactly why you need something cool and healthy to get you through your day that you can make in less than 5 minutes. We are completely addicted to these little wonders.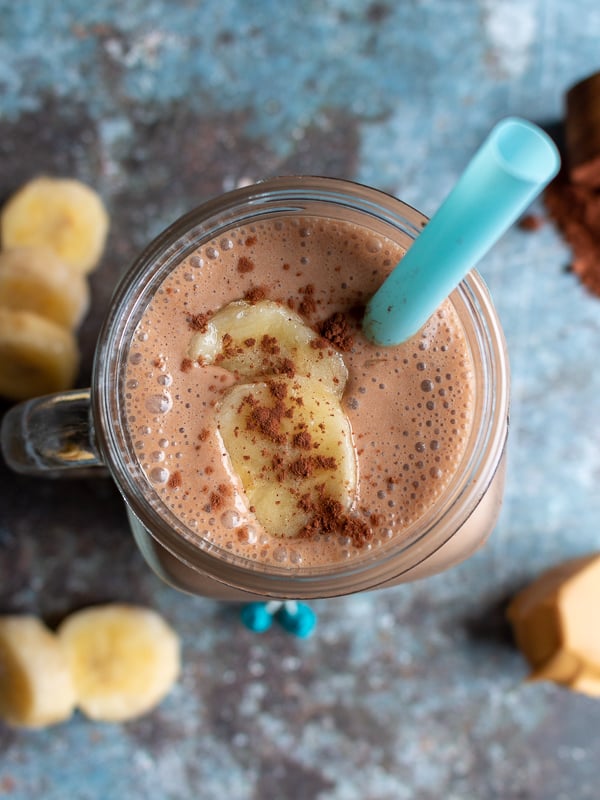 No Added Sugar
There is no added sugar in these smoothies. We like just the delicate sweetness from the banana and the natural sweetness from the natural peanut butter. Sometimes, we like to use almond butter in our smoothie and this is a great alternative for those with peanut allergies. However, any nut butter of choice would work well here. We used unsweetened cocoa powder in our mix. If you like your smoothie sweeter, you could add a little date paste/syrup, coconut sugar or add a couple of scoops of vanilla ice cream if you need a big sugar rush.
Keep your Spleen Qi Flowing
Our Chinese Medicine teacher is reading this recipe right now she is cringing. Eating ice, according to Traditional Chinese Medicine, is not good for your spleen qi. In Chinese medicine it is believed that you should drink fluids at room temperature to stay healthy. Check out our Feed Your Spleen: Nourish Your Body post with meal planning to refresh your memory.
We adhere to this most generally. However, sometimes when the temperatures soar high and the humidity level is 100%, I need to just cool off and room temperature drinks don't quite cut it. My only warning to you is that if you decide to add some ice to your smoothly to get it that nice thick and frozen texture just beware of brain freeze. Sip it slowly.
You can certainly make this smoothie with room temperature bananas and skip the ice and it is still super delicious. Another option to make your smoothie super thick, low carb and keto friendly without adding frozen bananas or ice is to add in Homemade Whipped Coconut Cream. It makes your smoothies super rich, thick and delicious.
Alternatively, you can opt to make our sugar free Banana Spring Rolls that are made in the air fryer so it won't heat up your house in the hot summer months. Enjoy them warm out of the air fryer.
How are you staying cool this summer?
Ginger Citrus Dragon Fruit Smoothie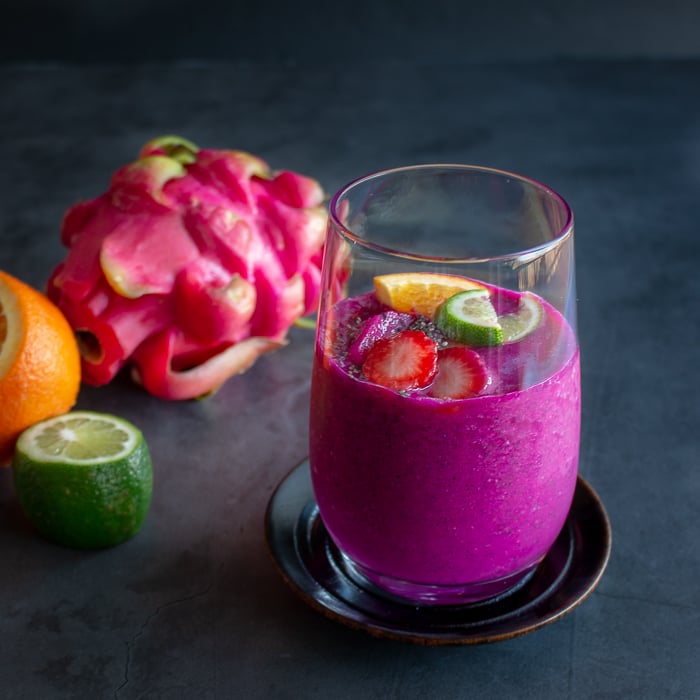 Easy Coconut Chai Iced Tea Latte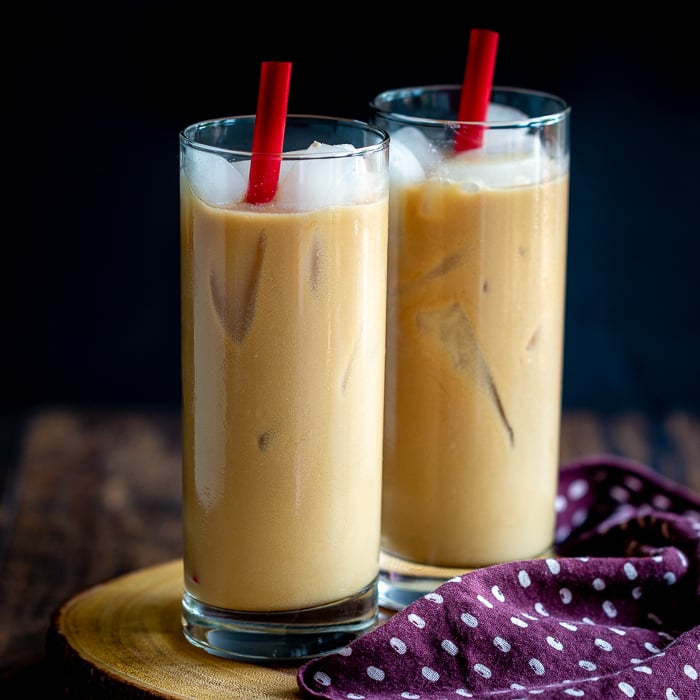 Honey Cardamom Cantaloupe Sorbet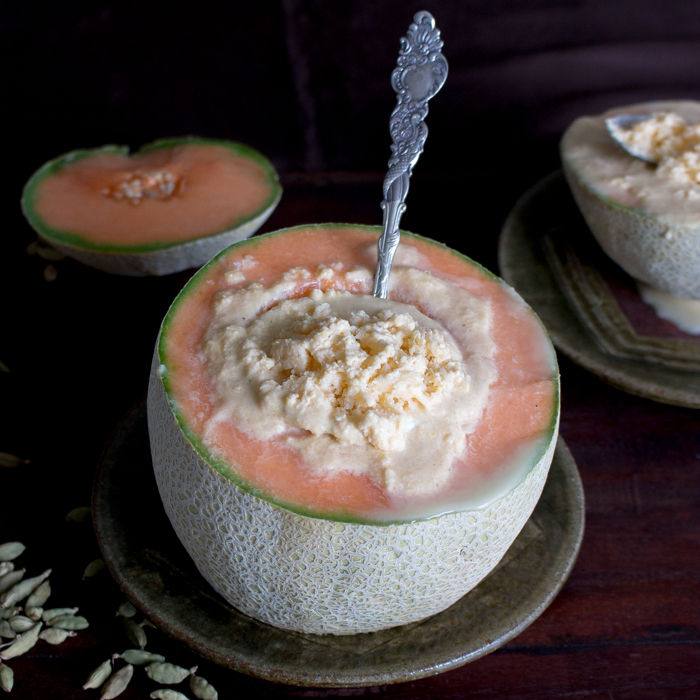 Be sure to follow up on FACEBOOK, INSTAGRAM, PINTEREST and TWITTER for all our latest recipes.
Stay cool and take care.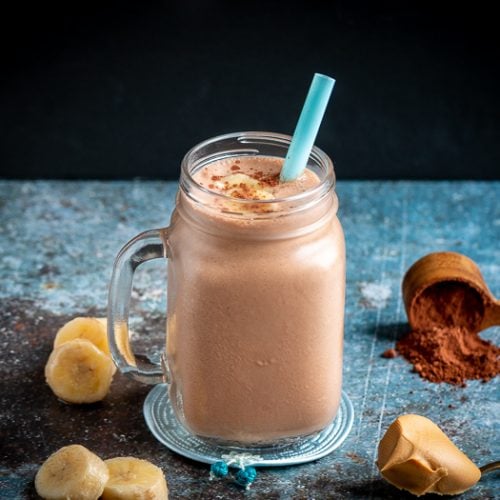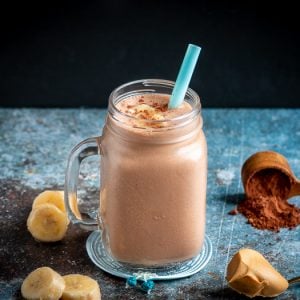 Chocolate Peanut Butter Banana Smoothie
Chocolate Peanut Butter Banana Smoothies are delicately sweet, smooth and has a rich chocolate ending without any of the guilt.
Print
Pin
Rate
Ingredients
1

frozen banana

peeled and chopped


1

cup

almond milk

unsweetened (can substitute with any milk or dairy free milks of choice)


1

tablespoon

peanut butter


HEAPING tablespoon creamy or 1.5 tablespoons (substitute natural almond butter or any nut butter you like)

1.5

teaspoon

unsweetened cocoa powder


4-6

ice cubes

(omit if you have a weak spleen qi)
Instructions
Place in the blender banana, almond milk, peanut butter (or nut butter substitute) unsweetened cocoa powder and ice cubes. First put it on the ice crush mode and then when the ice is chopped well turn to the blend/smoothie function on your blender until smooth and creamy.

Pour Chocolate Peanut Butter Banana Smoothies into tall glasses and grab a straw and enjoy.
Notes
Feel free to use any non-dairy milk or full dairy milk as you wish. We used Silk's Unsweetened Almond and Coconut Milk Blend. You can exchange any nut butter you desire for peanut butter such as almond butter, cashew butter, etc. We used natural peanut butter as we have no peanut allergies on the home front. Please not our tablespoon of Natural peanut was HEAPING. Almost 1.5 tablespoons. The ripe bananas add a delicious amount of natural sweetness to the recipe. If you desire it sweeter, feel free to add a little date paste or sugar or sugar alternative of choice. Frozen bananas make it smooth and thick. If you like it thicker, add a few ice cubes at the end. However, if you have a weak spleen qi , it is best not to drink frozen drinks as this is hard on your body. In that case, skip the ice.
Don't throw away those over ripe ripe bananas. Instead, peel them and throw them in the freezer in a freezer safe baggie or container. Any time you want a smoothie, you are ready to go.
If you want your smoothie thick but want to protect your spleen, use room temperature bananas, skip the ice and add a few dollops of Homemade coconut whipped cream.
Nutrition
Serving:
1
g
|
Calories:
238
kcal
|
Carbohydrates:
32
g
|
Protein:
7
g
|
Fat:
12
g
|
Saturated Fat:
2
g
|
Sodium:
403
mg
|
Potassium:
526
mg
|
Fiber:
5
g
|
Sugar:
16
g
|
Vitamin A:
76
IU
|
Vitamin C:
10
mg
|
Calcium:
300
mg
|
Iron:
1
mg