18 Essential Thai Herbs and Spices that are going to take your Thai cooking to the next level.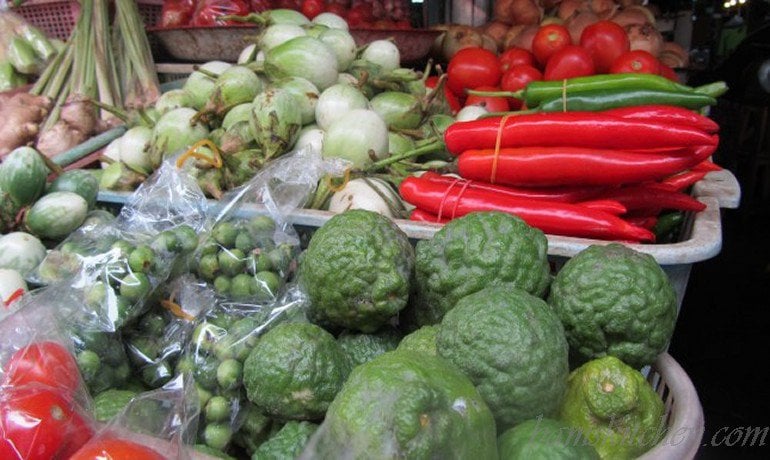 Live on location in Chiang Mai, Thailand
Sawadee ka!
From the very early predawn there are rounds of monks fanning out along the aisles. There are made-to-order stalls ablaze in neon and jammed with hungry locals long after dark. Can you hear the buzz of the Tuk Tuk's dropping off and picking up passengers? Can you smell the salty, sweet and sour, bitter, and spiciness of the different aromatic dishes permeating the streets? Can you see the polite smiling faces and hear the warm welcoming song of "Sawadeeka" from the stall owners?
I am here in the heart of Thailand's busting colorful street stalls and markets, Chiang Mai night market. I plan to learn how to cook from the experts and eat my way through Thailand. Today, we are seeking out the top Essential Thai Herbs and Spices for making the best Thai recipes.
On our way to and from Chiang Mai we stopped off in Bangkok at the Or Tor Kor Wet Market for a few more supplies.
During my all day cooking class at the Smart Cook Thai Cookery School in Chiang Mai, I learned Thai people have taken foreign influences and transformed them into a cuisine uniquely their own.
Thailand was a cross roads of East to West sea routes causing its culture and cuisine to be infused with Persian and Arabian elements. Foreign recipes have been integrated with traditional Thai dishes, resulting in unique flavor that is unmistakably Thai.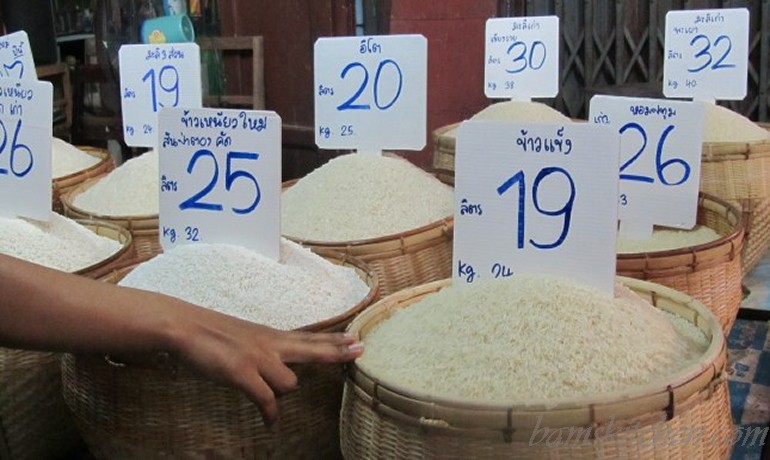 Thai History
The Thai people migrated from valley settlements in the mountainous region of Southwest China between the sixth and thirteenth centuries, into what is now known as Thailand, Laos, the Shan States of upper Burma, and northwest Vietnam. Influenced by Chinese cooking techniques, Thai cuisine flourished with the rich biodiversity of the Thai peninsula. As a result, Thai dishes today have some similarities to Szechuan Chinese dishes.
The influence of the foreign trade was also important. The Portuguese brought their sweets to King Narai's court in the seventeenth century. Some say Buddhist monks from India brought curry to Thailand. Indian curry and Muslim cuisine were introduced at a palace feast in honor of King Rama I at the turn of the 18th century. Some of these dishes are still popular today including Masaman curry and yellow curry. Masaman curry contains many dried spices including cinnamon and nutmeg. Yellow curry can be spiced with turmeric, cumin, ground coriander seed and red chilies powder. Can you imagine cooking without these Essential Thai Herbs and Spices.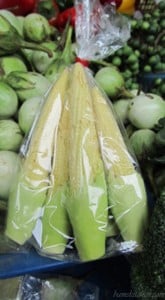 Thai Desserts
In addition, many of the specialty Thai desserts originated only on religious or auspicious holidays as many people would gather together to cook desserts for the monks. Also, the King palace had large influence on creating new and creative Thai desserts that were once only suitable for the king but now are readily available for all people in Thailand.
My food odyssey adventure began in the wet markets of Chiang Mai. Do you know what the Thai people call "chocolate"? Fish paste is Thai's rich and creamy "chocolate" and the base to most curries and pastes. As far as the eyes can see there were bountiful fresh vegetables, herbs and spices in the markets. These fresh spices and herbs were the soul for all of the traditional Thai dishes I was preparing to learn how to make.
Please join me on an adventure through the Chiang Mai local wet market. Later this week I will share with you many other delightful local Thai cuisines such as green, red and Phanaeng curry paste, hot and sour prawn soup, stir fried minced chicken with holy basil, sticky rice pudding with mangos and many other delightful dishes
18 Essential Thai Herbs and Spices
1) Chili (Phrik) : We were told as a general rule the smaller the chili the hotter it is. The hottest are the tiny red or green Phrik Khi Nu, followed bey the slightly larger Phrik Chi Fa. Dried chilli, Phrik Khi Nu Haeng, and ground chili powder are also used. (Very important: do not touch your eyes or any other places on your body after you have touched or just finished chopping the chili peppers as you WILL feel the burn)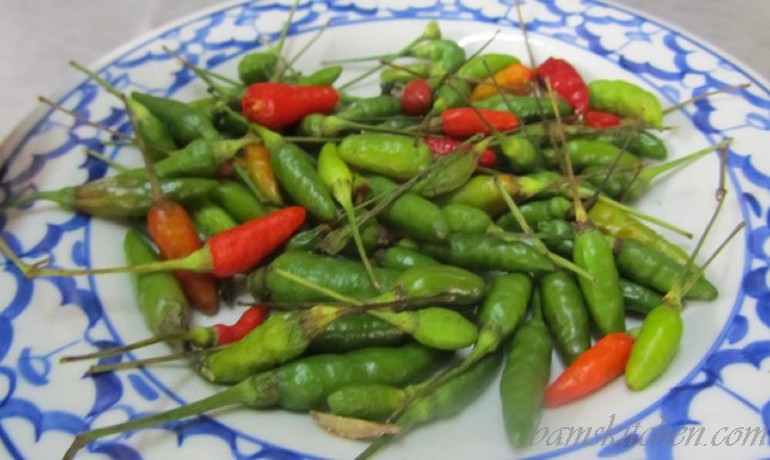 2) Galangal (Kha) - is a relative of the ginger root, Galanga or Saimese ginger, imparts a delicate unique flavour. It can be used fresh, dried or powdered.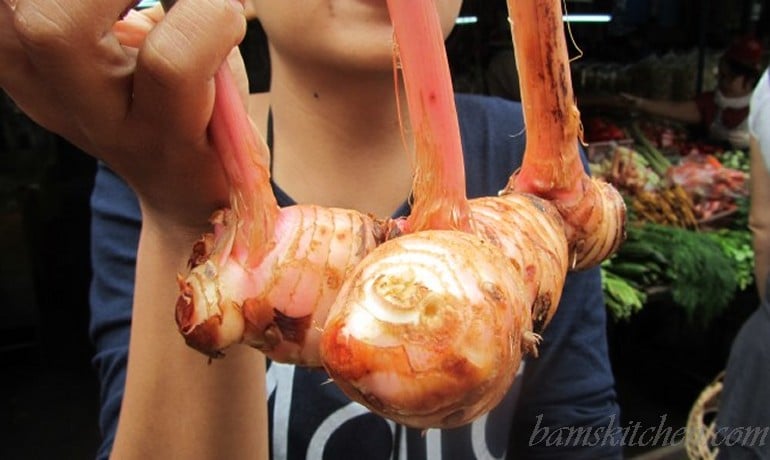 3) Ginger (Khing) - 2 varieties are used in Thai cooking Khing and Krachai which has a milder flavor.
4) Tumeric (Kha-min) Another member of the ginger family, Tumeric provides a bright yellow colour to some Thai curries. In addition, I was told that it also prevents mosquito bites and in the land of mosquitos that is good to know.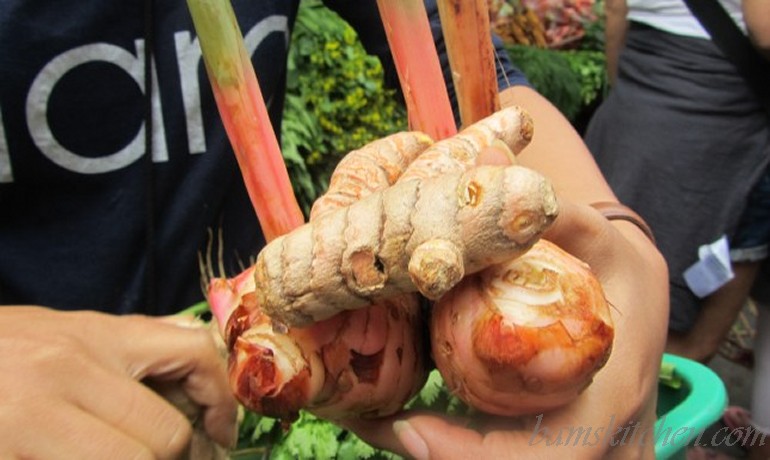 5) Lemon Grass (Ta-khrai) - This tall grass like plant has small fibrous roots and a lemony flavor and aroma. The bud and the base leaves are chopped and pounded for many dishes as well as for a refreshing herbal tea. The smell is amazing!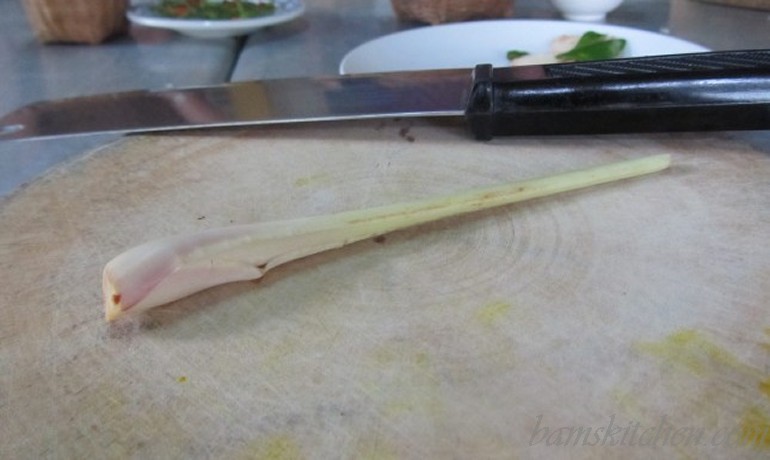 6) Kaffir Lime (Ma-krut) Both the fruit and leaves of this shrub lend a distinctive taste to many Thai foods, especially curry pastes.
7) Lime: (Ma-nao)- Is used principally as a garnish for fish and main dishes, lime is also freshly squeezed and mixed with water and syrup as a refreshing beverage.
8) Basil (3 types)
Sweet Basil (Bai Ho-ra-pha)
The most commonly used has a slight aniseed flavor and a reddish-purple color.
Holy Basil (Bai-Kha-prao)
A spicier flavor only released when cooked.
Lemon Basil (Bai Maeng-luk)
Milder and often sprinkled over soups and salads.
We are half way though our list of 18 Essential Thai Herbs and Spices. Do you have these ingredients in your kitchen? We love visiting the Asian market near us. Did you know that you can freeze these fresh herbs and spices. Then when you need them, you just take a few out and clean them and put them in your recipe.
Another option, is to buy the herb pastes. You can usually find lemon grass and ginger in a paste form at the general market.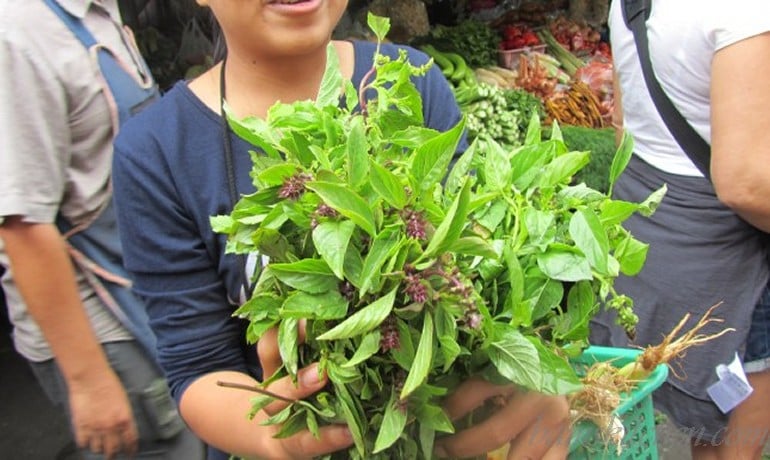 9) Coriander (Phak-chi) is essential to many Thai dishes. Not only are the leaves used but also the stems, roots and seeds all of which impart different flavors.
10) Garlic (Kra-thiam) Thai garlic is smaller and sweeter than the Western variety. It is used both fresh and pickled in a number of classic dishes.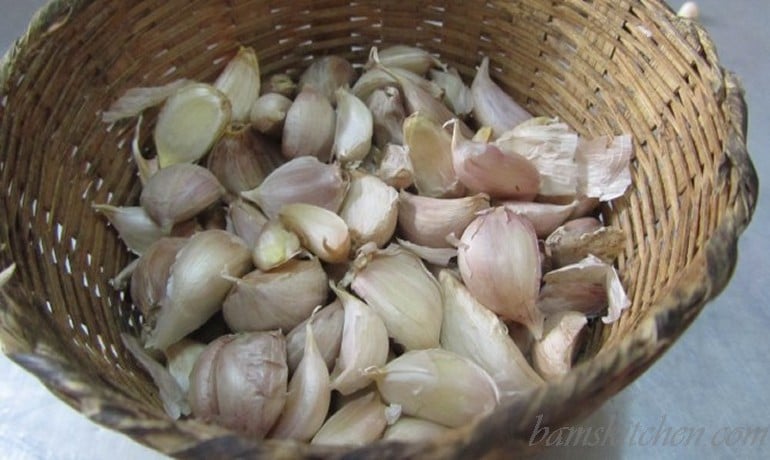 11) Palm Sugar (Nam-taan Peep) is derived from the fruit of the Palmyra or sugar palm. After collecting the sap from the large tree trunks, the sap is boiled until the liquid is evaporated. the sugar that remains is a light golden brown paste and fragrance. It comes in dried cubes or as a thick paste.
12) Fish Sauce: (Nam Pla) is made from fermented fish mixed with salt. Fish sauce is served with nearly every meal and is also used in almost every savory dish of Thai food. It can be substituted with light soy sauce or salt. This is one of the 18 Essential Thai Herbs and Spices that you don't want to spill in the refrigerator. It is pungent but gives your recipes that delicious funky flavor.
13) Oyster sauce (Nam-man Hoy) is made from concentrated oysters and their brine cooked with salt and soy sauce. It can be substituted with mushroom sauce.
14) Shrimp Paste (K-pi) is Thai people's chocolate.... Shrimp paste is a strong-smelling pungent paste made from dried shrimp and salt. Rich in vitamin B, it can be added to many curry pastes and can be substituted with anchovy or soybean paste.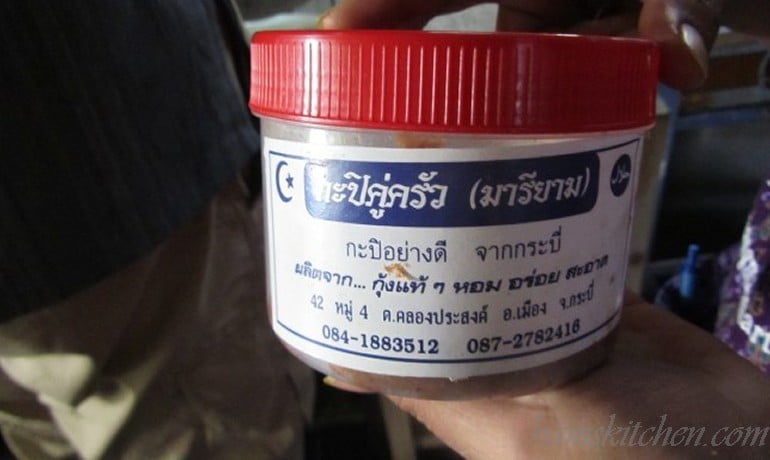 15) Peppercorns (Phrik Thai) Used fresh (green) dried (Black) to add a peppery flavor to many dishes.
16) Mint ( Bai Sa-ra-nea) Fresh leaves are used as a vegetable, for flavoring and as a garnish to a number of dishes.
17) Onions (Hom Yai) such as both shallots (Hom Daeng) and spring onions (Ton Hom) are used as both an aromatic and as a garnish in many Thai dishes.
18) Tamarind (Ma-kham) the pulp of the pod of the tamarind tree adds a sour taste to numerous meats and fish dishes.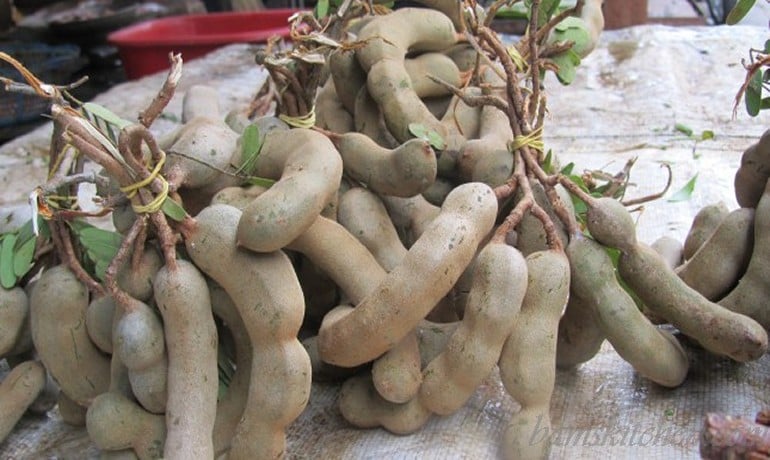 In addition to the basic seasonings, they have these very local vegetables that are lovely in many Thai dishes such as baby eggplants, baby corn and of course more different kinds of rice than you can even imagine.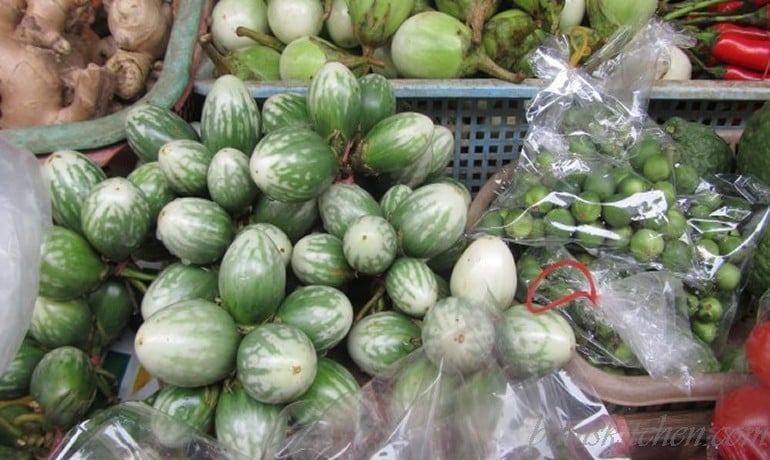 The Chiang Mai local wet market was a lovely place with so many fresh produces and spices and all very reasonably priced. Over the next several days, I look forward to sharing with you all the yummy dishes I learned how to prepare in Thailand.
But for now, we are off to ride the elephants in the jungles of Chiang Mai Thailand....Happy New Year!!!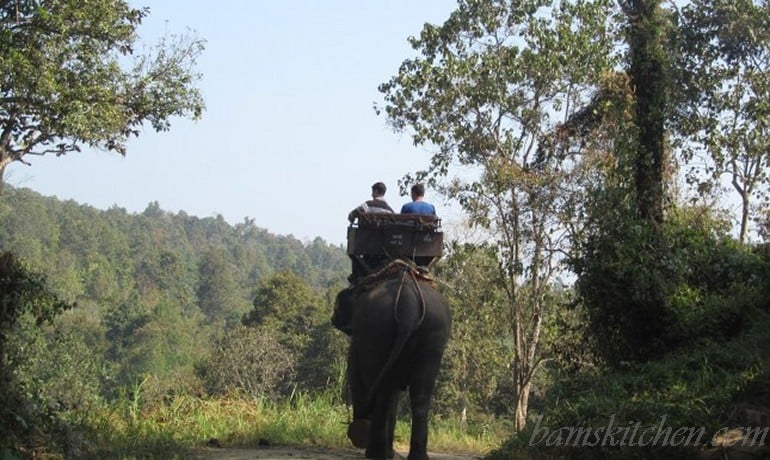 Delicious Thai Recipes using Essential Thai Herbs and Spices
Thai Firecracker Shrimp Party Appetizer
and so many more Thai Cuisine Recipes