Baked Chorizo Crusted Fish and Potatoes is a delicious one sheet pan less than 30-minute complete dinner using only 7 ingredients.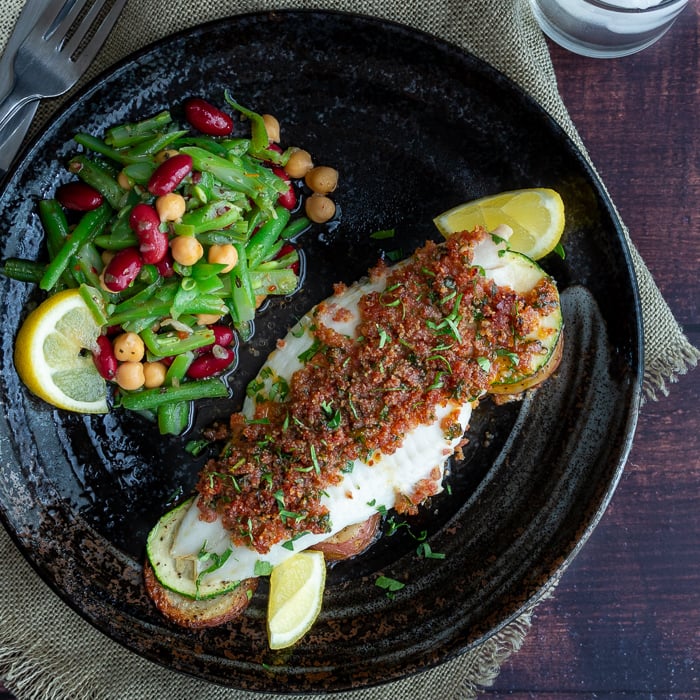 You are going to love this Baked Chorizo Crusted Fish and Potatoes because it is a little spicy and it turns fish haters into fish lovers. The crispy chorizo crust and that tender succulent flaky fish is a combination to die for.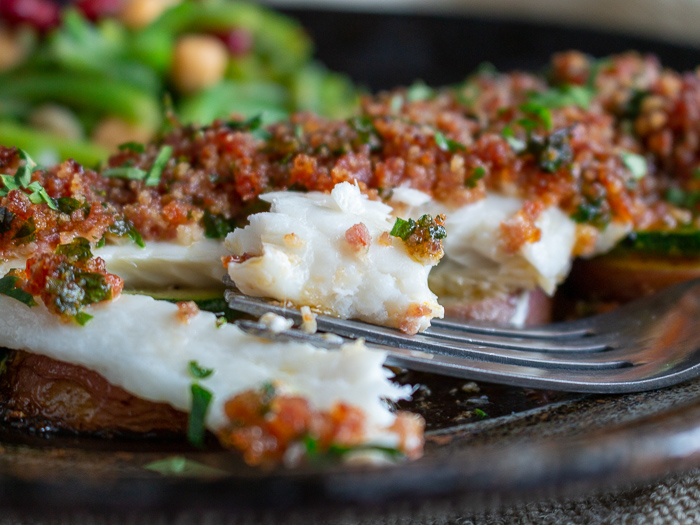 It's a pretty hearty meal as well as it includes potatoes and even zucchinis for a full and complete meal in one pan. Because you cook everything in one sheet pan, it's easy cleanup and it's a snap to throw together. If you like sheet pan fish dinners, be sure to try our Lemon Herb Baked Rainbow Trout, Balsamic Glazed Salmon and Roasted Root Vegetables, Baked Pomegranate Glazed Salmon or our Mediterranean Red Snapper Packets.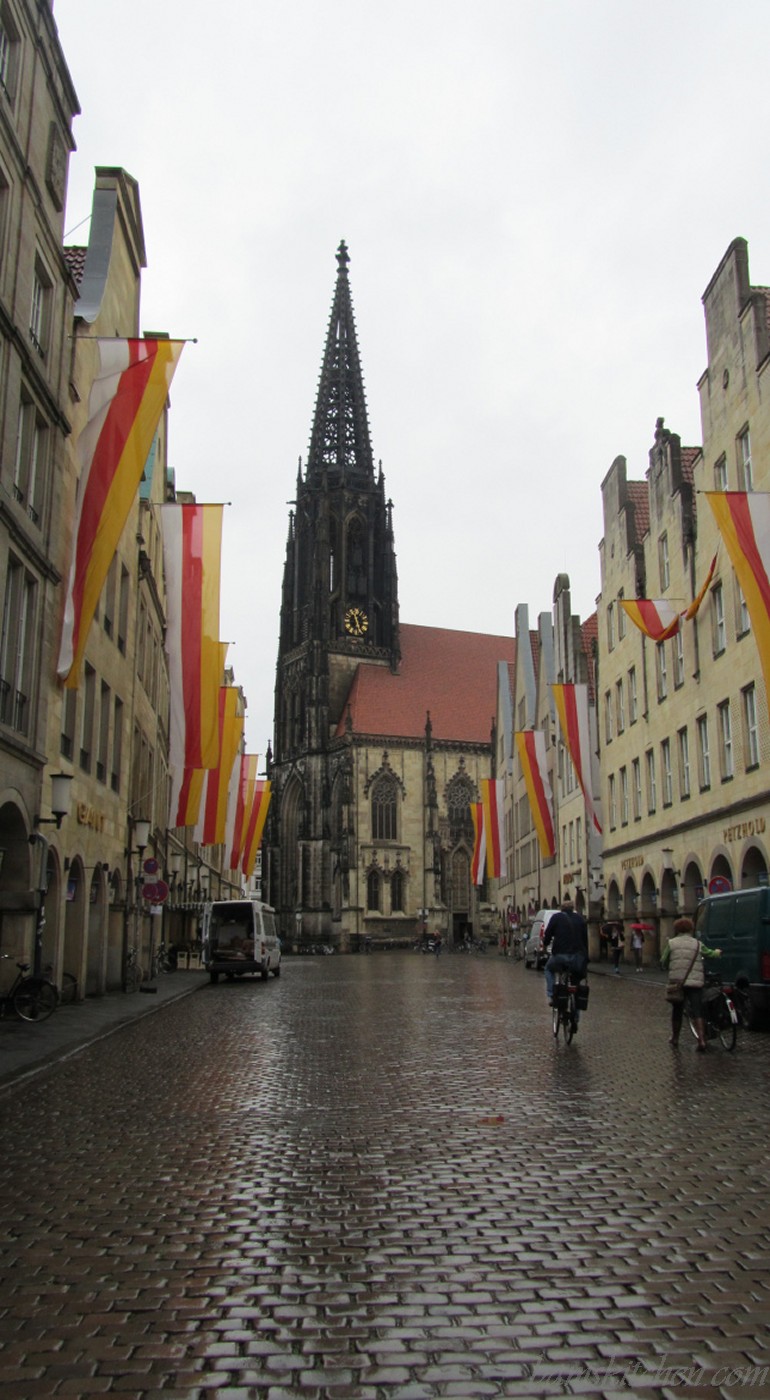 Travel back in time to Germany
We originally posted this recipe back in October of 2012 with the help of our dear friend Anja in Muenster, Germany. At the local weekend market, Anja bought a few Steinbeisser fillets from the fish monger, sweet potatoes and vine ripe tomatoes to make this delicious recipe. Have you ever seen a whole Steinbeisser fish before? The Steinbeisser fish is a freshwater fish local to the area. It has to be one of THE ugliest freshwater fish we have ever seen. However, is one of the tastiest. We have made this recipe several times since then and have made some adjustments to meet the needs of our picky family members. Do you have picky eaters too? Then, you are going to want to stick around and learn more.

Recipe Exchanges are Welcome
First of all, we made this recipe gluten-free using panko homemade bread crumbs and gluten free chorizo sausage for those with dietary issues. In addition, we swapped out the sweet potatoes with red potatoes and the tomatoes out with in season zucchini slices. However, we must add that sweet potatoes and tomatoes rock in this recipe. If you use sweet potatoes and use a chorizo sausage that is without sugar and additives, this Baked Chorizo Crusted Fish and Potatoes can be enjoyed as part of a Whole30 recipe plan.
Dealing with Picky Eaters
It is just that we have a difficult picky adult eater in the family. Raise your hand if you have one of those in your family too. You see it is easy when it is a child. You can just say you need to eat this as that is all there is, or you go without. With picky husbands, wives , significant others and adult relatives all you can do is pray and convert them from fish haters to fish lovers with this carnivore recipe.
What is the best kind of fish to use?
You can use any white fish of choice in this recipe. In addition, be sure to use one local to your region and that looks fresh. Flounder was looking lovely but cod fish, haddock, sea bass, grouper, bass, etc. all would work well in this recipe. The only difference is the cook times will vary slightly depending on how thick your fish fillets are.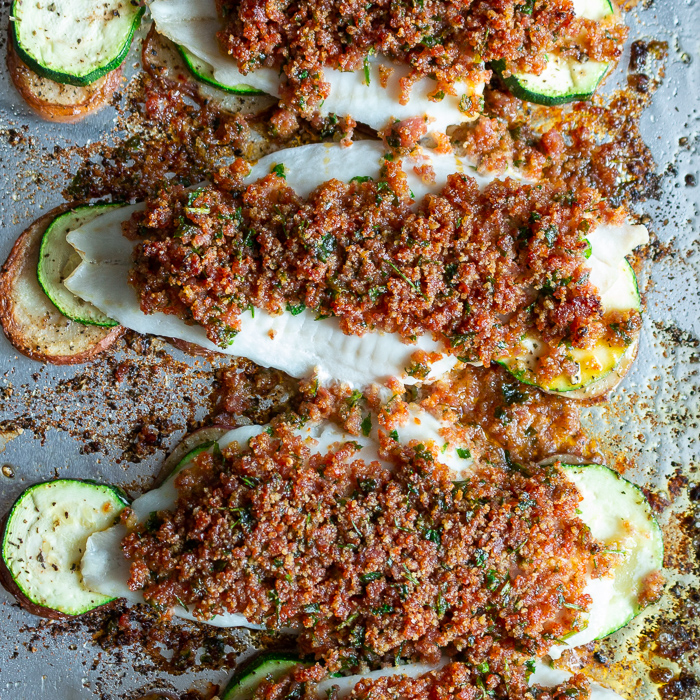 How to make Baked Chorizo Crusted Fish and Potatoes recipe low carb…
Hold the breadcrumbs in the chorizo topping or you can swap out with dried pork rinds.
Exchange the potatoes with more in season veggies of choice. (bell peppers, asparagus, cabbage slices or baked thin cauliflower slices would all work here.
Keep an eye out on the chorizo sausage you use as many have added sugar and other additives. We have found certain brands on the market have no added sugar and are gluten-free.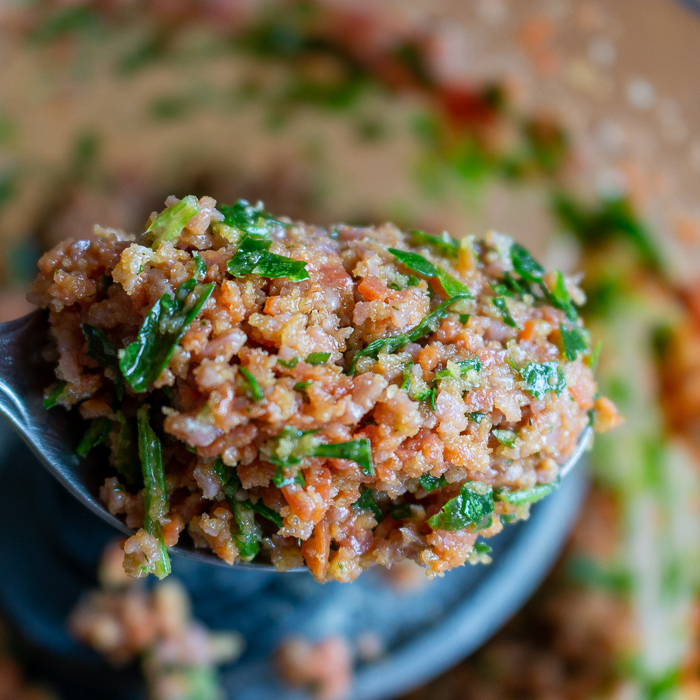 What type of chorizo works best to crust a fish?
We used Spanish Chorizo for our Baked Chorizo Crusted Fish and Potatoes recipe. Did you know there are 2 different types of chorizo?
Mexican Chorizo
Mexican Chorizo is made with fresh ground uncooked pork seasoned with chilis. You can find it in the refrigerated section of the market next to the other pork sausages. (We did not use this type of chorizo in this recipe. However, you could, if you cooked it first.)
Spanish Chorizo
Spanish chorizo is made with cured or semi-cured chopped smoked pork and is usually seasoned with Spanish paprika. It is sold in the cured meats section of some supermarkets in either a meat stick that has a protective casing or in very thin prepared slices. Spanish Chorizo is the type of chorizo we used to make our Baked Chorizo Crusted Fish and Potatoes.
What can I exchange chorizo with?
Chorizo sausage is best for this recipe. However, we have also made this recipe in a pinch with hard salami seasoned with Spanish paprika and little red pepper chili flakes. We made our own chorizo sausage in our Homemade Stuffed chorizo Mushroom Recipe.
How to remove the casing from the chorizo sausage.
If you are peeling a meat stick of Spanish chorizo. With this kind of chorizo sausage, there is no need to cook it as it is cured. However, you must remove the casing of the Spanish Chorizo before slicing and putting in the food processor to make a chorizo crust for the fish. Cut off the very end of the chorizo cured sausage with a knife. Then, grab the end of the skin and peel downward. The skin should come off with a little diligence.
If you decide to use Mexican chorizo, the uncooked chorizo is very soft inside the casing. Cut the end off of the Mexican chorizo sausage. Squeeze the end and pull down to evacuate the pork filling into your pan to cook. You will need to fully cook the sausage and cool it down before putting it in the food processor to make your chorizo crust for the fish. If you decide to make your own homemade chorizo be sure to try our Chorizo and shrimp fried rice for a tasty 15-minute dinner.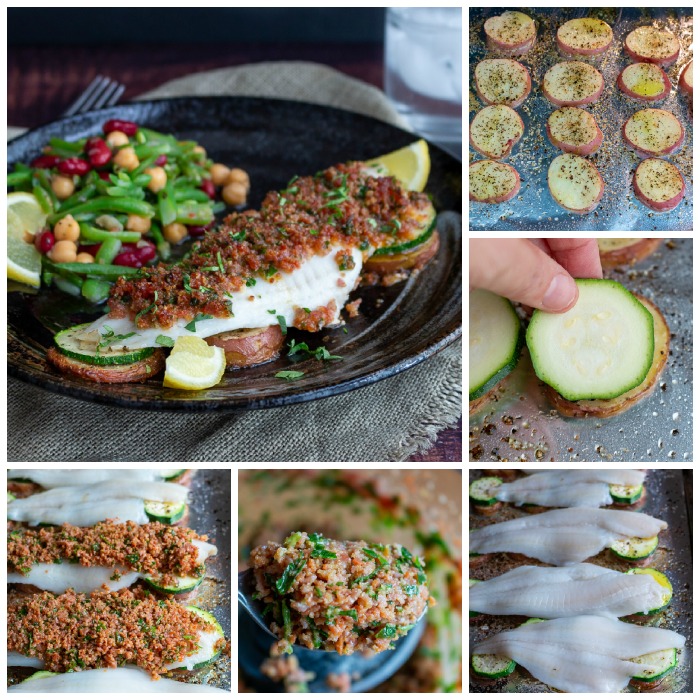 Cooking your sheet pan dish in stages
One important thing to note is that you will need to cook your ingredients in 2 stages. The first stage you will cook your seasoned potato slices for about 10 minutes alone before adding the vegetables and chorizo crusted fish on top of the potatoes to cook. The reason for implementing 2 cooking stages is that the potatoes take a bit longer to cook than our fish. If you use a softer vegetable like zucchini or a tomato these can be cooked together at the same time as the fish as long as they are thinly sliced. If you like the idea of sheet pan dinners, you are going to love our quick and easy Garlic Roasted Shrimp and Potatoes.
Why you need Herbs de Provence in your life
Herbs de Provence is a game changing blend of herbs used in French and Mediterranean recipes that is bring your cooking to the next level. This delicious herb blend usually includes a mixture of dried savory, marjoram, rosemary, thyme and oregano. Sometimes you will see dried lavender added or fennel as well. Herbs de Provence is used in our Favorite Provencal Ratatouille Recipe and our Herbs de Provence Baby Potatoes and Tomatoes.
What is your favorite way to cook fish? Leave us a comment and let us know.
Hungry For More? Subscribe to our Newsletter and follow along on Facebook, You Tube, Instagram, and Pinterest for all the latest updates.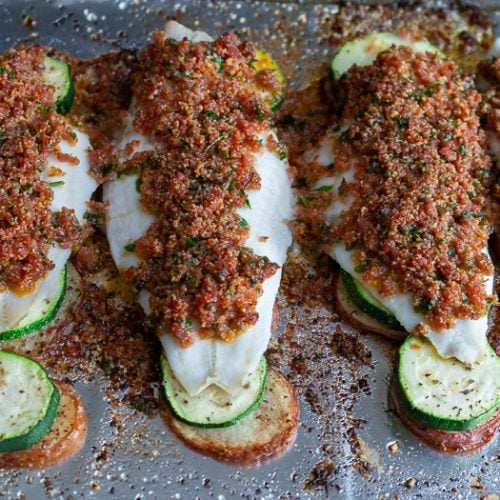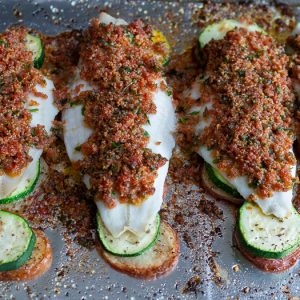 Baked Chorizo Crusted Fish and Potatoes
Baked Chorizo Crusted Fish and Potatoes is a delicious one sheet pan less than 30-minute complete dinner using only 7 ingredients.
Print
Pin
Rate
Ingredients
3 large red potatoes

4 tablespoons olive oil (1 tablespoon for potatoes and 3 tablespoons for chorizo crust)

3 teaspoon herbs de Provence (1 teaspoon for potatoes and 2 teaspoon for chorizo crust)

salt and pepper to taste

1 pound of thinly sliced chorizo sausage (casings removed)

½ cup gluten-free or regular panko bread crumbs

Fresh parsley – 1 large bunch or about one cup before chopped (optional)

2 small zucchinis

2 pounds of whitefish
Instructions
Preheat oven to 390 degrees F (200 degree Celsius)

Slice potatoes about ¼ inch thick and place on a greased baking sheet. Drizzle with 1 tablespoon of olive oil, 1 teaspoon of herbs de Provence and salt and pepper to taste. Bake for 15 minutes. Set aside to cool.

While your potatoes are cooking, Chop up chorizo sausage in small enough pieces to be handled by the food processor. Place chorizo sausage, panko bread crumbs, 3 teaspoons of herbs de Provence, fresh parsley and a really good drizzle of olive oil (about 3 tablespoons) into the food processor and whiz into finely chopped and well incorporated. Salt and pepper to taste. (Please be cautious with salt as cured chorizo is salty already but the addition of pepper is nice.)

Remove your potato slices from the oven. Layer a thin single layer of sliced zucchini slices on top of the potato slices.

Next lay your skinned and deboned fish filets with the filet side up over the zucchini and potato slices.

Layer a few tablespoons of the chorizo crust on top of each fish fillet and pat down so that it stay on the fish during the baking process.

Bake your Baked Chorizo Crusted Fish and Potatoes in the oven for about 8-15 minutes or until the fish flakes easily with a fork. (Length of time for cooking depends on how thick your white fish fillets are) Serve with a lovely vino and good friends for a complete meal.

Danke!
Notes
Feel free to use a white fish local to your region. Some examples that work well are cod, flounder, halibut, bass, etc. Feel free to substitute red potatoes with a potato of your choice. If you desire to use sweet potatoes, please peel first before slicing. In addition, tomatoes instead of zucchini all work nice in the recipe as well. We used Spanish chorizo for this recipe and not Mexican Chorizo. However, in a pinch you can use salami and add in a teaspoon of Spanish paprika and a dash of red pepper flakes to make a delicious crusted fish in exchange for the chorizo. You may also use Mexican chorizo but you first must cook it and let it cool before putting it in the food processor to mix with panko bread crumbs, herbs and olive oil.
Nutrition
Serving:
4
g
|
Calories:
628
kcal
|
Carbohydrates:
373
g
|
Protein:
713
g
|
Fat:
202
g
|
Cholesterol:
188
mg
|
Sodium:
844
mg
|
Potassium:
1625
mg
|
Fiber:
34
g
|
Sugar:
36
g