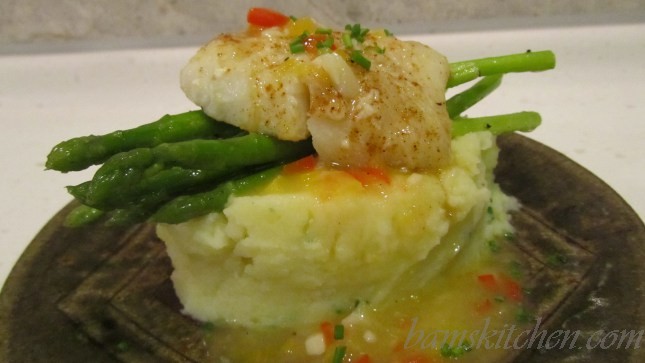 How do you get your kids and teenagers to eat fish? Bribe them? Promise them that you will cook liver and onions next time their friends come over for dinner if they don't eat their fish tonight? Bring your kids to the wet market and let them kill their own fish? What is a mom supposed to do?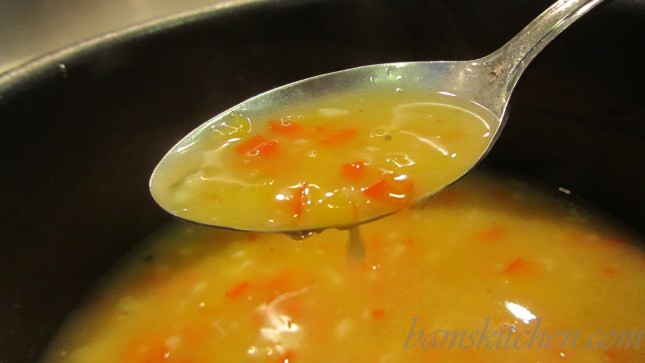 My teenagers are not so big on fish and if they ask what for dinner and if I say fish you can bet that they have said, EWWW!, YUCK! WHY ME? Here are some tricks I have learned. Most kids dislike strong flavored fish so pick a mild white fish that is very fresh and takes on flavors of the sauces or other attributes of the dish. Other fish that seem to work well with my kids are firm fleshed fish such as sword fish and tuna, I think it is a texture thing as well. Blackening spices, frying with a batter, or putting a yummy sauce on top to help them forget they are eating fish always helps as well. Maybe, you can try hypnotism or telling them it is chicken and let me know how that goes for you.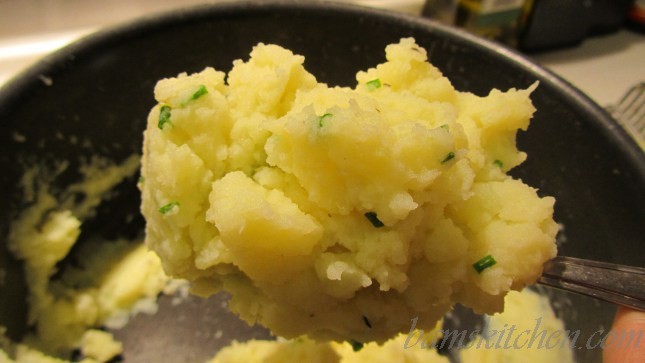 You must disguise the fish! I hide mine under a lovely red pepper butter sauce mounded on a huge plate of garlic smashed potatoes. Believe it or not it worked and they came back asking for seconds. They say that that one enjoys their food first by site, then by smell as lastly by taste. I used to my full advantage the use of site to really tantalize my teenagers into taking their first bite and then I had them hook, line and sinker...
Sautéed Tilapia and Garlic Smashed Potatoes with a Red Pepper Butter Sauce (Serves 4 adults or 2 hungry teenagers)
Ingredients for Sautéed Tilapia:
4 tilapia fillets or other mild white fish
salt and pepper
½ teaspoon of ground Cajun seasoning or adjust to taste
¼ cup flour for dredging (another way to hide the fish- optional)
1 tablespoon olive oil
Ingredients for Red and Yellow Bell Pepper Butter Sauce
1 tablespoon olive oil
1 green onion sliced thinly
1 clove garlic crushed
½ cup finely chopped fresh red pepper
½ cup finely chopped fresh yellow pepper
½ cup butter/margarine (or dairy free margarine)
¼ cup white wine
¼ cup chicken or fish stock (gluten free, if you like)
1 teaspoon parsley finely chopped
salt and pepper to taste
dash of cayenne pepper (optional)
1 teaspoon cornstarch in 1 teaspoon of water dissolved
Ingredients for Sautéed Asparagus
½ pound of green asparagus
1 tablespoon olive oil
salt and pepper to taste
¼ teaspoon lemon zest
Ingredients for Garlic Smashed Potatoes
8 medium peeled and quartered red potatoes
enough water to cover potatoes in pan to boil (depends on pot size)
3 peeled whole peeled garlic
2 tablespoons butter/margarine
½ cup milk warmed (or soy milk)
¼ parmesan cheese
2 teaspoon finely chopped chives
salt and pepper to taste
Step 1. Make the Red and Yellow butter sauce. In a small sauce pan heat oil and add, onions, peppers, and garlic and cook until slightly softened.
Step 2. Add white wine, chicken stock and butter and cook over low heat for about 2 to 5 minutes.
Step 3. Add parsley, salt and pepper and if you want a dash of cayenne pepper. Adjust seasonings as needed.
Step 4. Bring sauce up to medium heat. Slowly add just enough of cornstarch and water mixture just until slightly thickened for a creamy sauce. Set aside.
Step 5. Make the Garlic Smashed Potatoes. Place potatoes and garlic in a large saucepan and cover with water. Bring to a boil. Reduce heat; cover and simmer for 20-25 minutes or until the potatoes are very tender. Drain well. Add the butter, milk and salt; mash. Stir in Parmesan cheese and chives. Set aside and keep warm.
Step 6. Saute the Asparagus. Trim the ends off the asparagus. Place one tablespoon olive oil in frying pan and add asparagus, salt and pepper and saute for about 2 minutes until just fork tender and still bright green and then add grated lemon zest and give a quick toss and remove from pan, keep warm and set aside.
Step 7. Saute the Tilapia or white fish. Wash and dry fish. Sprinkle both sides of fish with Cajun seasoning and salt and pepper (if you want to coat the fish in flour do this now and then shake off excess, optional). Place 1 tablespoon olive oil in pan and get hot. Place tilapia in pan and sear bot sides of fish for about 3 minutes or until fish is light and flaky. Remove from pan and set aside.
Step 8. Making the master piece and stacking your plate. In the middle of your dinner plate, place one large scoop of garlic smashed potatoes and flatten slightly. On top of the potatoes place about 4-5 sautéed asparagus across. Then place one tilapia fillet on top of asparagus and then drizzle entire dish with several spoonfuls of red and yellow butter sauce. Garnish with chives and enjoy!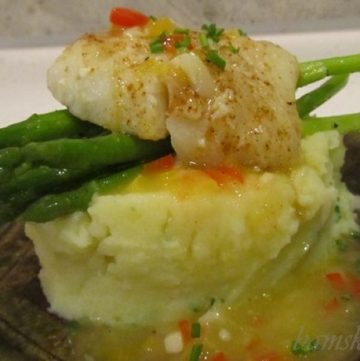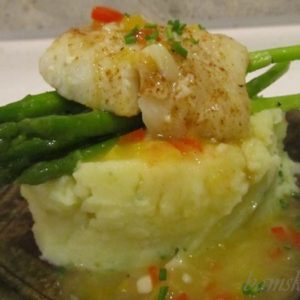 Ingredients
tilapia fish -

cajun seasoning -

red bell pepper -

yellow bell pepper -

butter -

white wine -

asparagus -

lemon zest -

potatoes -

milk -

parmesan cheese -

chives -

garlic smashed potato -

red pepper butter sauce -
Nutrition