Halibut Coconut Curry in a Hurry is creamy, dreamy and delicately mild and can be on your dinner table in less than 15 minutes.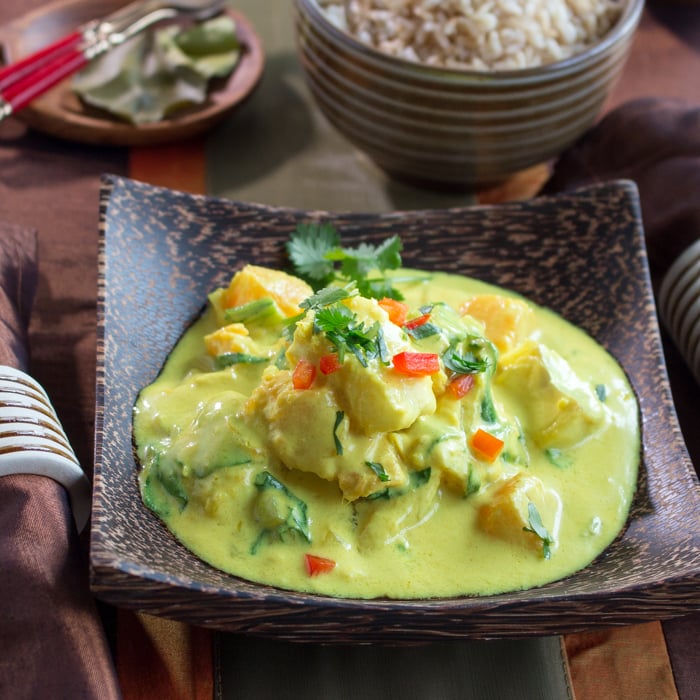 Life is always a rush. People are always rushing from one place to other and never getting anyplace quickly at all.
We are always hurrying and then waiting in line for this, that, and the other thing. People even wait in line to purchase dinner on their way home from work.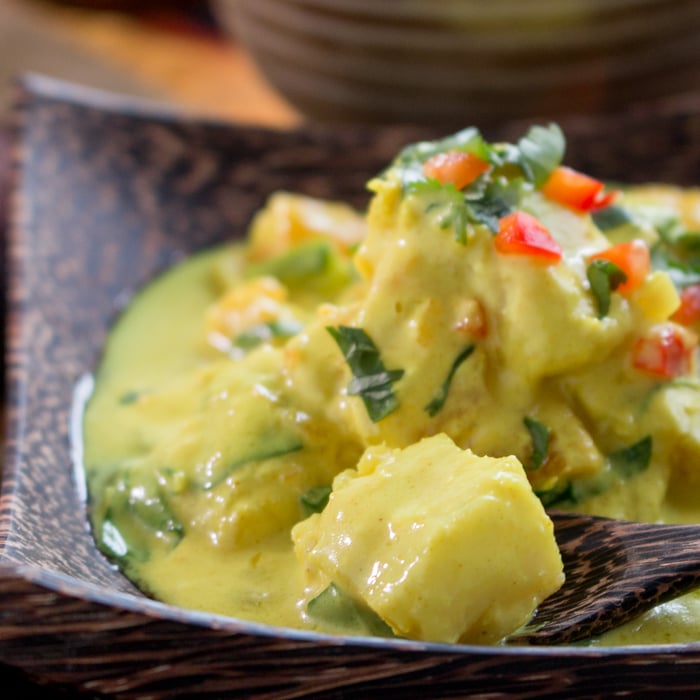 Jump to:
Dinner in 15 Minutes!
You are going to be sad to hear that all that waiting was for nothing. This delightful halibut coconut curry in a hurry dinner can be on your table in 15 minutes or less. Yes, just 15 little minutes for the full and complete meal. Really, if we did not have to wait on the rice to cook, it could have been done way before that.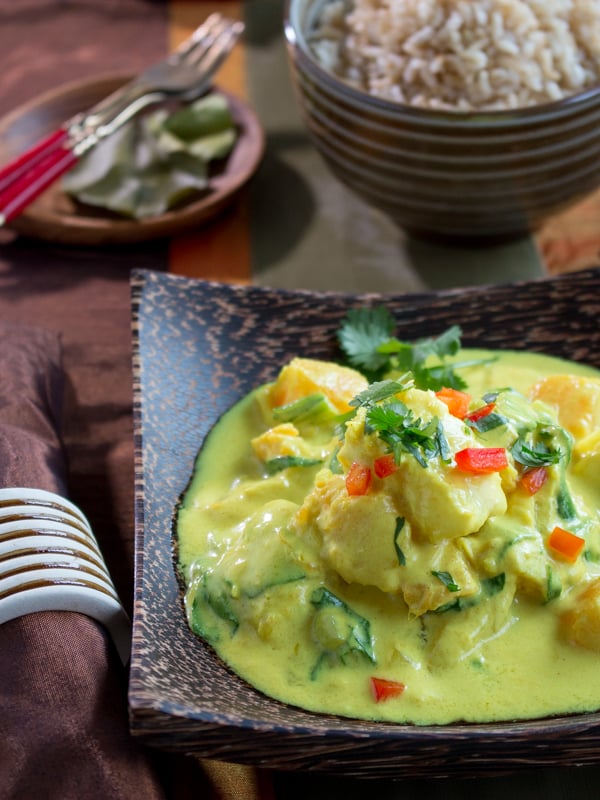 Creamy and Warming
This heavenly mild coconut fish curry is delightfully creamy, fragrant and warms you from the inside out. The poached halibut is so delicate it just melts in your mouth. One bite and I promise you will never be waiting in a long food que ever again.
You are just going to love this halibut coconut curry in a hurry as it is gluten-free, dairy-free and warming. If you love a good curry, try our Thai Pumpkin Curry. Served over rice or inside a roasted pumpkin bowl for a festive fall meal.
Adjust the Recipe for your Taste
As you know, Thai Cuisine flavors are all about the balance of sweet, sour, spicy and savory. Please use this recipe only as a guide but each person has their own individual taste.
Some of you may want it more spicy, more sweet, more sour or want it more salty so this is where you do your taste test and add a little more of the components to meet your individual taste.
If you want it more spicy, then add some bird chilis in with the sautéed onions and garlic. If you want it more sweet then add more sweetener of choice. If you want it more sour, add a little more lime juice. On the other hand, if you want it more salty, then add more salt, bouillon or fish sauce.
Very Mild Curry
This mild halibut coconut curry in a hurry does not have one little spicy bird chili in it. Yes, you heard me correctly. No chili peppers, not a single one. The red you see on top is a little mild red bell pepper, just for color.
However, this curry is the most flavorful and delightful curry we have had in a long time. Flavorful without the burn. (Feel free to make it as hot or mild as you wish and add your own bird chili's as you wish, but we promise you will not miss the fire heat). If you enjoy a mild but flavorful curried soup, try our Creamy Thai Sweet Potato Soup. As with all of our curry recipes, this one can be adjusted to your desired heat level.
Easy to Make
We started out with a little coconut oil in a pot and added a little onion, ginger, lemongrass paste, garlic and just gently sautéed them until they became aromatic. Then, we added one can of light coconut milk, bite sized pieces of halibut fillets, turmeric, seasonings, lime zest, butternut cooked squash and poached fish for about 10 minutes until the fish flakes easily. Dinner was ready and it was just as simple as that. You are going to love the rich and flavorful broth.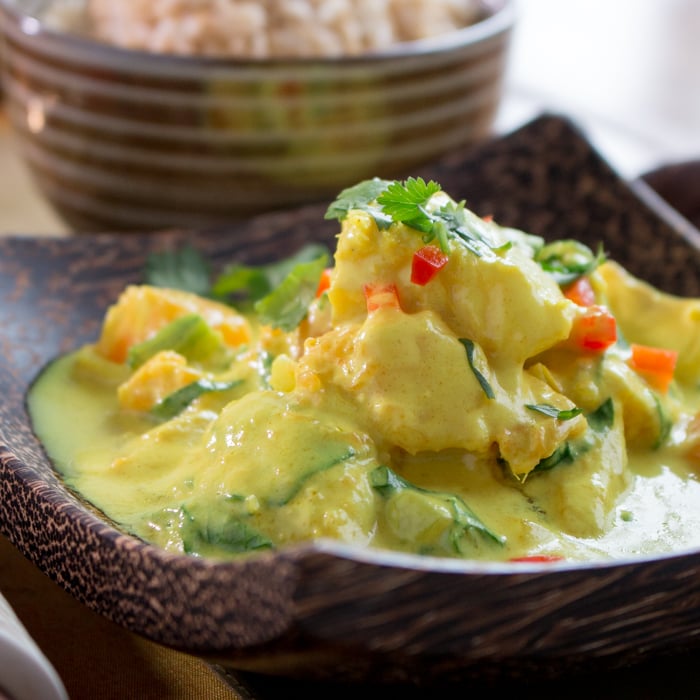 Why we love turmeric
Turmeric is such a beautiful golden spice and it has so many health benefits. It works as an anti-inflammatory, is high in antioxidants and helps lower cholesterol. However, my favorite reason for using turmeric is I just love that beautiful golden color. You might also love this 15 minute vegan Golden Spice Noodle Soup. It is also a warming spice without the heat spice on the tongue. We love the ginger and turmeric in this dish. It is just what you need on these cold and damp days.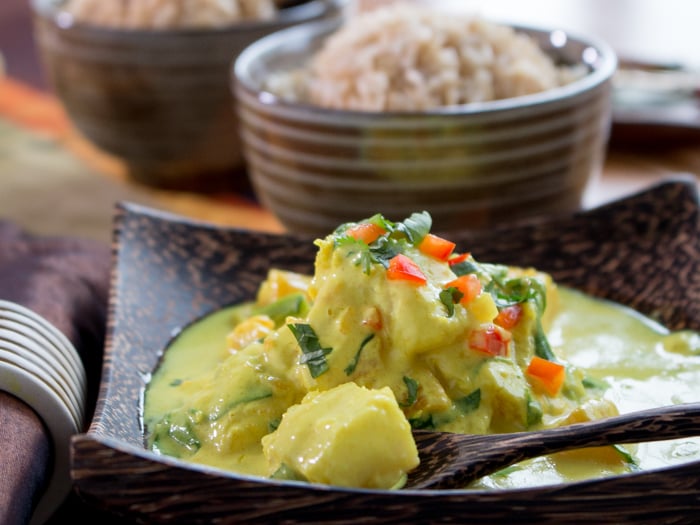 Recipe Substitutions
Once again, we used what we had on hand. Feel free to add any vegetables you like. We had cooked butternut squash in the refrigerator and baby bok choy so that is what we added.
In Asia, it is easy to find things like fresh lemongrass and kaffir lime leaves in the regular grocery store. However, feel free to use dried spices or take a fun trip to the Asian market near you or just simply omit and you can still make this lovely dish without much fuss. Another option is to use the Gourmet Garden stir in Thai seasoning paste. It is found in the refrigerated produce section of your grocery store.
There really is no substitute for kaffir lime leaves however, a little fresh lime zest and juice just before serving really brightens this dish. The rest of the items you should easily be able to find in any Western grocery market.
In addition, any mild white fish fillet will be lovely in this dish; tilapia, cod fish, mahi mahi, etc. all work well.
It is a little brisk out today and a little warming comfort food is just what you need. This flavorful coconut broth is so creamy and delicious, you will wish you made more than just 2 servings.
More Delicious Thai Cuisine Recipes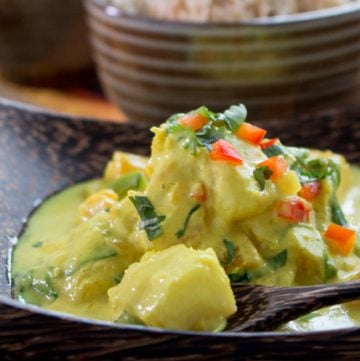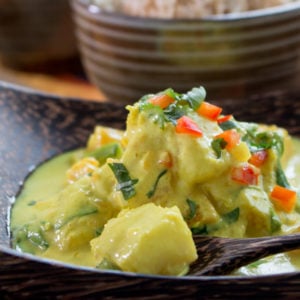 Halibut Coconut Curry in a Hurry
Heavenly mild halibut coconut curry is delightfully creamy, fragrant and warms you from the inside out. The poached fish is so delicate it just melts in your mouth.
Print
Pin
Rate
Ingredients
12

oz

white fish

bones and skin removed ( we used halibut but any white fish you like such as tilapia, cod, mahi mahi, etc all work well)


1

tablespoon

coconut oil


or oil of choice

1

inch

ginger


knob peeled and freshly grated or ½ teaspoon dried ground

2

tablespoon

onion


finely chopped

2

cloves

garlic

finely chopped


12

oz

coconut milk


1

tablespoon

lemongrass paste


(we used Gourmet Garden) or preferably fresh lemongrass stalks- bash with your clever and remove before serving.

salt

to taste

white pepper


to taste

1

vegetable bouillon


1 teaspoon or 1 cube dissolved in 1 tablespoon of warm water (can use chicken powder, we used gluten free or can use 1 tablespoon of fish sauce)

1

tablespoon

maple syrup


or can use brown sugar or coconut sugar (or can also use sugar alternative if desired)

1.5

teaspoon

turmeric


½

cup

butternut squash


cooked and cubed

¾

cup

baby bok choy


chopped

1

teaspoon

lime zest


(if you have access to fresh kaffir lime leaves then use 3 whole with stem removed and remove from dish before serving

2

teaspoon

lime juice

coriander


garnish optional

chili

optional (bird chili to taste)
Instructions
Cut your halibut (or white mild fish of choice) into large bite size pieces. Set aside. (Make jasmine or brown rice as the side dish)

In a medium pot, place about a tablespoon of coconut oil. Add fresh ginger, onion, garlic and saute until aromatic and onions are translucent, but no browning. Please note if you are adding dried ground ginger instead of fresh, hold adding it until you put your coconut milk in the pan- please note that dried ground ginger is stronger than fresh ginger so you may want to start out with ¼ teaspoon, taste and if you want it a little more spicy can increase up to total of ½ teaspoon dried ground ginger)

Turn down heat on stovetop burner to medium-low heat. Add coconut milk, lemon grass paste or bashed fresh lemongrass (if no lemongrass, just skip it, as this recipe is even delicious without it) cut up halibut fish, salt and white pepper (to taste), vegetable bouillon or fish sauce, maple syrup or sugar alternative of choice, turmeric, cooked and cubed butternut squash, baby bok choy (or whatever vegetables you desire and stir. Add your lime zest and lime juice and stir. (if you have access to fresh kaffir lime leaves, remove the stems and add them in the coconut milk and remove just before serving.) Gently poach halibut fish for about 10 minutes or until fish flakes easily with chopstick (fork). (if using fresh lemongrass, remove before serving)

Serve Halibut Coconut Curry with a side of rice and garnish with cilantro. Enjoy hot!
Notes
Halibut Coconut Curry in a Hurry can be made with any milk white fish you enjoy.
You can store this dish in the refrigerator for up to 3 days. We do not suggest freezing this recipe.
Nutrition
Serving:
1
g
|
Calories:
313
kcal
|
Carbohydrates:
10
g
|
Protein:
19
g
|
Fat:
23
g
|
Saturated Fat:
20
g
|
Cholesterol:
43
mg
|
Sodium:
72
mg
|
Potassium:
536
mg
|
Fiber:
1
g
|
Sugar:
4
g
|
Vitamin A:
2803
IU
|
Vitamin C:
16
mg
|
Calcium:
64
mg
|
Iron:
4
mg