Tropical Thai Swordfish is a mouthwatering succulent grilled fish with lemongrass, kaffir lime leaves, galangal, chili and Asian pear.
Just one bite and you will be hooked. The Essential Thai Herbs and Spices used in the marinade and as a vibrant tropical topping to the grilled swordfish. Don't worry if you do not have all of these Asian spices and herbs. We have easy to find Western Substitutions for all of them in the recipe.
Savory from garlic and shallots and fish sauce.
Sour from the freshly squeezed limes.
Spicy from the Thai bird chilis.
Sweet from the Asian pear.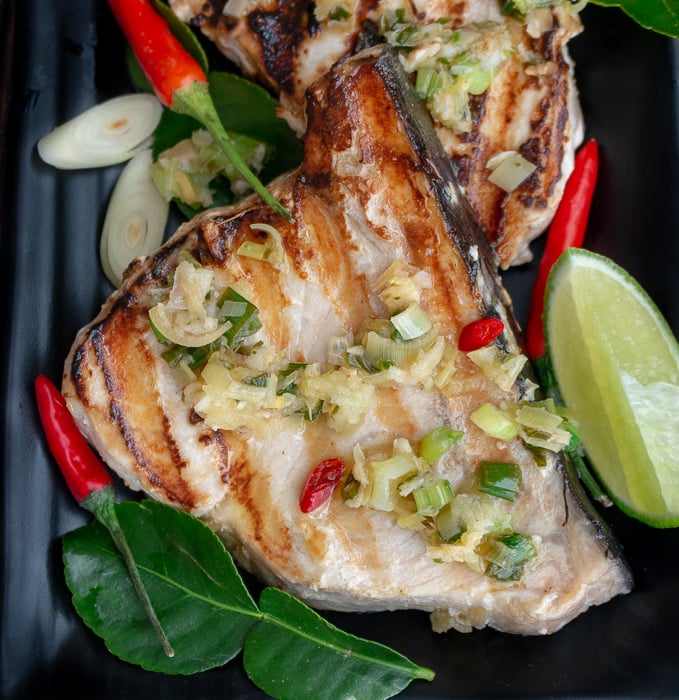 This grilled swordfish one of our favorite recipes from our Best Tasting Fish and Seafood Recipes for Picky Eaters. It's a perfectly light, healthy and delicious. Tropical Thai Swordfish is perfect for gluten-free, diabetic friendly and low carb diets.
Jump to: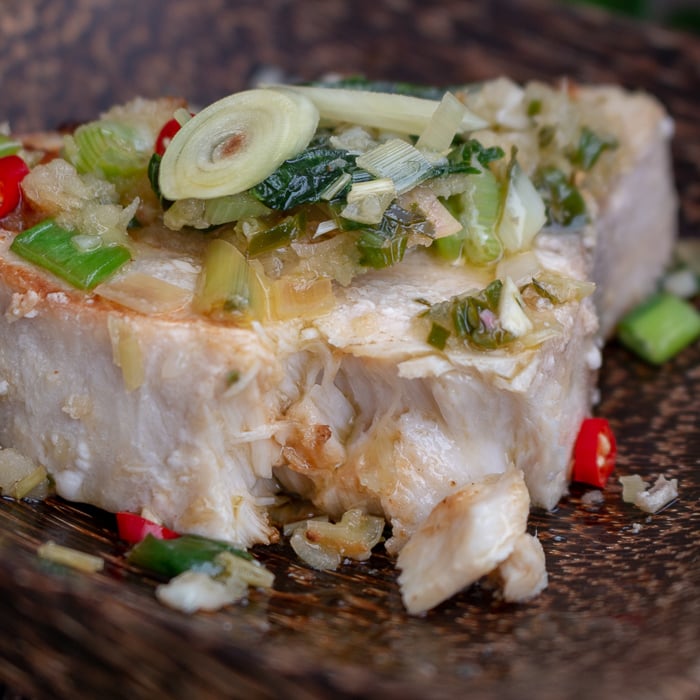 Best Fish for Grilling
Firm fleshed fish are great for the grill. Swordfish are almost steak like and can really hold up to the grilling process. We have found that we do not even need a fish basket for swordfish.
However, other light tasting fish that would be perfect in this recipe are mahi mahi, snapper, whitefish, cod, haddock, sea bass just to name a few. These fish are more delicate so it is best to use a fish basket to turn the fish on the grill.
We actually grilled our swordfish just in a grill pan on the stove top. Use a fish that is sustainable and available in your region.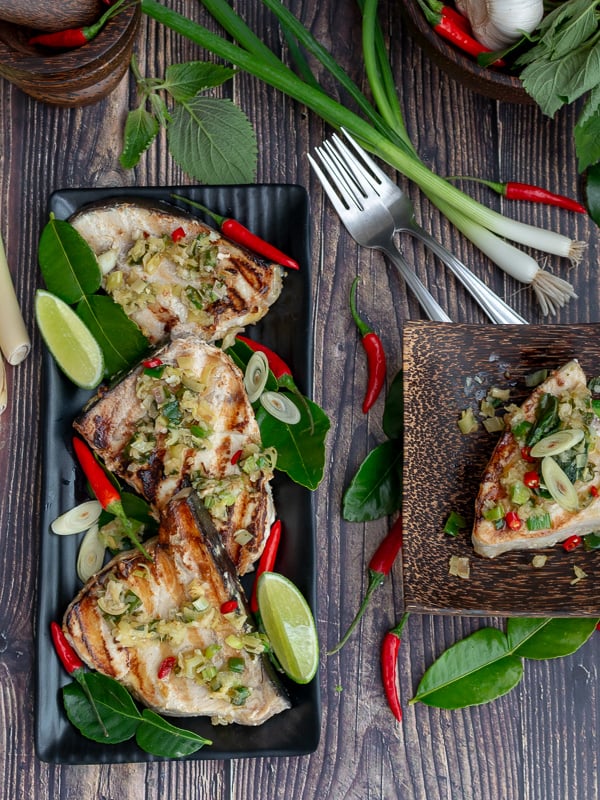 How to prepare a fish for the grill?
The best way to keep your fish from sticking and falling apart on the grill is to do the following...
Use a fish basket or a very firm fish.
Adding a little olive oil over the fish and also rubbed on the grill surface or fish basket will prevent sticking. Do not use too much oil as you do not want the grill to flame up and burn your fish. You just want to use a little oil in your marinade.
Be sure to first clean the grill. Then, use a towel to apply a light rub of oil onto the grill plates or use a little oil spray to coat the fish basket. (We of course do this away from the fire) LOL …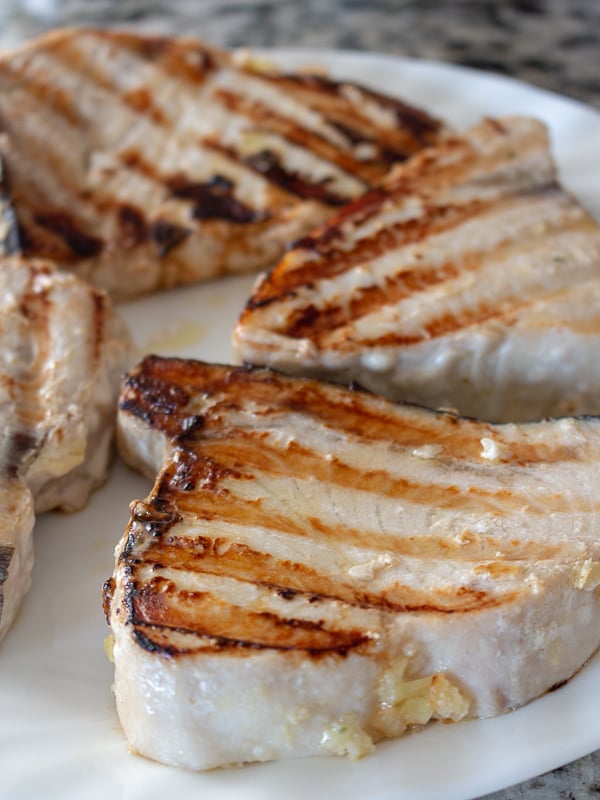 Spring and Summer Gatherings
Do you like to entertain? Tropical Thai Swordfish is a fabulous idea for entertaining as you can do the prep in advance and have the fish marinating. When you guests arrive serve then a delicious Blue Elephant Chili Cocktail and have them nibble on our Thai Firecracker Shrimp Party Appetizers. You can grill your Tropical Thai Swordfish when your guests are settled in.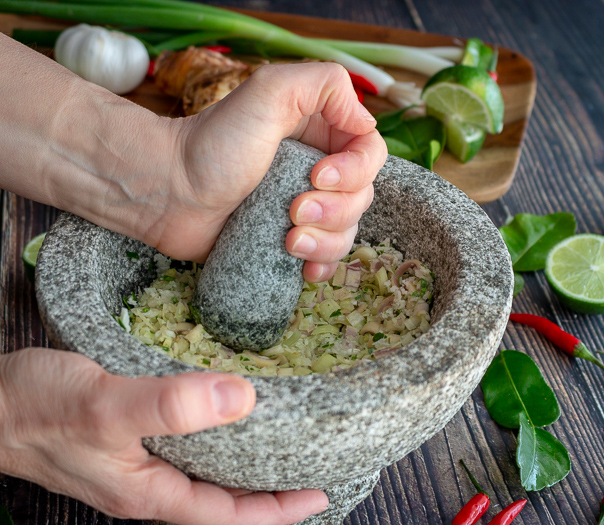 What to Serve with?
If you like Thai flavors, be sure to make our Prik Nam Pla along the side to dip your fish into. Check out our SPICY starter, Thai Hot and Sour Prawn Soup it's perfect any time of the year. For sides, be sure to try our Thai Pomelo Crab Salad Avocados or Thai Grilled Watermelon Salad
A sweet delicious ending to a meal is never better than a traditional Easy Mango Sticky Rice or No-Churn Dairy Free Mango Swirl Ice Cream
Thai Herbs and Spices and Substitutions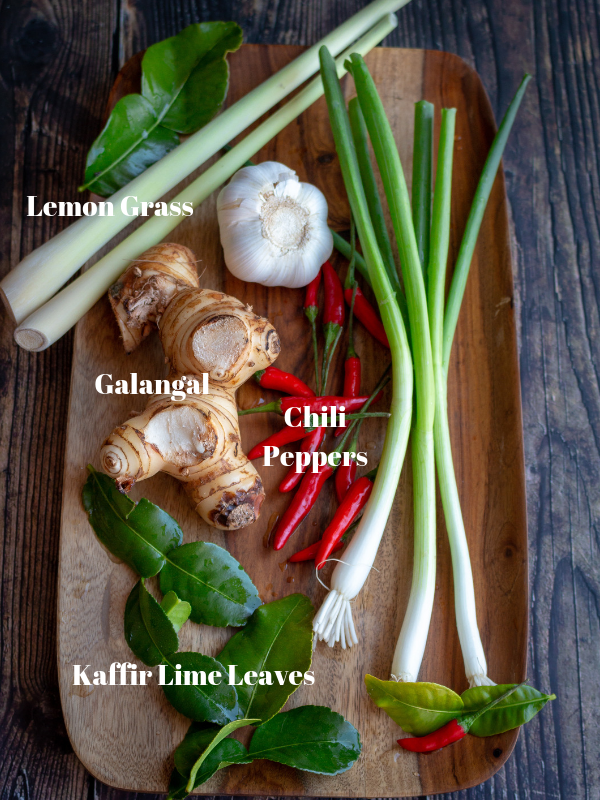 Do you cook with Thai ingredients often? If not, then let's take a minute to review. Please check out of Essential Thai Herbs and Spices post.
Kaffir Lime leaves – The crushed leaves emit an intense citrus aroma. Substitute with fresh lime zest if you do not have kaffir lime leaves.
Lemongrass – culinary and medicinal cooling herb that smells like fresh lemons. If you can find fresh, that is best. However, there are also lemongrass spice pastes in the refrigerator section of the grocery store.
Galangal – cooling herb that is very firm and difficult to chop but is very zesty and aromatic – different than ginger. Exchange with ginger, if you cannot find galangal.
Thai chili peppers – SPICY FIRE or you can use any chili peppers that are easy to find for you like jalapeno. If you like your grilled swordfish mild, leave the chili peppers out all together.
Shallots – aromatic or can use finely chopped onion.
Fish sauce – adds a deep blend of savory notes to the recipe. This is one item that is not easy to exchange as it has a very umami flavor. You can add a dash of soy sauce or a little extra salt but the flavors will be different.
Fresh limes – adds a delightful sour note only add after you turn the heat off.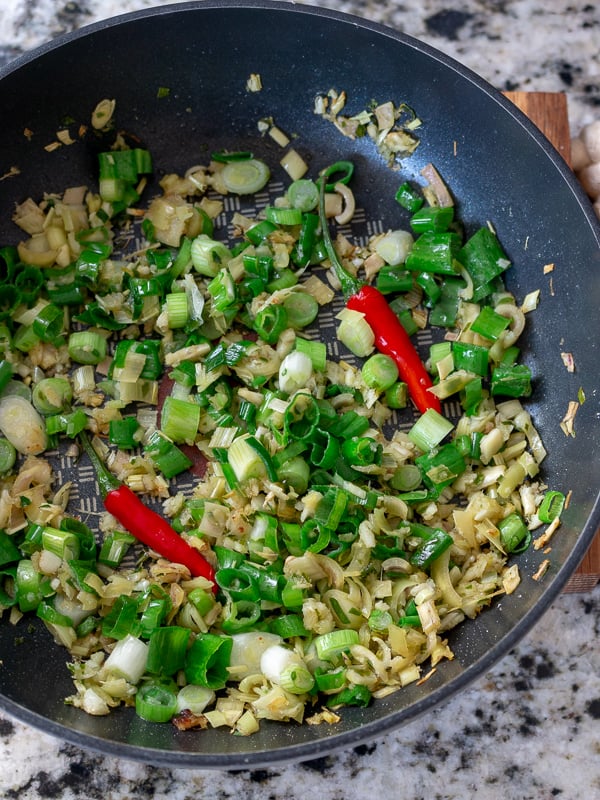 Balancing the Flavors WITHOUT added sugar
Thai flavors are all about balancing the sour, spicy, savory and sweet. However, we do not like to add sugar or sugar alternatives unless we need to. Can you guess what we added to add a little element of sweet to the dish? Yes, a little grated Asian Pear (nashi).
You could also use a little grated apple, regular pear or even a squeeze of fresh orange juice. If you are diabetic or watching your carbohydrates feel free to use a sugar alternative of choice. If you are looking for more Grilling and Chilling Recipes be sure to check out our Summer Grilling and Chilling Recipes.
Thai Meal Plan
Thai Firecracker Shrimp Party Appetizer
Prik Nam Pla - The Incredible Thai Table Condiment
Thai Pomelo Crab Salad Avocados
Did You Like Our Recipe? Leave a ⭐⭐⭐⭐⭐ rating and/or a review in the comments section below. Your feedback is always appreciated! Follow us for more delicious recipes on Pinterest, Instagram, Twitter and Facebook! Don't forget to sign up for our email list for more free recipes.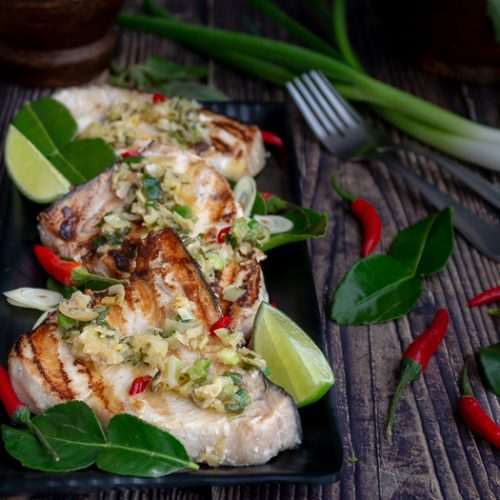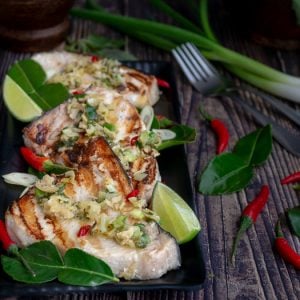 Tropical Thai Swordfish
Tropical Thai Swordfish is a mouthwatering succulent grilled fish with lemongrass, kaffir lime leaves, galangal, chili and Asian pear.
Print
Pin
Rate
Ingredients
2

tablespoon

oil for frying


(we used coconut oil)

2

shallots


peeled and minced

3

stalks

lemongrass


diced very finely (white part only)

4

cloves

garlic


peeled and minced

2

inch

Galangal


(Kha)knob peeled and grated or can use ginger

1-2

Thai Bird Chili


(Phrik) or to taste - smashed with the back of your knife but left whole(optional)

5

kaffir lime leaves


stem removed and sliced thinly

2

green onions


chopped

1

tablespoon

mirin


(can also use cooking sherry or white wine or skip if you have dietary issues)

1

tablespoon

fish sauce


(use a gluten-free brand if you need to keep gluten-free)

1

Asian pear

(nashi) peeled - 1 whole grated (can use other types of pears or apple as well)

2

tablespoon

lime juice

Oil


for prepping grill, fish basket or grill pan

4

fillets

swordfish

fillets (or can use whole fish or any firm white fish)
Instructions
Make Thai Aromatic Herb Mixture: You can either chop up all of your fresh aromatics (shallots, lemongrass, garlic, galangal, kaffir lime leaves and green onions) very fine or use a mortal and pestle to break up into smaller pieces. (We do not generally cut up the chili but instead just smash with the back of your knife. Thai Bird Chili Peppers might be little but they are VERY MIGHTY.) Place oil in frying pan up to medium heat and add in shallots, lemongrass, garlic, galangal, Thai chili pepper, kaffir lime leaves, green onions and sauté until fragrant and the onions are translucent. Add mirin or cooking sherry and deglaze the pan. Remove from heat and set aside to cool. Add fish sauce, grated Asian Pear (or other types of pears, apples or juice of an orange and juice of a lime. Stir.

In a resealable plastic baggie or sealed container place in the cleaned swordfish and add ONLY ONE HALF of Thai aromatic herb mixture (you will reserve ½ of the Thai aromatic herb mixture as a topping upon final serving) and rub the swordfish well. Cover and place in the refrigerator to marinate for about 30 minutes.

Prepare and Preheat grill. Slightly oil grill grates or fish basket to prevent the fish from sticking (You can use gas, charcoal or even a grill plate on top of stove). If you do not have a grill or grill pan, you can also make on the stove top in a frying pan.

Remove the swordfish steaks from the marinade and drizzle with a little oil on both sides and place on hot grill. Grill swordfish steaks for 2-3 minutes on each side depending on the thickness of your fish or until the fish flakes easily with fork. Your fish should no longer be translucent but be white in color. Remove from grill and keep warm.

Garnish your Topical Thai Swordfish with the other half of the remaining Thai Aromatic Herb Mixture. Serve with a Prik Nam Pla Dipping Sauce if desired and enjoy!

Notes
Feel free to exchange swordfish with any white mild fish native to your region. A firm fleshed white fish holds up better on the grill.
Exchanges and substitutions are welcome.
If you cannot find fresh lemongrass, there is the lemongrass paste you can find in the refrigerated section of the grocery store.
Feel free to exchange a regular onion for the shallots. If you are unable to find galangal, exchange with fresh grated ginger.
You can use any chili you desire such as a jalapeno but note that each chili has a different heat level so you will need to adjust to your taste preferences.
Kaffir lime leaves can be found in an Asian market. However, if you cannot find kaffir lime leaves exchange with 1 teaspoon lime zest but add only AFTER you have cooked the Thai Aromatic Herb Mixture, while it is cooling.
Feel free to use a cooking sherry instead of mirin Japanese wine. If you do not have fish sauce, then salt and pepper your fish to your desired level.
The addition of Asian Pear is for a little natural sweetness. You may also use a little grated regular pear, apple or even a little fresh orange juice. Thai flavors need to keep the balance between spicy, sweet, sour and savory.
Recipe for Prik Nam Pla dipping sauce.
Nutrition
Serving:
1
g
|
Calories:
369
kcal
|
Carbohydrates:
16
g
|
Protein:
35
g
|
Fat:
18
g
|
Saturated Fat:
3
g
|
Cholesterol:
112
mg
|
Sodium:
528
mg
|
Potassium:
927
mg
|
Fiber:
2
g
|
Sugar:
7
g
|
Vitamin A:
264
IU
|
Vitamin C:
8
mg
|
Calcium:
34
mg
|
Iron:
2
mg