We have the top 10 Holiday Dinner Ideas you will ever need for hosting a gathering! There is something for everyone.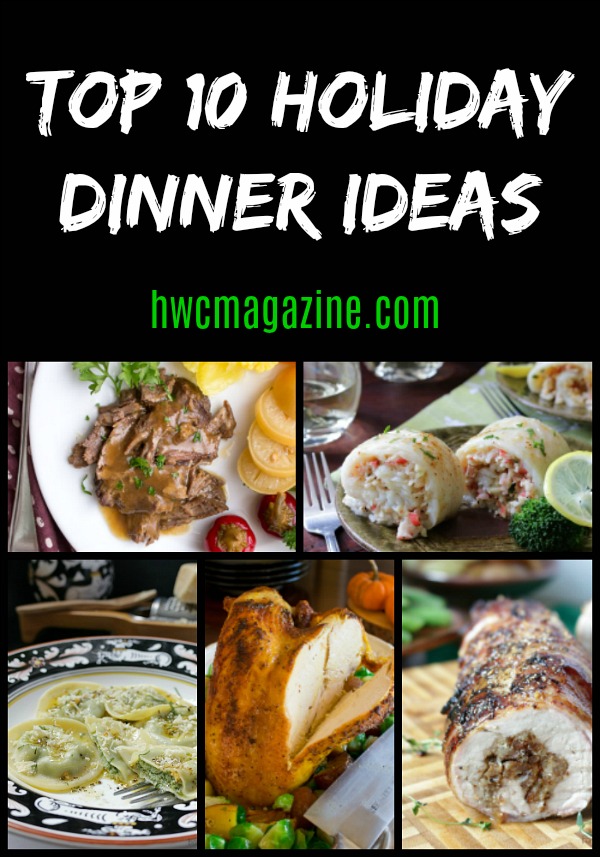 We can see you over there on your computer wringing your hands and fretting because you are hosting a holiday dinner and you have no idea what to make.
Don't fret! This time of the year can be stressful and you need some quick and simple answers to the most important question of the day, "What's for dinner?" We want to help melt some of that stress away and share with you some of my tried and true recipes from Healthy World Cuisine that can dazzle a crowd for a dinner party.
One absolute must for us when entertaining is having a main dish that can be prepared in advance. We look forward to spending time with my guests and not slaving away in the kitchen. These top 10 holiday dinner ideas can be prepared in advance so it can be cooking while you are entertaining your guests.
#1 of the Top 10 Holiday Dinner Ideas: If you are not afraid of a culinary challenge, then the Timpano Pasta Dome is sure to wow a big crowd. Once you cut into your master piece, it will reveal the layers of pasta, meatballs, sausage, cheese, eggs and other goodies hidden inside the flaky crust of the dome. You will have your friends, family and coworkers talking about this for years to come. All you need is a salad on the side like our delicious holiday salad and you are good to go.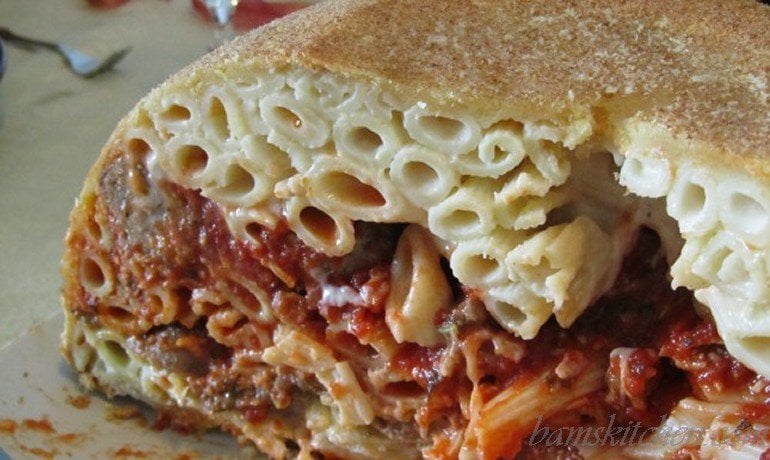 #2 of the Top 10 Holiday Dinner Ideas: Prosciutto wrapped chicken with feta and roasted peppers is a stunning recipe that shows a mosaic of colors once your cut a slice. Stuffed chicken breasts with spinach, roasted red and yellow peppers, feta cheese with a caramelized onion and mushroom confetti with herbs, butter and a little white wine all rolled up and wrapped in a blanket of Italian prosciutto and topped it off with a simple sauce de jour. The chicken stays super moist because of the prosciutto wrapped around it. You can do the prep work before your guests arrive so all you need to do is pop these in the oven and then serve with a sauce de jours on top. A side of roasted potatoes/pesto rice and French style green beans and your meal is complete.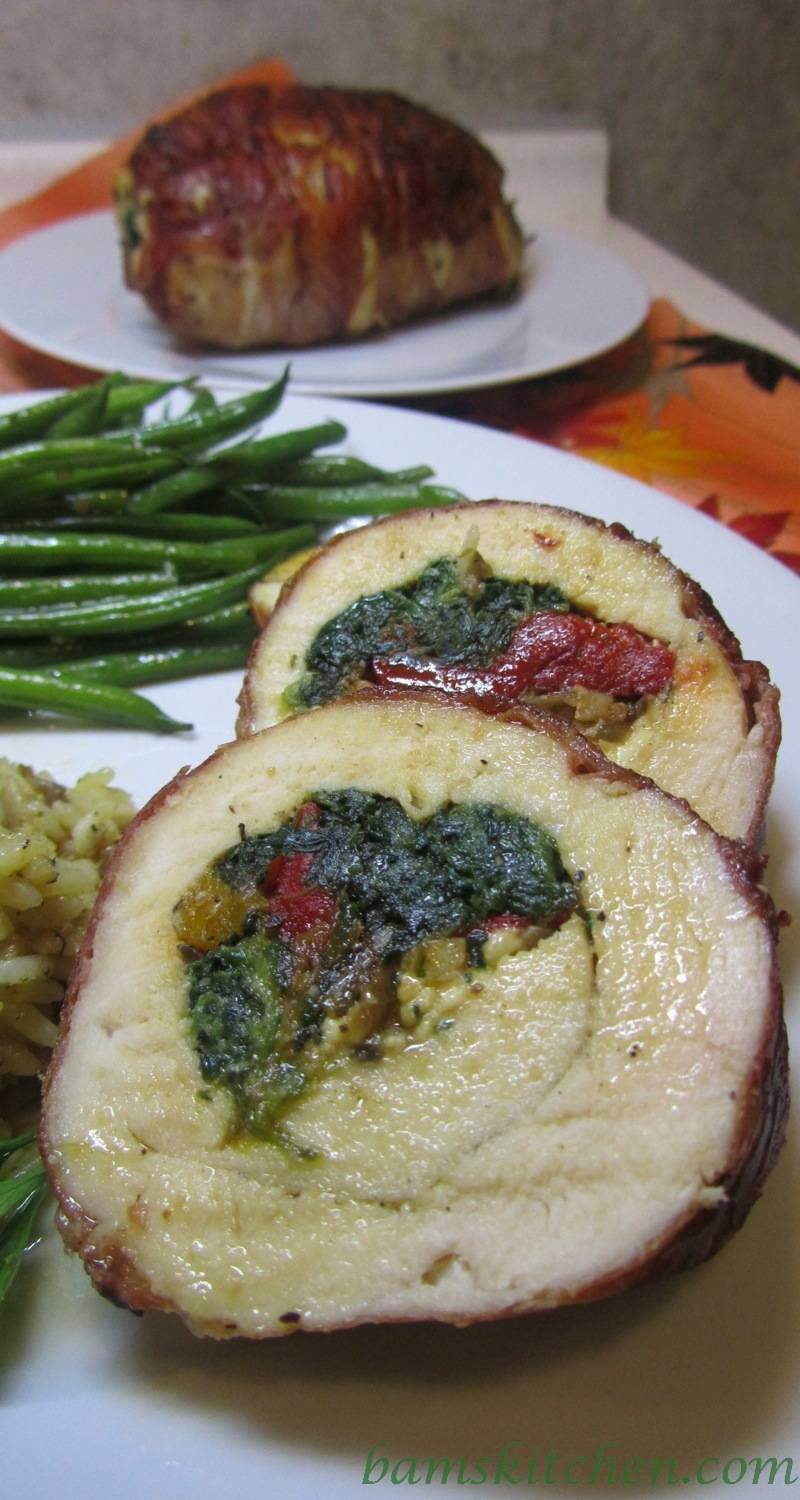 #3 of the Top 10 Holiday Dinner Ideas: Our recipe for rosemary herb pork chops with shallot wine sauce has been pinned 1000's of times on Pinterest and I have to say if you are looking for a recipe that tastes like a million bucks, looks like a million bucks but takes only 30 minutes from start to finish, then this is your recipe. Thick center cut bone in pork chops with fresh rosemary and herbs and a shallot wine sauce that tastes Maybe a side of herb wild grain rice and roasted carrots and you are done like dinner. If you like to cook or like to read recipes, please take a moment to join us on Pinterest and join in on the fun.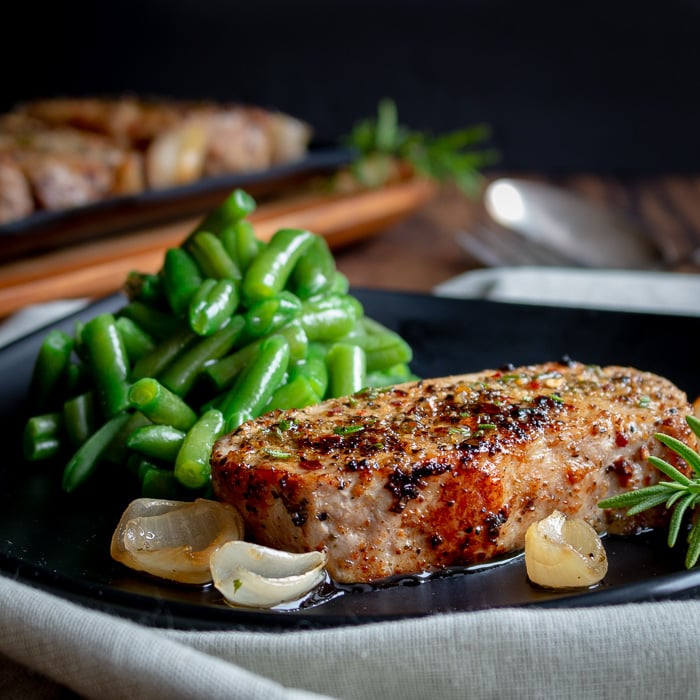 #4 of the Top 10 Holiday Dinner Ideas: Our topless butternut ravioli with a creamy wild mushroom sauce is another show stopper. This towering stack of butternut ravioli will satisfy all of your cravings. It has a creamy wild mushroom sauce with herbs, savory sautéed chicken, naturally sweet roasted butternut squash, cheesy gouda and even has a crispy fried ravioli toppings. You can serve either as an open face ravioli or as a lasagna. The lasagna version of this dish is great for those of you that like to be out socializing with your guests instead of in the kitchen. Another delicious make ahead lasagna is our Butternut Squash Vegetarian Lasagna made with whipped sage butternut squash, three cheeses, spinach, mushrooms, caramelized onions with a creamy béchamel sauce all stacked between layers of gluten free lasagna noodles. (Vegan option available too!)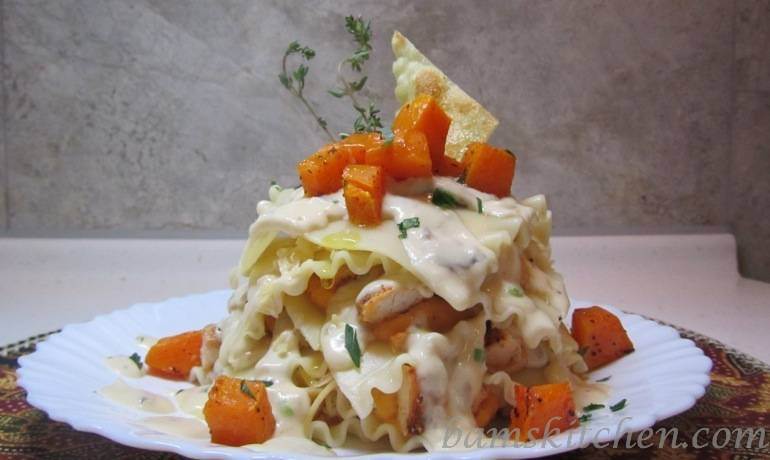 #5 of the Top 10 Holiday Dinner Ideas: Crab Stuffed Whitefish is made with succulent whitefish stuffed with creamy and dreamy crab filling and topped with a lemon butter drizzle...in just 30 little minutes.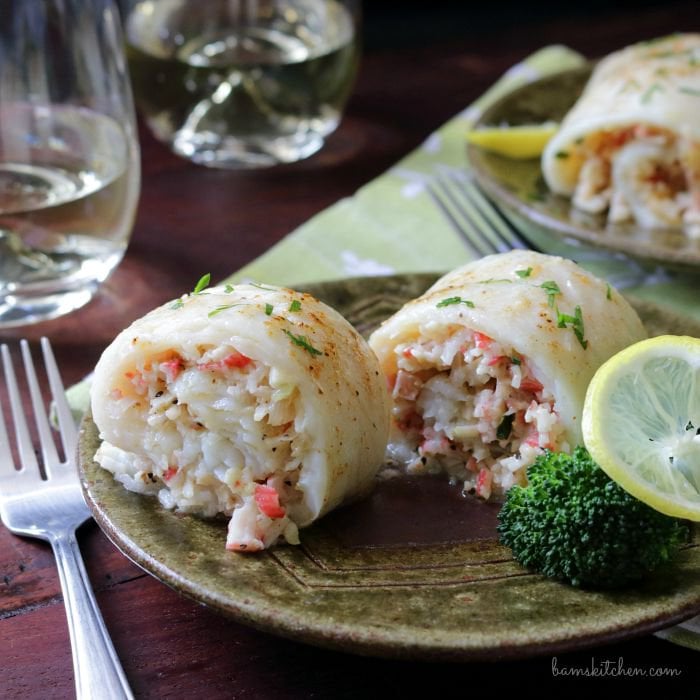 #6 of the Top 10 Holiday Dinner Ideas: Slow Roasted Moroccan Spiced Leg of Lamb is so tender it falls off the bone, melts in your mouth and is served with a delicious golden Moroccan saucy gravy. Lamb roast is not just for Easter!
#7 of the Top 10 Holiday Dinner Ideas: G'Day mate. Is Santa Claus celebrating the holiday in his Bermuda swim trunks? Then our bacon wrapped pork tenderloin on the BBQ grill with a few cold drinks is the perfect way to celebrate a balmy holiday dinner. Pork Wrapped Sausage Stuffed Pork Tenderloin. Yes, you heard us right, pork wrapped with pork inside of pork. You know it has to be good. You can also sear on top of stove on all sides and finish it off in the oven if old man winter has your grill covered in snow.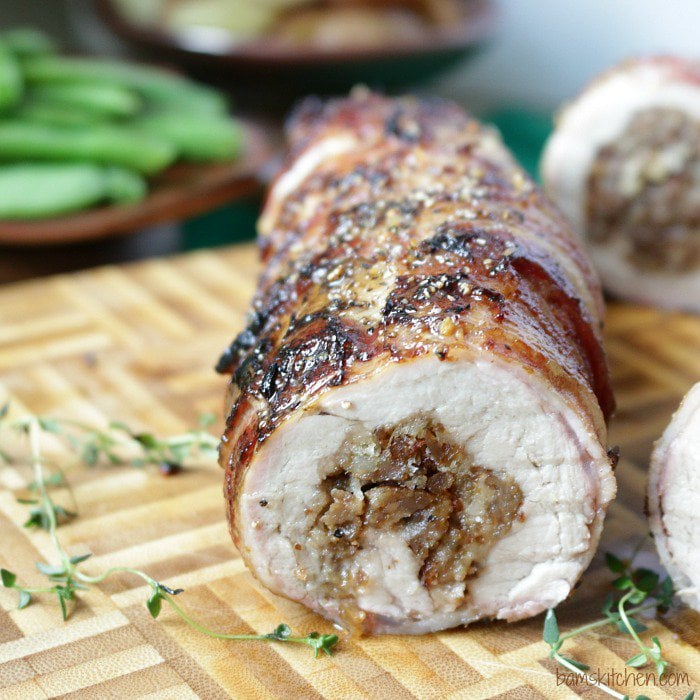 #8 of the Top 10 Holiday Dinner Ideas: For those of you on the opposite ends of the world and have waist deep snow, Tuscan slow cooked braised beef in wine sauce is sure to please. Tuscan slow Cooked Braised Beef in Wine Sauce is a great holiday meal to prepare while you are tending to all of your other affairs such as gift wrapping, tree decorating, writing holiday cards or even baking holiday cookies. This recipe takes no effort at all to prepare and is a wonderful one pot dish. This dish is very comforting and warming and the meat is so tender and succulent you can cut it with a spoon. Don't forget some good crusty Tuscan bread to soak up all of those wonderful juices.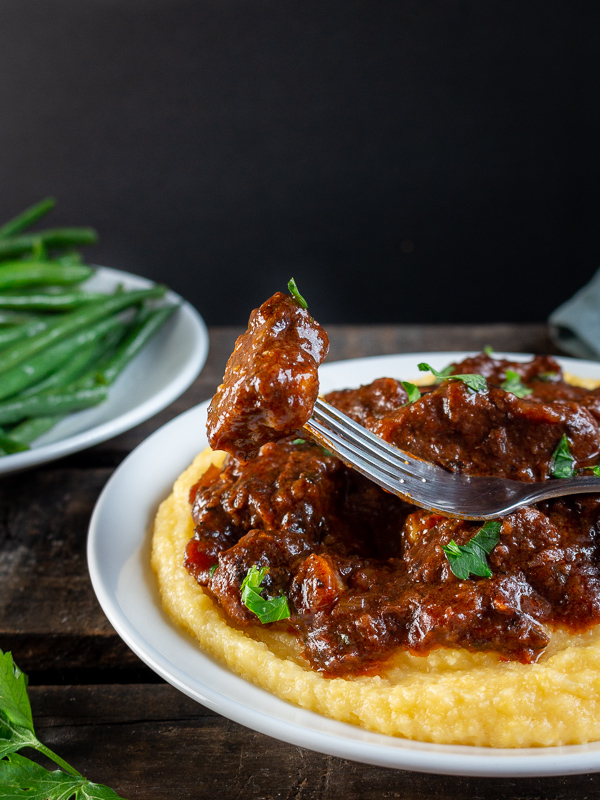 #9 of the Top 10 Holiday Dinner Ideas: For or dear vegetarian friends with our Three cheese Spinach Ravioli with Sage Butter Sauce sauce is lovely. Have them join in on the fun and make their own pasta.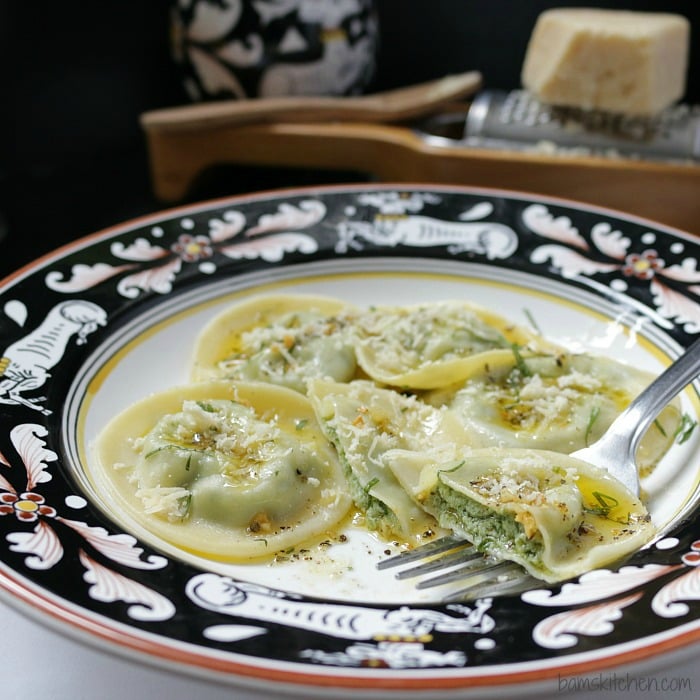 #10 of the Top 10 Holiday Dinner Ideas: Roasted Turmeric Spiced Turkey Breast is a succulent bone in turkey breast cooked with turmeric, cardamom, spices and a very fun twist for a holiday gathering.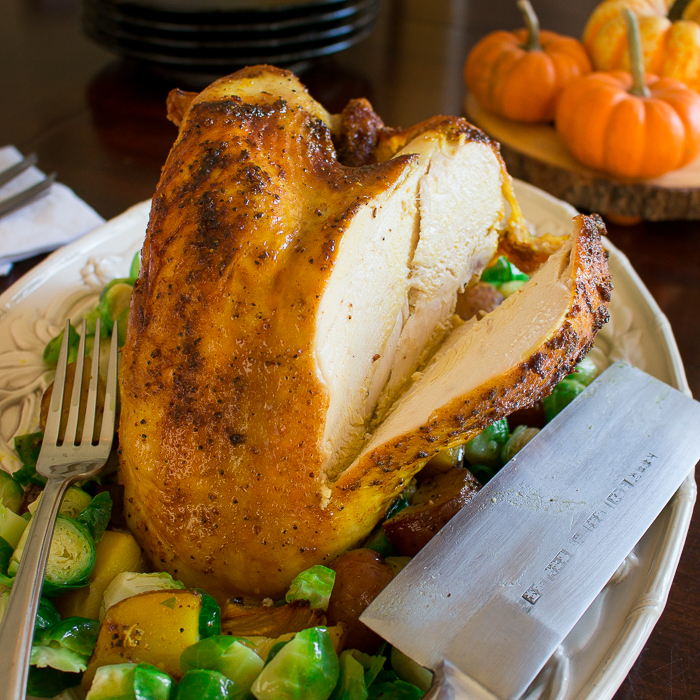 As a bonus, we have added a few more to the Top 10 Holiday Dinner Ideas that will wow your guests.
Spiced Cranberry Glazed Ham tastes just like the holidays with cloves, cinnamon, ginger and cranberry glaze on top of a golden studded ham and cinnamon baked apples.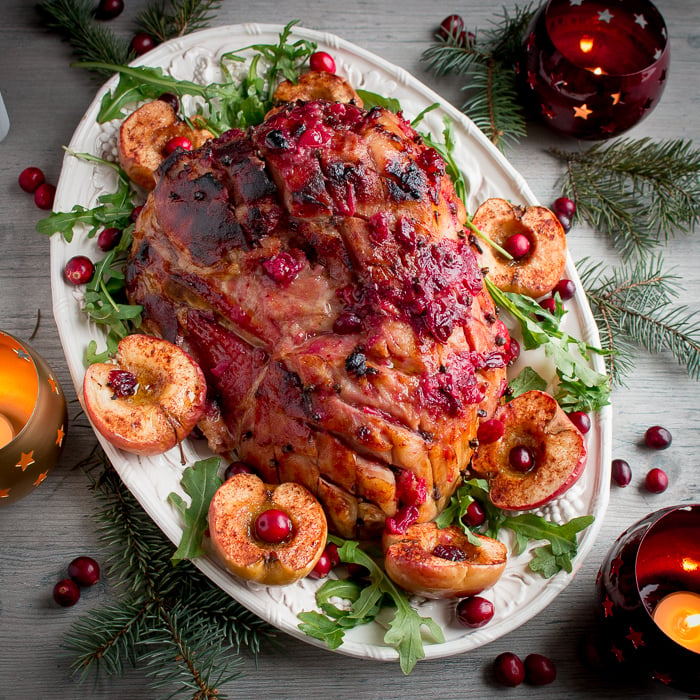 Baked Pomegranate Glazed Salmon is a flaky and succulent fish recipe slathered in an easy sweet, savory, spicy pomegranate molasses orange glaze. Perfect for the Holidays and ready in under 30 Minutes!
If you are looking for a VEGAN recipe, be sure to try our Vegetable Tofu Ricotta Lasagna is one amazing low fuss dish packed with spring veggies of choice, tofu ricotta and herbs.
Wishing everyone a safe and happy holiday from our home to yours!
Hungry For More? Subscribe to our Newsletter and follow along on Facebook, You Tube, Instagram, and Pinterest for all the latest updates.