Grab those extra napkins as these delicious finger licking super easy baked wing dings are going to be the perfect solution for tonight's dinner, an appetizer or even your next game day or party.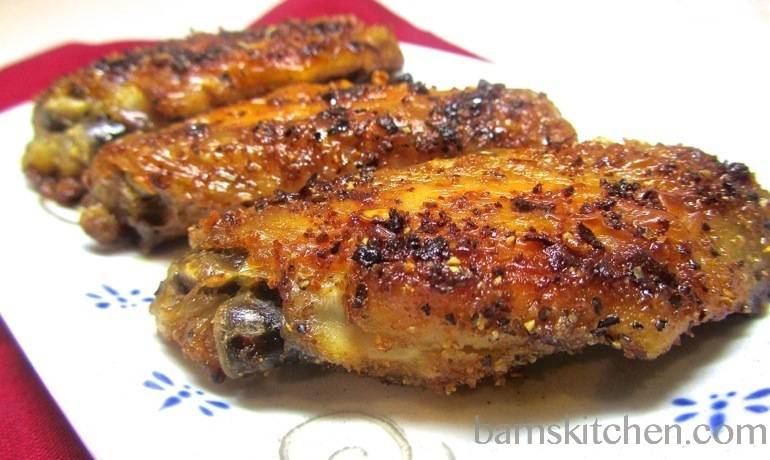 These chicken wings are just to die for are and super simple to make.
Every day my boys text me after school, "Whats for dinner?" It is much simpler for me to text wing dings or just wings so the name has just stuck.
With just 6 little ingredients and 45 minutes you can have these baked chicken wings on your table for the whole hungry crew. The skin is crispy and savory and too irresistible just to eat one. Tender and juicy on the inside and crispy on the outside. My boys love them so much they eat 20 super easy baked wing dings per hungry teenager in one sitting, maybe even more.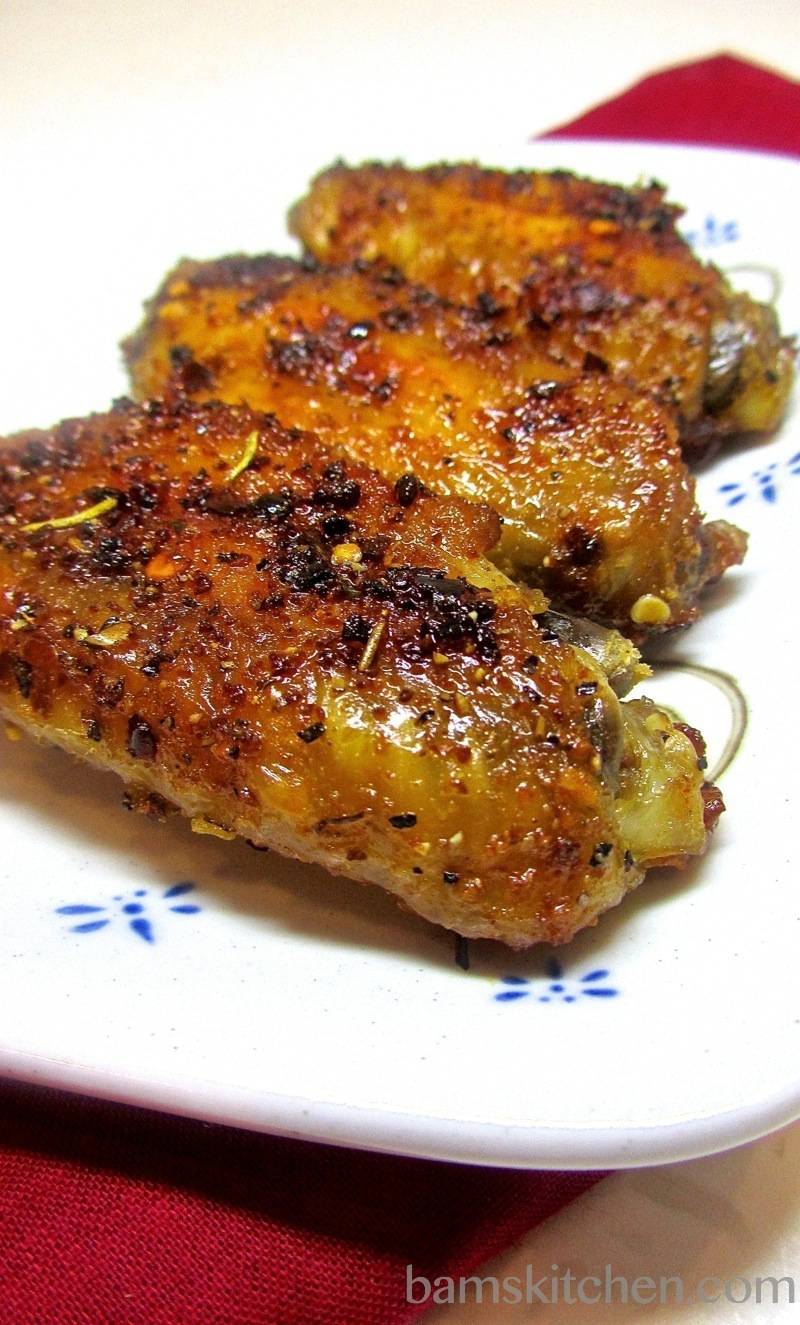 Isn't it just purely amazing the amount of food hungry teenage boys can pack away in one sitting. I always warn my husband to keep his hands and feet away from their mouths or he could lose a digit. It is almost like watching a horror film, a shark in a feeding frenzy or maybe even a lion going in for the kill. Scouts honour, I really do feed them 3 square meals but you would think they have been stranded on a desserted island for years and this is the first time they have seen real food.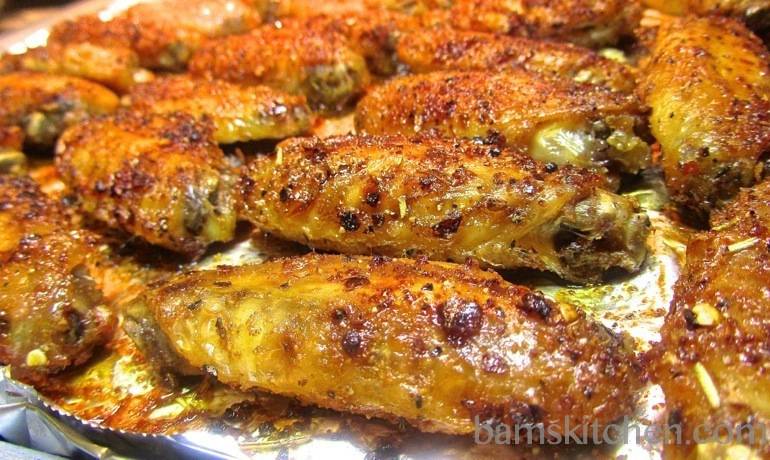 My favourite question that always happens at the dinner table is..."Mom, are you going to eat that?- as the point to something on my plate... I have learned my lesson the hard way for many years and now always, always, always serve my self first and put my food on my plate before bringing it out to the cleanup crew. Do teenage boys even chew? One utterly important question, do teenage boys eat like this in front of their girlfriends too?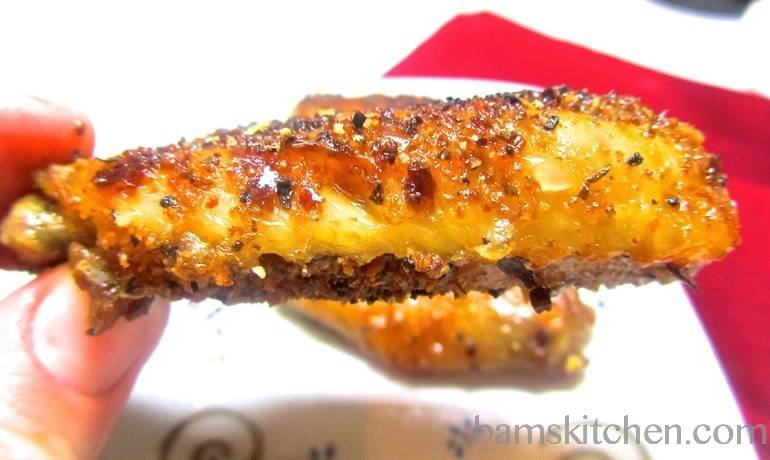 I used to spend time trying to make deep-fried chicken wings with the spicy hot sauce to dip in but that has cardiac arrest written all over it. This is the baked slimmed down version of wing dings. These super easy baked wings are so tasty you do not even need dipping sauces. These easy baked wing dings are gluten-free, lactose free and egg free so they have that going for them as well.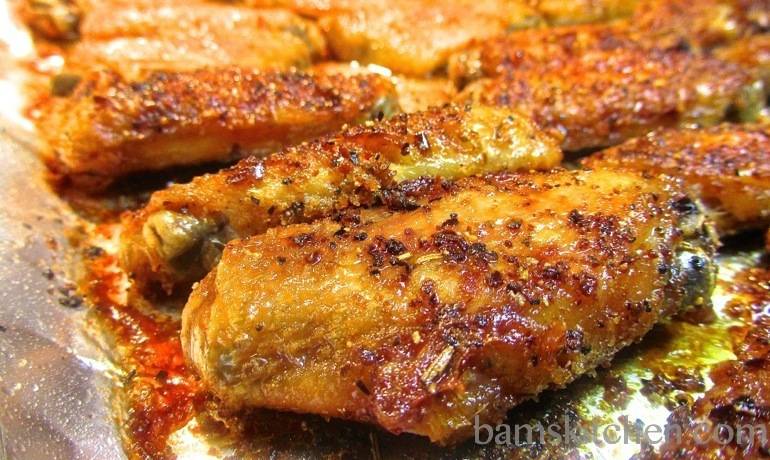 The secret to tasty chicken wings is the longer marinade time. I like to marinade my wings for at least 4 hours. So, if you can do this before you go off to work or school, then you are good to go. The marinade needs time to penetrate the chicken so it is not just a layer of flavor on the top but you can taste it all the way through the wing. This is the secret to delicious wings.
I like to the use the chicken wings mid joints section as these are the meatier section of the wing. I guess you could really use any portion of the chicken you wish but you may have to adjust the cooking time accordingly.
So are you ready to make some rocking good wings for your hungry crew?
Our super easy baked wing ding marinade is super easy. You just wash and dry your chicken wings well and put them in a zipper plastic bag. Add a little olive oil, seasoned salt, paprika, garlic and pepper and shake well. If you like them spicy, then add a little of Kick n Chick seasoning by Weber. Bake and Enjoy! How easy is that?!?!
If you are looking for more delicious appetizers for game day or a party, you may like to try our...
Thai Firecracker Shrimp Party Appetizer
Baked Cheesy Salami Wrapped Jalapeños
Hungry For More? Subscribe to our Newsletter and follow along on Facebook, Instagram and Pinterest for all the latest updates.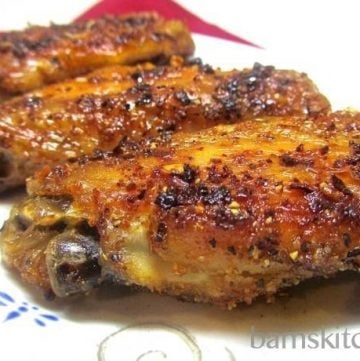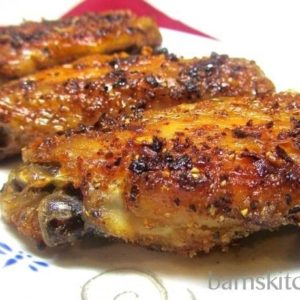 Super Easy Baked Wing Dings
Grab those extra napkins as these delicious finger licking super easy baked wing dings are going to be the perfect solution for tonight's dinner, an appetizer or even your next game day or party.
Print
Pin
Rate
Ingredients
4-5

pounds

Chicken mid-joint wings

(I used Tyson Frozen mid-joint wings- thawed)

2

tablespoon

olive oil

1

tablespoon

seasoned salt


1

teaspoon

paprika


1

teaspoon

garlic powder

1

teaspoon

pepper

1

teaspoon

Kick N Chicken Weber's Seasoning

optional (if you like spicy or can add dried red chili peppers to taste)
Instructions
Pre-heat oven to 450 degrees F (232 degrees Celsius)

If using frozen wings, thaw them first. An easy way to thaw wings is to place them in a large bowl and fill with water and this should get them thawed quicker. Drain well. Wash and dry your mid-section chicken wings.

It is really important to get your wings EXTRA dry. We use paper towels to do this. Being vigilant about the drying process, makes for an extra crispy wing ding. In a sealable plastic bag, add your chicken wings, olive oil, seasoned salt, paprika, garlic powder and pepper. Shake well to make sure the marinade is evenly distributed among the wings. Place marinating chicken wings in the refrigerator on a plate (in case of leakage) to chill for at least 4 hours.

Place chicken wings on a greased pan. (I have to emphasise that whole greased pan thing so do it well as they do like to stick. In addition when you go to turn them be careful so you don't rip off the delicious crispy skin as this is the best part.) I like to put my wings on the pan with skin side down first. If your family/friends like their wings spicy, then you can add a little sprinkle of Kick n Chicken spice or dried red pepper flakes to add a little punch. If you like them mild, like me, then these are just perfect as is.

Turn the wings after about 25-30 minutes of baking. Bake for another 10-15 minutes or until the wings are super crispy on the top. Remove from oven.

Serve wing dings hot out of the oven with your favorite beer or rootbeer for the kids. Enjoy!
Notes
The secret to good wings is to make sure they are dried off well with paper towels before adding the dry rub marinade.
The 4 hour dry rub marinating time allow the flavors to permeate the chicken and is super delicious. If you are running low on time, leave them marinate for at least 15 minutes before throwing them in the oven.
Take Care and wishing you a super day ahead!
Nutrition
Serving:
2
wings
|
Calories:
119
kcal
|
Carbohydrates:
1
g
|
Protein:
9
g
|
Fat:
9
g
|
Saturated Fat:
2
g
|
Cholesterol:
38
mg
|
Sodium:
315
mg
|
Potassium:
80
mg
|
Fiber:
1
g
|
Sugar:
1
g
|
Vitamin A:
111
IU
|
Vitamin C:
1
mg
|
Calcium:
6
mg
|
Iron:
1
mg