These Top 10 dishes for New Years Eve are just what you need to have a delicious, healthy and stress free way to bring in the New Year.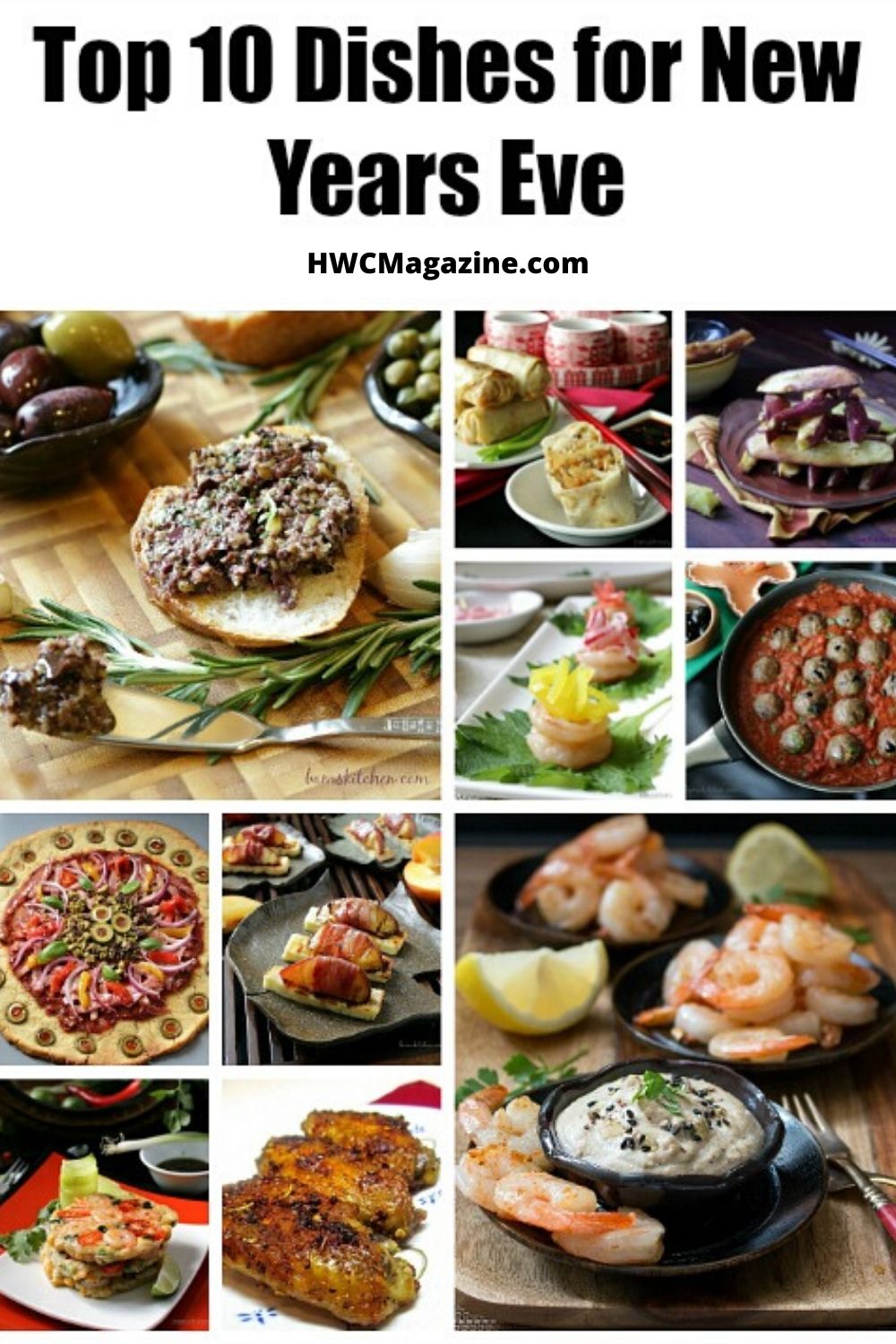 You are going to just love these Top 10 Dishes for New Years appetizer recipes are a cinch to make and are sure to please a crowd. Many of these appetizers can be made in advance, in less than 30 minutes, so you can relax and enjoy your company instead of fussing in the kitchen.
Whether you are looking for a fast and easy olive tapenade from the French Provence, healthy baked Chinese Spring rolls from Hong Kong, Jenga Japanese Sweet potato Fries with a delicious ginger-honey dipping sauce, Spicy Shrimp with Tarator dip from the Middle East, or Gluten-Free Thai Shrimp Pancakes from the beaches of Thailand, we have you internationally covered.
If one of your New Years resolutions is to start to eat healthy, why wait until January 1st?! These top 10 delicious appetizers for New Years Eve are super healthy, so you can start out your New Years off on the right foot. Many of these recipes are gluten-free, dairy free, egg free. Some of these Top 10 dishes for NYE are vegan, paleo friendly, low carb and cardiac friendly too. Delicious can be healthy too!
Have you heard the latest news? According Mayo Clinic, Drinking one glass of red is equivalent to one hour at the gym. Wow, at this rate I will be ready for the olympics by tomorrow.
So what are you waiting for? Pour your self a little glass of red and lets start making some of the delicious top 10 dishes to bring in the New Year.
TOP 10 DISHES for NEW YEARS EVE
1) Spicy Shrimp with Creamy Tarator Dip- Garlicky shrimp lightly seared with dash of red pepper and plunged into a creamy lemony and sumac tarator (Tahini) dip is a quick and easy party pleaser.
2) Jenga Japanese Sweet Potato Fries- Baked Jenga Japanese Sweet Potato Fries are crunchy on the outside and tender sweet and delicious on the inside tossed with a little cinnamon and sesame seeds and plunged into a delicious honey ginger soya sauce. A fun Jenga game and a healthy after school snack too!
3) Rosemary and Garlic Infused Tapenade- Kalamata and green olives delicately infused with rosemary and garlic olive oil, capers and black pepper and blended into a deeply aromatic and rich olive tapenade.
4) Baked Chinese Spring Rolls - Crispy and light spring roll wrappers filled with tender shrimp, pork, ginger, garlic, fresh herbs and spices and baked to perfection with a zesty ginger tamari dipping sauce.
5) Gluten-Free Thai Shrimp Pancakes- Delightful gluten-free savoury pancakes with sweet succulent shrimp, ginger, scallions, chilis and a light and flavourful Thai Dipping sauce.
6) Muffuletta Pizza- Muffuletta Pizza is a thin crust gluten-free garlic olive herb studded pizza topped with red roasted bell pepper and sun-dried tomato pesto, ham, salami and special olive Muffuletta toppings.
7) Chargrilled Halloumi Wrapped Nectarines and Balsamic Glaze- Chargrilled halloumi cheese appetizers topped with a delicately sweet and savory grilled prosciutto wrapped nectarines and drizzled with a balsamic reduction glaze.
8) Shrimp Boats with Pickled Relish- Garlic shrimp nestled in a boat of minty endive and topped with quick pickled radish.
9) Spanish Meatballs with Pepper and Tomato Wine Sauce-Tender Spanish meatballs made with black olives and fresh herbs are nestled in a rich red pepper and tomato red wine sauce.
10) Super Easy Baked Wing Dings- With just 6 little ingredients and 45 minutes you can have these baked chicken wings on your table for the whole hungry crew. The skin is crispy and savory and too irresistible just to eat one.