Butternut Squash Vegetarian Lasagna is an amazing Autumn casserole dish with whipped sage butternut squash, three cheeses, spinach, mushrooms, caramelized onions with a creamy béchamel sauce all stacked between layers of gluten free lasagna noodles. (Vegan option available too!)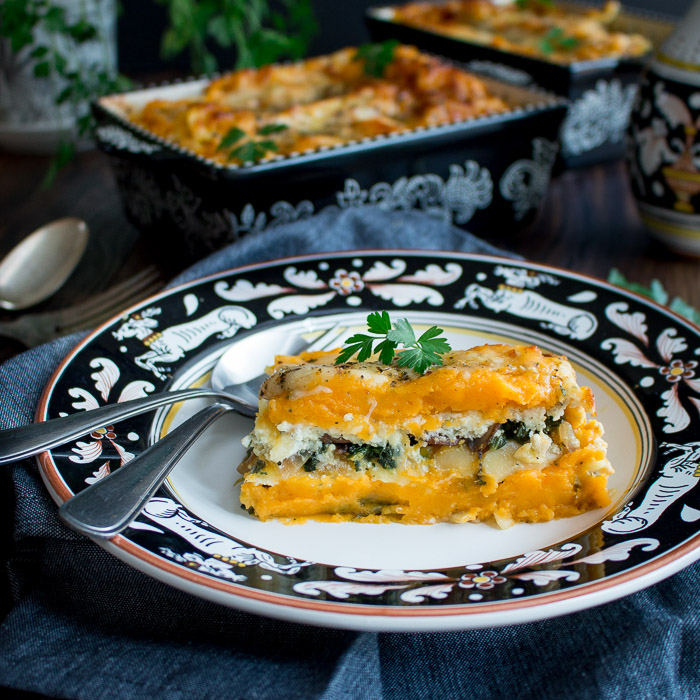 Your first bite of Butternut Squash Vegetarian Lasagna and you are going to be in love. Today we are having the leftovers for lunch and will be sad when that casserole dish is empty.
Creamy and delicately naturally sweet butternut squash with aromatic sage
Earthy mushrooms
Sweet caramelized onions
Iron rich spinach
Three cheesy deliciousness
Creamy béchamel sauce that pulls the whole dish together
Al dente lasagna noodles to stack all the layers
What is not to love!
Jump to:
Comfort Food
When the cooler weather arrives, all we want is comfort food. There is no better comfort food in the WORLD than the humble NOODLE! Lasagna noodles are the perfect portable device to get all that deliciousness in your mouth in one neat stack. Top that off with a nourishing winter squash and that is some serious deliciousness.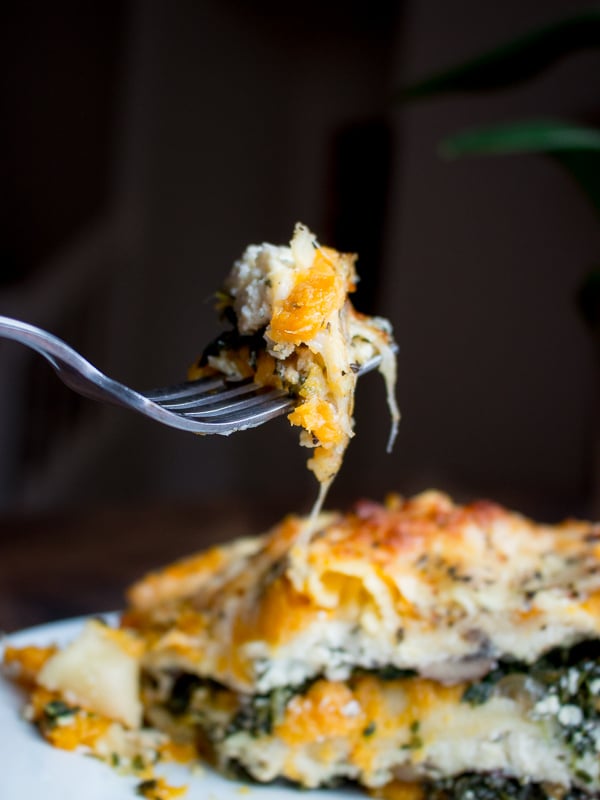 Simplifying the Recipe
We know it seems like this recipe has loads of steps but really all of them are super easy. If you are not a food photographer that has to get step by step shots every step of the way, you can get your prep done with little fuss. However, we have some time saving steps we learned along the way and want to share with you.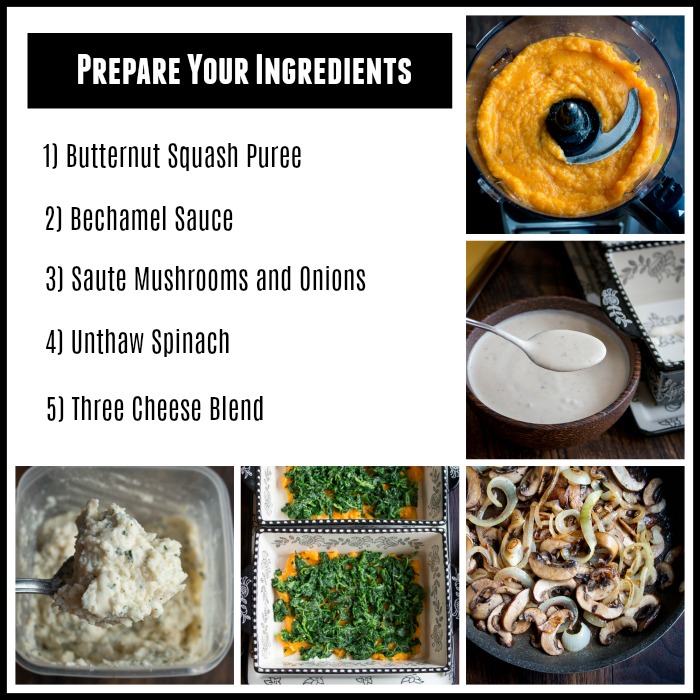 Time Saving Tips
1) Butternut squash is difficult to cut, peel and chop. A huge time saver is to use frozen butternut squash puree, frozen butternut cubes or even just pre-cut and peeled butternut squash so that you can roast yourself.
2) Use No Boil Lasagna Noodles
3) Either frozen thawed spinach squeezed dry or fresh spinach both work lovely in this recipe.
4) We used mini portobella mushrooms in this recipe because that is what we had but button mushrooms, chanterelles, you name it would be delicious in here.
5) You can sauté your mushrooms and onions the day before, prep your butternut squash and mix your 3-cheese mixture the day before.
6) Feel free to assemble the day before and bake the day your guests arrive.
7) Butternut squash vegetarian lasagna also freezes great. We like to bake it first. Allow it to completely cool. Slice and place in a sealed container for the freezer. Use within 2 months.
8) Recipe makes a 9 inch x 13 inch pan. Our was about 3 and ½ inches deep.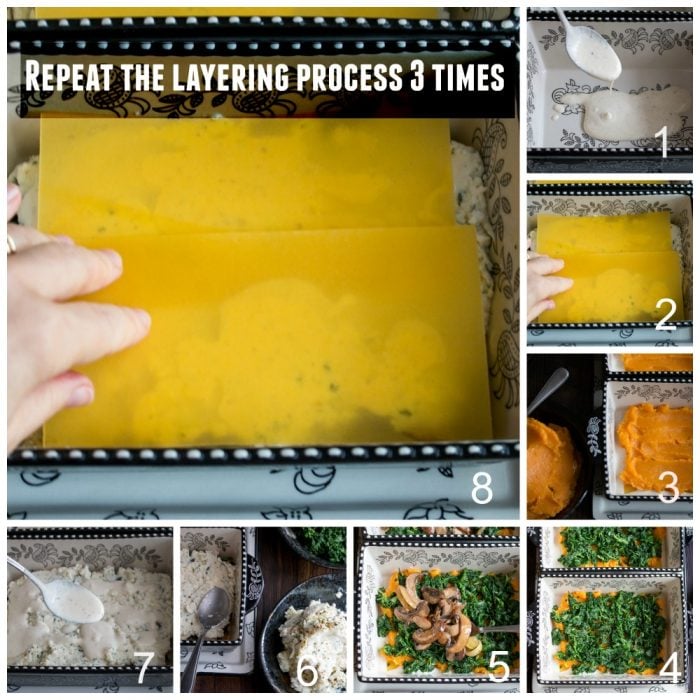 Pumpkin Craze
Fall is not just about pumpkin spiced lattes. we have several savory recipes too. Have you tried these pumpkin recipes?
Kabocha is also called a Japanese pumpkin and it is delicious in our Air Fryer Kabocha Squash with Curried Sauce and Vegan Kabocha Truffle Pasta.
Pie pumpkins are like little miniature jack o lanterns but are super sweet. We like to serve our Thai Pumpkin Curry right inside the roasted pie pumpkins - super cute!
Butternut Squash is a nice addition to Instant Pot Pumpkin Risotto and for our fun Cardamom Ginger Butternut Affogato dessert.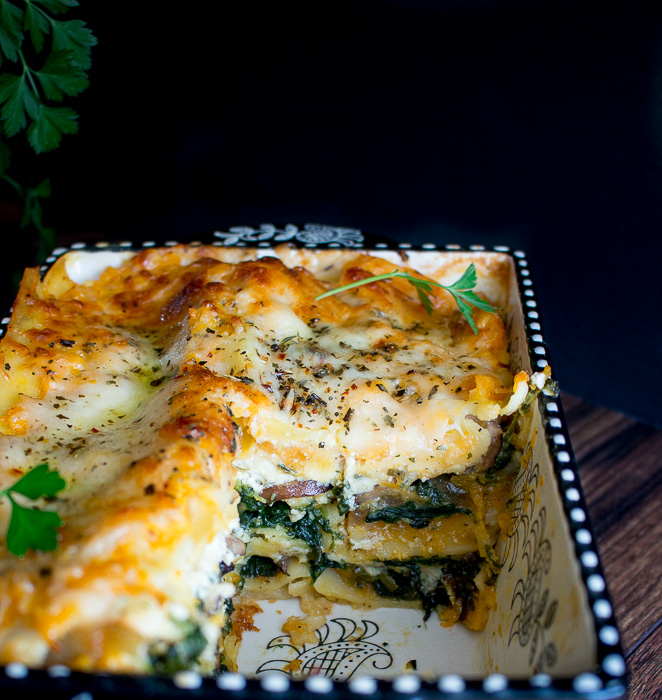 Noodle Recipes from Around the World
Camote Bihon (Sweet Potato Noodles)
One Pot Creamy Kale Pesto Pasta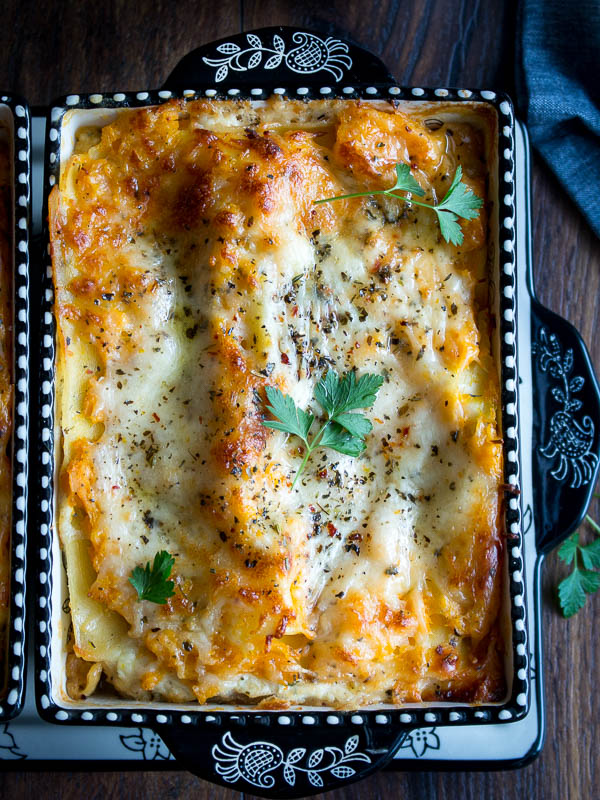 Holiday Entertaining Woes
Will you be entertaining this fall for the holidays? Our Butternut Squash Vegetarian Lasagna can solve a lot of your problems with entertaining. You can make this recipe in advance and then bake just before your guests arrive.
The autumn lasagna is even more delicious the next day when the flavors have a chance to mingle. If you are the festive fall spirit, be sure to make a batch of our Air Fryer Pumpkin Seeds for the crew to snack on while they are waiting for the lasagna to bake.
Food Allergies
The one problem we always seem to encounter is someone with a food allergy or food preference that does not involve meat. Butternut Squash Vegetarian Lasagna is of course vegetarian and gluten-free. If you need to make this recipe dairy free or vegan, we encourage you to check out our post for our Vegetable Tofu Ricotta Lasagna. Trust us, you will never know it is made with tofu. In addition, you can also make this recipe in advance as well.
Vegan Options
You can also make our Butternut Squash Vegetarian Lasagna vegan. All you need to do is to substituting the ricotta cheese, parmesan and mozzarella cheese mixture with firm tofu and mix your spinach within the tofu mixture. Of course, you can also use vegan cheese, if you are to that kind of thing. Another fabulous vegan side dish is our Best Vegan Warm Swiss Chard Lentil Salad. Honestly, we could make a meal just out of this dish alone.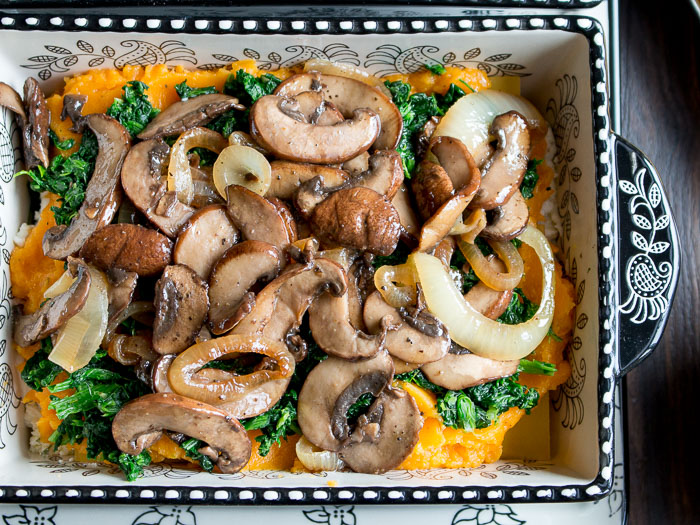 DAIRY Sensitivities -No Problem!
Did you know that sometimes if a person is dairy sensitive (bloating, diarrhea, gas, etc.) they might fare better with "goat cheese" ricotta? Goat's milk is homogenized naturally. Hence, the fat globules are small and remain suspended in the milk rather than separating out. This, generally speaking, makes it easier for people to enjoy goat milk products.
However, in cow's milk, homogenization is done through processing and the fat globules are larger and make it more difficult to digest. Please note that there is a HUGE difference between Dairy Intolerance (just feeling a little uncomfortable) and Dairy allergy (hives and leading up to an anaphylactic reaction). If you have a dairy allergy you should avoid all milk products and try some recipes from our Lactose Free Category.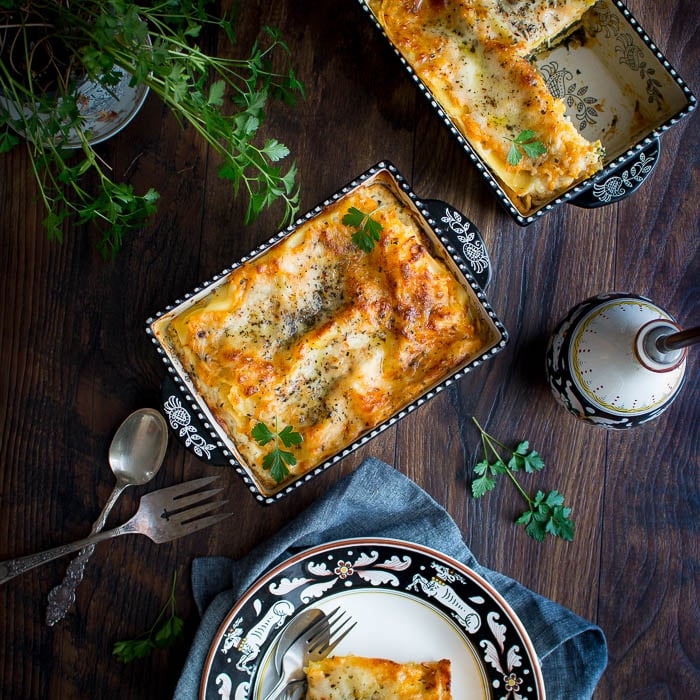 Extra Virgin Olive Oil
Italian dishes, like our Butternut Squash Vegetarian Lasagna, are all about using quality ingredients like good quality extra virgin olive oil. We love Mie Radici Extra Virgin olive oils and their Sicilian Spice blend. Mie Radici is family owned business and they have delicious quality products. Their olives are grown in the Agrigento region of Sicily by family members and other small producers and are cold pressed.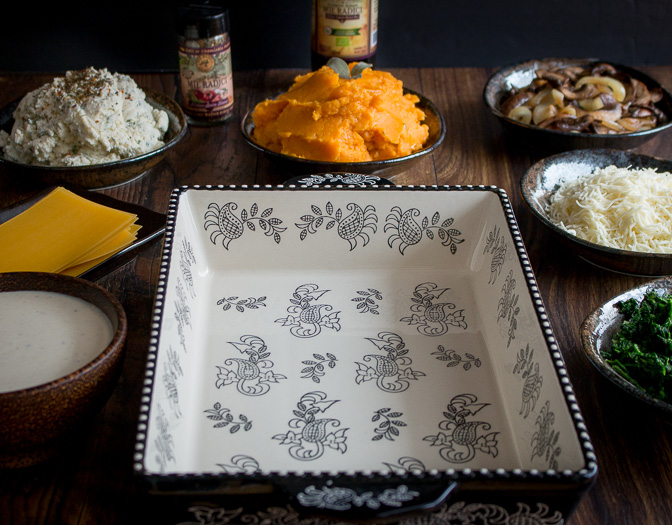 We hope you love this Butternut Squash Vegetarian Lasagna as much as we do.
Frequent Asked Questions (FAQ's)
Do you need to boil lasagna noodles first?
No you do not need to boil your lasagna noodles before putting them in lasagna. Use No Boil lasagna noodles and bake your lasagna covered for the first 45 minutes of baking and you will have perfectly cooked lasagna noodles.
How to make a vegetarian lasagna vegan?
Substitute to the ricotta or cottage cheese with a firm tofu that you have removed all of the juice from. Then top with a vegan cheese or nutritional yeast for added flavor.
More Butternut Squash Recipes
Did You Like Our Recipe? Leave a ⭐⭐⭐⭐⭐ rating and/or a review in the comments section below. Your feedback is always appreciated! Follow us for more delicious recipes on Pinterest, Instagram, Twitter and Facebook! Don't forget to sign up for our email list for more free recipes.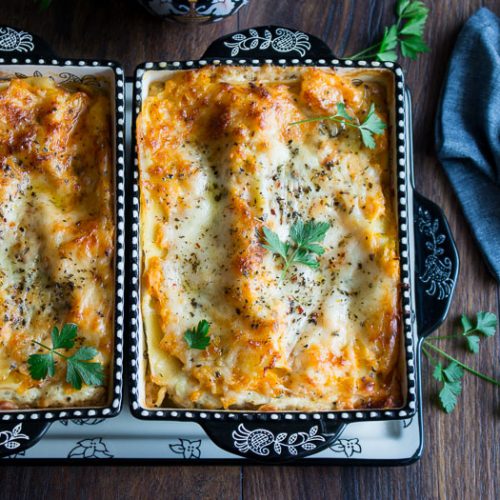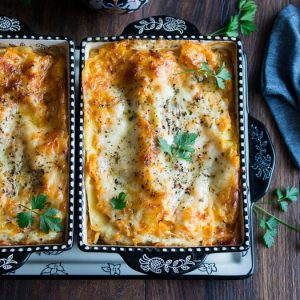 Butternut Squash Vegetarian Lasagna
Butternut Squash Vegetarian Lasagna is stacked with layers of squash, three cheeses, spinach, caramelized onions, mushrooms, noodles and a bechamel sauce.
Print
Pin
Rate
Ingredients
BUTTERNUT SQUASH
24

oz

Butternut squash


frozen butternut squash cubes or puree (you can also use fresh butternut squash, peel, chop and roast until tender)

¼

teaspoon

Sage


or 2 small fresh leaves fresh

1

tablespoon

Olive oil

Salt and pepper


to taste

1

teaspoon

Garlic powder

CARMELIZED ONIONS and MUSHROOMS
1

tablespoon

Olive oil


2

Onions


2 medium peeled and sliced

12

oz

Mushrooms


sliced
THREE CHEESE MIXTURE
2.5

cups

Ricotta


light

1

cup

Mozzarella

light

½

cup

Parmesan


grated

1

Egg


beaten

2

teaspoon

Sicilian spice blend


(or ½ teaspoon garlic powder, 1 teaspoon of dried basil and ½ teaspoon of thyme)

Salt and pepper


to taste

Red pepper flakes


dash (optional)
BECHAMEL SAUCE
2

tablespoon

Butter


2

tablespoon

Flour


(we used gluten free flour for our gluten free friends)

1 and ¼

cup

Almond milk


¼

teaspoon

Nutmeg

Salt and pepper


to taste
LASAGNA
20

oz

Spinach


or about 2 packages thawed and squeezed dry

10

oz

Lasagna noodles


oven ready- NO Boil (We used gluten free)

1

cup

Mozzarella cheese


shredded

Spray oil


to prevent sticking

EVOO

to garnish upon serving - optional
Instructions
Assemble your butternut puree- Thaw your frozen cooked butternut squash puree or cubes in the microwave per directions. Place in a food processor with sage, olive oil, salt and pepper to taste and garlic powder. Blend until creamy smooth. Set aside

In a frying pan add olive oil and sliced onions and saute until golden brown. Add mushrooms and salt and pepper and cook until tender and slightly golden about 5 minutes. Set aside.

In a medium bowl add ricotta, mozzarella, parmesan, egg, salt and pepper, Sicilian spice blend and if desired a dash of red pepper flakes. Mix well. Set aside

In a medium sauce pan add butter and flour and saute for about 2 minutes until slightly golden and the flour is cooked. Slowly with a whisk add you milk a little at a time whilst stirring to prevent lumps until smooth and creamy. Add nutmeg and salt and pepper to taste. Set aside.

Preheat the oven to 425 degrees F (218 degrees C)

Spray your 9 x 13 inch pan on the bottom and sides with spray oil to prevent sticking.

Spread a few tablespoons of the béchamel sauce on the bottom of the 9 x 13-inch casserole dish and spread. Next place 4 lasagna noodles overlapping a little on top of the béchamel sauce. Spread ⅓ of the butternut squash mixture over the lasagna noodles. Next layer ⅓ of the spinach on top of the butternut squash. Next add ⅓ of the caramelized onion and mushroom mixture on top of the spinach. Next add ⅓ of the three-cheese mixture on top of the spinach. Next add a few tablespoons of the béchamel sauce on top of the three-cheese mixture. Repeat this process 3 times for a total of 3 layers.

Sprinkle the top of your Butternut Squash Vegetarian Lasagna with mozzarella cheese and sprinkle with a little extra Sicilian seasoning. Cover with aluminum foil. Bake for 45 minutes covered. Remove the cover off the lasagna noodles and check with a knife that the noodles are aldente and tender. If not, put the aluminum foil back on the lasagna for a few more minutes until easily pierced with a knife. Next remove aluminum foil and cook uncovered for about 15 minutes or until golden brown.

Remove from oven, allow to cool between 15- 20 minutes before slicing. Drizzle with a little extra virgin olive oil, if desired and enjoy.
Notes
Feel free to use fresh roasted butternut squash for frozen if you have the time. If you want to make this recipe vegan, replace the 3 cheeses (ricotta, mozzarella, parmesan and eggs) with firm tofu pureed along with the Sicilian spices and the spinach. Feel free to assemble your lasagna the day before and then baking when your guests arrive. This recipe freezes well. After cooking and cooling allow to cool and slice and place in a freezer safe sealable container. Can be stored in freezer up to 2 months. If you do not need the recipe to be gluten free feel free to use regular wheat based lasagna noodles and regular all-purpose flour for your béchamel sauce. Be sure to check out our Step By Step photos in the post as a good visual for layering your lasagna.
Nutrition
Serving:
1
slice
|
Calories:
351
kcal
|
Carbohydrates:
32
g
|
Protein:
18
g
|
Fat:
18
g
|
Saturated Fat:
9
g
|
Cholesterol:
62
mg
|
Sodium:
326
mg
|
Potassium:
713
mg
|
Fiber:
4
g
|
Sugar:
4
g
|
Vitamin C:
27
mg
|
Calcium:
367
mg
|
Iron:
3
mg