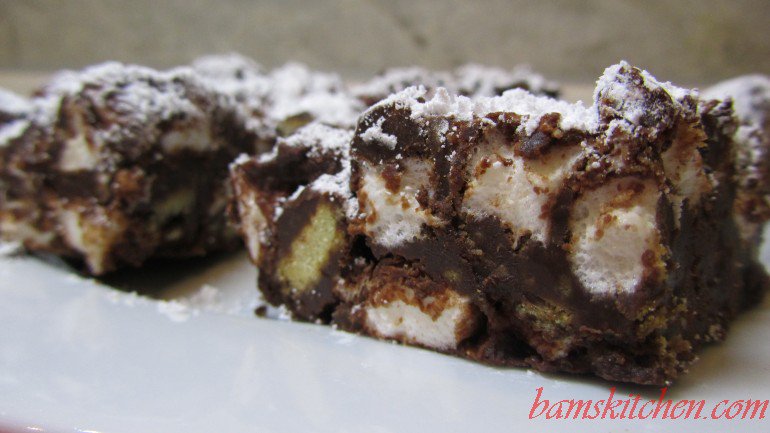 Living without a stove top or an oven really makes you think about survival skills.
Cavemen and cavewomen had been doing this for years hunting, gathering firewood and cooking their food over an open fire but we are, after all, living in the 21st century. Well that was until we moved to Hong Kong....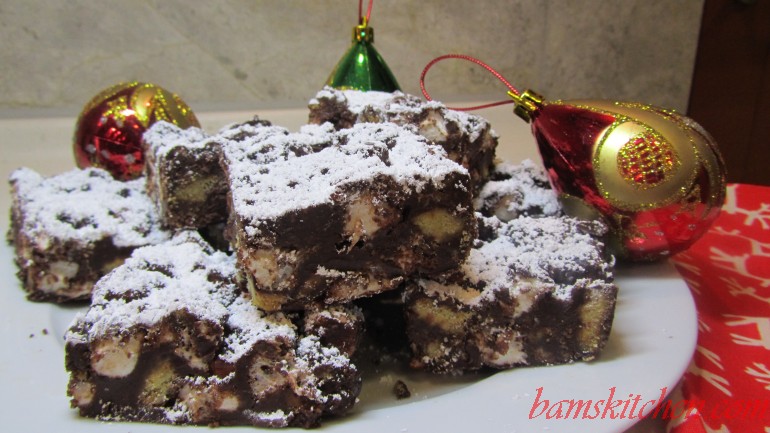 With hungry teenage boys gathering and stalking me in the kitchen I had to respond fast and get inventive with the remaining working appliances. I rarely use the microwave other than to reheat my coffee or maybe reheat leftovers. However, the simple little microwave has so many hidden potentials.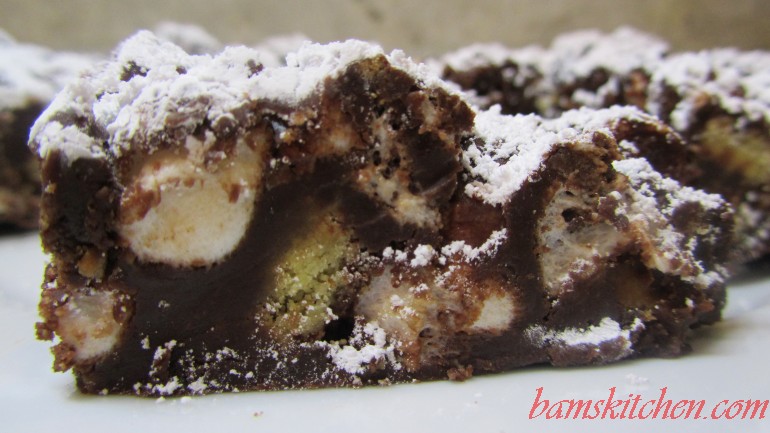 My boys have been begging me to make this dessert in Nigella Lawson's cookbook called Rocky Road Crunch Bars. Nigella is just pure genius for getting delicious food on the table is a fast and simple way. I love her style and I found a way to make her process for making this dish even simpler in the microwave.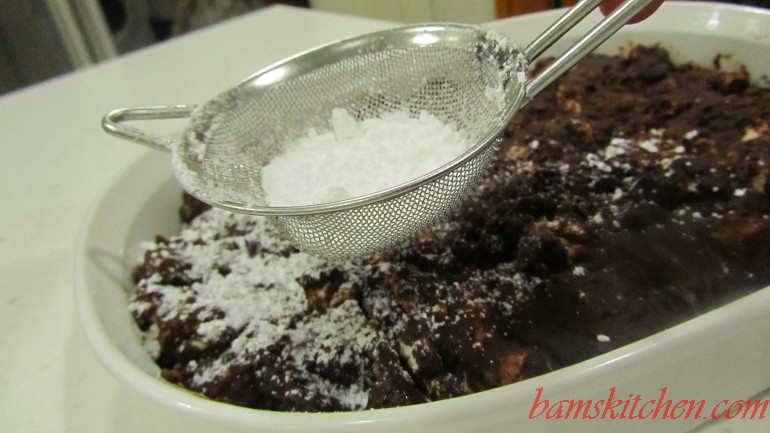 I must warn you right now these snowy chocolate bombs are addictive. As you take your first bite into the rich dark chocolate with crunchy biscuits and chewy marshmallows dusted with a light powdered sugar there is no going back. You will be hooked and they little snowy chocolate bombs will call out to you from the refrigerator. Have you ever watched any of Nigella Lawson's episodes on food TV where she gets up in the middle of the night to enjoy a little snack? I was caught red-handed in the act with powdered sugar on my nose and chocolate on my lips as one of my teenagers was on his way to the kitchen to get one or two of these little snowy chocolate bombs for himself. With a mouthful of moorish chocolate, I told him I was just getting up to get a glass of milk (to wash down my dessert- wink wink).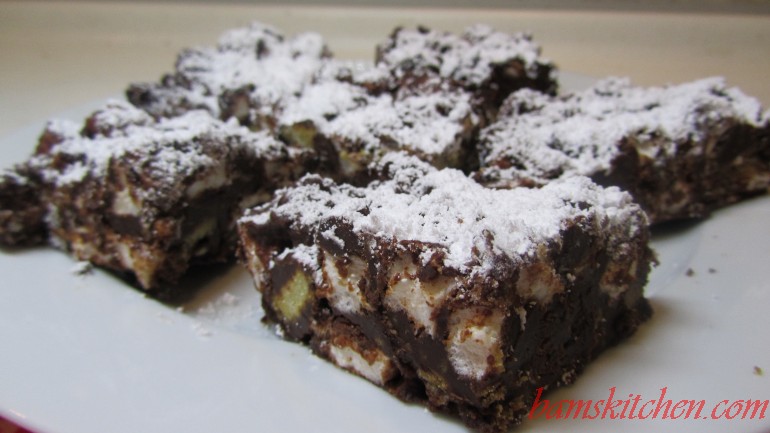 This is a great little bar or cookie dessert to make this holiday season. Snowy Chocolate bombs freeze well and took me less than 5 minutes to make. It is just completely and utterly crazy that something so simple to make can taste this decadent. Don't take my word for it, give it a go. Keep on reading to find out how to make this 5 minute snowy chocolate bomb wonder.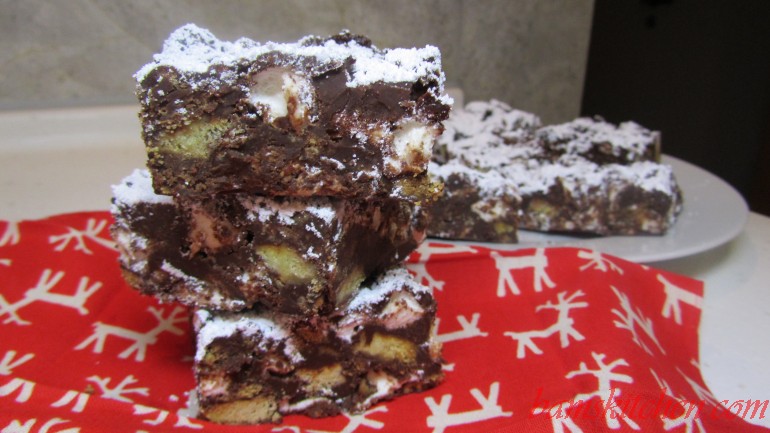 Snowy Chocolate Bombs
Adapted from Nigella Lawson's Rocky Road Crunch Bars in her book Nigella Express
Makes 24 squares or feeds 2 hungry teenagers
125 grams soft butter
300 grams of really good quality chocolate broken into pieces (at least 70% cocoa solids)
45 ml of golden syrup (I used Mrs. Butterworth's pancake syrup)
200 grams digestive biscuits (used the chocolate coated biscuits from Marc and Spencers but any kind of rich buttery tea biscuit will do)
100 grams of mini marshmallows
spray oil
2-3 teaspoons of icing sugar for garnishing
Step 1: In a microwave safe bowl add butter and chocolate and place in microwave in 15 second intervals, check on it and stir. Avoid all moisture as this will cause you chocolate to seize up. If your microwave has the option of cooking at 50% reduced heat, this is preferred. If your microwave does not have a turn table then set for short time intervals like 15 seconds and turn your bowl and stir and repeat process just until almost all of the chocolate starts to melt. The container that you heat your chocolate in still holds heat and will continue to melt the chocolate after you take it out of the microwave. This whole process took me less than 2 minutes.
Step 3: Add the golden syrup to the chocolate mixture and stir well. Take out about half of the chocolate mixture (about 125ml) and set aside for later use.
Step 4: Put your digestive biscuit (cookies) in a sealable zipper bag and just give it a few bashes with a spatula or your rolling-pin so that you have some big and little bits. (Do not pulverize the digestive biscuits as you want those crispy chunk texture when you bite into the bar)
Step 5: Fold the digestive biscuit crumbs and marshmallows into the chocolate mixture.
Step 6: Spray non stick cooking oil into about a 24 inch square pan. Pour the delicious chocolate biscuit and marshmallow mixture into the pan and try to flatten it out best you can with a spatula. Pour the remaining 125 ml of melted chocolate on top. (lick your chocolate fingers)
Step 7: Pop your Snowy chocolate bombs in the refrigerator and try to forget about the chocolate goodness for at least 2 hours or overnight while it has a chance to set up. (Write your letter to Santa, Busy your self with writing holiday cards, putting up decorations, getting some of that holiday shopping done, or maybe just pour your self of hot cocoa or something a little stronger and take some time to reflect)
Step 8: When you absolutely cannot stand the wait any longer, take the Chocolate bomb bars out of the refrigerator and dust with snow (icing sugar) and cut into about 24 bars.
Step 9: Enjoy these decadent little no fuss Snowy Chocolate Bombs during this holiday season or any time of the year when you want someone to feel special and happy.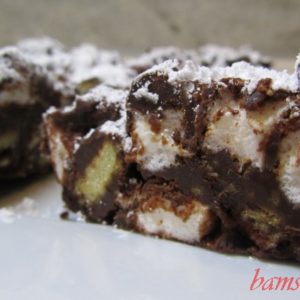 Ingredients
Chocolate -

marshmallows -

digestive biscuits -

golden syrup -

butter -