Seared tex-mex ahi tuna with a dollop of fresh creamy guacamole and a side of cheesy rice tamales makes the perfect way to celebrate Cinco De Mayo or any casual gathering.
It all started out with finding 2 perfectly ripe avocados at the market. That seriously never happens in Hong Kong. In addition, several weeks ago I purchased a bag of dried corn husks as I thought to myself I have always wanted to make the real traditional tamales from scratch but after several attempts to gathering the ingredients so far away from Mexico, I had given up all hope.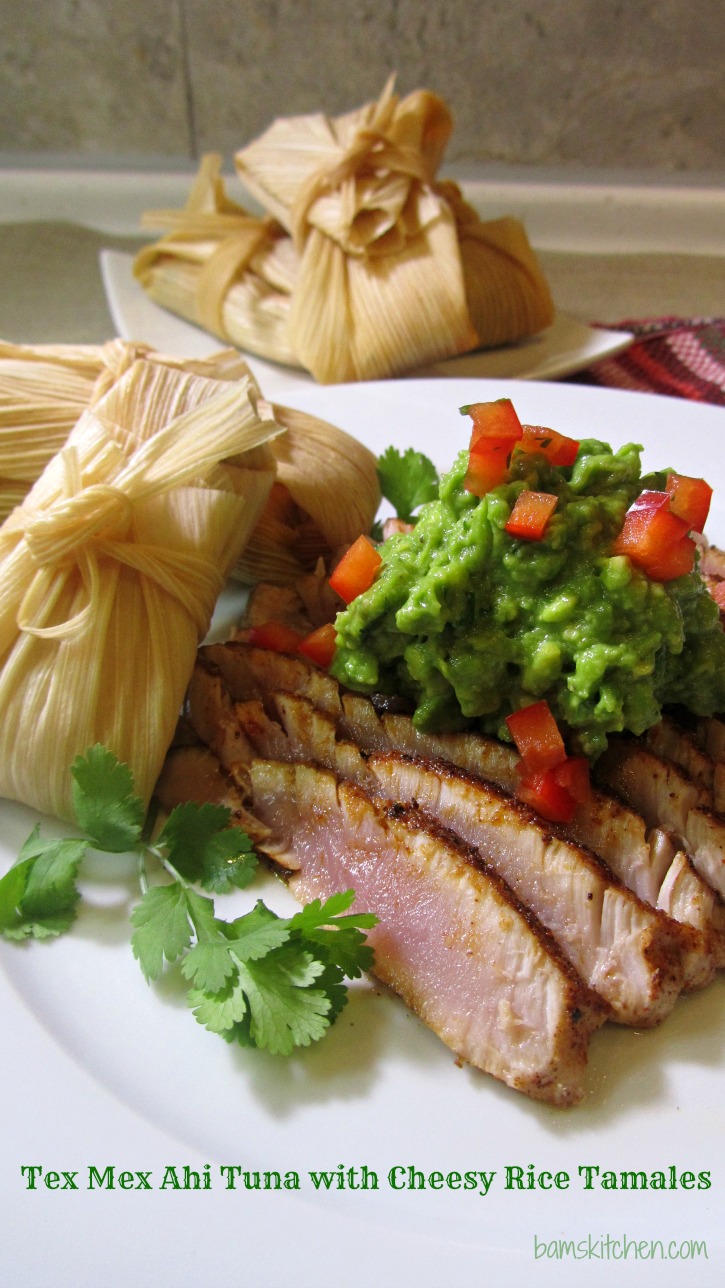 Until today...
I really did not have a plan when I started this recipe but I just closed the door to my kitchen and started to work in Bam's Test Kitchen. I love experimenting to create new recipe with the things I have on hand. Don't you? Sometimes our creations do not turn out as planned and other times like this one I could not have been more pleased.
I started out by making a rather traditional guacamole as I could not wait to get snacking on my guacamole whilst I worked on the rest of the dish. Well at least it was kind of traditional, except I had to swap out lemons for the limes. When you ask for limes in Hong Kong they bring you lemons and when you ask for lemons they bring you limes. Go figure! Lemons and limes are both tart and they reduce the oxidizing process of the avocados so why not give it a try.
I then just scratched my head as I looked at my dried corn husks soaking in some warm water. I knew my boys were not going to be real fond of the texture that a traditional tamale has with the cornmeal and the lard but I knew they would love the spice and the flavors of a traditional tamale. I opted to switch out the high fat lard with rice, spice and cheese and it was a big hit. I just love the sweet corn essence that the corn husks give to the filling when they are steamed.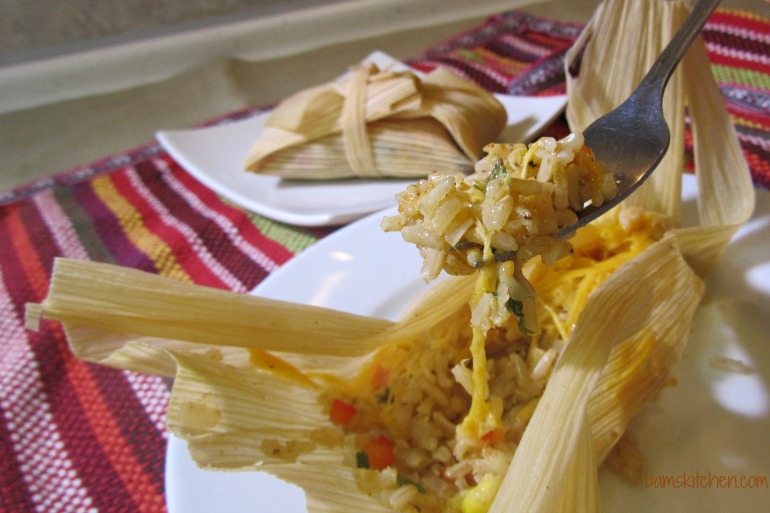 These cheesy rice tamales were a huge hit and even a huger hit the next day for lunch. I think these would be great at a party as you do not even need a plate to eat them and they can be made in advance, so that is a huge plus. If you can't find dried corn husks, save the fresh corn husks the next time you buy corn on the cob. If you use the fresh ones, it might even be easier as they are already soft and pliable and ready for action. The dried ones needed to be soaked in warm water for at least 1 hour to get soft and pliable and I had to keep rewarming the water every once in a while.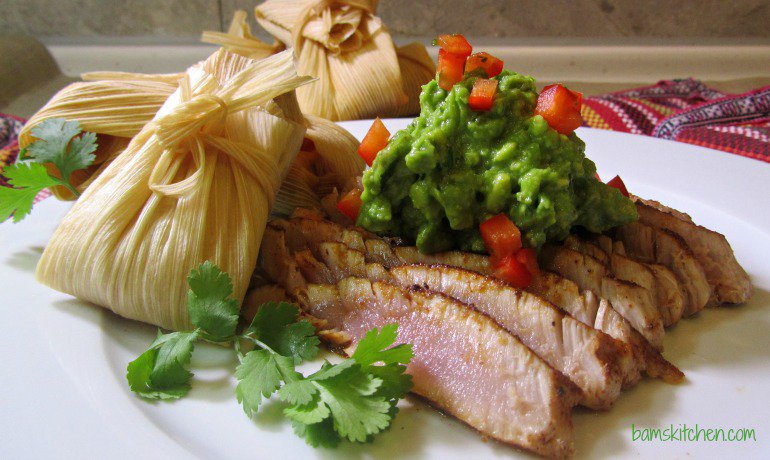 The next trick is to not overfill the husk. I repeat! Do not overfill the corn husks. I know you will be tempted to do that and then they will burst at the seams and you will lose style points.
It is important that you leave room to fold over length wise on both sides and then up at the ends. Then I cut up one pre-soaked corn husk lengthwise and tie a square knot to secure the husk in place. You can get all fancy and make bows or even shape yours into a peacock. Just checking to make sure you are all still with me here...You can also opt for the old fashion way of making a tamale with just using more than one husk and overlap. Whatever suits your fancy.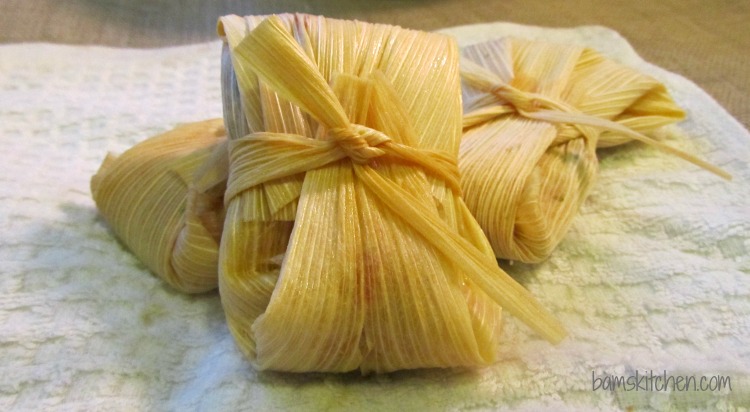 You can make a carload of these cheesy rice tamales as they are even great reheated the next day. I used a Chinese bamboo steamer as that is what I have but there is not need to for that. As long as you have a pot and some type of lid, you are good to go.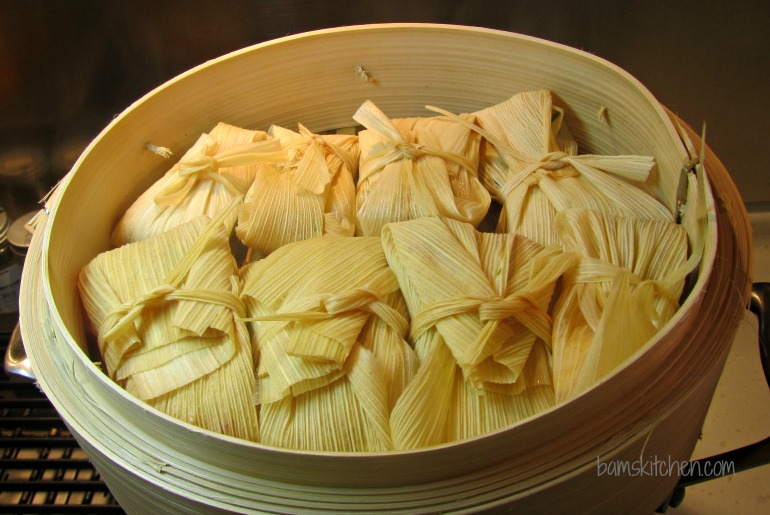 As you know I am always on the quest to find new ways to disguise fish for my teenagers. I have made grilled Cajun Blackened Cod with Tex-Mex seasoning that they loved and I have also shared my recipe for my Sesame Crusted Seared Tuna that is a huge hit in our home. Today, I mixed the 2 concepts and came up with a lovely Tex-Mex Seared ahi that was just to die for. Spicy, fresh and bold flavors mix with the creamy guacamole and it is a match made in heaven.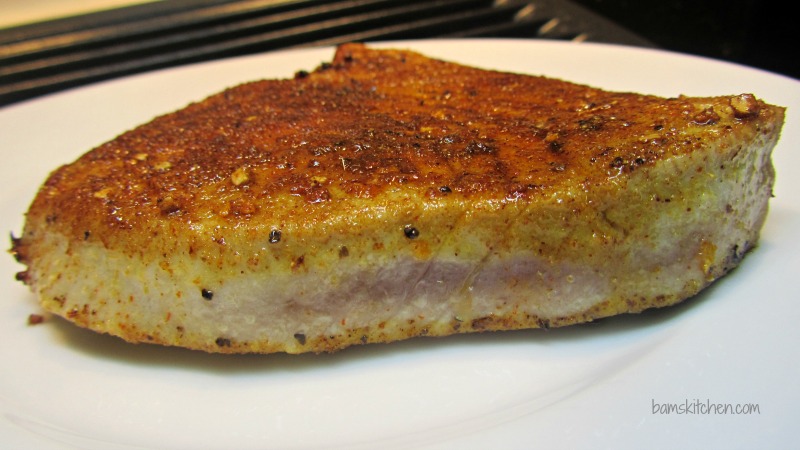 Making guacamole and seared ahi tuna can be on the table in about 20 minutes. However, making and wrapping the tamales is a little time consuming so please allow about 1 hours time if you wish to make the complete recipe. Wishing everyone a super week and if you are celebrating Cinco de Mayo wishing you and your family the best.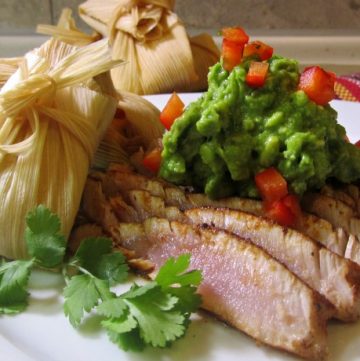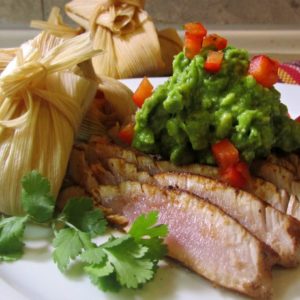 Tex Mex Ahi and Cheesy Rice Tamales
Seared tex-mex ahi tuna with a dollop of fresh creamy guacamole and a side of cheesy rice tamales.
Print
Pin
Rate
Ingredients
Cheesy Rice Tamales
corn husks - 14 large dried or fresh

canola oil - 1 tablespoon

onion - 1 chopped

red bell pepper - ¼ cup chopped (save extra for garnish)

green bell pepper - ¼ cup chopped

yellow bell pepper - ¼ cup chopped

rice - 2 cups cooked brown/white

taco seasoning - 2 teaspoons (or your own homemade version with chili powder, paprika, onion powder, sea salt, garlic powder, cumin, oregano, black pepper, cayenne pepper, and red pepper flakes)

corn - ½ cup cooked

cilantro - handful chopped (reserve some for garnish)

cheese - 1 cup grated (I used pepper jack as my boys like it spicy but can use a cheddar if you like it mild.)

cooking spray - coat each corn husk before adding filling
Guacamole
avocado - 2 whole

lemon juice - juice of one lemon/lime

onion - ⅛ cup finely chopped

garlic - 1 clove minced

cumin powder - 1 teaspoon

salt and pepper - to taste

cilantro - 1 tablespoon chopped
Tex Mex Ahi Tuna
tuna (sushi grade) - 4 fillets (about 1.5 pounds it depends on how big your tuna steaks are)

chili powder - 2-3 teaspoons or to taste- depending on how spicy you like it

cumin powder - 2-3 teaspoons

garlic powder - 1 teaspoon

pepper - 1 teaspoon

taco seasoning - 2 teaspoons (or your own homemade version with chili powder, paprika, onion powder, sea salt, garlic powder, cumin, oregano, black pepper, cayenne pepper, and red pepper flakes)

canola oil - 2 tablespoons ( or other light flavoured high heat tolerance oils as desired- do not use olive oil)
Instructions
Step 1) Soak dried corn husks in warm but not boiling water for about 45 minutes or until pliable. You may have to change your water half way though and replace with warm water to expedite the process.

Make the Tamale filling. In a wok or frying pan, add a little canola oil and add onions, yellow, red and green bell peppers and saute until slightly softened. Add the cooked rice, corn and taco seasoning and salt and pepper to taste. Stir fry until well incorporated and add cilantro and set aside.


Make the Guacamole: In a medium bowl, mash 2 ripe avocados. Add your lemon/lime juice, onion, garlic, cumin powder, salt and pepper and cilantro. Feel free to add jalapeno if you want a little spice. Set aside.


Assemble tamales. Take one softened corn husk and dry well. Spray with a little cooking spray on the inside of corn husk and place about one tablespoon of rice filling inside and sprinkle cheese on top of the rice. Fold each side of the tamale lengthwise and then fold each end over. Rip a lengthwise thin piece of corn husk off and use this to wrap and tie the tamale together. Repeat with the remaining tamales. It should make 12 tamales.

Steam tamales for about 10 minutes or just until the cheese is nice and melty. Set aside.

Season both sides of tuna steaks with tex mex seasoning. Preheat iron skillet with a little canola oil and sear both sides of the ahi tuna steak just for about 1 minute on each side or until you see 1-2 mm searing on both sides. You are looking for a pink center and a nice crusty edge on your tex mex ahi tuna steak.

Assembly: Cut your tex mex ahi tuna steaks into thin slices and arrange on your plate. Add a dollop of creamy guacamole on top and garnish with some chopped red bell peppers and cilantro. Add the cheesy rice tamales on to the plate and serve. Enjoy!
Nutrition