Sautéed Greens Breakfast Salad is a super easy, nourishing and packed with protein meal to keep you going all morning and afternoon long.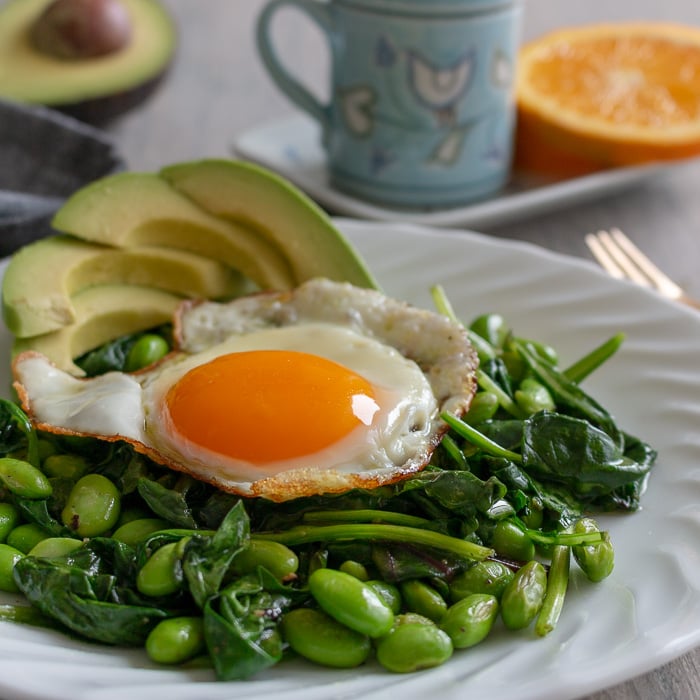 Sautéed Greens Breakfast Salad: the Breakfast of Champions
Mixed greens and edamame are sautéed with a little olive oil, drizzle of lemon juice and then topped with a perfectly fried sunny side up egg and served with a side of creamy avocado for a fulfilling breakfast, brunch or any time meal. That runny yolk steals the show as it makes the greens super rich and delicious. If you love a good drippy egg, you are going to love our Healthy Tex Mex Breakfast Bowls and our Baked Eggs in Toast.
Sautéed Greens Breakfast Salad is so easy that one does not really need a recipe. You can exchange anything or everything. The only requirement is that all your ingredients need a quick sauté and nothing is raw.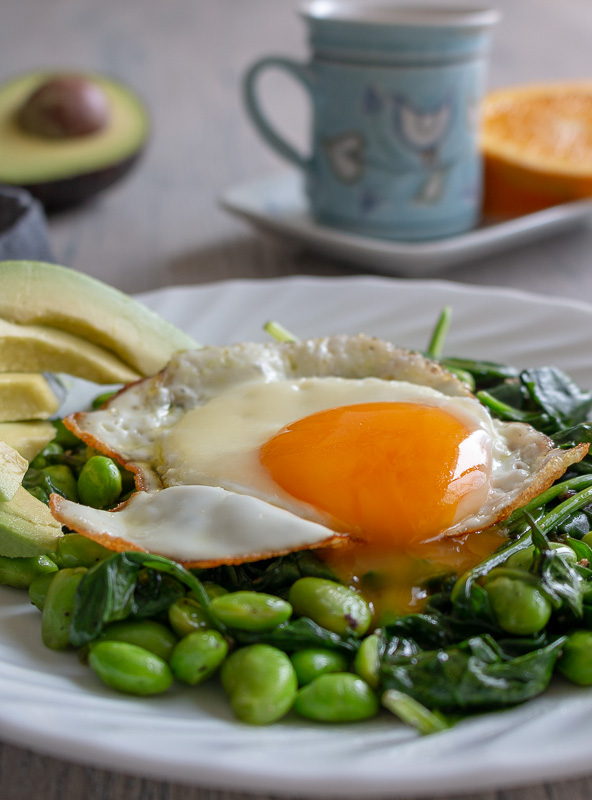 Feed Your Spleen Nourish your Body
You know we are not so big on cold raw breakfasts as these are really hard to digest. Uncooked, cold foods are hard on the spleen and this can cause your body not to be able to uptake the nourishment. Your gut is your power core to health and happiness. When your spleen is running like a well-maintained engine, you feel great. When you have failed to do the basic maintenance, you are going to start to have engine trouble and feel unwell. If you would like to learn more, check out our Feed Your Spleen: Nourish your body and Meal plans.
Mornings are rushed, crazy and everything in between so it needs to be super easy and ready in 5 minutes or less. We like to buy the organic mixed greens that are in a box/bag already pre-washed and ready to go. Our blend has fresh spinach, mizuna, chard and kale from Taylor Farms but use any assortment of mixed greens your little heart desires. You can even use frozen greens or fresh greens from your garden or even Spicy Stir fried Romaine lettuce.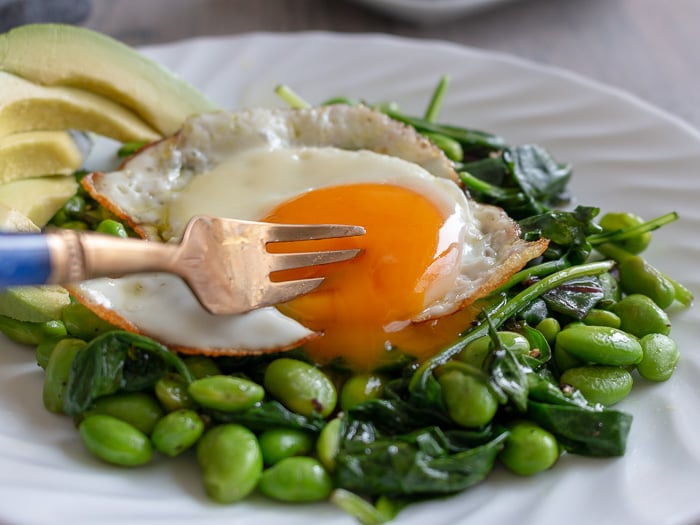 How do you like your eggs?
Do you like your eggs poached, scrambled, sunny side up or hard boiled? We love that drippy egg. In addition, we are pretty time crunched in the morning so we like to either make our eggs sunny side up in the same pan as the greens or scramble the eggs right in with the sautéed greens. Maybe you would like to eat more than one egg...Go for it.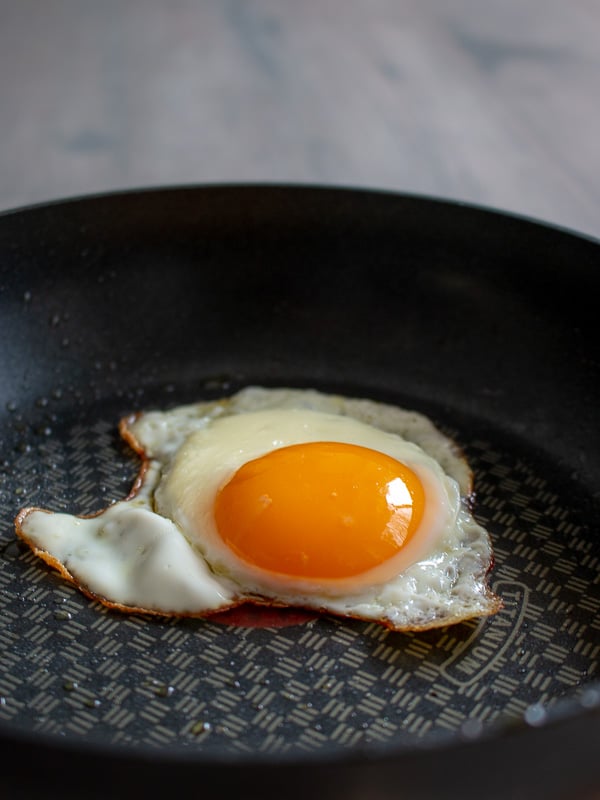 Additions and Substitutions are Endless…
Take a look at your crisper, and freezer and see what you need to use up. Great way to use all of those bits and bobs of veggies and proteins. We just happened to have some edamame beans but if you do not do well with soy, add some mushrooms or some leftover chicken or whatever you like. We also sometimes like to make a sunny side up egg to top our Turmeric Vegetable Medley. It is not required but we added a little fresh lemon juice and salt and pepper to the greens, and we were done. It gives your sautéed greens a lovely freshness.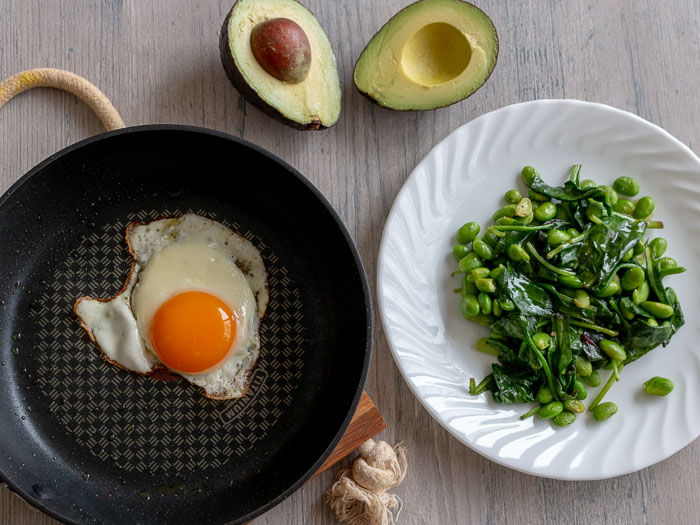 The First Meal of the Day
As you probably already know we are not the traditionalist when it comes to breakfast. We are not big on dried cereals, breads, muffins or smoothies. However, we do love savory breakfasts. Breakfast literally translates to when you "Break" your "Fast". It really does not matter what time of the day you do this, but it correlates to the first foods you eat after a period of not eating.
If you are working the midnight shift, your breakfast or first meal of the day could be at 2pm. We don't know about you, but if the first foods we eat of the day are extra nourishing and higher in protein it keeps us going longer and more satisfied and so much easier to digest. Sweet and cold things make us feel unwell and do not hold us more than an hour. A quick and high protein Sautéed Greens Breakfast Salad keeps us going all morning long.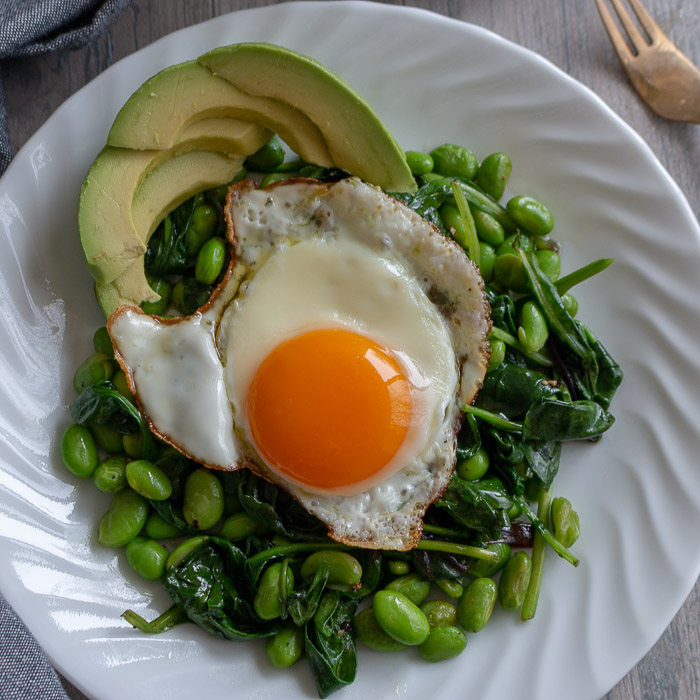 Breakfast Ideas of a Champion
If you're doing the keto diet, our Sautéed Asparagus and Mushrooms with Poached Eggs is going to rock your world.
Our low carb cloud bread with a dollop of roasted pumpkin seed butter is a great one for rushed breakfasts out the door.
In the spring time on the weekends, we enjoy a leisure morning with a Stove Top Parmesan Leek Frittata
If you are looking for a vegan option, be sure to try our Spicy Tofu Scramble .
A warm and nourishing breakfast you can even drink on the way to work Easy Spiced Golden Milk. It is dairy free, vegan and filled with anti-oxidants and anti- inflammatory properties to start you off on the right foot.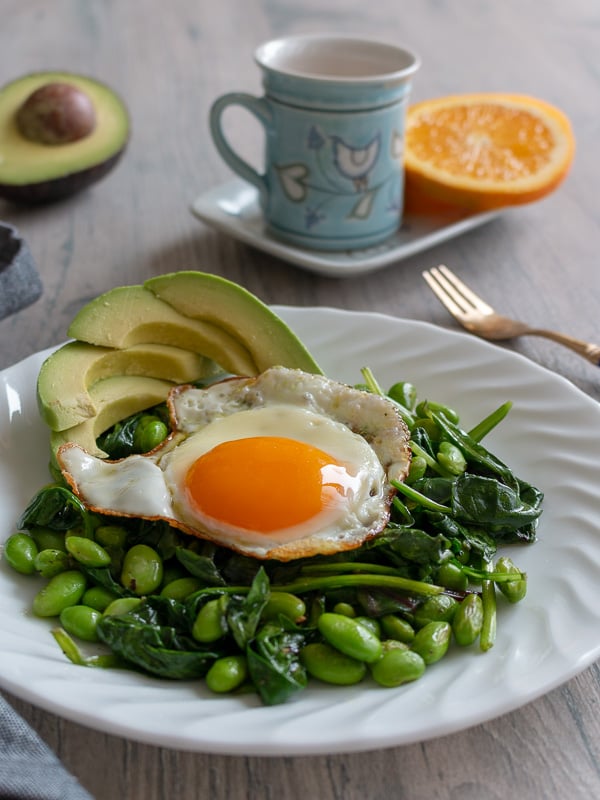 How to make the perfect Sunny Side Up for your Sautéed Greens Breakfast Salad
Heat your skillet with oil over medium heat
Carefully crack you egg into the center of the pan and cover with a lid for just about 2 minutes or until the egg whites are white, but the egg yolk is still runny.
We add our mixed greens around the sides and cook for about 30 seconds longer and you are good to go. You will have crispy edges around the egg white and a runny yolk.
If you like your eggs over easy, carefully flip over your egg in the pan for the last 30 seconds.
Use a good organic free range egg. We love Happy eggs. They must be very happy chickens indeed that can roam free as look at how golden the egg yolk is. We have not seen egg this beautiful since living in Japan.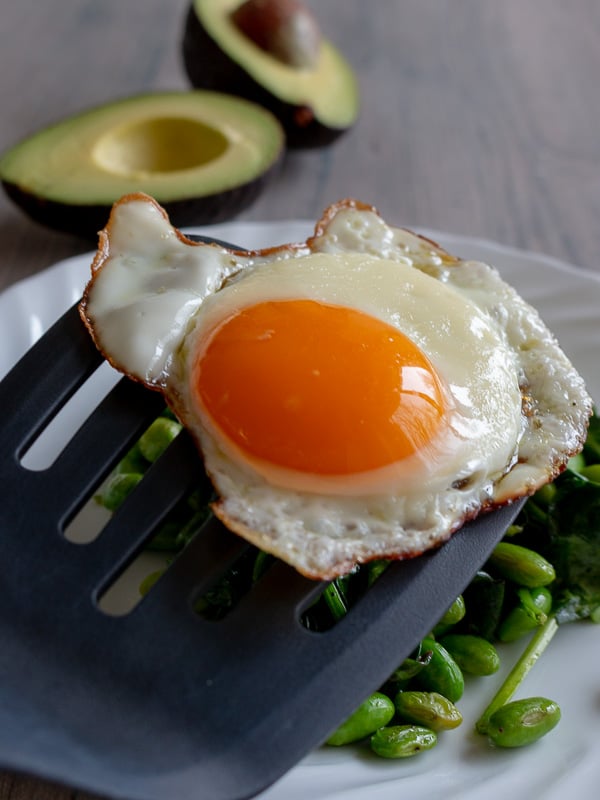 Fun Facts about Japan's Eggs
In Japan, they also free range their chickens and there is no salmonella in Japan. The yolks are golden orange and the peel is tougher to crack than the usual hormone grain fed US chicken egg. Japan actually store eggs in the stores at room temperature. Really! That was shocking for us too. They even serve chicken shashimi style or just a quick sear on a yakatori grill with a pink center. We were not that brave to try that, but everyone loves it and there are not cases of salmonella, like in the US. In addition, they only have 10 eggs instead of a dozen in a package like in the US. In Japan, it is common to eat raw egg, (tamagokake-gohan) as a dipping sauce for sukiyaki and such. We have made a fun video on how to make Japanese Egg Roll Tomago-yaki a fun Japanese treat and hope you give it a try one day.
Our Favorite Grab and Go Breakfast Recipes
Toasted Almond and Date Lara Bars
Hungry For More? Subscribe to our Newsletter and follow along on Facebook, You Tube, Instagram, and Pinterest for all the latest updates.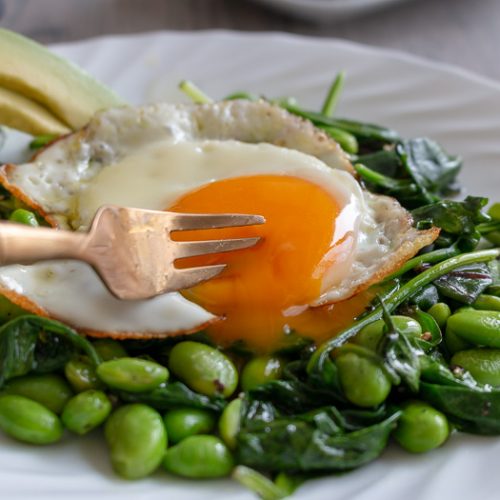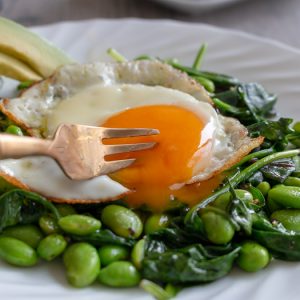 Sautéed Greens Breakfast Salad
Sautéed Greens Breakfast Salad is a super easy, nourishing and packed with protein meal to keep you going all morning and afternoon long.
Print
Pin
Rate
Ingredients
1

tablespoon

Olive oil


1.5

cups

Mixed greens


(spinach, kale, etc)

¼

cup

Edamame beans


shelled and cooked

1

Egg

Salt and pepper


to taste

¼

avocado


peeled and sliced on the side (optional) - do not cook

1

teaspoon

Lemon

or a little squeeze to taste (optional)
Instructions
Add olive oil to your frying pan and heat to medium heat. Crack open your egg carefully to keep the egg yolk intact and fry egg. Put the lid on for about 2 minutes. (covering with a lid will make your egg yolks have a slightly white coating on the yolk) If you like your egg yolk bright and yellow then just cook about 3 minutes without a lid or until the egg whites are set.

Once the egg white is white in color add your raw mixed greens and edamame beans to the pan. Season to taste and add a drizzle more olive oil to prevent sticking and cook for about 30 seconds or until the greens wilt.

Carefully add your sautéed greens to your plate. Drizzle with a little fresh lemon juice if desired and top with your perfectly cooked sunny side egg and enjoy. We like to serve ours with avocado slices too.
Notes
Feel free to add more than one egg. You can scramble, poach, do your eggs easy over or even hard boil them.
We just love the runny yolk of a sunny side yolk on the sautéed greens.
Feel free to use any fresh greens you have on hand or any vegetables you would like to add. Mushrooms are also delicious.
We love serving our Sautéed Greens Breakfast Salad with a little creamy avocado on the side and a squeeze of fresh lemon but these are optional.
Nutrition
Serving:
1
g
|
Calories:
325
kcal
|
Carbohydrates:
11
g
|
Protein:
12
g
|
Fat:
28
g
|
Saturated Fat:
5
g
|
Cholesterol:
164
mg
|
Sodium:
84
mg
|
Potassium:
577
mg
|
Fiber:
5
g
|
Sugar:
1
g
|
Vitamin A:
993
IU
|
Vitamin C:
24
mg
|
Calcium:
49
mg
|
Iron:
2
mg