Stove Top Parmesan Leek Frittata is a super easy breakfast, brunch or anytime dish filled with seasonal spring vegetables, Parmesan cheese and served with a dollop of fresh basil pesto.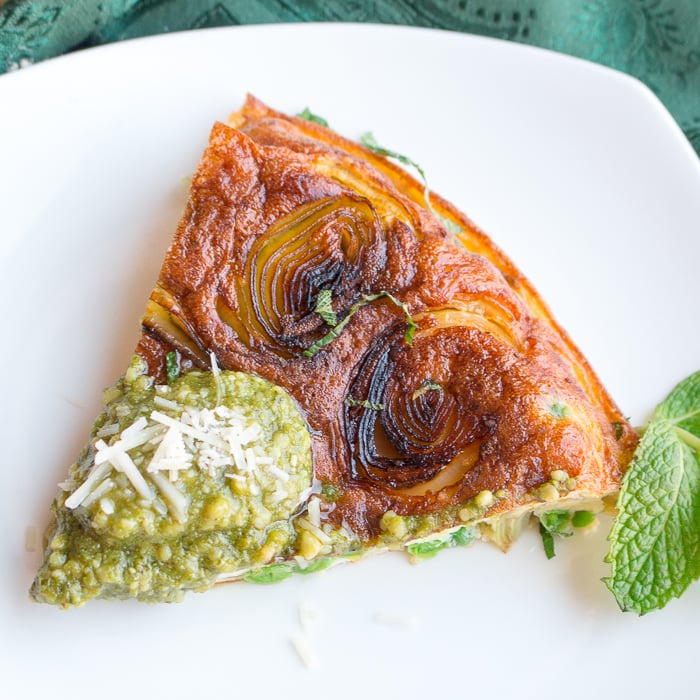 You are going to love this versatile Stove Top Parmesan Leek Frittata as it is an under 30 minute, no oven needed, use the vegetables you have on hand kind of recipe.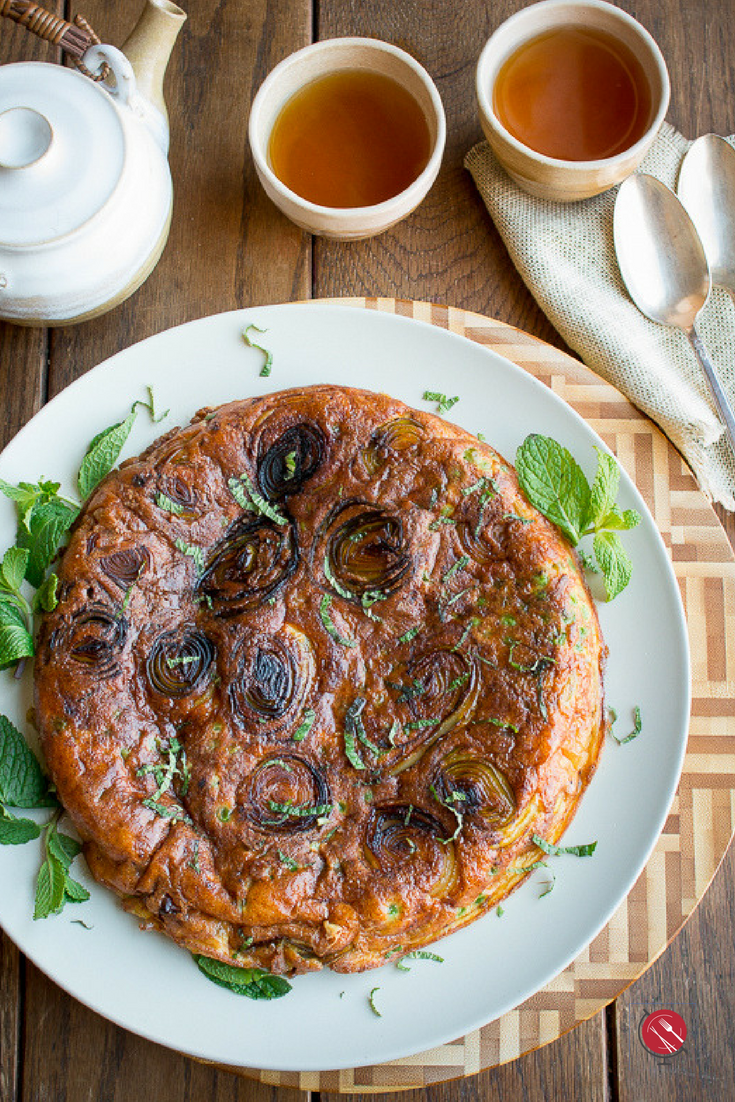 What's to Love
Brunch like a Boss
There is nothing more inviting than a leisurely brunch, with endless cups of caffeine, fresh fruit and a slice or 2 of this easy Stove Top Parmesan Leek Frittata to get the party started.
If you are looking for some other delicious breakfast ideas, be sure to try our Feta Egg Rollups, Healthy Vegan Matcha Pancakes, Blackberry Lemon Drop Biscuits, Top Breakfast and Brunch Recipes, Italian Scrambled Eggs and here is our breakfast category list to get you started.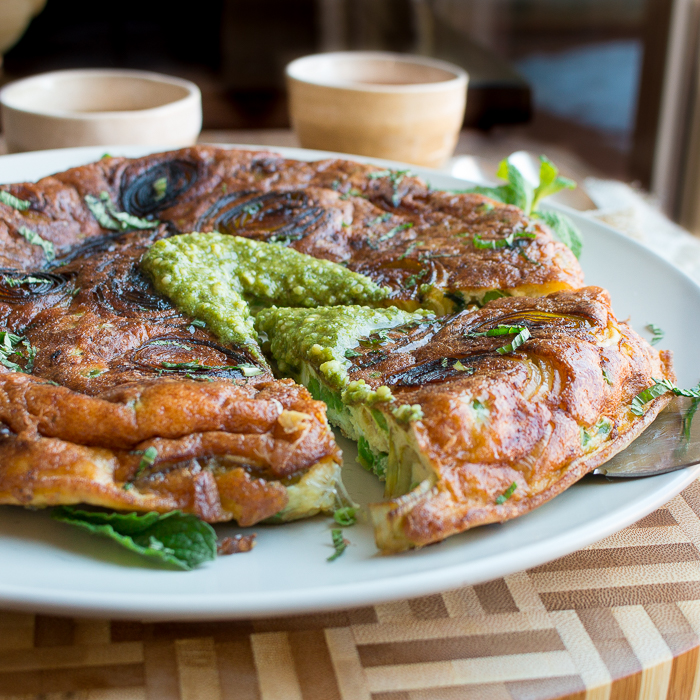 Love eating seasonally
How about you? Currently, leeks, fresh peas, asparagus, artichokes, spinach, radishes, strawberries, swiss chard, ramps and so many others are in season and are at their peak. We just happened to have fresh organic leeks in our crisper and frozen peas around but really feel free to use any veggies you like.
However, we must admit that the addition of leeks really makes this Stove Top Parmesan Leek Frittata extra naturally sweet and savory and give the dish the very cool design. If you want to go low carb exchange asparagus for the peas or maybe add in mushrooms.
How to Prepare Leeks?
Leeks have a mild onion like taste when cooked and the white section of the leek is more tender than the green stalk of the leek. We love them as they keep a slight little tender crunch in the dish.
However, they must be cleaned very well as dirt can be found between each layer of the leek. The best way, we have found, to clean a leek is to cut it lengthwise but only half way through. This was you can rinse each layer and then reassemble them before slicing them.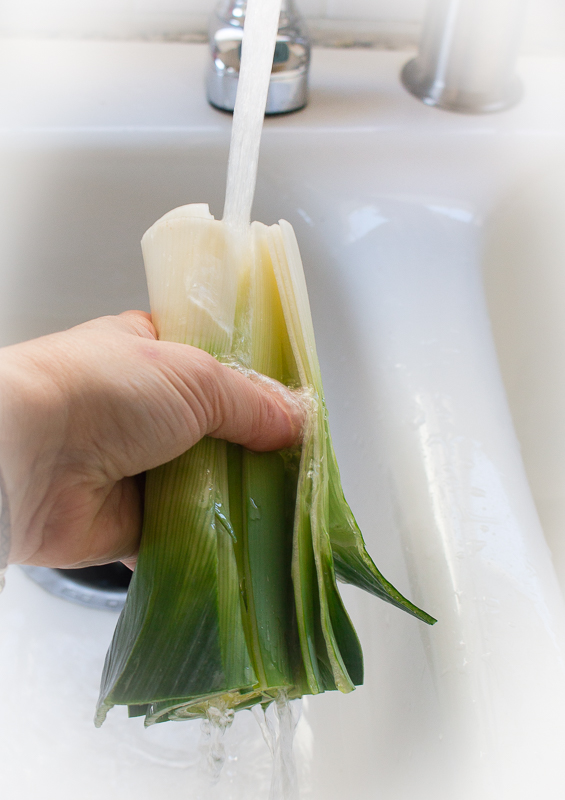 We almost treated this frittata like a Spanish Tortilla. Sometimes the whole firing up the oven feels like a chore. Instead of starting the Breakfast Frittata on the stove top and fishing it in the oven, we chose to flip over the frittata in the pan about ⅔ the way through the cooking process.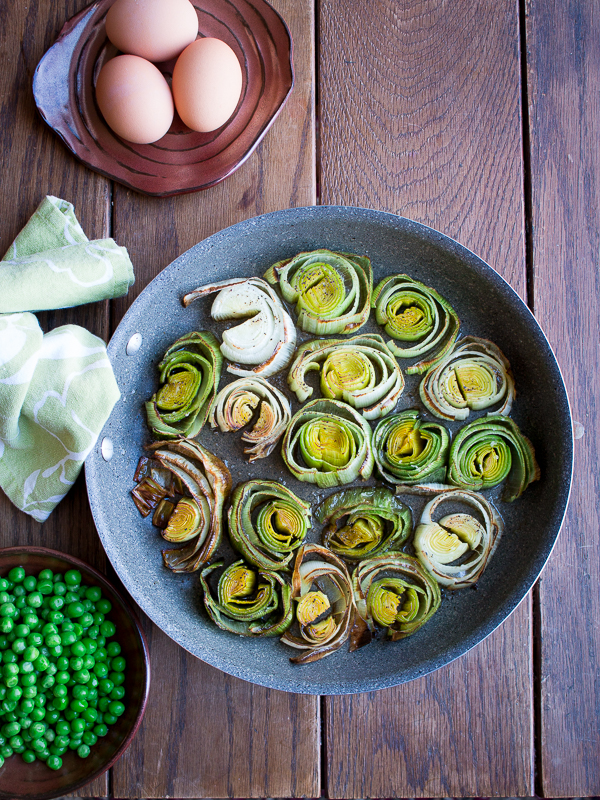 You Can Do It!
Don't worry it is not as hard as it sounds. You are not going to be doing any fancy cooking moves or acrobatics. All you need is a plate about the same size or a little large than your pan, invert it onto the plate and then slide it back into the pan with the cooked side up. You can do it. We have confidence in you. Using a non-stick pan and sufficient olive oil is key to success.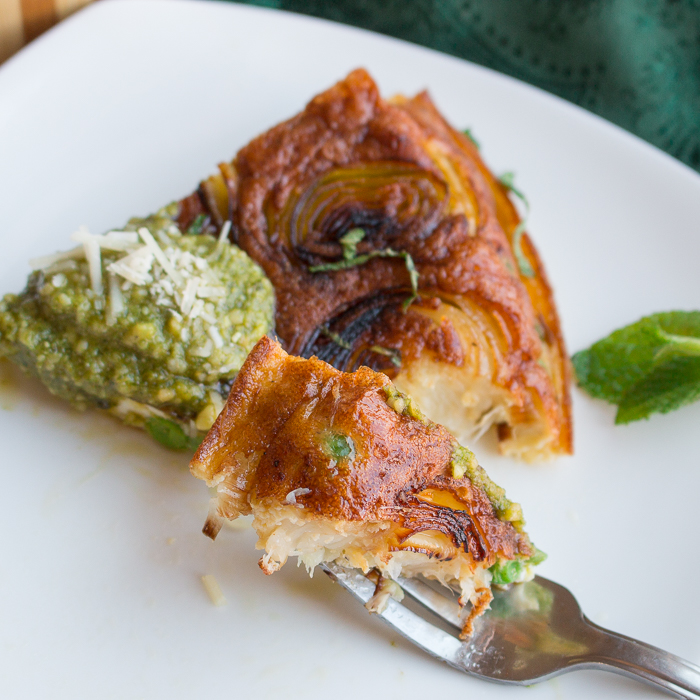 We love our Stove Top Parmesan Leek Frittata. It is so rich and delicious so we added a little cream to the eggs, parmesan cheese and a little dollop of basil pesto to serve. Truly decadent vegetarian and gluten-free recipe!
Delicious Breakfast and Brunch Ideas
Top Breakfast and Brunch Ideas
Cowboy Cackleberry and Wrangler Salsa
Grab and Go Chai Breakfast Biscuits
Did You Like Our Recipe? Leave a ⭐⭐⭐⭐⭐ rating and/or a review in the comments section below. Your feedback is always appreciated! Follow us for more delicious recipes on Pinterest, Instagram, Twitter and Facebook! Don't forget to sign up for our email list for more free recipes.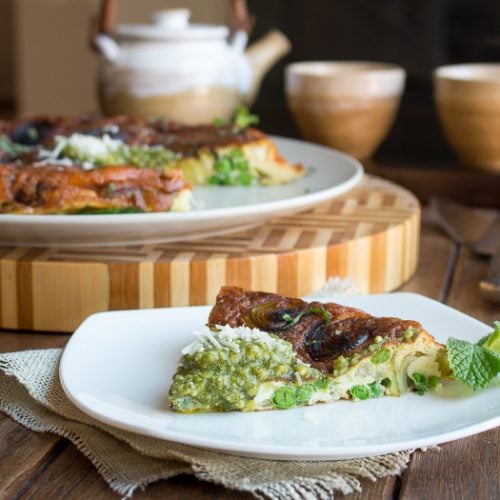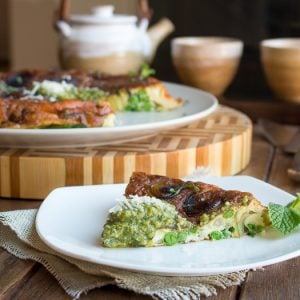 Stove Top Parmesan Leek Frittata
Stove Top Parmesan Leek Frittata is a super easy breakfast, brunch or anytime dish filled with seasonal spring vegetables, Parmesan cheese and served with a dollop of fresh basil pesto.
Print
Pin
Rate
Ingredients
2

tablespoon

Olive oil


extra required, midway in the process.

2

Leeks


white parts only cut into ¼ inch slices (enough to cover the bottom of your skillet)

10 inch skillet


(27 cm)

8

eggs


beaten

½

cup

cream

(or non-dairy milk of choice)

salt and pepper


to taste

⅓

cup

parmesan cheese


grated

½

cup

peas


thawed (previously frozen or use fresh cooked spring peas)

basil pesto

optional (to garnish)
Instructions
In a 10 inch (or 27 cm) non-stick skillet add olive oil and make sure you spread it all over the bottom and sides of the pan.

To clean the leeks very well, you must first cut the leek vertically through the first half (NOT all the way through) so that you can rinse out each layer under water to get out the sand and dirt. Rinse at least twice well. Tidy up the leek so that it is back into a cylinder shape. Next cut the leek in ¼ slices. Place the leeks on the bottom of the pan all touching so that the whole bottom is covered.

Cook the leeks over a medium low heat for about 5 minutes until the leek is slightly browned on the bottom and it is halfway tender.

In a large bowl whisk eggs, cream, salt and pepper and parmesan cheese. Carefully and slowly pour the egg mixture on top of the cooked leeks. Sprinkle your peas over the egg mixture. Place a lid over the top of your skillet and allow to cook over low medium heat until the egg mixture is cooked about 70-80% of the way done. About 5 – 7 minutes.

Next take a plate bigger than the diameter of your skillet and place on top of your skillet. Invert your skillet and carefully place the 80 % cooked egg mixture on the plate. Remove the skillet. The cooked size of the egg should now be on the top and the raw side should be on the bottom of the plate. Add a little more oil to coat all sides of your skillet.

Place the egg mixture raw side down, cooked side up in the pan and cook for about 1-2 minutes more.

Carefully slide out your Stove Top Parmesan Leek Frittata on to a serving platter. Garnish with basil pesto and freshly grated parmesan cheese as desired.

Enjoy!
Notes
Please feel free to substitute with any vegetables you desire. In addition, mushrooms are a lovely addition and so are asparagus.
Nutrition
Serving:
1
g
|
Calories:
182
kcal
|
Carbohydrates:
5
g
|
Protein:
8
g
|
Fat:
14
g
|
Saturated Fat:
6
g
|
Cholesterol:
187
mg
|
Sodium:
140
mg
|
Potassium:
134
mg
|
Fiber:
1
g
|
Sugar:
2
g
|
Vitamin A:
929
IU
|
Vitamin C:
6
mg
|
Calcium:
99
mg
|
Iron:
1
mg