Healthy Pumpkin Muffins are moist, delicately sweetened with date paste and a pumpkin spice aroma that is out of this world. Naturally refined sugar free and dairy free too!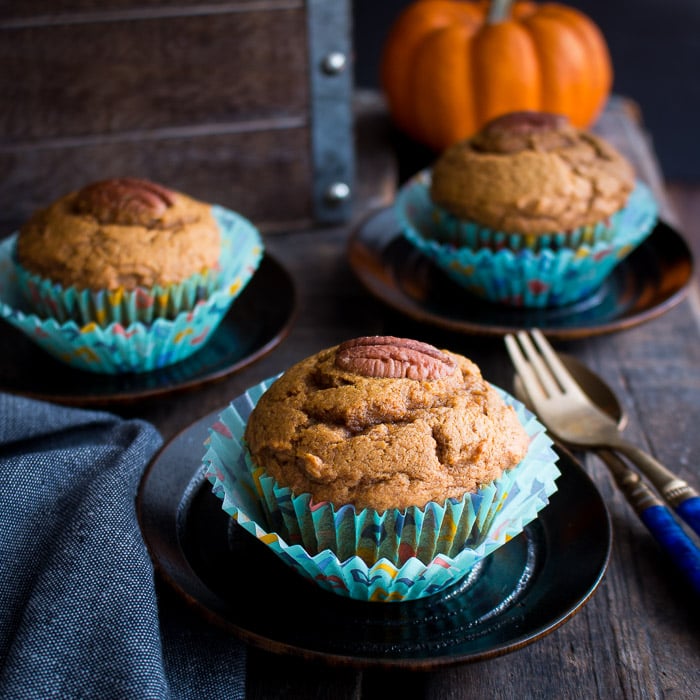 Jump to:
Recipe Testing
Have you been to the pumpkin patch yet? The closest thing we have been to a pumpkin patch is isle 7 in the local grocery store. Incidentally, we have been hoarding all their canned pumpkin puree so we could test our healthy pumpkin muffin recipe. We have made them a couple of different ways to give you some options depending on what your family likes.
These Healthy Pumpkin Muffins have been delicious for breakfast, lunch, dinner and snacks and everything in between. We are currently on a Healthy Pumpkin Muffin Recipe and Instant Pot Apple Cider diet until these are gone or we find a little space in the freezer. Certainly, we will be a little sad when the pumpkin spice season ends. However, until then, bring it on!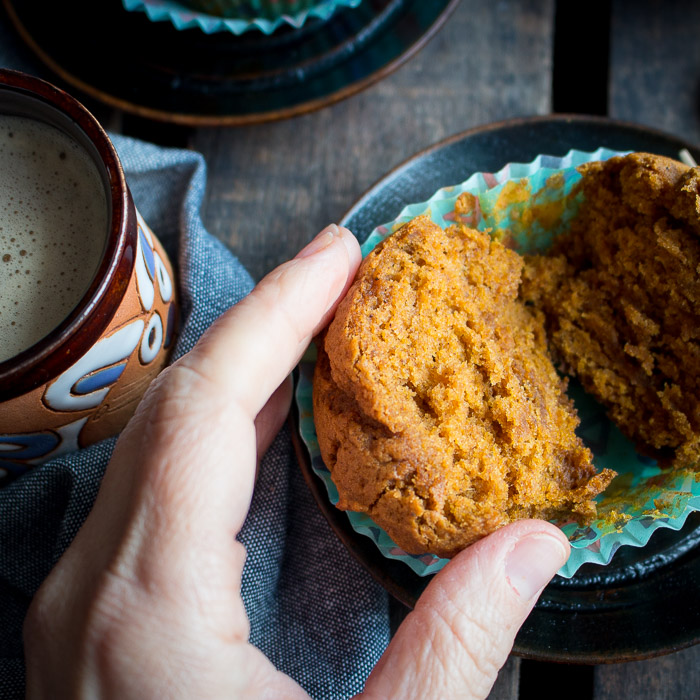 Muffin Testing
Our clean-up crew (doggie) also loves Healthy Pumpkin Muffins. He has a little spring in his step and tail wags when the oven beeps and the muffins are done baking. It is a very good thing that we made these healthy as he has been eating his fair share.
We have been baking up a storm here at Healthy World Cuisine testing out a million different ways to make healthy pumpkin muffins. There are by ways when you try to push the boarders of healthy, you can go too far. Hence, testing is imperative.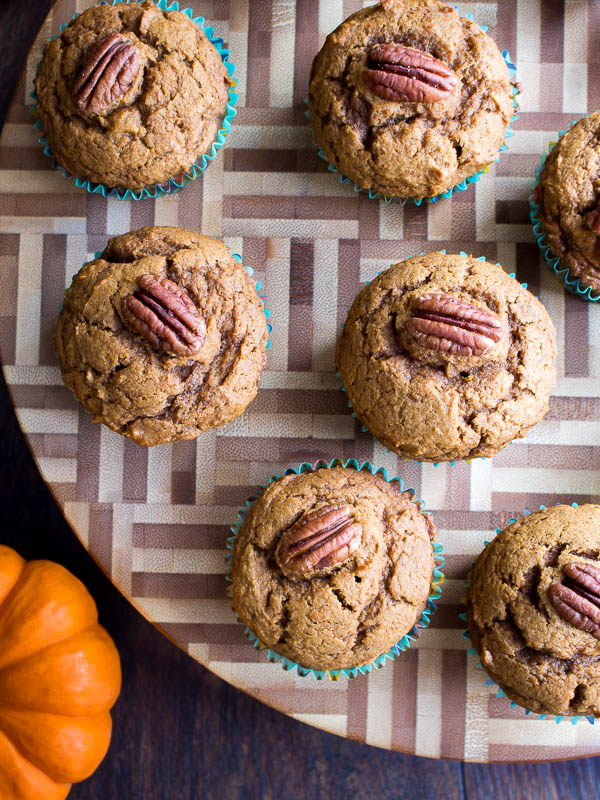 No Refined Sugar
You know that granulated sugar gets a bad rap. Granulated sugar spikes your blood glucose which in turn can cause many health issues. Dates are a natural sweetener. Medjool dates have a lower glycemic index which is about half of that of sugar or brown sugar.
Whether you add in brown sugar, dates, honey, maple syrup to your recipes, they all eventually breakdown to glucose so everything in moderation. However, it is the post glucose spike that differs between these sweetening agents. Dates have lower glucose spike compared to high glycemic granulated sugar.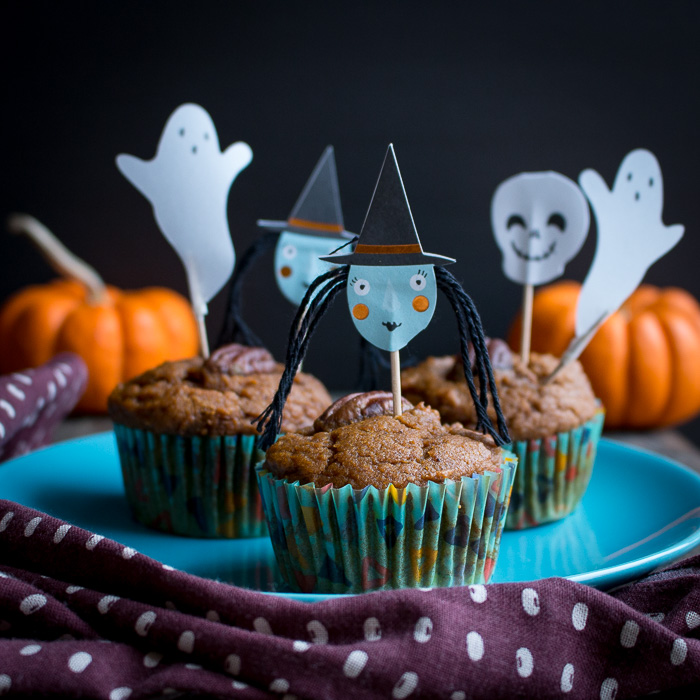 Everything you wanted to know about DATES
Dates are high in iron, fiber, potassium and magnesium. We love dates because they are delicious. Date paste can be substituted for granulated and brown sugar in baking recipes in a 1:1 ratio. For example, use 1 cup of date paste in exchange for 1 cup oil or butter. However, the amount of oil or butter must also be considered as date paste ALSO is a great substitution for oil. Win-Win situation!
Our Toasted Almond and Date Lara Bars are made with only 2 ingredients. If you love dates, you will love this recipe. Our cranberry spiced holiday balls are fun treats around the holidays. For a lightly sweetened bread recipe, be sure to try our Chinese Red Date bread. A crowd pleasing holiday gluten free and lower sugar recipe is our Cranfusion Red Ruby Gem Muffins .
Have you ever made date paste? Medjool dates are pureed with a little hot water until they are combined into a paste that resembles a date butter. Sometimes, you can also find date paste already prepared at your local grocery store. Just one thing to note, ounce for ounce date paste is heavier than oil or butter. Therefore, your muffins will weigh a little more than their butter made counterparts.
For example, the standard muffins made with butter and brown sugar weigh approximately 65 grams per muffin. However, healthy pumpkin muffins made with dates weigh about 69 grams per muffin.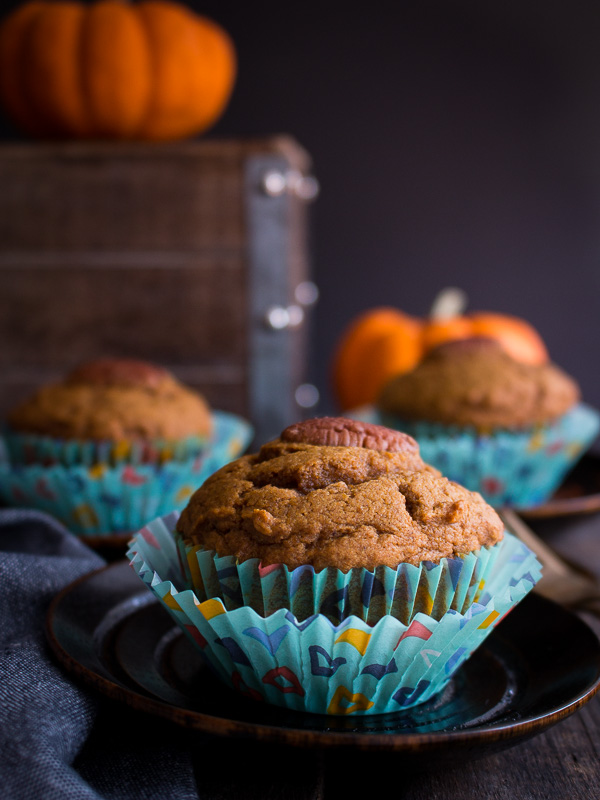 Alternative Options
If you don't have dates or don't want to use date paste, no worries. We have you covered. In the recipe directions below, we have included steps for those that want a lighter healthy pumpkin muffin but want to use butter and brown sugar. Baby steps to being healthy. If you can't give up sugar all the way, this is at least a little less sweet than your standard muffin recipes.
There is a just a slight difference in color between the Healthy Pumpkin Muffins made with dates and those with brown sugar. The ones made with dates are little more orange and bright in color compared to the dark brown sugar muffins. However, both are really delicious.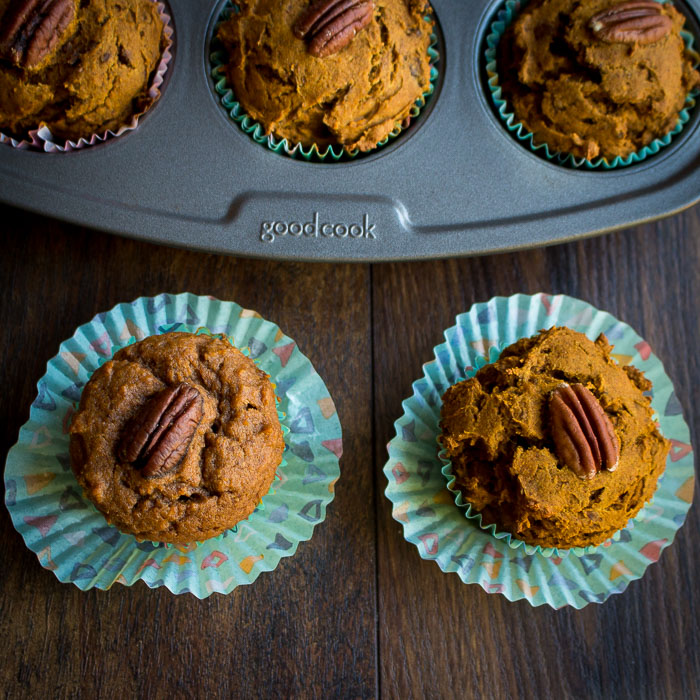 Muffins vs Bread
This Healthy Pumpkin muffin recipe can easily be made into a breakfast bread instead of muffins if you like. However, the baking time will be greatly increased from just about 18 – 22 minutes to 60 minutes in the oven. If you make these muffins you can be done in 30 minutes. If you decide to make a muffin loaf bread, then plan on 70 minutes. 10 minutes devoted to prep and the rest is inactive baking time. This recipe makes either makes 15 regular sized healthy pumpkin muffins or 12 huge pumpkin muffins. As we have only 1 muffin pan we opted for the huge muffins and they are perfect.
Fun Additions
We love studding our Healthy Pumpkin Muffins with pecan halves. Love that little crunch but that is totally optional. Fun add ins are raisins, chopped dates, chocolate chips, goji berries and pepitas seeds.
More Delicious Breads and Muffins
Cranfusion Red Ruby Gem Muffins
Almost Diet Nutella Banana Bread
Hong Zao Bread (Chinese Red Dates)
Hungry For More? Subscribe to our Newsletter and follow along on Facebook, You Tube, Instagram, and Pinterest for all the latest updates.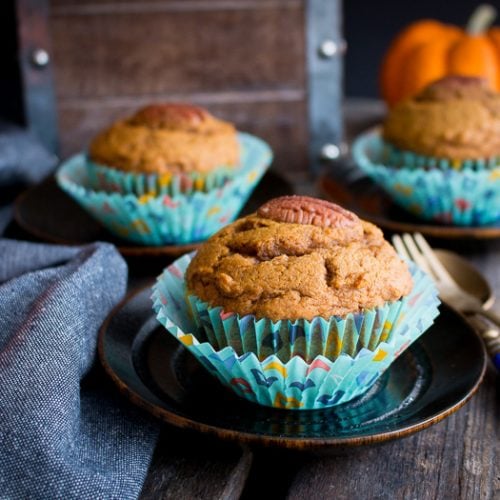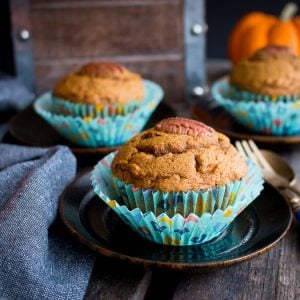 Healthy Pumpkin Muffins (Dairy Free and Sugar Free)
Healthy Pumpkin Muffins are moist, delicately sweetened with date paste and a pumpkin spice aroma that is out of this world. Naturally refined sugar free and dairy free too!
Print
Pin
Rate
Ingredients
Healthy Pumpkins Muffins with DATES
Spray oil

to prevent muffins from sticking to muffin cup liners

2

cups

All purpose flour


½

teaspoon

Salt


1

teaspoon

Baking soda


½

teaspoon

Baking powder


2

teaspoon

cinnamon


ground

1

teaspoon

Nutmeg

ground

¼

teaspoon

Clove

ground

¾

cup

Date paste (¾ cup seedless packed medjools dates with ½ cup hot water and pureed)


2

tablespoon

Coconut oil


melted

2

Eggs


15

oz

Pumpkin puree


plain (without spices and sugar)- 100% pure pumpkin in a can

¼

cup

dates

chopped - optional

12

Pecans


whole unsalted - optional
Substitution OPTIONS if you want to use dark Brown Sugar and Butter (ONLY Use as exchange for NOT using date paste)
¾

cup

butter


1

cup

dark brown sugar


packed (if you like your muffins sweet, then increase up to 1.5 cups brown sugar.)

Do NOT Add coconut oil or dates if using the brown sugar and butter method
Instructions
Preheat over to 350 F or 176 degrees C. Prepare your muffin tins with muffin cup liners and spray each muffin liner with a little oil spray.

Make Date paste- Check our recipe for details https://www.hwcmagazine.com/recipe/how-to-make-date-paste/ . If you plan on using prepared date paste or brown sugar, you can skip this step.

Mix dry flour mixture: In a medium bowl combine flour, salt, baking soda, baking powder, cinnamon, nutmeg, cloves and mix well. Set aside.

In your mixer, add your date paste and melted coconut oil and mix together, will be clumped together but do not worry. Next add your eggs one at a time to the mixer and blend. Blend until the mixture is lighter in color and the dates are streaked through. Add your pumpkin puree and mix until blended.

Next add about ⅓ of the dry flour mixture at a time and mix on slow. Finish up with adding the rest of the flour mixture and add any adds ins as desired. We added in an additional ¼ cup chopped dates. You may wish to add raisins, goji berries, chocolate chips or whatever your little heart desires. Your batter will be very thick.

Spoon your healthy pumpkin muffins mixture into each of the prepared muffin cups. Smooth out a little bit with a butter knife. Press a pecan on top each of the muffins. Bake between 18 to 22 minutes or until a toothpick comes out clean.


Enjoy! (Store in a sealed container either at room temperature or in the refrigerator up to 3 Days, can freeze up to 3 months)
Notes
Chef Notes: If you do NOT want to use date paste, then simply replace the ¾ cups date paste with ¾ cup softened butter (1.5 sticks) and add 1 cup packed DARK brown sugar. Do not add the coconut oil. If you like your muffins more on the sweet side add 1.5 cups brown sugar instead of 1 cup sugar. 1 cup of sugar is not very sweet but we like to keep the sugar level down.
GLUTEN FREE OPTIONS: If you want to make these muffins gluten free then swap with gluten-free flour but please note they will be a little denser.
VEGAN OPTIONS: You can also make this recipe vegan by swapping out eggs with 1 tablespoon of ground flax seed with 3 tablespoons of water and allow to sit for 5 minutes. This ratio is for 1 egg and this recipe requires 2 eggs, so you need to double that. Also, please note that this change of flax and water for the eggs will also make your muffins a little heavier.
BREAKFAST BREAD OPTION: If you want to make a bread loaf instead of individual muffins, this recipe will make 2 small loaves. You need to first spray your loaf pans with spray oil. Next spread your batter into the loaf pan and bake for 55 - 60 minutes or until a toothpick comes out clean.
LOWER SUGAR OPTION: If you do not have date paste or do not want to use date paste, you can replace the date paste with 1.5 sticks of butter (¾ cup) and 1 cup packed dark brown sugar. Hold the coconut oil. You will first beat the butter and sugar together, then add the eggs, and follow the rest of the recipe as written, except HOLD the coconut oil. These muffins are also just delicately sweet but are no longer dairy free.
Nutrition
Serving:
1
g
|
Calories:
164
kcal
|
Carbohydrates:
29
g
|
Protein:
4
g
|
Fat:
4
g
|
Saturated Fat:
2
g
|
Cholesterol:
27
mg
|
Sodium:
201
mg
|
Potassium:
208
mg
|
Fiber:
3
g
|
Sugar:
9
g
|
Vitamin A:
5555
IU
|
Vitamin C:
1
mg
|
Calcium:
32
mg
|
Iron:
2
mg