Turmeric Vegetable Medley is warming and loaded with earthy colorful vegetables, anti-inflammatory turmeric and brain boosting power.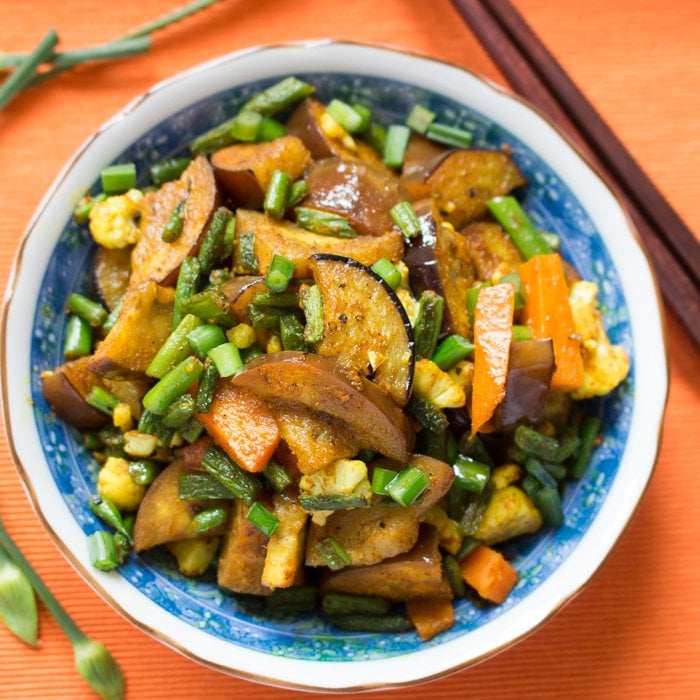 Your New Favorite Side Dish
With just 7 little ingredients, turmeric vegetable medley is going to be your new fun and easy side dish. Believe it or not, we usually do not eat this for dinner or lunch but every day for breakfast. Yes! You heard us right. BREAKFAST! There is nothing like starting out your day with clean eating deliciousness to get you off on the right track. Did you know that people who start their day off with a healthy breakfast are more apt to eat healthier all day long?!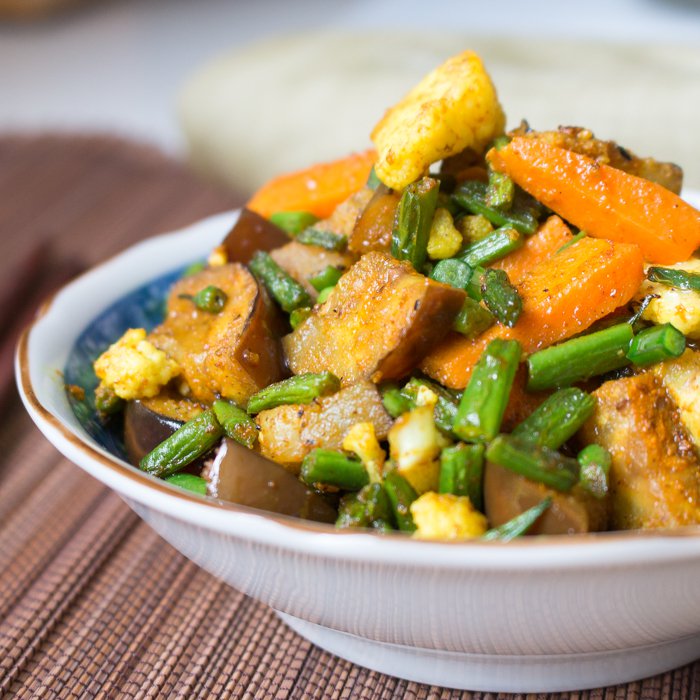 We are making turmeric vegetable medley right now, at this very minute, and our yorkie dog (Buddy) is whining. Do you know why he is whining? This crazy but fun-loving dog adores turmeric vegetable medley and eats a little bit with his doggie kibble every morning. We are certain that Buddy is maybe the one and only dog with a turmeric stained doggie bowl. Bless his little heart.
Turmeric
Turmeric has curcumin, which is great anti-inflammatory and anti-oxidant. Turmeric is that bright yellow/orange spice that adds color to many curries. There is a bit of a chill in the air and if your joints are complaining you need to get more turmeric vegetable medley in your diet. Cumin, coconut oil and turmeric all have anti-fungal properties. If you need to follow the candida diet, this is a fantastic recipe for you to try.

Why you are going to love our Turmeric Vegetable Medley
You are going to love turmeric vegetable medley as it is a great clean out the refrigerator adjunct and you can use any 3 vegetables you desire. Your pick! Really it is that easy. Just 3 little vegetables and healing turmeric and cumin spices.
When you are choosing your vegetables, take note of the order of hardness of the vegetables you are preparing to cook. Let us give you an example...If for example you have chosen to cook carrots, green beans and zucchini, then you would first put your chopped carrots and chopped green beans in a pan with a little oil, a little water and your spices with a lid and give them a quick steam before adding your zucchini.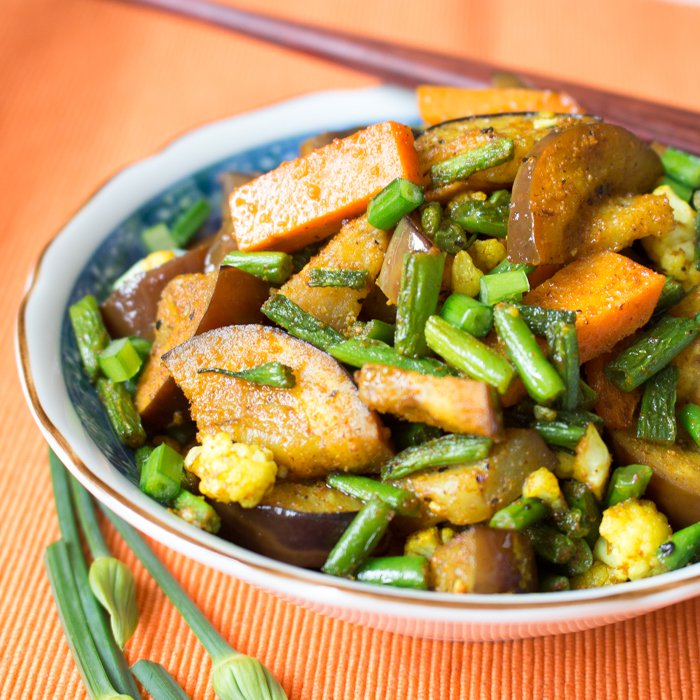 Turmeric stains
Everything turmeric touches has the potential to be stained. Here are some suggests to be able to enjoy the benefits of turmeric without the mess.
1) always cook your turmeric vegetables with a lid
2) always set your cooking utensils on a dish or paper towel, never directly on your counter
3) wash your cooking utensils, pan and lid right away.
4) use a slightly damp paper towel to wipe down your stove after cooking with turmeric so you don't stain your tea towels.
5) if using fresh turmeric, consider wearing gloves while grating as it can stain your finger nails.
We love fresh turmeric but sometimes it is difficult to find so ground dried turmeric also works very well in this recipe. I know you are probably wondering why there is no garlic or onions in this recipe. Those would also be a fantastic option if you desire. However, dogs should not have onions or garlic as it makes them sick and every day Buddy our doggies eats Turmeric Vegetable Medley. This recipe needs to be dog friendly for our family.
Our family loves this warm and cozy side or turmeric vegetable medley and hoping your family does too.
More Delicious Recipes with Turmeric
Turmeric Pork Skewers & Thai Basil Dipping Sauce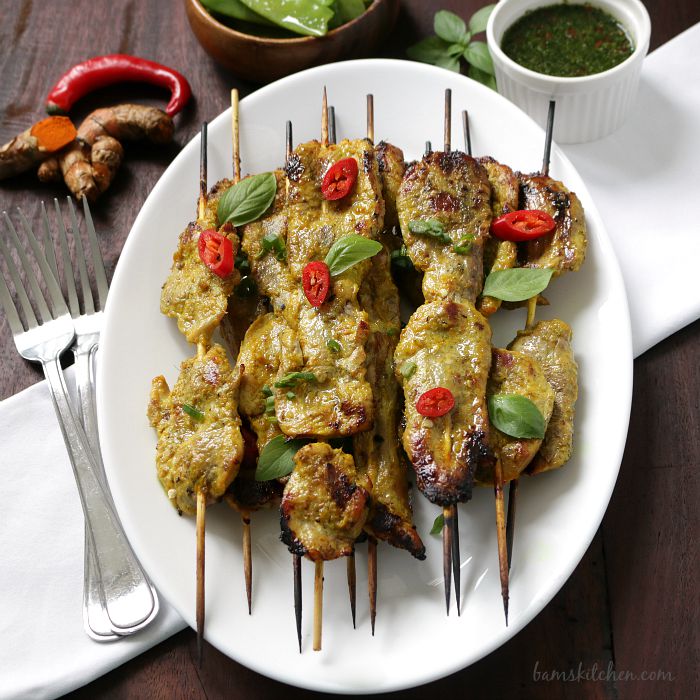 Pull Apart Chicken Tandoori Sweet Potato Skins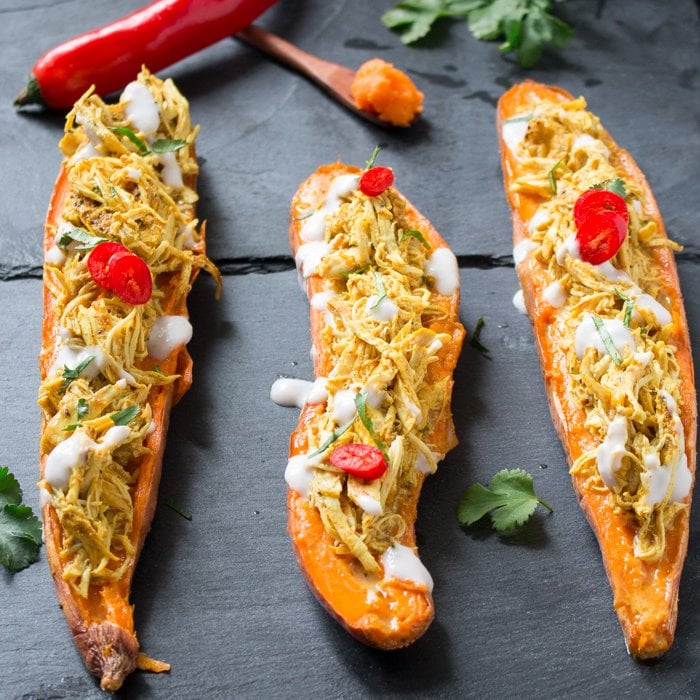 Cozy Chicken Curry Soup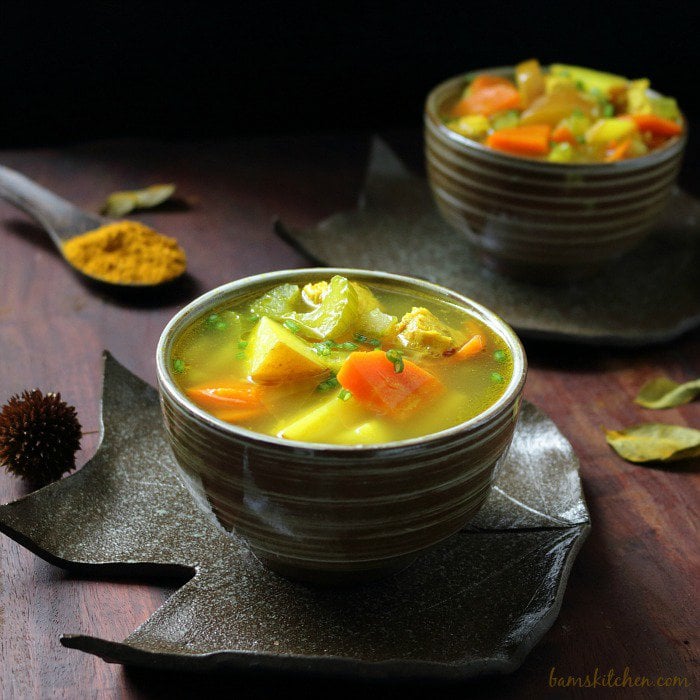 Hungry For More? Subscribe to our Newsletter and follow along on Facebook, You Tube, Instagram, and Pinterest for all the latest updates.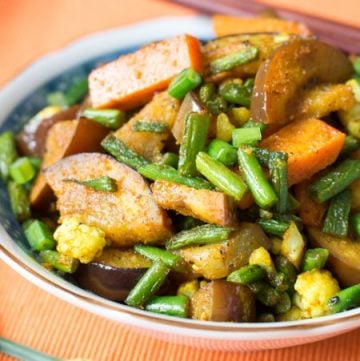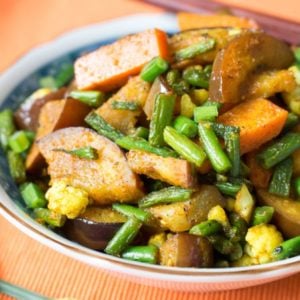 Turmeric Vegetable Medley
Turmeric Vegetable Medley is warming and loaded with earthy colorful tri-vegetables, anti-inflammatory turmeric and brain boosting power.
Print
Pin
Rate
Ingredients
1

tablespoon

coconut oil


(or oil of choice)

½

cup

carrots


washed, peeled and chopped

½

cup

cauliflower


washed and chopped

salt and pepper


to taste

1

teaspoon

turmeric


freshly grated or ground

1

teaspoon

cumin


dried ground

2

tablespoon

water


½

cup

eggplant


washed and chopped

garlic chives

optional - garnish
Instructions
Heat up your burner to a medium heat. Add coconut oil, carrots, cauliflower, salt and pepper, turmeric, cumin and water. Place lid on top of pan and cook gently for about 2 minutes until the carrots and cauliflower are fork tender and water is mostly evaporated.

Add the eggplant and stir and put lid on for about 1 more minute until the eggplant is tender.

Remove from burner and add garlic chives and toss and serve immediately. (Hold the garlic chives if serving to your dog)
Notes
You can use any vegetables you desire. Feel free to use frozen veggies as well. If you want to reduce the carbohydrates, use low cab vegetables like zucchini, peppers or green beans.
Nutrition
Serving:
1
g
|
Calories:
184
kcal
|
Carbohydrates:
13
g
|
Protein:
2
g
|
Fat:
15
g
|
Saturated Fat:
12
g
|
Sodium:
66
mg
|
Potassium:
534
mg
|
Fiber:
4
g
|
Sugar:
6
g
|
Vitamin A:
10692
IU
|
Vitamin C:
29
mg
|
Calcium:
51
mg
|
Iron:
3
mg