Stir Fried Crispy Romaine Lettuce has a light essence of ginger, garlic, sesame oil and chili flakes, if you like a little kick, and is the perfect way to eat your salad in the cooler months.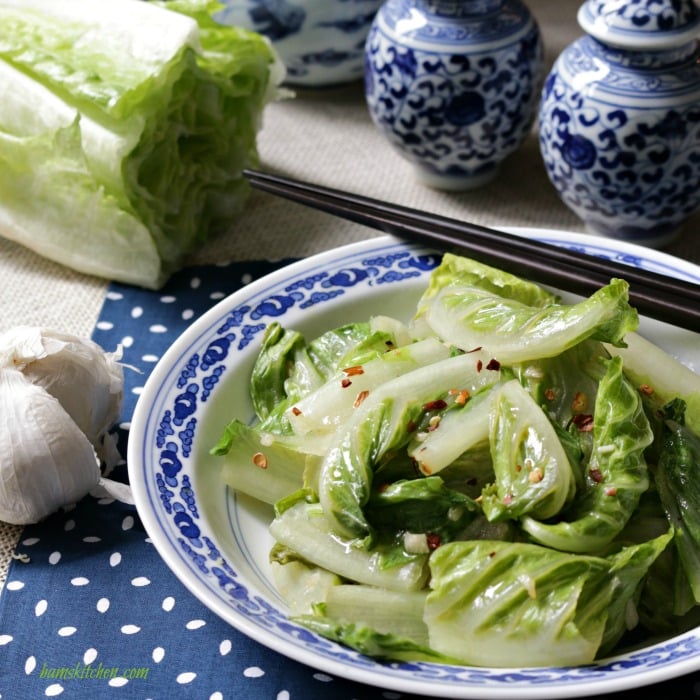 Stir Frying Lettuce?
I know what you thinking...
What??? Cooked romaine lettuce??? Are you insane??? Lettuce is supposed to be served cold!!!
When most people think of eating lettuce, they think of a nice cold tossed salad to accompany a meal. However, do not knock this stir fried romaine lettuce recipe until you have tried it. It is crispy, light, flavorful and ready in less than 5 minutes from start to finish.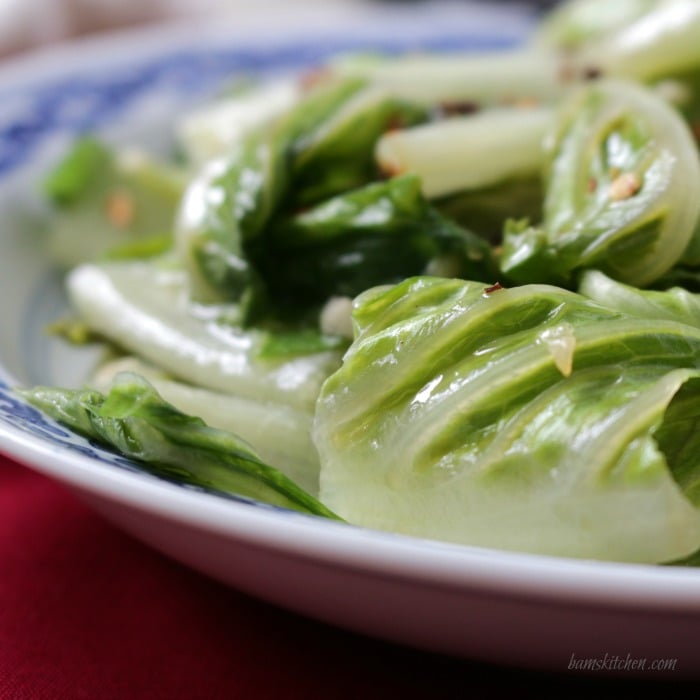 Light and Lovely Stir Fried Romaine Lettuce
Sometimes in the restaurants in Hong Kong, this lettuce dish will be smothered with a thick sauce. I prefer a lighter version of this dish. My family likes a combination of roughly chopped romaine, garlic, ginger, shoaxing wine, dash of salt and white pepper, drizzle of sesame oil and a sprinkle of dried chili flakes. Stir fried romaine lettuce is light, healthy, gluten-free, vegan, diabetic friendly and cardiac friendly.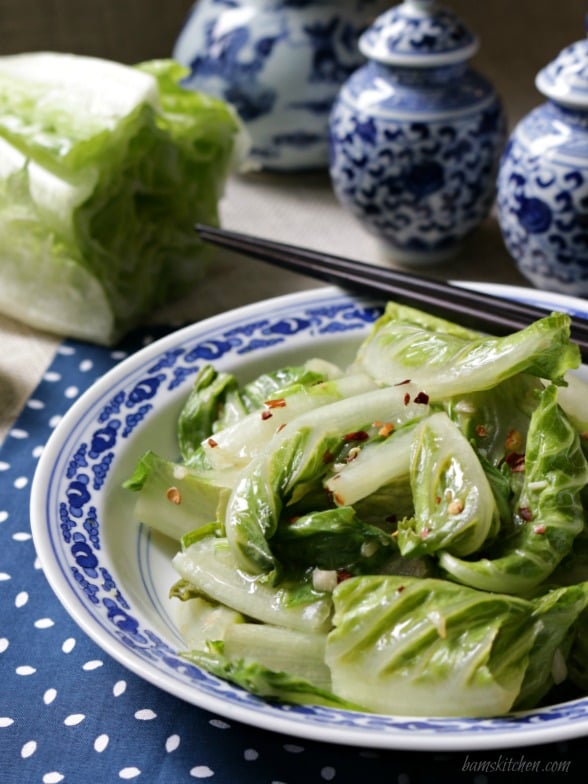 Stir fried romaine lettuce, is a great alternative to a tossed salad in the cooler months. It is a completely balanced food with the yin properties of the lettuce and the yang properties of the garlic and dried hot chili flakes. However if you do not believe in any of these theories, no worries just try the dish anyways just because it tastes great. In less than 5 minutes you can have a crisp, spicy vegetable dish will knock your socks off.
Generally speaking, Chinese culture does not usually include eating too many raw foods. Everything is either stir fried, steamed, fried, placed in a soup or placed in a hot-pot, including their lettuce. Cold foods are not good for your digestion health. To learn more about this preventative therapy, be sure to read Feed Your Spleen: Nourish Your Body.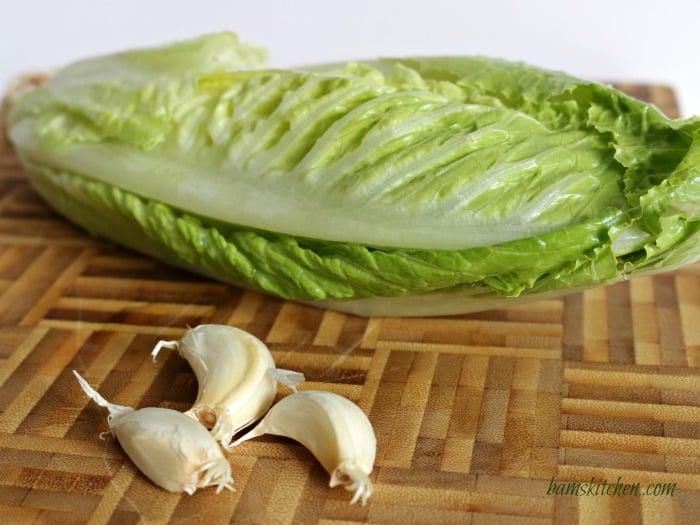 Food is Medicine
In addition, Chinese Traditional Medicine (TCM) and Chinese nutrition therapy there is a relationship to food in the prevention of diseases and it has been around for 1000's of years, so it can't be wrong. One of the central ideas in this belief system is that certain foods have a "hot" or heat inducing quality (yang) while others have a "cold" or chilling effect (Yin) on one's body, organs or "energy" levels. The idea being that upset to one's natural balance of "heat" and "cold" in a body can cause disease or be more conducive towards sickness. Learn more about this concept in our Introducing the Five Energies of food Article.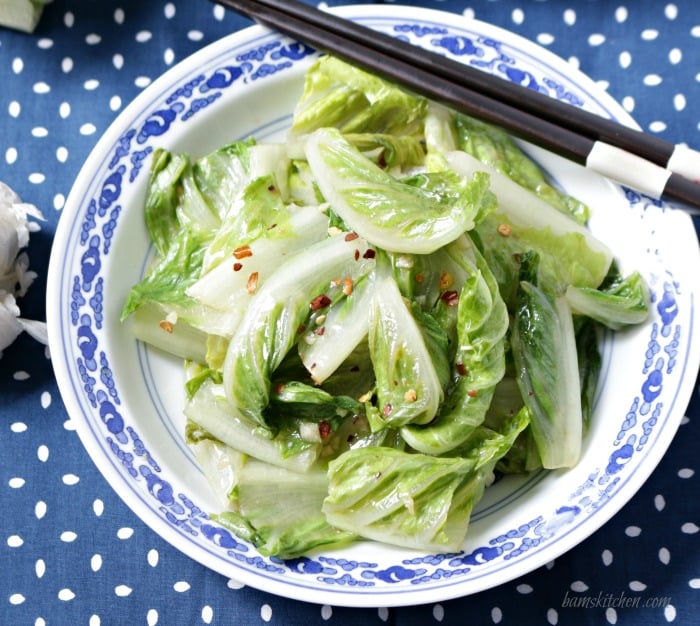 Yin and Yang
Yang foods are believed to increase the body's heat, while Yin foods are believed to decrease the body's heat or decrease the metabolism. Just to confuse you a little further some fruits and vegetables can be yin, some yang and some neutral (such as sweet potato and carrots). According to TCM, lettuce is a cooling (yin) vegetable. Ginger and chili are heating (yang) vegetables/herbs. Therefore the mix of both the yin and yang attributes gives Stir Fried Romaine Lettuce a nice balance.
Changing Seasons need Warming Nourishing Meals
I know that no matter where you are around the world you can relate to this. Some of you are still shoveling the snow off your roofs (that is a new kind of hell), some of you are ending summer such as in Australia (too cold to surf ) and some of you are in the super humidity of the tropics (REALLY bad hair days) like me. The key word here is change. We are in changing seasons and when the body experiences the change from hot to cold or cold to hot in the weather more illnesses such as the common cold and flu decide to come around. Please be good to yourself and increase your immunity by eating healthy balanced (ying/yang) foods and getting plenty of rest.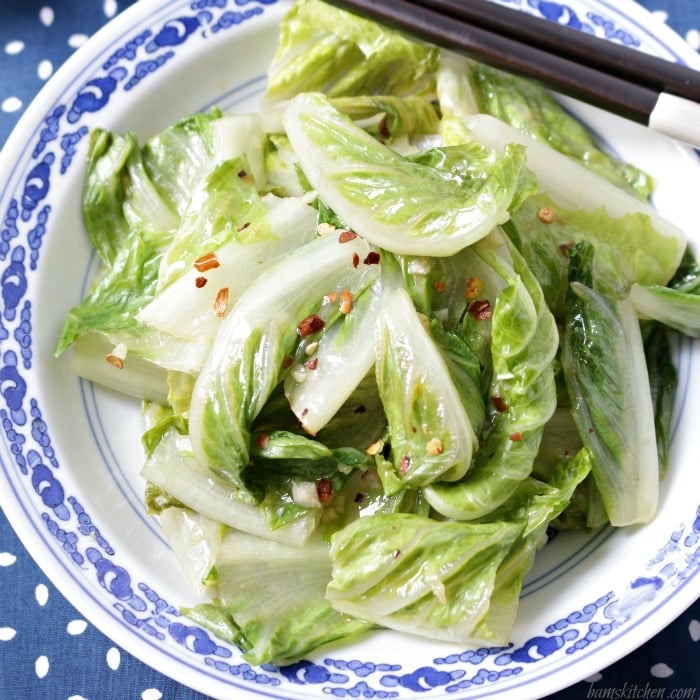 Difference between Yin and Yang Foods
Generally speaking, Yang foods tend to be dense in energy from fat, while Yin foods tend to have high water content. My Chinese friends ideally try to eat both types of food to keep the body in balance. Maybe even without thinking about it, even if you do not have a Chinese heritage, you normally crave lighter dishes such as salads and such in the summer months and in the winter we crave soups, stews and carbohydrates. It is just a natural thing.
Best Types of Lettuces for Stir Frying
Romaine lettuce is used instead of other lettuces such as loose leaf, rocket, mesclun and butter head as it is firm and can hold up to the stir fry process. Iceberg lettuce also works too. However, endive and radicchio can also be used but they have stronger flavors and I like the delicate taste of the romaine.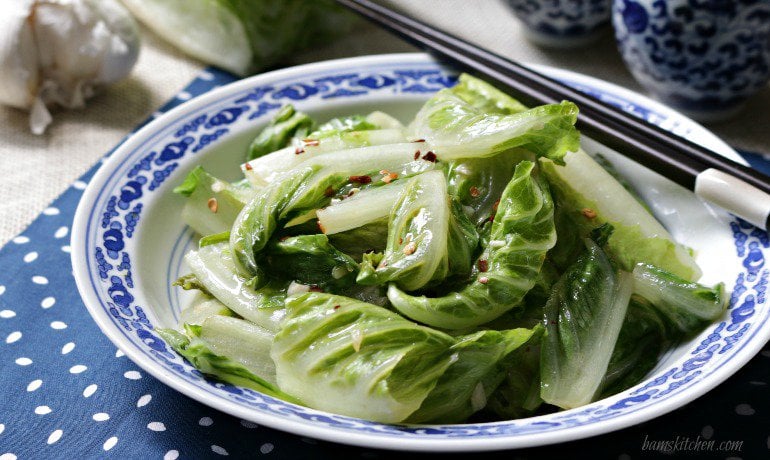 Foshan, China's Beautiful China Plates
Don't you love my beautiful blue plates displaying my stir fried romaine lettuce from Foshan, China?!! If you ever head my way you have to for sure check out Foshan as this town is just about 2 hours and 55 minutes hours bus ride from the Hong Kong border and they have shops and shops filled with gorgeous Chinese little dishes, vases and plates.
If you are foodie or a food blogger, you know how we all have this love/obsession for small little plates and dishes. Check out these lovely vases below... I need a bigger kitchen and more cupboard space.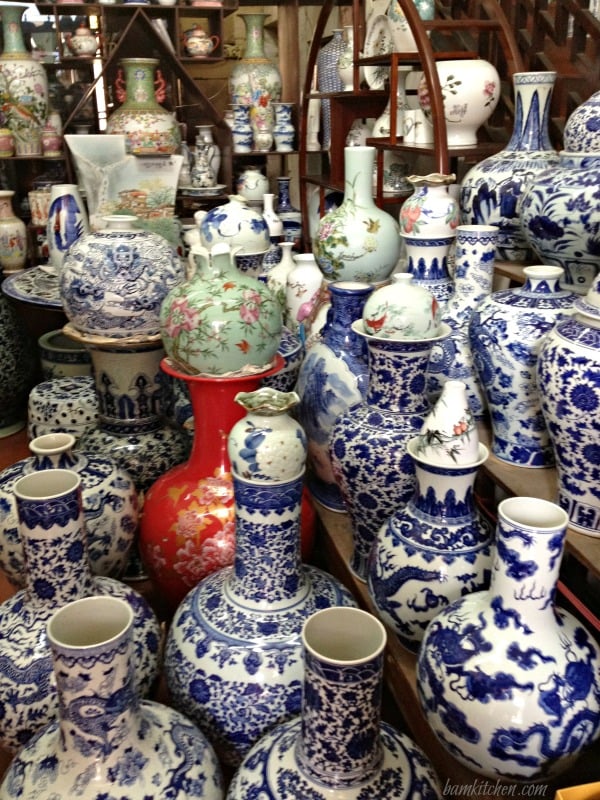 The next time you open your crisper and you see romaine lettuce, I hope you give this Stir Fried Romaine Lettuce a try instead of making a side salad to go with your meal. Have a super day!
More Delicious Chinese Recipes
Garlic Chili Stir Fried Lotus Root
Beef Noodles with Spicy XO Sauce
Spiced Yam and Vegetable Stir Fry
Wood Ear Mushroom Vegan Stir Fry
Looking for more delicious recipes? Subscribe to our Newsletter and follow along on Facebook, You Tube, Instagram, and Pinterest for all the latest updates.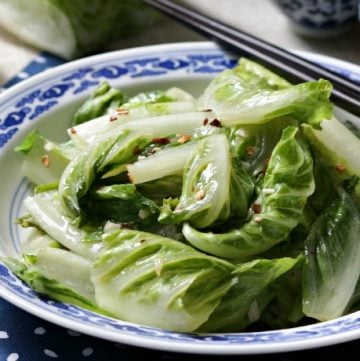 Stir Fried Romaine Lettuce
Stir fried crispy Romaine lettuce has a light essence of ginger, garlic, sesame oil and chili flakes if you like a little kick and is the perfect way to eat your salad in the cooler months.
Print
Pin
Rate
Ingredients
1

tablespoon

oil


1

inch

ginger

knob fresh , peeled and grated.

3

cloves

garlic


peeled and minced

2

heads

romaine lettuce


medium sized, washed, dried and cut into about 2 inch segments.

salt and white pepper


to taste

1

tablespoon

rice wine (shao xing)

or cooking sherry

1

teaspoon

sesame oil


½

teaspoon

dried chili flakes - ½ teaspoon or to taste (optional)

or to taste - optional
Instructions
In a wok or frying pan add your canola oil, ginger and garlic and fry about 1 minute until aromatic.

Add the cut and dried romaine lettuce, salt and white pepper (I prefer the light flavours of just a light dusting of salt and white pepper but you can also use one tablespoon of soya sauce (tamari) or even ½ teaspoon of gluten free vegetable powder, if you wish), sugar (optional), shoaxing wine and toss quickly.

Immediately Remove from heat:

It is very important that you remove the roam in lettuce from heat while the romaine is just starting to wilt as the heat from the pan will continue to cook the romaine lettuce even after you remove it from the heat.

Drizzle over sesame oil and dried chili flakes if desired and toss.

Enjoy as a delicious healthy vegetable side dish.
Notes
The most important step is to have everything mise en place and be ready to go as once you start stir frying it goes very fast.
Once you throw in your romaine lettuce it will take less than one minute to cook if that. Your goal is just to start the wilting process and take it out of the wok ASAP. The heat of the pan will continue to cook your lettuce.
Nutrition
Serving:
1
g
|
Calories:
103
kcal
|
Carbohydrates:
12
g
|
Protein:
4
g
|
Fat:
5
g
|
Saturated Fat:
1
g
|
Sodium:
26
mg
|
Potassium:
782
mg
|
Fiber:
7
g
|
Sugar:
4
g
|
Vitamin A:
27262
IU
|
Vitamin C:
13
mg
|
Calcium:
107
mg
|
Iron:
3
mg