Toasted Almond and Date Larabars are made with Just 2 little ingredients of toasted almonds and sweet and tender dates , perfect healthy snack or breakfast on the go.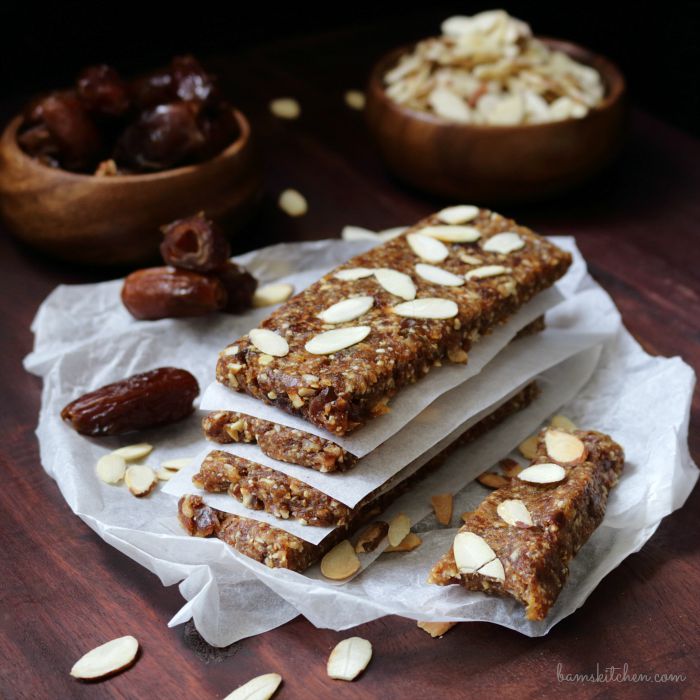 Really, just TWO SIMPLE INGREDIENTS!
I know that many lara bars have only raw ingredients but if you want to take the average bar from "HO HUM" to "AWESOME" you need to just toast the almonds. It is just as simple as that! Toast your NUTS!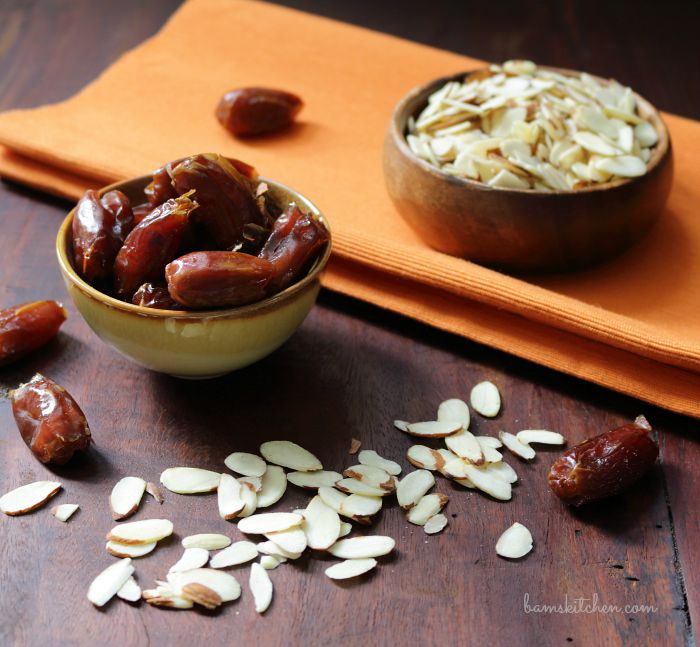 Toasting Your Nuts
Toasting your almonds releases their essential oils and this extra nutty taste makes your taste buds very happy and your mouth happy as you hear the crunch. Toasted almond and date larabars are vegan and gluten-free. You can toast your nuts on the stove top and in about 2-3 minutes you can watch the magic happen. You could use any little nut you fancy but I have a huge industrial size bag of Diamond sliced plain almonds here at home.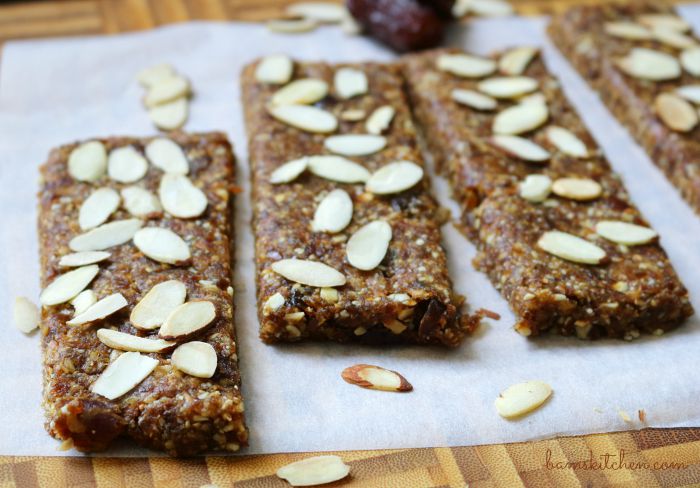 Believe it or not, we have an A & M here in Hong Kong and it is a like a super mini Costco (Buy in Bulk store). The store is about the size of your shoe closet, I kid you not.... However, I found some raw almonds, dates and some Red Hot hot sauce for the boys and tugged that load home in my grandma roller bag. I was so proud of my new find!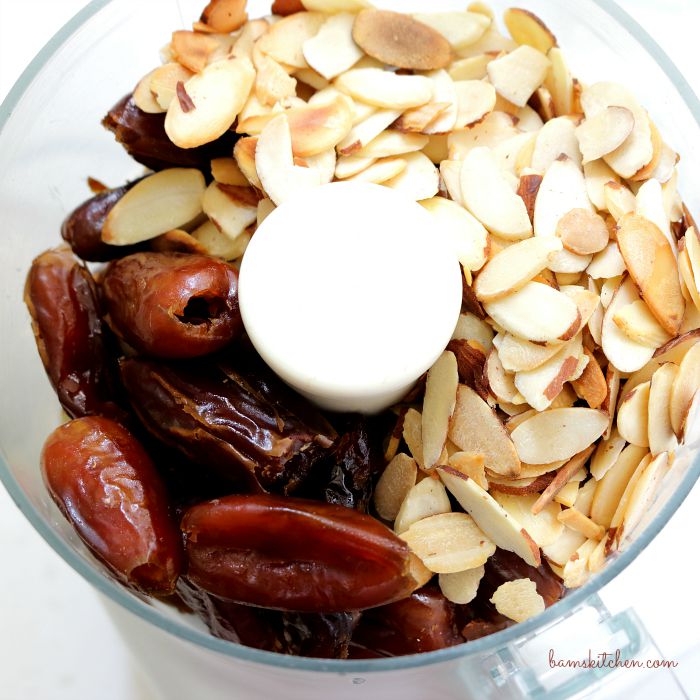 My bag was already heavy and I was melting in the oppressive heat and humidity of the August summer in Hong Kong. Therefore, going on a wild goose chase on the other side of town to try to try to find chocolate chips, chia seeds, carob and any other dried fruits was certainly not going to happen. I came home and sat my very heavy almonds and dates on the counter and thought to myself , my goodness I have no place to store these in my kitchen. We will have to eat the inventory ASAP!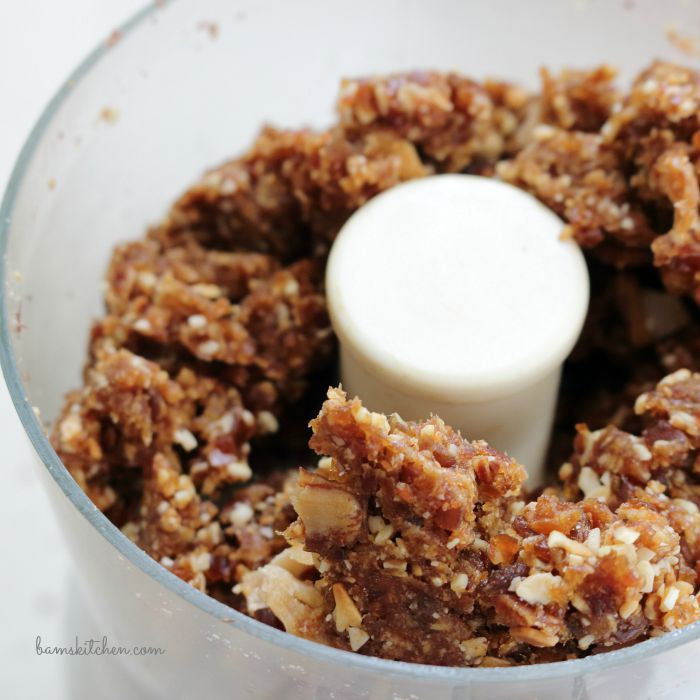 I was toasting some almonds to put on top of my salad when the idea came to me. I don't need loads of extra things in my larabars to make them healthy, nutritious and tasty but instead just two. I began experimenting with ratios of toasted almonds to dates and it is about 1.5 cups of dates to ¾ cups toasted nuts.
However, then I had this extra ¼ cup toasted almond slices. I decided to press them into the lara bars during the rolling out process. Brilliant, I tell you! I ate at least 3 of the props while taking some photos. My youngest came in and ate the rest of the photo props while I had my head turned the other way. I was able to practice making these in my mini food processor about 5 times other times to be exact. After all, we need to clear out the inventory! (I have just a mini food processor but if you have a large one just double the ingredients to make more)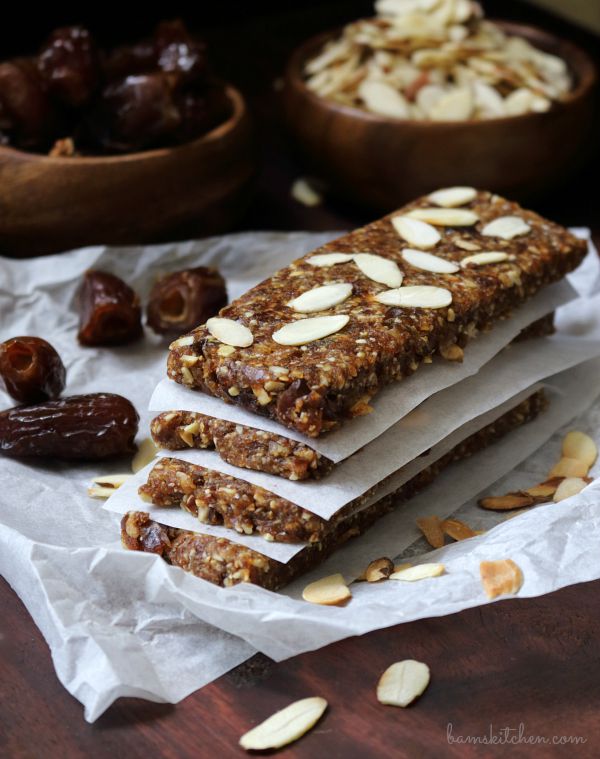 The new academic year is upon us, at least here in Hong Kong, and my youngest is off for another fun year of exams, papers, demanding instructors and of course school fees (that can only be paid by check as we are now in the 1950's time warp called school). The complaining is already in full swing as the alarm went off early this morning. Let the insanity begin...!!!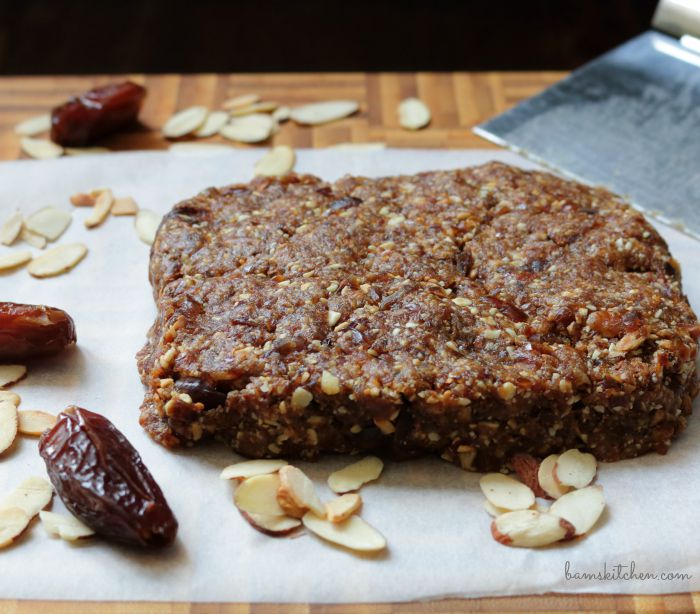 Why you need Toasted Almond and Date Larabars in your Life
Trust me I hear you! You need some sanity in your life and some time saving measures in the kitchen and healthy snacks for your family. You are going to just love this 2 ingredient toasted almond and data larabars that takes less than 10 minutes to prepare and you will have a Tupperware full of healthy snacks for the week. I love storing these bar in the freezer as it keeps them fresh and delightfully chewy. Whenever you want a little snack or a quick pick me up, you just grab one or maybe 2 or 3!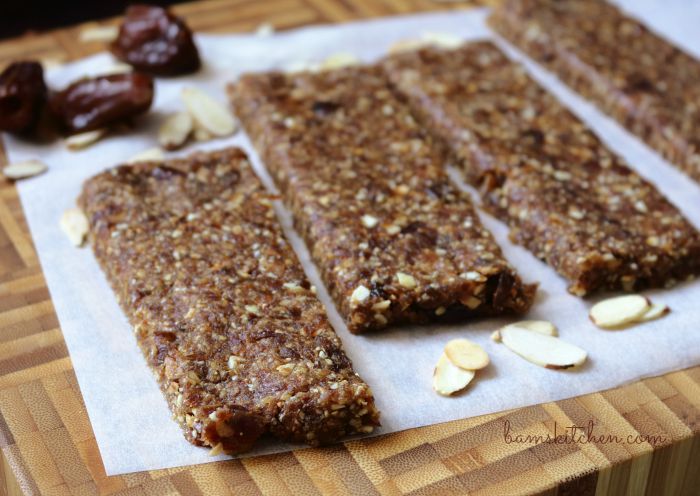 Nutritious School Lunch Snacks
I know it is so easy to grab a bag of chips, or cookies and throw it into the school lunches because we want to "save time". However, over time, these time saving measures are going to come back and throw a curve ball your way as your body needs to be filled up with nutritious foods and fuels so that it can work properly. I find if I have healthy snacks all ready to go for my family it makes the work/school week so much more manageable. If you like this idea, be sure to try our Matcha Red Bean Energy Balls, Chocolate Espresso Fig Balls and our Grab n Go Chai Breakfast Biscuits.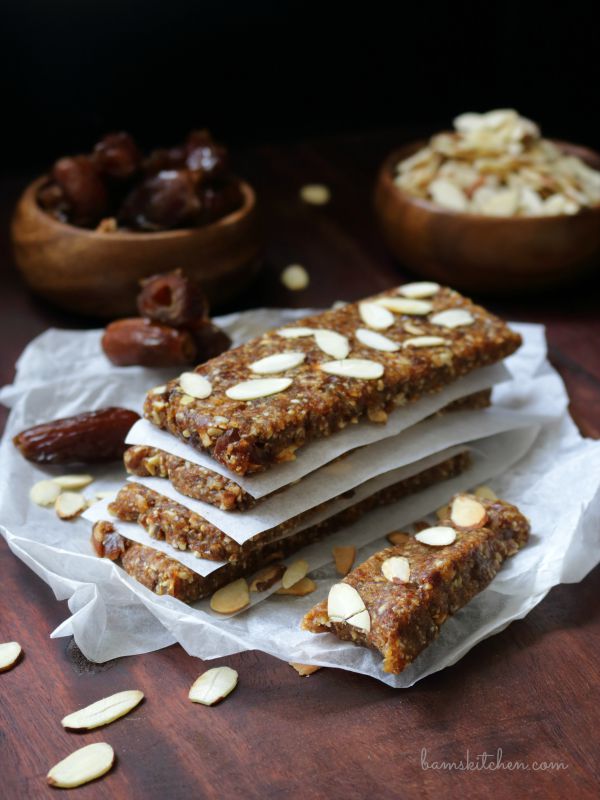 Mornings will be rushed and if you do not have time to make them a "substantial breakfast" before they leave for school and you leave for work, at least you can hand off a delicious and nutritious protein packed 2 ingredient toasted almond and data lara bar. This little nutritious bar will keep you both happy and satisfied until lunch. Toasted Almond and Date Larabars also help greatly with that 2:30pm slump at work or a little pick me up and for those after school activities to tie the kids over until dinner.
Let the Back to School INSANITY commence!
Hungry For More? Subscribe to our Newsletter and follow along on Facebook, You Tube, Instagram, and Pinterest for all the latest updates.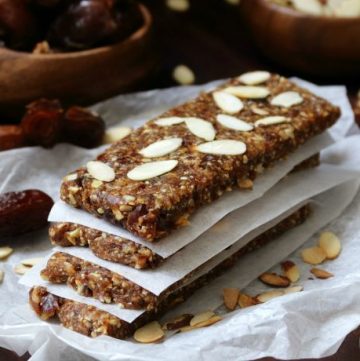 Toasted Almond and Date Larabars
Toasted Almond and Date Larabars are made with Just 2 little ingredients of toasted almonds and sweet and tender dates , perfect healthy snack or breakfast on the go.
Print
Pin
Rate
Ingredients
1

cup

almonds


sliced

1.5

cups

dried dates

roughly chopped
Instructions
In a dry skillet, add all of your sliced almonds and toast until golden brown over medium heat. Keep an eye on your almonds as it only takes 2-3 minutes to brown, stir occasionally. Remove from pan to cool.

Take ¾ cup of your almonds (set aside ¼ almonds for later) and all of your dates and put into your food processor. Pulse the almond and date mixture until well combined and until the mixture starts to clump together. If your mixture is dry (dry dates) less humidity than Hong Kong, then add a few extra dates and pulse together or a small drop of water.

Cut a piece of waxed paper (parchment paper/cooking paper) about the size of an A4 paper and spread ⅛ of the reserved almonds on to the waxed paper. Then on top of waxed paper with toasted almonds, spread and press down your date and almond mixture a little bit. Then take another sheet of waxed paper and lay it on top and just use a rolling pin and flatten your larabars to about ½ inch. Remove the waxed paper from the top. Cut your bars into 5 bars for super large bars or 10 bars for mini bars. Then press the remaining ⅛ almonds on to the top of the bars.

Enjoy! Keep your larabars in the freezer and just take out a few as needed.
Notes
Feel free to add other additions as desired such as Vanilla essence, cocoa nips or even desiccated coconut.
Nutrition
Serving:
1
g
|
Calories:
143
kcal
|
Carbohydrates:
20
g
|
Protein:
3
g
|
Fat:
7
g
|
Saturated Fat:
1
g
|
Sodium:
1
mg
|
Potassium:
254
mg
|
Fiber:
3
g
|
Sugar:
15
g
|
Vitamin A:
33
IU
|
Calcium:
52
mg
|
Iron:
1
mg