Easy Spiced Golden Milk is a creamy frothy dairy-free warming beverage with fresh turmeric, ginger, star anise, black peppercorns and coconut milk. The most delicious way to drink your anti-inflammatories and antioxidants for the day. Step by Step Recipe Video Included!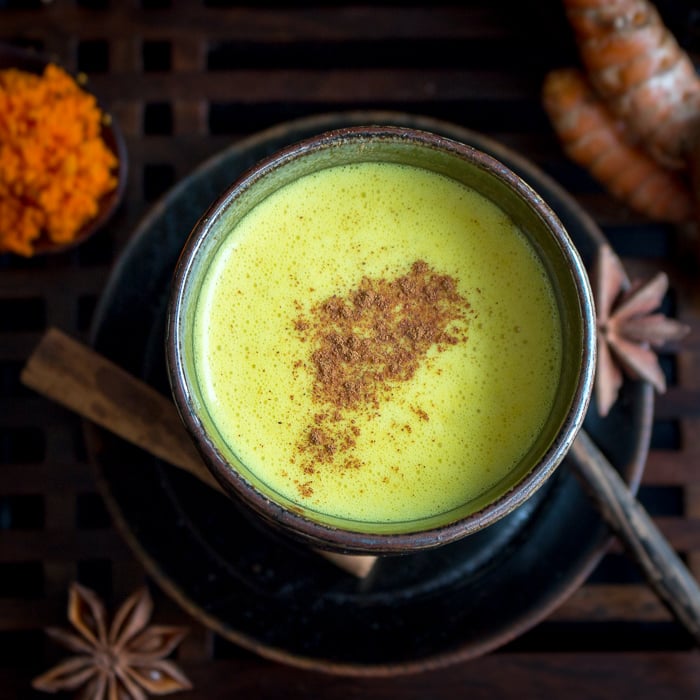 There is nothing like a fresh and vibrant sip of a turmeric latte to get your juices running in the morning. Packed full of warming spices to energize your digestive power and keep you full all morning long. Drink it before bedtime for a calming and relaxation effect. As this beverage has no caffeine, it is a delicious alternative to coffee or tea.
Easy Spiced Golden Milk is Healing
Easy Spiced Golden Milk is not some fancy coffee bistro fad, it has been around for centuries. If you are reading this post, you are taking the first step in taking your health in their own hands. You know that it is super important to nourish your body and partake in preventative medicine.
History of Golden Milk
Golden Milk is also called "Haldi Ka Doodh" and has been a part of the Indian diet for centuries and an integral part of Ayurveda. Ayurveda is a mind-body health system that originated in India. An important part of a balanced diet to include the six Ayurvedic tastes (sweet, salty, sour, pungent, bitter, and astringent) in each meal. In addition, colorful foods such as bright orange, red, purple, green, are higher in antioxidants so you can live a longer life. Check out these gorgeous bright orange fresh turmeric roots!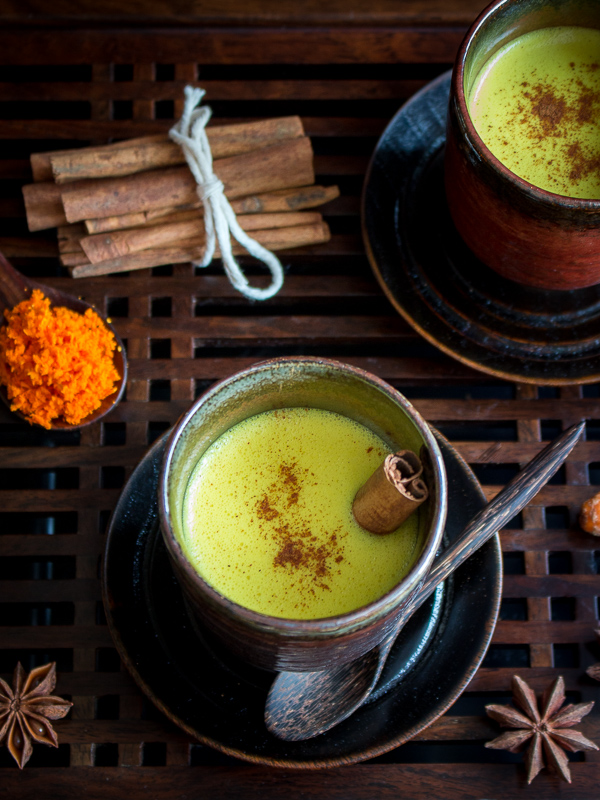 Turmeric
Not only is turmeric root super fresh and bright orange, it stains. If you wash your hands, cooking equipment or anything that has been touched by turmeric right away, it will wash right up. Do not worry if you forget to do this. A little diluted bleach water will sort your mess right away. You can always use gloves to peel and chop your turmeric.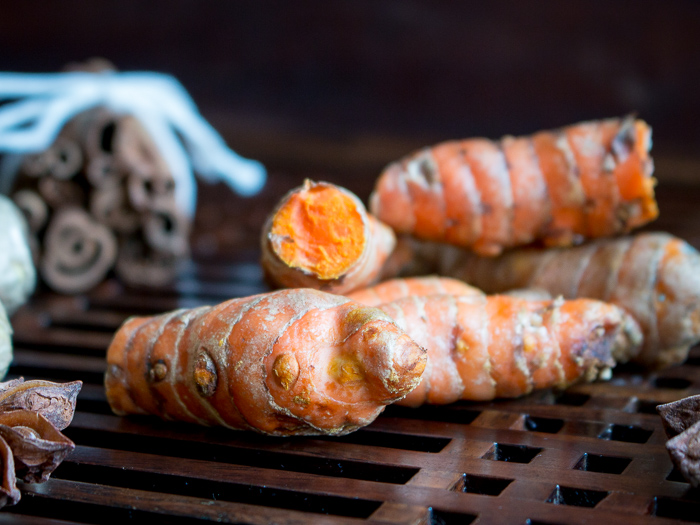 You can find fresh turmeric in Asian Markets and in whole foods stores. If you cannot find fresh turmeric, you can substitute with dried ground turmeric. However, fresh turmeric really gives an amazing fresh taste and can last several weeks in your refrigerator.
Why is Black Pepper Added?
As you already know, turmeric is high in anti-oxidants and can also be a powerful anti-inflammatory. The beneficial compound is turmeric is called Cucurmin. Priya from Curry Nation has a quick and easy summary of the Health Benefits of Haldi (Turmeric). Ground black peppercorns is added to this Easy Spiced Golden Milk recipe to accentuate the benefits of the curcurmin in turmeric. Be sure to try our Turmeric Pork Skewers and Thai Basil Sauce before the end of grilling season. You may also like our Turmeric Vegetable Medley for a quick side dish or our Roasted Turmeric Spiced Turkey Breast for an easy delicious main.
Curcurmin is difficult to absorb when taken alone. However, fresh ground peppercorns contain piperine. Piperine has been shown to helps to help the absorption of curcumin into your system.
Easy Spiced Golden Milk Recipe Suggestions
Traditional golden milk usually uses fresh cow's milk. If you are sensitive to dairy, like we are, use canned coconut milk instead. Coconut milk makes a very rich and frothy milk. If you are doing a low carb diet, there is no need to add any MCT oil, coconut oil or ghee to this recipe as it really is quite rich already. If you are looking for other dairy free teas, you may enjoy our Homemade Cream Earl Grey Bubble Tea. Easy Coconut Iced Chai Tea Latte or Tranquil Lemon Ginger Tea.
Spice it Up!
Star anise, cinnamon and fresh ginger are a delicious part of the warming spice trio. You can feel free to exclude the star anise but we love that little addition of the licorice flavor. Traditional golden milk may include cardamom as well. Have fun and experiment with your own spice combinations.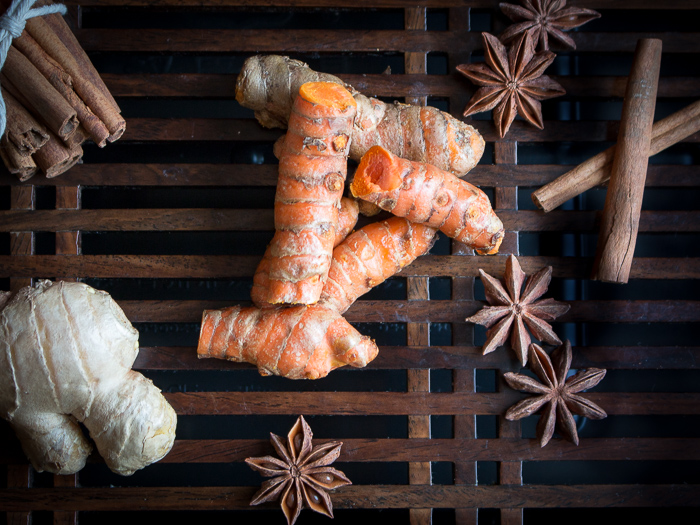 In addition, you will want to add a touch of sweetener to your Easy Spiced Golden Milk as turmeric can be slightly pungent. Turmeric also has an earthy sweet taste. Raw honey, maple syrup, sugar alternatives (like stevia if you are making this diabetic friendly) or a couple of dates all work well.
Smooth and Frothy!
Try using a blender to get your turmeric latte extra frothy. Then into a pan and steep for just about 7 minutes to let all the flavors infuse. You do not want to boil your Easy Spiced Golden Milk but instead over low a low simmer. We chose to use a filter to skim out the little bits of fresh turmeric and ginger but it is not required. If you like a super frothy Easy Golden Milk Latte, you can use an automatic or handheld frother after you your skim as well.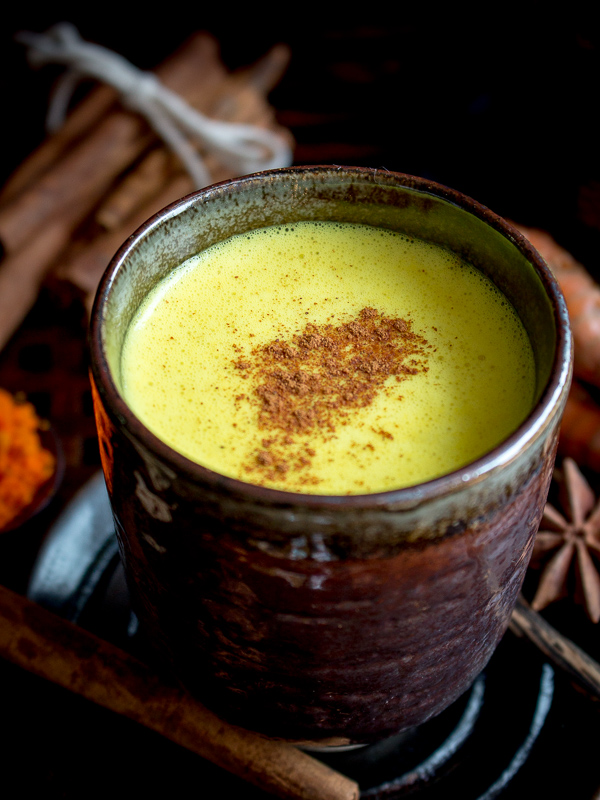 Feed Your Spleen
Have you had a chance to read our Feed Your Spleen post? Easy Spiced Golden Milk is the perfect way to warm your body and get your digestive powers back to work. Warming spices make Easy Spiced Golden Milk the perfect way to recover from spleen qi deficiency and digestive issues. If you have a predisposition to the cold, your extremities are always cold, have digestive issues, bloating issues and have a pale swollen tongue this may be a good beverage for you.
However, moderation is the key. This beverage is very heaty and warming so if you are the type of person that is hot all the time, has a red flushed face and a red and cracked tongue this may NOT be the beverage for you. Stay tuned as we are going to be discussing Traditional Chinese Medicine (TCM) as it correlates to the liver, kidney in excess and in deficiency.
Are you looking for other breakfast recipes?
Be sure to try our Japanese Egg Roll Tomagoyaki, Healthy Vegan Matcha Pancakes and our Hot Black Sesame Cereal to change things up a bit. We are also are love switching up breakfast with this fun Muesli Recipe from Healthy Kitchen Rocks. You can make your Muesli different every day. How fun is that!
If you make our recipe please give us a shout out as we love to see what you are making. Be sure to visit us on Instagram, facebook and pinterest. Be sure to subscribe to our You Tube Channel so you do not miss any of the new recipes.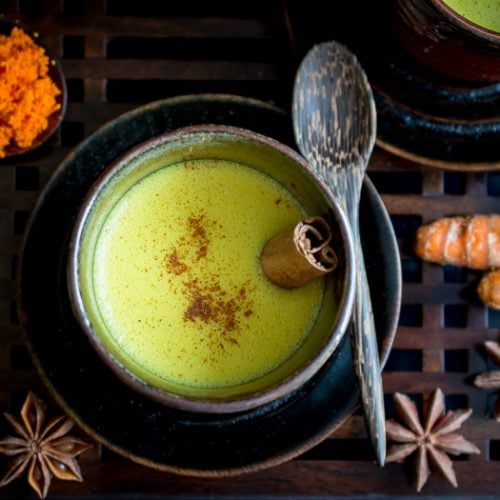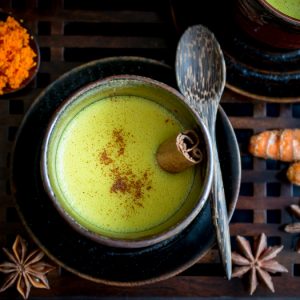 Easy Spiced Golden Milk
Easy Spiced Golden Milk is a creamy frothy dairy-free warming beverage with fresh turmeric, ginger, star anise, black peppercorns and coconut milk.
Print
Pin
Rate
Ingredients
2

inch

Turmeric

knob fresh peeled and chopped

1

inch

Ginger

knob fresh peeled and chopped


12

oz

Coconut milk

can full fat

¼

teaspoon

Salt

¼

teaspoon

Pepper

2

whole

Star anise

2

twills

Cinnamon sticks

1

teaspoon

Sweetener of choice

(honey, maple syrup, sugar alternative, 2 dates)

¼

teaspoon

Cinnamon

garnish - optional
Instructions
In a blender add chopped and peeled fresh turmeric, fresh ginger, 1 can of full fat coconut milk, salt, ground peppercorns and puree until well mixed. (If you are using dates as your sweetener, add them to the mixture now to blend)

Place your turmeric milk mixture into a small pot over low medium heat and add star anise, cinnamon sticks and sweetener of choice. Steep over a low simmer for about 7 minutes to allow the flavors to mingle. Taste and adjust sweetener to desired level. Do not boil. Strain over a filter into your favorite mug or cup. Sprinkle with ground cinnamon. Enjoy!
Notes
Notes: You can substitute 1 teaspoon of dried turmeric for fresh turmeric, if you cannot find fresh turmeric. If you do not have ginger feel free to substitute with ½ teaspoon of dried ground ginger. Feel free to froth your Easy Spiced Golden Milk again after you heat and strain for an extra frothy mixture.
Nutrition
Serving:
1
g
|
Calories:
345
kcal
|
Carbohydrates:
7
g
|
Protein:
4
g
|
Fat:
36
g
|
Saturated Fat:
32
g
|
Sodium:
314
mg
|
Potassium:
374
mg
|
Fiber:
1
g
|
Sugar:
1
g
|
Vitamin C:
2
mg
|
Calcium:
47
mg
|
Iron:
6
mg