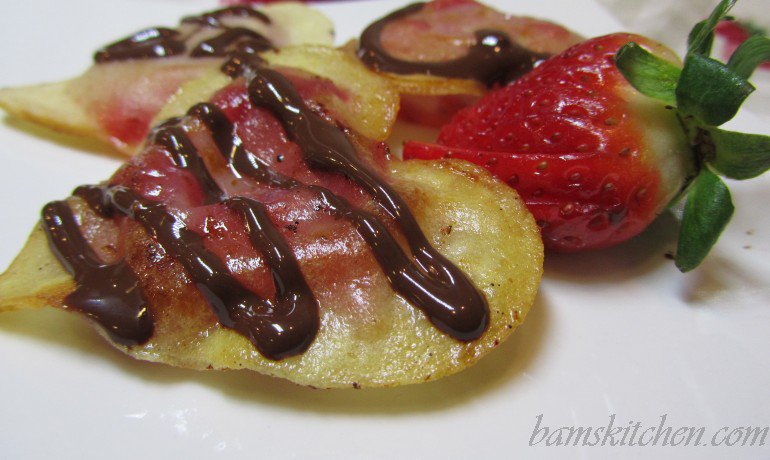 Wow this little Hallmark holiday caught me off guard. How about you?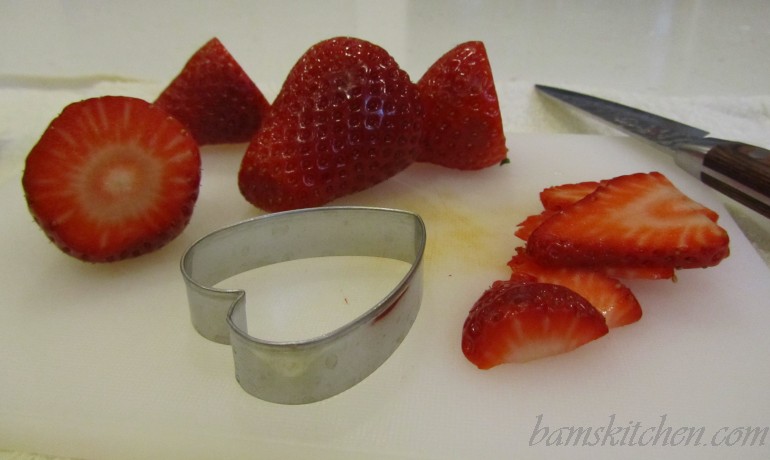 Valentines day, when my boys were younger was such a fun and innocent time. We used to sit at the kitchen table and write out little love notes and wrap them around lollies and heart-shaped candies for all of their classmates.
Now, however, if my teenage boys think about sending out cards and candies to their teenage 15-year-old going on 25-year-old sweethearts, it gives mom more gray hair and stress!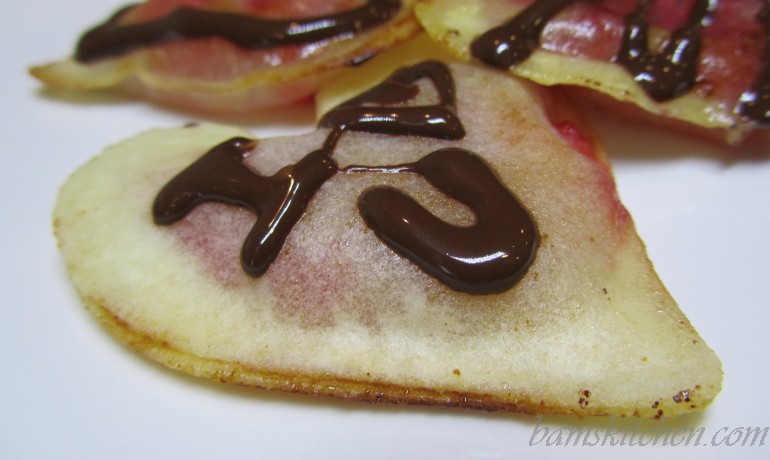 Today, I did not want this family tradition to come and go without recognition so I stumbled into the pantry to see what I could come up with to let Mr. Anonymous and the boys let them know how much mom loves them.
I had strawberries, a bit of 70% good chocolate, spring roll wrappers, heart-shaped cutters and a bit of imagination and bingo we have the Valentine strawberry kisses.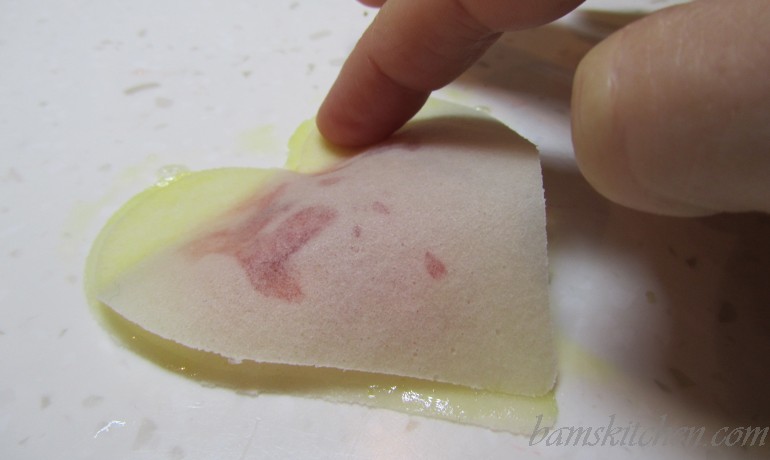 Valentine Strawberry Kisses are light, delicious and simple. They are light and crispy on the outside and the strawberry filling is slightly sweet and tart on the inside. Spring rolls are such a fun way to make desserts in a flash.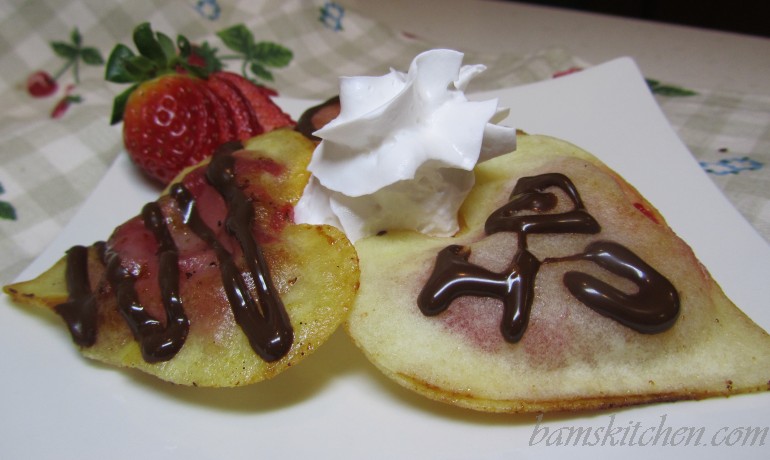 I made this dessert from start to finish in less than 20 minutes and answered a phone call, finished up dinner and dealt with the kids, so imagine what you could do if you had 15 solid minutes...
If you can't get your hands on Chinese Spring rolls (usually found in the frozen food section of Asian food stores) you could easily subsitute sheets of phyllo dough or puff pastry or even use your own homemade pie dough.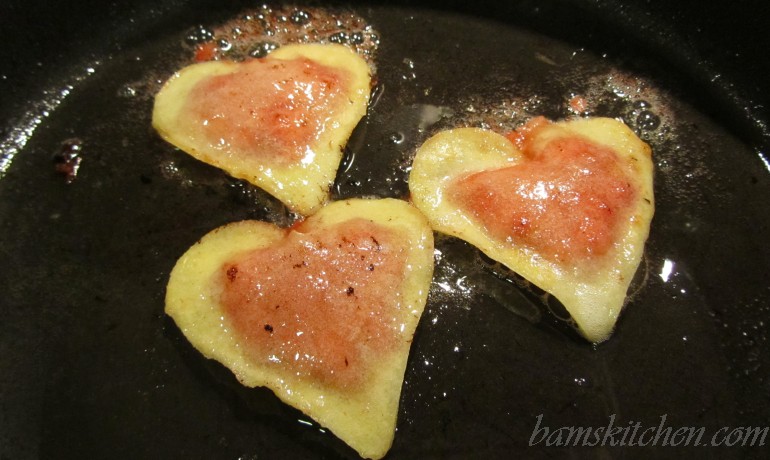 You really could use any filling your heart desires. What do you think about these other alternatives... nutella, banana foster, almond butter, peach preserves, blueberry buckle, apples and cinnamon, brie and fruit, and oh my goodness the list goes on and on. However, it is Valentines day and strawberries were on sale in the market, so Spring Roll Strawberry Kisses are on the menu tonight in Healthy World Cuisine.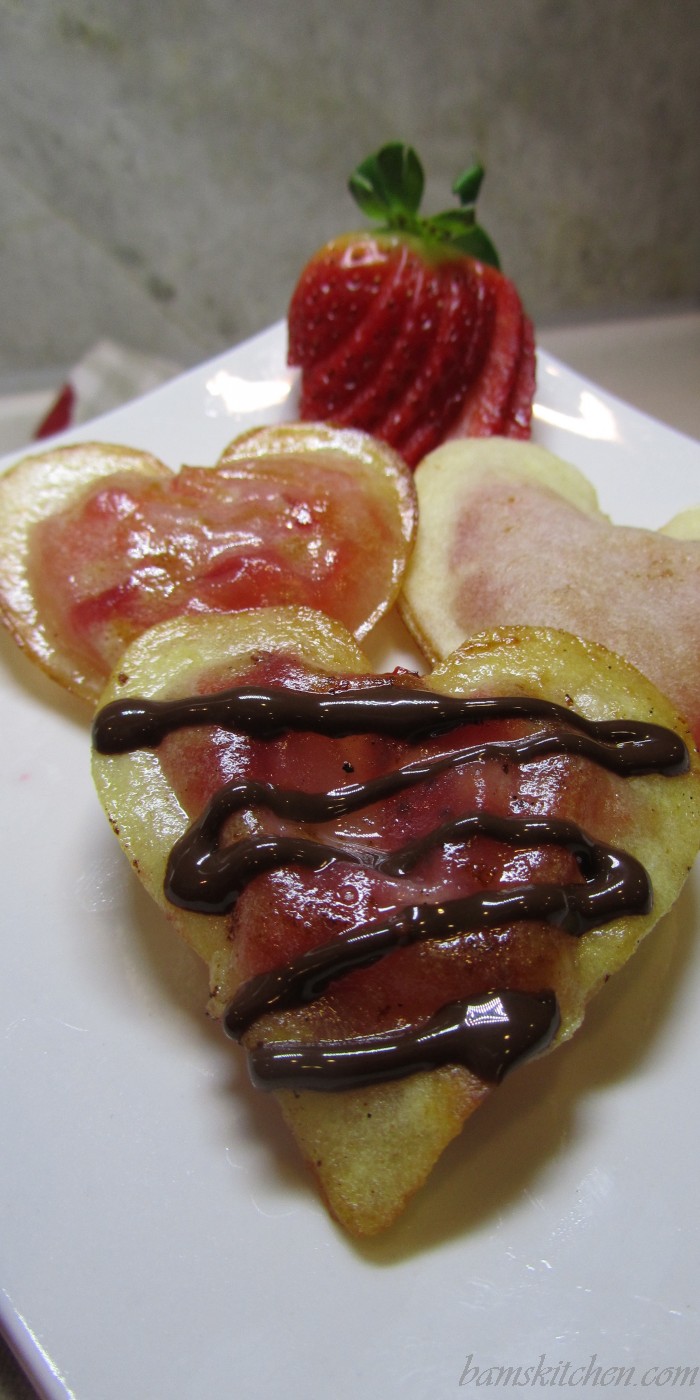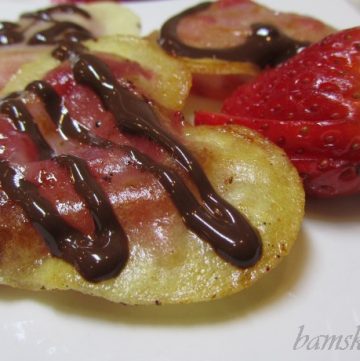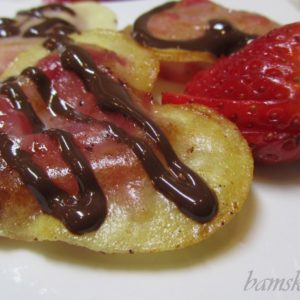 Spring Roll Strawberry Kisses
Quick and easy Valentine treats for a romantic dinner for two or as a fun surprise for an after school snack. This recipe makes about 12 Valentine Heart Kisses depending on the size of your cookie cutter.
Print
Pin
Rate
Ingredients
Spring Roll pastry sheets - package

strawberries - ¾ cup chopped finely (reserve some for garnish)

lemon juice - 1 tablespoon

sugar or sugar alternative - to taste (I used 4 packets of sweet and low)

cornstarch - 1 tablespoon

water - ½ cup

salt - dash

vanilla - ½ teaspoon

egg - 1 beaten (use for glue)

chocolate 70% - optional (melted and drizzle for garnish)

whipping cream - optional (garnish)

Heart shaped cookie cutter - optional (You could just wrap up strawberries like a Chinese spring roll)

oil for frying - small amount or can use spray oil
Instructions
Unthaw Chinese Spring rolls. (Please note that Chinese Spring rolls dry out quickly when exposed to air so unthaw and keep package closed until ready to use. Once you open the package keep the unused portion under a damp tea cloth to prevent from drying out)

Chop strawberries into small cubes. Set aside.


In a small cup add water, cornstarch, sugar alternative, lemon juice, salt and vanilla. Place into a small pot and cook gently until mixture thickens and the sauce is clear in color. Place a few tablespoons of the thickened cornstarch sugar mixture into the chopped strawberries and mix. Set aside.


Take about 4-6 of the spring rolls sheets together apart from the rest. Set out on the counter and use your heart cookie press to through your 4-6 sheets. You will need 2 heart shaped single pieces of spring roll for each Valentine Strawberry Kiss. Repeat process until you make enough hearts.


Separate the heart shaped spring roll sheets so they are only 1 layer. Be careful as the spring roll pastry is very delicate. If you want to make 12 hearts then you will need a total of 24 single heart shaped spring roll sheets.


Lay one heart shaped spring roll on the counter and brush the outside with a little egg wash. Then scoop about 1 teaspoon of your strawberry filling in the middle (keep the filling away from the sides and leave about ¼ space around the edges to make a seal) Now here is your chance to get creative. Maybe instead of strawberries you want nutella or bananas or even cheese instead. Let your creative side rule and let me know what you come up with.


Lay another heart shaped spring roll wrapper on top and press the edges to seal.


Place a little oil in a frying pan and bring temperature up to a medium high heat and carefully add your Valentine Heart Kisses to the pan. Fry gently for 1-2 minutes on each side or just until golden brown and crispy on the outside. Remove from pan.


Decorate and garnish Valentine Heart kisses with melted 70 percent chocolate, fresh strawberries, whipping cream or whatever your little heart desires. Serve warm or at room temperature and watch your loved ones and families smile.


Happy Valentines Day!
Nutrition