Say hello to your new favorite dairy free dessert! Silky smooth Spicy Chai Coconut Jelly is a light and creamy Asian pudding dessert. It's all about that luxurious texture - delicate and soft like a tofu or panna cotta but with warming chai spices that will have you swooning. Try this easy lightly sweetened treat for your next dinner party gathering, dim sum or even Chinese New Year Party.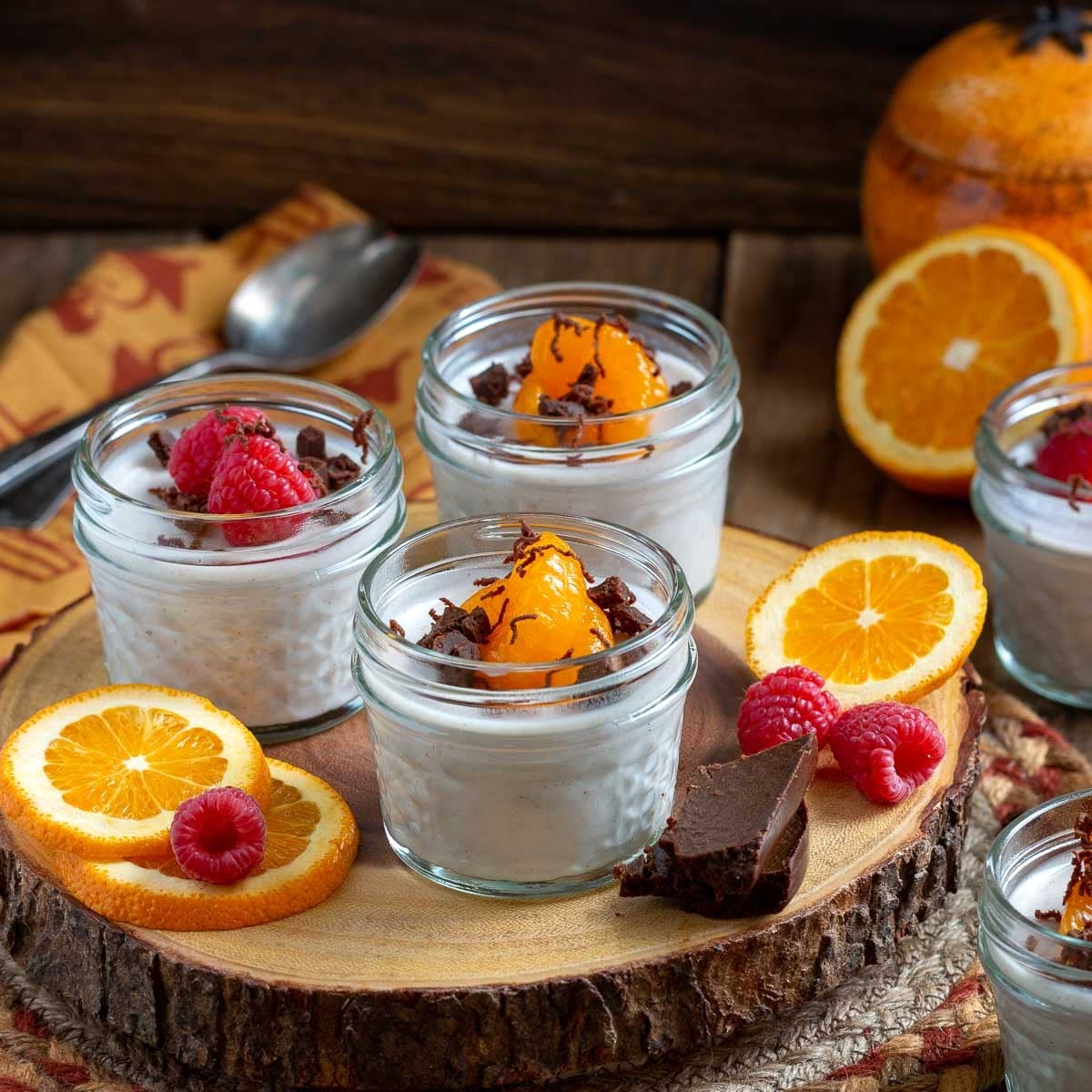 Jump to:
Melo Melo Coconut Dessert Recipe
This unique coconut jelly (also known as coconut jello) recipe is a copycat "chai latte version" of the famous Melo Melo Coconut Dessert. However, our version is a little richer because we do not use any coconut water or regular dairy – just creamy coconut milk. Now, you can now make this easy recipe at home at a fraction of the cost.
Dessert Perks
Perfect dessert any time of the year. As it is served chilled, it is cooling like our Easy Coconut Iced Chai Tea Latte. However, it is also nice in the autumn and winter because of the warming spices. You first experience the cool temperature of the jelly on your tongue. After the first bite, you will the feel the heat of the warming spices and feel cozy. Best of both worlds.
You can make this chai spiced pudding up to 2 days in advance so you can enjoy your dinner party guests.
Unlike a traditional cake or pudding, this coconut milk dessert is light, so it won't weigh you down.
Gluten-Free and Dairy-Free
Only 110 calories and 8 grams net carbohydrates per 4 ounce serving.
Uses only a few pantry ingredients.
Favorite Cantonese dim sum treat.
Only lightly sweet! You can also exchange with a sugar alternative of choice to keep it low carb. Perfect sweet ending to Asian Keto Recipes for Chinese Thanksgiving.
Unflavored grass-fed gelatin is rich in collagen from the skin, bones, tissues, and tendons of cattle. Collagen is a protein that may help treat bone and joint disorders according to study by Alfonso E. Bello and Steffen Oesser.
What is Gelatin?
We used unflavored grass-fed non-GMO beef gelatin to make our Spicy Chai Coconut Jelly. Unflavored gelatin is an odorless, tasteless, and a colorless thickening agent. When dissolved in cold water, heated, and then cooled, it forms a jelly. We ordered ours online, but you could also just use the Knox unflavored gelatin down the baking isle at your grocery store.
Ingredients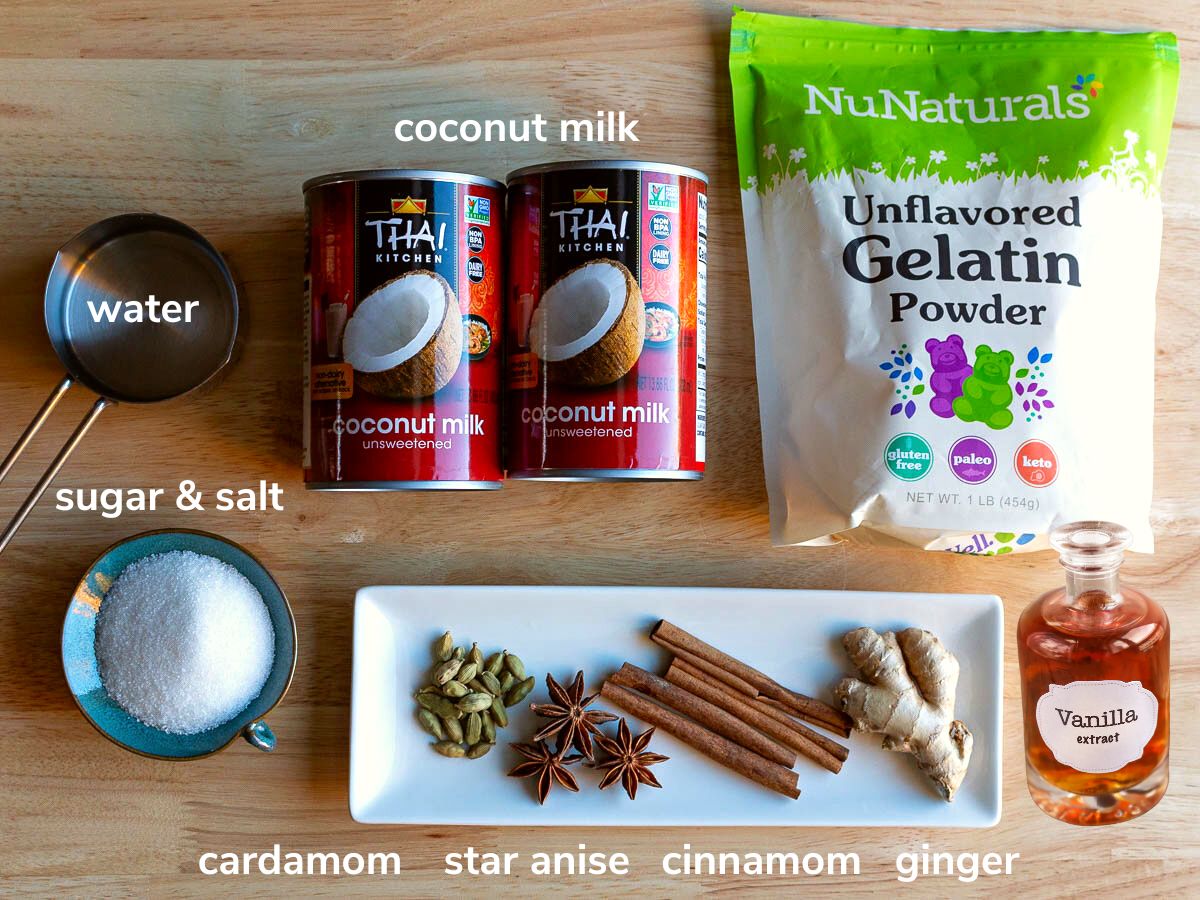 Coconut Milk – Full fat for that luxurious silky smooth mouth feel. This is "canned" coconut milk and NOT "drinkable" coconut milk in a carton like we used for our Spicy Chocolate Chai Pu-erh Chia Pudding. We have not tested this recipe with canned low fat coconut milk.
Unflavored Gelatin – Pasture – raised, grass Fed unflavored beef gelatin is the best. However, you can also use Knox gelatin. We have used the NuNatural brand for this recipe and our Valentine Day Jello Jigglers with good results.
Chai Spices – Either whole or dried ground cardamom, ginger, cinnamon, and star anise. You can use Chinese five spice powder as a replacement for star anise in this recipe. We like to sprinkle in a little extra dried ground cinnamon at the end to give the coconut jelly a little pop of color specks and flavor.
Sugar or Sugar Alternative of Choice – We used just regular granulated because we only like our desserts lightly sweet and to preserve the white color of the coconut. However, you can use brown sugar, sugar alternatives of choice or even date paste to sweeten. Please note: If you use brown sugar or date paste the color of the coconut will turn a tan, brown color.
Vanilla – to balance the flavors.
How to Make: Step - By - Step Directions
Please refer to the recipe card below for the full and complete directions.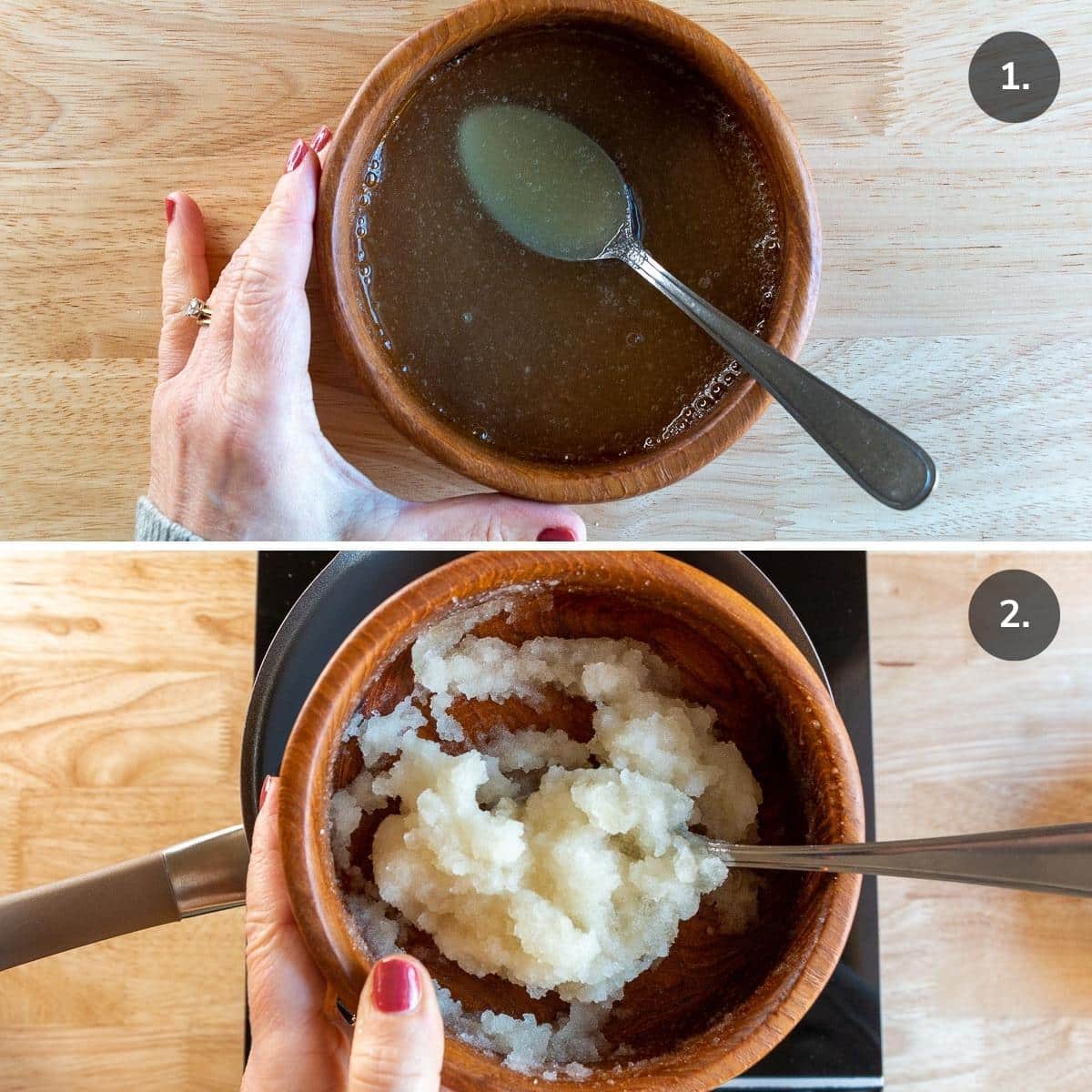 Bloom or dissolve the gelatin in cool water. The mixture will thicken to the consistency of apple sauce.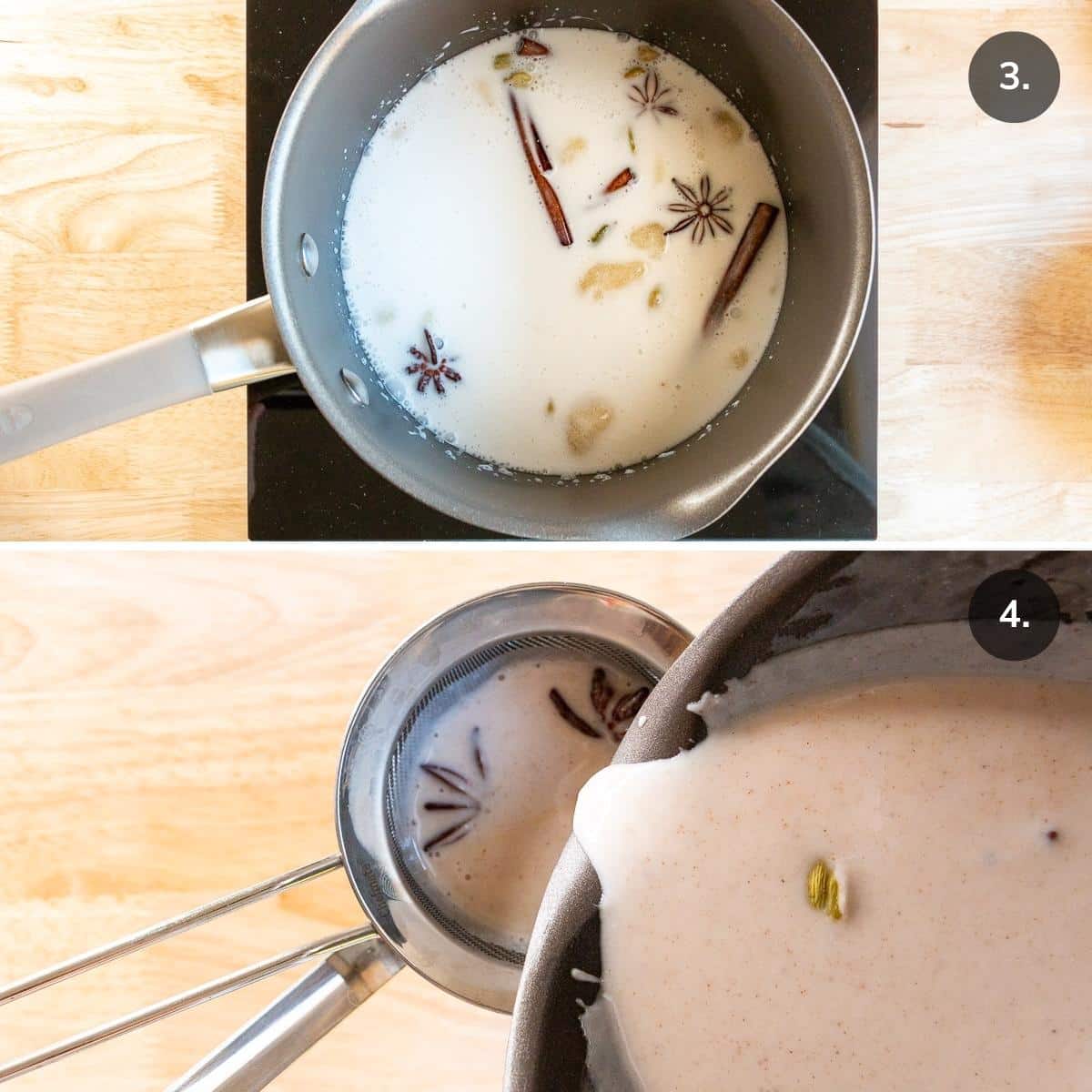 Add coconut milk, chai spices (cardamom, ginger, cinnamon, and star anise), sugar, salt, vanilla and bloomed gelatin into a pan and simmer gently. Whole spices take a little longer for flavors to mingle. However, ground spices only need about 15 minutes. Heating activates the gelatin.
Stir continuously until the gelatin dissolves.
Strain and remove the whole spices.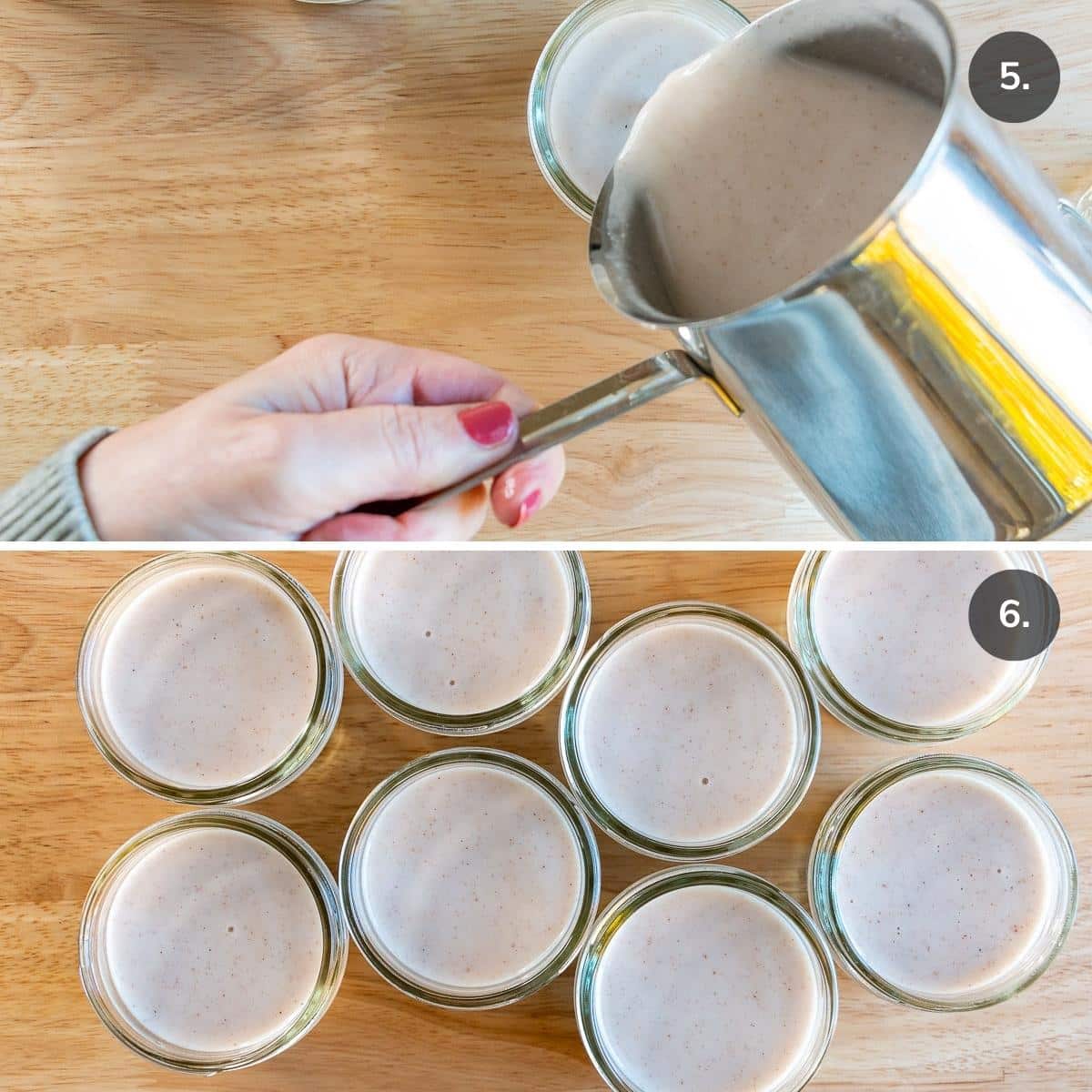 Pour the Spicy Chai coconut Jelly into jars or serving containers and allow to cool to room temperature.
Cover and place in the refrigerator to set for 4 hours or overnight. We used little 4 ounce jam jars as they have convenient little matching lids.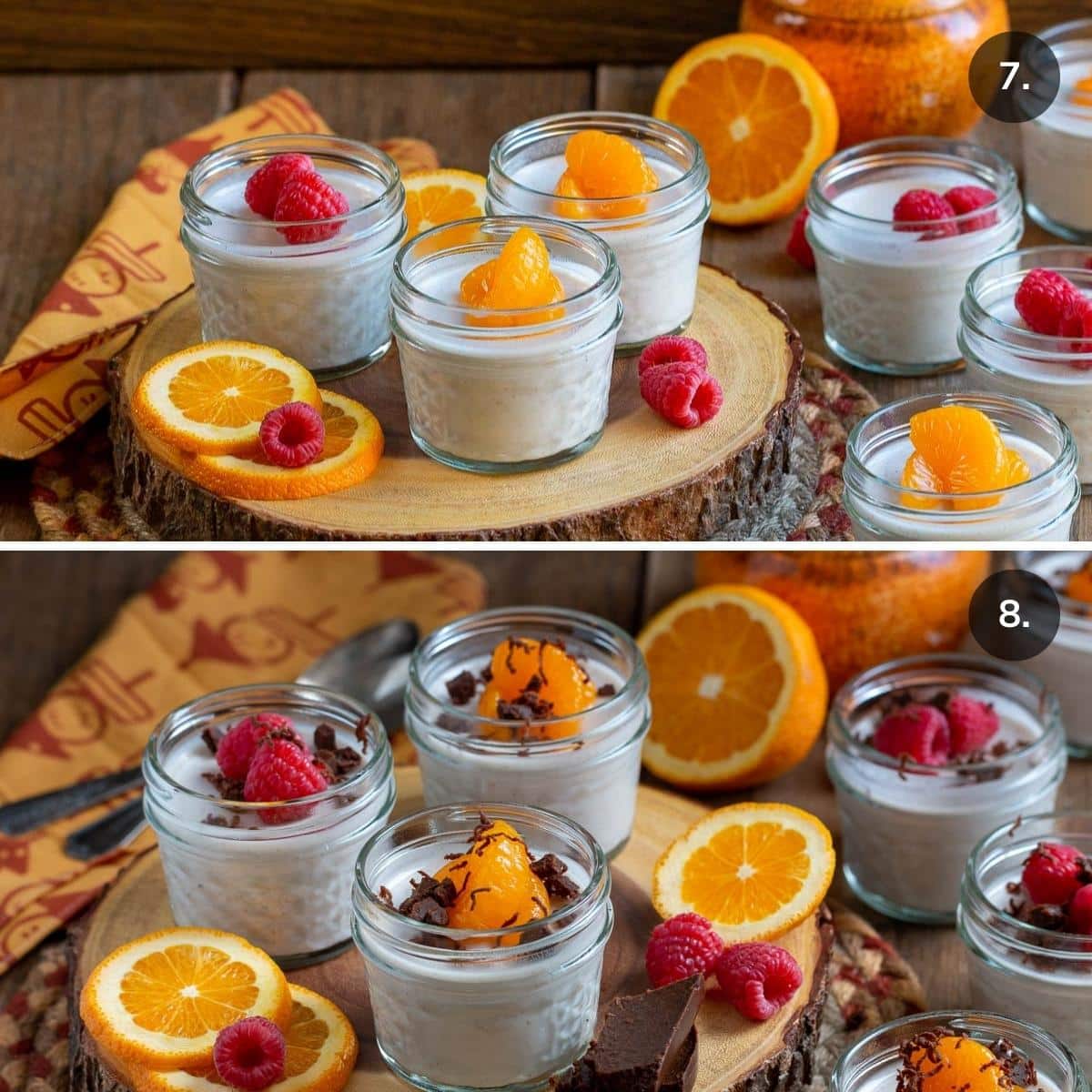 Garnish with fruit or chocolate as desired.
Variations and Toppings
Top your Spicy Chai Coconut Jelly with an in-season fruit of choice. Fresh berries are delicious when in season. However, canned mandarin oranges are always in season (smiling) and great pantry ingredient to have on hand. More importantly, we like to keep the texture of the dessert ingredients soft and supple.
The warming spices also pair well with fresh figs, dried dates, or even rum marinated raisins. Yes, that is certainly a must try - especially around the holidays.
Dark chocolate paired with oranges and chai spices are a match made in heaven. Delicious topping for festive fall or winter dessert.
Stir in fresh fruit like mangoes, dragon fruit or berries BEFORE the jello sets.
Tongue numbing Anise seed spice is a fabulous addition but if you can find that, exchange with a little Chinese five spiced powder as anise is one of the main ingredients.
Want to make this coconut dessert vegan? Use 2 teaspoons of agar agar which is made from seaweed instead of gelatin that is made from cattle skin, bones, and cartilage.
Make coconut jelly cubes!
How to make Coconut Jelly Cubes?
Spray a little oil into the bottom of an 8-inch x 8-inch non-stick cake pan.
Then, line the pan both ways with plastic wrap. Allow a little plastic wrap to hang over both sides so it is easier to lift out of the cake pan.
Pour the strained coconut chai mixture into the pan.
Allow to cool and then place in the refrigerator to cool and set – about 4 hours or overnight.
Then, using the plastic wrap overhang, carefully remove spicy chai coconut jelly.
Cut into cubes or diamond shapes and serve. Dip in shredded coconut flakes, if desired.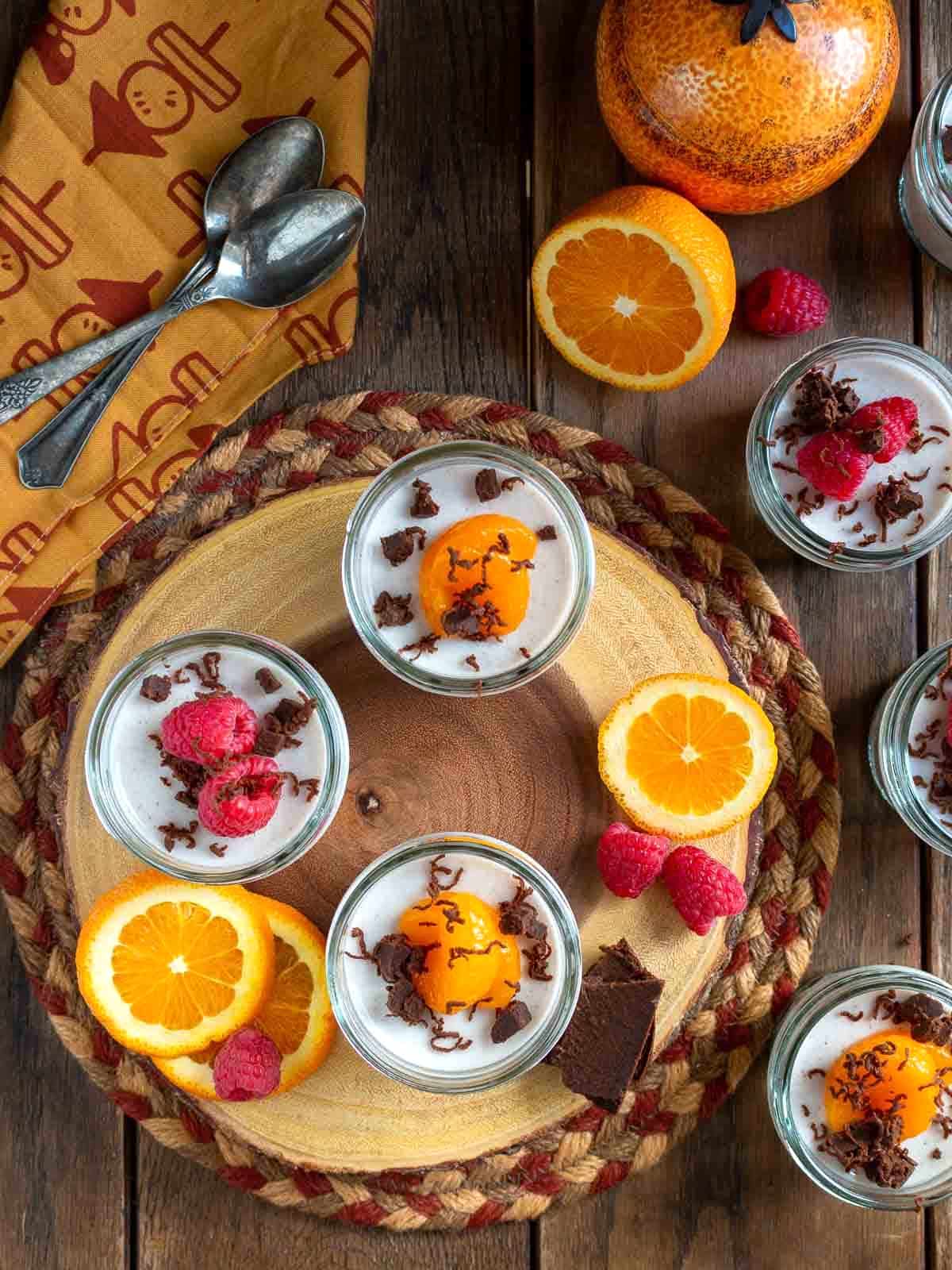 Recipe Tips
Bloom the gelatin first in cold water. This makes sure that the gelatin gets dissolved completely. If you dump the dry gelatin powder directly into the heated coconut chai milk, it will clump up.
Cook the spiced coconut mixture over medium heat. You will first notice little bubbles forming on the side. Keep your eye on it and keep stirring. Once the mixture starts a gentle boil, immediately remove off the heat.
Make sure you continue stirring until all the gelatin is dissolved and none is sticking to the bottom of the pan.
Don't take your eyes off the pan. If you have ever had to clean up the stove top burners after a milk overflow, you will never do that again.
Be sure to strain the hot coconut chai mixture through a fine mesh strainer to remove any of the gelatin that may have not melted and/or whole spices.
Cover and place in the refrigerator so a skin does not form.
Best kept in refrigerator until ready to eat as it gets softer when at room temperature.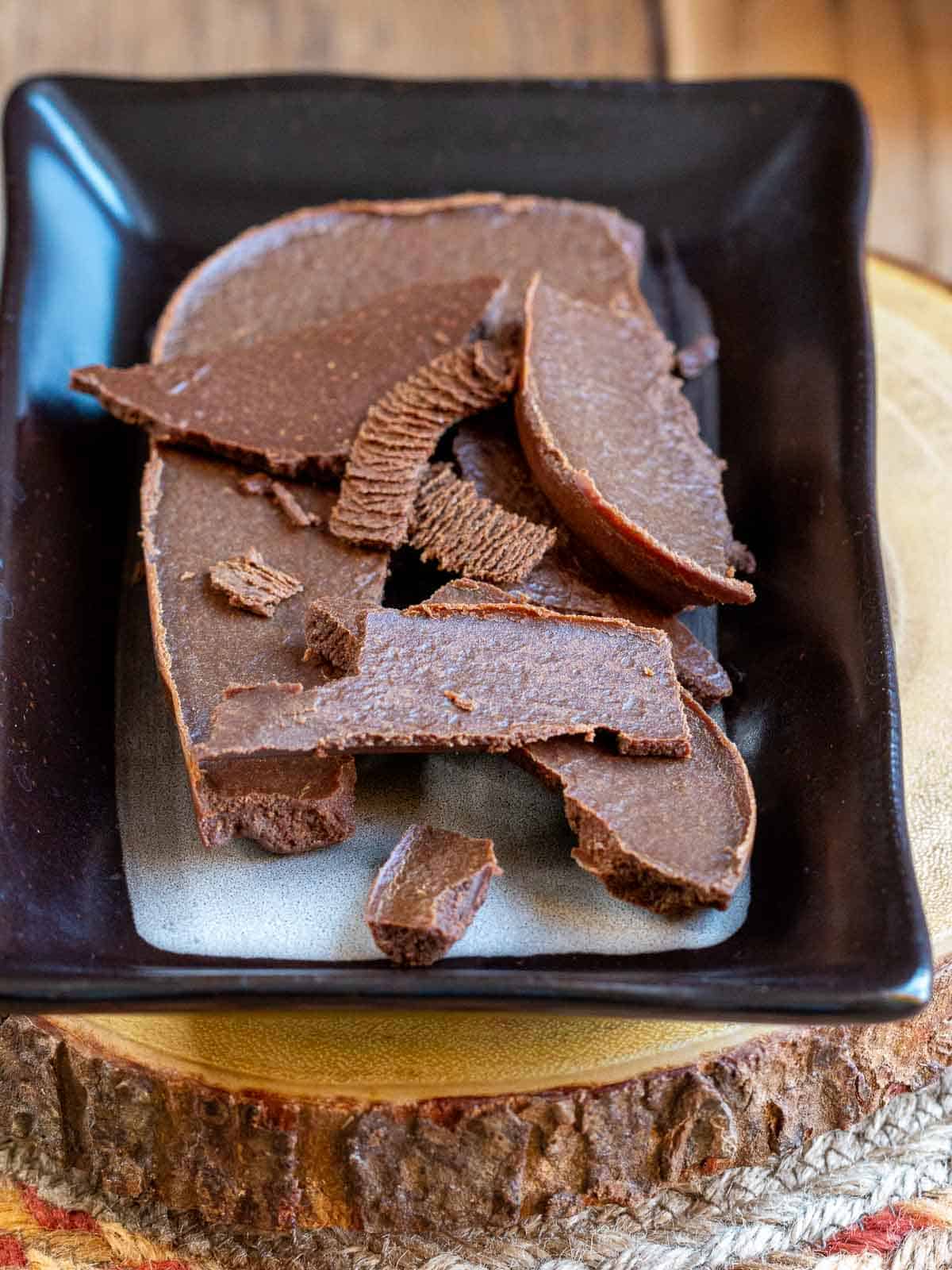 Homemade Vegan Chocolate Topping
Have you ever been in an out of chocolate situation? It's serious – we know! Have no fear as you probably have everything you need to make a delicious chocolate grating or twirls for your Spiced Chai Coconut Jelly in your pantry.
Do you remember our recipe for chocolate covered frozen fruit? Guess what if you add these 3 ingredients in a 1 to 1 ratio in a bowl, mix and refrigerate covered overnight, you will wake up to a delicious decadent chocolate bar in the morning.
Coconut oil
Unsweetened cocoa powder
Maple syrup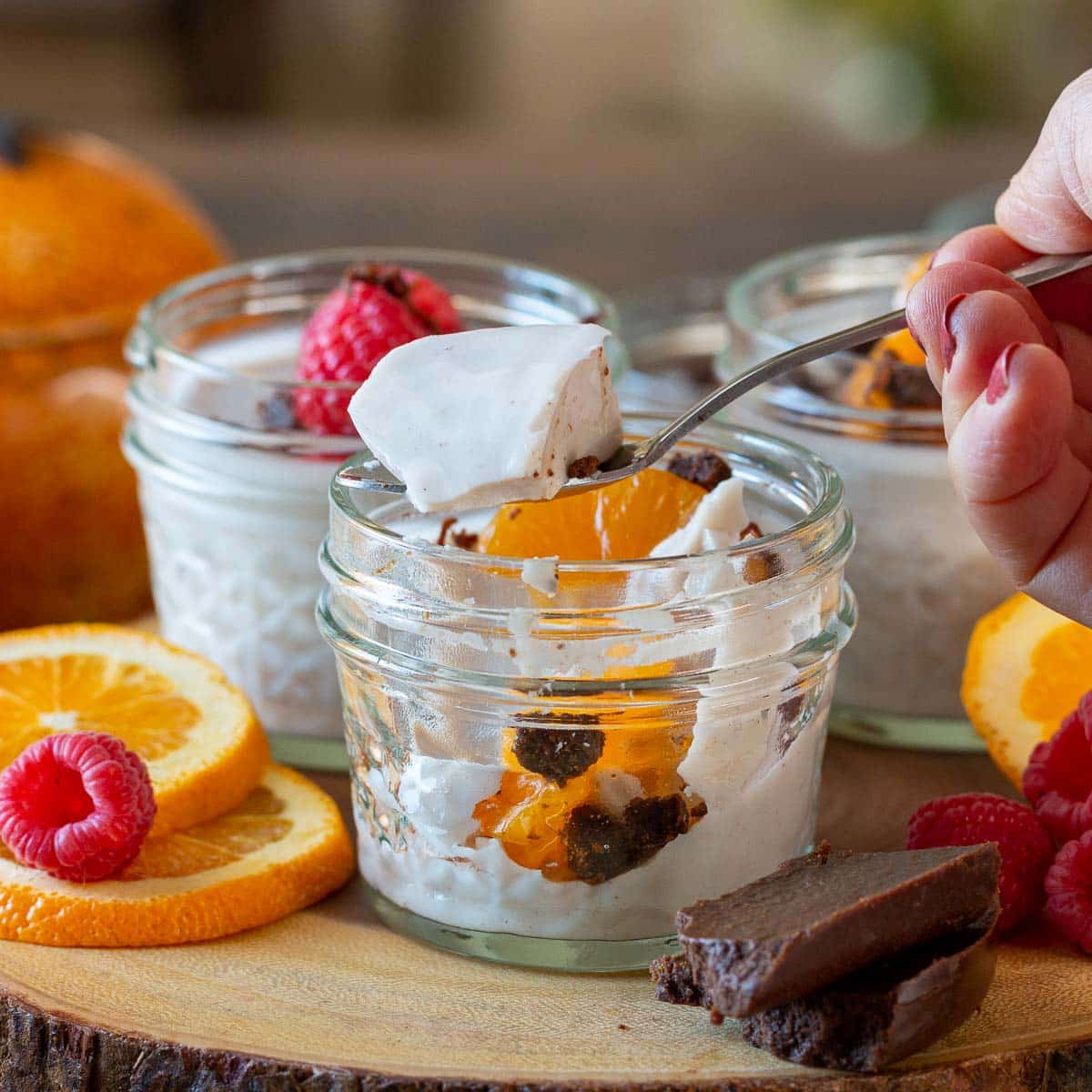 Frequent Asked Questions (FAQ's)
What's the difference between coconut jelly and grass jelly?
Coconut Jelly is made with lightly sweetened coconut milk and is set with either gelatin or agar agar. This dessert has a light sweet coconut flavor. This creamy white Asian dessert is usually eaten alone, cut into cubes, or served with fruit toppings.

Grass Jelly, sometimes also called leaf jelly, is made with Chinese mesona that is part of the mint family. It's called grass jelly not because it is made of grass, but because this plant grows in dry grassy climates. It's leaves and stem are dried, oxidized and processed into a jelly. Grass jelly has a medicinal mint slightly bitter flavor. Unlike, coconut jelly, it is a clear brown color and is usually served as an addition to Bubble Tea or as a topping with other sweet mixed fruits in a refreshing dessert.

Why and how do you bloom gelatin?
The purpose for blooming gelatin is to ensure a smooth texture in whatever you are preparing. If you do not bloom the gelatin before adding it to a recipe, you may have unwanted lumps of gelatin in the product.

Add the gelatin to a cool liquid to dissolve and stir. Do not try to dissolve the gelatin in a hot liquid or otherwise you will have lumps. The blooming process takes about 3 to 5 minutes. After your gelatin has bloomed, you can now add it to your heated liquid so that it dissolves easily and completely.

How long can you store coconut jelly?
Covered coconut jelly can last up to 3 days in the refrigerator. Do not let this dessert sit out more than 1 hour out of the refrigerator as it will soften.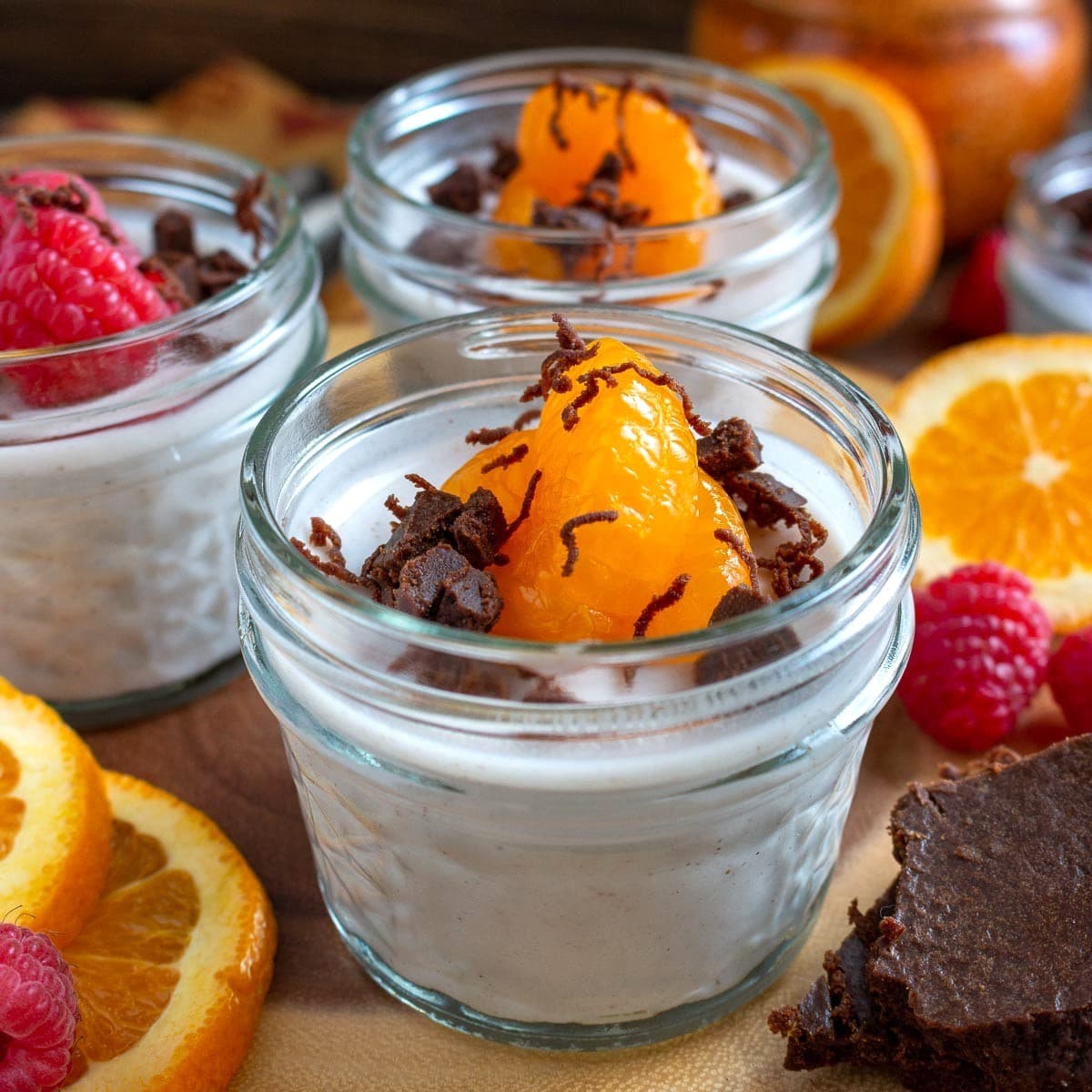 More Asian Desserts
Baked Black Sesame Mochi Donuts
Braised Orange Anise Lotus Root
Did You Like Our Recipe? Leave a ⭐⭐⭐⭐⭐ rating and/or a review in the comments section below. Your feedback is always appreciated! Follow us for more delicious recipes on Pinterest, Instagram, Twitter and Facebook! Don't forget to sign up for our email list for more free recipes.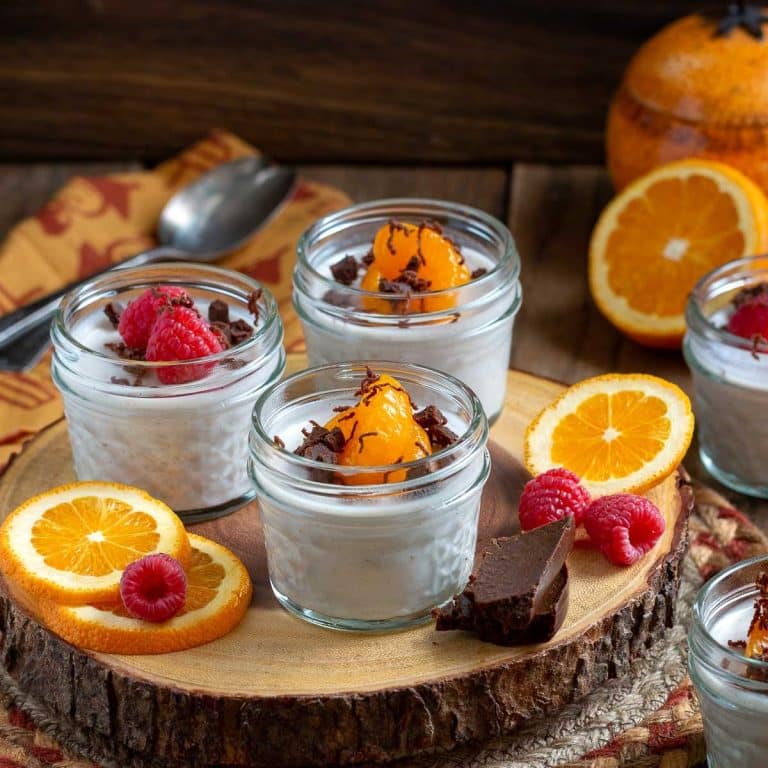 Spicy Chai Coconut Jelly
Silky smooth Spicy Chai Coconut Jelly is a light and creamy Asian pudding dessert.
Print
Pin
Rate
Ingredients
½

cup

Cold water

5

teaspoons

Unflavored gelatin


(we used a grass fed non GMO unflavored beef gelatin or you could use Knox gelatin)

26

ounces

Coconut milk


2 cans (full fat)

6

whole

Cardamom pods


bashed whole (or 1 teaspoon dried ground)

4

whole

Cinnamon sticks


or 2 teaspoons dried ground

2 to 3

whole

star Anise

or 1 teaspoon ground anise or 5 spice powder

2

inch

Ginger


knob fresh peeled and sliced or ½ teaspoon dried ground

3 to 4

tablespoons

granulated sugar

or sugar alternative of choice ( as we only like our delicately sweet, can also use honey, coconut sugar or brown sugar if not watching your carb intake) Taste test and add more if you like yours sweeter.

½

teaspoon

ground cinnamon

optional if using whole spices

1

teaspoon

vanilla

¼

teaspoon

salt

canned mandarin oranges, raspberries, etc.

other fruit as desired for garnish - optional

dark chocolate

optional - garnish
Instructions
Bloom the Gelatin: In a small bowl, add the cold water and unflavored gelatin. Stir and set aside for 1 minute. Do not let it set to long. First the gelatin will turn into an applesauce consistency and then into a firmer gel. You want to work with it while it is in an applesauce consistency OR stir it up really good.

In a sauce pan, add the coconut milk and spices in either whole or ground version (cardamom, cinnamon, anise seeds and ginger). Then add sugar or sugar alternative and stir.

Stir the dissolved bloomed gelatin mixture again. Add the gelatin mixture, a sprinkle of extra ground cinnamon (optional if you used WHOLE spices - it gives the dessert a pop of color ), vanilla and a pinch of salt to the spiced coconut milk. Stir continuously over medium simmer heat for about 15 minutes until the gelatin is fully dissolved and the essence of the spices are fragrant.

Taste and adjust the sweetness level to your liking. (We only like delicately sweet desserts but you may want yours sweeter)

First, the coconut mixture will start to show little bubbles on the side. Once it starts a very soft boil. Turn off the heat immediately and remove from burner - if you have an electric stovetop.

Pour the coconut jelly mixture through a fine mesh strainer.

Then, carefully pour the strained coconut mixture into individual serving cups. If you have any bubbles on top, you can remove them so you have a prettier dessert - but not required. Cover and refrigerate for about 4 hours or overnight. Your Spicy Chai Coconut Jelly will turn into a jello dessert.

Just before serving garnish with canned mandarin oranges, raspberries or any fruit you desire. Chocolate, although it is not required is so good with the chai spices - highly recommended. Enjoy!
Notes
Leftover can be stored in the refrigerator for up to 3 days.
How to make coconut jelly cubes?
Spray a little oil into the bottom of an 8-inch x 8-inch non-stick cake pan.
Then, line the pan both ways with plastic wrap. Allow a little plastic wrap to hang over both sides so it is easier to lift out of the cake pan.
Pour the strained coconut chai mixture into the pan.
Allow to cool and then place in the refrigerator to cool and set – about 4 hours.
Then, using the plastic wrap overhang, carefully remove spicy chai coconut jelly.
Cut into cubes or diamond shapes and serve. Dip in shredded coconut flakes, if desired.
Recipe Tips
Bloom or dissolve the gelatin first in cold water. This makes sure that the gelatin gets all the way absorbed. If you dump the dry gelatin powder directly into the heated coconut, it will clump up.
Cook the spiced coconut mixture over medium heat. You will first notice little bubbles forming on the side. Keep your eye on it and keep stirring. Once the mixture comes to a full boil, immediately remove off the heat.
Make sure you continue stirring until all the gelatin is dissolved and none is sticking to the bottom of the pan.
Don't take your eyes off the pan. If you have ever had to clean up the stove top burners after a milk overflow, you will never do that again.
Be sure to strain the hot coconut mixture through a fine mesh strainer to remove any of the gelatin that may have not melted and/or whole spices.
Cover and place in the refrigerator so a tough skin does not form. Best kept in refrigerator until ready to eat as it gets softer when at room temperature
Nutrition
Serving:
1
4 ounce serving
|
Calories:
110
kcal
|
Carbohydrates:
9
g
|
Protein:
2
g
|
Fat:
6
g
|
Saturated Fat:
6
g
|
Polyunsaturated Fat:
0.01
g
|
Monounsaturated Fat:
0.04
g
|
Sodium:
155
mg
|
Potassium:
23
mg
|
Fiber:
1
g
|
Sugar:
5
g
|
Vitamin A:
3
IU
|
Vitamin C:
0.3
mg
|
Calcium:
13
mg
|
Iron:
0.3
mg