Cardamom Ginger Butternut Affogato is creamy and dreamy cardamom, ginger and cinnamon butternut ice cream dunked into a vanilla cardamom espresso shot.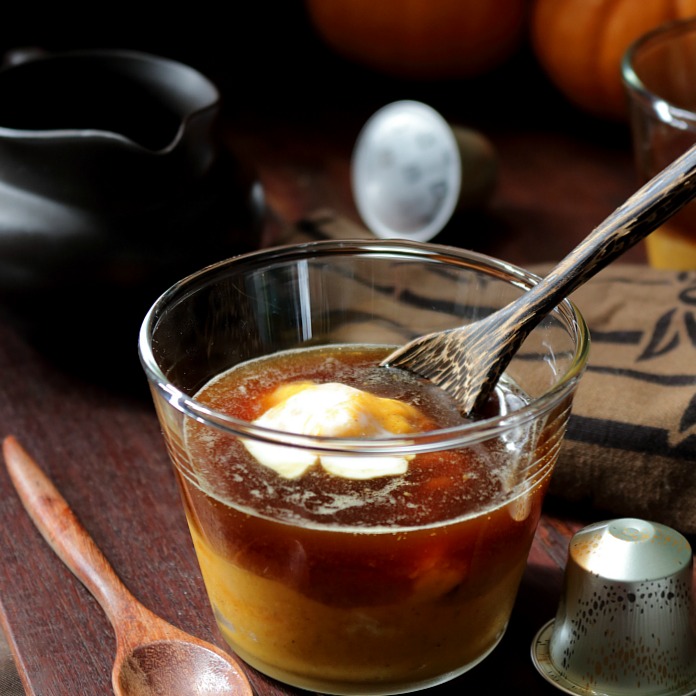 No need to serve your guests coffee with their dessert when they can have it all in one delicious little package. After all, of those heavy holiday meals you want a lighter dessert and this dessert is so healthy that you could even eat it for breakfast.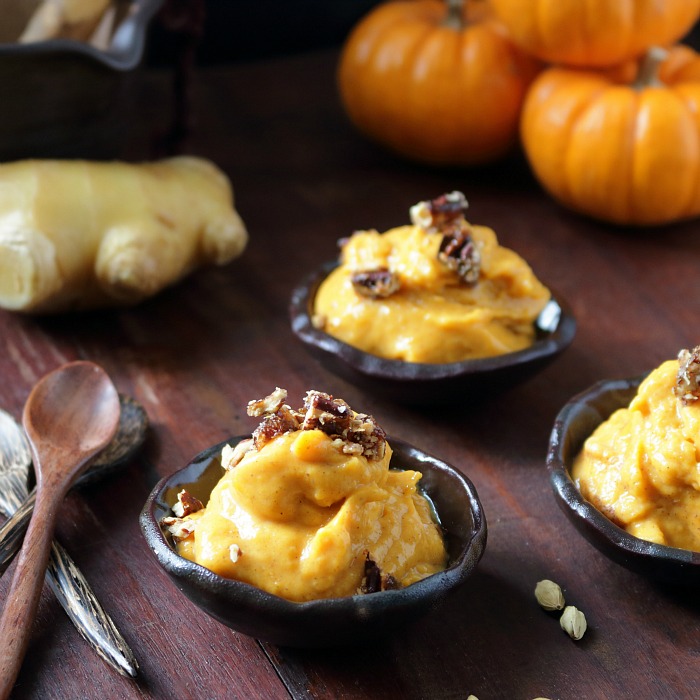 Have you ever tried an Affogato?
In Italy, it is common to get a dollop of ice-cold vanilla gelato topped with a steamy hot-shot of espresso on top. The creaminess of the ice cream blends with the strong espresso for a delightful sweet ending to any meal.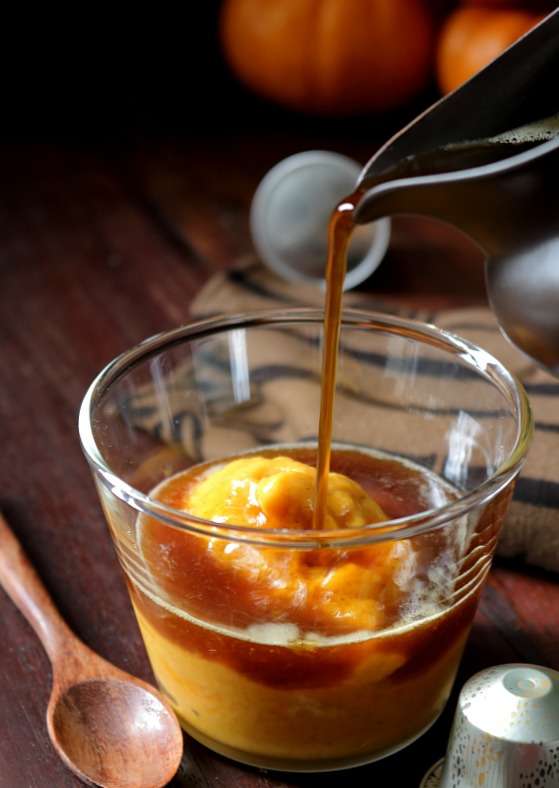 The Italians had a brilliant idea and I wanted to take that concept one step further and make a dessert fall inspired and with a healthy kick.
Roasted butternut squash spiced with cardamom, fresh ginger, cinnamon and a little drizzle of maple syrup is then frozen over night, popped into the food processor with a little chilled coconut milk and wah la.. you have the easiest no churn healthy ice cream ever.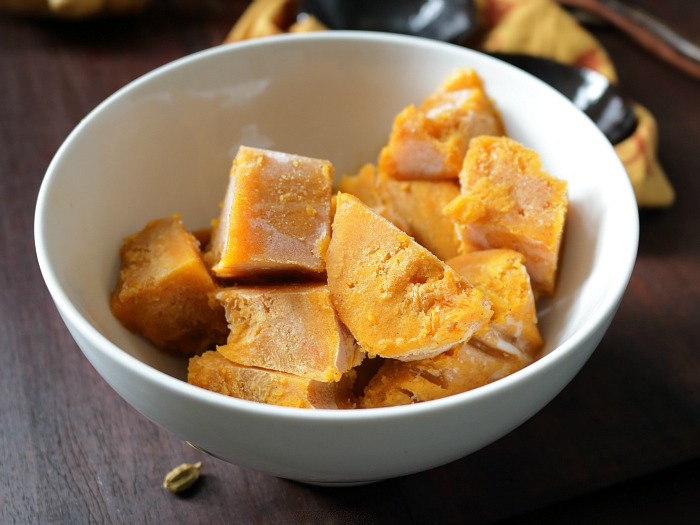 A couple of years ago I wrote a recipe for a Red, White and Blue Healthy Sorbet using frozen raspberries, lychee and blueberries in a food processor for a delicious sorbet in just 5 minutes. Well today, I give you my fall inspired healthy cardamom Ginger Butternut Sorbet. Same concept of whizzing the food processor on high until the butternut squash becomes like small grains of sand and then adding just a little bit of coconut milk just to pull it all together into a delicious sorbet. If you are an espresso fan like us, be sure to try our healthy Mocha Banana Nice Cream made with frozen bananas, unsweetened cocoa powder, instant espresso granules and a little pecan nut butter.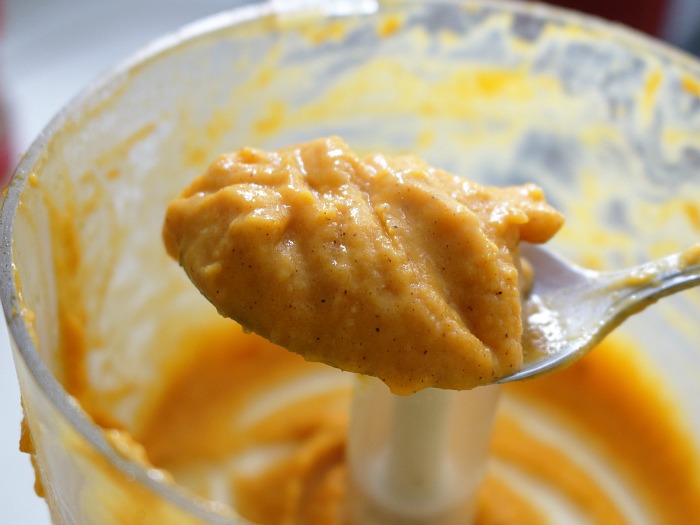 Cardamom Ginger Butternut Sorbet is seriously delicious and I even crumbled a little sugared and cinnamon pecans on top for a little crunch. You can have this little treat out to your guests in just a few minutes flat. You can serve cardamom Ginger Butternut Sorbet with a delicious shot of espresso on the side or together for a cardamom Ginger Butternut Affogato.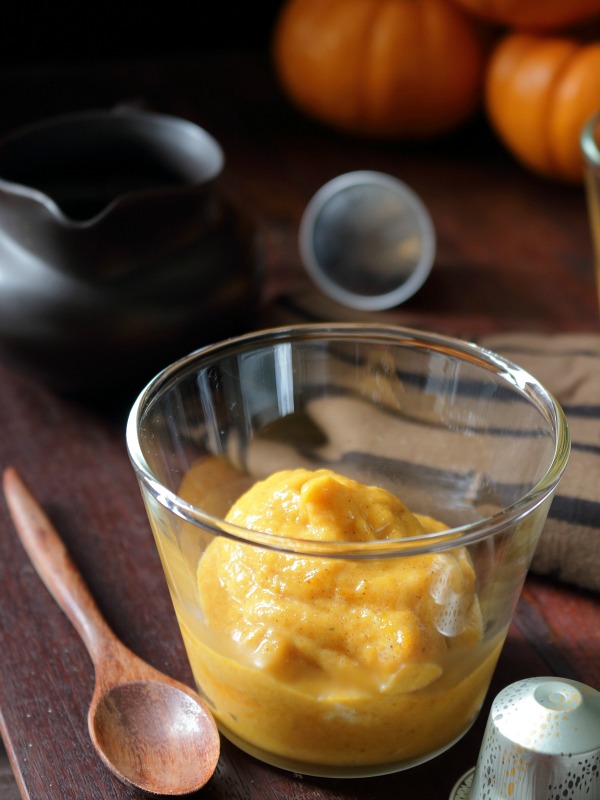 Cardamom Ginger Butternut Affogato is gluten-free, vegan, dairy free and deliciously cooling and warming at the same time. It is a nice balance between yin and yang. The ginger and cinnamon and butternut are warming spices and foods and cardamom is cooling. Did you also know that cardamom can help detoxify the effects of caffeine, so this is a perfect pairing with the affogato.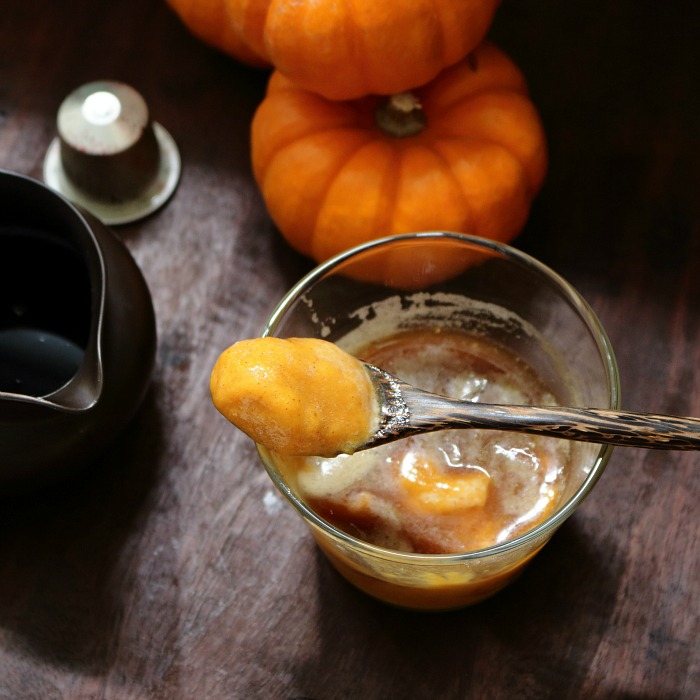 I cut my butternut squash in half and roasted in the oven with a little maple syrup, cardamom, ginger and cinnamon and placed it in the freezer overnight. However, you could also buy frozen puree butternut squash from the market and then chop up with a heavy-duty knife while still frozen and then add your spices and maple syrup and this could cut your time down to less than 15 minutes. I am all about time savers...
If you like butternut squash, you may like to try our Roasted Butternut and Carrot Ginger Soup or Spicy Rosemary Butternut Squash.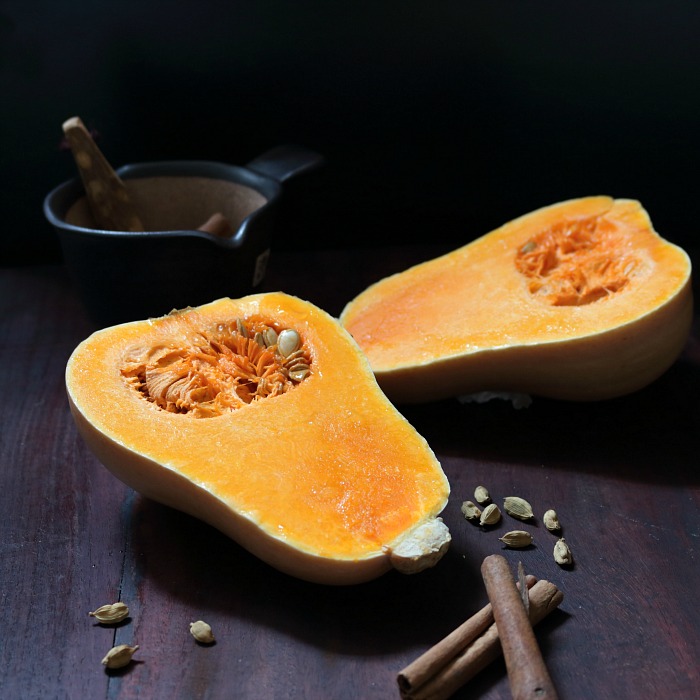 We have a little Nespresso Coffee machine and just the other day we purchased these really delicious limited editions coffees both "vanilla cardamom" and "ciocco ginger"are both really delicious with Cardamom Ginger Butternut Affogato but just a regular espresso would be lovely too. As always, I like my desserts only slightly sweet so please adjust the maple sugar or sugar alternatives amount to your liking.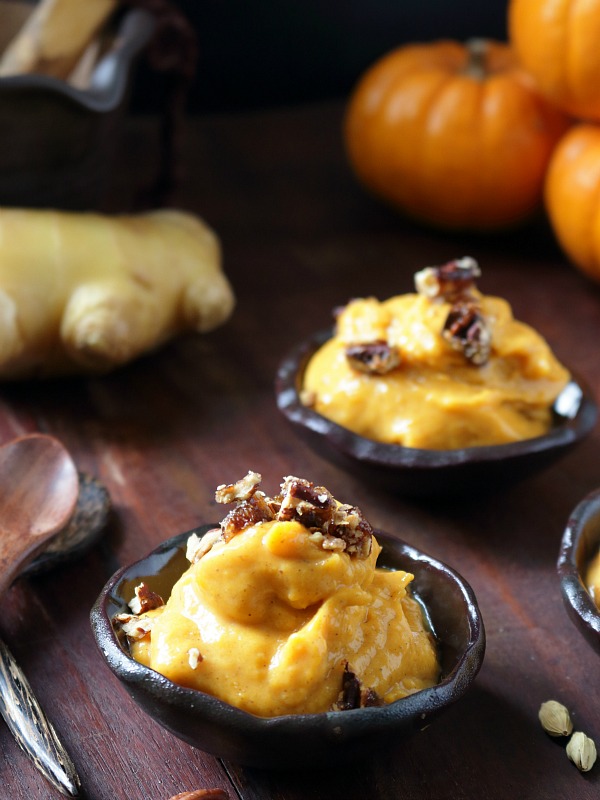 Hungry For More? Subscribe to our Newsletter and follow along on Facebook, You Tube, Instagram, and Pinterest for all the latest updates.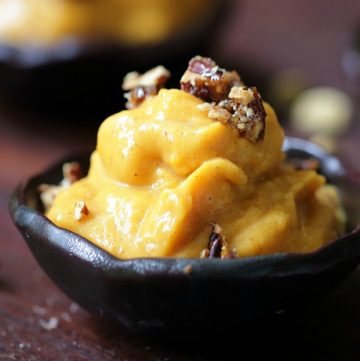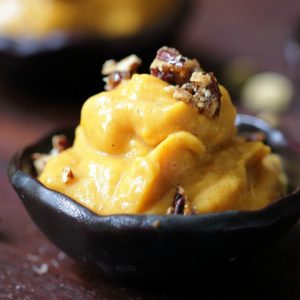 Cardamom Ginger Butternut Affogato
Cardamom Ginger Butternut Affogato is creamy and dreamy cardamon, ginger and cinnamon butternut ice cream dunked into a cardamon vanilla espresso shot.
Print
Pin
Rate
Ingredients
12

oz

butternut squash


fresh or buy frozen pureed

water

just enough to cover the bottom of the roasting pan

1

tablespoon

coconut oil


2

tablespoon

maple syrup

or to taste

1

teaspoon

cardamon


ground

1

teaspoon

ginger


freshly grated (or ½ teaspoon dried ground)

1

teaspoon

cinnamon


ground

¼

cup

coconut milk


4

oz

espresso shots

if you prefer you can make them double shots or increase the size on your espresso maker for larger cup.
Instructions
Roasting butternut squash method- preheat oven to 400 degrees F (200 degrees C). cut your fresh butternut squash in half, remove seeds and turn face down into roasting pan. Place just about ½ cup of water in pan. Bake for about 30 minutes or until fork tender. Flip the butternut squash so it is face side up and rub the butternut squash with coconut oil, drizzle with maple syrup, sprinkle with cardamon, ginger and cinnamon and roast for another 15 minutes. Set aside to cool. When cool, scoop out the flesh of the butternut squash into a sealable freezer baggie or plastic container overnight until firmly frozen. (Or you can by from the grocery store, frozen pureed butternut squash and just add the spices and maple syrup when you add it to the food processor)


Chop the frozen roasted butternut squash into small cubes. Place the frozen butternut squash cubes into your food processor. I had to make 2 separate batches as I have a very small food processor. Place the lid on the food processor and whiz the frozen butternut squash cubes until they turn into small little granules. You will have to stop the food processor and scrape down the sides often.


Add about ¼ cup of coconut milk and mix until smooth and creamy. You may need less or more coconut milk as it depends upon the size of butternut squash.


Serve the delicious Cardamon Ginger Butternut Sorbet with chopped candied pecans on top or with a shot of espresso for a delicious Cardamon Ginger Butternut Affogato. Enjoy!

Notes
How to make a fun Candied pecan topping
On the stove top, add about ⅛ cup coconut sugar and ½ cup of pecans, sprinkle of sugar and heat until the sugar melts. Remove from pan and place on a waxed paper lined dish until cools. Sprinkle on top of affogato treats and enjoy!
Nutrition
Serving:
1
g
|
Calories:
129
kcal
|
Carbohydrates:
18
g
|
Protein:
1
g
|
Fat:
7
g
|
Saturated Fat:
6
g
|
Sodium:
10
mg
|
Potassium:
386
mg
|
Fiber:
2
g
|
Sugar:
8
g
|
Vitamin A:
9041
IU
|
Vitamin C:
18
mg
|
Calcium:
59
mg
|
Iron:
1
mg