Chewy Black Sesame Cookies are the ultimate gluten-free and vegan chewy black sesame cookies with a hint of five spiced powder goes perfectly with a steaming hot-pot of Goji Berry and Red Dates Herbal Tea.
Black sesame desserts, like our Black Sesame Spiral Pie Cookies and Hot Black Sesame Cereal are only lightly sweetened and have this delicious addictive nutty flavor.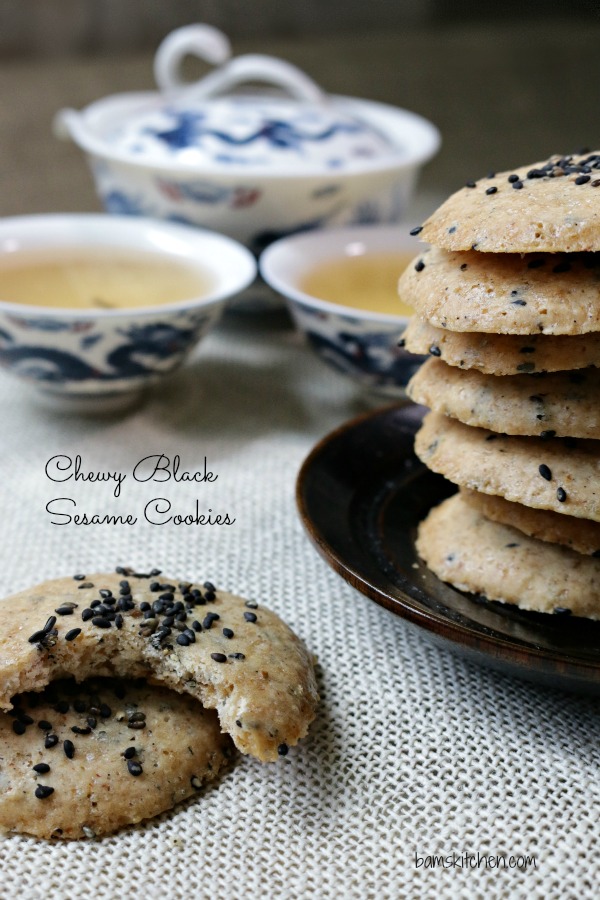 Jump to:
Tea Time!
Every year, I have always attended the Hong Kong International Food and Tea Fair but life became very busy and I was not able to attend this August. However, sweet little Alison from TeaVivre sent the tea directly to me so that I could do a little taste testing right here from the comfort of my own home.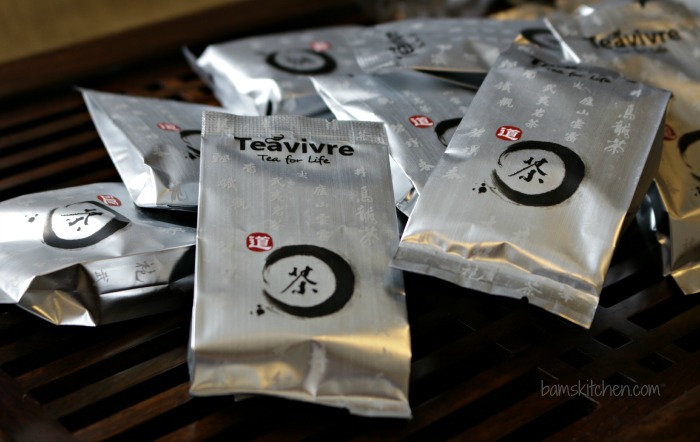 Yum Cha Snacks
When ever I plan to drink tea a lot of tea, I need to have a little something to eat with it or my hands will begin to shake from all of the caffeine. If I am going to drinking some delicious Chinese tea in Hong Kong overlooking the China Sea, I need a little taste of our of gluten-free black sesame cookies or sometimes a delicious Hong Kong Style Egg Tart.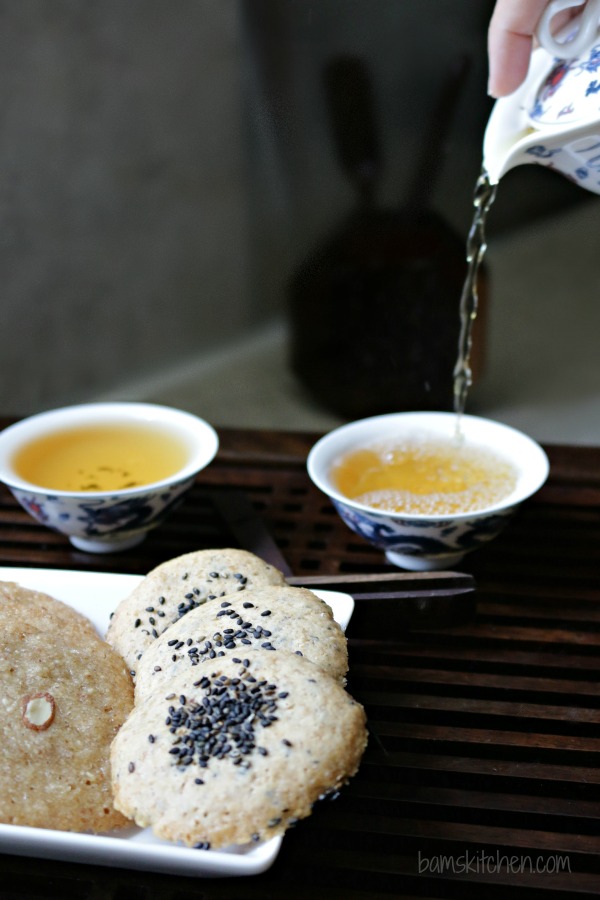 Gluten free, dairy free and egg free
If you like chewy cookies, you are really going to like this quick and easy recipe. I found this recipe for Almond Rice cookies and really loved the consistency of the cookie. I cannot eat eggs so I used the cornstarch and water replacement.
I also added ground sesame seeds instead of almonds in the cookie dough and added vanilla and Chinese five spiced powder.
These little chewy black sesame cookies are gluten-free, egg free, dairy free and vegan. If you are looking for other vegan, gluten-free and dairy free delicious CHEWY cookies be sure to try our Dark Chocolate Macadamia Nut Cookie and our Chewy Mandarin Orange cookies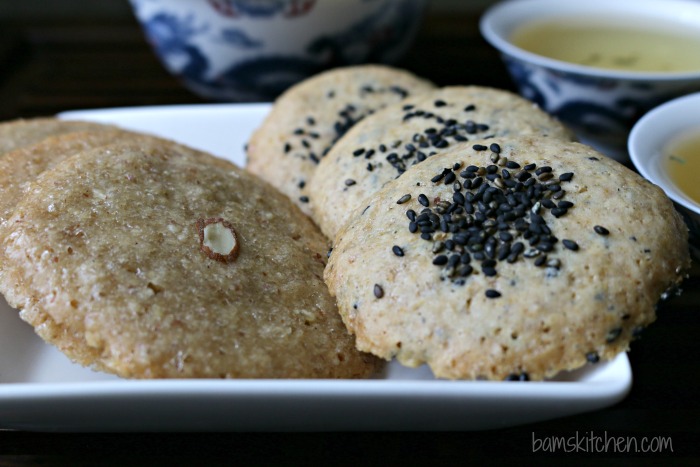 Addictive
I must admit these little Chewy Black Sesame Cookies And TeaVivre are so addicting. I must admit I had a couple or maybe 3 or so to sample with my tea testing but then the other 20 cookies have magically vanished. Glad we also made a batch of our Sesame Spiral Pie Cookies too.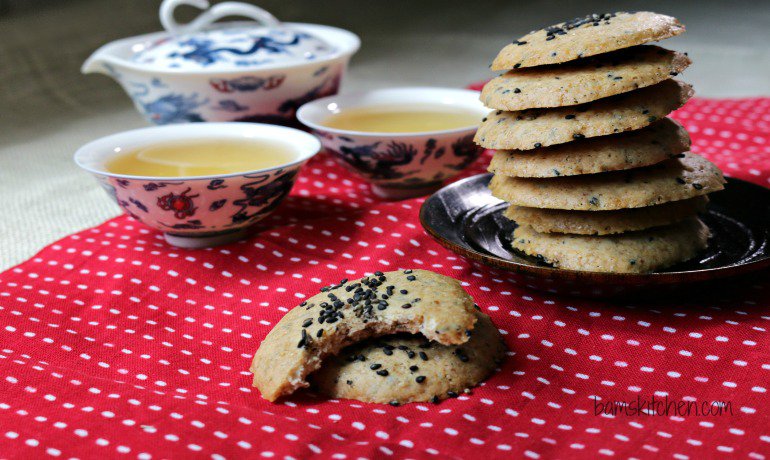 Teavivre
TeaVivre is an online Chinese tea company with many quality teas. T I sampled 4 different teas that are the perfect way to celebrate some of the warmer weather before we head into the fall. A few months ago I posted an entry on Hong Zao Bread and a TeaVivre and these are some great teas for the cooler months.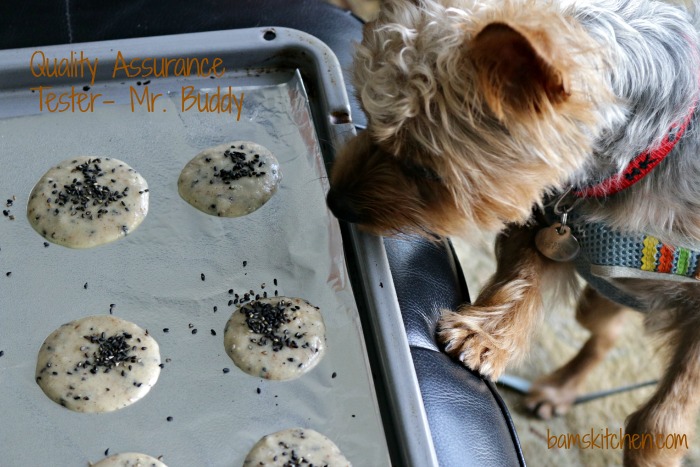 Chamomile Rose Silver Needle Tea
If you are new to tea drinking and brewing Chinese teas, then I think the TeaVivre Chamomile Rose Silver needle tea is the perfect place to begin. When you open the package, it is beautiful with full green silver needles, whole roses and whole chamomile flowers.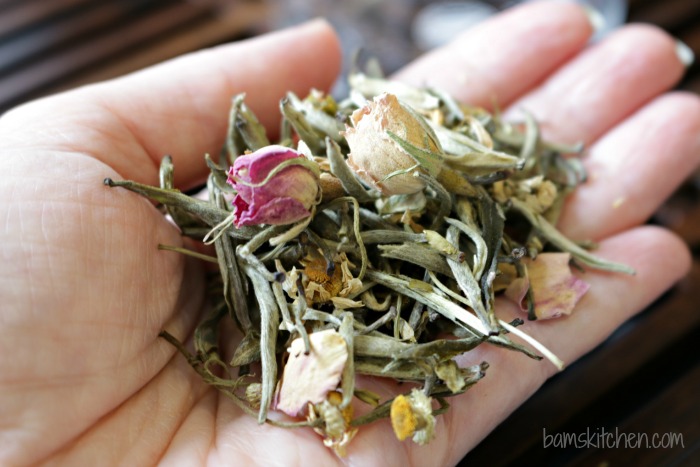 It smells delicately sweet and floral. During the first brew, the delicate rose was the first flavour noted with the background of the smooth silver needles. With the second pour, the chamomile was more prominent. I had four lovely pours and this tea left me relaxed and calm.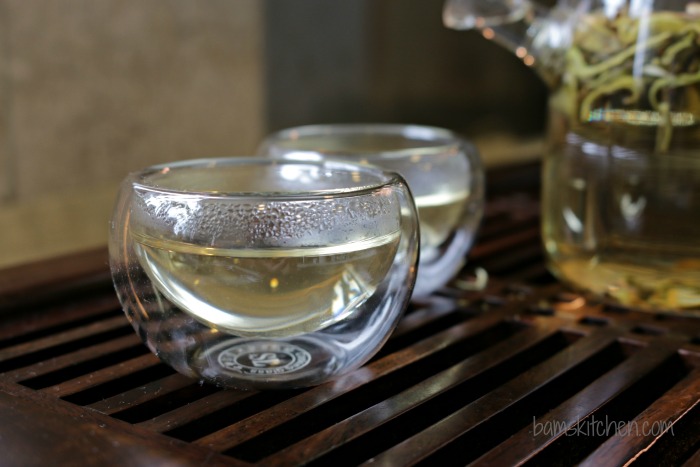 I had a couple of my delicious chewy black sesame seed cookies while I waiting for my water kettle to heat.
Organic Silver Needle White Tea
The second tea sampled was the TeaVivre organic silver needle white tea (Bai Hao Yin Zhen). This tea is organically grown at Mt. Taimu(太姥山) in Fujian, China. When you first open the package you note the beautiful whole green tea buds with a delicate layer of white hairs.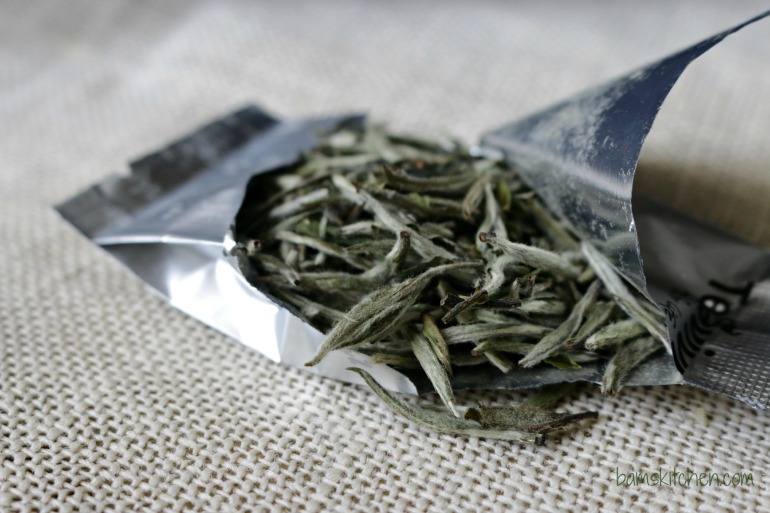 The first pour you notice the sweet undertones of freshly trimmed hay and very smooth and delicate taste, almost a hint of honey. With the second pour, I enjoyed the more intensely honey and melon essence. With more pours it started to have a peppery zest aftertaste. It is a very mild white tea.
I ate another delicious chewy black sesame seed cookie whilst I waited for the water kettle to heat....
Organic White Peony Tea
The third tea sampled was the TeaVivre Organic White Peony Tea (Bai MuDan). Personally, I like this tea just as much as organic silver needle white tea. When you first pour this tea, it smells like fresh ground hay and with second and third pours, the floral hints come to your nose. It is a delicious light tea and with further brews you have a more intense herbal essence.
I shared a couple more of the delicious Chewy Black Sesame Cookies And TeaVivre with friends whilst I waited for the water kettle to heat...
Xi Gui ancient Tea Raw Puer Cake
The fourth and last tea that I tried was the TeaVivre Xi Gui ancient Tea Raw Puer Cake 2013. The first thing I noticed how perfectly intact the tea leaves were and that is a very good thing. The first pour was a smooth and then the second pour more sweet and intense. It is both bold and mellow at the same time. This raw puer taste lasts for many pours. It is a very new raw puer, so I am certain with many years it will improve with flavour and essence as it naturally ages.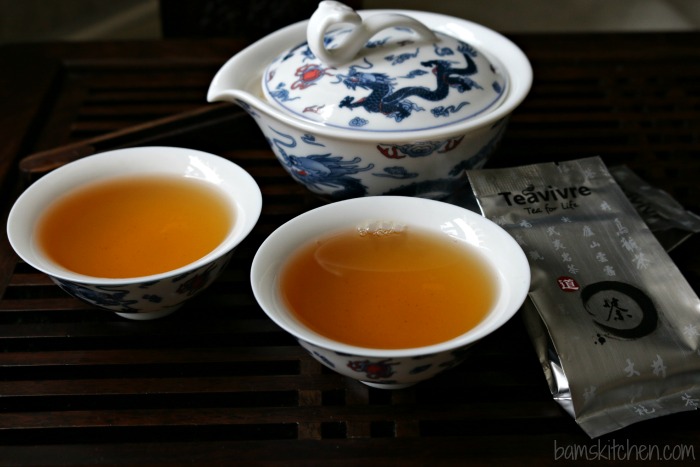 Enjoying tea is a favourite pastime in China
Raw puer has a higher caffeine count compared to the mellow white teas so now I was more than ready to have another one of my chewy black sesame seed cookies.
In China, sharing tea is healing and part of the culture. Tea is enjoyed at family gatherings, in order to pay respect to the elders and a way of healing and keeping your qi flowing. Enjoying tea is also the perfect way to take a moment for yourself to relax. Drinking Chinese tea is also a great way to enjoy renewed friendships or to make new ones. Please take a little visit over to TeaVivre and see what kind of different teas and tea accessories that they have available on-line.
I hope you will take a moment out for yourself to enjoy and little tea and some delightful chewy black sesame seed cookies as I am sure it will bring a smile to your face.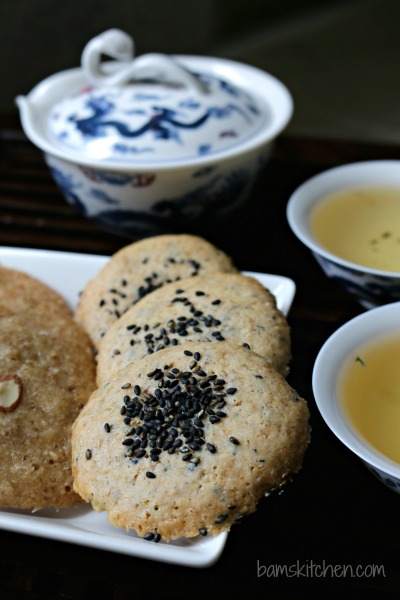 Disclaimer: TeaVivre sent samples to me to review but my opinions remain entirely my own.
More Chinese Desserts and Snacks
Braised Orange Anise Lotus Root
Apple Pecan Spring Roll Mooncakes
Sweet Sticky Rice Chinese New Year Cake
Did You Like Our Recipe? Leave a ⭐⭐⭐⭐⭐ rating and/or a review in the comments section below. Your feedback is always appreciated! Follow us for more delicious recipes on Pinterest, Instagram, Twitter and Facebook! Don't forget to sign up for our email list for more free recipes.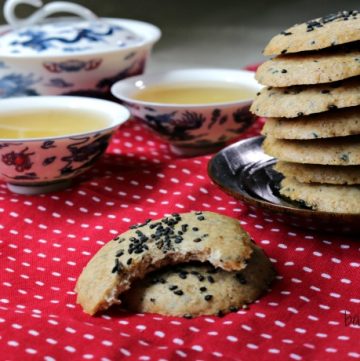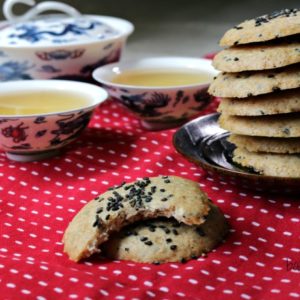 Chewy Black Sesame Cookies
The ultimate gluten-free chewy black sesame cookies with a hint of five spiced powder goes perfectly with a steaming hot pot of deliciously smooth tea.
Print
Pin
Rate
Ingredients
2

tablespoon

black sesame seeds


ground (and extra whole for garnish)

1

tablespoon

cornstarch


2

tablespoon

water


⅔

cup

rice flour


¼

cup

sugar


or sugar alternative

2

tablespoon

honey


or maple sugar for vegan

1

teaspoon

vanilla


1

teaspoon

five spice powder
Instructions
Preheat oven to 325 F (162 C).

Grind sesame seeds in a food processor or with a mortar and pestle bowl and set aside. (I just did a rough grind on the sesame seeds as I like some of the whole sesame seeds in the cookie) Mix cornstarch in a small bowl with water and set aside.

Mix rice flour, ground black sesame seeds, sugar, cornstarch and water mixture, honey, vanilla and five spiced powder until well mixed.

Line baking sheet with waxed (parchment/baking paper) and spoon about a teaspoon full of cookie dough on sheet. Sprinkle and press a few black sesame seeds to garnish. Make sure you leave plenty of room between cookies as they will spread and be quite flat when they come out of the oven. Bake for about 15-20 minutes or until edges are slightly golden brown.

Allow cookies to cool for about 5 minutes on cookie sheet and then remove from the waxed paper.

Makes about 24 small cookies or 9 extra large chewy sesame seed cookies. Store in a sealed container. Enjoy!
Notes
These cookies may also be frozen in a sealed container up to 2 months. Just leave them out for 15 minutes before serving to let them thaw out and enjoy.
If you want to make these cookies vegan, substitute maple syrup for the honey in the recipe.
Nutrition
Serving:
1
g
|
Calories:
36
kcal
|
Carbohydrates:
8
g
|
Protein:
1
g
|
Fat:
1
g
|
Saturated Fat:
1
g
|
Sodium:
1
mg
|
Potassium:
9
mg
|
Fiber:
1
g
|
Sugar:
4
g
|
Vitamin C:
1
mg
|
Calcium:
8
mg
|
Iron:
1
mg