Easy Summer Millet Salad is an ancient grain gluten-free salad bursting with fresh heirloom tomatoes, cucumbers and a zippy lemon Za'atar dressing.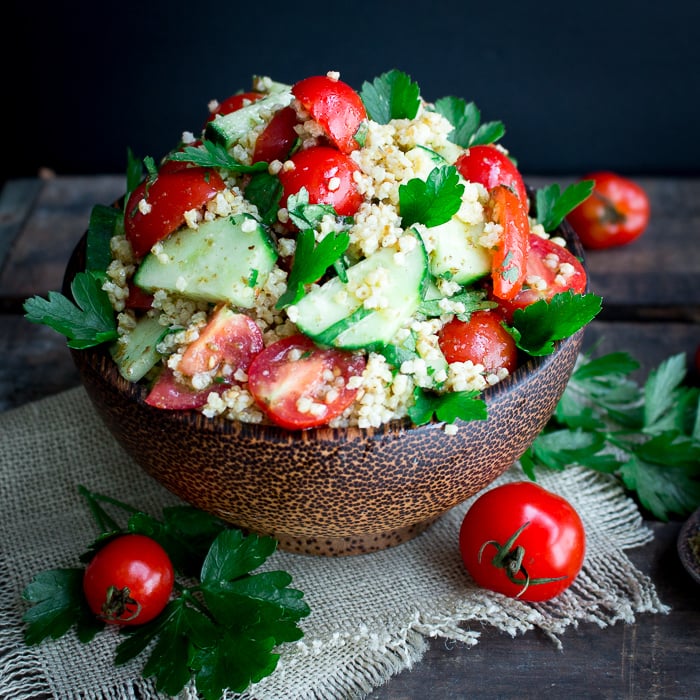 You are just going to love this Super Easy Summer Millet Salad as it takes only 8 ingredients and it celebrates everything summer. Don't you just love how sweet and aromatic tomatoes are fresh from the garden in August? We made a killing at the farmer's market this last weekend and have a surplus of both heirloom cherry tomatoes and pickling cucumbers.
Not only is Easy Summer Millet Salad is to prepare, it makes THE BEST DISH to PASS! With Labor Day weekend right around the corner, this make ahead salad side dish is just what you need.
10 Reasons why you need this Easy Summer Millet Salad in your life…
EASY
LOW FUSS
VEGAN
GLUTEN-FREE
DAIRY-FREE
SALAD HEAVEN
HEALTHY
ANCIENT GRAIN
NUTTY
DELICIOUS
Garden Fresh Tomatoes are the STAR!
Bountiful perfectly ripe tomatoes have the most amazing aroma… don't you think? We used heirloom cherry tomatoes but you can use any type of tomatoes you wish. You can try cutting up your tomatoes and cucumbers all about the same size for an easy to enjoy salad.

What is Millet?
Have you ever cooked with millet before? Millet is an ancient grain and are small-grained, annual, warm-weather cereals belonging to grass family. Did you know that this ancient grain has been eaten by people for over 7000 years? Millet is high in vitamin B, iron, potassium, zinc, magnesium, protein and fiber. This ancient grain has many health benefits including heart protection, aids in digestion, detoxifies the body. Millet may help prevent cancer and type 2 diabetes. We just love millet in this Easy Summer Millet Salad as it is nutty and has a fabulous texture.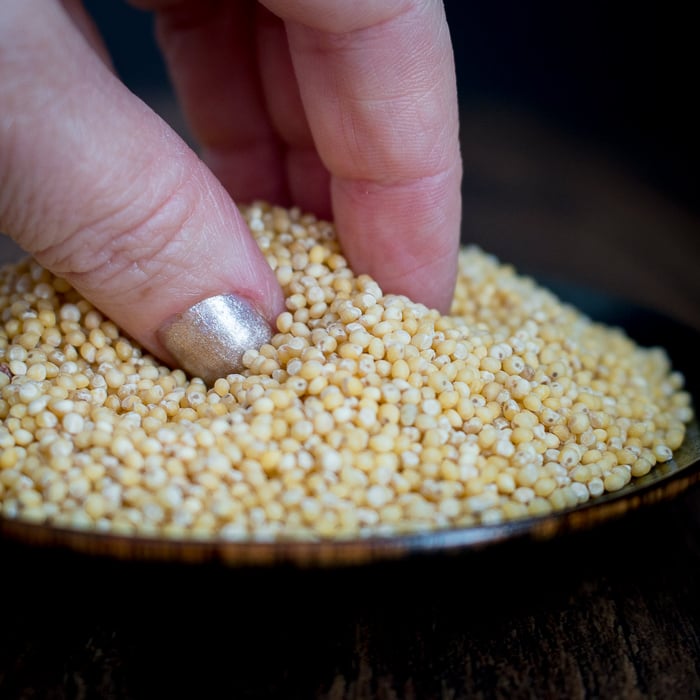 However, we have a word of caution for those that have a poor functioning thyroid. The pearl type Millets contain goitrogen. Goitrogen is a substance that interferes with the production of thyroid hormones and inhibits iodine uptake and utilization by the thyroid gland. Deficiency of iodine is a significant health problem which leads to the development of enlarged thyroid gland and a Goiter.
People with thyroid problems need to restrict their consumption of pearl millets. We used the Bob Mill Millet and they use proso millet and we have been told this type has a lower occurrence of causing a goiter. As with anything, moderation and mixing up your diet is the best way to stay healthy.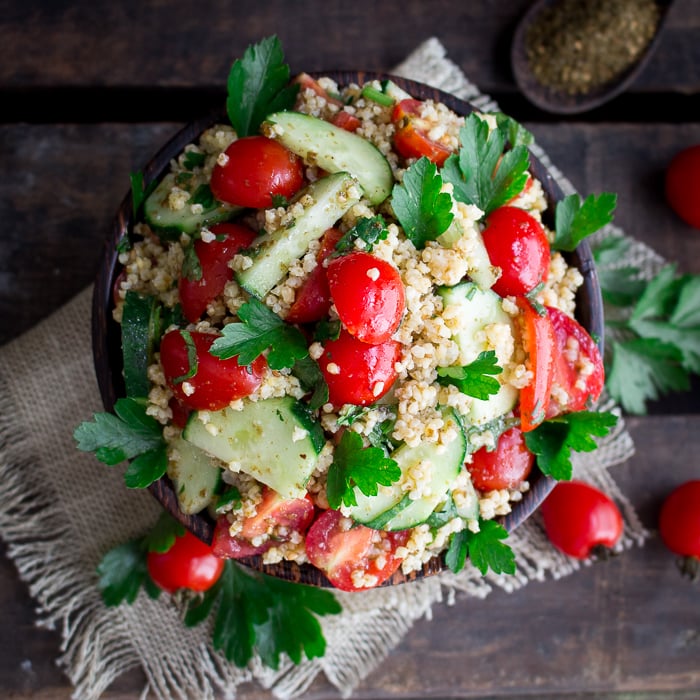 How to cook Millet…
You do not need to presoak millet. However, if you do remember this reduces to the cook time. We love to toast our millet in a dry pan for just a few minutes as it gives it this delicious nutty flavor. Then, we add 2 cups of vegetable broth or water for 1 cup of millet and simmer for about 20 minutes until all the water is absorbed and is aldente. You will also want to let your cooked millet set in the covered pan off the heat for about 10 minutes before fluffing with a fork.
In Asia, millet is sometimes cooked like a congee (soft creamy consistency) with a 1 cup millet to 3 cups ratio of water and cooked a bit longer to get a thick cereal consistency. Then you can add any of your favorite toppings. However for this Easy Summer Millet Salad recipe, you will want a more aldente bite to your millet.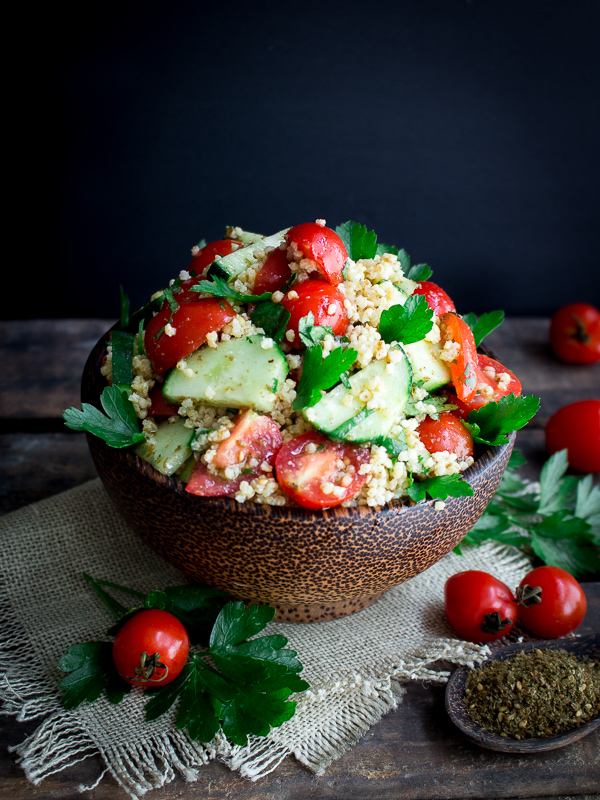 Why you need Za'atar in your Spice Pantry…
Another ingredient that we used in our Easy Summer Millet Salad is Za'atar. Do you have Za'atar in your spice pantry? Za'atar is so delicious in so many recipes. Za'atar is a Middle Eastern blend of herbs and seeds (sumac, sesame seeds, thyme, salt and optionally cumin if you wish). Check out Kevin is Cooking Classic Lebanese Zaatar Spice Mix recipe. for an easy make at home recipe spice mix. Zaatar is fabulous on grilled meats, vegetables, salads, breads and you name it. Be sure to try our Crispy Roasted Cauliflower Bites as those caramelized cauliflower bites are going to make your family swoon.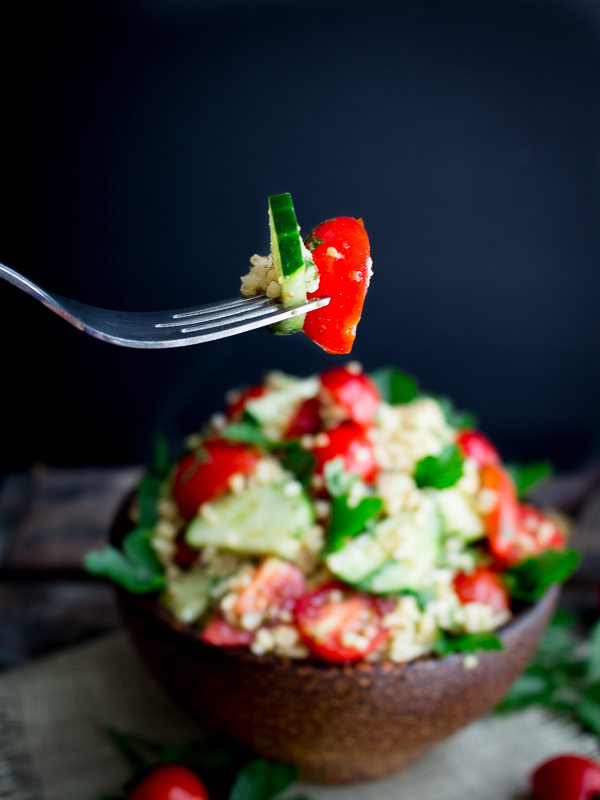 Fresh lemons make everything better!
Easy Summer Millet Salad is super delicious with Extra Virgin Olive oil (EVOO), fresh lemon juice, Za'atar and a pinch of salt and pepper to taste. How easy is that! This is the type of recipe that we like to use good olive oil. This recipe only has a handful of ingredients so you want to have each of the ingredients shine.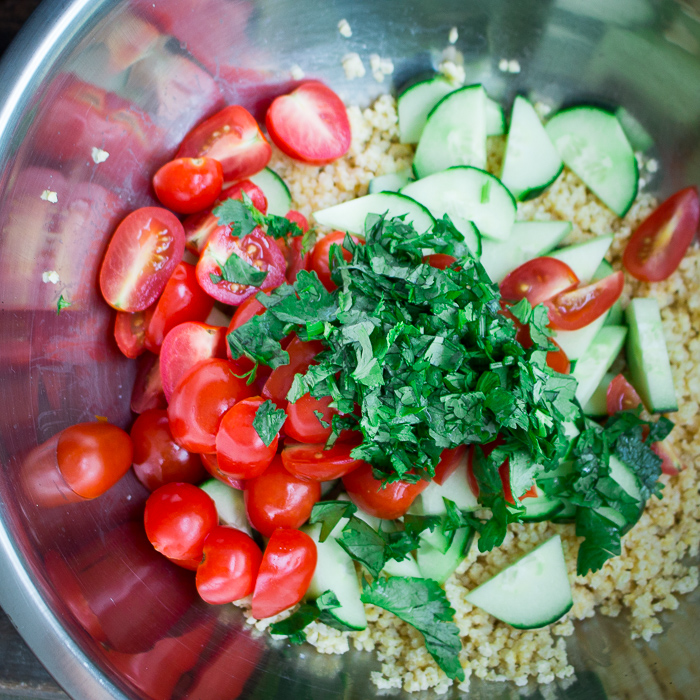 Fall is starting to peak around the corner. The leaves are already starting to turn and the days are getting shorter. However, we must celebrate the end of summer and its bounty and we cannot think of a better way than to enjoy a delicious bowl of Easy Summer Millet Salad over Labor Day weekend.
More Fresh and Delicious Salad and Dressing Recipes
Lemon White Balsamic Vinaigrette
Summer Salad with Strawberry Rose Dressing
Tutti Fruitti Kale Salad and Citrus Honey Dressing
Thai Pomelo Crab Salad Avocado
Framboise Osmanthus Rose Vinaigrette
Hungry For More? Subscribe to our Newsletter and follow along on Facebook, You Tube, Instagram, and Pinterest for all the latest updates.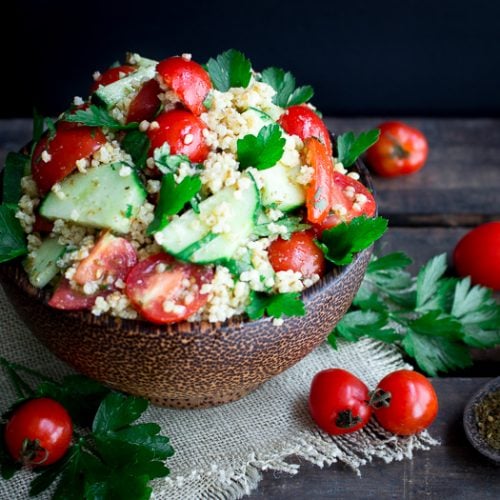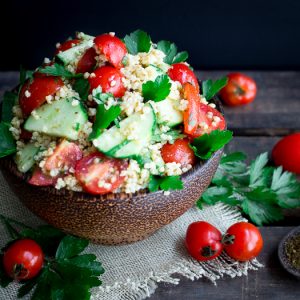 Easy Summer Millet Salad
Easy Summer Millet Salad is an ancient grain gluten-free salad bursting with fresh heirloom tomatoes, cucumbers and a zippy lemon Za'atar dressing.
Print
Pin
Rate
Ingredients
1

cup

Millet


2

cups

Vegetable broth or water


2

cups

Tomatoes


chopped

1

cup

Cucumbers


chopped

2

tablespoon

Olive oil


4

tablespoon

Lemon juice


1

tablespoon

Za'atar spice


½

cup

Parsley


roughly chopped

Salt and pepper

to taste
Instructions
Toast millet in a dry pan over medium low heat until slightly golden and toasty. Add vegetable broth or water and cover and cook over a simmer for about 20 minutes or until aldente. Leave set for 10 minutes off the heat with the lid on. Allow to cool. (If in a rush, put in a bowl and in the freezer for about 5 minutes.)

Add chopped tomatoes, cucumbers, olive oil, lemon juice, Za'atar, parsley and salt and pepper to taste. Toss until well combined. Enjoy!
Notes
Notes: Feel free to substitute quinoa for the millet. Add a little fresh chopped garlic if desired. Adding a handful of garbanzo (chick peas) to this recipe is delicious. You can make up to 24 hours in advance but do not add the lemon juice until just ready to serve.
Nutrition
Serving:
1
g
|
Calories:
183
kcal
|
Carbohydrates:
28
g
|
Protein:
4
g
|
Fat:
6
g
|
Saturated Fat:
1
g
|
Sodium:
8
mg
|
Potassium:
251
mg
|
Fiber:
4
g
|
Sugar:
2
g
|
Vitamin A:
851
IU
|
Vitamin C:
18
mg
|
Calcium:
18
mg
|
Iron:
1
mg