Peking Glazed Beer Butt Chicken is melt in your mouth tender and is just like eating succulent Peking duck without going through all the fuss.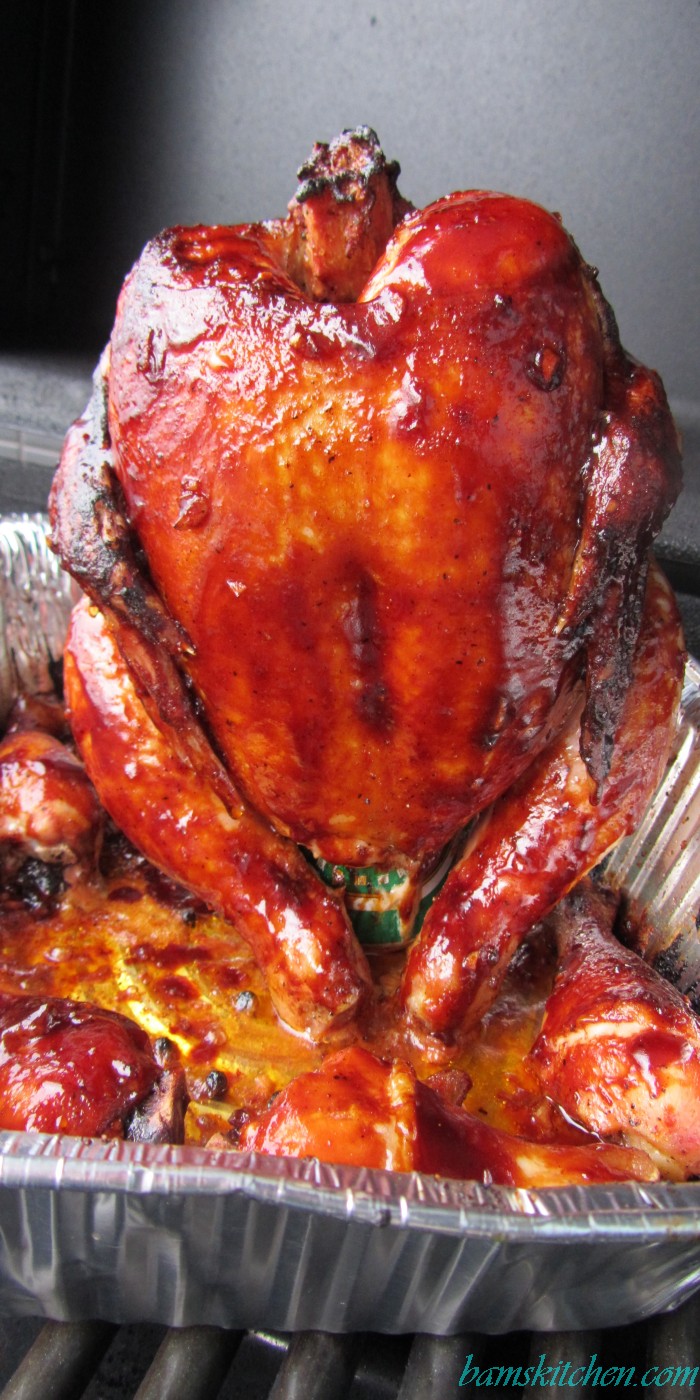 Why you are going to love our Peking Glazed Beer Butt Chicken
Crispy sweet and savory skin and the chicken meat was so tender it was falling off the bone. This is one finger licking delicious bite of deliciousness. If you have a crew, you might consider doing 2 chickens on the grill as this recipe is a huge crowd pleaser.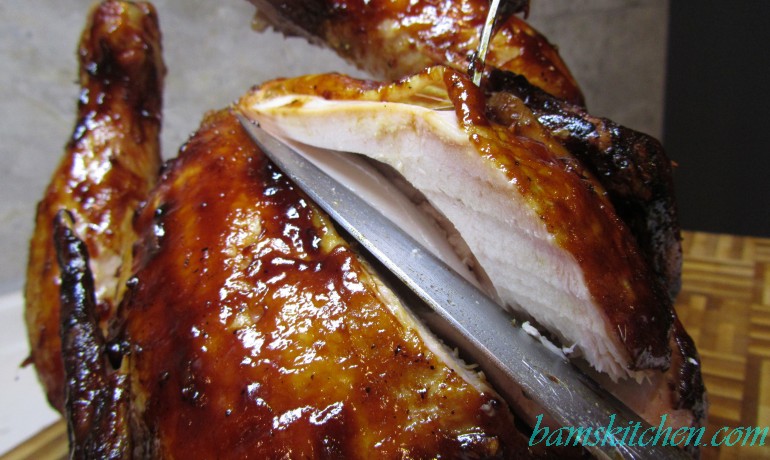 Chilling and Grilling
There is just something about cooking out on the grill that makes everything taste better and makes cooking more fun. There is less cleanup. People like to hang outside with you when you cook on the grill and socialize. However, our favorite reason is we like to grill with beer and wine and sometimes we put it in our food too. If you are looking for more delicious grilling and chilling recipes, be sure to checkout our Summer Grilling and Chilling Recipes.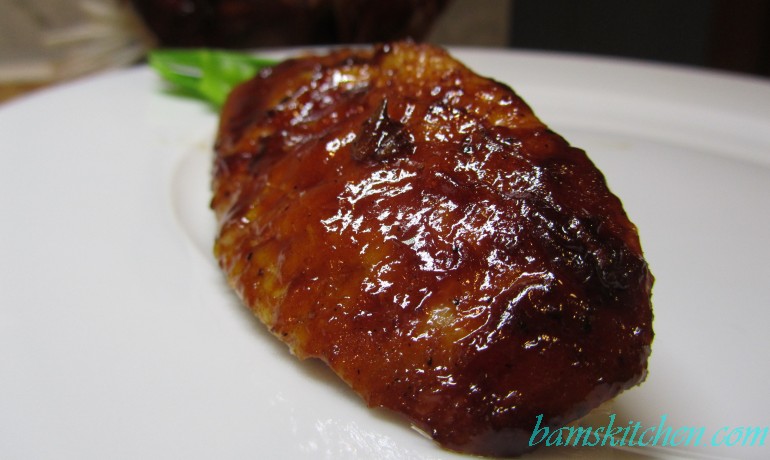 We have made beer butt chicken probably hundreds of times when we resided in the States. We love to cook out on the gas grill all year around, even when I had to shovel a snow path out to the grill. However, our grilling experience out on the balcony here in Hong Kong, started out with a rocky start.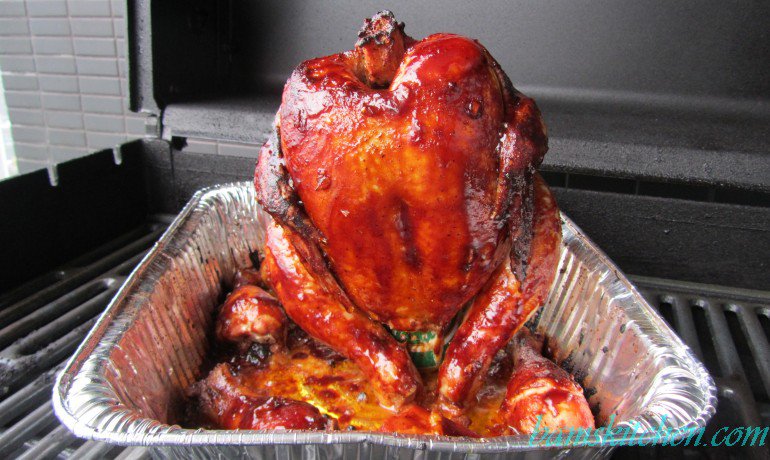 You know there is an old saying that you should never put cheap alcohol such as beer or wine in your food that you would not drink to enjoy. We thought, when we were in a rush at the local park n shop grocery store, we had grabbed a 6 pack of Tsingtao Chinese beer. You know the one with the green label and without your reader glasses must look identical to cheap look-alike Kingway lager.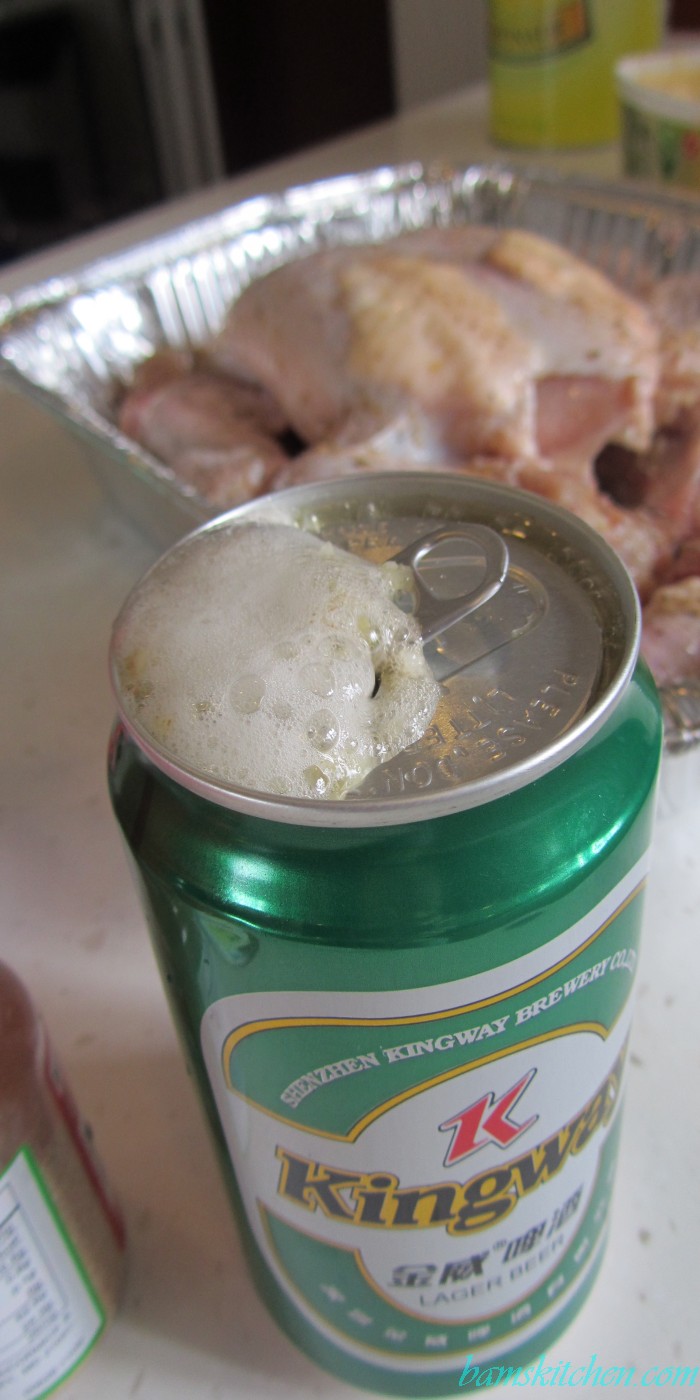 We have to take back that old saying as that $4.00 HKD/a can ( about .50cents USD) of cheap Shenzen Kingway Brewery " Kingway Lager beer was just the perfect addition for my Peking glazed beer butt chicken.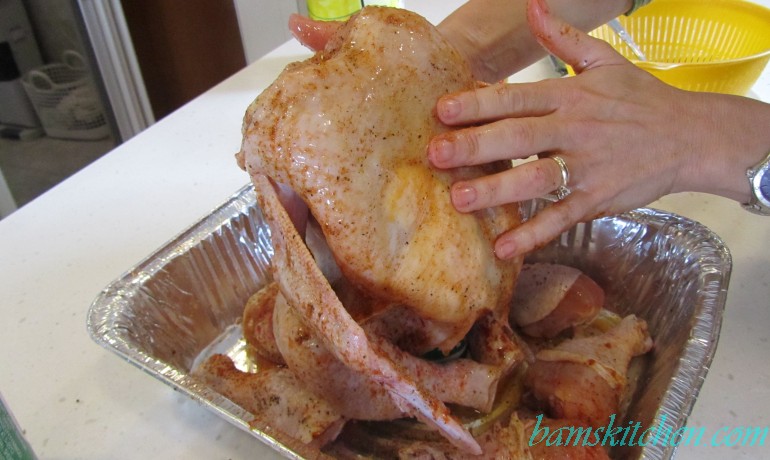 We cleaned the whole chicken very well and made a little pouch between the breast meat and the skin and stuffed it with butter and herbs and rubbed the whole bird with olive oil, salt, pepper, ginger, garlic and paprika. We then drank half of that cheap Kingway lager and added some garlic, ginger, peppercorns and Sichuan peppercorns directly into the beer can.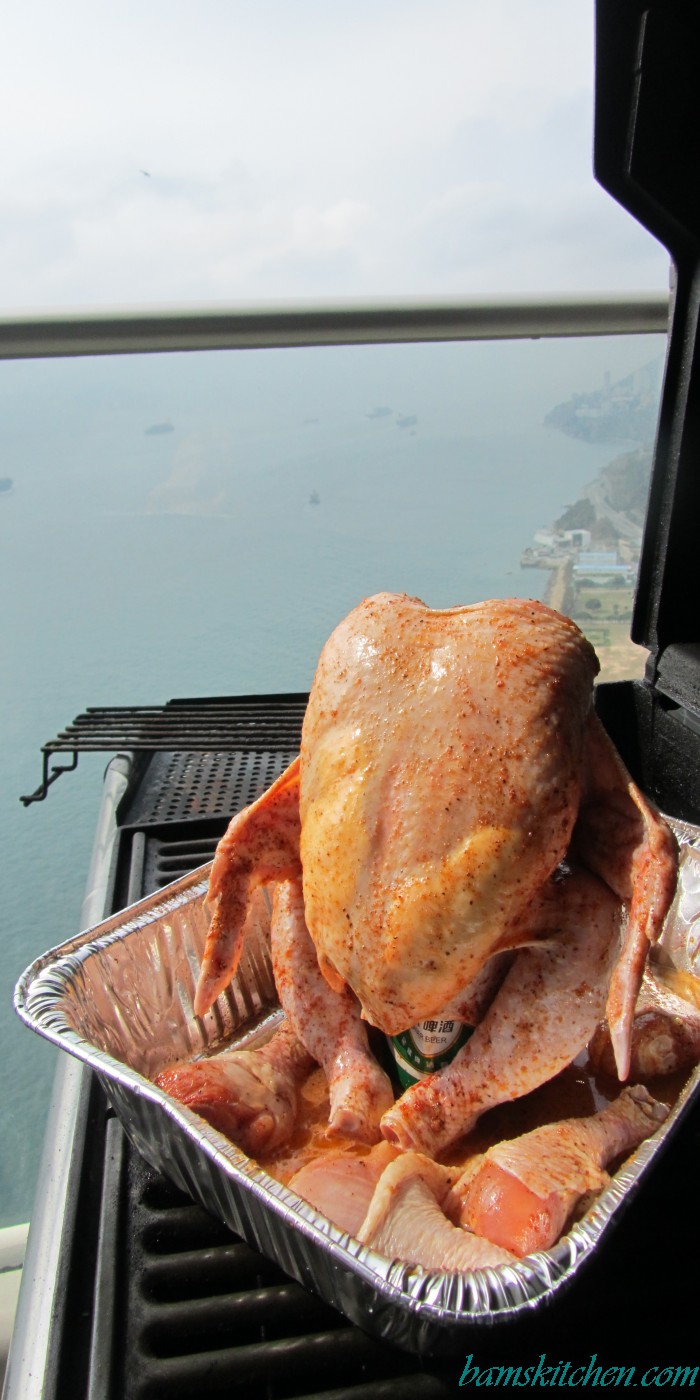 With a little help, we crammed this half filled Asian spiced beer can in this little birds bottom and put her on the grill to slow roast. (We thought this little picture might make you chuckle a bit, so we hope you are smiling along with us now)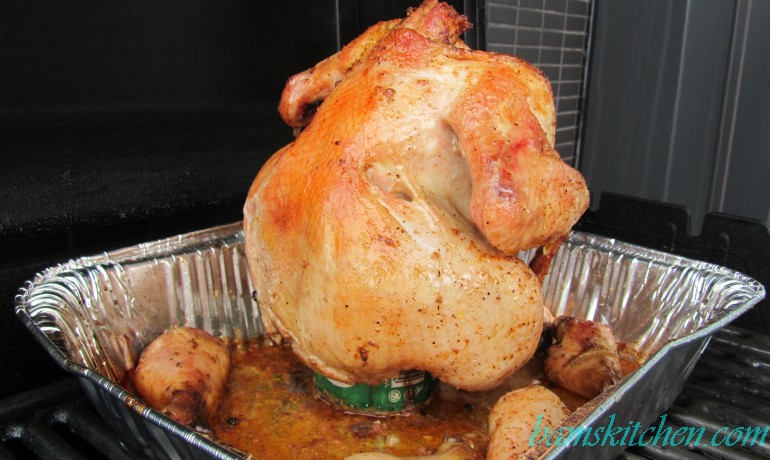 We sat on the balcony enjoying my million dollar view of the Victoria Harbor enjoying our cheap Kingsway beers when this brilliant idea came upon us.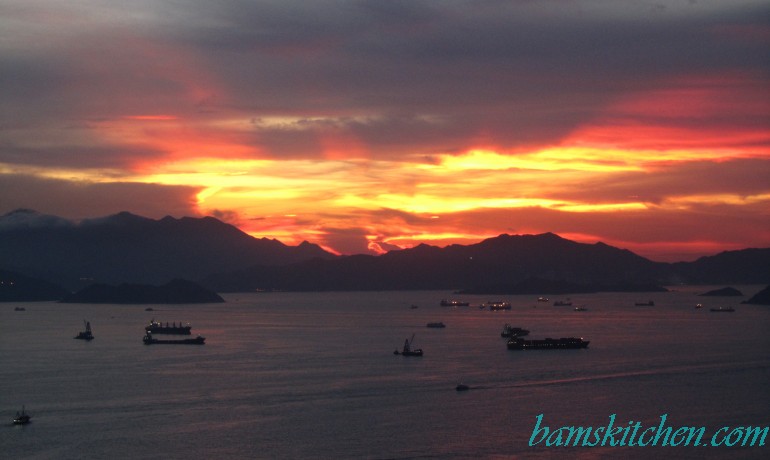 If we are going to be in China, drinking cheap beer looking over the Hong Kong harbor, then we should make Asian Fusion bird on the grill. We basted our chicken with the pan juices every few minutes. We cooked the whole chicken over a low and slow grill for about 2 hours while we brainstormed for an idea.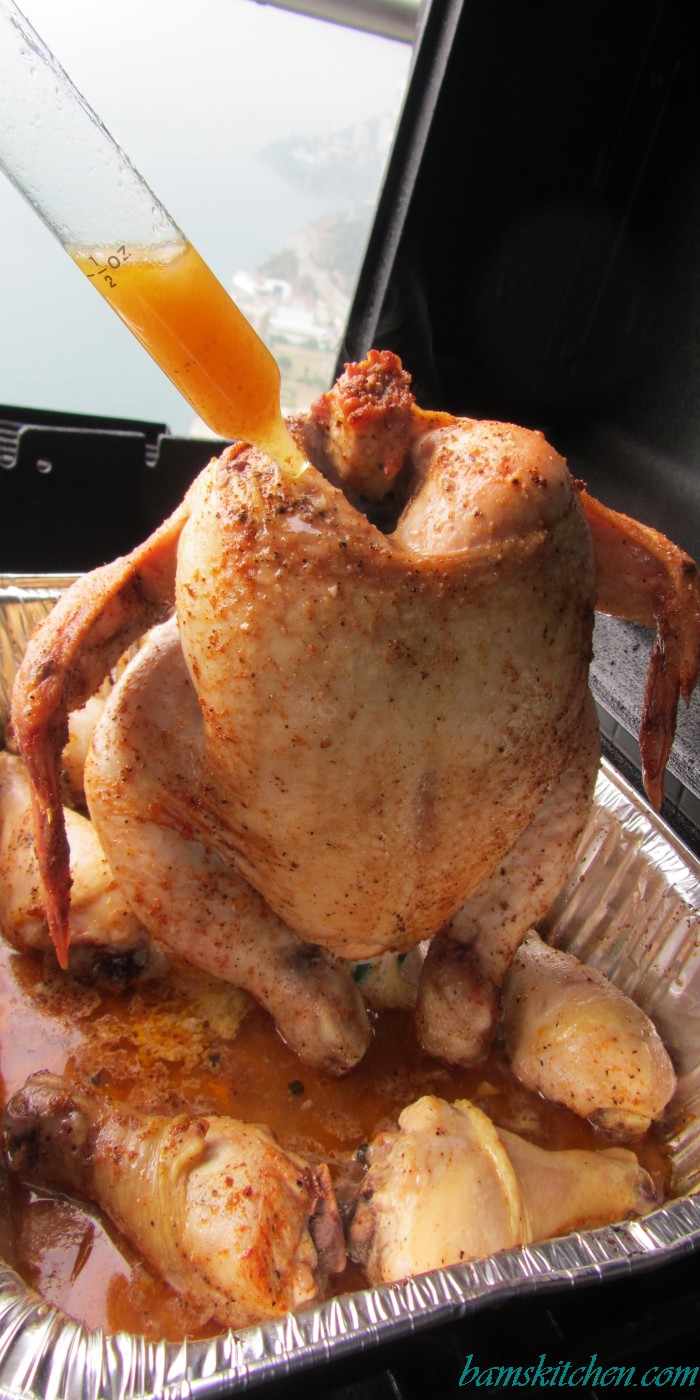 Inspiration for our Peking Glazed Beer Butt Chicken
Have any of you ever been to Hong Kong? If so, maybe one thing that you remember is all of the restaurants with roasted ducks hanging in the window. We thought to ourself this bird is not a duck but we have every flavor we needed to make that dark rich glaze.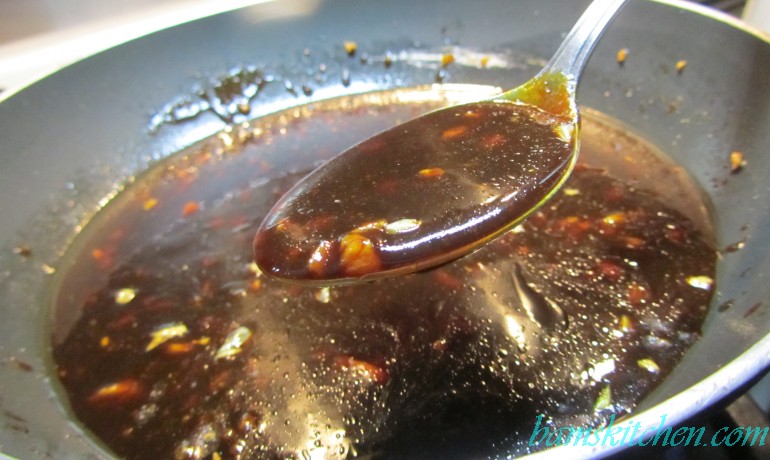 We started with a little oil in a frying pan, adding garlic, ginger, then a little dark soya sauce, hoisin sauce, oyster sauce and 5 spice powder and cooked it gently until it had a thick caramelized glaze. We then slathered this 5 spice glaze all over our bird about every 10 minutes during the last few minutes of the grilling. Gorgeous dark glaze and the aroma filled our home with delicious flavors.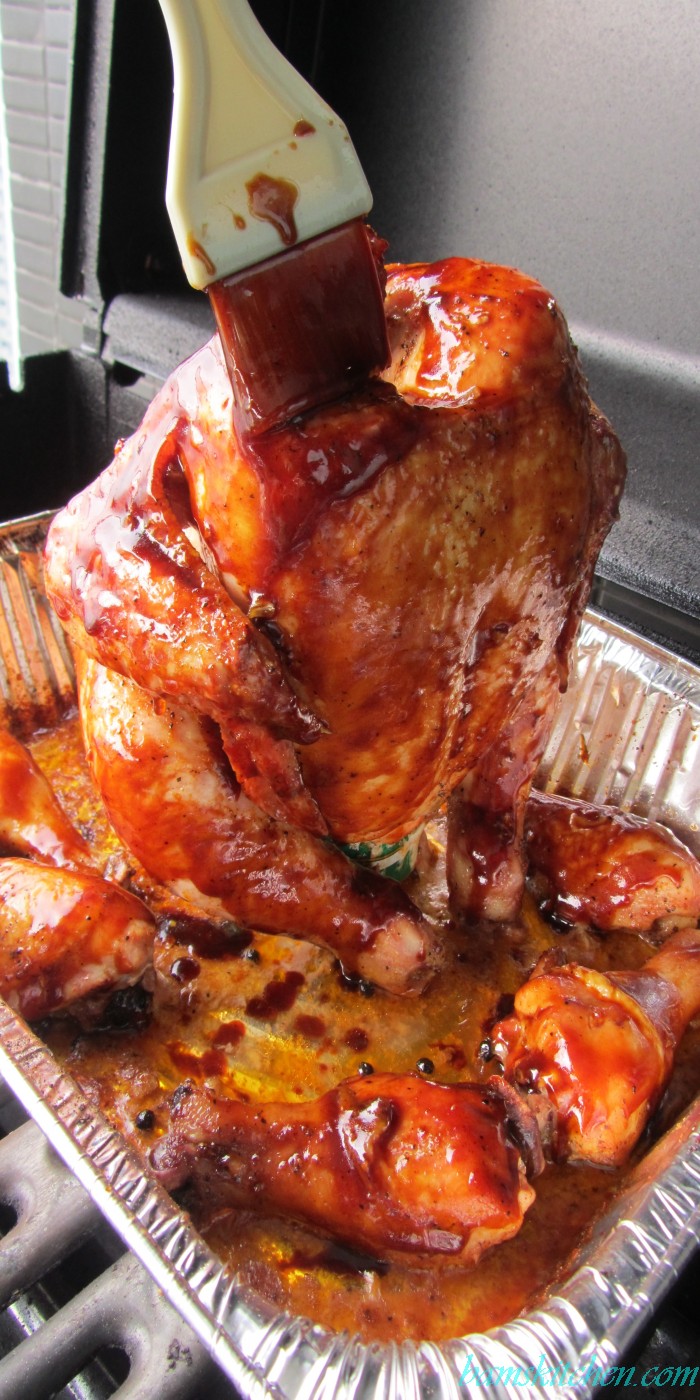 If you are diabetic or gluten intolerant, we have you covered with some simple substitutes that are equally delicious, read the recipe below for details.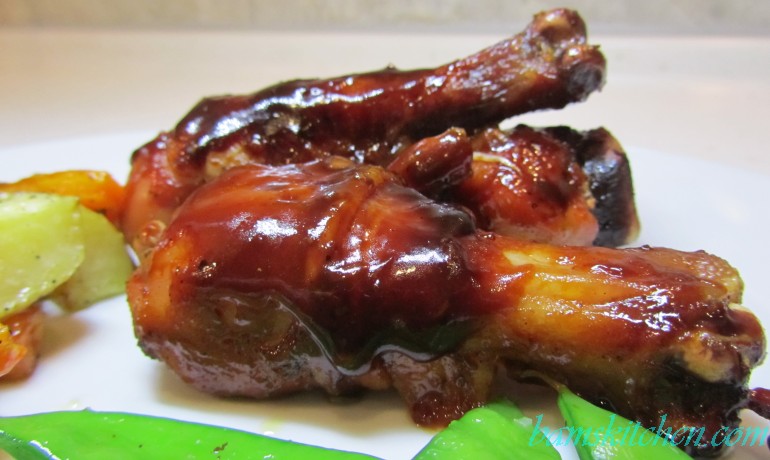 Our only regret that we would have done differently is that we should have made at least two whole chickens. We did buy extra drumsticks and placed them in the bottom of the pan with the bird that were really delicious but was still not enough. There was not a scrap left, not even one little drumstick for a midnight snack.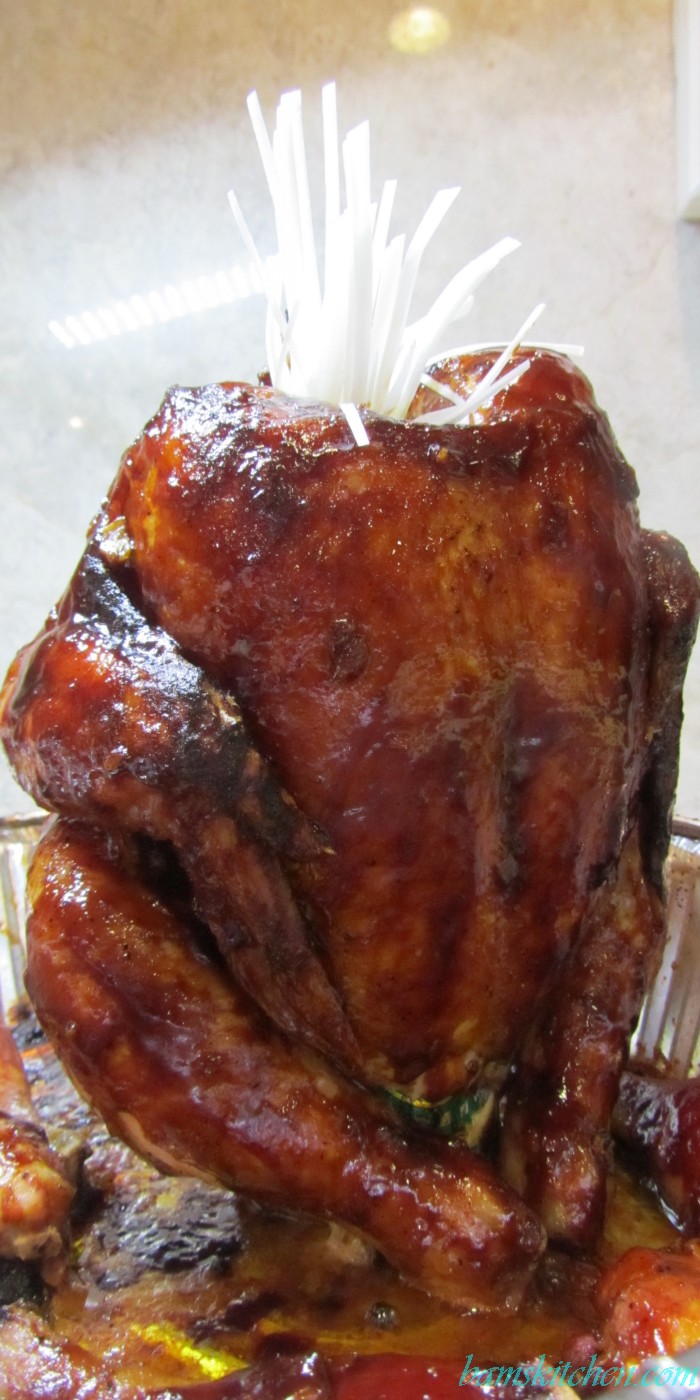 Delicious sides to go with your Peking Glazed Beer Butt Chicken
Super Easy Grilled Asian Eggplant
Spicy Garlic Cucumber Refrigerator Pickles
Grilled Nectarines with Coconut Cream
Hungry For More? Subscribe to our Newsletter and follow along on Facebook, You Tube, Instagram, and Pinterest for all the latest updates.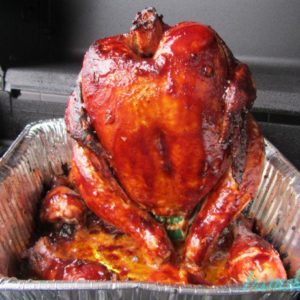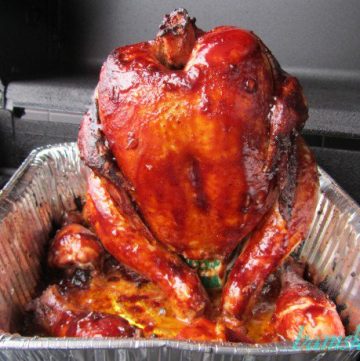 Peking Glazed Beer Butt Chicken
Melt in your mouth Chinese five spiced beer butt chicken tastes just like a succulent Peking duck without going through all the fuss.
Print
Pin
Rate
Ingredients
5

pounds

whole roasting chicken


1

can

beer
of your favorite beer (whatever you like to drink when you are out grilling) If you are gluten intolerant substitute with a dry ginger-ale.


2

tbsp

butter


or dairy free margarine in needed

salt and black pepper


to taste

1

tsp

paprika


4

cloves

garlic


minced ( 2 cloves to rub the outside of chicken, 1 clove to put in the beer can, 1 clove for the Peking glaze

2

tsp

ginger


( ½ teaspoon to rub the outside of the chicken, ½ teaspoon to go inside the beer can and 1 teaspoon for the Peking glaz

2

tbsp

olive oil


(1 tablespoon to rub the outside of the chicken and 1 tablespoon for the Peking glaze)

½

tsp

peppercorns


whole

½

tsp

Sichuan peppercorns


whole

¼

cup

hoisin dipping sauce

(if diabetic or gluten intolerant can substitute with sugar free plum jam)

⅛

cup

tamari (soy) sauce

(dark soya sauce is preferable in this dish to give that dark beautiful color to the glaze)

⅛

cup

oyster sauce


(if you are gluten intolerant, omit and increase amount of tamari sauce)

1

tsp

five spice powder


1

tbsp

honey

(can substitute sugar alternative)
Instructions
Wash and scrub the outside and inside of the whole chicken really well. Remove giblets and extra parts from the inside cavity. I usually soak to clean my bird for about 20 minutes and flush the inside cavity out really well. Consider making 2 chickens if you want leftovers.

Preheat your gas or charcoal grill to a very low setting about 200-250 degrees F (93 Celsius). If you do not have a grill then you can make this in your oven preheat your oven to about 190 Celsius or 375 F)

Make the herbed butter mixture. In a small bowl place butter, salt and pepper, garlic, ginger and a dash of paprika. Mix to combine and set aside. Set aside in a clean bowl the remaining chopped garlic and ginger and spices for later use.

Rub your fingers on the inside of the chicken between the breast meat and the skin to make a pocket to place the butter herbed mixture. Stuff the butter herbed mixture with your fingers into each side of the breast and flatten and smooth with your fingers.

Season the chicken well on the inside of bird with salt and pepper. Take a little olive oil, garlic and ginger on your hands and massage your chicken well all over. Season the outside of the chicken with salt, pepper and paprika.

Open your can of beer, either drink half or pour out half. Add garlic, ginger, peppercorns and Sichuan peppercorns. The beer will fizz and bubble. Push the opened end of the beer can first into the bottom of the chicken (chicken's butt) and set the chicken into a aluminum disposable baking tray. Make sure that the beer can is deep into the cavity of chicken so that it sets stable and upright on the aluminum pan. Wash you hands and everything that came in contact with the chicken very well.

Make your Peking glaze: In a small frying pan, add olive, garlic and ginger and fry until it becomes aromatic. Add hoisin sauce, soya sauce, oyster sauce, honey and Chinese five spice. If gluten intolerant or diabetic please read my substitution suggestion in the recipe ingredient list. Cook over low heat for about 10 minutes until thick and caramelized. Set aside.

Place the chicken on the grill and carefully cover the lid of the grill. Cook the chicken low and slow. Enjoy a beer or a ginger-ale and baste the chicken every 10-15 minutes during the cooking process. About ¾ of the time in your cooking process, start brushing your chicken all over with your thick and delicious Peking sauce every 10 minutes until done. I brushed my bird twice all over before taking my chicken off the BBQ grill. Your goal is to have the temperature with your meat thermometer read at least 165 degrees F in the meaty park of the thigh, or until all the juices run clear. Depending on the size of your chicken (about 5 pounds) took about 2 hours on the grill.

Let your chicken rest for about 10 minutes. Lay your chicken on its side and carefully remove the beer can from the bottom of chicken. A pair of tongs, a fork and a second pair of hands is helpful.

Place your Peking Glazed beer butt chicken on a carving board and cut into servings and enjoy this delightful fall of the bone tender and delightful, crispy skinned and saucy Peking style beer butt chicken. If you happen to have little Peking Chinese pancakes and sliced spring onions and hoisin sauce this would be fantastic to serve up just like Peking duck. Otherwise just delicious as it is with a side a rice and Chinese veggies like baby bok choy or snow peas.
Notes
If diabetic, or want this recipe to be lower carb, exchange the hoisin sauce with no diatetic plum jam.
Nutrition
Serving:
1
g
|
Calories:
540
kcal
|
Carbohydrates:
13
g
|
Protein:
35
g
|
Fat:
36
g
|
Saturated Fat:
11
g
|
Cholesterol:
146
mg
|
Sodium:
751
mg
|
Potassium:
408
mg
|
Fiber:
1
g
|
Sugar:
6
g
|
Vitamin A:
535
IU
|
Vitamin C:
4
mg
|
Calcium:
34
mg
|
Iron:
2
mg