Sizzling Chicken Lettuce Wraps are with made tender Thai chicken along side the cool crispy vegetables and the zing from the spicy, sweet, savory and slightly sour Prik Nam Pla dipping sauce.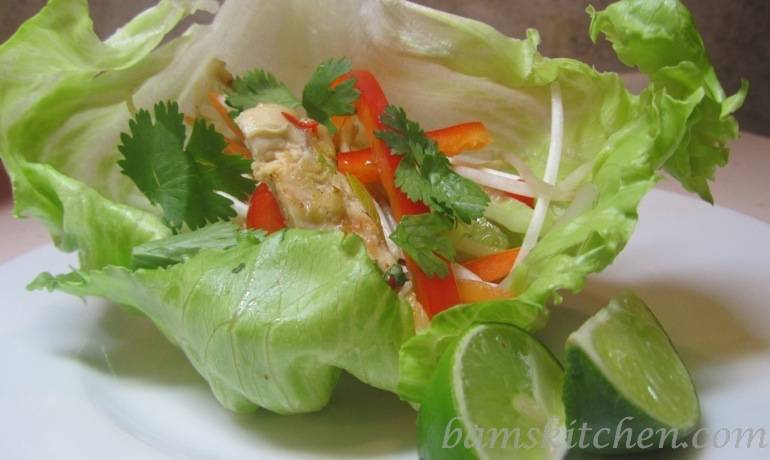 Why you are going to love our Sizzling Chicken Lettuce Wraps
Low Carb
Easy dinner or appetizer idea
Let Everyone make their own
Light and crisp
Gluten-free and dairy-free
International Cooking Club of Hong Kong
Last week, I had a very special friend visit me and she loves cooking as much as I do. As a matter of fact, she is the coordinator for the International Cooking Club (ICC) here in Hong Kong.
The ICC is a very fun group of women from all over the world that love to cook. Once a month, a member hosts a cooking demo featuring either a cuisine that is dear to her heart or from the country of origin in their own home. The guests get to sit down to a lovely lunch with the items we made during the little cooking lesson and pay a little to cover the cost of the groceries. We have had delicious cooking lessons featuring cuisines from all around the world such as Indian, Chinese, Italian, French, Japanese, South African, Vegan, Thai, Raw Foods demo, and a good old fashion Thanksgiving feast, just to name a few. Home cooking with people from around the globe is an enlightening experience. It opens up your eyes up to a whole new world of spices, flavors and unique recipes.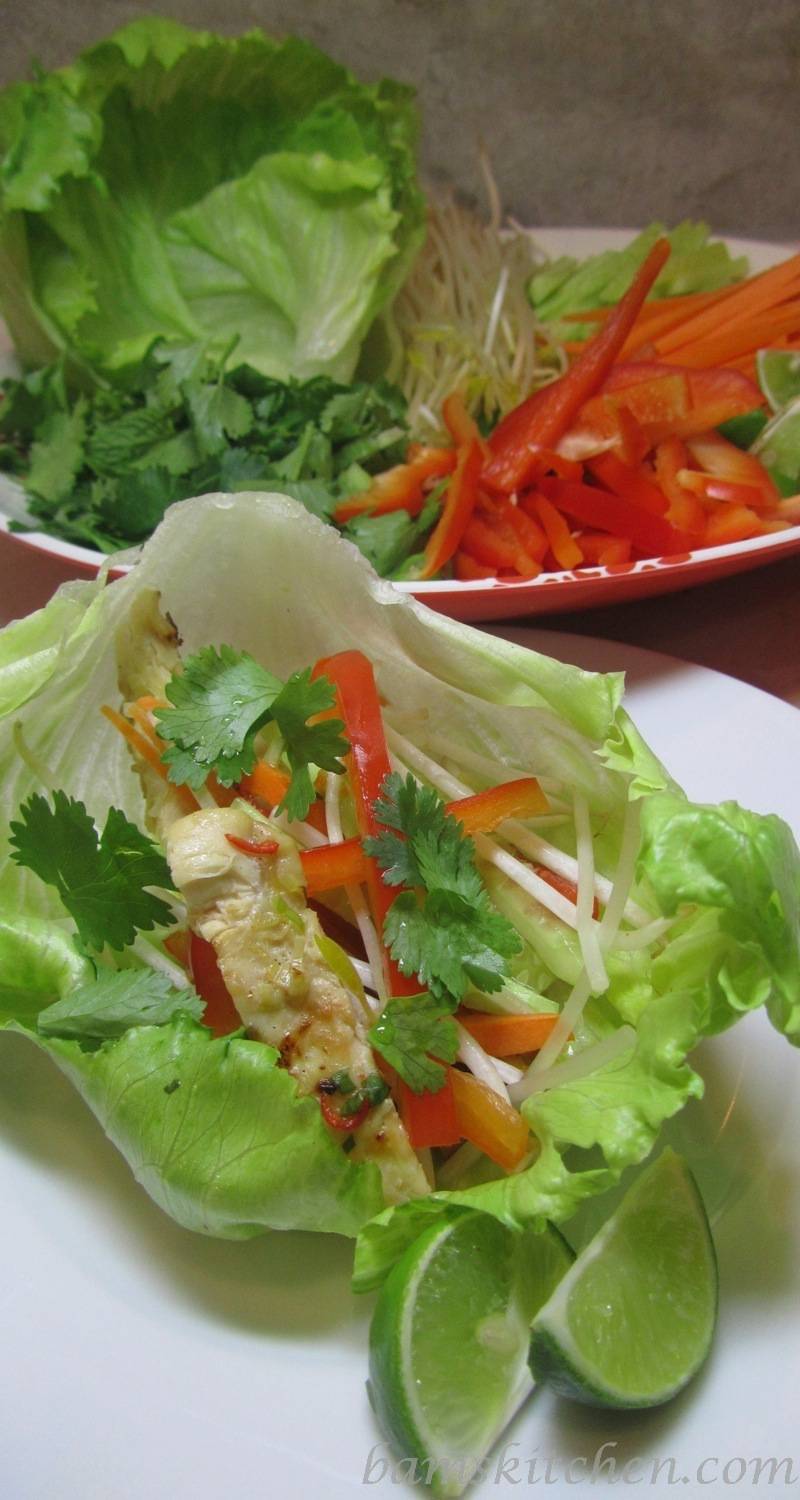 Refreshing and Light
Even though it is technically autumn in Hong Kong, the days have been a balmy 80 degrees with some sunshine and some cool breezes. October and November are the best months to visit Hong Kong as the weather is so pleasant.
A better plan was to have a light and refreshing dish that she could take part in the preparation. After all, she is a foodie just like me.
I was doing a little prep work the night before making some simple light and refreshing Summer Rolls with Chili Lime Dipping Sauce (cutting the vegetables, etc.) when I thought I really need to serve something along the side. I decided to marinate some chicken in some special Thai herbs but really had no idea what I would do with it.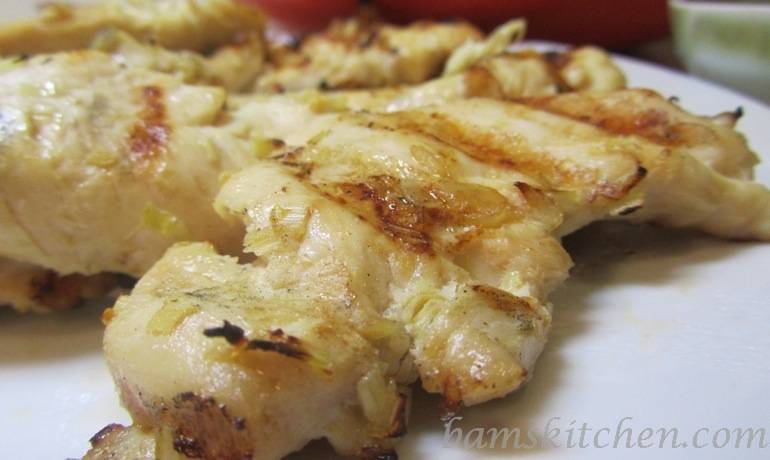 My original plan was to serve Thai Grilled Chicken Tenderloins and Zesty Dipping Sauce on the side but then I started looking at all of those lovely chopped vegetables and fresh herbs. Then, the most lovely idea came to mind. Fresh and delightful Sizzling Chicken Lettuce Wraps with the special Thai dipping sauce is the perfect idea for a casual gathering and it even gets your guests involved in the assembly process.
You are going to love the warmth of your super tender aromatic Thai chicken alongside the cool crispy vegetables and the zing from the spicy, sweet, savory and slightly sour Thai dipping sauce. This is a great low carb, diabetic friendly, cardiac friendly, gluten-free recipe. This Sizzling Chicken Lettuce Wraps recipe might be something that even your teenagers enjoy. Well at least you could try.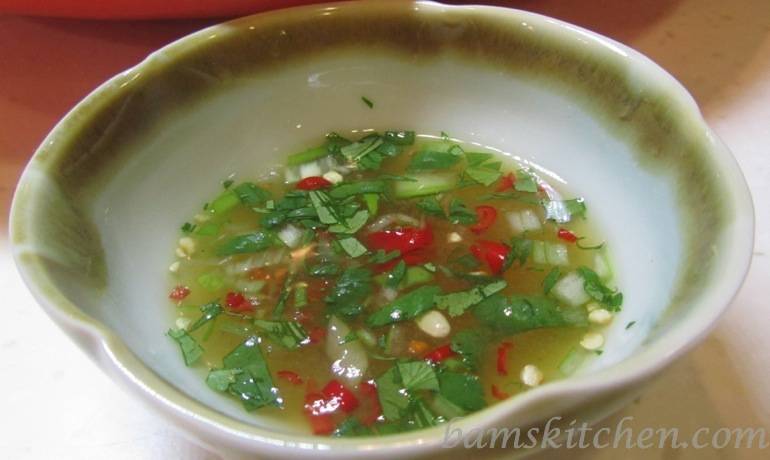 Great Recipe for Entertaining
I think this is a fun Sizzling Chicken Lettuce Wraps recipe for a gathering. Most everything can be done in advance. Literally, all I did was cut up some veggies and herbs and placed them on a platter and made a quick and easy dipping sauce. When your guests arrive, pop your skinless boneless marinated Thai chicken breasts on the grill while you enjoy the beverage of choice and you can be ready to eat in less than 15 minutes. Easy Peasy!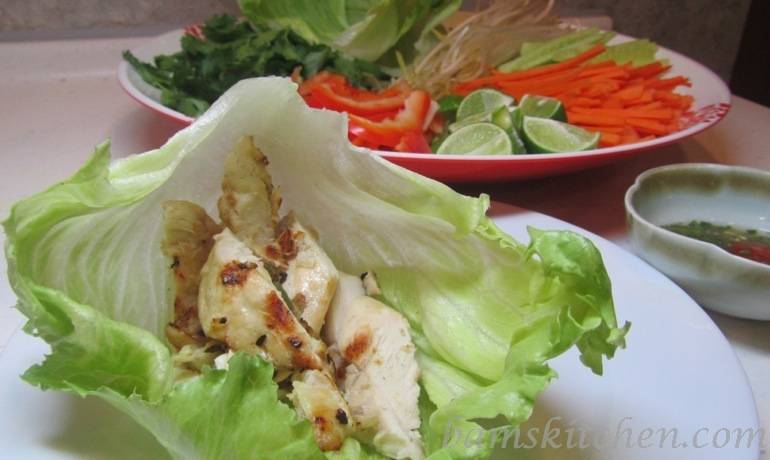 Use What you have on Hand
The best part of this Sizzling Chicken Lettuce Wraps recipe is that it can be made to your liking or just using the items you have around. If you do not have an outdoor grill, don't sweat it. This chicken is also delicious cooked in a grill pan indoors or even pan-fried in a wok.
Maybe you don't want to use chicken but maybe shrimp or even grilled tofu-go for it as this marinade makes everything taste zippy. The vegetables were just what I had in my crisper but you could also add sliced jicama, garlic chives, tomatoes, snow peas, baby corn, or even chilis. I think you see where I am going with this. This recipe is just a guide but the contents in your refrigerator or your local grocery market are the King decision makers.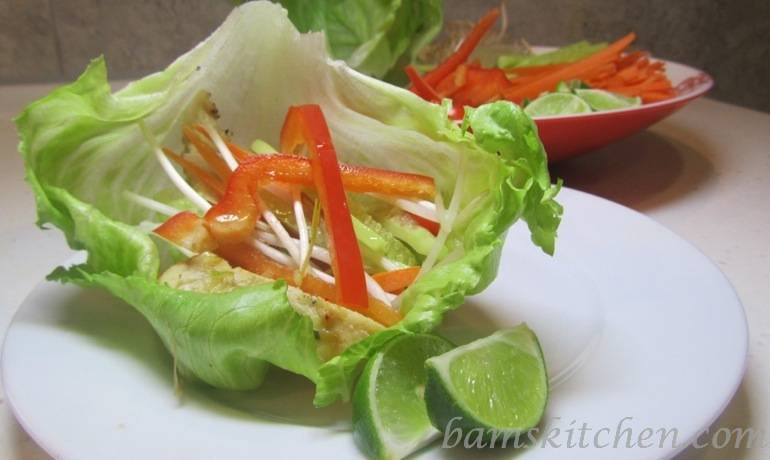 If your body needs a little recovery after all those heavy harvest meals, Halloween candy overdoses and those caramel pumpkin lattes from Starbucks go ahead and be good to your body with some healthy and light Sizzling Chicken Lettuce Wraps.
More Delicious Thai Recipes
Thai Firecracker Shrimp Party Appetizer
Thai Pomelo Crab Salad Avocados
Hungry For More? Subscribe to our Newsletter and follow along on Facebook, You Tube, Instagram, and Pinterest for all the latest updates.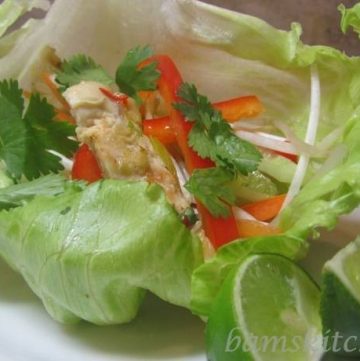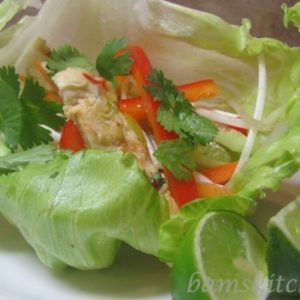 Sizzling Chicken Lettuce Wraps
Sizzling Chicken Lettuce Wraps are made tender
Thai chicken
along side the cool crispy vegetables and the zing from the spicy, sweet, savory and slightly sour
Prik Nam Pla
dipping sauce.
Print
Pin
Rate
Ingredients
Thai Chicken Marinade
1.5

pounds

chicken tenderloins

boneless and skinless

3

lemongrass


chopped or 3 tablespoons of Lemongrass paste

1

shallots

peeled and chopped or small onion

2

tbsp

fish sauce


2

tbsp

lime juice

1

tsp

lime zest


¼

tsp

white pepper


or to taste
Lettuce Wraps veggies
1

head

lettuce


iceberg or Boston lettuce works well

2

carrots

peeled and cut into thin match sticks about 2 inches long


2

cucumber


peeled and cut into thin match sticks about 2 inches long

1

red bell peppers


deseeded and cut into thin match sticks about 2 inches long

1

cup

bean sprouts


(sprouted mung beans)

1

cup

cilantro

fresh

½

cup

mint


optional

¾

cup

peanuts

roasted and crushed (almonds are a great substitute if allergy)
Instructions
The night or day before, marinate your chicken:

In a bag, add your chicken breasts, lemongrass, shallots, fish sauce, lime juice, white pepper and lime zest. Shake to blend the flavors and allow to marinade overnight or up to 24 hours in advance.

Wash, chop and prepare your vegetables.

(This can be done the day before as well) Lay your lettuce, carrots, cucumbers, bell peppers, bean sprouts, cilantro and mint on a serving tray.

Roast your peanuts

in a pan over a low flame just until slightly browned and toasty. Remove from pan, allow to cool, and very coarsely chop and place in a small serving bowl.

Make your Prik Nam Pla dipping sauce. In a small serving container combine lime, fish sauce, rice vinegar, sugar or sugar alternative, cilantro and chopped bird chili. (This is just an estimate as some limes are very juicy and some do not have as much juice. Your goal is to have a balance between sour, salty, sweet and spicy.)


Grill the Chicken

over a medium heat. I used chicken tenderloins. Grill for about 2-3 minutes on each side until the juice of the chicken runs clear. Let chicken rest covered for about 5 minutes to rest and then slice.

Assemble your Thai Chicken Lettuce Wraps:

Allow your guest to grab a plate and then start with the lettuce cup in your plate, put some sliced sizzling grilled chicken, followed by all the delicious crunchy vegetables and fresh cilantro and mint and top with a couple of teaspoons full of the delicious zesty Thai dipping sauce. Fold over your lettuce wrap. Eat and Enjoy and repeat the process until your happy.
Nutrition
Serving:
1
g
|
Calories:
290
kcal
|
Carbohydrates:
15
g
|
Protein:
32
g
|
Fat:
12
g
|
Saturated Fat:
2
g
|
Cholesterol:
73
mg
|
Sodium:
637
mg
|
Potassium:
1035
mg
|
Fiber:
5
g
|
Sugar:
6
g
|
Vitamin A:
4914
IU
|
Vitamin C:
40
mg
|
Calcium:
78
mg
|
Iron:
3
mg