Lemon White Balsamic Vinaigrette (salad dressing) is a refreshing, light and zippy easy homemade vinaigrette perfect for tossed salads, pasta salads, drizzled on grilled peaches, chicken or fish.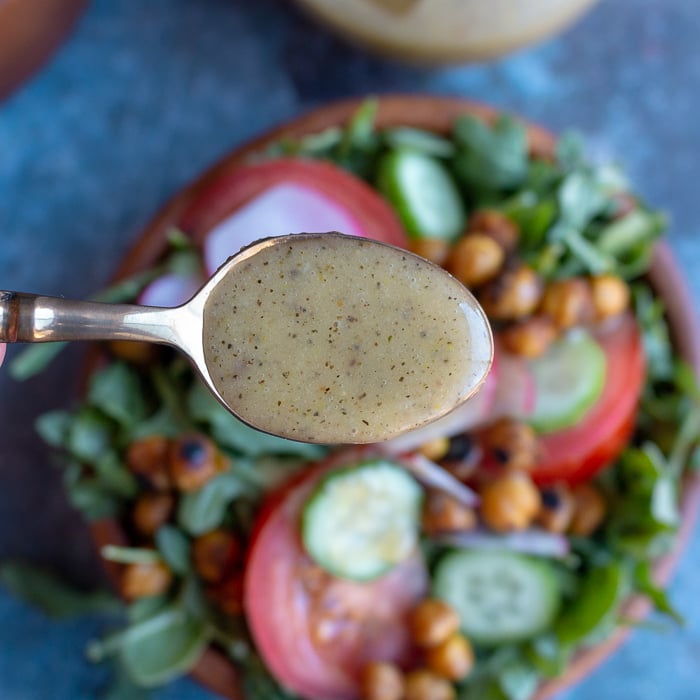 Why you are going to love Lemon White Balsamic Vinaigrette
Lemon White Balsamic Vinaigrette is sweet, sour and well balanced salad dressing. You are just going to love how light and bright it is and filled with so many spring and summertime culinary possibilities. We made just a simple tossed salad today because we know that this vinaigrette is the star of the show. Get ready to make an extra-large batch because this recipe can be stored in the refrigerator for several weeks and it takes only 5 minutes to make.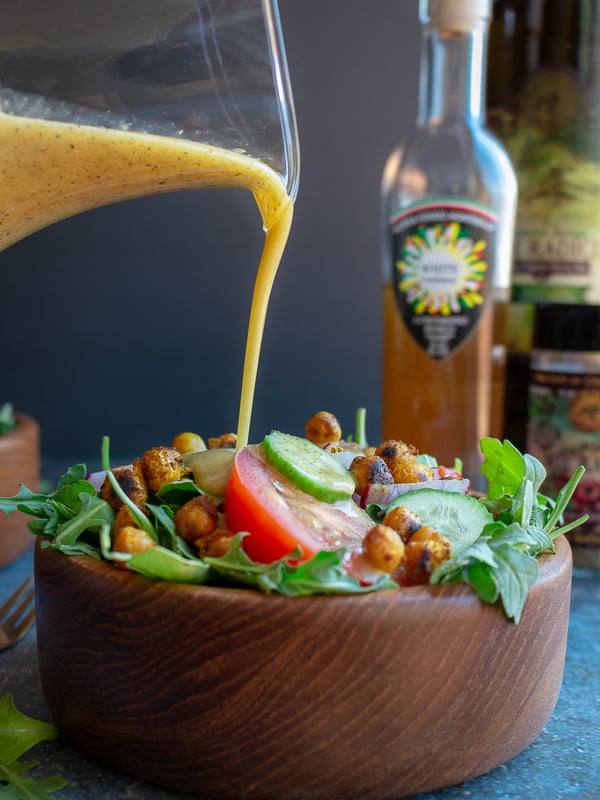 Jump into Spring and Summer…
This Lemon White Balsamic Vinaigrette absolutely rocks on salads with greens and fruits together. We made a grilled chicken and grilled peach salad with mixed greens, quinoa, toasted almonds and drizzled over our Lemon White Balsamic Vinaigrette and it was just heavenly. White balsamic is fabulous as a marinade for chicken and fish. As white balsamic is this light straw color it does not discolor food, unlike regular aged balsamic. For example, using our Lemon White Balsamic Vinaigrette is a pasta salad works like a charm. Delicately sweet, sour, and herby and will keep your pasta salad light and bright. We also feel it has a lighter and brighter taste just perfect for the warmer weather.
SALADS GALORE
Do you remember in our last recipe post Thai Hot Sour Prawn Soup, we discussed how the tongue has different taste sensors? This delicious Lemon White Balsamic Vinaigrette first hits the tip of your tongue with a little savory, then sweet on the front part of your tongue and then the sour hits on the sides of your tongue. The delightful Sicilian spice tantalizes all of your taste's buds for a delicious finish. If you are the mood for salads, be sure to check out our Tutti Fruitti Kale Salad with Citrus Honey Dressing, Easy Summer Millet Salad or Vietnamese Shrimp Vermicelli Salad
If you just can't decide, check out our Salad Category for more inspiration.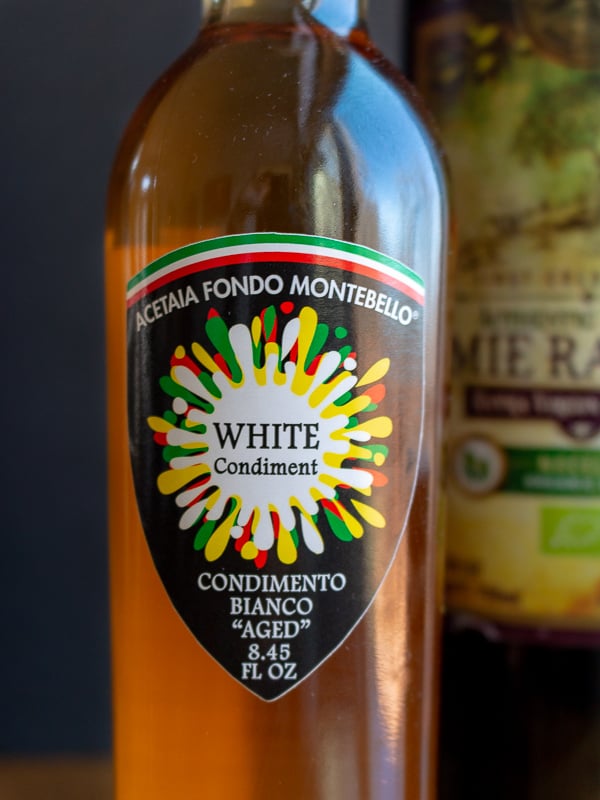 Have you ever tried white balsamic vinegar?
Don't try just any white balsamic vinegar, try Mie Radici's Fondo Montebello Aged White Balsamic. Just one taste and you know this something extra special. It's little thicker pour than your regular white balsamic and naturally sweet from the grape must aging process. We also used Mie Radici's Nocellara Organic Reserve Extra Virgin Olive Oil and Sicilian Spice Blend in our Lemon White Balsamic Vinaigrette
Why is white balsamic white and not dark?
That is a great question. You see both aged regular balsamic and aged white balsamic both start out with white grape must. We bet you are now asking, "What the heck is Grape Must? "- Can you picture Lucille Ball stomping on the grapes. Grape Must is the juice, pulp, seeds and skin of the grapes. Next, the regular balsamic (dark balsamic) is simmered for a very long time until thick and dark caramel in color and then aged in different barrels. However, white balsamic goes through a different process. Instead of simmering for a long time, the grape must is pressure cooked so that the grapes stay white in color and prevent browning before it is aged, usually for less time. The resulting color is this straw golden color.

What does white balsamic vinegar taste like?
White balsamic is sweet and mellow and has a little tang at the end. It is not as thick, sweet or caramel tasting like a regular aged balsamic. We think that is why it is the perfect spring and summer addition to your culinary inspirations. There is no need to add honey or any sweeteners to this vinaigrette as this white balsamic is naturally sweet from the processing and aging process. We actually added a little lemon to balance the flavors and add a little extra brightness to the recipe. If you are diabetic or watching your carb intake, please note that even though we have not added any sugars or sweeteners, there are natural occurring sugars because of the grape must aging process.
More Delicious Salad Dressing Recipes
Summer Salad with a Strawberry Rose Dressing
Tutti Fruitti Kale Salad and Citrus Honey Dressing
Chicken Salad and Goji Berry Dressing
Spicy Shrimp Salad with Cilantro Lime Dressing
Hungry For More? Subscribe to our Newsletter and follow along on Facebook, You Tube, Instagram, and Pinterest for all the latest updates.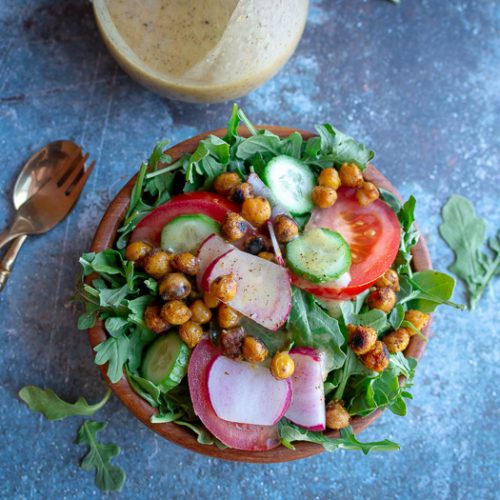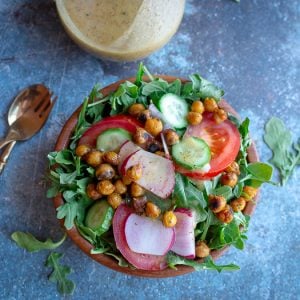 Lemon White Balsamic Vinaigrette
Lemon White Balsamic Vinaigrette (dressing) is a refreshing, light and zippy easy homemade vinaigrette perfect for tossed salads, pasta salads, drizzled on grilled peaches, chicken or fish.
Print
Pin
Rate
Ingredients
⅓

cup

Olive Oil


extra virgin

1

teaspoon

Italian Seasoning


1

tablespoon

Lemon juice

1

teaspoon

lemon zest


salt and pepper

to taste
Instructions
Mix EVOO, Mieradici's Fondo Montebello Aged White Balsamic, Italian seasoning, lemon juice, lemon zest and salt and pepper in a food processor or by hand with a whisk.

Enjoy drizzled over salads, grilled veggies, fish and chicken.

Can store in a sealed container for 2 weeks in the refrigerator
Notes
Each and every white balsamic vinegar brand has a different flavor profile.
If you purchase a less quality brand of white balsamic vinegar, you may have to adjust the amounts to get the correct flavor balance between, sour, sweet and savory.
If you want it more sour, add more fresh lemon juice. Add less lemon juice or increase aged white balsamic, if you like it sweeter. If your white balsamic is not naturally sweet from the aging process you will need to add sugar or a sugar alternative to taste.
Nutrition
Serving:
3
g
|
Calories:
51
kcal
|
Carbohydrates:
6
g
|
Fat:
57
g
|
Potassium:
6
mg
|
Sugar:
4
g