Grilled flank steak with Thai style chimichurri is going to be your new favorite under 30 minute meal with a sauce of chilis, garlic, lemongrass, olive oil and plenty of coriander, Thai basil and a drizzle of fresh lime.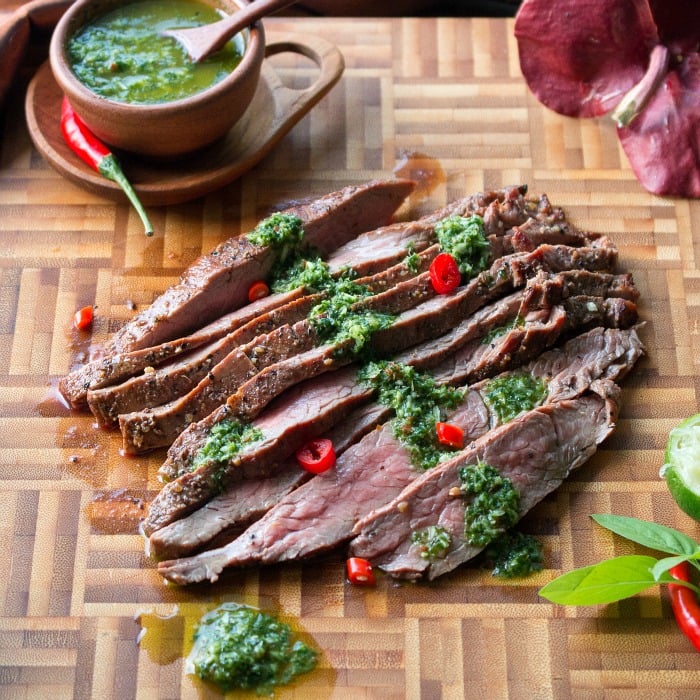 Why you are going to love Grilled Flank Steak with Thai Style Chimichurri.
Lip smacking and oh so good this delicious Thai Style chimichurri sauce was great on steak but would also be good on fish, lamb, or even on your morning omelet.
Trust me...you are going to want to make extra sauce as it is so good and I have been putting it on almost everything this week.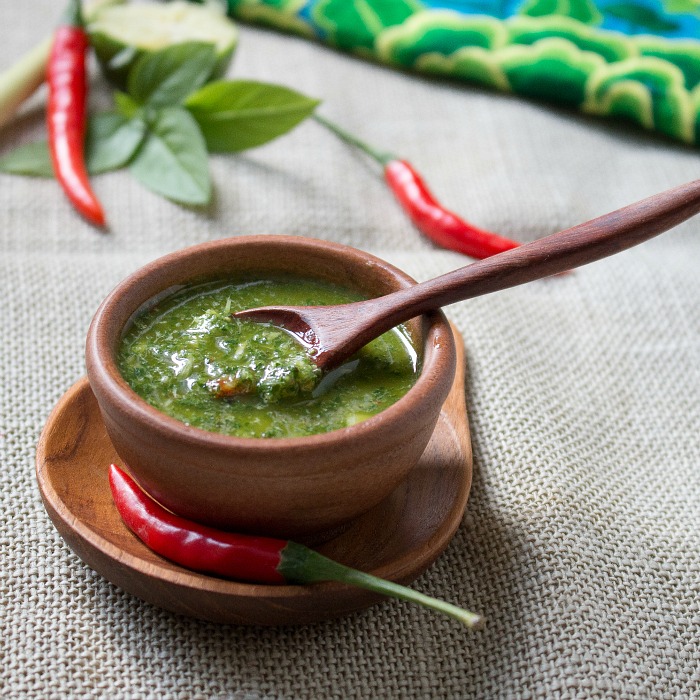 My inspiration for making Grilled Flank Steak with Thai Style Chimichurri came a few weeks ago after I spent a long weekend browsing over some Thai cookbooks. I have made steaks on many occasions with a delicious Spicy 5 Minute Chimichurri Sauce but how about a THAI Style Chimcihurri sauce.
I have my own little herbs and spices growing on my window seal with loads of fresh coriander, Thai basil, fresh limes, chilis and lemongrass in my crisper. If I can't be in Thailand, at least I can bring Thailand to Hong Kong and then this Thai Style Chimichurri sauce was born.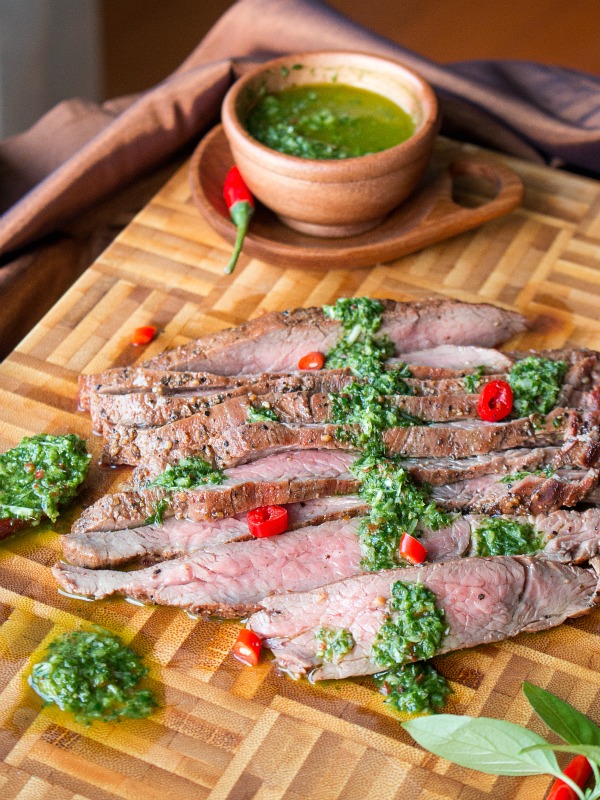 If you have a food processor, making the Thai styled chimichurri sauce could not be easier. Even if you are not in Asia, you can certainly make this delicious sauce with a few exchanges if you do not have access to an Asian market near you.
How to make the Thai Style Chimichurri Sauce
I started out with fresh Coriander (cilantro roots and all), fresh Thai basil (you can exchange with regular Italian basil if living in the Western world), olive oil for richness, garlic, fresh chili for a little heat (or a dash of red pepper flakes), fresh lemongrass (or lemon grass paste or dried ground lemon grass) for aromatics, salt and pepper to taste, lime for a fresh sparkle. Whiz it up and the magic green Thai Chimichurri sauce is done.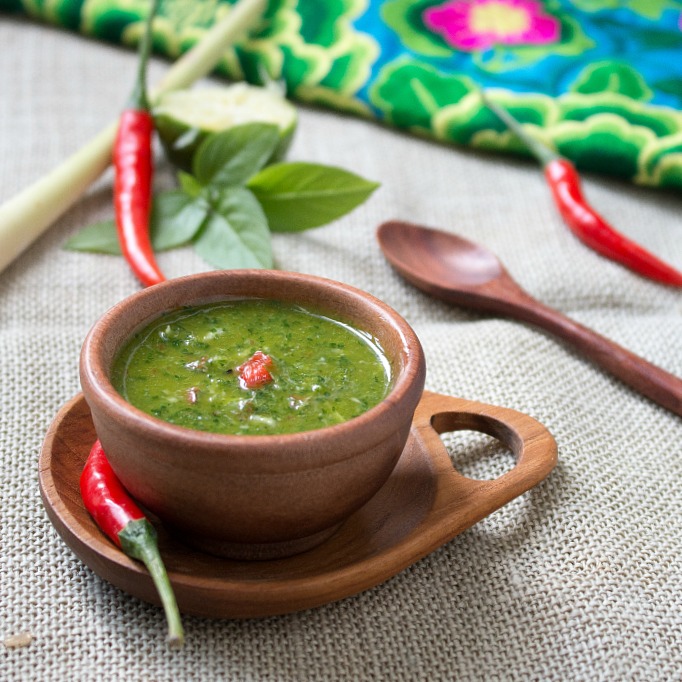 Holy Basil
You know there are many types of basil used in Thai cooking. I used Thai Holy basil as that is what I have growing on my little window seal. (Remember, you can exchange with Italian basil if you cannot find Holy basil) When this delicious Thai Style Chimichurri sauce hits that hot grilled steak, it transforms into a mouthful of deliciousness. This Thai basil is called "holy" because Thai monks have used this herb for calming the mind and body, thereby enhancing meditative practices. Thai holy basil has been used in many medicinal treatments however I just mostly like it in Phat Kra-Prao Kai (Stirfried Chicken with Holy Basil)
"Hey did someone ring the dinner bell? That was so kind of my master to leave that whole tray of beef just for me."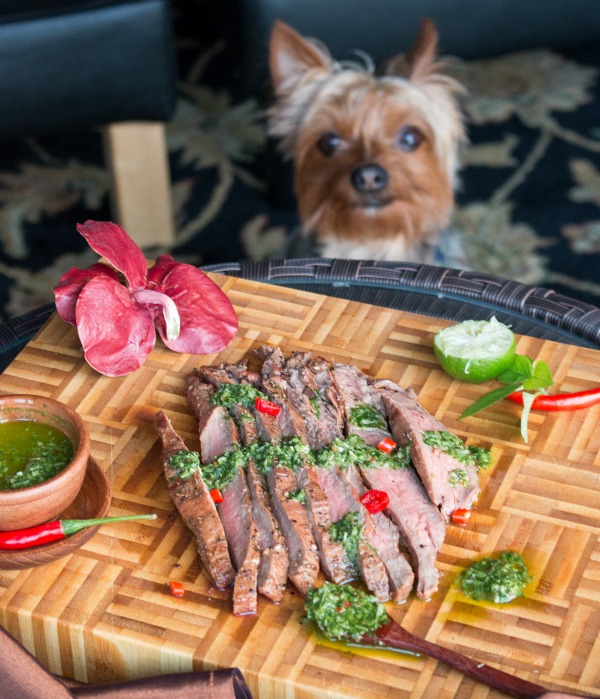 Bring the Party inside if Mother Nature is not cooperating
When I lived in Michigan, I grilled outside all year around. It was about this time of the year that I would plow a little one lane snow shoveled lane out to the gas grill. I cannot think of a better way to let mother nature know who is boss than to rule over the grill with this mouth-watering Grilled Flank Steak with Thai Style Chimichurri. However if you are a bunch of fair weather only grillers, you can also grill up a lovely steak in your grill pan inside your warm house or fry one up Gordon Ramsey style in your iron skillet.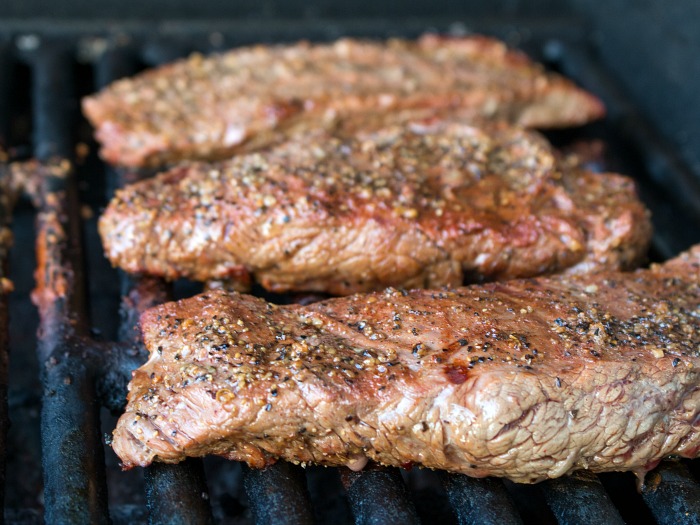 How to prepare your beef!
You can use any cut of steak you desire but if you decide to use a flank steak ( a tougher inexpensive cut of meat) than you must marinate it at least 1 hour or best overnight to tenderize and give maximum flavor. Bringing the flank steak to room temperature before grilling, not adding the salt until the grilling process, only cooking to medium rare and allowing the flank steak to rest for 5 -10 minutes before slicing really thin are all important steps for creating a tender and delicious steak. If you enjoy flank steak, you are going to love our Marinated Grilled Flank Steak and Easy Herb butter.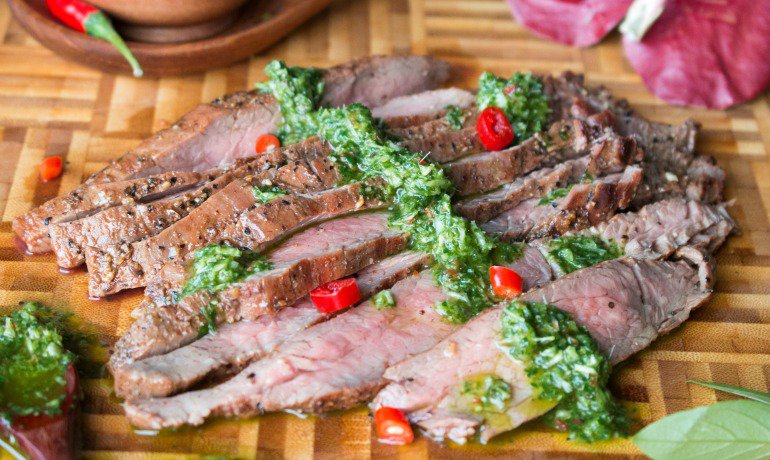 I hope you enjoy this quick and easy grilled flank steak with Thai style chimichurri dinner as you can have it on your table in less than 30 minutes, its low carb, gluten-free, diabetic friendly and a delicious Asian fusion dish.
Other Delicious Fast and Easy Grilling Recipes you may enjoy!
Summer Grilling and Chilling Recipes
Favorite Provençal Ratatouille Recipe
Grilled Swordfish with Summer Vegetable Crab Salsa
Peking Glazed Beer Butt Chicken
Hungry For More? Subscribe to our Newsletter and follow along on Facebook, You Tube, Instagram, and Pinterest for all the latest updates.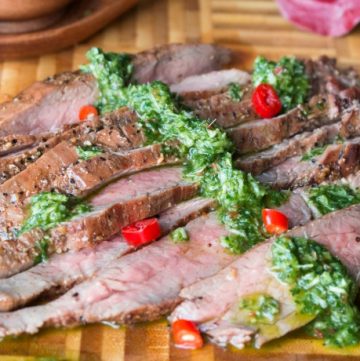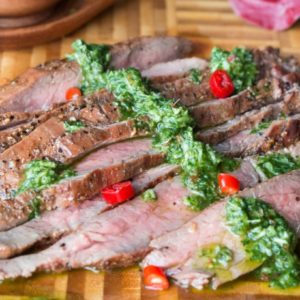 Grilled Flank Steak with Thai Style Chimichurri
Grilled flank steaks slathered with a tangy and zesty Thai style Chimichurri with chilis, garlic, olive oil, aromatic lemongrass and plenty of coriander, Thai basil and a drizzle of lime.
Print
Pin
Rate
Ingredients
Grilled Flank Steak
1

pound

flank steak


1

tablespoon

olive oil


3

tablespoon

soy sauce

or tamari sauce if need to be gluten free

1

clove

garlic


crushed and chopped

salt and pepper

to taste (add salt while grilling do not add to marinade as dries out the steak)
Thai Style Chimichurri Sauce
2

cloves

garlic


2

stalks

lemon grass


white part section only

1

chili pepper


medium hot chili or to taste (Caution, those little bird chilis pack a whole lot of punch)

½

cup

Thai Basil


fresh and roughly chopped

¾

cup

coriander (cilantro)


fresh and roughly chopped (I even included the cleaned roots)

4

tablespoon

lime juice


¾

cup

olive oil


salt and pepper

to taste
Instructions
Marinate the flank steak. Place you steak, olive oil, tamari (soy) sauce, garlic and pepper in a container and marinate for at least one hour or best overnight (Do not add salt to marinade but instead hold off and add this during the grilling of the steak as adding it while it is marinating will dry out the meat)

Take your steak out of the refrigerator to come to room temperature, about a half hour before you are ready to grill your steak.

Make your Thai Style Chimichurri sauce. In your food processor, add garlic, lemongrass, chili, Thai basil, cilantro (coriander roots and all), lime juice, olive oil and salt and pepper to taste. Blend until smooth, adjust seasoning as desired.

Grill flank steaks until medium rare or about 6 minutes per side. Salt and pepper steaks during the grilling process on each side and also slather steaks with some of the Thai Style chimichurri sauce. Reserve half of the Thai Style chimichurri for serving on the side and dipping the steak. Let your flank steak rest covered for about 5 minutes. Slice against the grain thin.


Serve slices of Grilled Flank Steak with Thai Style Chimichurri sauce on the side for dipping. Enjoy!
Notes
If you cannot find Thai Basil, you can substitute fresh Italian basil.
You can use the lemongrass paste if you cannot find fresh lemon grass.
The longer you marinate your steak the better.
Do not overcook your steak. At the most you should shoot for is a medium rare. Depending on the size of your steak will be between 5-6 minutes on each side or an internal temp of around 130 degrees F to 135 degrees F. Allow your steak to rest tented under a little aluminum foil for 10 minutes before carving your flank steak. Cut against the grain and very thin slices. Slather on a little of the Thai chimichurri and enjoy!
Nutrition
Serving:
1
g
|
Calories:
573
kcal
|
Carbohydrates:
6
g
|
Protein:
26
g
|
Fat:
50
g
|
Saturated Fat:
8
g
|
Cholesterol:
68
mg
|
Sodium:
819
mg
|
Potassium:
548
mg
|
Fiber:
1
g
|
Sugar:
1
g
|
Vitamin A:
468
IU
|
Vitamin C:
23
mg
|
Calcium:
39
mg
|
Iron:
3
mg