Creamy Kabocha squash, caramelized onions and truffle oil blended until smooth makes the most amazing rich vegan sauce on top of gluten-free pasta with sautéed mushrooms you have even tasted.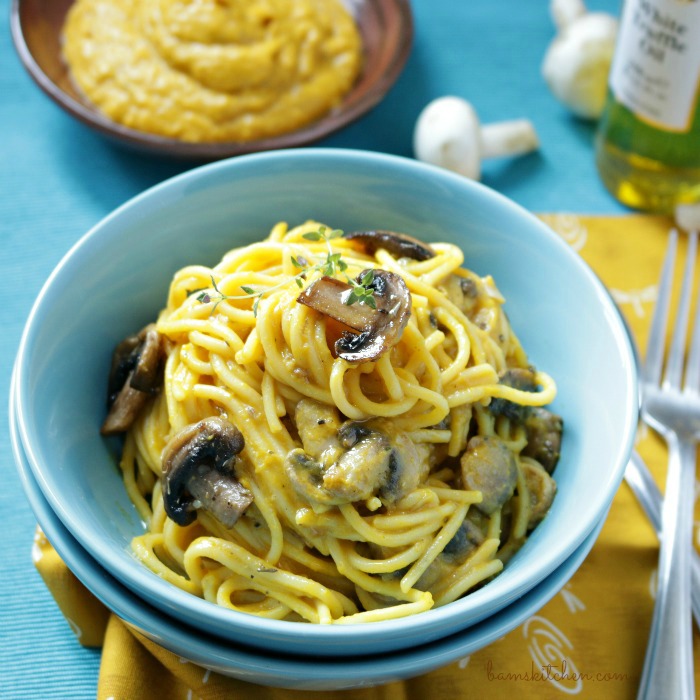 Why you are going to love this Creamy Kobocha Truffle Pasta
Easy to make
Gluten-free
You can exchange with butternut squash or acorn squash
Creamy
Pure comfort food!
Comfort food is something that our body needs and craves. Don't you think that comfort food makes even our worst days, more tolerable.? Comfort food is this creamy kabocha truffle pasta. It is warming, filling and made my house smell fantastic. I promise you that one bite of this creamy and decadent gluten-free vegan pasta dish and you will be hooked on comfort food with a healthy twist.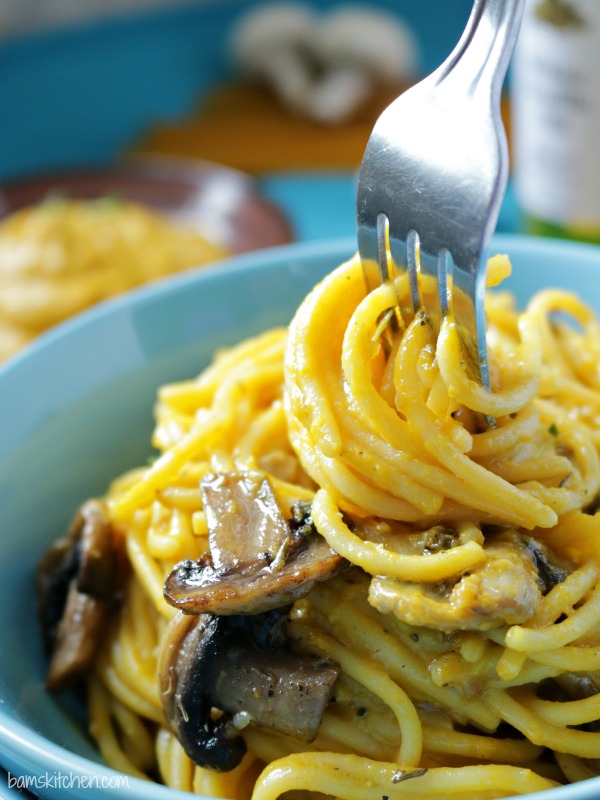 How is everyone doing in the world of snow and freezing rain and sub-zero temperatures?!? (For all of you basking in the sunny heat of Singapore, the land of Oz, in the Florida Keys or in other places enjoying the heat, keep on reading as you are going to love this recipe) I am the biggest cold weather wuss. My blood has gone thin living in Asia! Today in Hong Kong, it dropped just down to 11 C and I already am whining about the cold. I have all the de-humidifiers running full blast in every room and have about four layers of shirts and sweaters on, drinking warm tea, thinking about cracking out the big red blanket and actually wearing socks. We don't have central heating in Hong Kong but might have to run out and get some of those little portable room heaters.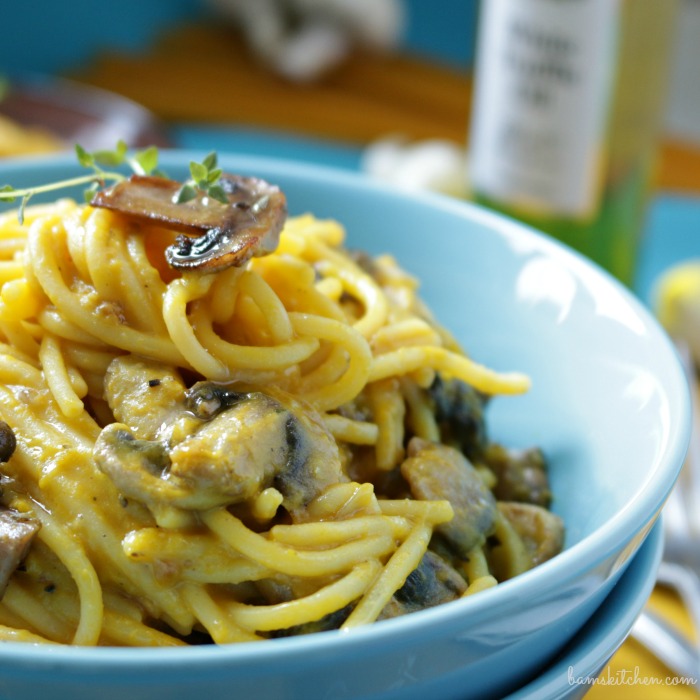 A light cold salad is certainly not going to do on a day like today. We need something warm and cozy...some pure comfort food.
I want my comfort food to be gluten-free, vegan and healthy. Is this too much to ask? I am always jealous when I see these thick creamy pastas dripping with cheese and I wanted something creamy and delicious that I can actually eat. I cannot eat gluten, eggs or dairy products so this really can be a buzz kill when it comes to eating comfort foods. However, I found a delicious solution.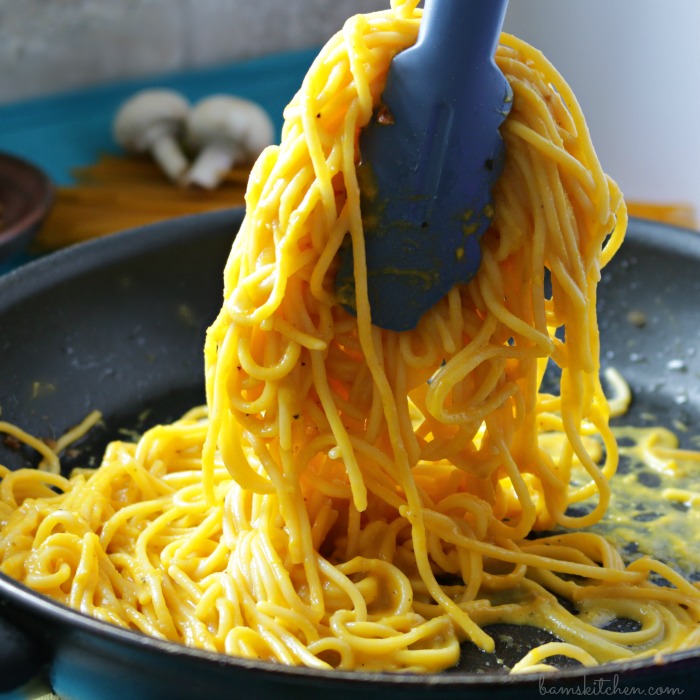 Kabocha squash is lovely pureed and can be the base of the most lovely creamy and delicately sweet pasta sauce. I used kabocha squash as that is what I have access to here in Asia but a nice butternut or acorn squash would be delightful too. I found my squash already cooked in the freezer section of the grocery store to save time or you could bake a fresh squash/pumpkin. I made this meal is about 15 minutes with the use of pre-cooked frozen kabocha squash. If you are looking for another less than 15 minute pasta dinner, be sure to try our Farfalle Aglio e Olio with Breadcrumbs.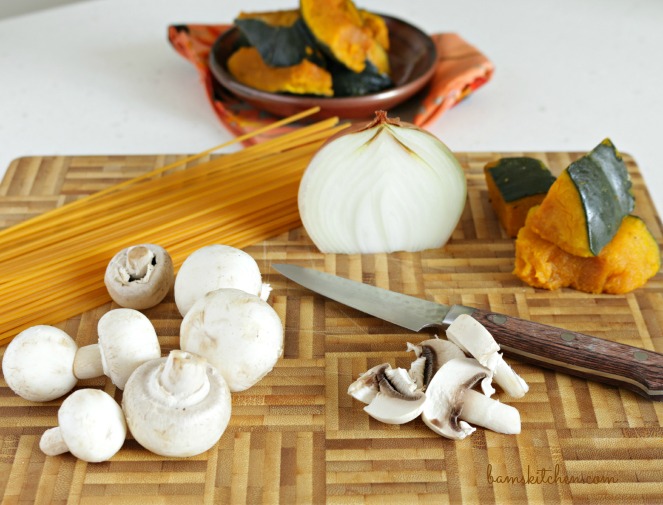 Plain pureed kabocha squash is nice on its own, but it needs to be kicked up. I had just the plan. My eldest foodie sister, Vickie, gave me a bottle of truffle oil for the holidays. Oh my goodness this stuff rocks. Just a little drizzle of truffle oil takes your dish from ho-hum to oh my goodness I need seconds. Thanks Sis!!! Truffle oil is not required to make dish, but it is really delicious.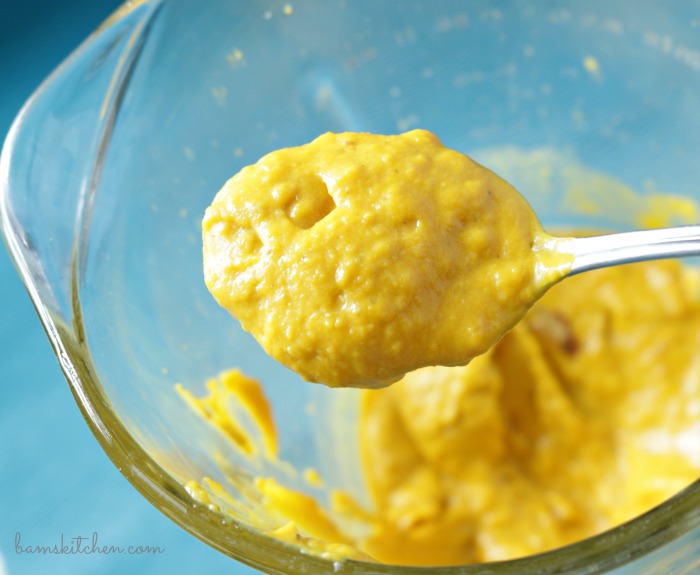 In order to get some additional flavor into the kabocha squash sauce I caramelized some onions and garlic along with some fresh thyme and added it to my kabocha puree and it was amazing. I also added a little almond milk to thin it out a little and then a tiny drizzle of the truffle oil. The result was a savory, sweet and herby pasta sauce that had loads of flavour.
Now I wanted to keep it vegan but hearty so I sautéed some button mushrooms in a little olive oil, garlic and thyme and added them to the gluten-free pasta.
The result...creamy, decadent comfort food that is deliciously gluten-free, vegan and dairy free. I just could not believe how tasty this was with just 8 little ingredients and 15 little minutes.
Now you don't have to use gluten-free pasta. By all means, use what you like or have if you do not have dietary issues like me. My boys loved this dish with a little bit of pancetta fried up with the mushrooms and added to the pasta and they topped it with lots of grated fresh Parmesan cheese. If you are not going the vegan route then there are tons of possibilities.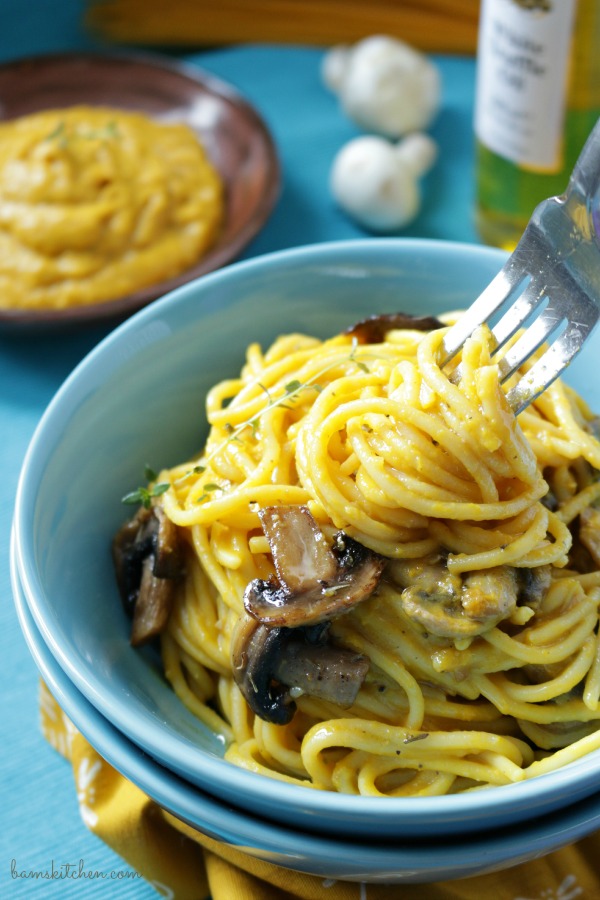 I used a gluten-free pasta with corn and quinoa mix. This brand stays nice and aldente when cooked, unlike other gluten-free brown rice pasta I have tried. Finding the right gluten-free pasta can be difficult. What brands do you use and like?
You might also like a blast from the past with my Topless Butternut Ravioli with a creamy wild mushroom sauce. This is a knock out dish that will really impress your guests.
I served my delicious creamy kabocha truffle pasta with a drizzle of truffle oil just before serving and a big side salad. My comfort food craving was satiated and body actually started to unthaw from the inside out.
Stay warm and take care!
More delicious Pasta Recipes
Homemade Tagliatelle Pasta with Zucchini Blossoms
Mini Sweet Roasted Pepper Basil Pasta
Hungry For More? Subscribe to our Newsletter and follow along on Facebook, You Tube, Instagram, and Pinterest for all the latest updates.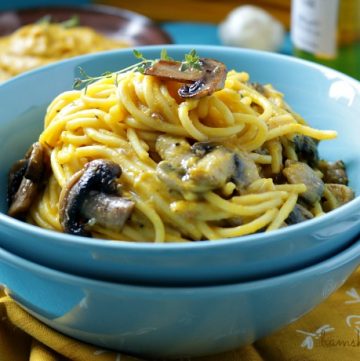 Creamy Kabocha Truffle Pasta
Creamy Kobocha squash, caramelized onions and truffle oil blended until smooth makes the most amazing rich vegan sauce on top of gluten free pasta with sauteed mushrooms you have even tasted.
Print
Pin
Rate
Ingredients
1

pound

dried spaghetti pasta


(gluten free or regular spaghetti)

2

tablespoon

olive oil


(1 tablespoon for the onions and 1 tablespoon for the mushrooms)

1

small

onions


chopped

2

cloves

garlic


minced

8

ounces

mushrooms


2.5

cups

squash/pumpkin


cooked and pureed squash (I used frozen roasted kabocha squash but roasted butternut or acorn squash would work good here)

1

teaspoon

thyme

fresh or ½ teaspoon dried

½

cup

almond milk

or as needed to thin the sauce a little bit

salt and pepper


to taste

1

teaspoon

truffle oil

and drizzle for garnish (optional)
Instructions
Place pasta in boiling salted water and cook until aldente. Drain and toss with a little olive oil to prevent sticking. (Save a little of the pasta water for later)

While your pasta is cooking, in a small pan place a little olive oil and saute onions and garlic until caramelized. Remove from pan and set aside. In the same pan, saute sliced mushrooms with a little olive oil and season with thyme, salt and pepper and cook until slightly golden. Set aside.

If you are using frozen pureed cooked butternut squash, unthaw and place in the food processor. If using fresh squash (kabocha, butternut or acorn) cut in half, turn flat side down on a lined and greased baking tray. Add a couple spoons of water to the tray and bake at 190 degrees C (375 F) for about ½ hour to 45 minutes until fork pieces easily in the squash.

Add caramelised onions, garlic almond milk, thyme, truffle oil, salt and pepper along with the squash to the food processor and process until smooth and creamy.

In a large frying pan, add the pasta, delicious pureed kabocha squash mixture, sautéed mushrooms and about ¼-1/2 cup of pasta water to loosen up sauce. Stir and mix well. Season to taste.

Serve your Creamy kabocha truffle oil with a little additional ruffle oil on top and if your not going vegan add a little parmesan cheese on top would be delightful. Enjoy!
Nutrition
Serving:
1
g
|
Calories:
534
kcal
|
Carbohydrates:
95
g
|
Protein:
18
g
|
Fat:
9
g
|
Saturated Fat:
1
g
|
Sodium:
54
mg
|
Potassium:
712
mg
|
Fiber:
6
g
|
Sugar:
7
g
|
Vitamin A:
1015
IU
|
Vitamin C:
13
mg
|
Calcium:
88
mg
|
Iron:
2
mg