It's bold, dramatic, and soon to be your favorite new addition to your lunch or dinner routine. Our flavorful fool proof Instant Pot Black Rice Pilaf is ready in just 30 minutes. It is nutty, naturally sweet and has an addictive chewy texture.
Black Rice (also known as Forbidden Rice, Emperor's Rice or Purple Rice) is a healthy whole grain to add to salads, hearty soups, and as a side to our Air Fryer Kabocha Squash with Curried Sauce. Using a multi-function pressure cooker with the sauté function, allows you cook everything in one pot and infuse the aromatics into the rice.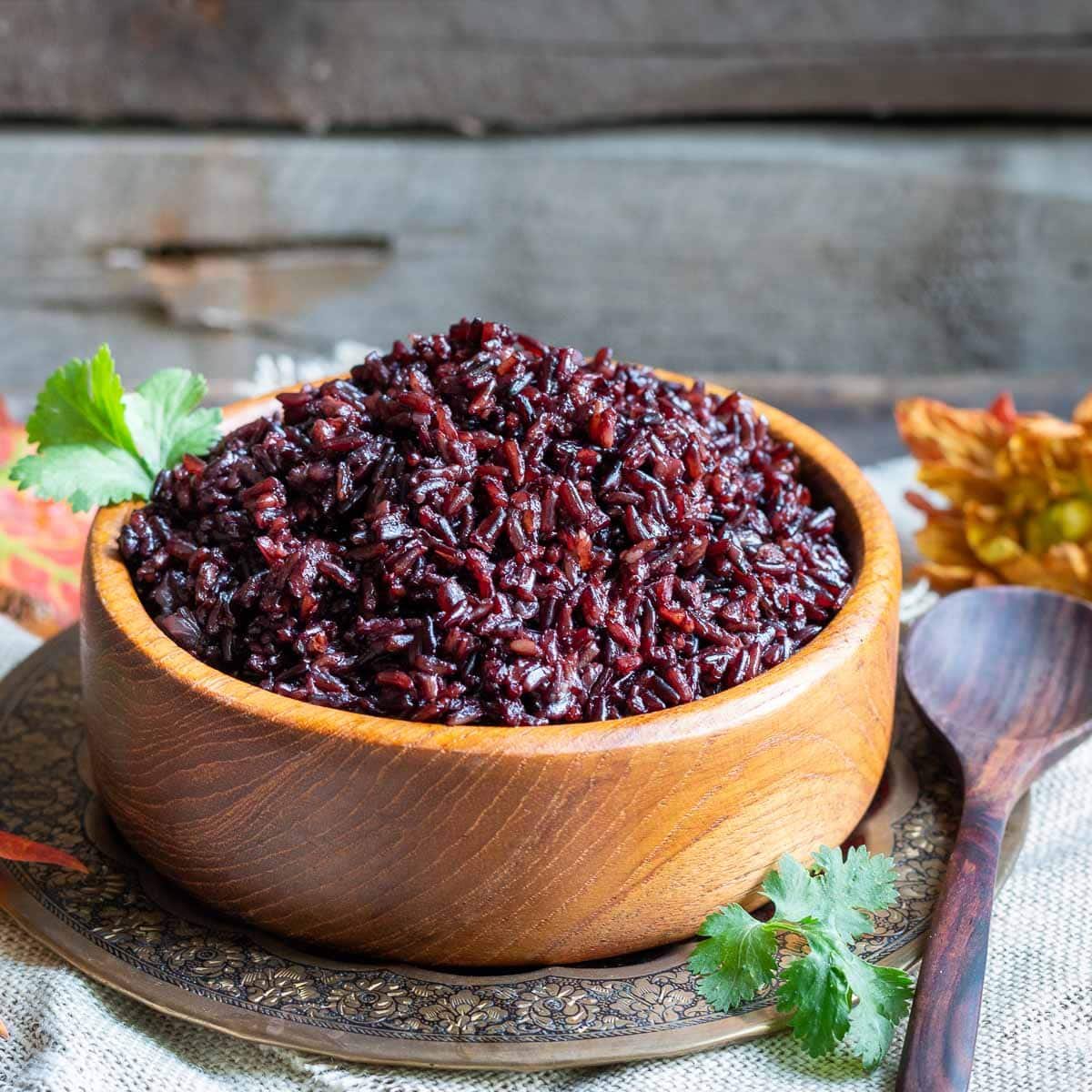 Jump to:
Benefits
Easy to prepare and does not require any soaking.
Rice grains do not stick together due to the simple pilaf preparation.
Naturally, gluten-free and vegan (if you use a vegetable broth)
Highest in protein compared to other types of rice. There is about 9 grams in about 100 grams (3.5 ounces) of black rice.
Forbidden rice has more fiber than white so you feel more satisfied and fuller.
It's a Superfood with many health benefits! The deep dark bran layer of the grain is packed with antioxidants from the anthocyanidins. The anthocyanidins are what gives it that deep dark burgundy purple color when cooked. Acai, black beans, red cabbage and blueberries in our easy blueberry tarts are some examples of produce with higher levels of anthocyanidins.
So why is that important? According to Aécio L de S Dias et al, in the medical review, "Recent Advances on Bioactivities of Black Rice", black rice is considered a beneficial functional food, especially it's anticancer properties and other noninfectious disease prevention.
In Traditional Chinese Medicine, it helps strengthen kidney qi and nourishes the spleen.
Finally, black rice pilaf is a cool spooky side dish for any Halloween gathering.
Ingredients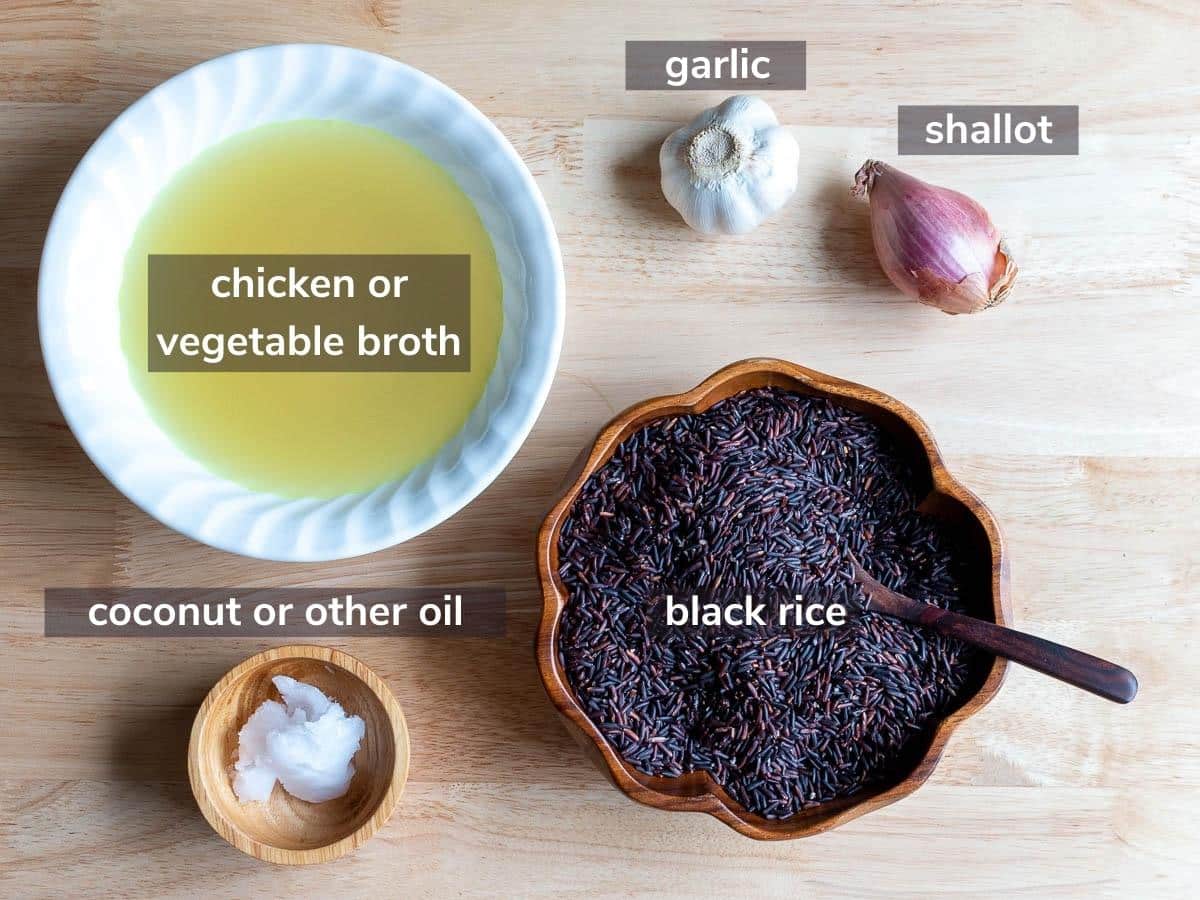 Black Rice – Heads up! You want to look for either long or short grained plain black rice (forbidden) or Thai Jasmine black rice. You do NOT want sticky or glutinous black rice for this pilaf recipe. They are two completely different things. Read the package carefully before purchasing. We used a long grain made in Thailand. Although black sticky rice would be delicious in our Easy Mango Sticky Rice, it has a different texture and a different preparation is required.
Coconut oil or oil of choice – We chose coconut oil as we were planning on serving our instant pot black rice pilaf with our Thai Pumpkin Curry. You can exchange with any oil of choice. The purpose of the oil is to coat each rice grain, and this prevents sticking and clumping together. In addition, the sautéing before pressure cooking adds an intense nutty flavor to the recipe.
Aromatics – onions and garlic
Chicken or Vegetable broth – adds flavor to this recipe. Please use a vegetable broth to keep it vegan. Choose a low sodium broth so you adjust the seasonings.
Step by Step Overview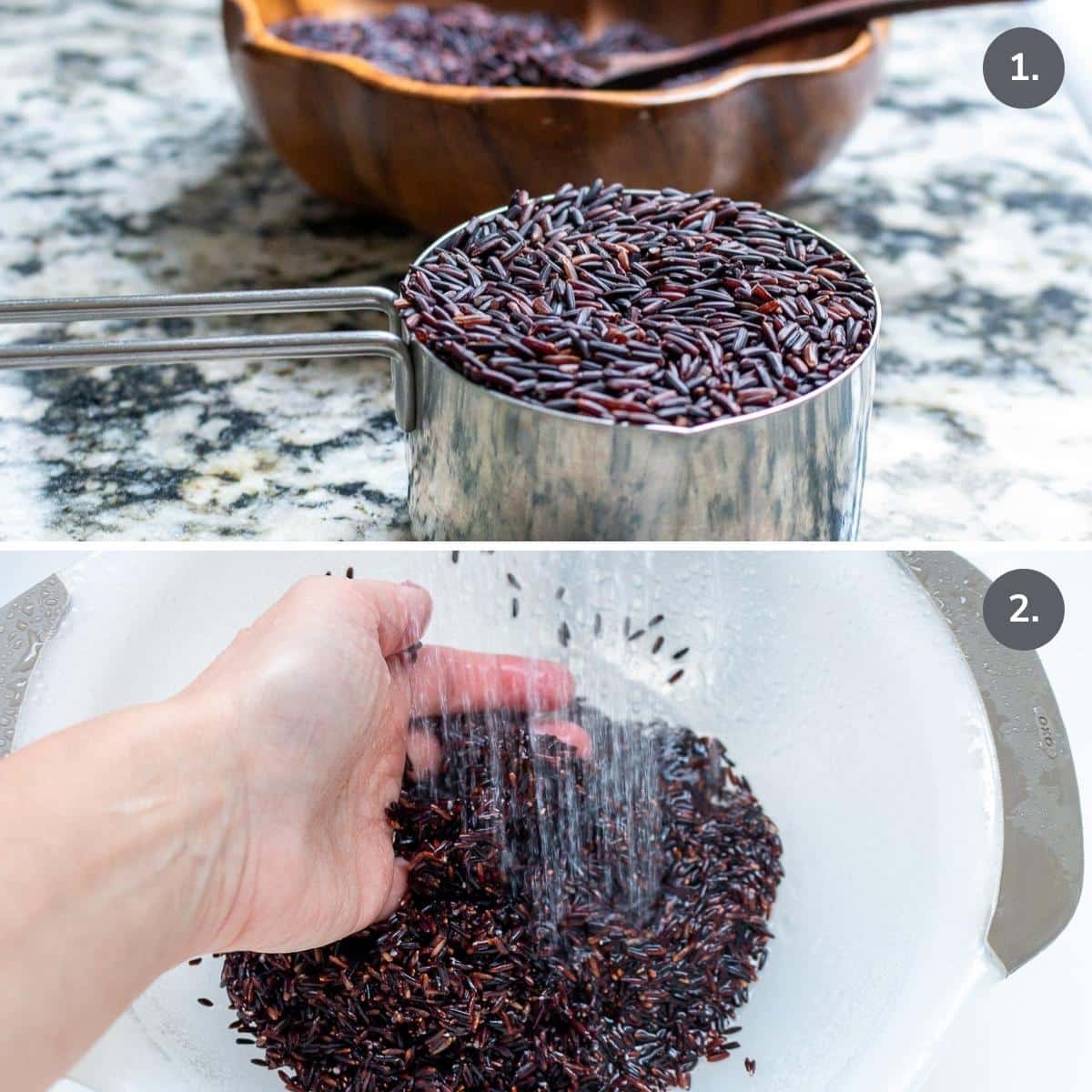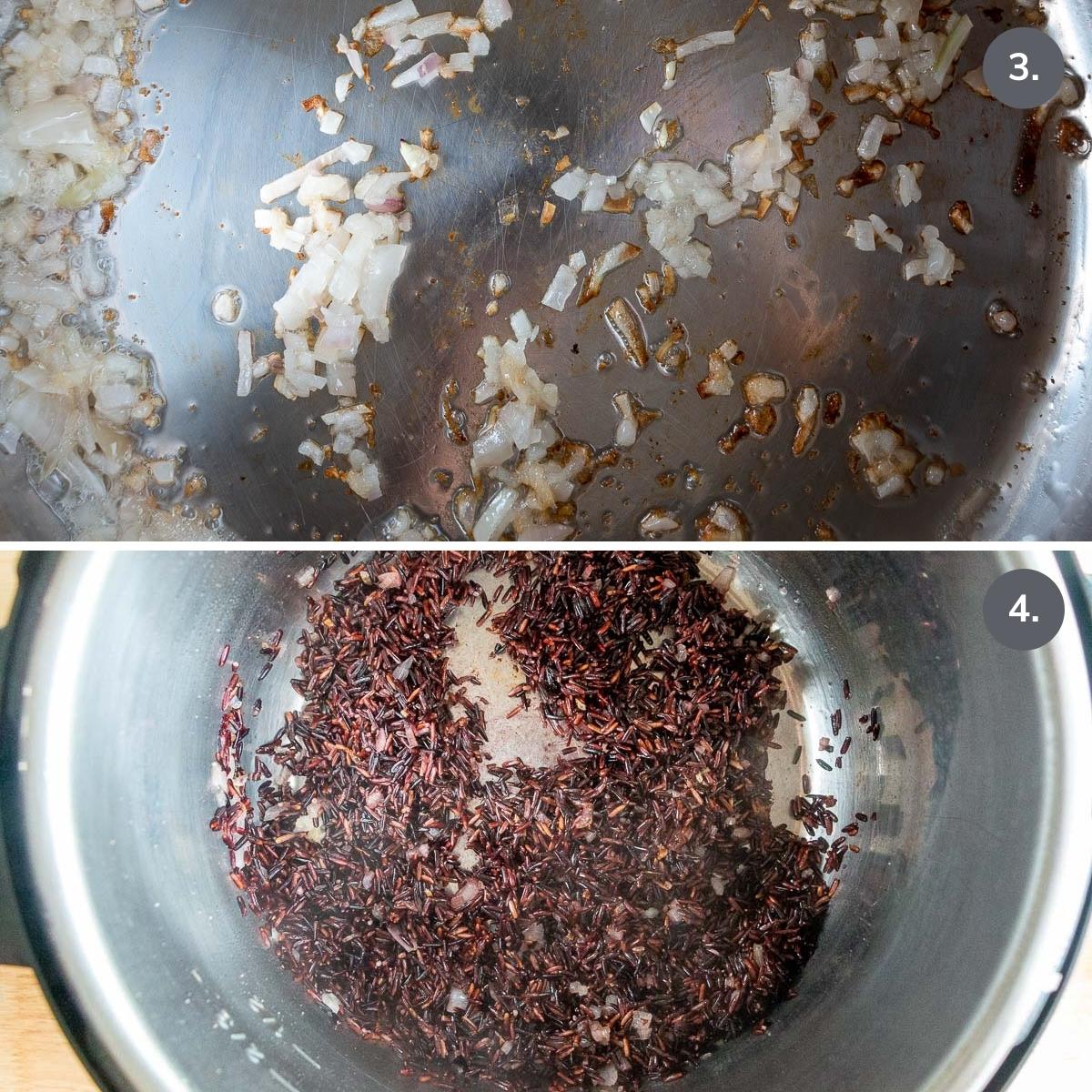 Sauté onions and garlic in oil.
Add the drained black rice into the Instant Pot and sauté until aromatic and all the grains are covered in the oil. This seals the rice and helps prevent sticking.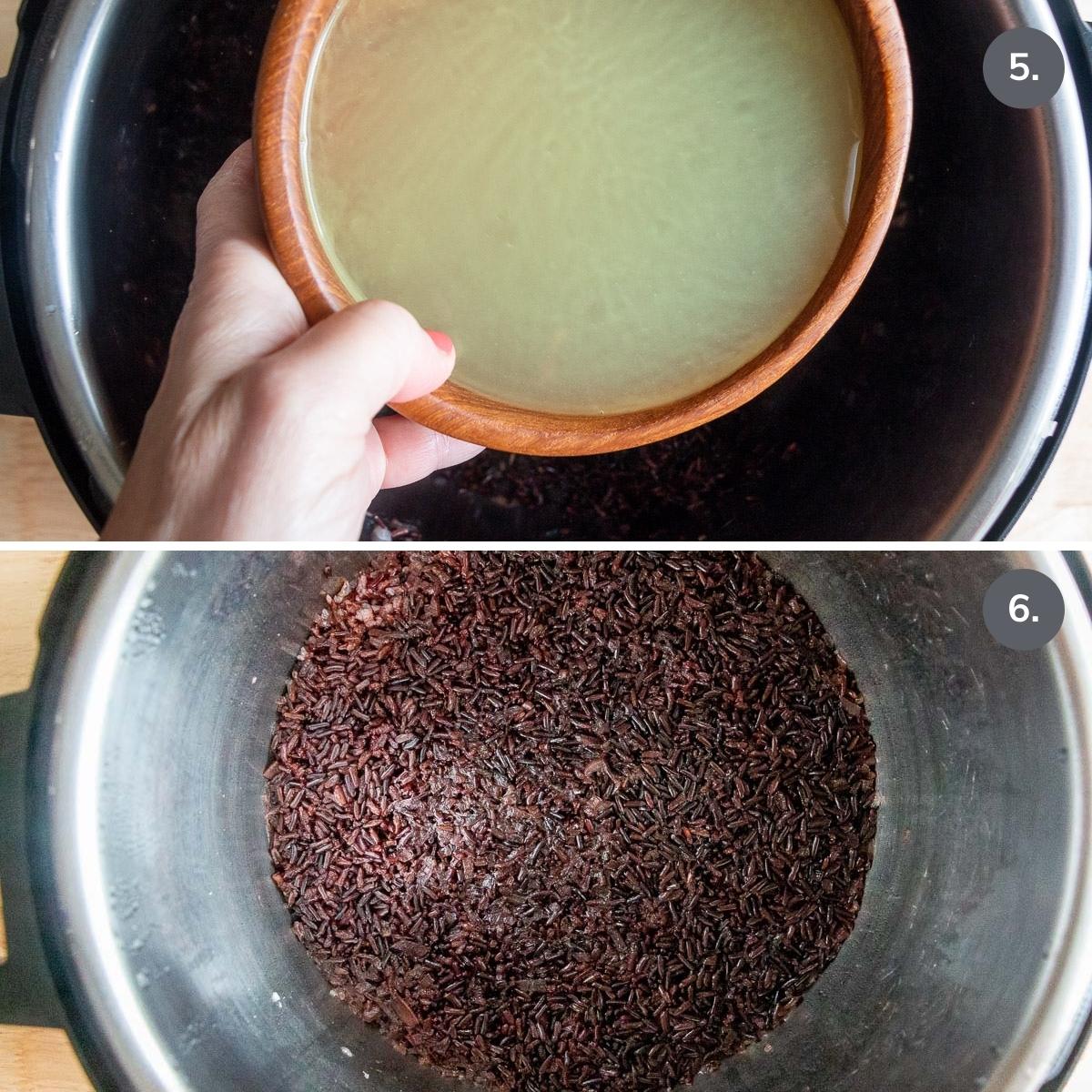 Pour in the chicken or vegetable broth and season to taste.
Seal Instant pot (pressure cooker) and cook on high pressure cook for 17 minutes.
Allow natural release for 10 minutes.
Carefully release the pressure for the Instant Pot.
Fluff, stir and serve.
Variations
Have fun with this recipe and experiment with different spices, herbs, and additions. What you decide to add to the cooking liquid is dependent on what you will be serving it with. What is the nationality of your other dishes? Adding garlic and onions is just a starter but there are so many other options.
For example, if you are serving with an Asian dish, you may like to add couple of fresh pandan leaves, ginger, turmeric, cardamon or Chinese 5 spice to the cooking liquid.
On the other hand, if you are wanting to make pilaf to go along with a Western Style main dish, maybe add a couple of bay leaves, pinch of herbs de Provence, saffron or even cumin to the broth before cooking. The last time we made this recipe we added cooked harvest vegetables such as corn, sweet potatoes, and a mild curry powder.
Garnishes
After the Instant Pot grain has cooked, be sure to season to taste with salt and pepper. Then add fresh herbs like parsley, cilantro or even chopped chives or green onions. A fun and easy way to add a little extra protein is to add canned cooked garbanzo beans (chickpeas) and little fresh lemon zest like in our recipe for Lemon Pepper Rice.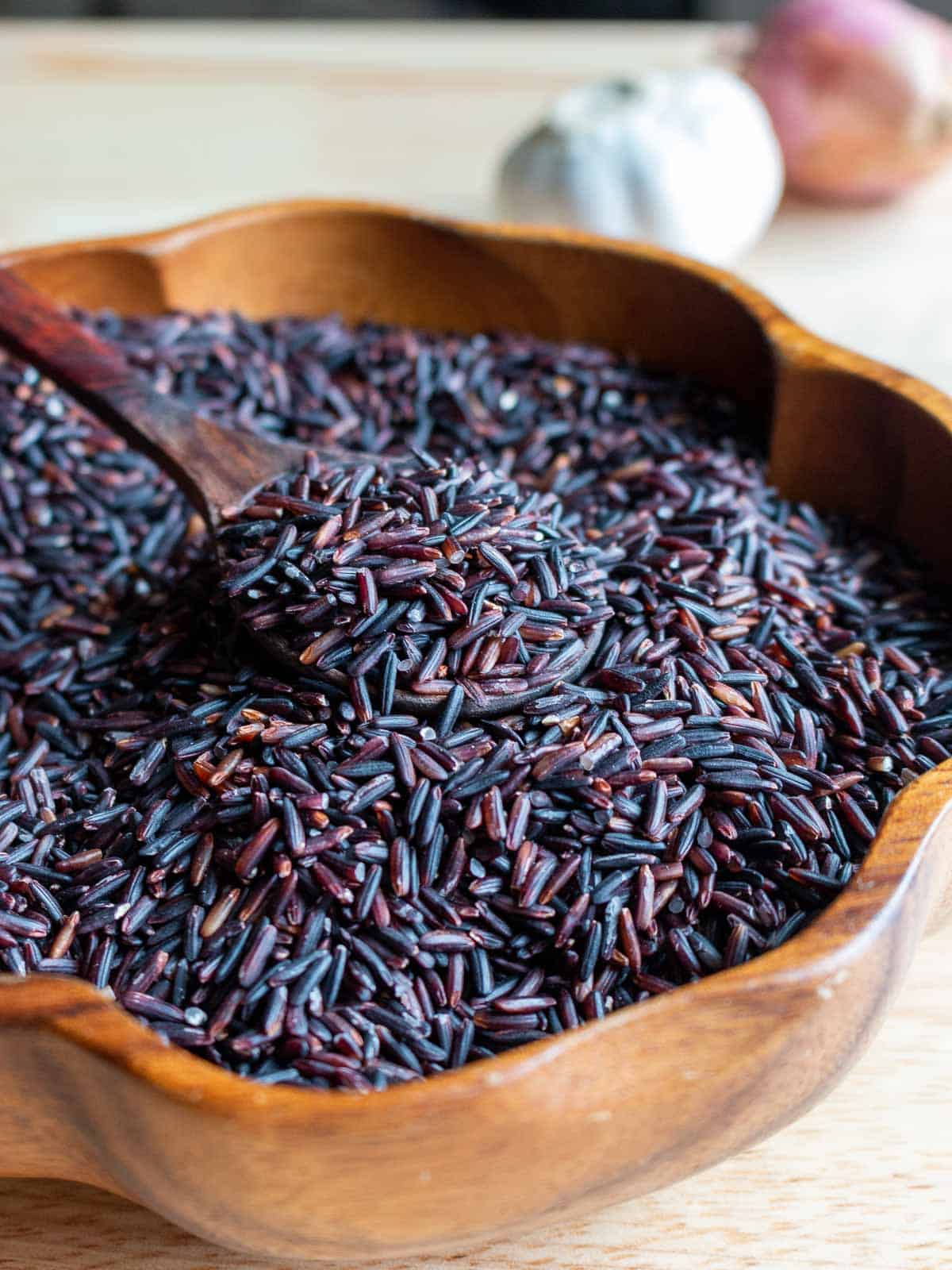 Where to purchase Forbidden Rice?
You can purchase this nutty grain at specialty stores, Asian food stores and even online. If you have access to Amazon, there are many delicious organic choices available.
What to look for BEFORE purchasing?
If you have the option when purchasing, choose organic. Also, select a package where you can see the product through the clear bag. Make sure the grains are whole and look relatively similar in shape and color. There should not be a lot of particles on the bottom of the bag. If so, be suspicious.
Remember to purchase regular short grained, long grained or Thai Jasmine style black forbidden rice - not glutinous or sticky black rice for this pilaf recipe. In case you are wondering, wild rice is a seed of semi-aquatic grass and is not the same thing as whole grain black rice.
Sometimes black rice will be a deep black color. Other times it will be a deep dark purple or even a deep brown purple in color. That is because each type of heirloom rice is a little different.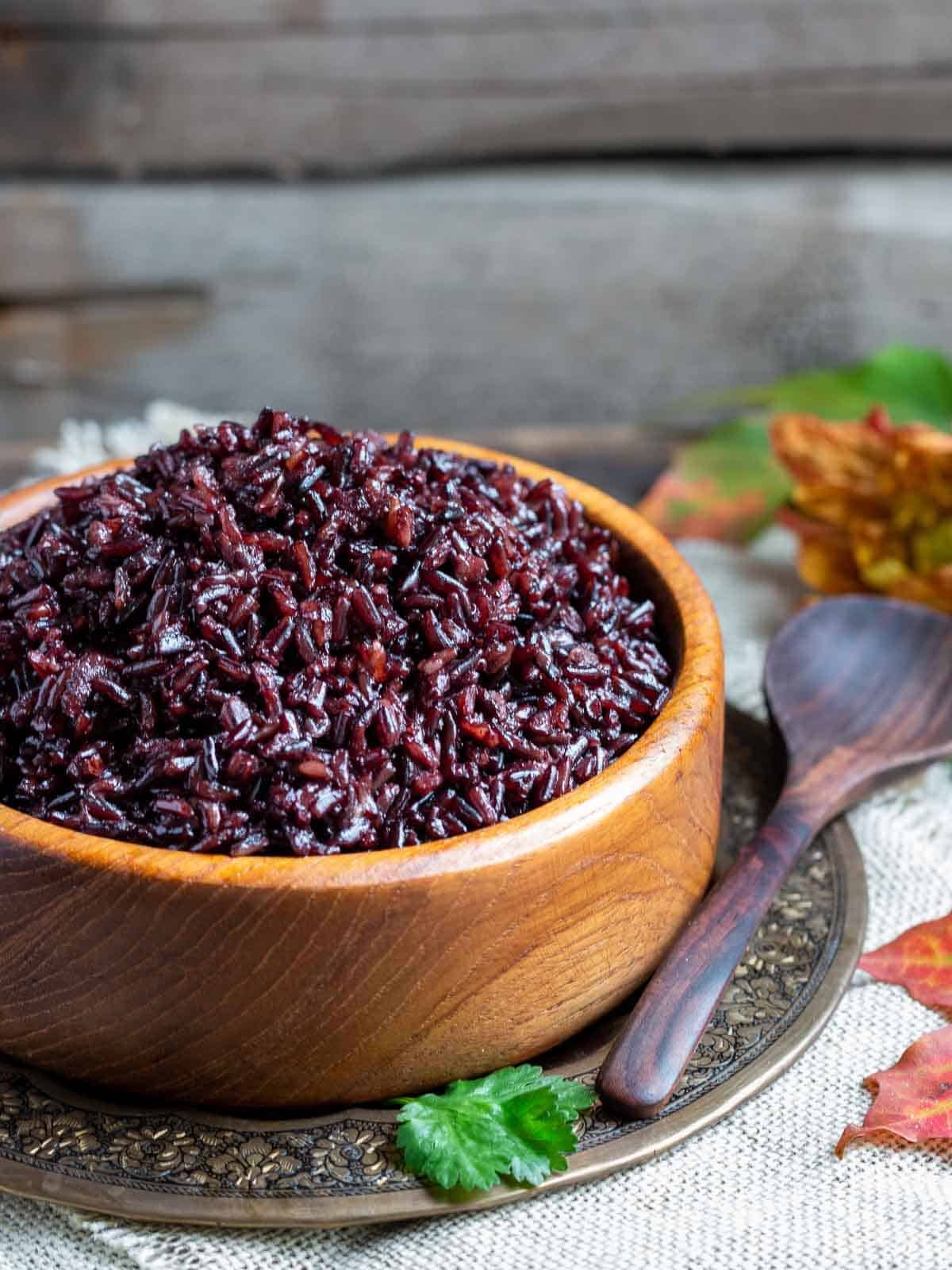 Recipe Tips
Rinse in water until the dark purple color no longer bleeds and the water runs clear in a fine mesh strainer.
Speaking of the purple color, it will stain. Please be careful and wash your counter tops and tools you use to cook with straight away.
Washing the rice provides 2 important functions. First it removes that extra starch that causes it to stick together. The second reason is to remove any dirt, chemicals or things that should not be on or in there.
The ratio is 1 cup of black rice to 1.25 cups of broth when cooking in the Instant Pot.
After much recipe testing, we must reinforce how important it is to make sure your rice is drained well after washing for perfectly cooked fluffy grains. If not, it will be mushy instead of chewy tender.
Be sure to coat all the grains well with the oil and toast gently before adding the chicken or veggie broth. This process ensures that it will cook evenly and less likely to stick together. It is a core step in making rice pilaf.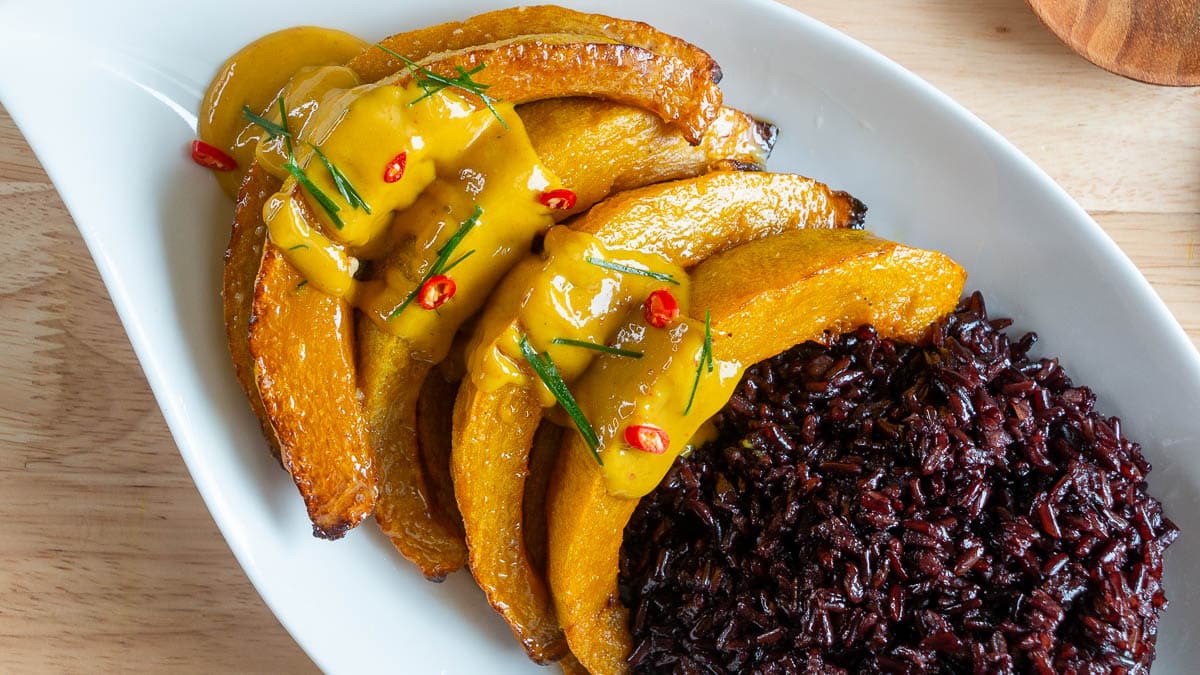 Why is it called Forbidden Rice?
In ancient China, black heirloom superfood was reserved for only the powerful and wealthy aristocrats and emperors. The regular peasants were not allowed to eat it and that is why it is called forbidden rice.
There are 2 main reasons why only the rich and powerful Chinese were able to consume this delicious nutty grain.
As it was a type of heirloom grain, only a few growers had this special type.
It's key to living a long healthy life. Chinese wanted their emperors to be strong and mighty, so they fed them black rice. In Traditional Chinese Medicine (TCM), black rice is thought to strengthen kidney qi – the root of life. Congenital essence is inherited from our parents and stored in the kidneys and can be converted to qi (circulating life force). According to TCM, one of the primary functions of kidneys is to govern fertility, pregnancy, birth, growth, aging and up to death. Your kidney essence weakens as you grow older and can cause premature aging. This can make you frail and weak. Getting the proper amount of rest and nutrition can help revitalize your kidney qi.
A lot has changed over the years. Now, it is no longer forbidden. This natural super food is available around the world for anyone to purchase and consume.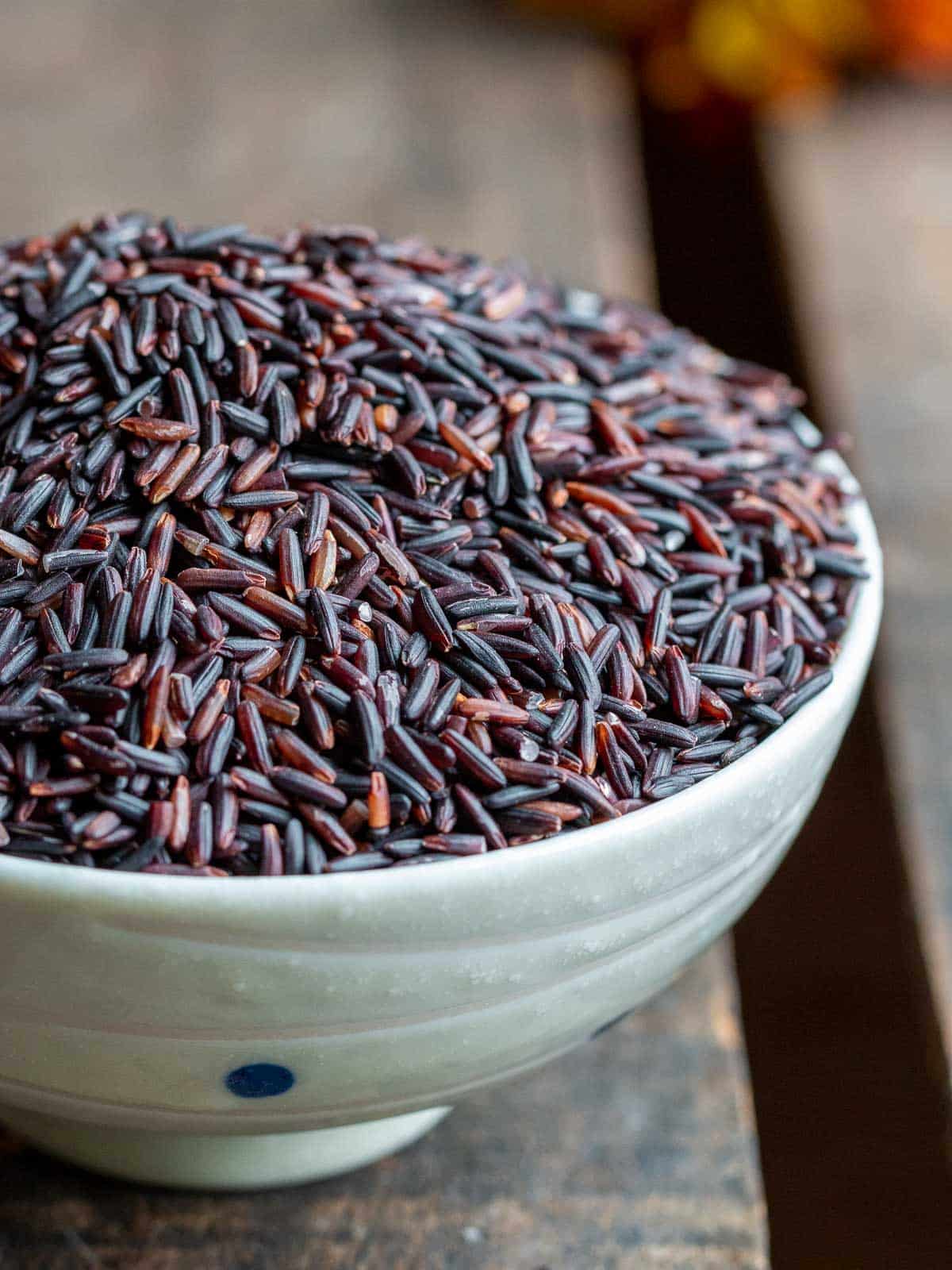 Frequent Asked Questions (FAQ's)
Should I use the rice setting on my instant pot to cook black rice?
No, you should use the high pressure cook setting. The reason being is that black rice, unlike white, has a tough dark bran layer on the outside and it takes longer to cook.

Is black Jasmine rice the same as black rice?
There are several varieties. Thai black Jasmine style is just a different fragrant type of long grain black rice.

What is the difference between plain cooked rice and pilaf?
Cooked refers to rice that has been steamed or boiled, generally in water until tender.
Pilaf is a cooking style in which the rice is first browned in oil. Then cooked in a stock or broth with added spices and aromatics. It can also include proteins and vegetables.

More Delicious Instant Pot (Pressure Cooker) Recipes
Did You Like Our Recipe? Leave a ⭐⭐⭐⭐⭐ rating and/or a review in the comments section below. Your feedback is always appreciated! Follow us for more delicious recipes on Pinterest, Instagram, Twitter and Facebook! Don't forget to sign up for our email list for more free recipes.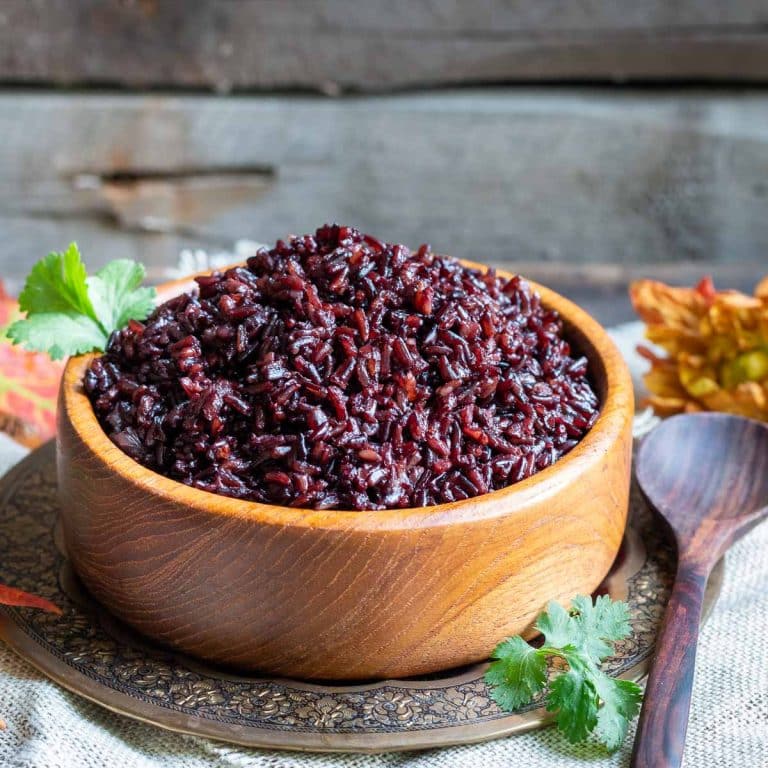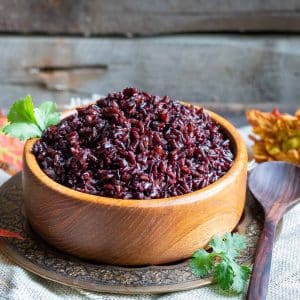 Instant Pot Black Rice Pilaf
Learn how to make fool proof Instant Pot Black Rice Pilaf in just 30 minutes. Forbidden rice is nutty, naturally sweet and has an addictive chewy texture.
Print
Pin
Rate
Equipment
Instant Pot

or Multi-function pressure cooker that can also sauté.
Ingredients
1

cup

Forbidden black rice


1

tablespoon

coconut oil

or oil of choice

1

small

onion

peeled and chopped

2

cloves

garlic

peeled and minced

1 and ¼

cup

chicken broth

low sodium and gluten-free or vegetable broth to keep vegan

salt and pepper

to taste
Instructions
Rinse forbidden black rice with cool water in a fine mesh colander until it runs clear. Drain well.

In the meantime, chop onion and garlic. Turn the Instant Pot on and set to sauté function. Add coconut oil or oil of choice to the instant pot. Add the chopped onion and garlic into the oil and sauté until aromatic and translucent,

Add the rinsed and drained black rice to the Instant pot with the onions and garlic and toss well to coat all the rice in the oil. Sauté just until toasty ~ 1 to 2 minutes. Turn the Instant Pot off.

Add 1 and ¼ cup chicken broth or vegetable broth and salt and pepper to taste. Seal Instant Pot and set it to high pressure cook for 17 minutes. Once the time is up allow for natural release of pressure for 10 minutes. Then, very carefully release the pressure in the Instant Pot manually.

Fluff with fork and enjoy!
Notes
Please note that your rice will turn a slight purple hue when cooked and this is completely normal.
This recipe will make about 2 cups of cooked black rice. One serving of Instant Pot Black Rice Pilaf is only ½ cup. I know! We were quite sad about that too as we could have eaten the whole darn thing.
Leftovers, if you have any, can be kept in a covered container in the refrigerator for up to 3 days or frozen for up to 2 months. You can reheat the leftovers in the microwave or on stovetop.
Please make sure that you purchase plain black rice either short grain, long grain or Thai Jasmine style. Do NOT purchase sticky or glutinous black rice as this is very different and requires a different cooking method.
Make sure you wash/rinse the grains well until the water runs clear and drain really well. Draining is very important as if you have lots of extra water the consistency of your rice might be mushy instead of chewy tender. Just a quick heads up, the purple color may stain countertops or utensils. To prevent that wash them straight away after use.
The ratio is 1 cup of dry black rice to 1.25 cups of broth. Yes, you can increase the ratio amount of both to feed a larger crowd.
Nutrition
Serving:
1
½ cup serving
|
Calories:
221
kcal
|
Carbohydrates:
39
g
|
Protein:
5
g
|
Fat:
5
g
|
Saturated Fat:
3
g
|
Polyunsaturated Fat:
1
g
|
Monounsaturated Fat:
1
g
|
Sodium:
26
mg
|
Potassium:
198
mg
|
Fiber:
2
g
|
Sugar:
1
g
|
Vitamin A:
0.5
IU
|
Vitamin C:
2
mg
|
Calcium:
20
mg
|
Iron:
1
mg