Farfalle Aglio e Olio with Breadcrumbs is a delicious easy 15-minute dinner with bow tie pasta tossed simply with EVOO, garlic, red pepper flakes and toasty homemade gluten-free breadcrumbs.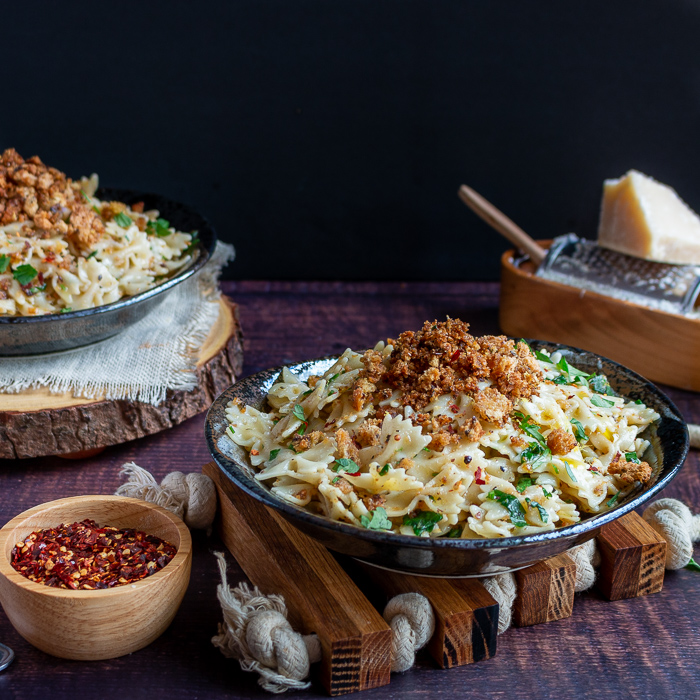 These bow tie slurping noodles have a light and bright lemony, garlic herbed, red pepper spiced sauce. We topped our farfalle with these killer good homemade season breadcrumbs for that added crunch. Comfort noodles that pack a real punch of flavor with just a handful of pantry ingredients. You gotta love that! Farfalle Aglio e Olio with Breadcrumbs is that super easy pantry recipe you can make when you have no idea what to make for dinner. For more delicious pantry recipes, be sure to check out our 17 Pantry Recipes for Emergency Preparedness.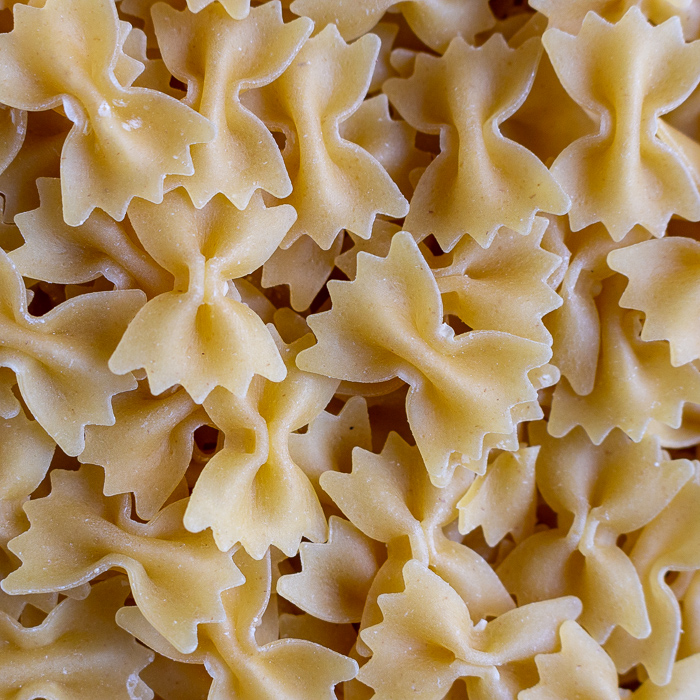 What is Farfalle?
The little bowtie pasta shape is called farfalle. This shape is fun, and kids just love it. Farfalle holds on to sauces with all of its little nooks and crannies. However, we also make a batch of gluten free Farfalle pasta that is also egg free (as we have allergy issues in our family) . You can make this recipe with regular pasta or gluten free. Both options are delicious. The great part about this recipe is that it uses only a handful of ingredients and many of them you have in your pantry right now.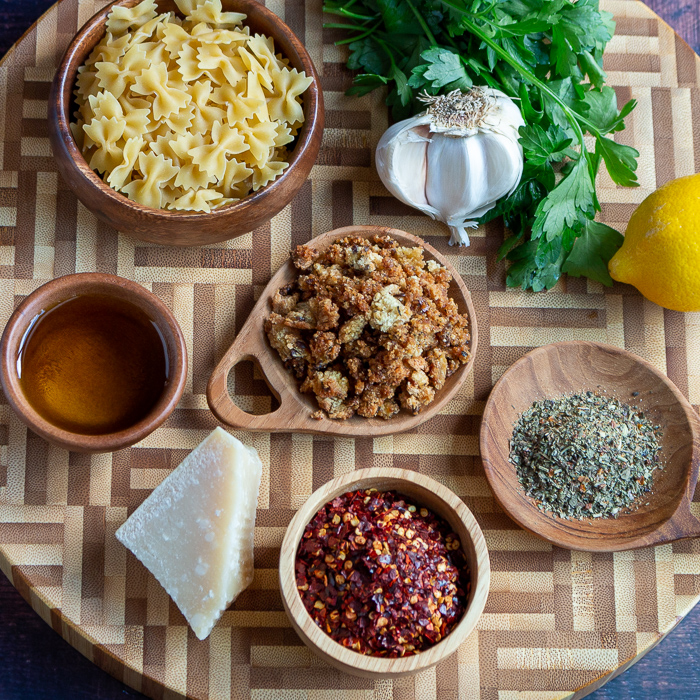 What is Aglio e Olio?
"Aglio e Olio" is an Italian phrase that means garlic and olive oil.
Aglio = Garlic
e = and
Olio = Olive oil
Why you are going to love Farfalle Aglio e Olio with Breadcrumbs
It's so darn simple to make (If you can boil water, you can make this recipe)
Requires only a handful of pantry items and you probably have them in your pantry right now. (Go check! We will wait.)
Kids and adults both love it (Huge crowd pleaser)
Vegan and gluten-free (but can be made with regular pasta and loads of Parmesan Cheese if you prefer)
Budget Friendly
Perfect Fall Comfort Food
And last but not least it is the One Year Celebration of Noodles Without Borders (Every first Tuesday of the month All That's Jas and Healthy World Cuisine bring to you a delicious noodle recipe from around the world. Today we are visiting Italy. Come and join us!)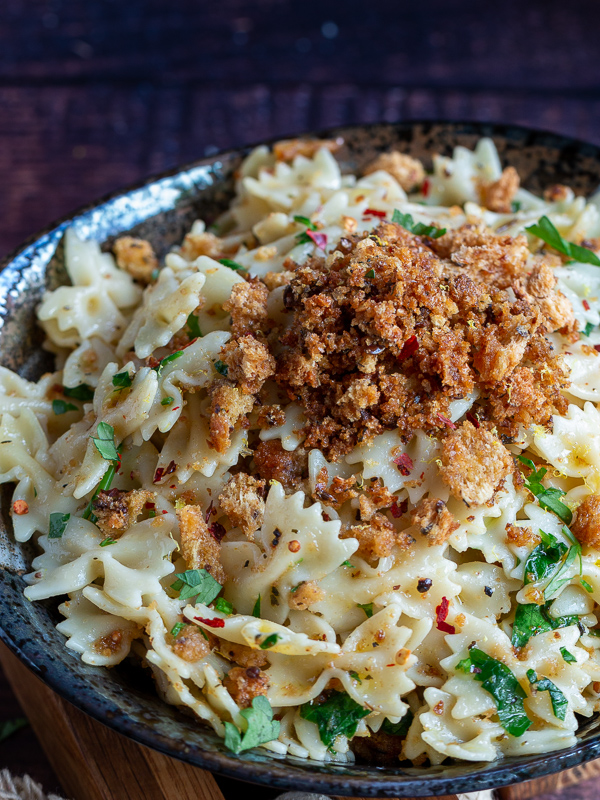 Noodles Without Borders
Have you been following along each month in search of Noodles Without Borders? We have had so much fun this year traveling the globe in search of delicious comfort noodle recipes. However, our favorite part is watching you getting involved in the fun on Instagram. If you make one of our noodle recipes or make one of your own, be sure to use the hash tag #NoodlesWithoutBorders. If you want to be featured on our Instagram stories be sure to tag @hwcmagazine and @allthatsjas on Instagram. We love seeing what you a making in your kitchen.
What was your favorite noodle recipe this year?
What country or region would you like us to feature next on our next edition of Noodles Without Borders?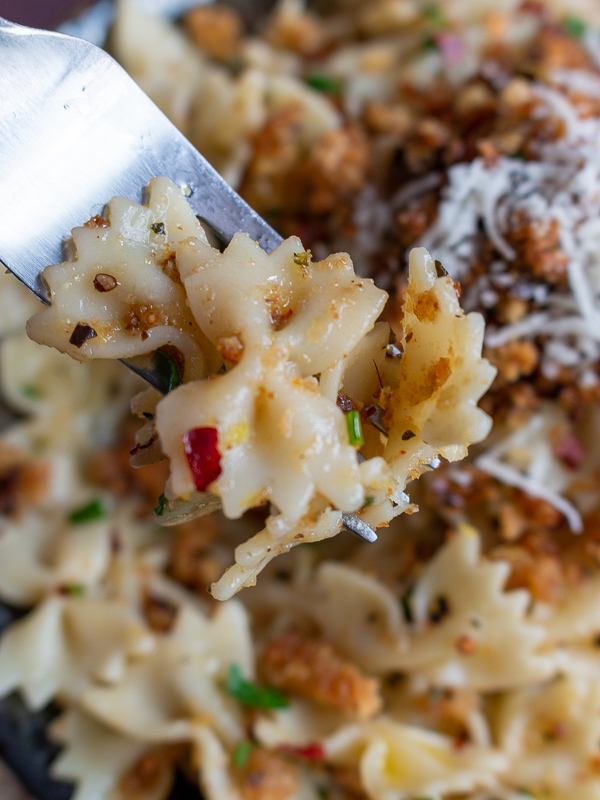 How to cook your Pasta Noodles?
Actually, if you are cooking your pasta noodles until they are aldente (or to the tooth pleasant. Not too soft or not too hard) you are probably overcooking them. You see for this Farfalle Aglio e Olio with Breadcrumbs recipe; you will boil the farfalle (bowtie noodles) just until BEFORE aldente and then they will do a quick cook in the pan again. Let's review the basic concepts of preparing the perfect pasta whether that be dried or fresh pasta. check out this step by step diagram below on how to make Farfalle Aglio e Olio with Breadcrumbs.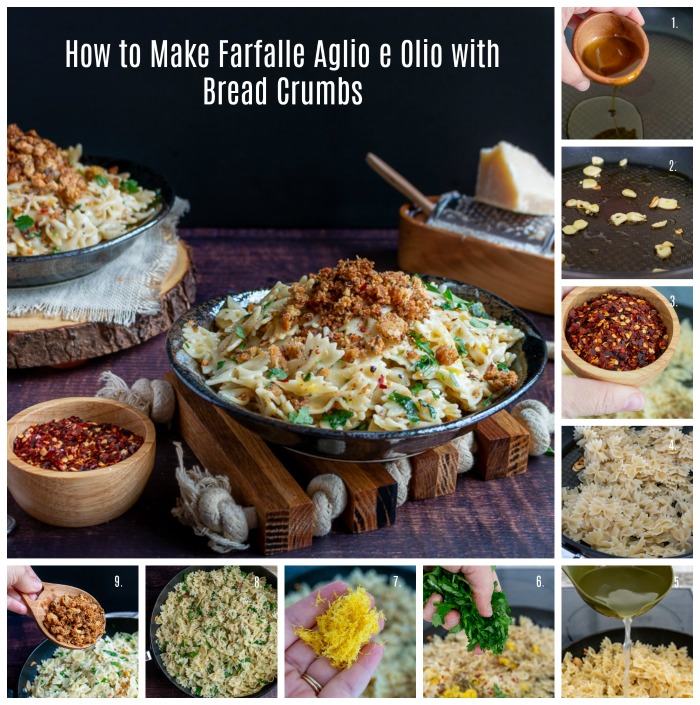 Boiling Water
Simple enough right? However, you need to make sure your pasta has enough room to cook in plenty of water. Use a large pot with at least 4-6 quarts of COLD/COOL water for 1 pound of pasta. Bring your water to a boil.
Salt your Pasta Water
Salt your pasta water generously. Your pasta water should taste salty like the sea. This is your one and only good chance to get a delicious seasoning into your pasta. For 4-6 quarts of water, you will need to add about 1 to 1.5 tablespoons of salt. We use kosher salt for this, you can use table salt as well. Unless, you are on a sodium restricted diet, don't forget this step.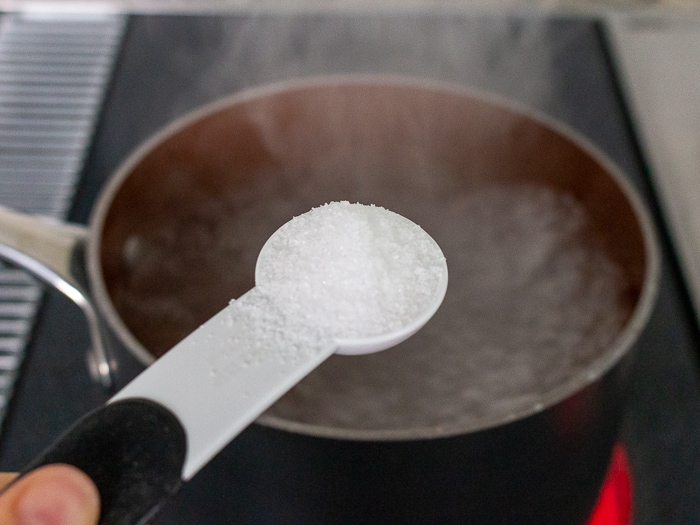 How to prevent your pasta from sticking in the pot?
When you add your pasta to the boiling water, be sure to stir several times during the cooking process. This will prevent the cooking process. Some will add oil to the boiling water but we feel that adds a weird texture to the noodles.
How long to cook your pasta noodles?
Do not rely on the package instructions for the time needed to cook your dried pasta. Every situation is different as it depends on how much pasta to water ratio, etc. Depend on your own tooth for measurement on when pasta is done cooking. For dried pasta, you will want to check the box or packaging for directions on how long to cook until aldente. If a package say cook for 7 minutes or until aldente, start checking your noodles at about 4-5 minutes. Boil your noodles with the lid off. The best way to do a check it to take a bite.
Your goal is to have a noodle that is just slightly firmer than aldente. We check the pasta every 30 seconds after the first check until we are happy with the firmness level. Once you reach the perfect tooth feel, we drain the pasta immediately BUT we reserve a cup of pasta water or so for the pasta sauce. For Fresh pasta it takes only between 1-3 minutes until aldente.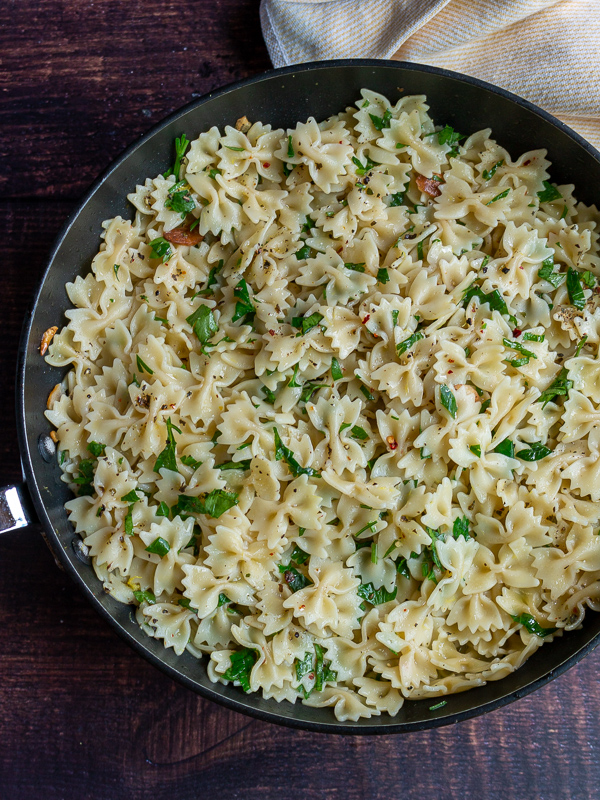 Tossing your pasta in Sauce
After, you drain your pasta in the colander, put it directly into the pan with your gently cooked aromatics and seasonings and toss well. Don't Forget! Reserve at least one cup of pasta water for your sauce! On medium heat, add a little of the pasta water, fresh parsley and toss well. This helps make a nice little sauce and seasons your pasta. Remove your pasta from the heat and garnish as desired. In our case, we will be garnishing our Farfalle Aglio e Olio with Breadcrumbs with fresh lemon zest, homemade breadcrumbs and Parmesan Cheese for the boys.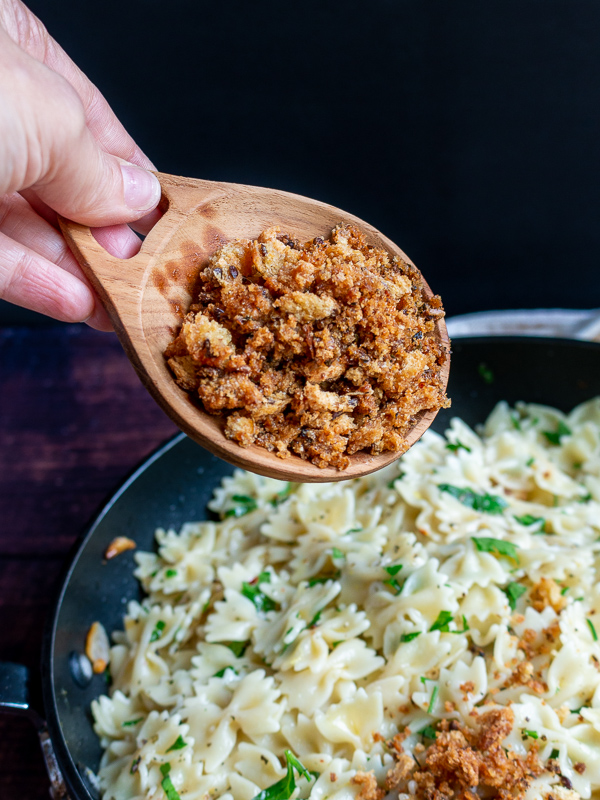 Homemade Breadcrumbs Rock!
Don't throw away that day-old crusty bread as that make THE BEST HOMEMADE BREAD CRUMBS. This recipe came about from Italy as a way to use all those leftovers and reduce food waste. We love the fact that the breadcrumbs are extra crunchy, seasoned and have small crumbs and some larger crumbs and that makes it a fun bite.
Italy: Fresh simple foods made simply
"Si mangia e si mangia bene," which roughly translates to "You eat and eat well." Have you ever lived in or visited Italy? If not, you certainly need to get this destination on your bucket list. If you love culture, arts, architecture and are a foodie, this visit is just for you.
During our visits to Italy, we obtained the true blessings of the 5 ingredient wonders of the world. Fresh simple foods made simply. With Italian cooking, there is no fussing about in the kitchen with prepping lots of exotic ingredients and spices. Actually, very few ingredients are used in Italian dishes. The ones that are used are very simple, fresh and made with love.
Life is about making the people you love both happy and nourished. At the end of day, it is about life balance and spending more time with the ones you love while enjoying some great food together. So, let's get making some delicious Farfalle Aglio e Olio with Breadcrumbs.
More NOODLES WITHOUT BORDERS RECIPES you may want to try…
Summer Rolls with Chili-Lime Dipping Sauce – Vietnam
Soba Noodle Salad with Yuzu Dressing – Japan
Lemon Artichoke Chicken Pasta – Italy
Pad Thai Your Way – Thailand
Orecchiette and Chicken Sausage in a Garlic Wine Sauce – Italy
Sopa de Fideo (Mexican Noodle Soup) – Mexico
Better Than Take Out Vegetable Lo Mein – China
Trofie al Pesto – Italy
Golden Spiced Noodle Soup – Thailand
Butternut Squash Vegetarian Lasagna – Italy
One Pot Creamy Kale Pesto Pasta – America
Camote Bihon (Sweet Potato Noodles) – Philippines
Shrimp Tempura Udon Noodles - Japan
What noodle recipes would you like to see next? What noodle recipe was your favorite? Let us know in the comments below.
Be sure to follow us on Instagram, facebook, Twitter Pinterest and You Tube for more delicious Healthy World Cuisine Recipes and Healthy Tips for Happiness.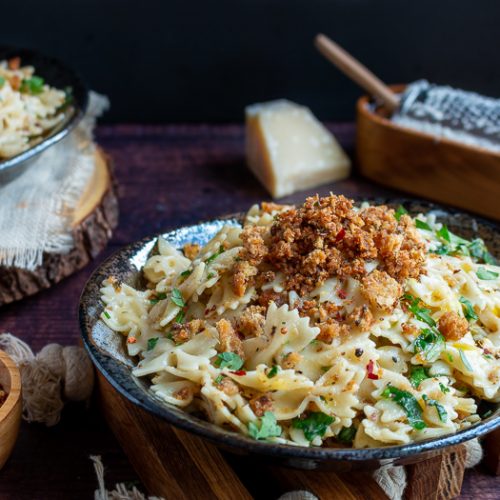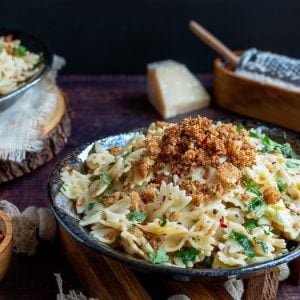 Farfalle Aglio e Olio with Breadcrumbs
Farfalle Aglio e Olio with Breadcrumbs is an easy 15-minute dinner with bow tie pasta, EVOO, garlic, red pepper flakes and homemade gluten-free breadcrumbs.
Print
Pin
Rate
Ingredients
¾

cup

bread crumbs


dry and seasoned (regular or gluten-free)

4-6

quarts

cool water


1.5

tablespoon

kosher salt


1

pound

farfalle pasta

bowtie (regular or gluten free)

2

tablespoon

olive oil


extra virgin

4

cloves

garlic


thinly diced

½-3/4

cups

pasta water

reserved from boiled pasta

½

teaspoon

red pepper flakes


dried to taste (optional)

½

cup

parsley

chopped (or can substitute 1 teaspoon of dried Italian Seasoning)

salt and pepper

to taste

1

tablespoon

lemon zest
Garnish
bread crumbs


seasoned homemade

parmesan cheese


grated (optional)

Olive Oil

drizzle extra virgin (optional)
Instructions
You can use either homemade bread crumbs or store bought bread crumbs. (Breadcrumbs can be either regular or gluten-free.) If you are making your own seasoned homemade bread crumbs, follow the directions here https://www.hwcmagazine.com/recipe/homemade-bread-crumbs/ Set Aside. If using store bought seasoned dry bread crumbs, measure out. Set aside.


Cook the Pasta: In a large pot add cool water and bring to a boil. Add salt and stir until dissolved.

Look at package instructions for cooking your pasta. For example, if the label reads cook 7 minutes until aldente, start checking your pasta at 4 minutes and every 30 seconds after that. Check for tooth feel. The goal is just slightly firmer than perfect aldente as your pasta will heat again in the pan with the sauce. Ours was ready at 6 minutes. (Don't depend on the package instructions for cook time as each situation is different. Trust your tooth feel.)

Add your dried farfalle (bowtie) pasta to the boiling water. (Important reserve some of the pasta water for later about one cup). Once your pasta is cooked, drain and set aside.

Prepare your Farfalle Aglio e Olio: In a separate large sauté pan (Big enough for all of the pasta) place olive oil, red pepper flakes and garlic and sauté until fragrant. Add your bread crumbs and cook until toasty. Remove half of the bread crumb mixture for the garnish and leave the remaining bread crumb mixture in the saute pan.

Add your cooked pasta to the sauté pan. Stir gently and add about ½ to ¾ cup of the pasta water to make a light sauce. Your goal is to have the pasta slide around in the pan freely. They should not be swimming in water but also the pasta should not be sticking to each other. The amount depends on your cooking conditions and type of pasta used. Add the chopped parsley, salt and pepper to taste and toss. As the pasta water is well seasoned, we have found that we only like to add a little fresh cracked pepper. Turn off the heat and add the lemon zest and extra virgin olive oil and toss well.

Garnish Farfalle Aglio e Olio with the remaining seasoned toasted Bread Crumbs, grated parmesan cheese and top off with a healthy drizzle of fresh EVOO. Enjoy!
Notes
You can use regular pasta or gluten-free pasta. Just check for the tooth feel as each type of pasta has a different cooking time. You can also use whatever shape pasta, spaghetti, linguini or whatever you enjoy. Don't forget to salt your pasta water well as this is your opportunity to add seasoning to the pasta dish.
Also, don't forget when you are draining the pasta to reserve about 1 cup of that flavorful pasta water to make the simple sauce. Both regular and gluten-free bread crumbs are welcome. If you want to keep this recipe vegan hold the parmesan cheese or add a sprinkle of nutritional yeast and use an egg free pasta. If you do not have fresh parsley, add in a teaspoon of your favorite dried Italian seasoning.
Nutrition
Serving:
1
g
|
Calories:
381
kcal
|
Carbohydrates:
67
g
|
Protein:
12
g
|
Fat:
7
g
|
Saturated Fat:
1
g
|
Sodium:
1855
mg
|
Potassium:
231
mg
|
Fiber:
3
g
|
Sugar:
3
g
|
Vitamin A:
471
IU
|
Vitamin C:
9
mg
|
Calcium:
51
mg
|
Iron:
2
mg