Happy Lunar New Year! Welcome to our complete guide of easy Chinese New Year Recipes. Each fun to make at home with family and friends.
Are you trying to stay on target with your new year goals but want to enjoy the holiday festivities? Try our traditional Lunar New Year recipes ~ FULL ON FLAVOR but are made with a HEALTHY TWIST!
Whether you are looking for a Chinese New Year (CNY) snack, appetizer, lucky food, menu idea or dessert – we have something for you.
Great News! Many of our dim sum appetizers can be made ahead of time and frozen until ready to reheat. Planning and meal preparation reduces the stress of entertaining during the holidays.
A few years ago, we started out with our top 10 CNY recipes. Every year this list continues to expand to add more of our tried-and-true traditional Chinese recipes.
Jump to:
Auspicious Foods for Chinese New Year
What's a celebration without food? Chinese festival foods are not only delicious, but many are considered auspicious or symbolic, representing increased wealth, good luck, success, or prosperity in the new year.
For example, a word that sounds similar to "good luck" is Vegan Chinese Radish Cake also known lo bak go (蘿蔔糕). Daikon radish cakes are often enjoyed during Chinese New Year to ensure good luck in the new year.
Round circular fruits, like tangerines, symbolize wholeness and unity. Commonly, taken to the temples as a prayer offering and eaten during the 15-day long festival.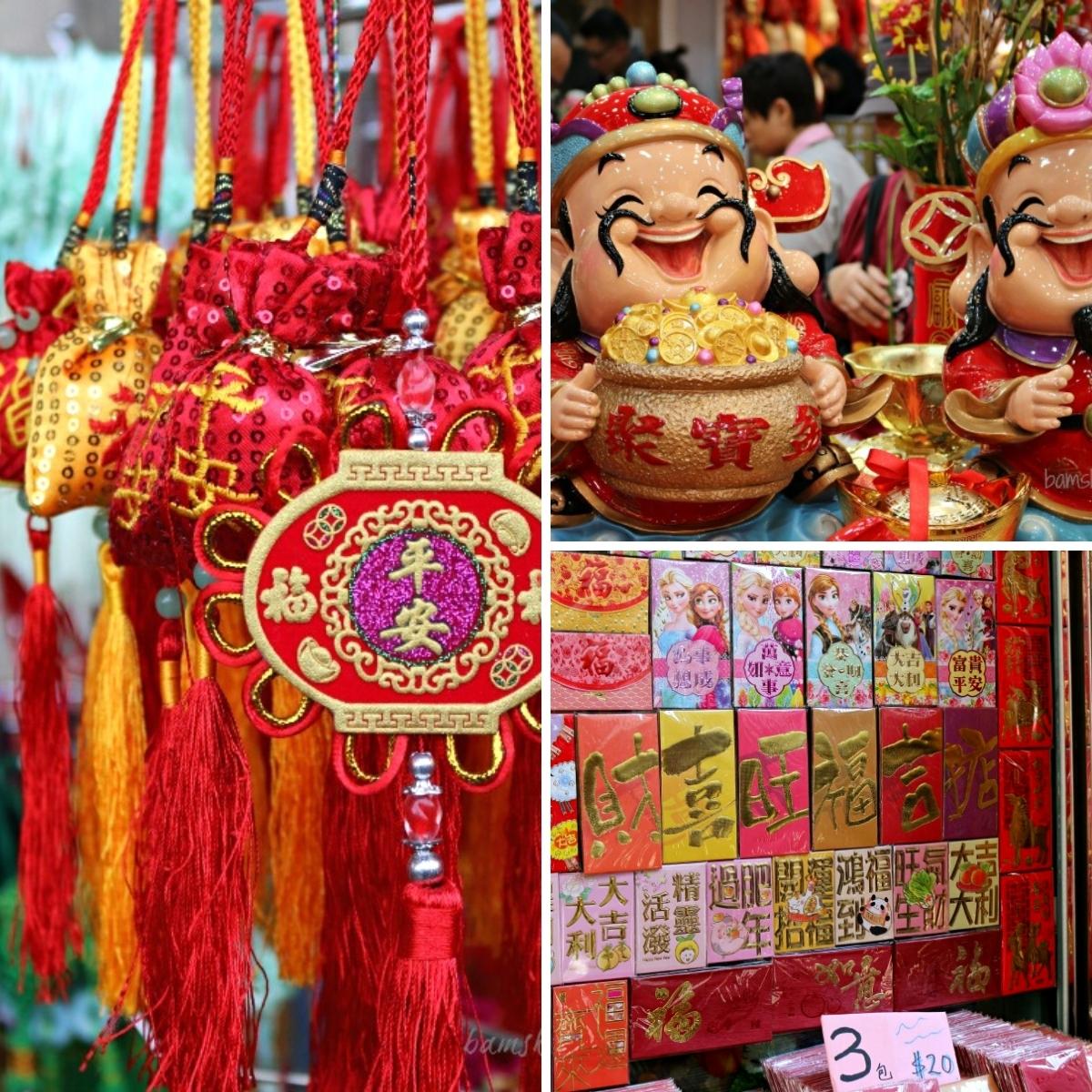 Healthy Twist on Traditional Classics
You are in luck. These traditional recipes have been lightened up. We are air frying or steaming instead of deep frying. Some recipes are gluten-free, vegan and even some lower carb options to choose from. To be complete, we've included some dim sum appetizers, mains, and desserts!
Dim Sum Appetizers
Have you ever made homemade dim sum treats? Essentially, Dim Sum are small Chinese appetizer plates. Dim sum plates are like tapas. Instead of serving your tapas with wine later in the day, serve dim sum with hot tea around brunchtime. Although usually prepared production-line style in Chinese restaurants, we have included the techniques so you can make these at home and healthier too.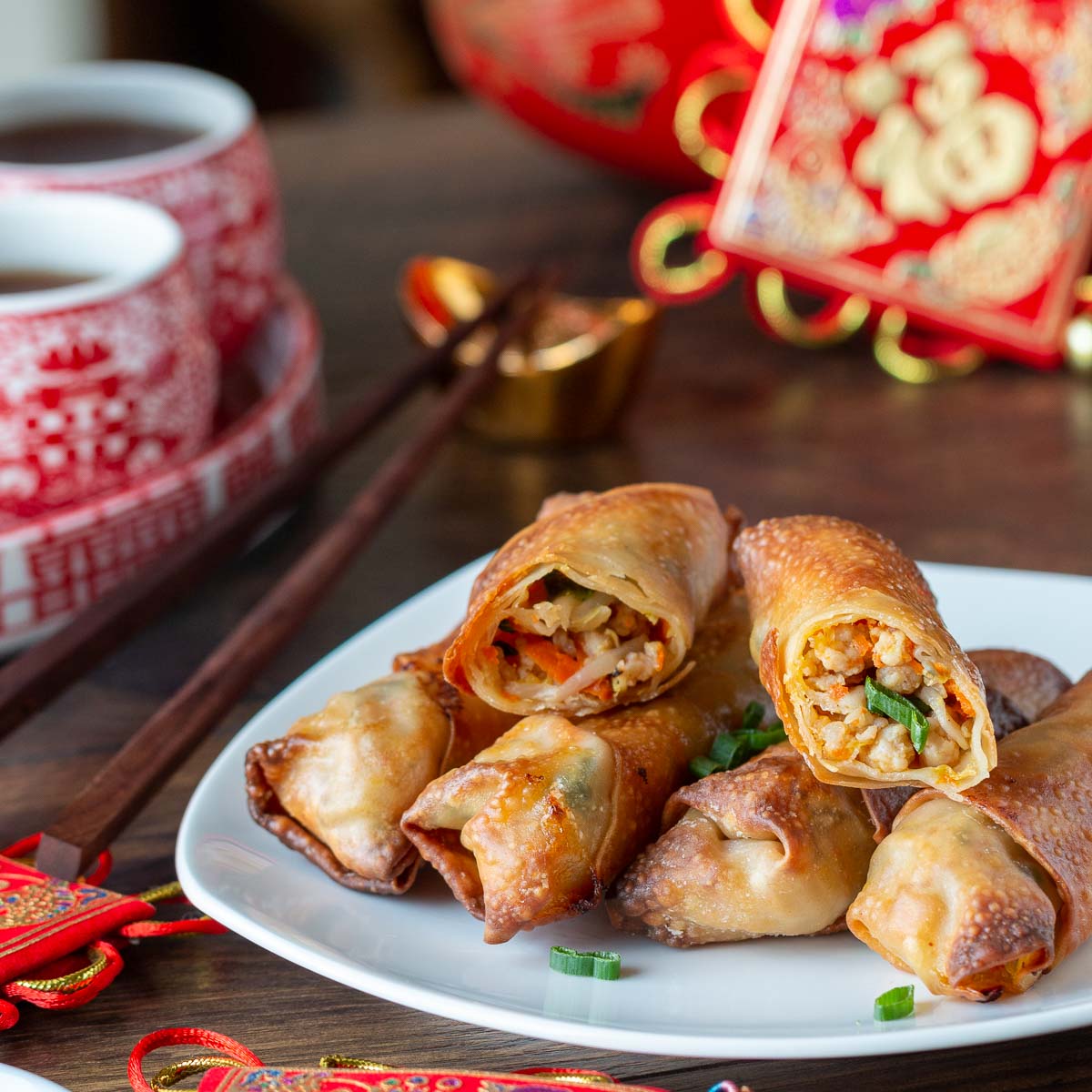 We bet you can't stop at one! Try our shrimp and pork spring rolls air fried for an extra crispy treat. These Cantonese Style spring rolls are chock full of delicious veggies and aromatics but without all the grease and mess of deep frying.
(We have also included directions for Baked Spring Rolls to keep the recipe healthy and as an alternative to air frying.) Try them with our spicy dipping sauce or Homemade Sichuan Garlic Chili Oil for a special treat.
Bonus! You can make and assemble the spring rolls in advance. We like to place our prepared spring rolls on a sheet pan in the freezer for a few hours. Then, we store them in a freezer safe container or baggie in the freezer for up to two months. When you are ready to eat, just air fry until golden brown and enjoy.
'Spring' rolls are commonly eaten during the spring festival because they look like little bars of gold, evoking wealth and prosperity for the new year. Given the time of year these are popularized, the name 'Spring roll" has stuck – helping to celebrate the arrival of the spring season.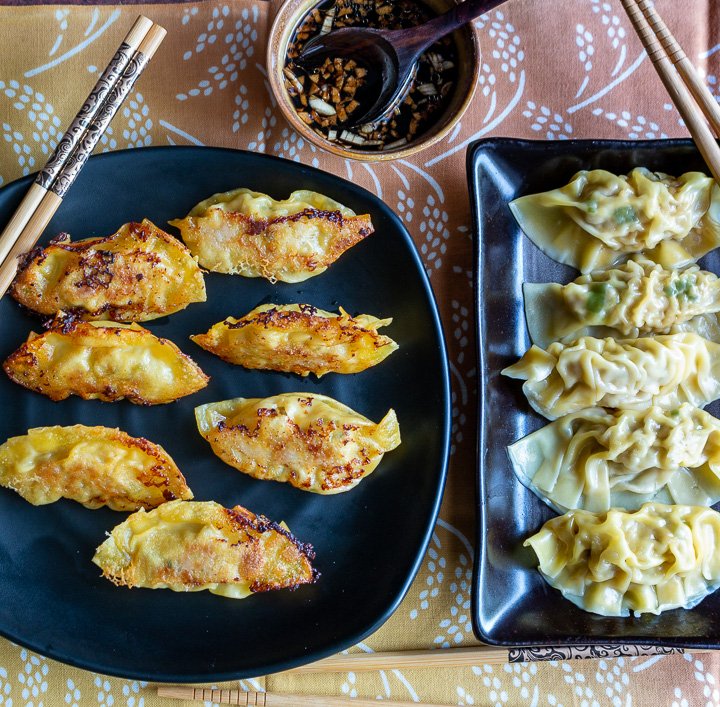 My friends tell me that their teenage son can easily pack away at least 30 Chinese Dumplings (also known as Jiǎozi 饺子) in one sitting. So, you better make a double batch!
These homemade Chinese dumplings have succulent juicy pork on the inside and have thin dumpling skin on the outside. In our jiaozi recipe, we share with you our easy crimping method for sealing the dumplings at home. How many do you think you can you eat?
Did you know that you can prepare and stuff the pork dumplings and then freeze them before cooking? When you are ready to eat, try them either pan fried (like a pot sticker) or boiled. Boiled Dumplings are called shuǐjiǎo (水饺) and are a healthier option instead of the fried version.
Why Eat Dumpling during Chinese New Year?
Chinese people eat dumplings during the Chinese New Year because their shape is similar to ancient silver and gold ingots (Yuanbao) and this symbolize wealth. The more dumplings - The more wealth. This year we are well on our way to becoming Billionaires at this rate of dumpling consumption!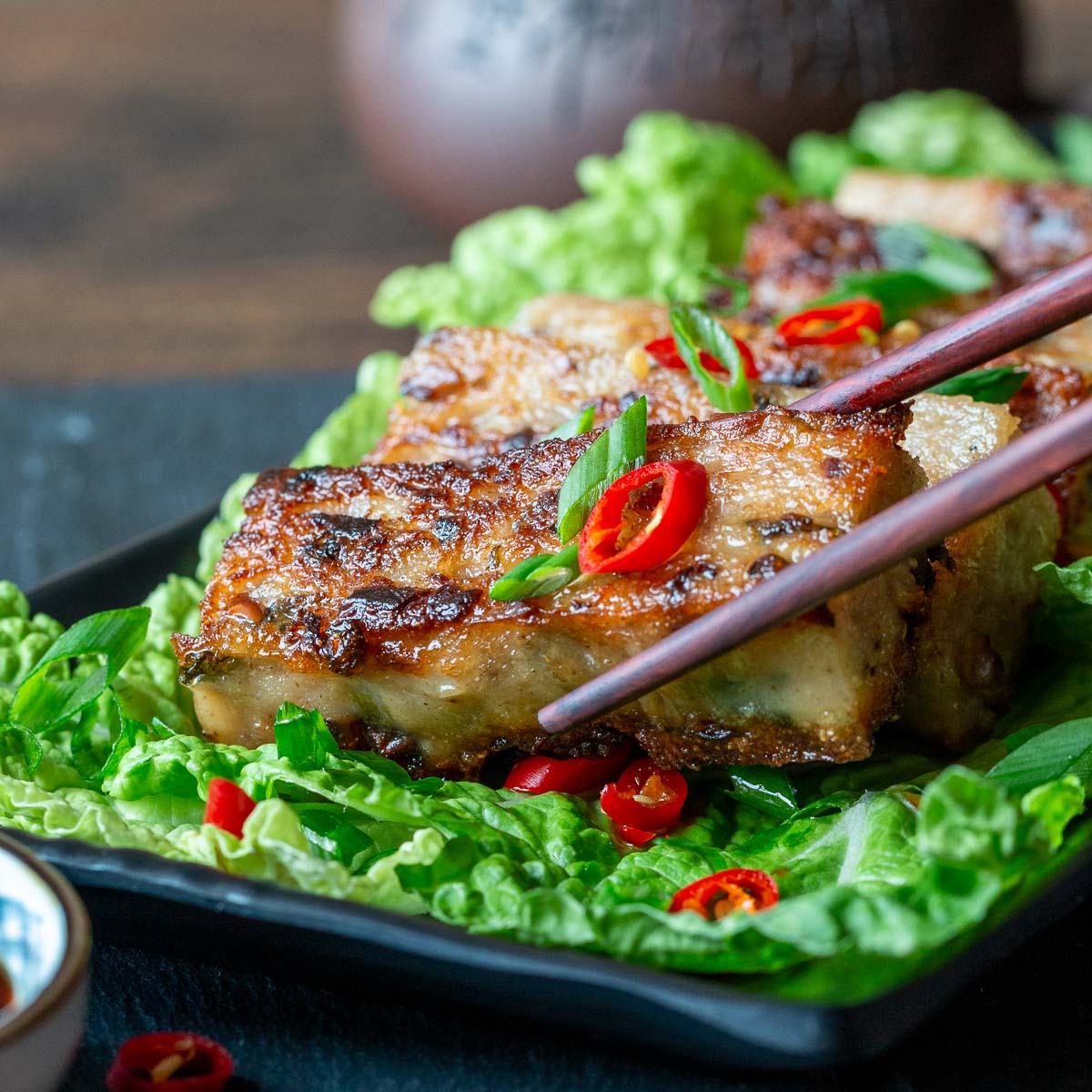 Now, you can make radish cake just like your favorite dim sum restaurant at home, but even BETTER. Radish cake is sometimes also called...
turnip cake,
Lo Bak Go
white carrot cake
many others.
Our steamed Vegan Chinese Radish Cake is tender on the inside and then pan fried for a crispy addictive crust. Packed with delicious shiitake mushrooms, daikon radish, green onions, and aromatics. You will never miss the meat. However, we also have a meat based Daikon BACON Radish Cake for the carnivores out there!
Planning ahead? Lo Bak Go can also be steamed, cooled, cut into slices, and then stored in the freezer for up to 2 months. When you are ready to eat, just pan sear on both sides for a delicious treat.
Symbolism of Radish Cake
Chinese people eat radish cake during the Lunar New Year celebration because the word for radish closely resembles the word for "good luck". However, we enjoy Lo Bak Go all the time because it is one of our favorite dim sum dishes.
Easy Chinese New Year Main Dishes
These are our families' favorite Chinese New Year main dishes. Everything is served family style for sharing. Of course, we always make a little Hong Kong Fried Rice and quick and easy Stir-Fried Romaine Lettuce on the side.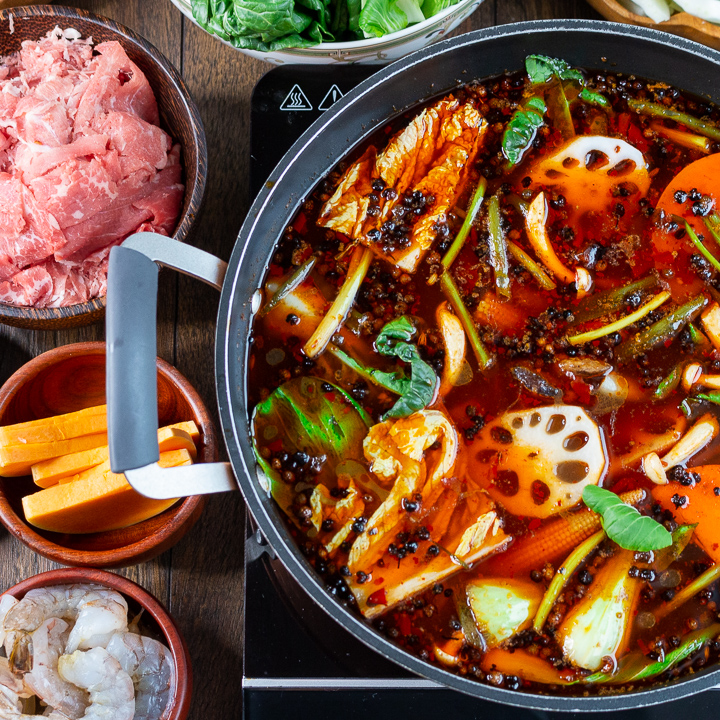 If you are looking for healthy comfort food, there is nothing better than enjoying a huge hot pot (also called Huǒ Guō, 火锅) with family and friends. Huǒ Guō literally translates to fire pot. It really hits the spot when it is cold outside.
We have both a homemade spicy Sichuan and flavorful mild broth for you to enjoy. In China, hot-pot literally translates to Fire Pot.   While the broth simmers away, your guest can cook their own ingredients. Some example ingredients are..
fresh leafy vegetables like bok choy, choi sum, Napa cabbage
root vegetables like daikon radish, pumpkin, sweet potato
dumplings
noodles
beef, chicken
fish, shrimp, fish balls
mushrooms
tofu
and the list goes on...
However, there is one common theme of all hot pots. This Chinese New Year Recipe is a beautiful way for families and friends to sit around a steaming pot of yummy pot of goodness. It's a special time to cook chat and enjoy their time together. Hot pot is a low carb and diabetic friendly meal.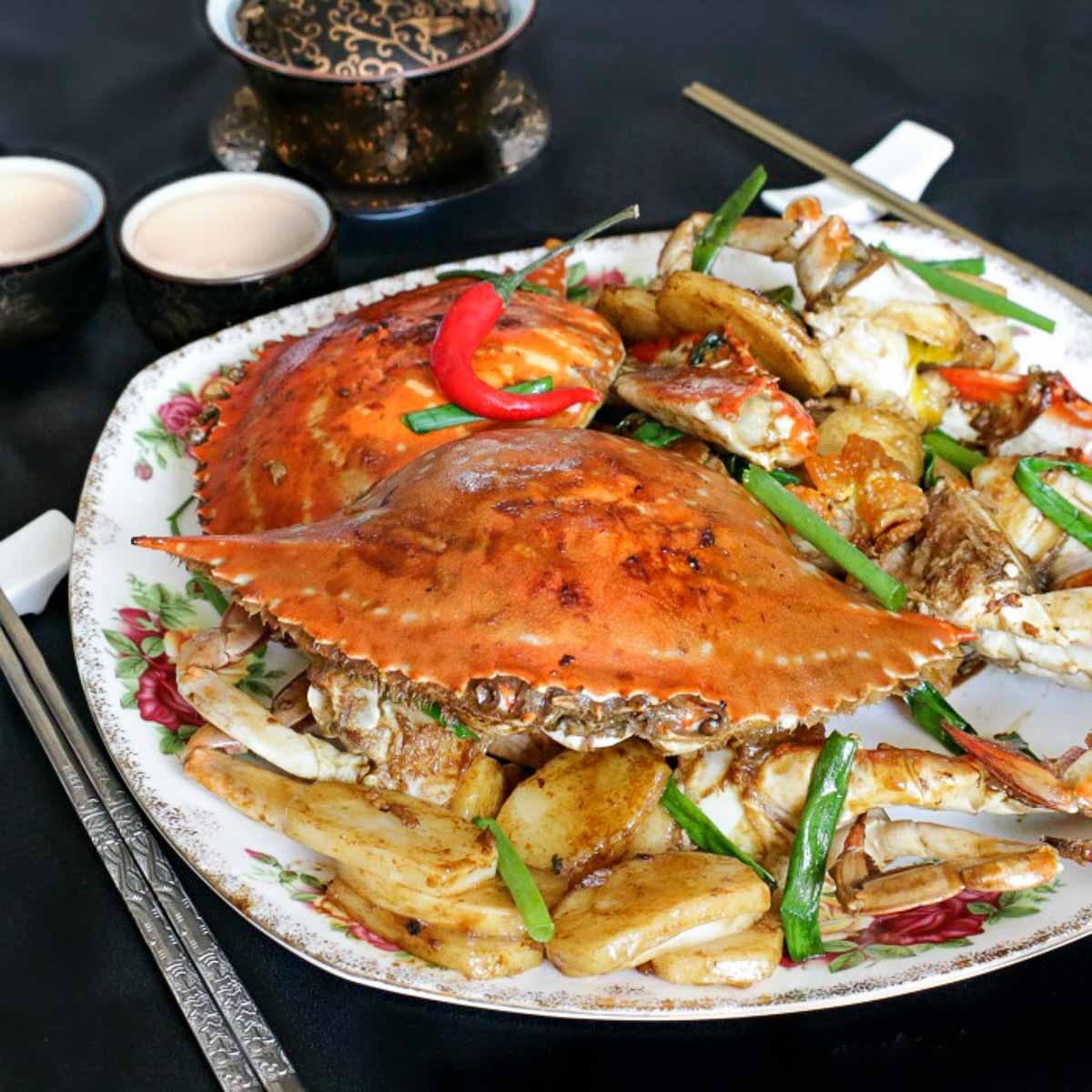 Flower crab (Hua Xie Chao) and sticky glutinous rice Chinese New Year Cakes (Nian Gao) are stir fried for one of our families favorite Chinese Festival foods.
You can make this dish gluten free if you just exchange the regular and dark sauce with Tamari sauce.
Nian Gao (Chinese rice cakes) are eaten during the Chinese New Year because "Nian" means year and "Gao" translates as higher. It symbolizes higher wealth and prosperity in the new year. In addition, crab turns a bright red when cooked. Red is noted as a lucky color to bring you good luck in the New Year.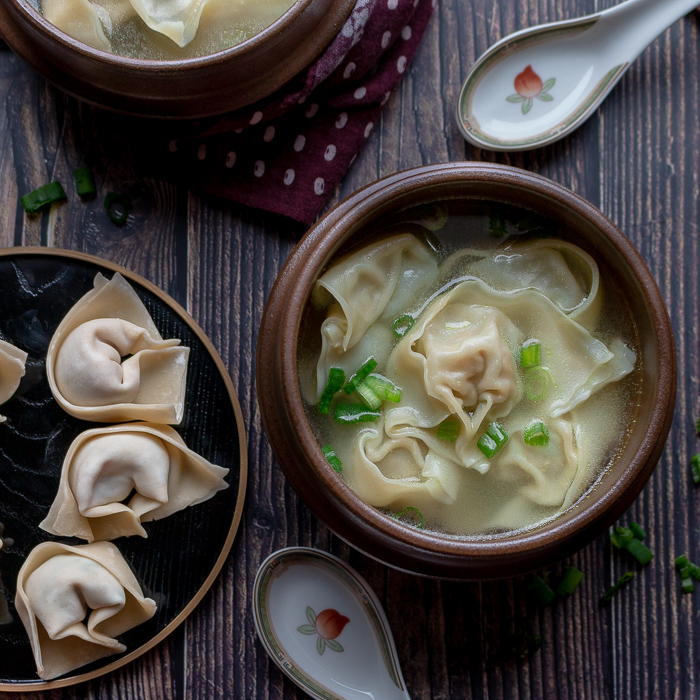 One of our favorite recipes of the 10+ Fun and Easy Chinese New Year Recipes is our Lucky Shanghai Wonton Soup. It is pure comfort food!
This recipe was taught to us by one of our dear Shanghai friends. It's her grandmother's recipe. The soup broth is very light, nourishing, and flavorful. Recipes passed down through the generations are always the best.
When you are on a roll making wontons, make extra as they freeze well. Then, when you have friends and family over, you can make a quick and easy Wonton Soup.
Wontons, called Húntún (馄饨) in Chinese, are very much like dumpling because their shape is like a golden Ingots (old Chinese money shapes). They are considered lucky so add plenty of them to the soup broth.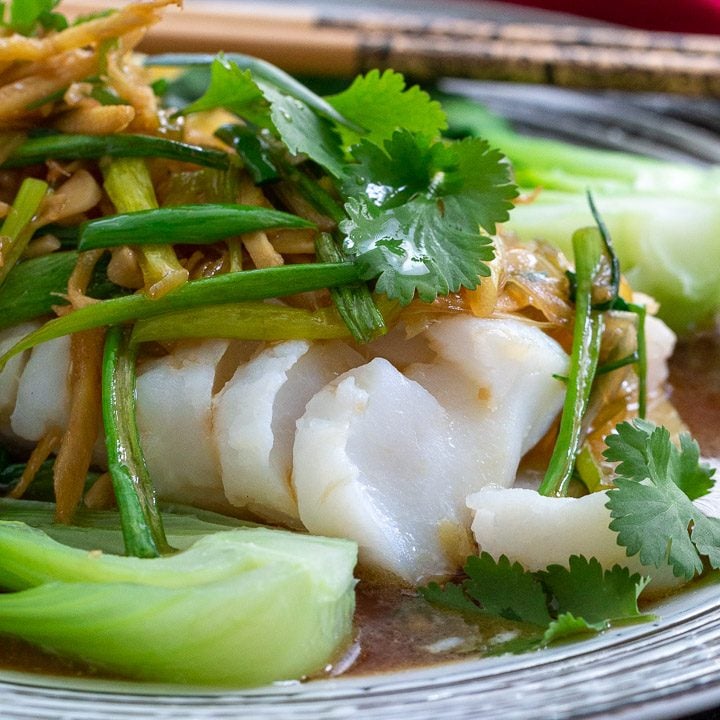 One of the most common Lunar New Year Recipes is fish. Our Asian Steamed Fish can be served whole or as fillets. It's ready in only 20 minutes. Topped with a garlic and cilantro sauce for a delicious melt in your mouth bite. This fish recipe is light, low carb, gluten-free and super easy to make.
Fish (鱼 Yú) sounds very similar to "surplus" in Chinese. It is often served steamed for Chinese New Year in hopes for a prosperous year.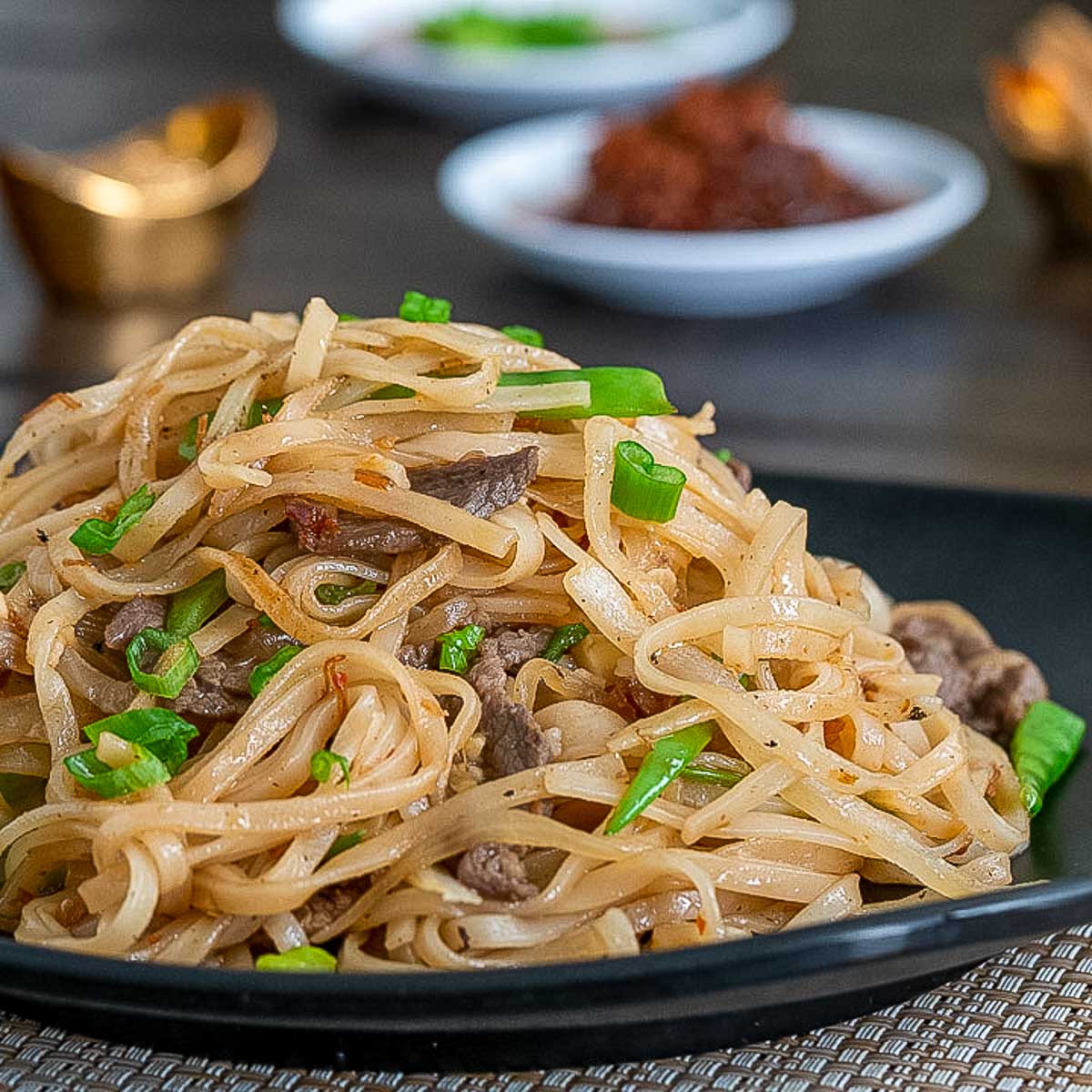 You are going to love this quick and easy beef and longevity noodle recipe. Try it tossed with spicy XO sauce, crisp vegetables, and green onions.
Have you ever heard of the Chinese condiment called XO sauce? XO sauce is made with dried scallops, shrimps, chili peppers and delicious aromatics. It elevates any recipe up to the next level. "XO" stands for extra old cognac. However, there is not any cognac or alcohol in the sauce. Cognac is thought to be very expensive item and represents prosperity. XO sauce is often used in recipes during the Lunar New Year and often given as gift.
Long Noodles represent a long life. Sometimes, noodles are referred to as longevity noodles. Make sure you keep the noodles long and do not cut them before serving to assure long life and happiness.
XO sauce is a very prestigious condiment that is used in the Canton region. It symbolizes wealth and prosperity in the New Year.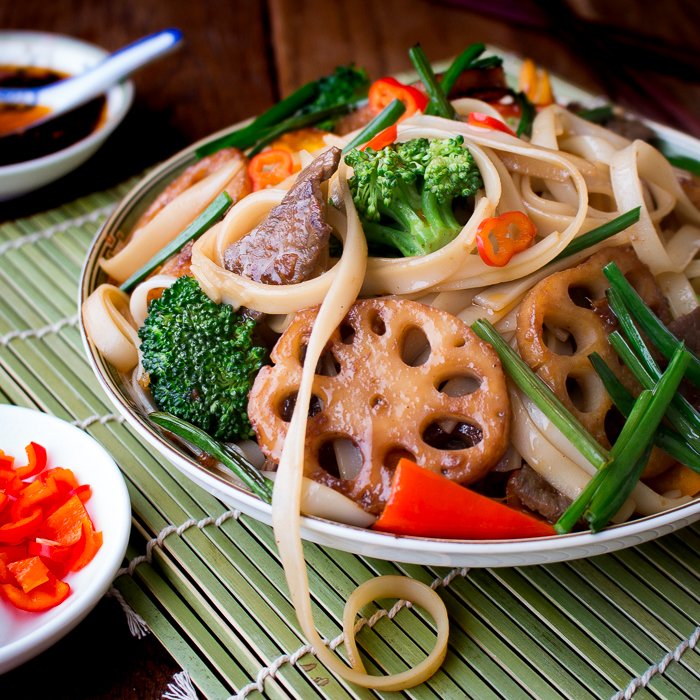 If you need good luck in the new year, be sure to enjoy EXTRA long longevity noodle recipe for an extra-long and healthy life. Spicy Beef and Longevity Noodles has a different sauce compared to our Beef and Spicy XO Noodles recipe. If you enjoy more delicious fresh crunchy stir-fried vegetables and lotus root, this is a recipe for you.
The Chinese word for lotus root (Lián'ǒu, 莲藕) sounds similar to the term for "having every year". Eating lotus root during the Lunar Year festival is symbolic of never going without.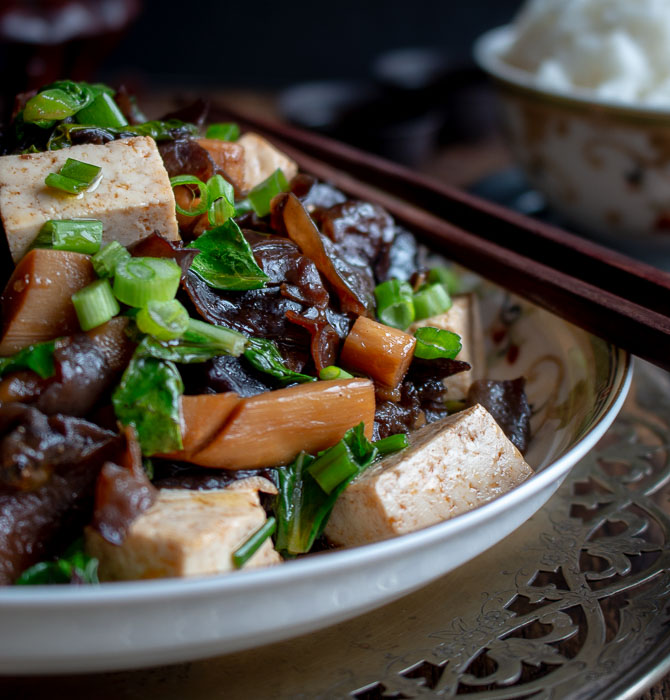 Are you entertaining vegans or vegetarian family and friends during the Lunar New Year Holiday? If so, try our wood ear mushroom and tofu stir fry. It is simple to make and full of flavor and texture from the Wood Ear Mushrooms.
Spring Festival Desserts
Teatime treats or a sweet ending to a meal is always a huge crowd pleaser. Chinese New Year dessert recipes are extra special because a few of them are only made during the spring festival.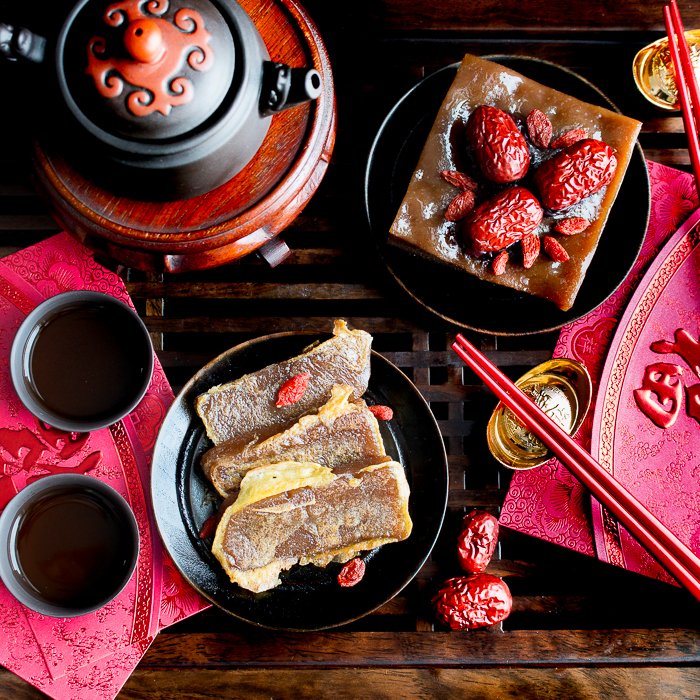 Sweet Sticky Rice Chinese New Year cakes are also known as " Niángāo, 年糕". We can't wait for you to try this delicious Chinese dessert recipe. Nian gao is made with glutinous rice flour. This cake is first steamed and then pan fried in egg. Delicately sweet, chewy on the inside and crispy on the outside- simply delicious!
Revolutionary Find! You can make, steam, and cut your nian gao into sections and then freeze. When your guests arrive, take out a slice of cake to thaw, dip in egg and pan fry. Serve with a delicious tea and enjoy. Nian Gao is naturally gluten free and vegan.
Chinese rice cakes are eaten during the Chinese New Year because it symbolizes higher wealth and prosperity in the new year.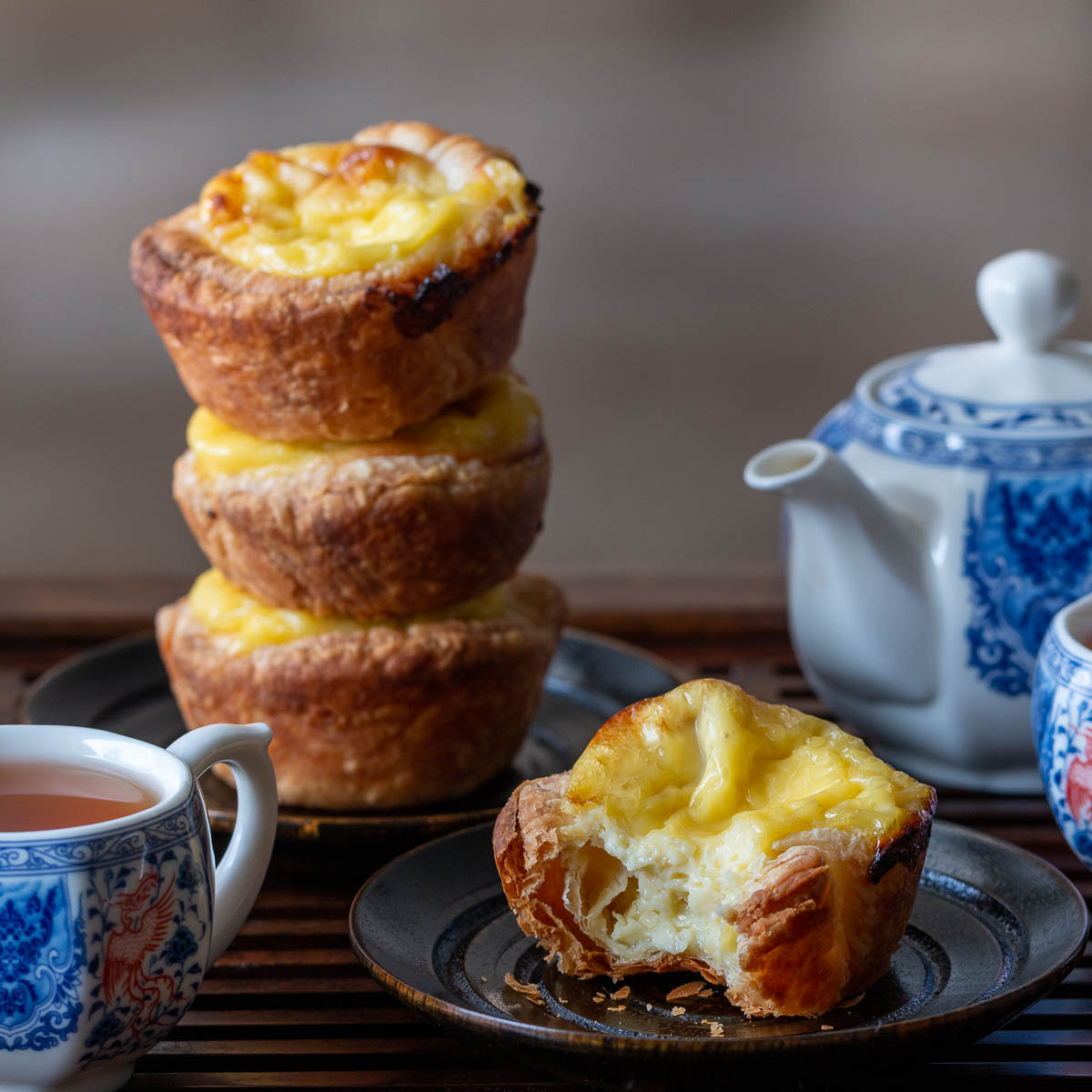 Our Hong Kong style egg custard tarts are baked in a flaky delicious Portuguese style puff pastry crust. These Chinese dessert Egg tarts are a sweet ending to a dim sum meal or with tea (yumcha).
Hong Kong Style egg tart filling is less sweet than a Portuguese style filling and less greasy. Unfortunately, these little dim sum desserts do not freeze well. Egg tarts are best fresh out of the oven and to be shared with family and friends.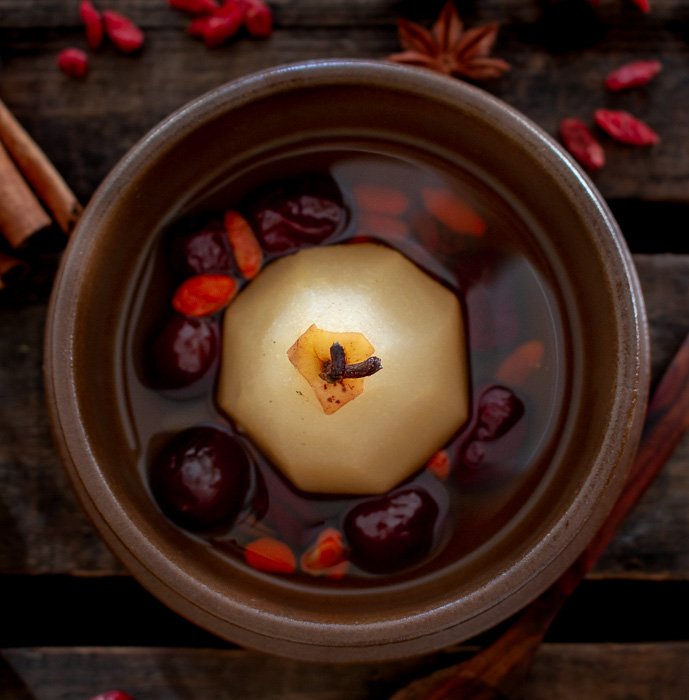 "Tong Sui (同岁)" which literally translates as "sugar water" in Chinese are sweet dessert soups. Have you tried our Chinese Pear Dessert Soup or Hot Black Sesame Cereal dessert soup? They are commonly served as a sweet ending to a Chinese meal.
Our Chinese Pear Dessert Soup is not only delicious but helps soothe a sore throat and cough during the change of seasons.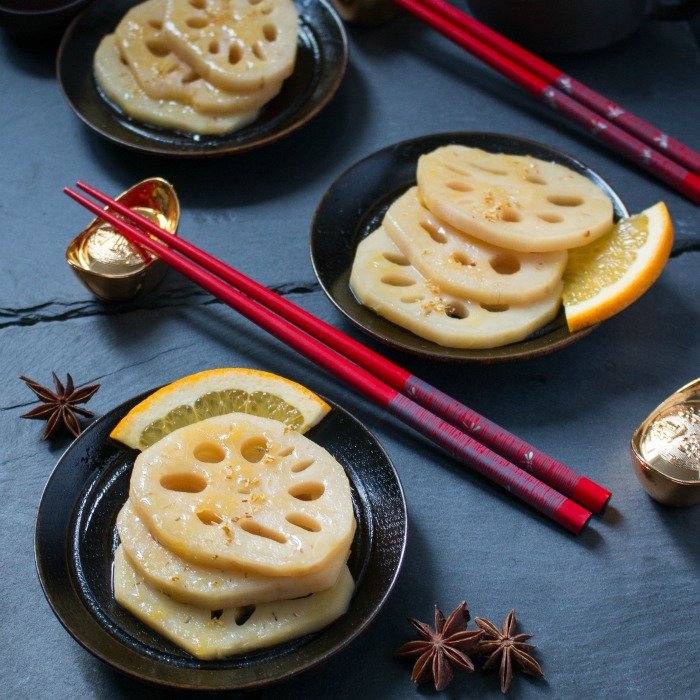 Are you ready to try a new Chinese New Year Recipe? We invented our Braised Orange Anise Lotus Root using very symbolic ingredients that are available during the Lunar New Year celebration.
This unique Chinese dessert recipe has just a handful of ingredients.
lucky lotus roots
good fortune oranges
star anise
Lemon juice
Honey
Unlike many desserts, this one is only delicately sweet and is naturally gluten-free. If you would like to make this dessert vegan, substitute honey with either maple syrup or sugar.
Many Asian food stores will have preserved pre-sliced lotus roots in the refrigerated section. Looking for a savory version, try our Garlic Chili Stir Fried Lotus Root.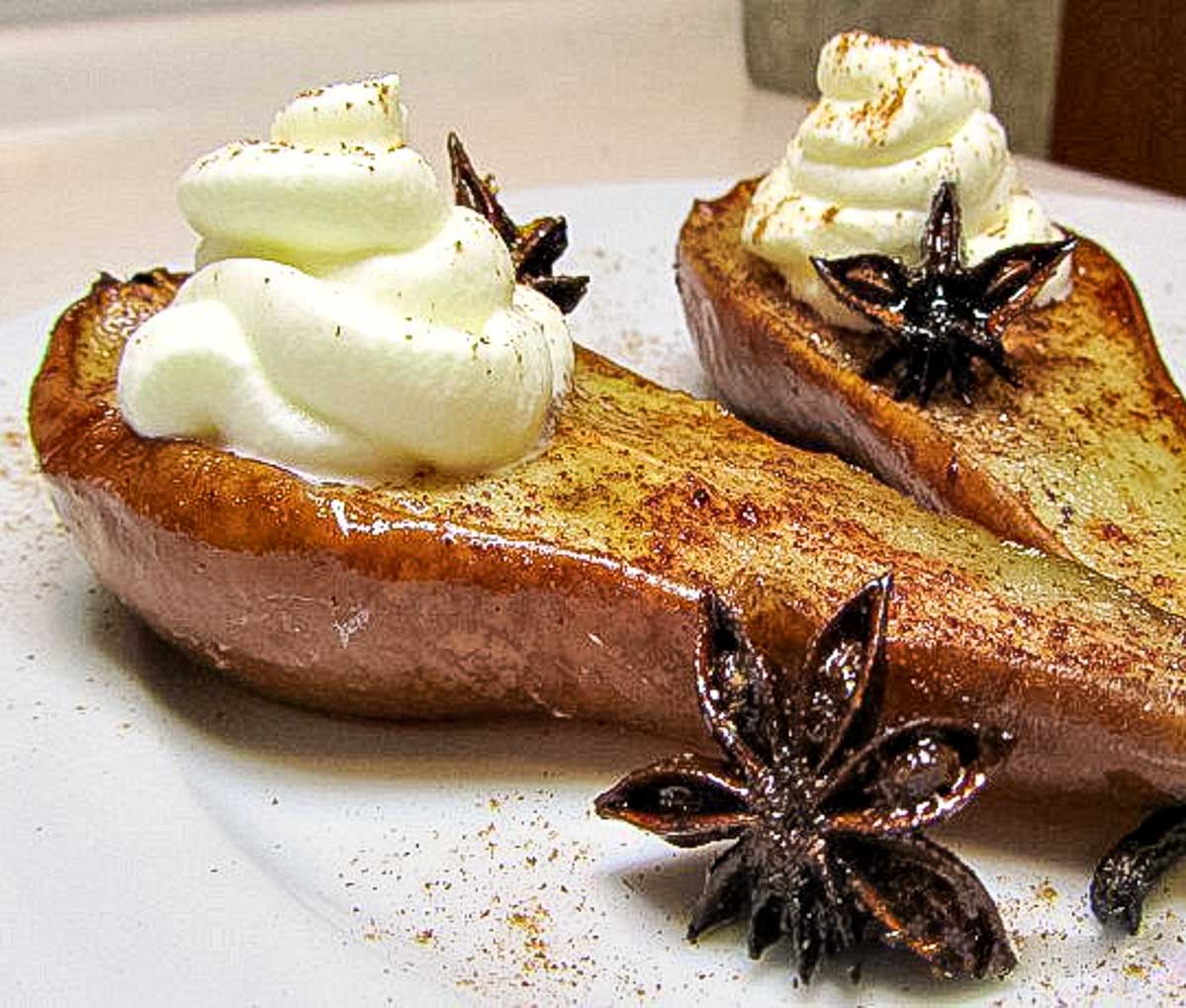 If you are looking for a diabetic friendly dessert for Chinese New Year, then you are going to love these Asian Spiced Pears.  Baked Pears are warm and cozy. They are delicately sweetened and are spiced with star anise, cinnamon, and vanilla.
Lunar New Year Snacks
Have you ever seen the Chinese red dishes that have separate compartments with a decorative lid? These are for snacks and treats. Some popular Lunar New Year Snacks are...
Red dates or jujubes – They are dried dates and have a seed inside. They can be eaten dried as a snack or in our Goji Berry and Red Dates Tea, Not only is red a lucky color but the word dates (枣 zǎo) has the same pronunciation as the Chinese word for "early". Eating jujubes may give you a good head start to the year while also nourishing your spleen.
Sesame seed balls made from glutinous rice and filled with sweet red bean paste and deep fried. Our easier and fun take on the sesame ball is our Sesame Spiral Pie Cookies.
Peanuts are sometimes called longevity nuts. They represent living a long life. We enjoy eating them in the shell.
Lotus seeds are prepared in crystallized sugar around the Chinese New Year. However, we like to soak and prepare them and enjoy them in our Lucky Shrimp with Lotus Seed stir fry.
Dried Sunflower seeds represent good luck for more grandchildren and sons.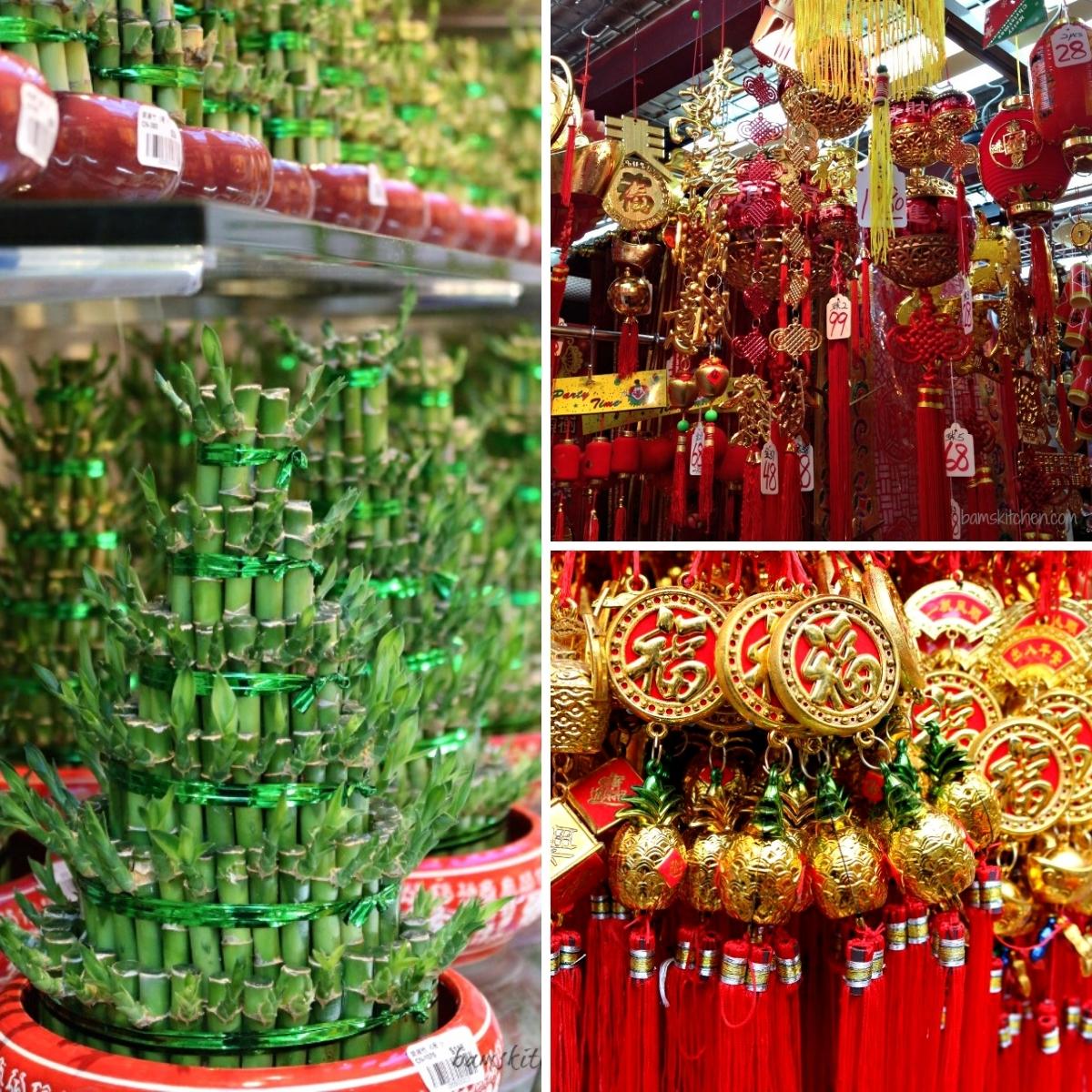 Frequent Asked Questions (FAQ's)
Why is Chinese New Year Celebrated?
Chinese New Year is celebrated with family and friends to bring good luck and prosperity to the new lunar year.

The Chinese calendar is based on the cycle of the moon and the earth's rotation around the sun. That is why Chinese New Year is also called the Lunar New Year and Spring Festival. Every year, the dates are different. In addition, the calendar is based on a 12-year cycle and each year is represented by an animal zodiac.

What are the common Chinese New Year traditions?
There are many traditions and superstitions that are commonly shared before and during the Chinese New Year.

1) The family home is cleaned thoroughly BEFORE the Chinese New Year. However, during the 15 days of the lunar year celebration, it is bad luck to sweep as it is like sweeping all the good luck out of the house.

2) Red packets (also known as hongbao (红包) in Mandarin Chinese and lai see (利是) in Cantonese) are little red envelopes filled with money. These are passed out during the celebration to send out good wishes to others, especially the children.

3) Flowers, especially good luck plants and mandarin orange trees are symbolic as well. Did you know that the Chinese word for orange is 橙 (chéng)? Its character is very similar to the word that means "good fortune"? Just to note these mini trees are for display only. Mandarin orange trees prepared for Chinese New Year have been treated with chemicals to last a very long time. Do not eat!

4) Fai Chun are red banners are placed on the front doors. They have phrases for good luck and prosperity. The red color of the banner symbolizes happiness and good luck for the Chinese people.

5) However, the most common tradition is to enjoy family and friends and to extend their wishes for good luck and prosperity in the new year ahead.


We hope you enjoyed these 10+ Fun and Easy Chinese New Year recipes! Wishing your family, a very safe, healthy, and prosperous Chinese New Year from our family to yours!
FOLLOW US for more delicious recipes on YOU TUBE, Pinterest, Instagram, Twitter and Facebook! Don't forget to sign up for our email list for more free recipes.
Kung Hei Fat Choi!
Xin Nian Kuai le!
新年快乐!