Yes, we said BACON! Grab a slice of our pan-fried meat lovers Daikon Bacon Radish Cake for a delicious East meets west dim sum Chinese New Year treat. Unlike our Vegan Chinese Radish Cake made with shiitake mushrooms, this Chinese appetizer features uncured smoky bacon and aromatics for one tasty bite.
We have never been big fans of Chinese sausage, also known as Lap Cheong in Cantonese or La Chang in Mandarin, because of the strong liver flavor. However, adding a little crispy fried bacon instead takes this radish cake, also known as Lo Bak Go, to a whole new level. You must give it a try!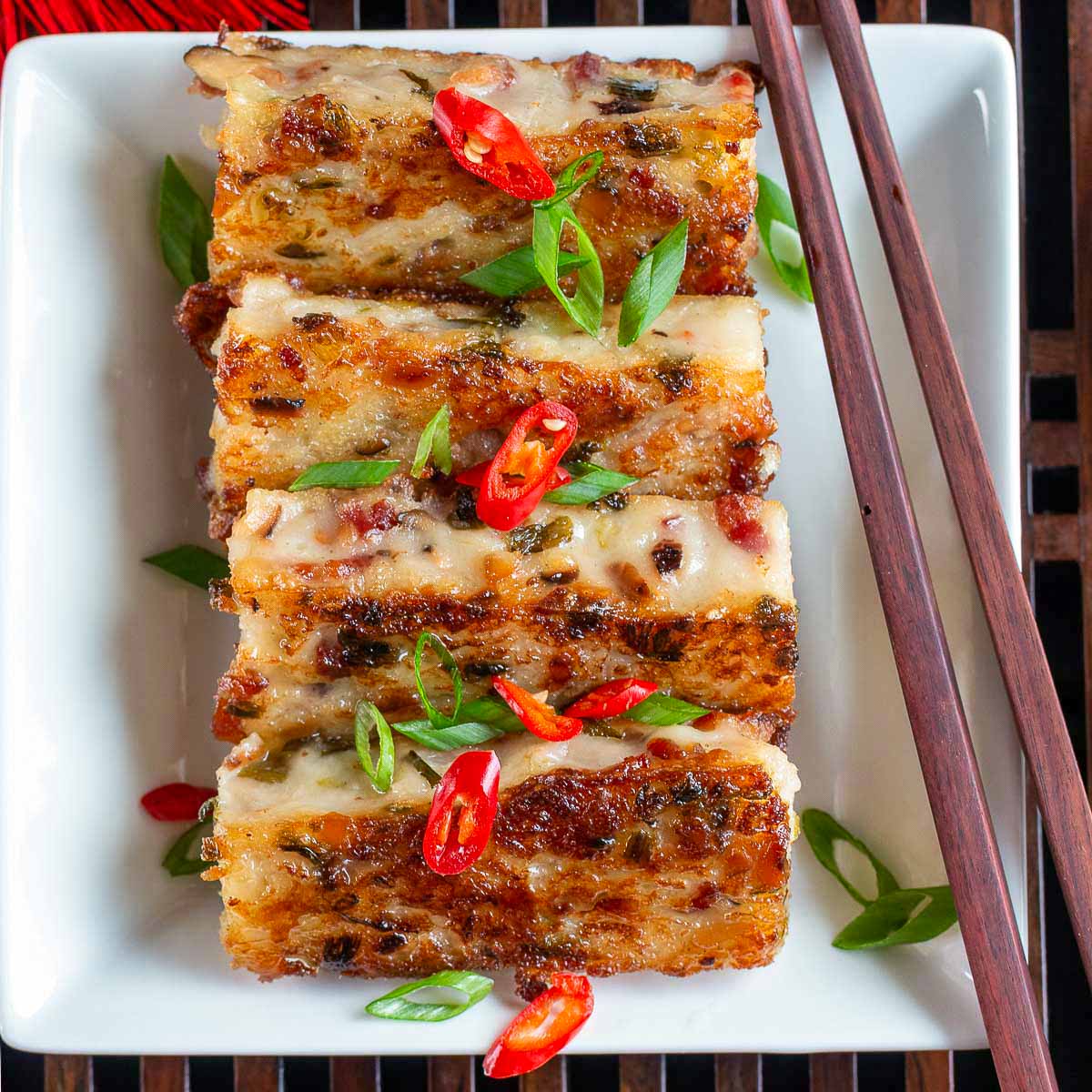 Jump to:
Ingredients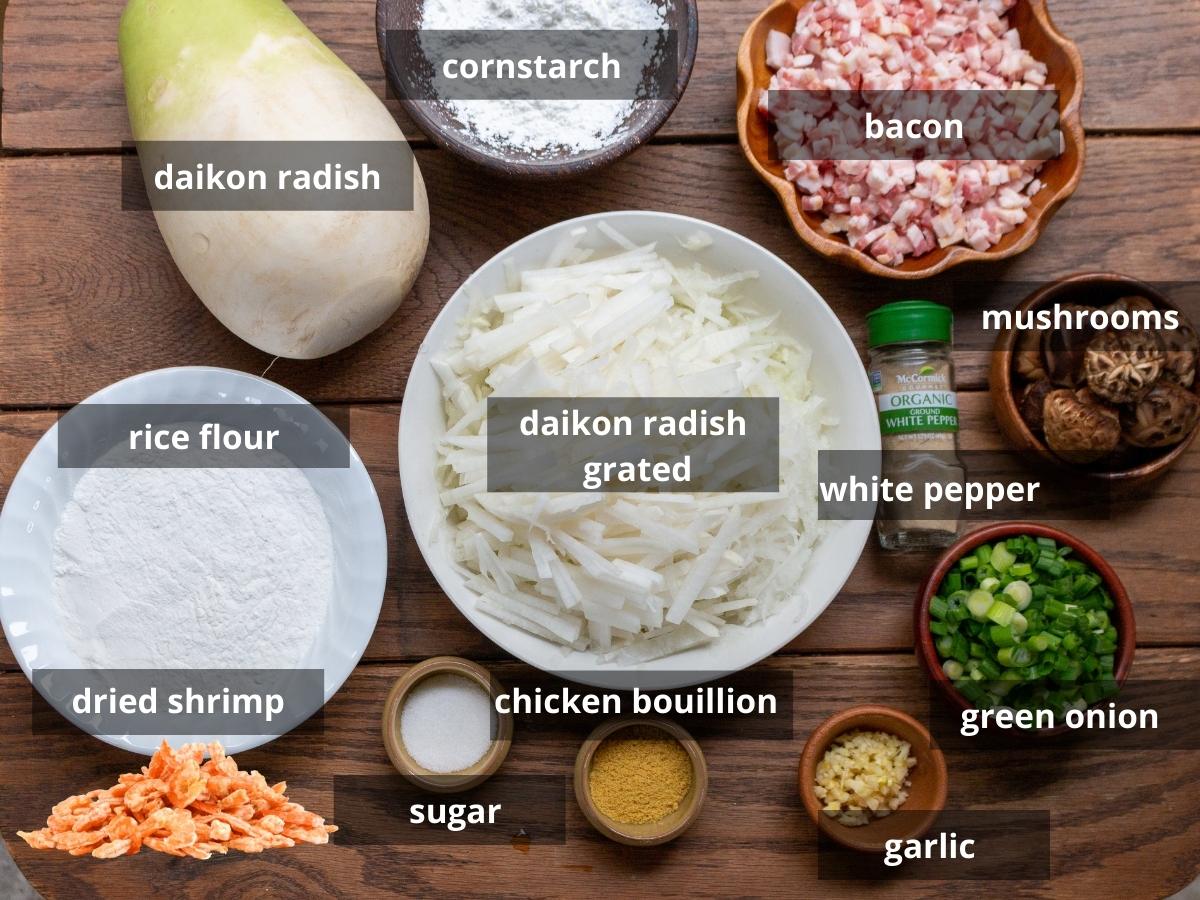 Daikon Radish – is a mild white Asian radish. You CANNOT substitute the little red radishes you would use for salads. That substitution will be too strong a flavor.
Bacon – Add in your favorite type. We used an organic smoked "uncured" bacon made without any chemical nitrates. You can learn more about uncured bacon in this post, ow Bacon is Really Made.
Did you know there are many different types of bacon? There is the traditional American style bacon but there is also Canadian bacon, Rashers in the UK, Irish bacon, Pancetta, Lardons and many others. You are free to any of these in this recipe. They all have a little different taste profile but all are very delicious.
If you want to make this recipe a little healthier you can add air fryer turkey bacon, tofu bacon or vegan bacon bits.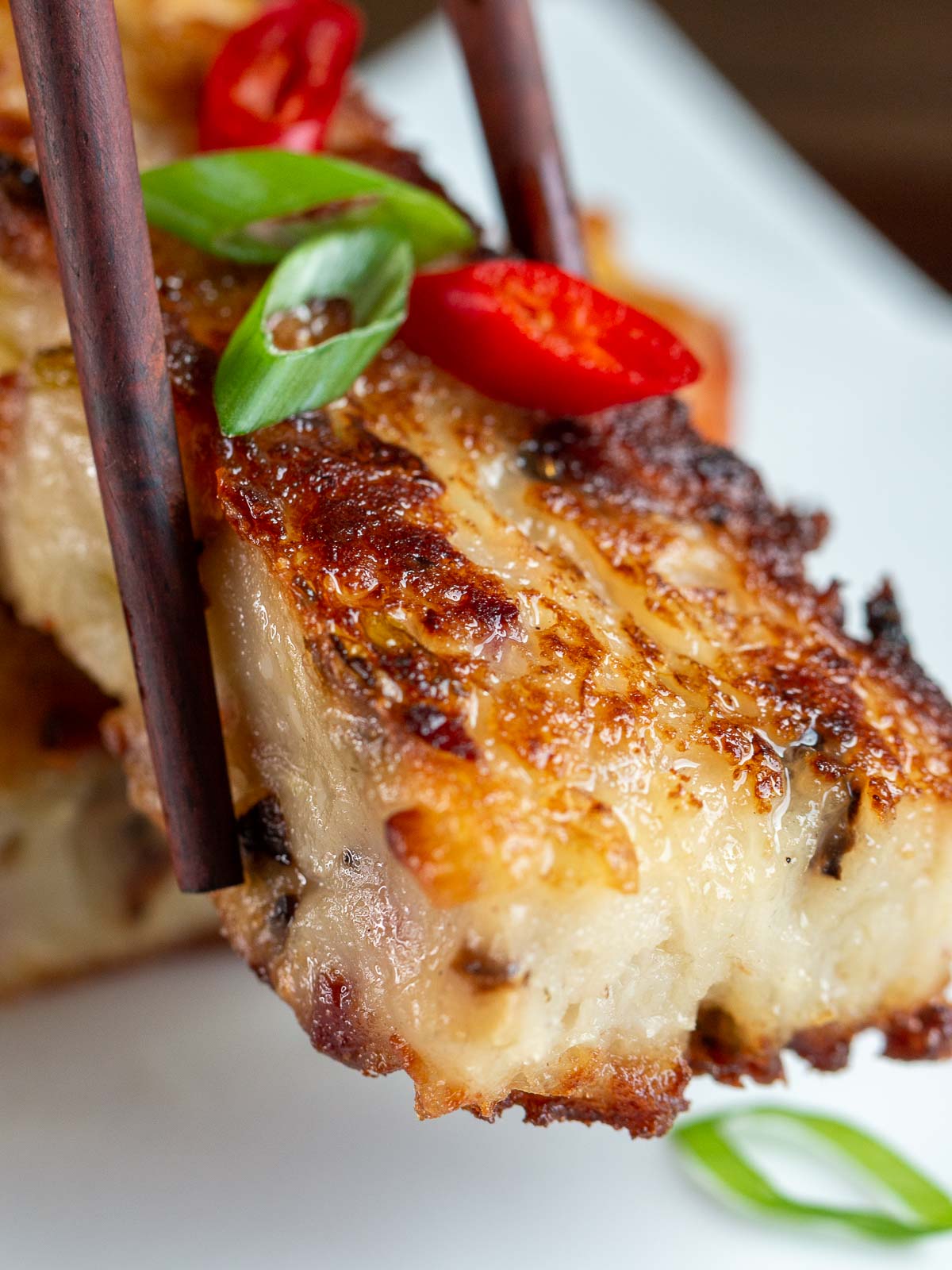 "According to teenagers, BACON belongs in its own food group." What do you think?
Rice Flour – is actually rice that has been ground into a fine powder. This type of flour is generally gluten-free if made in a gluten–free facility. Please do not use sweet glutinous rice flour as that would make for a very odd and chewy texture.
Cornstarch – makes the daikon bacon radish cake super tender. You can exchange with potato starch if you have that on hand.
Seasonings – The flavor of this savory Cantonese cake is elevated because we use both the juice from the cooked daikon and soaking liquid from the dried shiitake mushroom in the cake. If you do not like the strong flavor of cooked daikon, just use water instead. In addition, if your picky family members do not like mushrooms, just skip it. Add more bacon instead.
Dried Shrimp - This is an optional ingredient. Sometimes, if you are living outside of Asia it is difficult to come by. Did you know that you can buy dried shrimp on Amazon? Just so that you know. This ingredient adds that delicious funky flavor that dried seafood gives any recipe.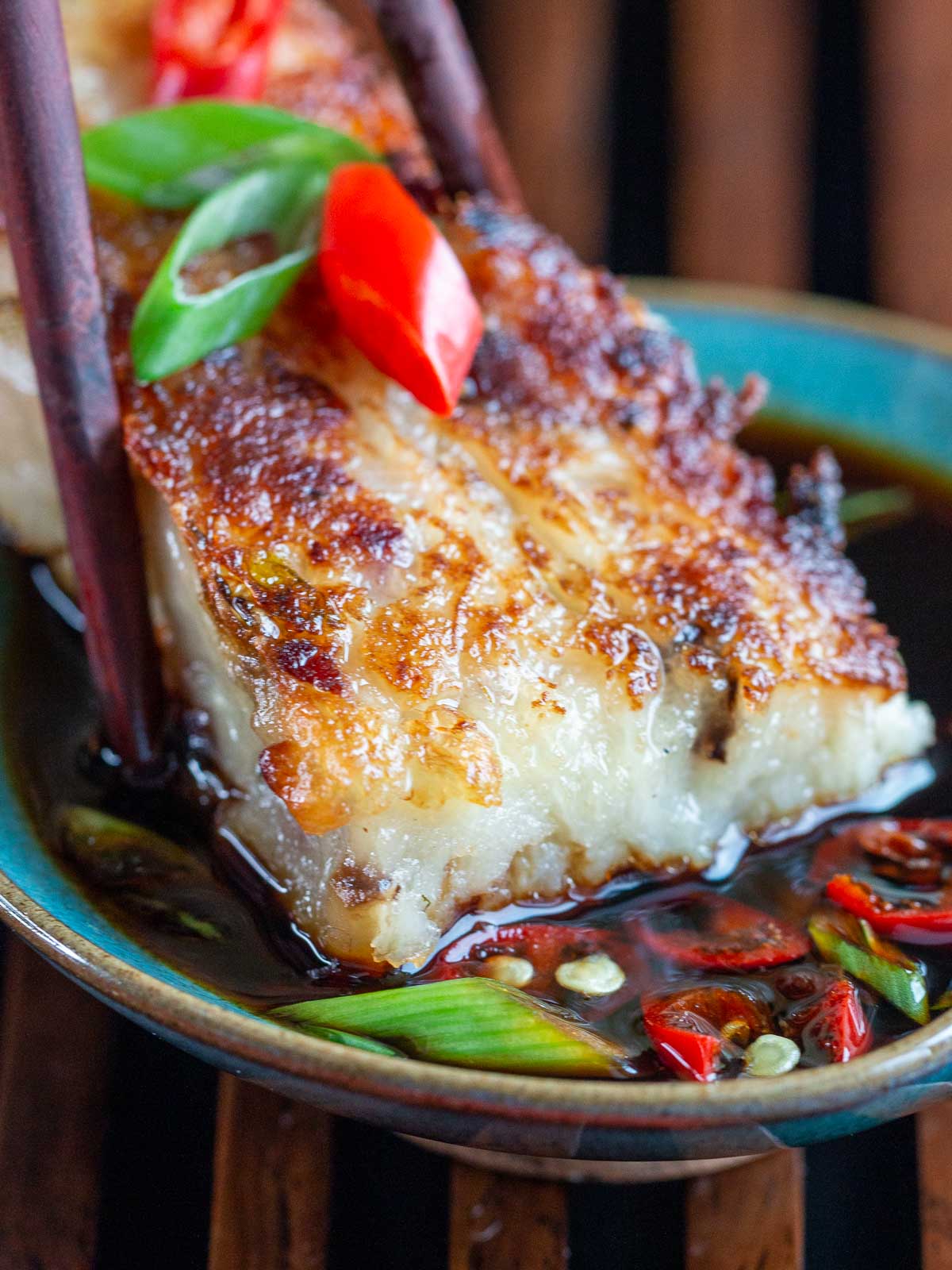 General Directions
For detailed explanation of all of the tips and tricks of making a Chinese Radish Cake, be sure to watch the Healthy World Cuisine You Tube Video and read the Vegan Chinese Radish Cake recipe post for all the details.
Preparation
You're going to create some 'wet mixtures' for use.
Soak Dried shiitake mushrooms in hot water. Save the water the mushrooms soaked in (mushroom broth) for the daikon cake. If you want to add dried shrimp also soak and chop. Mushrooms and dried shrimps are an optional ingredient.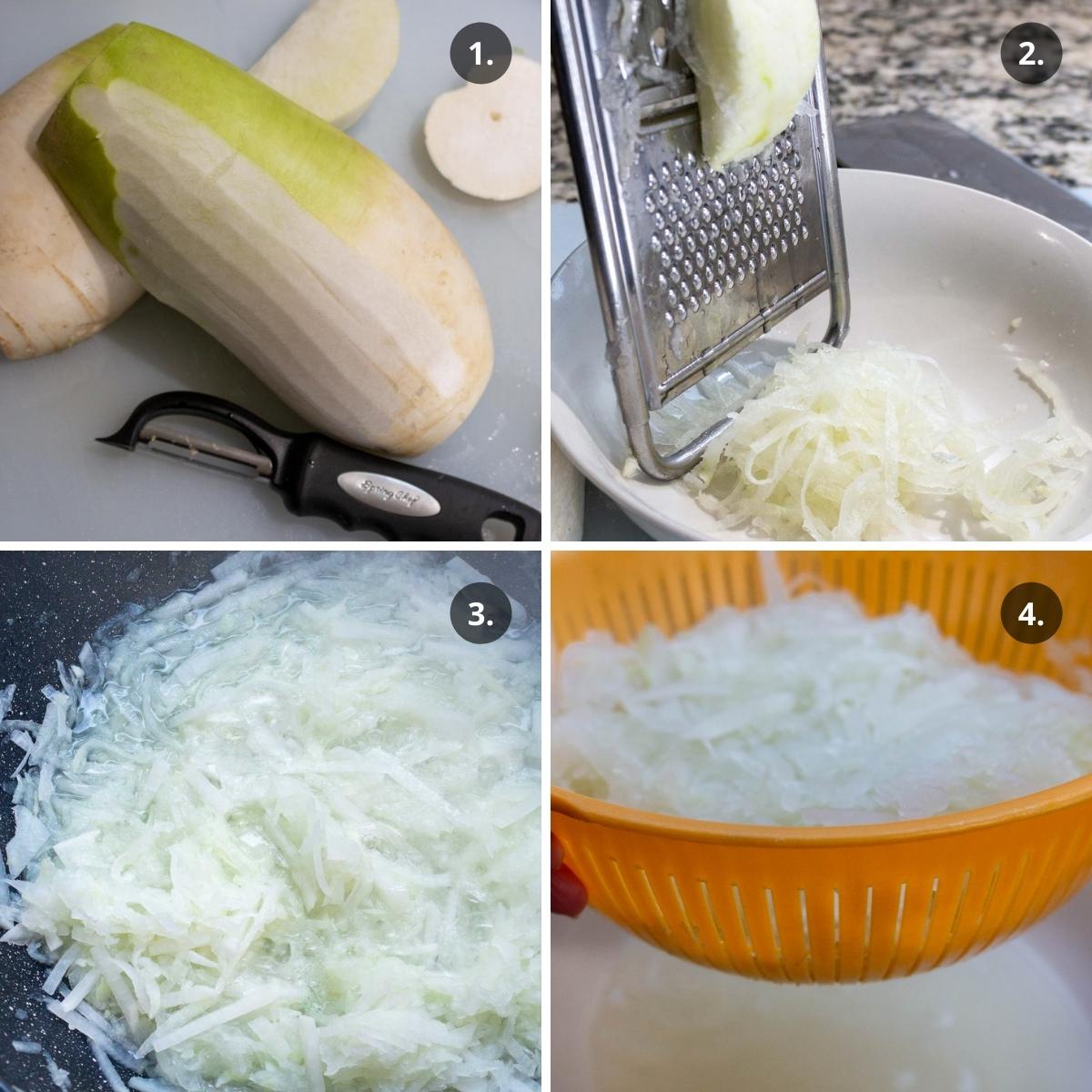 Peel, grate, cook and drain daikon. Save the daikon broth for the cake, if desired.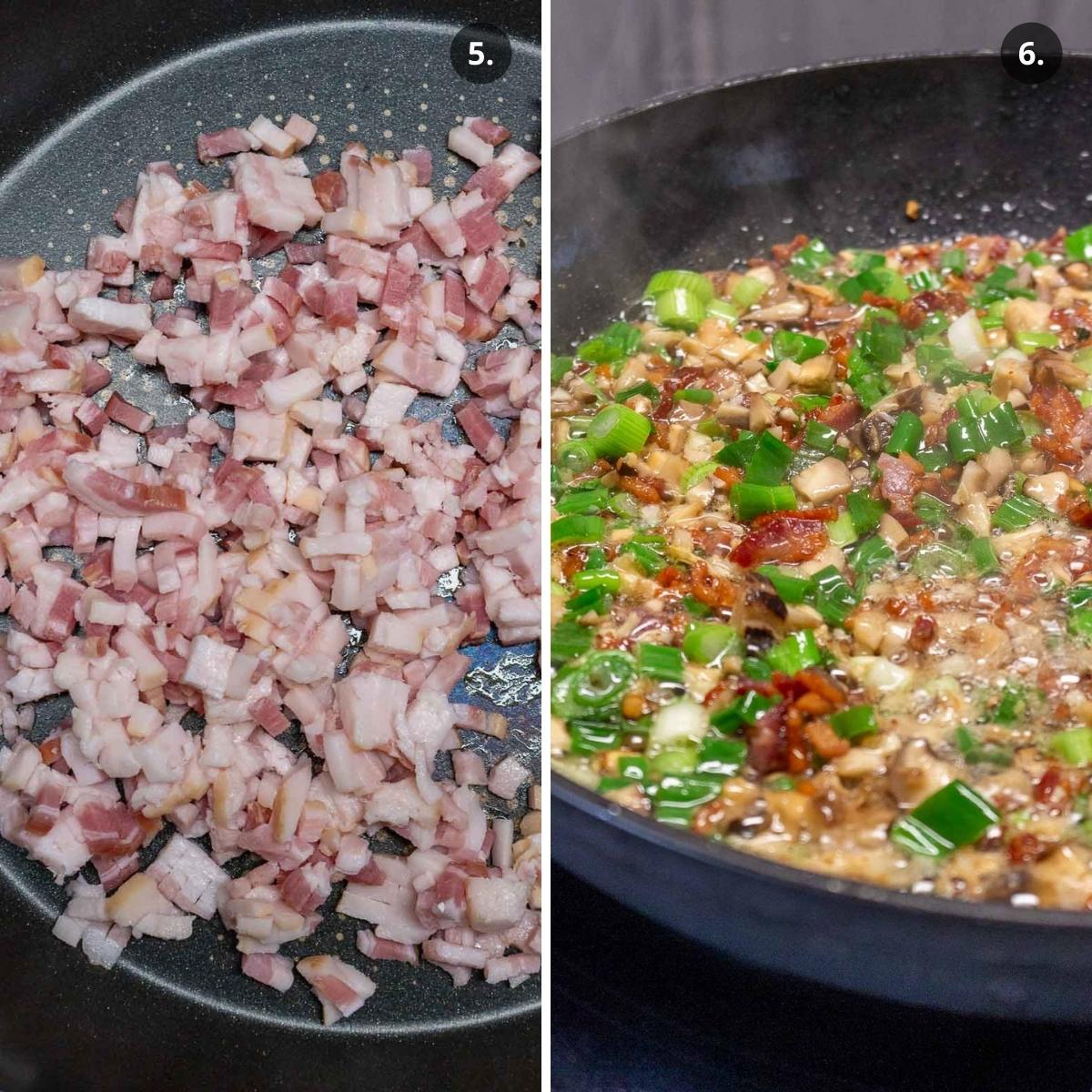 Sauté the bacon meat and add mushrooms, garlic, spring onions.
Mix the dry ingredients of rice flour and cornstarch together.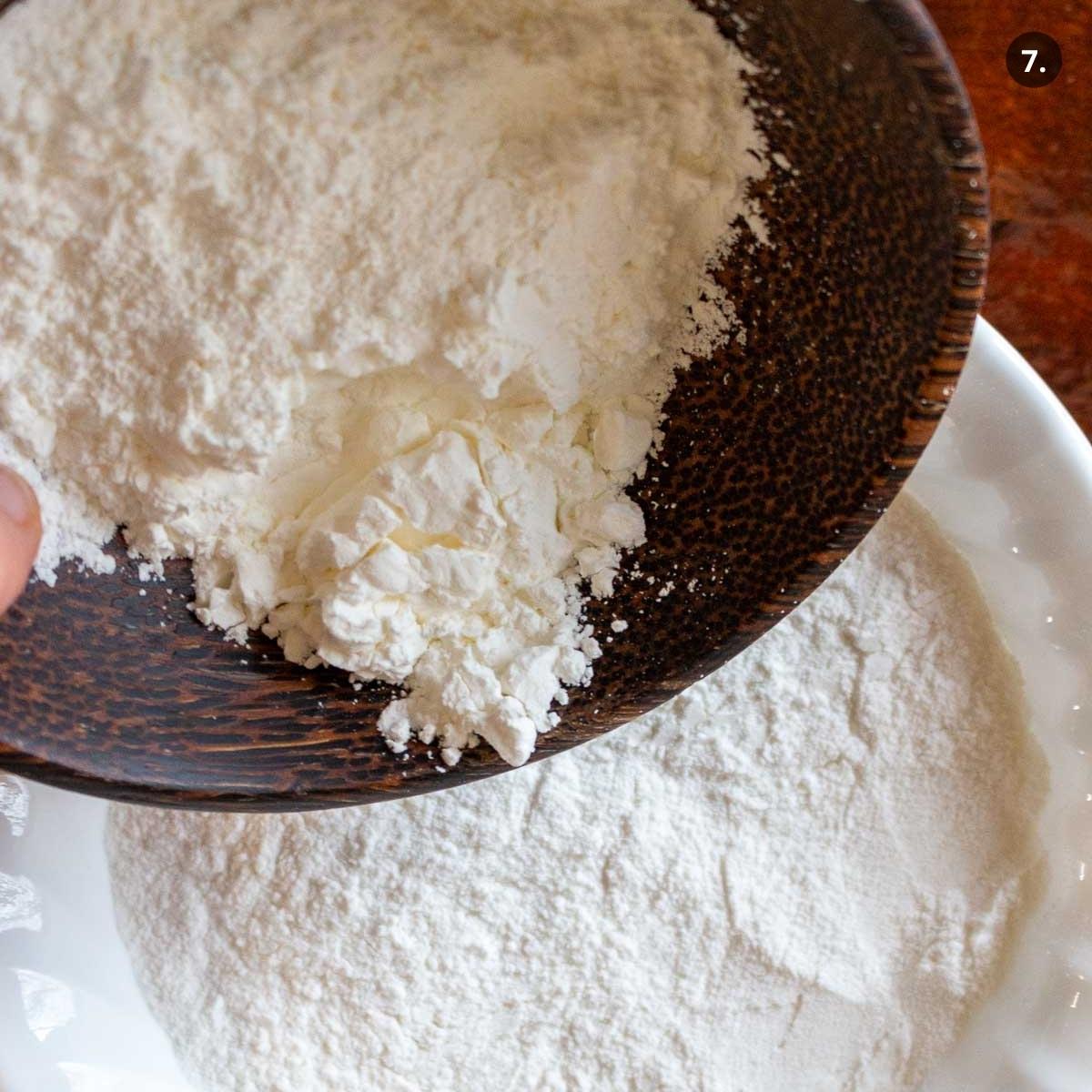 Mix your wet mixtures of the saved daikon broth and mushroom broth so that you have 2 cups total. If the amount does not equal 2 cups you can top off with a little additional water. In addition, if you do not like a strong daikon flavor, you can exchange with water.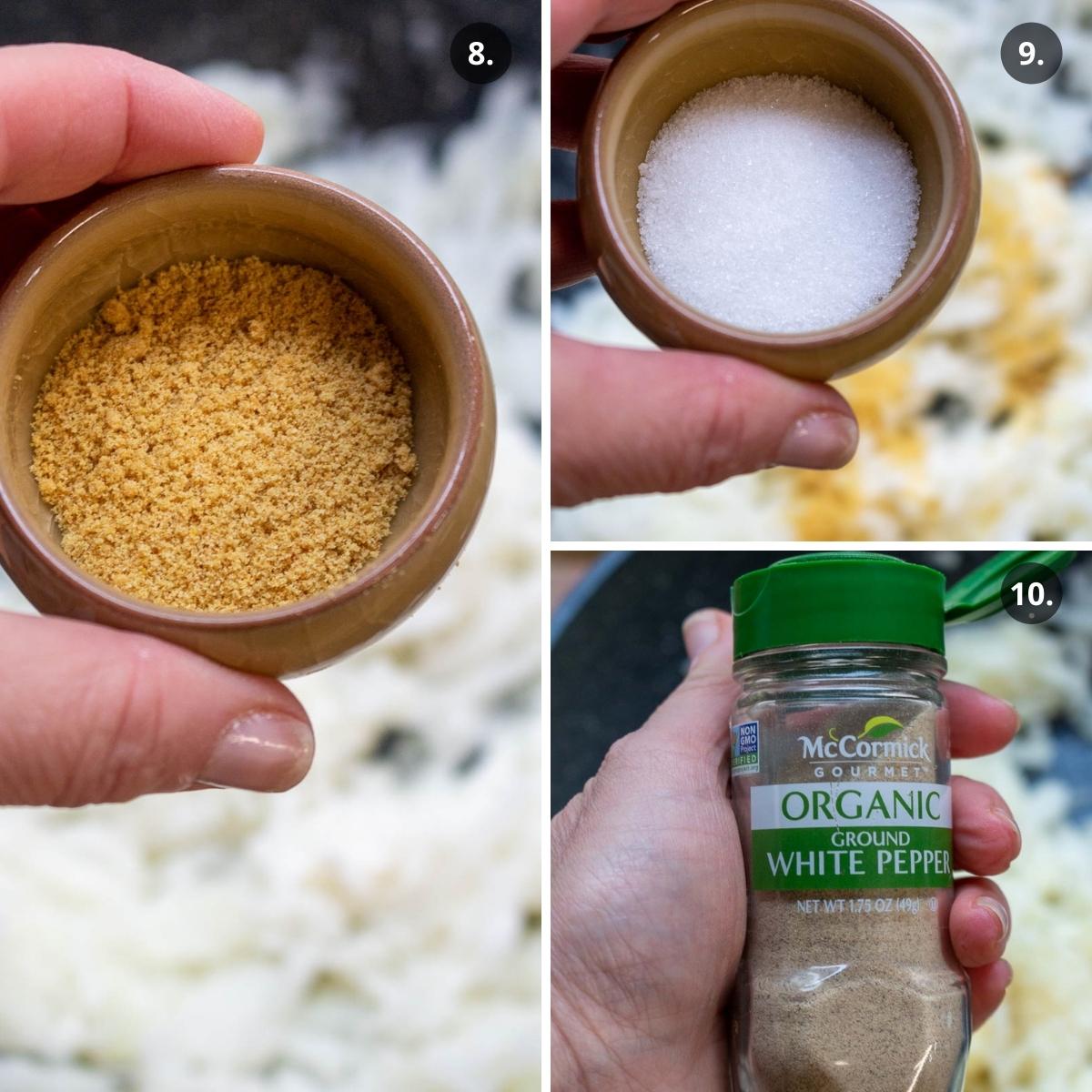 Add the cooked daikon into a pan or wok and add the chicken bouillon powder, sugar and white pepper and mix.
Mix Savory Cake Batter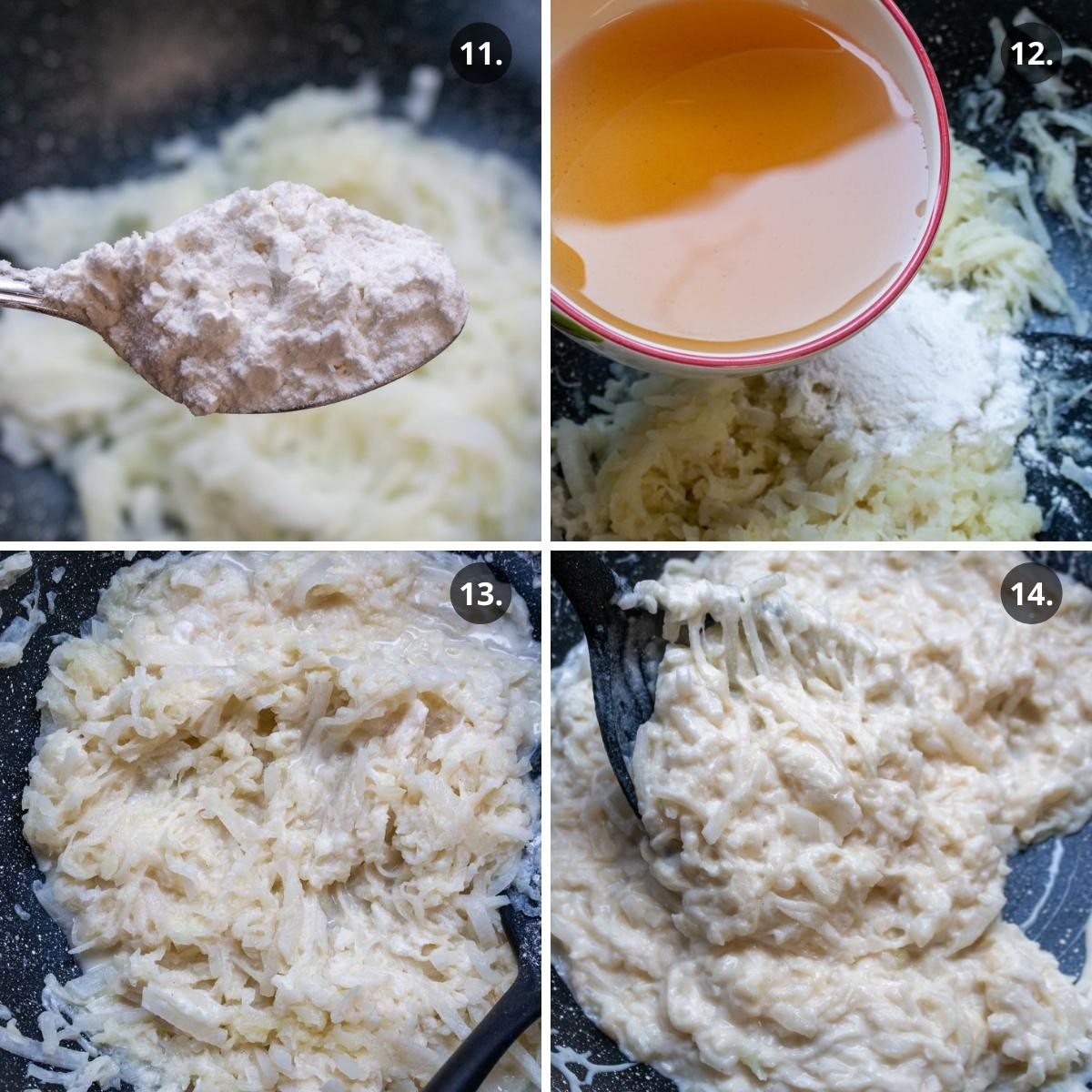 Turn your burner on low. Slowly add a tablespoon or two of the dry mixture with about a ¼ of a cup of the combined wet mixture. Add a little at a time and stir well with each addition. Complete this process until all of the dry mixture is added and as much of the wet mixture is needed to be the consistency of thick oatmeal. You might not need to add all of the wet mixture. Turn off your burner.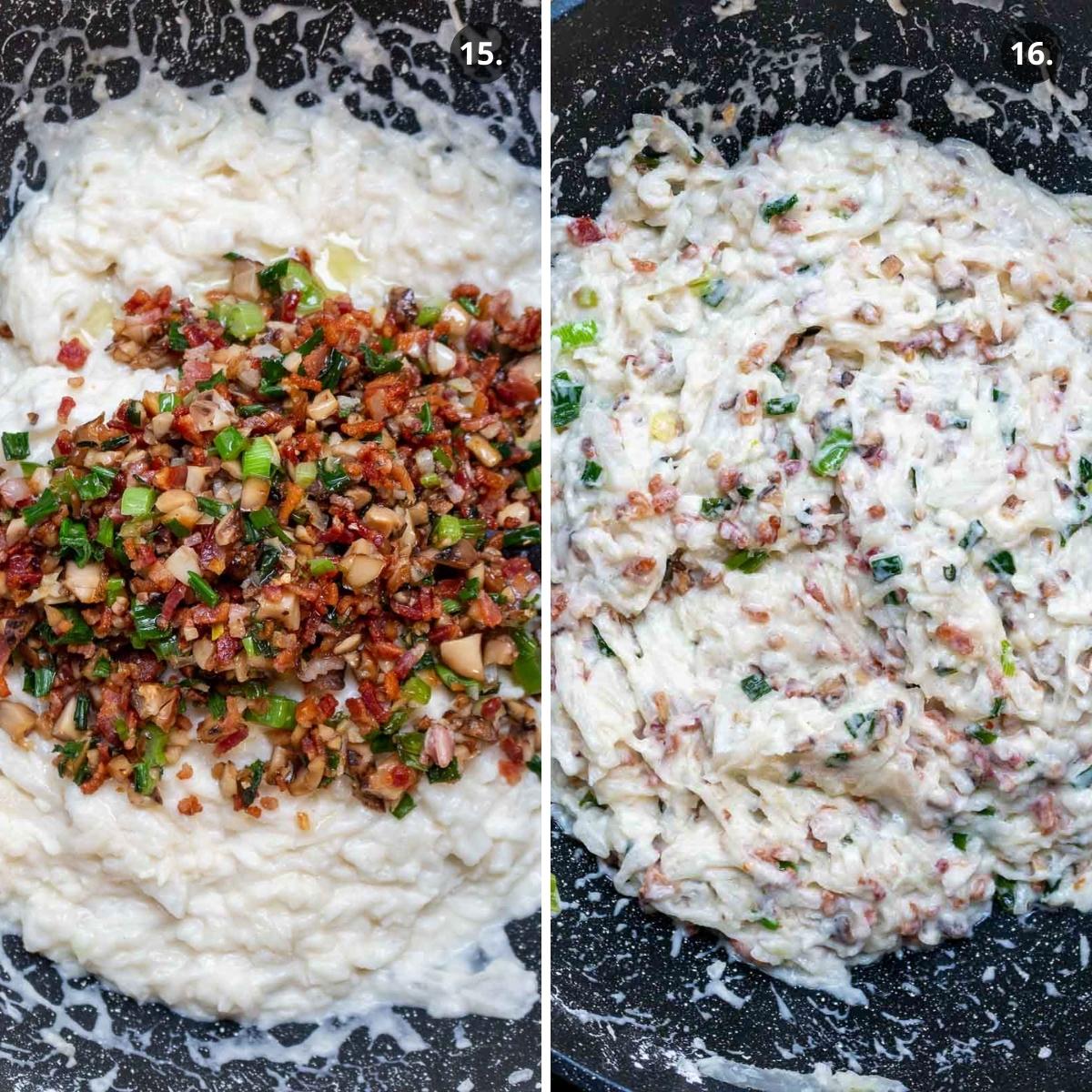 Add the bacon and mushroom mixture into daikon cake batter and stir well.
Steam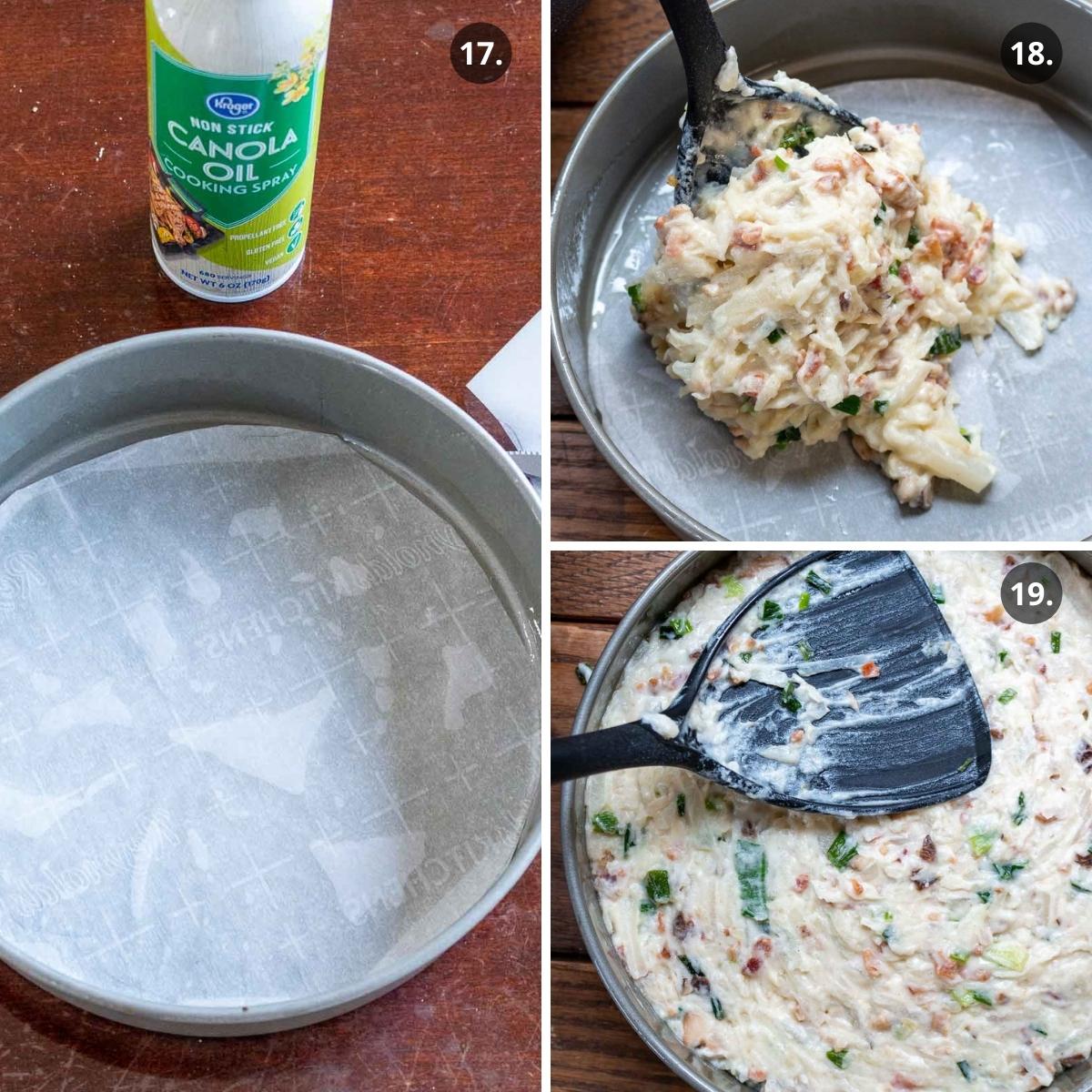 Prepare a cake pan with oil spray and parchment paper. Pour the cake mixture into the cake pan.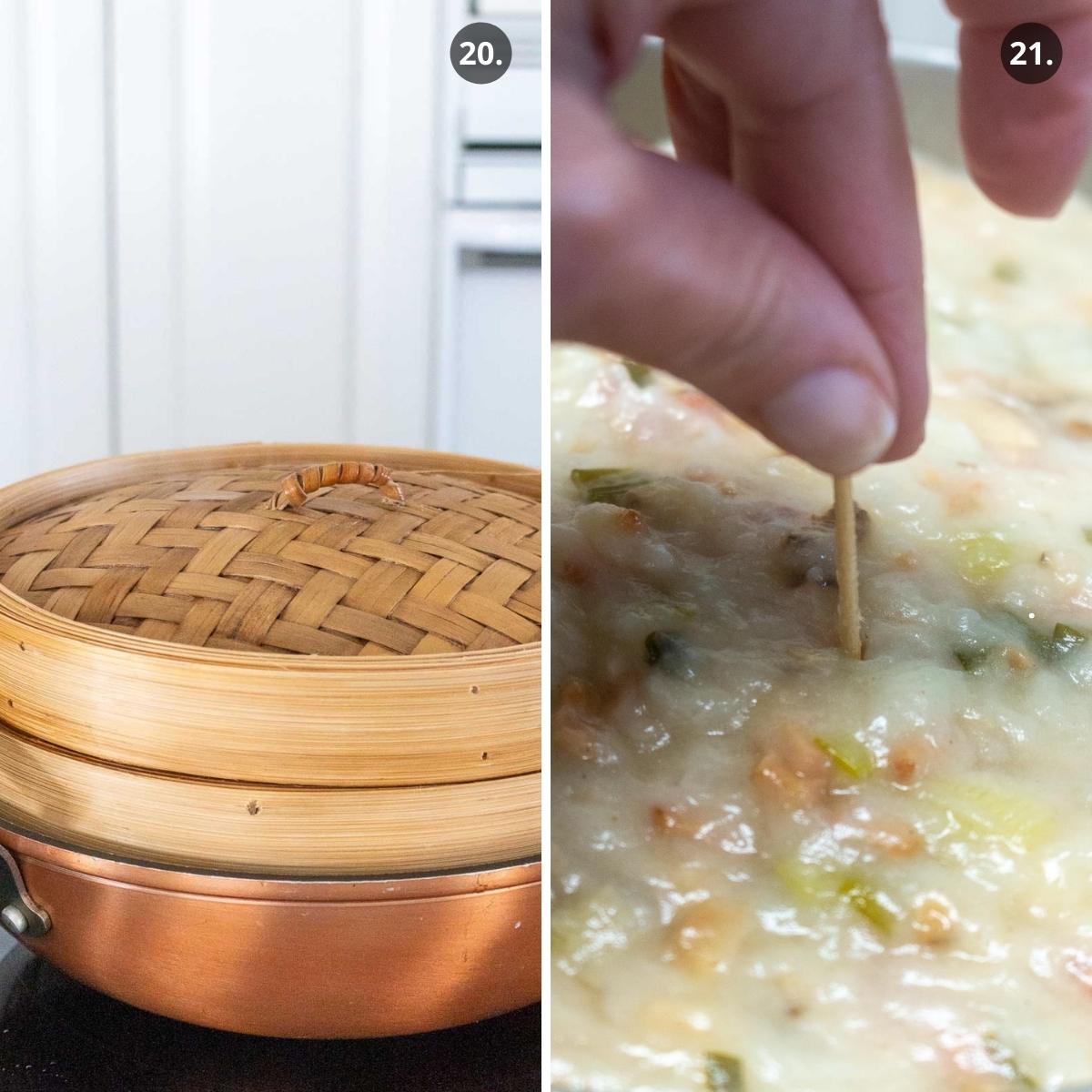 Steam daikon bacon radish cake for about 55 minutes or until a toothpick comes out clean.
Chill in Refrigerator Overnight
Allow the cake to cool at room temperature and then place covered in the refrigerator overnight.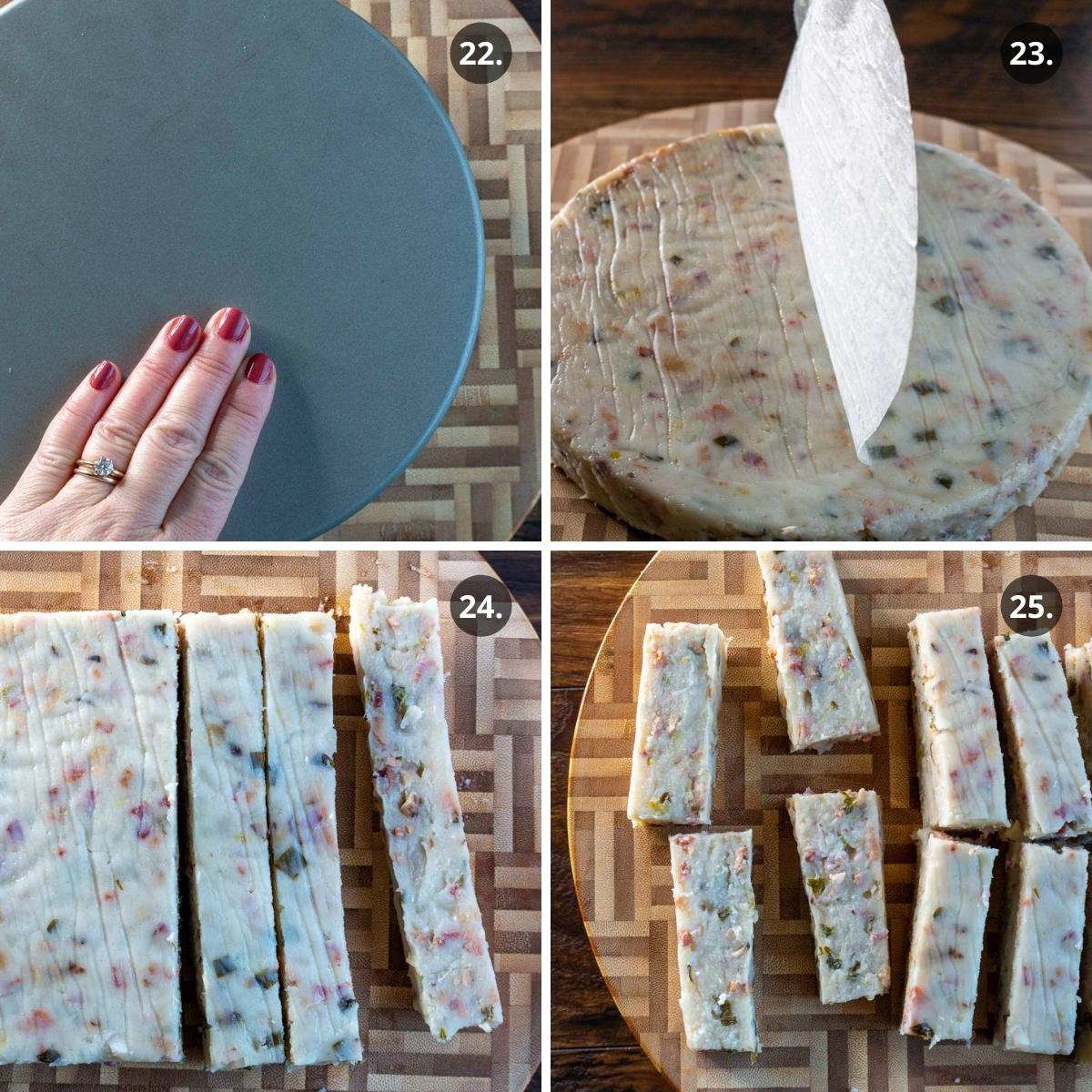 Remove savory cake from the cake pan. Slice into sections.
Pan- Fry and Enjoy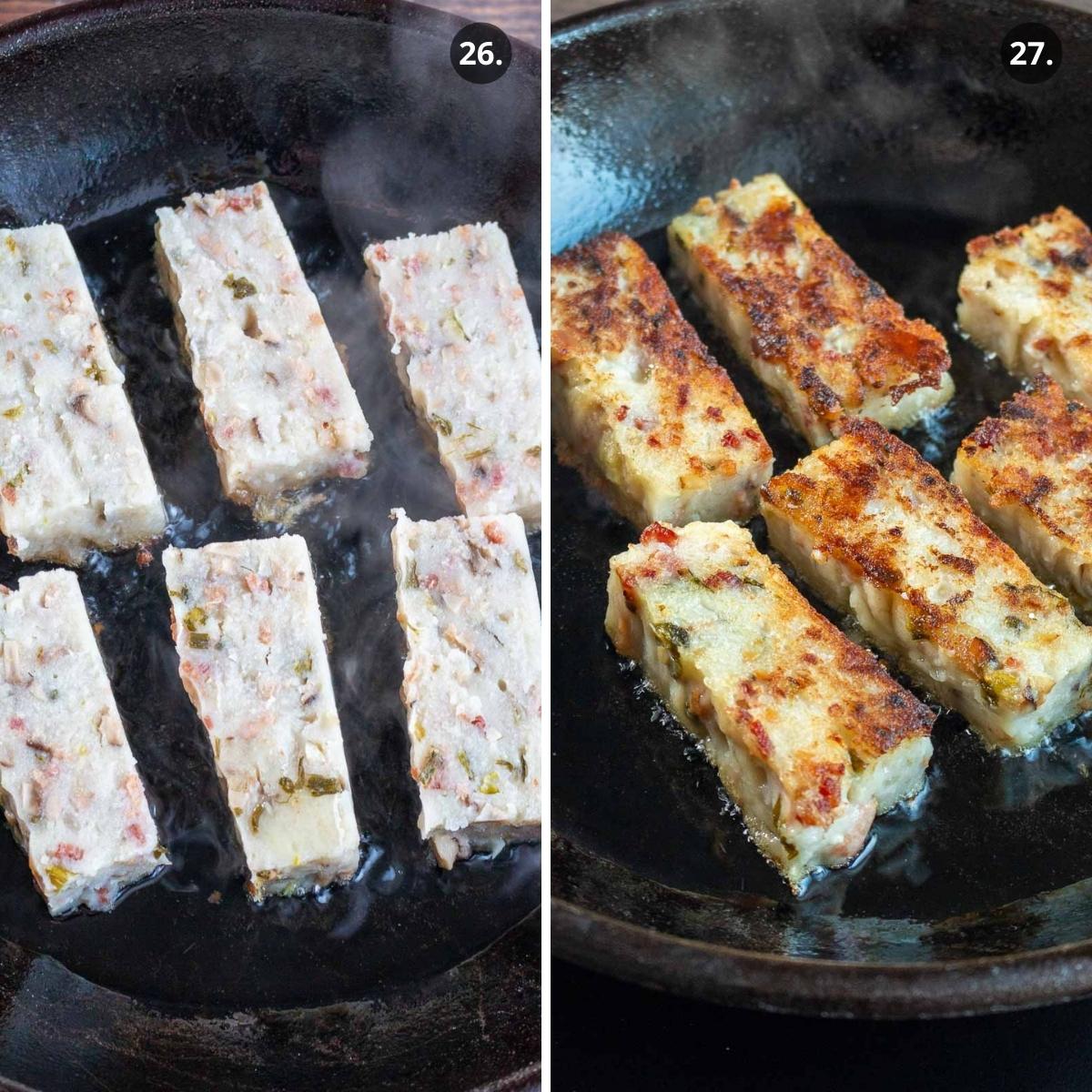 Pan-fry in an iron skillet or heavy frying for a couple of minutes on each side.
Serve hot with a little soy dipping sauce, Homemade Sichuan Garlic Chili Oil or a little Sriracha sauce.
How to Serve
Some of our favorite ways to serve our pan-fried radish cakes are with tea and a selection of our other dim sum treats such as...
Bacon in the radish cake is a unique East meets West way to ring in the Lunar New Year. Try it along with our other 10+ Fun and Easy Chinese New Year Recipes or Spicy Lotus Root Stir Fry. It is also delicious as an appetizer to a traditional family style Chinese Meal.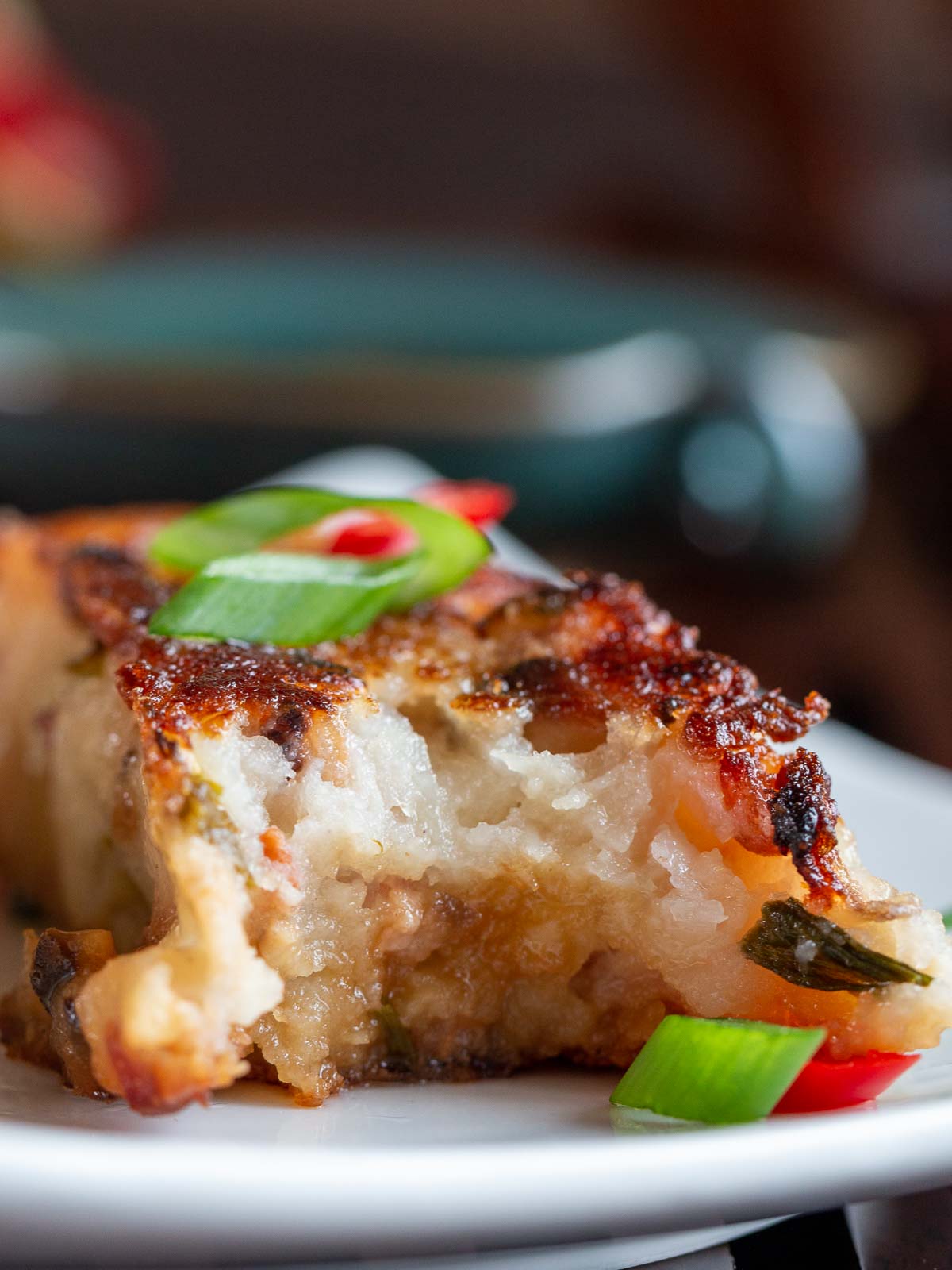 So, what is Chinese sausage, exactly?
Well, lots of things we did not eat when we were a kid – (like liver). So, we are not eating them as an adult! However, other items in Lap Cheong (腊肠 ) may surprise you.
Pork parts like liver, fat and other things... (smiling)
Sugar
Soy sauce
Alcohol
Sodium nitrate
Sodium erythrobate
Monosodium glutamate (MSG)
Spices like cinnamon, fennel, Sichuan pepper, nutmeg, ginger, Mandarin orange peel, cardamom, anise seed and turmeric.
Chinese radish cake is sometimes also called turnip cake. If you like a more traditional radish cake, be sure to add in your Chinese Sausage and don't forget the dried shrimp. There will just be more delicious BACON radish cake for us. Win-Win!
Frequent Asked Questions (FAQ's)
Can you freeze Lo Bak Go?
After you chill and slice your steamed Lo Bak Go, you can freeze the individual slices in between parchment paper. Then, place in a freezer safe container for up to 2 months.

What does a traditional turnip cake taste like?
A traditional turnip cake is savory. The liver flavor of Chinese sausages and daikon radish that sweetens slightly when cooked are the prominent flavors.

However, our unique untraditional Daikon Bacon Radish Cake is different. It is packed with umami flavors of smoked bacon, mushroom, tender daikon and aromatics.

Both, traditional and untraditional types of radish cakes are tender on the inside and crispy on the outside.
Chinese New Year Recipes
Did You Like Our Recipe? Leave a ⭐⭐⭐⭐⭐ rating and/or a review in the comments section below. Your feedback is always appreciated! Follow us for more delicious recipes on Pinterest, Instagram, Twitter and Facebook! Don't forget to sign up for our email list for more free recipes.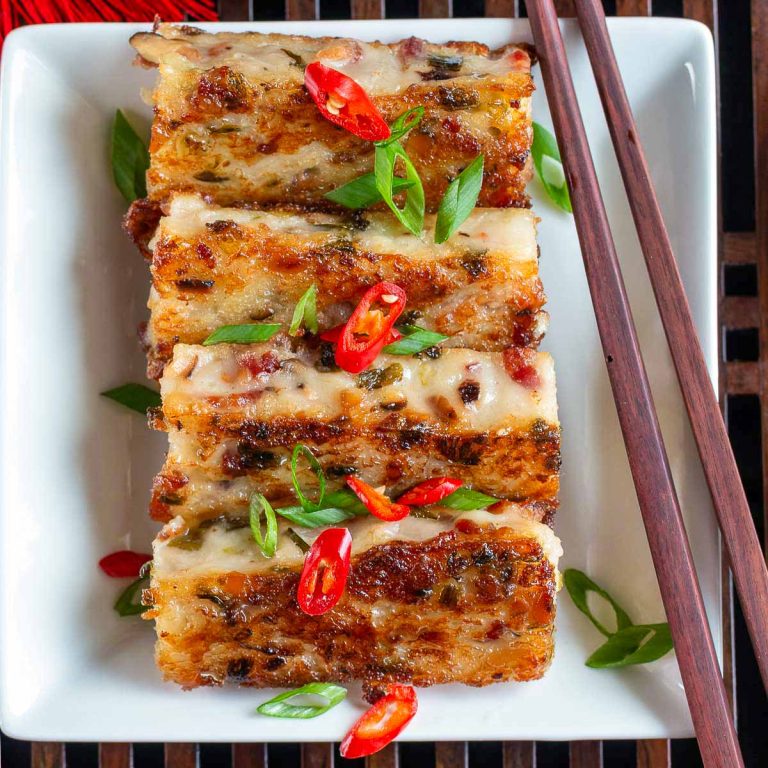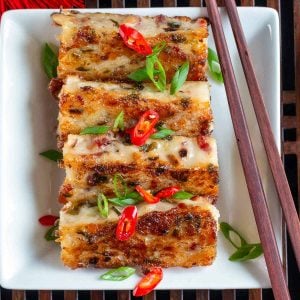 Daikon Bacon Radish Cake
Grab a slice of our pan-fried meat lovers Daikon Bacon Radish Cake for a delicious East meets west dim sum treat. Its a MEAT LOVERS delight!
Print
Pin
Rate
Servings:
16
radish cakes
Equipment
scale to weigh ingredients

steamer

or a make shift steamer from what you have at home. Instructions for this below.

9 inch cake pan or 8 x 8 square pan okay too

parchment paper to line pan
Ingredients
5

dried mushrooms


OPTIONAL- soaked in boiled water for 30 minutes and finely chopped (shiitake). Reserve the liquid from soaking the mushrooms for cake batter.

10

grams

dried shrimp

OPTIONAL - soaked in hot water for 30 minutes, drained and finely chopped or about ¼ cup chopped.
Cook Daikon Radish
900

grams

diakon radish


peeled and grated

1

cup

water

REMINDER: Reserve the juice of the cooked daikon for the cake batter.
Stir Fry Bacon and Aromatics
150

grams

bacon

uncured or whatever type you desire-finely chopped

3

cloves

garlic

peeled and chopped

2

green onions

chopped
Season the Cooked Daikon
2

teaspoons

chicken powder

or can use crushed bouillon cube

1

tablespoon

sugar


or sugar alternative or LESS to taste. It depends on how strong your daikon radish is.

white pepper


to taste
Savory Cake Batter
180

grams

rice flour


55

grams

cornstarch

2

cups

saved mushroom and/or daikon broth

or water or as needed to make 2 cups liquid wet ingredients. The goal consistency is thick oatmeal. You may not need all 2 cups to reach this consistency.
Steaming
cooking spray

or oil for cake pan to prevent sticking

water for steaming
Pan Frying
2

tablespoons

oil

for pan frying
Zippy Dipping Sauce - optional
4

tablespoons

soy sauce

or tamari to keep gluten free

2

teaspoons

Chinese black vinegar

1

clove

garlic

peeled and minced

1

teaspoon

fresh ginger

grated or ¼ teaspoon dried ground ginger

1

chili pepper

or a dash of dried red chili flakes - optional
Instructions
Preparations
OPTIONAL: Soak the dried mushrooms and dried shrimp in boiled water until softened. (If using mushrooms, save the soaking liquid the mushrooms were in as you will use this later for the batter.) Drain and then chop finely. Set aside.
Cook Daikon Radish
Put the peeled and shredded daikon radish and water in a wok or pan, cover and cook for about 5 to 10 minutes. The radish will go from white to slightly translucent and it will be tender. Strain the daikon radish well with a colander. REMINDER: Reserve the daikon juice as you can used this in the cake batter later. If you forget, no worries, you can replace with water instead.
Stir Fry Bacon Mixture while Daikon is Cooking
In a frying pan, add bacon. Cook until the fat has rendered out and its crispy. Drain all bacon fat except 1 tablespoon. Over low to medium heat, add in the OPTIONAL chopped shrimp and mushrooms, or not. These 2 ingredients are optional but very delicious. Then, add in chopped garlic and spring onions and cook until aromatic. Remove from burner and cool. Set aside.
Make Radish Cake
Place the cooked daikon radish back into your wok or pan. Season with chicken bouillon powder, sugar and white pepper. Adjust seasoning as required. If you want it more savory, add a little salt or chicken bouillon powder to taste. Like it more spicy? Then, add more white pepper. If your daikon is really strong, then add a little more sugar to mellow out the taste or less if it is not.

WET INGREDIENTS: Measure out the reserved liquids from cooking the daikon and from the mushrooms soaking. If it does not equal 2 cups then add water to level it up to 2 cups. (If you do not like a strong daikon flavor, replace with water. However, we think it makes it extra delicious.) You can use the mushroom soaking liquid only instead or just plain water too. However, the liquid measured should equal 2 cups. Set aside.

DRY INGREDIENTS: Stir the dry cornstarch with the dry rice flour together and set aside. Please weigh your ingredients as your cup and our cups are different.

Place the seasoned cooked daikon on the stovetop on very low heat. Slowly add a tablespoon or two of the DRY MIXTURE (rice flour and cornstarch) a little at a time, to the seasoned daikon mixture, stirring continuously. Then add a little of the WET MIXTURE (mushroom juice/daikon juice/water) about ⅛th to ¼ cup at a time stirring well between each addition. You will continue this process until you have added ALL of the DRY MIXTURE. You may or may not need to add all of the WET MIXTURE. This depends on environmental factors like humidity, how well you drained your daikon radish, etc.

The consistency you are looking for is thick oatmeal. Don't let the mixture burn.

Turn the burner off. Add the BACON and aromatics mixture to the daikon cake batter and mix well.
Steaming
Determine what size cake pan will fit into your steamer device. Assess your steamer device or your ability to make a steaming device with the equipment you have on hand. We were able to fit an 8 x 8 or a 9 x 9 round cake pan in a traditional steamer. These cake pans also fit in our wok, elevated plate with lid steamer method. (If your steamer is small, divide the daikon batter into 2 smaller loaf pans)

Spray or grease cake pan on the bottom and all sides. Then, cut out a piece of parchment paper and lay on the bottom of the cake pan.

Scoop the batter into your prepared cake pan and level it out until smooth. Place your meat lovers daikon cake in the steamer.

Do not worry if you do not have a "big fancy steamer". You can use your wok. Place 2 chopsticks at the bottom of your wok in an "x" formation. Then, place a small plate of top. Carefully add water to the bottom of your wok about 2 inches or so on the bottom. Then, place your daikon cake dish on top of plate. Place a lid on top of your wok and steam.

Alternatively, if you do not have a wok, there is always plan B for steaming.

I use my big soup pot that has a lid. It is very deep but not very wide so I have to split my daikon batter into 3 smaller oven proof round dishes.

I place a very small oven proof round bowl upside down on the bottom of my soup pot (ramekin works good). Then, I plate a small plate on top of the little ramekin bowl. On top of that, I place my smaller daikon cakes pans. The weight of the daikon cake holds down the upside down bowl. Then, I carefully pour my water inside my soup pot about 2 inches on the bottom, without getting any on my daikon radish cakes. I, then, place a lid on my soup pot to cover and steam the radish cake. Give it a try if you do not have a wok.

Steam over high heat covered for approximately 55 minutes to 1 hour or until a toothpick or chopstick comes out clean.

Allow cake to cool until room temperature and then place in the refrigerator overnight.

Run a knife along the edges of the cooled Bacon radish cake. Turn cake pan upside down on a cutting board. Tap pan to allow the cake to be removed. Remove the parchment paper from the cake and discard. Cut cake into slices. (FYI- Wet your knife and wipe your knife between each and every slice for best results.)

Put a little cooking oil in an iron skillet or frying pan and turn heat on medium high. Brown the daikon cakes slightly for a couple of minutes on both sides or until golden brown.
Zippy Dipping Sauce
In a little bowl add soy sauce, Chinese black vinegar, garlic, ginger and optional chilis. Stir well.

Serve Daikon Bacon Radish Cakes hot off the skillet with zippy dipping sauce, Sriracha sauce or our Homemade Garlic Chili Sauce and enjoy!
Notes
To make i easier to slice the steamed and cooled radish cake, be sure to wet and clean your knife between each slice for best results.
Pan-fried radish cakes are best enjoyed hot off the skillet.
Steamed cakes can be refrigerated for up to 3 days. Sliced steamed radish cakes can be stored in parchment paper and frozen for up to 2 months.
Frozen steamed radish cakes can be pan-seared directly from the freezer but take a little longer to cook. Cook frozen radish cakes on a medium heat for about 3 to 4 minutes on each side until golden brown on each side and crispy and hot all the way through.
Nutrition
Serving:
1
slice
|
Calories:
126
kcal
|
Carbohydrates:
16
g
|
Protein:
2
g
|
Fat:
6
g
|
Saturated Fat:
1
g
|
Polyunsaturated Fat:
1
g
|
Monounsaturated Fat:
3
g
|
Trans Fat:
1
g
|
Cholesterol:
6
mg
|
Sodium:
135
mg
|
Potassium:
167
mg
|
Fiber:
1
g
|
Sugar:
2
g
|
Vitamin A:
18
IU
|
Vitamin C:
13
mg
|
Calcium:
20
mg
|
Iron:
1
mg