Chinese New Year Radish Cake is a delicious gluten-free Cantonese Dim Sum appetizer made with diakon radish, mushrooms, delicious cured meats. It is first steamed and then pan fried so it is crispy on the outside and tender on the inside.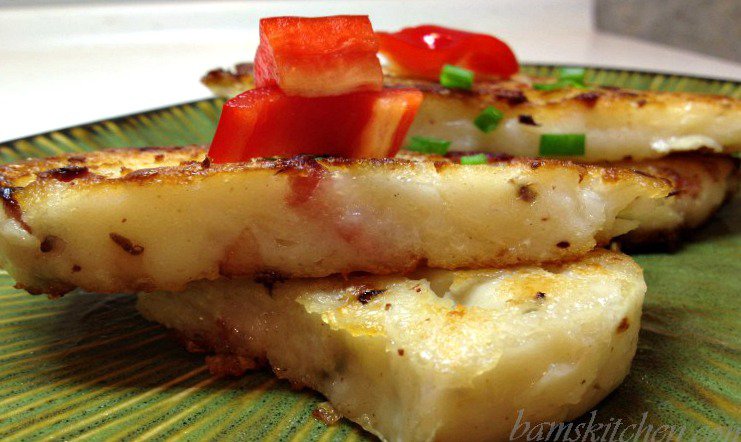 Wishing everyone a very Happy Chinese New Year!
Xin Nian Kuai Le! 新年快乐!
Kung Hei Fat Choy!
The hustle and bustle is in full motion here in Hong Kong. You can feel the intensity in the air as people are rushing out to do their last-minute preparations for the start new lunar year. Chinese New Year 2013 begins on February 10th and culminates in Lantern Festival on February 24th, 2013.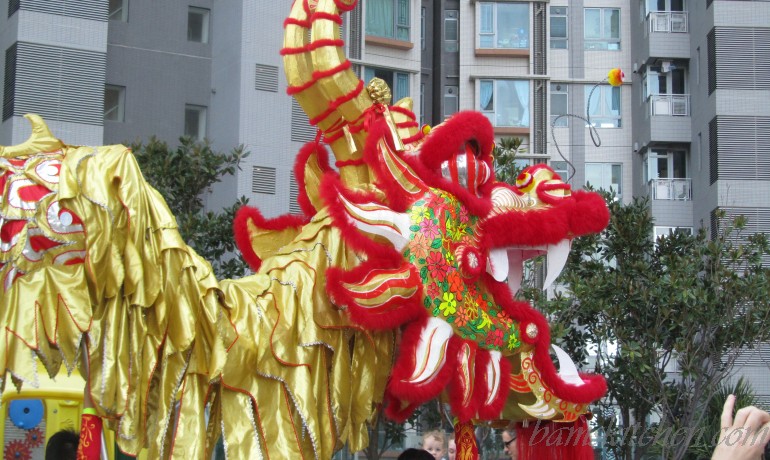 Auspicious foods for Chinese New Year
As with all family and friend gatherings, food is such a big part of event. Many foods are auspicious in nature and rice cakes ensures a prosperous year for increased wealth, growth and success so I decided to make loh bak go (蘿蔔糕). Chinese New Year Radish Cake or also known as Loh Bak Go is also sometimes called Chinese turnip cake. Lor Bak Go is a very famous dim sum served in the Canton region so it will be featured here today on Healthy World Cuisine.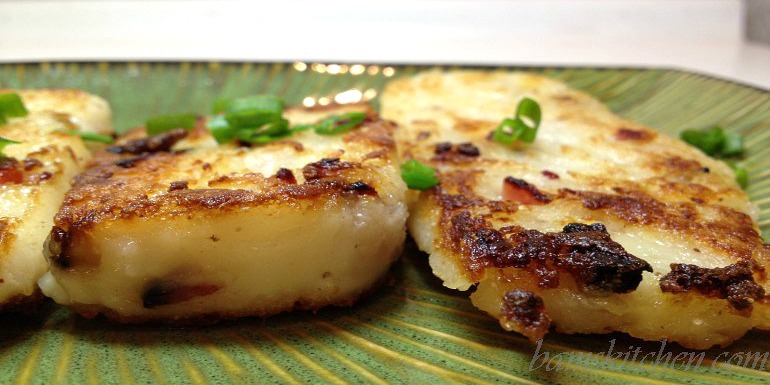 How is the Chinese New Year Radish Cake Made?
Chinese New Year Radish Cake is a savory and interesting flavored steamed treat. It is made with Daikon or Chinese white radish (turnips if you wish), rice flour, dried mushrooms, Chinese sausages and other delightful flavorings.
After the Chinese radish cake is steamed, then it is sliced and then gently fried in a pan. It is just dreamy to bite into. First the little crispy bits on the ends catch your senses and then once you take a bite the inside it is soft and mellow. The diakon radish mellows as it is cooked and combined with the sausage and mushrooms makes this for one hearty delightful treat. Well don't take my word for it, give it a try yourself and impress all of your guests this Chinese New Year and it is gluten-free.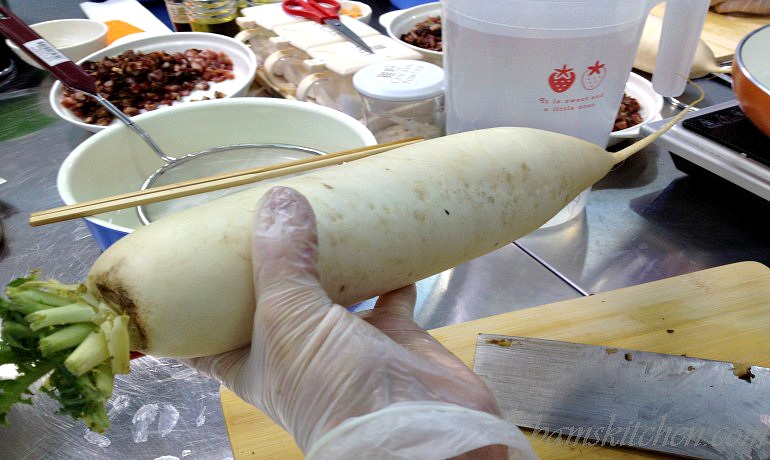 As a part of Chinese people clean their houses in hopes to have good luck in the new year. Chinese Decorations and "red" traditional colored banners are proudly displaying on all the entrance of shops and residence apartments to celebrate the new year.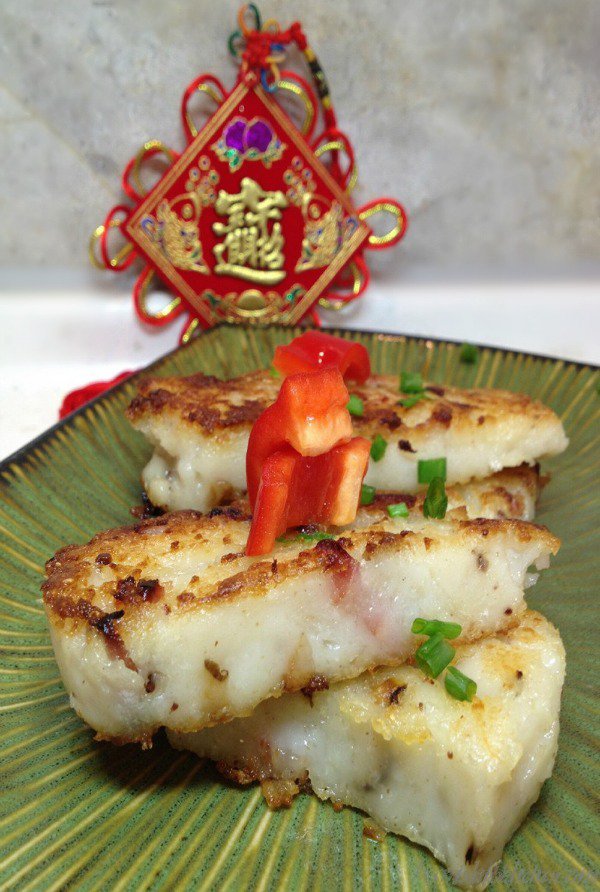 So in keeping with the spirit of cleaning and organizing, we are once again cleaning up Healthy World Cuisine to give her a fresh new look. We are completely decorating her with Chinese dim sum and dishes for the new year. If you do not know where to begin to prep for the Chinese New Year (CNY), may we suggest you start with our 10 Fun and Easy Chinese New Year Recipes.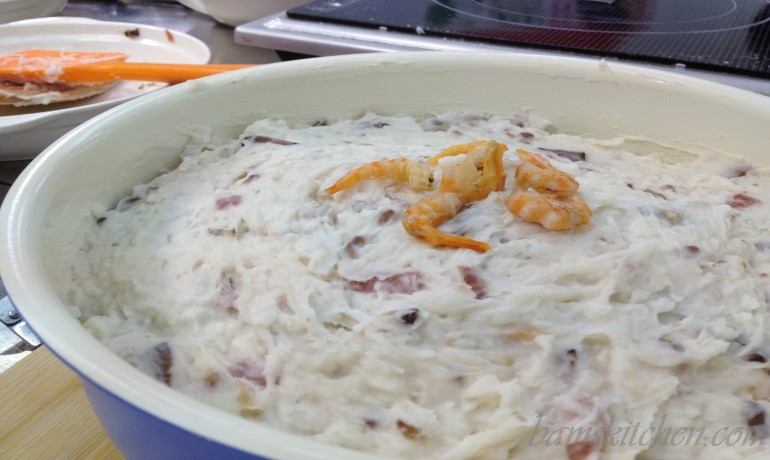 We have also made a vegan version of our Chinese New Year Radish called. Be sure to try our Chinese Vegan Radish Cake.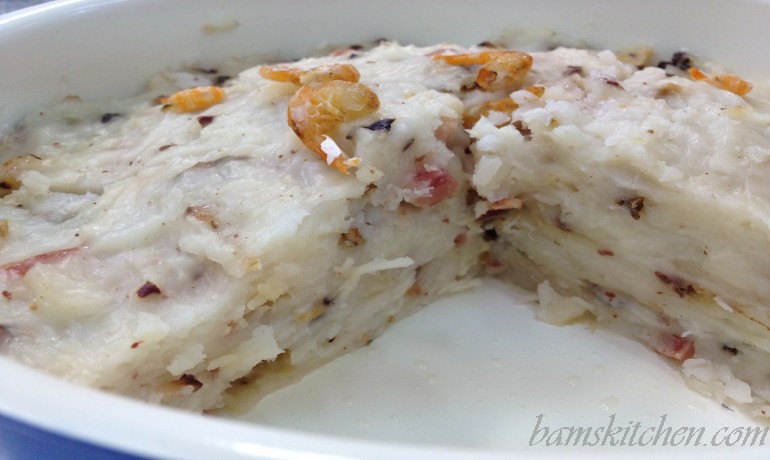 More Easy Chinese New Year Recipes
Spicy Beef and Longevity Noodles
Sweet Sticky Rice Chinese New Year Cake
Stir Fried Crab with Chinese New Year Cake
Heart of Fire Huo Guo (Hot Pot)
Hungry For More? Subscribe to our Newsletter and follow along on Facebook, You Tube, Instagram, and Pinterest for all the latest updates.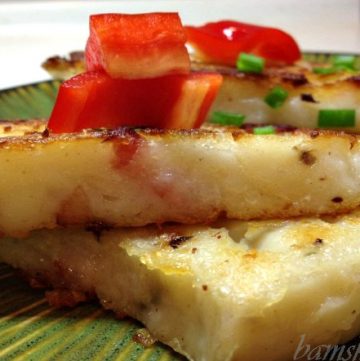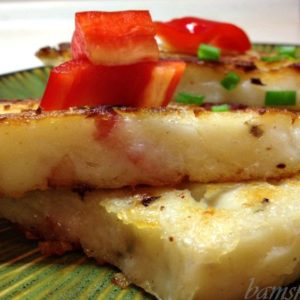 Chinese New Year Radish Cake
Chinese New Year Radish Cake (Loh Bak Go) is a traditional dim sum recipe from the Canton region.
Print
Pin
Rate
Ingredients
2

dried mushrooms


pre-soaked and finely chopped (shiitake)

8

dried shrimp


pre-soaked

2

links

Chinese sausage


finely chopped

½

cup

cured pork belly


finely chopped

1

diakon radish


grated

1

teaspoon

chicken powder (gluten free)


or can use gluten free bouillon cube

salt


to taste

white pepper


to taste

1

teaspoon

sugar


or sugar alternative

500

grams

rice flour


5.5

cups

water


or as needed to achieve the consistency of soft cement. (I had a very large diakon but if you use a smaller diakon then you will need to add more water, I live in a super humid climate but if you live in a dry region you may need to add more as well)

1

tablespoon

oil for frying
Instructions
Preparations
Soak the dried shrimp and dried mushrooms in water until softened.


Steam the Chinese sausage and cured meats for about 15 minutes


Peel the daikon radish and grate

Methods
Chop the Chinese sausages, pork belly and mushrooms into small pieces and set aside.


In a large wok, place one teaspoon of oil and then add shredded diakon and cook until softened and about ¼ cup water to finish the cooking process. (about 10 minutes) Season diakon with chicken powder, salt, white pepper and sugar alternative. All the water should be evaporated.


Slowly add the rice flour, a little at a time, to the daikon mixture, stirring continuously. Add a little water at time to help smooth the product up to six cup of water. (The consistency you are looking for is like a soft cement or bondo for a car or maybe stiff frosting in the can (don't laugh) Don't let the mixture burn so keep it moving until you reach the right consistency. Please note: I had a very large diakon and I live in a super humid climate and all of these factors play a part in determining how much water you will need to add to your mixture. You may need to add between 5 to 6 cups of water, maybe less or maybe more, to achieve the soft cement like consistency. It is very important that you add just a little water at a time until you get to the consistency of soft cement. I needed to add 5.5 cups to achieve the consistency I was looking for.


Turn the burner off. Add a little at a time the the chopped cured meats and mushrooms to your diakon flour mixture. Season to taste.


Scoop the batter into a 9 inch cake tin and level it and smooth out the batter. Decorate your Chinese radish cake with the soaked dried shrimps. (If your steamer is small, divide the diakon batter into 2 smaller pans)


Do not worry if you do not have a"big fancy steamer". You can use your wok and place 2 chopsticks at the bottom of your wok in an "x" formation, then place a small plate of top, carefully add water to the bottom of your wok about 2 inches or so on the bottom, then place your diakon cake dish on top of plate and then place a lid on top of your wok and steam.

Alternatively if you do not have a wok, there is always plan B for steaming. I use my big soup pot that has a lid. It is very deep but not very wide so I have to split my diakon batter into 3 smaller oven proof round dishes. I place a very small oven proof round dish upside down on the bottom of my soup pot, then I place my small bowl or diakon batter on top of the upside bowl so the weight of it holds down the upside down bowl. Then I carefully pour my water inside my soup pot about 2 inches on the bottom without getting any on my diakon radish cake. I then place a lid on my soup pot to cover and steam the radish cake.

Steam over high heat for approximately 45 minutes- 1 hour or until a chopstick comes out clean.


Allow cake to cool in the refrigerator at least 4 hours or overnight. Slice cake into slices. Put a little cooking oil in a frying pan and place the sliced diakon cake into the frying pan. Brown the diakon cake lightly on both sides until golden brown. Serve and enjoy.
Notes
The amount of water to rice flour and diakon depends on 3 factors; size of diakon radish, humidity in room and if you cooked your diakon to remove all the water. If you still see steam coming from your diakon while it is cooking, it still is releasing moisture. If your diakon is larger then you may need less water. If your area is dry, you may need more water. However, the amount of water needed will be approximately between 5- 6 cups. The texture you are looking for is super thick and one that has to be scooped out of the pan and not poured.
Nutrition
Serving:
1
g
|
Calories:
494
kcal
|
Carbohydrates:
36
g
|
Protein:
11
g
|
Fat:
34
g
|
Saturated Fat:
12
g
|
Cholesterol:
58
mg
|
Sodium:
238
mg
|
Potassium:
200
mg
|
Fiber:
1
g
|
Sugar:
1
g
|
Vitamin A:
56
IU
|
Vitamin C:
7
mg
|
Calcium:
21
mg
|
Iron:
1
mg